Whilst Santorini is definitely known for its high soaring cliffs that overlook the caldera, there is another side to the island that is equally as popular. The beaches of Perissa & Perivolos are popular with visitors looking for a beach club in Santorini, as well as those looking for a day away from the bustling crowds of Oia and Fira.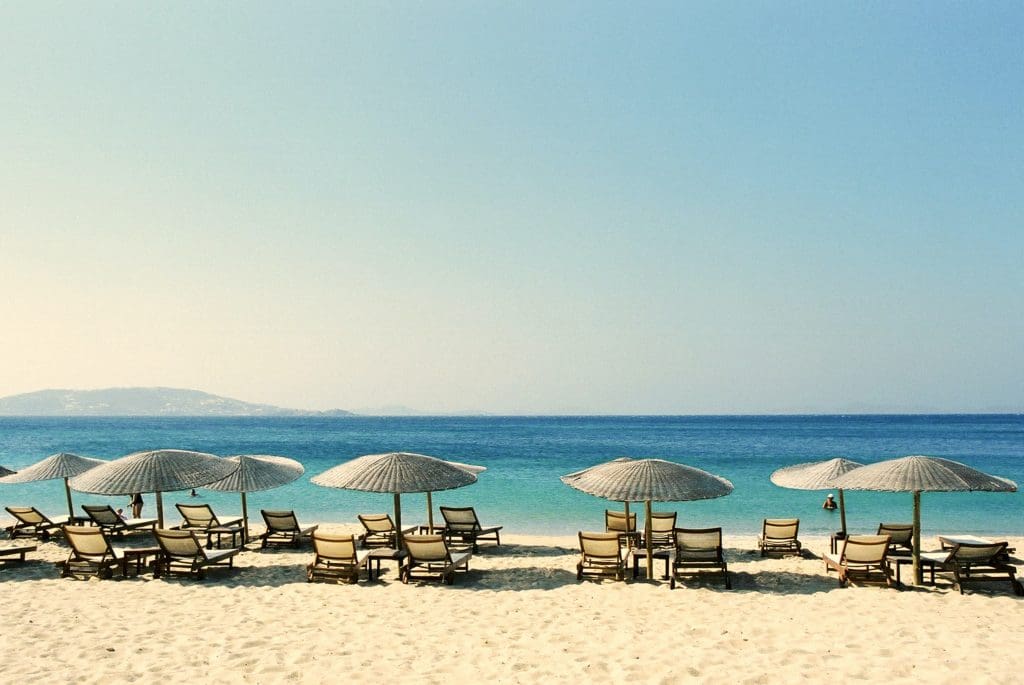 Whilst the range of beach clubs in Santorini may not be as extensive as those found in Ibiza or St Tropez, you'll certainly find world-famous beach club names such as Nikki Beach Santorini on the island.
The beaches in Santorini are peculiar in the sense that you'll find an array of colors throughout Santorini's beaches. From the black sand beaches of Perissa to the red sand beach near Akrotiri, these are the remains of the volcano which once made up this island.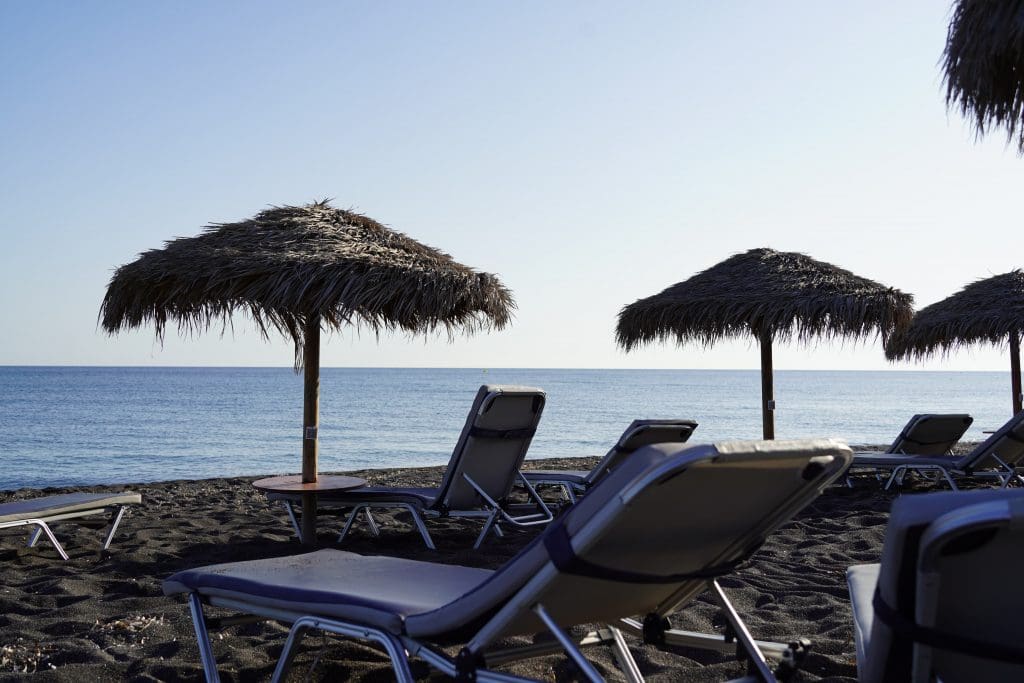 A day spent in one of the beach clubs in Santorini is a fantastic way to spend an afternoon enjoying views across the Aegean Sea, sipping on a well-crafted cocktail, and soaking up the superb Greek cuisine.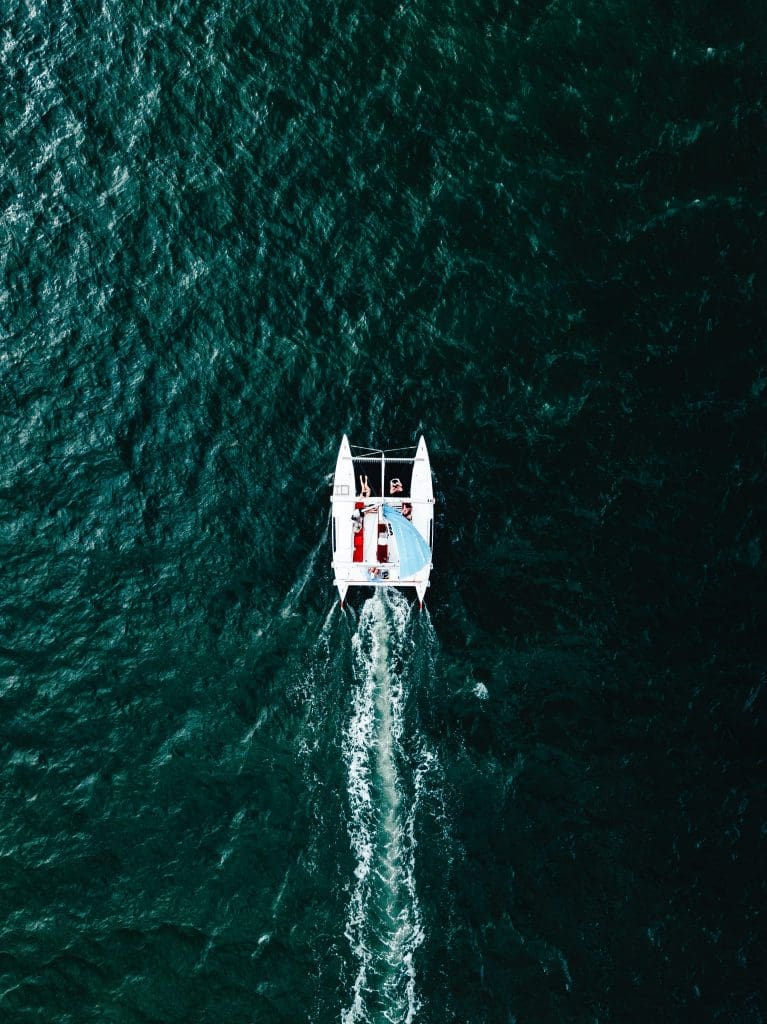 Top Pick: Santorini Sunset Cruise
Don't miss one of the most unbelievable experiences in Santorini. Cruise around the island of Santorini, enjoying spectacular views of the Caldera and the infamous Santorini sunset on a catamaran.
It's also the perfect time to plan your Santorini Sunset Catamaran Cruise for later on in the week. Which is something you can't leave Santorini without doing.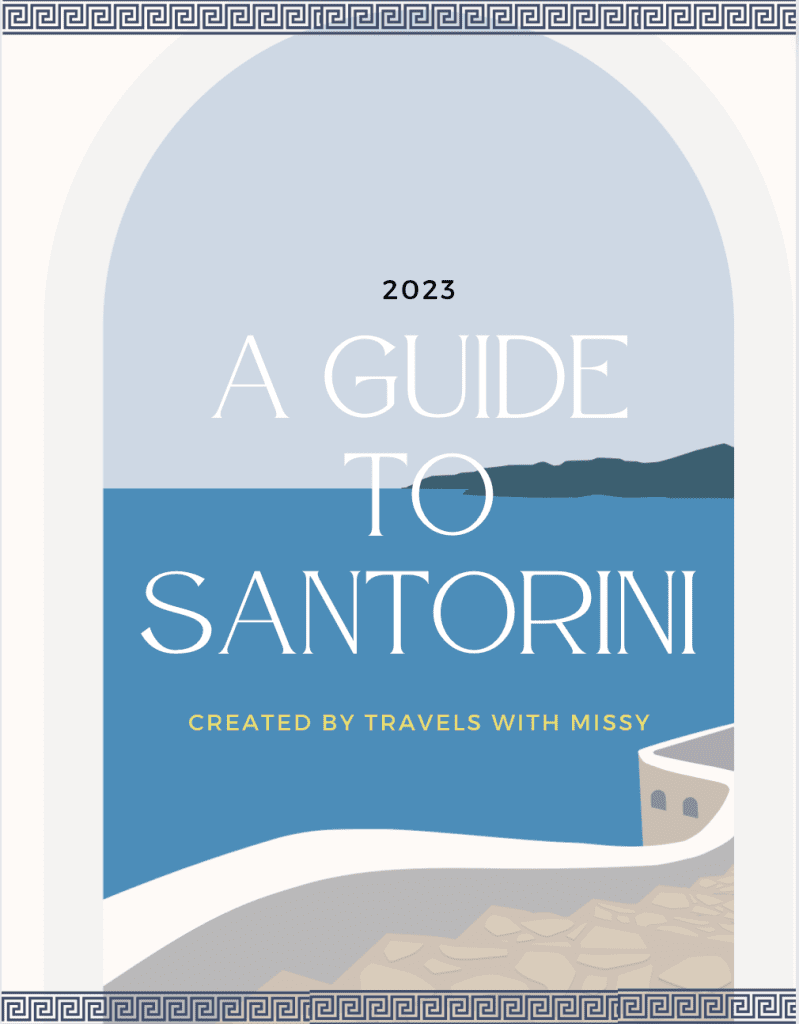 1. Nikki Beach Santorini
With its infamous 'White Parties', Nikki Beach Santorini is one of the world's premier beach clubs and its branch in Santorini is no different. Located on the black beaches of Monolithos, Nikki Beach Santorini is also a resort and spa.
Not only can you spend your days in one of the world's most famous beach clubs but you can also enjoy fantastic spa treatments too.
You don't need to be a guest staying in the resort to enjoy Nikki Beach Club, but it will set you back around €350 a day to rent a sunbed by the infamous party pool.
With a wide range of events throughout the summer, from Rosè parties to world-famous DJs, Nikki Beach Santorini is one of the most luxurious beach clubs on the island.
Bookings from May 1st, 2023.
2. FortyOne Perivolos
Perivolos might just have the best selection of beach bars and restaurants on Santorini and a trip to FortyOne is a must if you are looking for excellent food, service, and some of the comfiest beach beds.
The thick mattresses on the beach beds will make you reconsider heading back to your hotel for the night, and with food this good, you may be tempted to never leave at all.
Book your sun lounger at FortyOne Perivolos via here or check the widget below for availability.
Address: Ag. Georgios Emboriou, Perivolos 847 03, Greece
Telephone: +30 2286 082710
Website: FortyOne
3. Theros Wave Bar 
Operational from May through to October, Theros Wave Bar is a stunning beach club in Santorini on Vlychada beach. It's also a quick 15-minute stop from Fira, which makes Theros Wave Bar the perfect day out.
The dramatic landscape of the cliffs that seem to endlessly soar into the sky makes one of the most superb backdrops for this Santorini beach club. Perched high and overlooking the sunbeds and beach is where you'll find the beach bar and restaurant.
Theros Wave Bar is an unmissable beach club in Santorini and it's easy to see why it's been voted by Tripadvisor as one of the best things to see and do in Santorini. With comfy bean bags, or sunbeds, what better place to spend an afternoon lounging in the Santorini sun and drinking fantastic cocktails.
Sun loungers start from €15 and include an umbrella.
Address: Theros Wave Bar, Vlyhada, Thira 847 00, Greece
Telephone: +30 22861 12015
Website: theroswavebar.gr
4. Yalos
Barebones and rustic, Yalos is a mixture of chic carpenter combined with a deserted island feel. It surprisingly works. The tagline on their Instagram page states that Yalos 'engages all the senses' and it's hard to deny that when experiencing this otherworldly beach club in Santorini.
Some of the beach clubs in Santorini can verge on pretentious, but Yalos is that curious mix of charm and aloofness that draws a certain clientele. Its location on Exo Gialos beach is a short drive from Fira and part of the beach club has been carved into the rocks.
The big draw for Yalos is the superb, and really it is superb cuisine that is quite unusual for a beach club. The produce is locally sourced and the menu has been created with foodies in mind. You won't find any frozen food here.
The former fisherman shack setting is spectacularly designed, with beach beds spread out across the sand, and dining on the sand crossed-legged is highly recommended.
Savor the ambiance and soak up the bohemian vibes.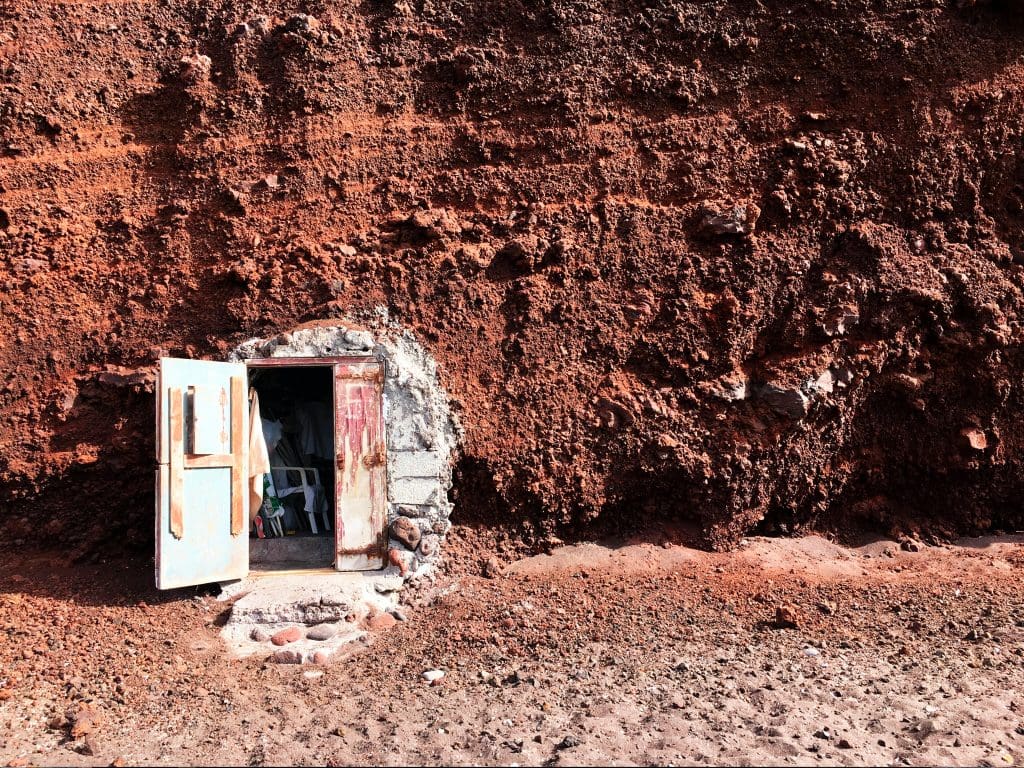 5. Wet Stories 
Asides from having one of the best names of beach clubs in Santorini, it also happens to be one of the slickest beach clubs in the Cyclade islands.
Located on the black sands of Perivolos Beach, the unique sand color is a stark contrast to the crystal clear water.
Spend a day at Wet Stories nibbling on a fantastic Japanese-inspired menu, whilst ordering a variety of their signature cocktails.
Two sun loungers plus an umbrella are reasonably priced at €30 which is a steal compared to some of the other beach bars on the island.
Reservations are strongly recommended in advance.
6. Seaside Santorini
Seaside Santorini is one of those beach clubs that has a number of strings in its bow. Not only is it a popular beach club, but its restaurant and bar attract a lot of visitors from across the island.
Located on the black sands of Perivolos Beach, Seaside Santorini is a vibrant beach club no matter what time of the day you stumble upon it. Its restaurant won a prestigious award, 'World Luxury Restaurant 2022' that requires bookings, especially in the height of the summer months.
The beach club part of Seaside Santorini has an array of fabulous cabanas and sun loungers to choose from. Divide your time between dips in the sea and ordering delicious cocktails and small plates to your beach cabana.
7. Jojo Beach Bar
The fantastic Jojo Beach Bar is like visiting Tahiti with its Tiki Beach Bar vibes and palm frond roof. With options to relax in their Bali beds by the pool, or down on the black sand beach of Perivolos.
Spend your day vibing in one of the most energetic beach club in Santorini, listening to curated playlists, ordering delicious Greek food to your bedside or swimming in the huge pool that lines that bar.
Jojo Beach Bar is one of the best spots on Santorini for late-night partying with several themed nights throughout the summer months. Spend the evening dancing to superb DJ sets and you'll inevitably end up in the pool at some stage.
Address: Joy Beach Hotel, Perivolos Santorini, 84703
Telephone: +30 22860 8138
---
Whether you decide to spend your days lounging by the beach in one of the many beach clubs in Santorini or dining in the many beach bars and restaurants, you're going to have a wonderful time.
Some of these may be affiliate links, which means when you buy something I may receive a small commission. There is no additional charge to you, and it really helps to support me – so thank you!
Travel Essentials
Planes, Trains & Automobiles – I'm always on the hunt for great flight deals and Omio usually has excellent offers throughout the year. Booking a ferry is easily done through Ferry Hopper or Omio. For car hire, I've found RentalCars to be consistently the best.
Hotels – For hotel comparisons, I use Trivago to check where I can get the best deal. Booking.com usually ends up having the best deals around and has been consistently reliable throughout the years.
Tours & Guides – Searching between Viator & Get Your Guide, I can usually find a good deal on a food tour or event in the city that I'm visiting.