Discover the Best Islands in Greece for Couples (2024)
What a delicious problem to face when planning your next Greek holiday. Which Greek islands shall we explore? But which are the best islands in Greece for couples to choose from? It can present as pretty challenging. It also may not be the worst problem in the world to have, but it can certainly be a bit of a head-scratcher.
One thing that connects all of the Greek islands is that they are magnificent in their own way. From the deep rich history to the incredibly delicious food, the Greek islands have it all. Each Greek island offers something different for its visitors.
As you explore the numerous islands (there are over 1200 islands of which 120 are inhabited), you start to understand and get a feel for this majestic country.
Find out some of the best islands in Greece for couples with this list and start planning your island-hopping adventure.
Cyclades Islands
The Cyclades are a chain of islands that are perhaps most famous for Santorini & Mykonos. The traditional white buildings and blue-domed churches are typical of this chain of islands.
The Cyclades are some of the best islands in Greece for couples as they make an excellent first impression of Greece and will leave you yearning for more. The Cyclades are numerous and selecting the best choice for your vacation is a mix of trial and error. And with the Cyclades, there is very little error.
Paros – The best Greek Island for Couples who love Exploring
Paros is so often overlooked in favour of its two more famous island relatives – Santorini & Mykonos. This is a shame because Paros deserves to be as internationally famous, it has incredible beaches, bustling cocktail bars and is postcard-pretty.
Paros is one of the best islands in Greece for couples who want a Greek island that has ample beaches, excellent food and lots of exploring to do. Without the hefty Santorini or Mykonos price tag.
A great town to be based in is Naoussa. It has one of the prettiest harbours that you will encounter in all of the Cyclades. Walking around the small quaint white sidestreets complete with blooming bougainvillaea will leave you breathless at the sheer beauty of it all.
For those interested in shopping, this is a haven for those looking for a special piece of jewellery or pottery. Naoussa is an excellent base for visiting some of the best beaches in the area, Monastiri and Kolymbithres are a short drive from the centre of town.
A small fishing boat can take beachgoers to the Kolymthibthres from Naoussa harbour several times throughout the day.
Ferries arrive throughout the day into the main town of Parikia, another gorgeous place to be based. Larger than Naoussa, it has wandering alleyways with an abundance of jewellery stores and handcrafted shoes and linens.
The seafront is home to some of the best tavernas on the island and is a wonderful spot to watch the ferries and boats arriving into the harbour. There is a small airport on Paros with flights to and from Athens. There are plans to install a longer runway in the hopes of opening up the island to international flights.
Antiparos is a 15-minute car ferry ride from Paros island. Rental cars and other vehicles can be taken onto the ferry. The island of Antiparos is a wonderful day trip during the summer months when the island comes alive. There are numerous beach clubs dotted across the island, Beach House is one not to be missed.
If you are looking for an excellent beach bar to hangout out with chilled beachy vibes, yoga classes and sublime food then look no further. The main Chora (greek work for town) has a wonderful main street that has an eclectic mix of restaurants, bars and excellent shopping.
Ferries run all day to Paros and late into the night. For party-goers, the last ferry back to Paros leaves at 2.30 am, or if that's too early you can catch the first ferry fo the morning.
Milos – Best Greek Island for Couples who love Secret Beaches
Milos is the island when you begin to seriously consider whether you should just pack up all your belongings and wander the Greek islands for the remainder of your days.
The island of Milos is made up of adorable colourful fisherman shacks, beaches that require a ladder to access and rock formations that double up as sunbathing spots.
Oh, and the marble for the Venus de Milo originated from this island. Adamas is the main town on Milos and where ferries depart for other islands in the Cyclades. Milos has a small airport with direct flights to and from Athens.
Renting a vehicle on the island is highly recommended as many of the beaches are accessible by bumpy roads or by the sea. Boat rental with or without a skipper is entirely possible and highly recommended.
The freedom of heading off and exploring beaches that are only accessible by boat is thrilling. You can also explore the smaller islands, Kimilos and Polyaigos. You do not need a boat license to rent a small motorboat on Milos.
Milos is one of the best places to visit in Greece for couples that are looking for outrageous beaches, and who want a bit of relaxation mixed with activities. There are lots of boat tours to the surrounding islands, and inaccessible by road beaches.
Make sure to explore the tiny seaside village of Klima which is famous for its multicoloured Fisherman's houses which have now been transformed into beautiful lodgings.
The hotels in Milos are incredible. Base yourself in the town of Pollonia which has some great accommodation choices and lovely tavernas. It also is the easiest way to catch a small local ferry to the island of Kimilos from Pollonia. Spend your evenings in the town of Trypiti dining in excellent restaurants and looking out across the island.
Folegandros – Best Greek Island for Hiking
Folegandros is one of the best Greek islands for hiking who are seeking solitude and incredible scenery. Folegandros is one of the quietest Greek islands in the Cyclades.
Less than 800 people make this island their home. Folegandros is often considered to be the best Greek island for hiking. Its hilly terrain and some of its beautiful beaches are accessible only by hiking to them.
Because of the island's size, an itty bitty 12km x 4km makes this island an excellent place for those who love to walk. It has one of the most photogenic churches in all of the Cyclades.
The Church of Panagia sits above the town, perched on a cliff with a white stone pathway that zigzags its way to the church. As far as settings for churches on remote Greek islands, this is a belter of one.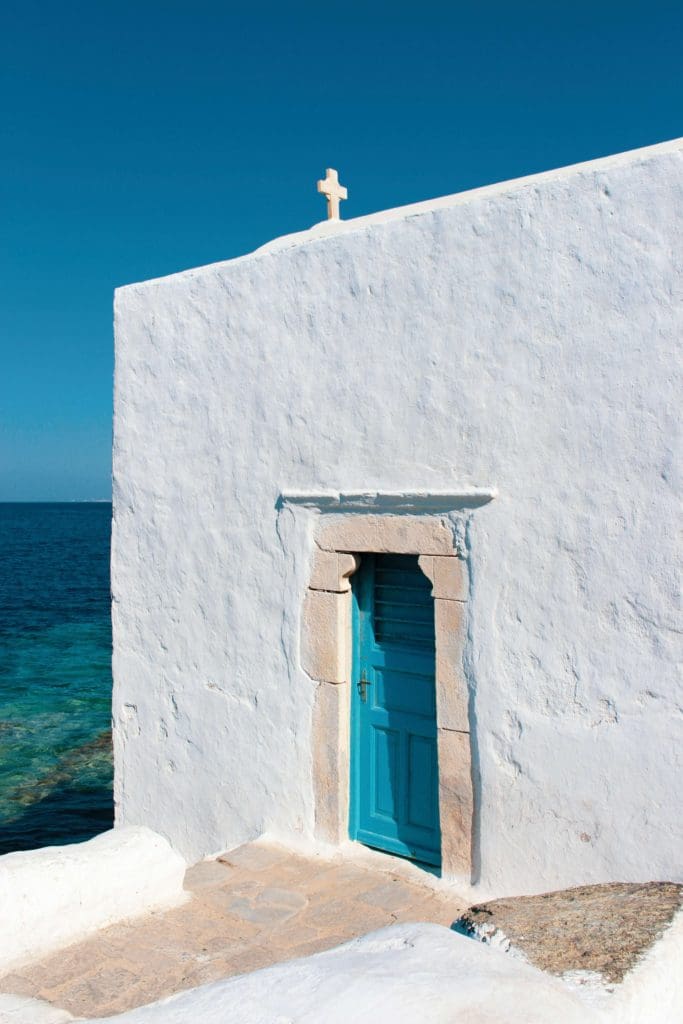 If hiking isn't your thing, during the high season there are plenty of tours that circumnavigate the island, stopping off at several beaches that are otherwise difficult to access.
Karavostasis is the main harbour where tours and ferries depart from. Folegandros' Hora is a beautiful main street, lined with bougainvillaea and traditional white houses with blue trimmings.
Sifnos – Best Greek Island for Couples who love Food
Sifnos is the island where trendy Athenians spend their summer holidays. The towns of Apollonia come alive with shops bustling with incredible locally made goods, restaurants beckon in visitors with one of the most vibrant culinary scenes in Greece. Sifnos is easily one of the best islands in Greece for couples who are foodies.
And it's not only the food scene that draws visitors this is Cycladic island, but it also has incredible scenery and fantastic beaches and vogue-worthy hotels.
Strolling around the streets in the evening in Apollonia will make deciding where to dine even harder as there are so many excellent restaurants to choose from.
Like most places in the Cyclades, make sure you bring a shawl or light cardigan out in the evenings as the Meltemi winds seem to pick up in the evenings.
Renting a car to get around the island of Sifnos is advised. There is a bus service, but for such a small island it doesn't appear to be too frequent. The Church of the Seven Martyrs is worth visiting when exploring the town of Kastro.
The church sits out on a peninsula and has one of the most incredible backdrops. The town of Kamares is a wonderful seaside town with great restaurants and accommodations, it's a great place to be based during your stay.
Sifnos is one of the best small Greek islands for couples looking for relaxation, excellent food, great accommodation and sights to explore.
Amorgos – Best Greek Island for Couples who love to Freedive
Amorgos is the most remote island in the Cycladic chain of islands. The ferry from Athens Pireaus takes 10 hours, and even the fast ferry takes 7 hours. Amorgos is one of the best islands in Greece for couples who wish to spend time walking, freediving and exploring.
You do not want to rush the island of Amorgos. Due to its remoteness, couples who do venture here will be rewarded with a slower pace of island life. Freediving is incredibly popular here, thanks in part to the cult classic The Big Blue.
And for walkers, Amorgos is an excellent place for a ramble with plenty of trails that pass some out of this world scenery. The Moni Hozoviotissis is an 11th-century monastery that is built into a cliff face and worth the 350 steep steps to reach it. Remember to dress modestly when visiting, with no knees or shoulders exposed.
Amorgos has such a wide variety of beaches that don't be too surprised if you might even have some of them entirely to yourself. Kalotaritisas Bay is one of the prettiest beaches on the island and perfect for spending a day dipping in and out of the sea.
During the summer months, there is a local ferry to the uninhabited island of Krambousa, where a local taverna offers visitors some of the freshest seafood in the Cyclades.
This is one of the best places in Greece for couples who love getting off the beaten track, slow travelling and exploring every inch that a destination has to offer. Amorgos offers visitors a chance to experience Greek life at a slower pace than many of the other islands which have forgotten.
Santorini & Mykonos – Best Greek Islands for Honeymoons & Partying
It would be remiss not to mention the two titans in the Cyclades. Santorini has some of the most incredible hotel experiences and oozes romance. It is hands down one of the best islands in Greece for couples (if not the best) looking for a romantic destination replete with sunset cruises, wineries and out-of-this-world views.
Mykonos is hedonism at its finest. Like Santorini, you can also experience outstanding hotels with private pools and party until the sun comes up. Mykonos is fun and is one of the best Greek islands to party and splash some cash.
The islands during the height of summer can get busy, and accommodations and ferries need to be booked well in advance. Mykonos is one of the best Greek holidays for couples who want to splurge, party and stay in world-class hotels.
Ionian Islands
The Ionian islands are so very different to the Cyclades. With heavy influences from the Venetians, British & French the Ionian islands are green, with cypress trees, vineyards and islands teeming with history.
The Ionian islands are a mix of being extraordinarily touristy with plenty of package tour holidays which have somewhat ruined parts of the islands. And the opposite, islands that are reminiscent of a past long forgotten and waiting to be discovered.
These are some of the best islands in Greece for couples who want to explore Greece beyond Santorini and Mykonos. They are spectacular and all offer something unique to those who visit.
Kefalonia – Best Greek Island for Couples who Love Wine
Probably the best of all the Ionian islands, Kefalonia is one of the best islands in Greece for couples looking for a magical green wonderland that will entice visitors with its history, scents and scenery.
Tourists who visit this incredible Greek island will be spoiled with one of the best beaches in the whole of the Greek islands – Myrtos Beach.
An enormous earthquake destroyed the island in 1956, leaving the island reeling for a long time. The earthquake's devastation destroyed many of the Venetian buildings that once decorated the island.
Kefalonia is easily one of the best islands in Greece for couples who want to spend their days exploring its stunning beaches to picturesque towns. Or stopping off in vineyards along the way and engaging in some hiking or other activities. Kefalonia has it all and will lure visitors back time and time again.
Myrtos Beach is one of those beaches that deserves to have more recognition. The large swooping bay is framed between enormous hills with a zig-zagging road that leads to some of the most astounding colours of water you've ever seen.
From a distance, it appears that the white sand beach is, well, sand. It is white pebbles that give off its illusion. There is a parking lot at the entrance to the beach, but do plan on arriving either very early or just as most people are heading off the beach at the end of the day.
The town of Fiskardo managed to survive the earthquake and retained the colourful Venetian buildings that give this harbour town its charm and make it one of the prettiest in the Ionian islands.
Kefalonia is one of the most romantic greek islands, so make sure to book a night or two in Fiskardo and soak up the wonderful tavernas and bars it has to offer.
Kefalonia also has impressive private pool villas that can be found across the island. Car rental is definitely advised on the island as there are many incredible places to explore. Make sure to explore the many wineries that offer tours and tastings, the wine on Kefalonia is really beautiful and crisp.
Kefalonia is the best island in Greece for couples who want a bit of everything in a couples holiday – sun, sea, sand and all the Greek trappings.
Paxi – Best Greek Island for Couples who love Small Island Vibes
Small and adorable, Paxi is the best place to stay in Greece for couples who are looking for a quaint island feel. This small island has 3 beautiful harbour villages, Lakka, Loggos & Gaios with an array of accommodations and tavernas.
Paxi is one of the quietest Greek islands and is a perfect island for those who want to step back to a simpler time, lose themselves in the olive groves and explore picturesque harbours and find a small cove to swim in.
Paxi is one of the best places to visit in Greece for couples who want a dash of adventure and rambling, mixed with compactness.
Couples can rent motorboats to meander from cove to cove in search of the perfect swimming spot. The water here is so crystal clear that it will be hard not just jump right in. Bring a packed lunch and spend days exploring.
There are several excellent hiking trails found on Paxi that explore along the cliffs of the island. Daytrippers can find themselves visiting the small island of Antipaxi which during the summer months gets extremely busy thanks to the stunning sandy beaches on the island.
This small island has a few tavernas and ferries that leave from Gaios to Antipaxi during the summer months.
Corfu – Best Greek Island for Couples who love History
Corfu has a mixed reputation. It certainly has areas where mass tourism has made a beautiful island in parts quite ugly. If you've watched the TV series or read the books, The Durells portrays an idyllic island with plenty of charm.
There is a lot of charm thankfully left on the island that can be found far away from the package tour hotels and drunken tourists. Head to the North of Corfu to bypass the built-up areas and explore the North-West of the island for a part of the island that has been left untouched by tourism.
Corfu town has excellent museums and explores its own British and Venetian history. The buildings are tightly packed together and is the epicentre of life on the Ionian islands. The bars are lively and restaurants throng with people.
The Achilleion Palace is 12km from Corfu Town and a beautifully designed palace that was built for an Austrian Empress. The gardens alone are worth the admission price.
Corfu has an excellent international airport that connects with a lot of major European destinations. There are also ferry connections from Bari Italy to Corfu twice a week.
The Ionian islands are not as well connected with ferry services as the Aegean Sea islands are. You will need to fly from Corfu to Zakynthos with Sky Express.
Corfu is one of the best places in Greece for couples who want to fly directly to their destination and be right in the action.
Dodecanese Islands
The Dodecanese Islands are within view of the Turkish coastline and are steeped in history. The islands have long been a stepping stone throughout history from the Ottomans to World War 2 and more recently in the refugee crisis that flooded Europe in 2015 and still happens to this day.
Symi – Best Greek Island for Couples who love Colour
Symi is right up there with Santorini in terms of wow factors. Sailing into the harbour of Symi is breathtaking, the multicoloured Italian-esque buildings rise out of the water and will charm visitors immediately.
Symi is one of the best islands in Greece for couples looking for a romantic holiday and not much more. It is the perfect place to enjoy a boutique hotel on one of the most beautiful islands in the Dodecanese. This island makes a great stop off for enjoying island life and discovering a new cove.
There isn't a lot to do on Symi and that's what makes it perfect. Make sure to rent a self-drive motorboat (you don't need a boat license) and explore the island's coves and beaches. During the early part of the 20th century, Symi was a busy island selling sea sponges and had a thriving market.
Now the sea sponge market has dried up (dreadful pun, sorry), you can find the occasional sponge in the shops that line Gialos' harbour. Make sure to climb over 500 steps to reach the town of Horio for an incredible view over Gialos and earn a well-deserved Greek beer.
Patmos – Best Greek Island for Couples who love off-the-beaten-path adventure
Visitors who end up on Patmos don't end up there by accident. Patmos is easily one of the best places to visit in Greece for couples who want to escape crowds and find themselves lost in tranquillity.
Patmos is the island where time slips away and that enormous pile of books that have been piling up beside your bed suddenly doesn't seem like such a chore.
The days are hazy as your plan revolves around discovering a new beach, making plans on where to eat and exploring this incredible island. Patmos is so rewarding and not many visitors take the time to visit it, mainly because it is one of the most remote islands in the Dodecanese.
It takes 5.5 hours on the ferry from Rhodes and an overnight ferry from Thessaloniki. There is no airport in Patmos.
It's also a deeply spiritual island, St. John the hermit hide on the island and had a revelation (Book of Revalations) during the first century and many people make a spiritual journey to the island. The island is covered in pine trees which give off a heady smell and small pebbly beaches are yours to explore and claim.
And when you've had enough of that, hop on a small boat and explore the three tiny neighbouring islands that have tiny permanent populations (50 people or less). You can catch a local catamaran between the islands and explore the monasteries, tavernas and sandy beaches. It also happens to be one of the best Greek islands for hiking.
Patmos is the best islands in Greece for couples who want to catch up on their reading, do some activities and have ample time to spare.
Astypalea – Best Greek Island for Couples who love Ancient Ruins
Shaped like a butterfly, Astypalaia lies halfway between the Cyclades and the Dodecanese Islands. This is one of the best islands in Greece for couples who want to hike and escape the mass tourism of nearby islands.
Astypalea has a small airport on the island with daily flights to Athens and other smaller islands in the Dodecanese chain. Like Patmos, Astypalea is not for the average traveller. It requires a long ferry journey to reach the island from Athens' Pireaus port which makes the journey 4 times per week and takes almost 10hrs.
The old town of Hora sits above Pera Gialos overlooking the small harbour. It is a wonderful place to explore as you meander from the tavernas on the seafront up to the castle above the town especially during peak season when the bougainvillaea is blossoming and the tavernas and bars come alive.
There is an archaeological museum that house ancient ruins and artefacts that tell the story of Astypalea's past. The island has ample trails for hikers and the excellent tourist information office in a former windmill can give further information.
Sporades Islands
Skopelos – Best Greek Island for Couples who love Mamma Mia
Skopelos is the island where the musical movie Mamma Mia was filmed. The iconic white church at the end of the movie is located 7km from the Skopelos town and gets very busy during the summer months. But if you arrive early at the Agios Ioannis Kastri Church you can have it pretty much to yourself. It is a lovely place to spend time and stretch your legs.
If you are looking for sandy beaches then look no further than Panormos Beach which sits 12km from Skopelos town and is so breathtaking you might not ever want to leave. It has a taverna and sun loungers on the beach, but you'll spend most of your time in the water.
Make sure to also visit Kastani beach to reenact many of the scenes from the movie Mamma Mia, including one where you crawl out of the water. Or you can just enjoy a stunning beach that is fringed with pine trees and watch other people do the reenactments!
The best way to reach the island of Skopelos is to either fly into Skiathos or travel from Evia. If coming from Athens you will either need to catch a bus to Volos or Evia and then transfer to a ferry. There is no airport on Skopelos.
Saronic Islands
Hydra – Best Greek Island for Couples who love to Unplug
Hydra is definitely one of the best islands in Greece for couples short on time. Its proximity to Athens Piraeus port travel tips means that you can visit this island in under 4 hours straight from the airport. It is one of the only Greek islands where vehicles are not allowed.
That's right, no scooters, cars or mopeds. Just donkeys doing all the heavy lifting. The island of Hydra has charmed a lot of people with its laid back vibes and given how frantic the world can sometimes feel, Hydra allows you to step back in time to a simpler era. Hydra is the best island in Greece for couples who want to unplug and unwind.
Hydra is a superb place to people watch. Sit in one of the seafront tavernas or bars and watch some truly glamorous people drop anchor on their private yachts. The island of Hydra also has some excellent museums such as the Byzantine Museum and the Historical Archives Museum of Hydra.
Galleries are in abundance as Hydra is home to enclaves or artists who make this island their home. There are plenty of beaches within walking distance of the main town of Hydra and you can also do a boat tour of the island and drop off at more secluded spots. The water, like the rest of Greece, is crystal clear and inviting.
The Best Greek Islands for Couples
One of the most astounding things about Greece and its many islands is the fact that there is seemingly an endless amount of them. And that each island varies from one to the next. Even in the Cyclades which are some of the most heavily frequented by cruise ships etc, are so different from one island to the next.
Whether you love hiking, snorkelling, or just laying on a beach, these are just a small sampling of some of the best islands in Greece for couples out there.