Paris is already a pretty sexy city as it is. It smolders in that ubiquitous way that only a city in France can do. Paris oozes charm and appeal from its iconic structures (Eiffel Tower), its lazy river runs through its beating heart (Seine) to the local Parisians who appear effortlessly chic and impossibly attractive.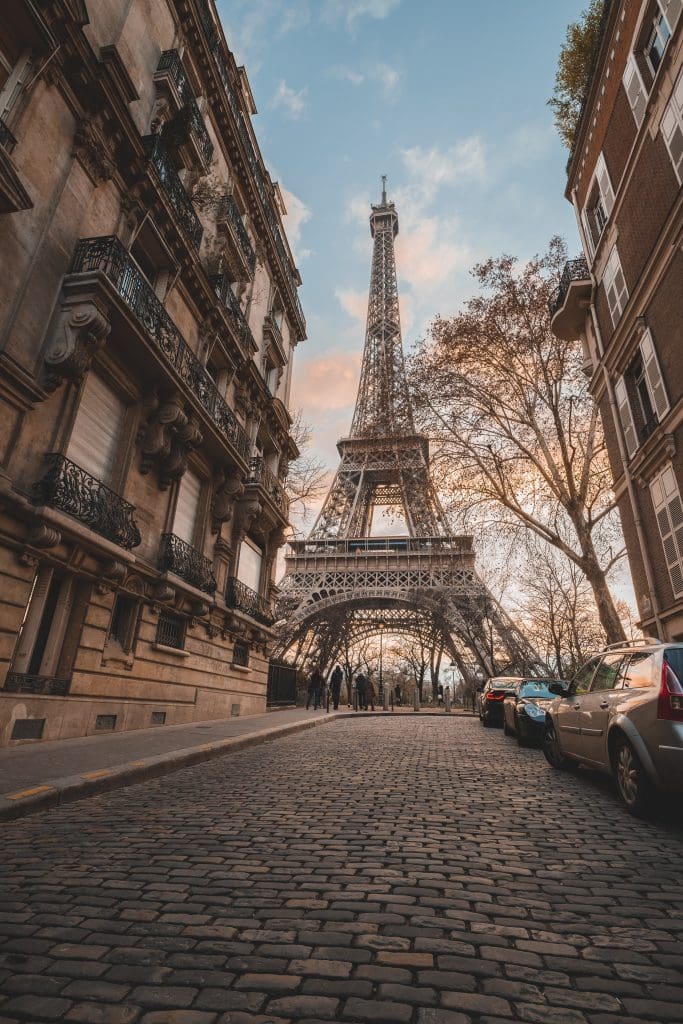 And what could be sexier than finding yourself on a hot summer's day drinking fantastic cocktails and taking in the sights from a rooftop bar in Paris? If you've wanted to channel your inner Emily in Paris fantasy, grab your beret, sip on a Pernod, and soak up some of the unmissable rooftop bars in Paris. 
1. ROOF Paris
One of the unmissable rooftop bars in Paris and where you can enjoy the best parts of the year, ROOF Paris is breathtakingly perfect. With spectacular views of the Église Saint-Eustache and Musée Bourse de Commerce as a backdrop, you'll find it hard to beat this location.
With ample room, stellar cocktails and sushi – I can't think of a better place to catch up with friends or take a loved one to than ROOF Paris. Like most of the rooftop bars in Paris on this list, you can't simply rock up to in your tattiest clothes. Of course this being Paris, you'll need to wear some of your chic-est clothing to gain access to this luxurious rooftop bar in Paris.
Although you may not see the stars from ROOF Paris, as night falls, you'll witness the city of Paris light up. Grab a glass of your favorite wine (Minuty Prestige, please), and let the night unravel. Located on the roof of Hotel Madame Rêve.
Metro Line: 4
Metro Stop: Les Halles
2. Sequoia Rooftop Bar
Open from April 2023 for those Spring & Summer months when Paris truly comes alive, Sequoia Rooftop Bar can be found in the superb Kimpton Hotel. Gaze across the Parisian skyline, sample their signature tacos or mull over how life brought you to one of the most beautiful cities in the world.
Everything about Sequoia Rooftop Bar is exquisite, which trickles down to their exemplary hotel. Cocktails start from €20, and if the sun is shining, it's hard to beat their Hugo & View. Seriously is a Hugo Spritz not one of the best cocktails of the 2020s?
If ever you have wanted to fall even more in love with Paris, take a visit to one of the most picturesque rooftop bars in Paris at sunset, and watch as the sun sets over the horizon of Paris from Sequoia Rooftop Bar.
Metro Line: 3, 7, 8
Metro Stop: Opéra
3. Terrass' Rooftop Bar
Heated throughout the winter and proofed for those days when the weather is a little bit rainy and grey, Terrass' Rooftop Bar is the perfect place to escape when exploring the area near Sacre Coeur & Montmartre.
Located on the 7th floor of the darling Terrass Hotel, this rooftop bar in Paris offers views across the entire city of Paris and takes in the iconic Eiffel Tower. Also visible is the tippy-top of Sacre Coeur, one of my favorite places in Paris (especially on a sunny Spring day).
Metro Line: 2, 13, 12
Metro Stop: Place de Clichy, Abbesses
4. Perruche
If I could describe Perruche in a single word, it would be 'summer'. But that doesn't seem to do Perruche the justice that it deserves. Perruche is located on the roof of the department store, Printemps Haussmann, and offers visitors a taste of summer, no matter what kind of weather. 
The sunshine yellow-themed decor invites visitors to experience Perruche as more than just a rooftop bar in Paris, but also a culinary event. Spend a long lengthy lunch in the rich Parisian sunshine, enjoying oysters, salads, and pâtes, whilst indulging in a generous cocktail and wine menu.
The views across from the Eiffel Tower are quintessential Parisian vibes. How could you not love a visit to Perruche? Starting prices for cocktails are €19 and a glass of wine €10+.
Metro Line: 3, 9
Metro Stop: Havre – Caumartin
5. Rooftop Hotel Villa M
Located on the rooftop of Hotel Villa M, you'll find a seasonal rooftop bar. With flowering fruit trees and views across the Eiffel Tower, the Montparnasse Tower, Rooftop Hotel Villa M is one of the greenest rooftop bars in Paris. I love the green touch found throughout the entire building, and we love a bit of sustainability as we drink our cocktails. 
Nibble on superb world creations from the kitchen that include Iberico Jamon, Gyoza's, Aubergine caviar, and mouthwatering delicious chicken skewers.
Prices for cocktails start at €22 for a classic pornstar martini (my favorite – I'm very basic). And a glass of wine starts from €15, and if you're feeling really splashy then a bottle of Champagne is one of the best ways to celebrate a beautiful summers day.
Metro Line: 12
Metro Stop: Volontaires
6. Le Perchoir Marais
Seasonal Le Perchoir opens in April through the glorious summer months in Le Marais. One of the finest neighborhoods in Paris. It's the perfect rooftop bar in Paris to catch up with friends over some delicious bar snacks. 
And considering this is a delightful rooftop bar with extraordinary views of rooftops in Le Marais and the Eiffel Tower in the background, the prices aren't too outrageous. 
Cocktails start from €16 for a delicious 'Coco Chacal', or a glass of white wine for €8. With prices that hard to beat, we know where we'll be spending most of the summer.
Located on the top of the BHV Marais department store, don't miss out on this delightful rooftop bar in Paris this summer. 
Metro Line: 1
Metro Stop: Hôtel de Ville
7. Skybar Paris
If you are looking for a sexy rooftop bar in Paris that has elevated views across the city, then look no further than Skybar Paris. Drink the night away with the beautiful people of Paris, with DJ sets throughout the entire week and late-night opening. 
Located within the Pullman Hotel in Montparnasse, Skybar Paris really starts to kick off when the sun sets. Cocktail prices start from €21 and wine by the glass from €17.
Metro Line: 13
Metro Stop: Gaîté – Joséphine Baker
8. Windo Skybar
No matter the weather or time of the year, the Windo Skybar remains open and offers visitors stunning views from the 34th floor of the Hyatt Regency Paris Etoile. This is the perfect rooftop bar in Paris to visit during the colder months and watch as the city lights up. 
Windo Skybar even offers a unique Happy Hour, Monday through to Friday which includes 2 cocktails, crispy King Prawns & Blue Crab. A perfect start to the beginning of your night as you set off to explore Paris during the evening. Perhaps even visit the infamous Moulin Rouge or sexy Crazy Horse. 
Metro Line: 1
Metro Stop: Neuilly – Porte Maillot
Whether you are spending 24 hours in Paris, or are seeking a place to catch an incredible view and a cocktail, then you simply must visit one of the many rooftop bars in Paris.