A Guide to Big Buddha Bangkok (Wat Paknam) in 2023
One of the most arresting sights in fabulous Bangkok is the sight of the Big Buddha of Wat Paknam sitting high at skyline level. Even as you approach the enormous statue it's quite hard to comprehend how gigantic Bangkok's newest attraction is.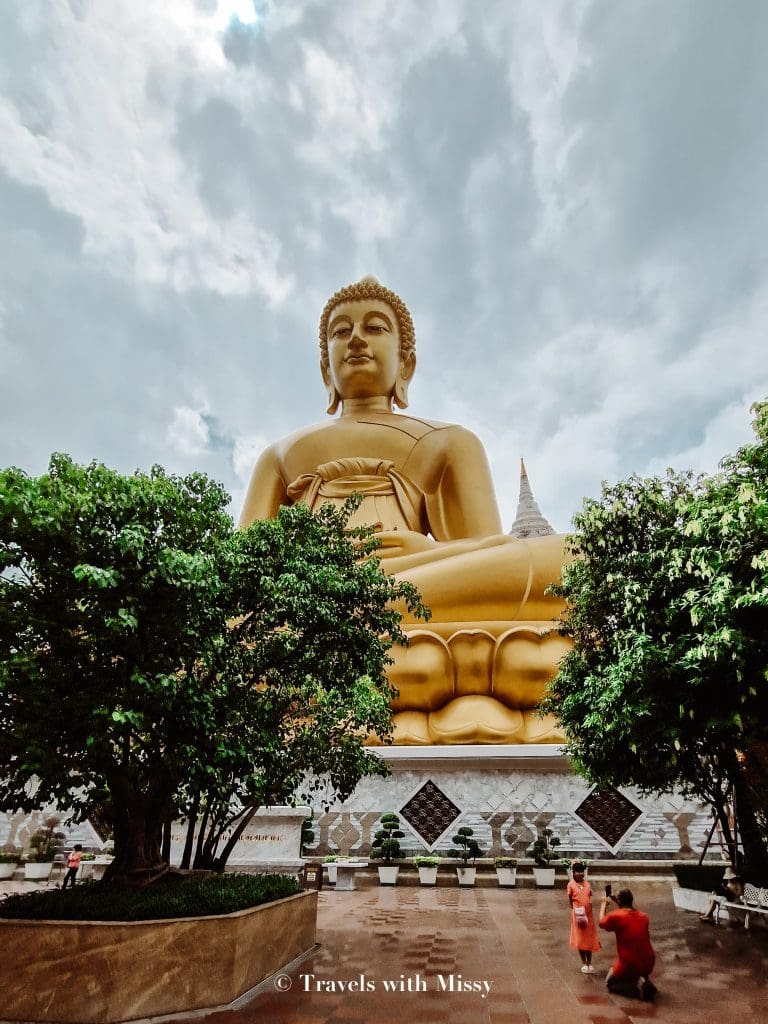 The neighborhood of Phasi Charoen is worth exploring, and if you come by MRT you'll walk through a beautiful neighborhood of Bangkok that is local life at its finest and most beautiful.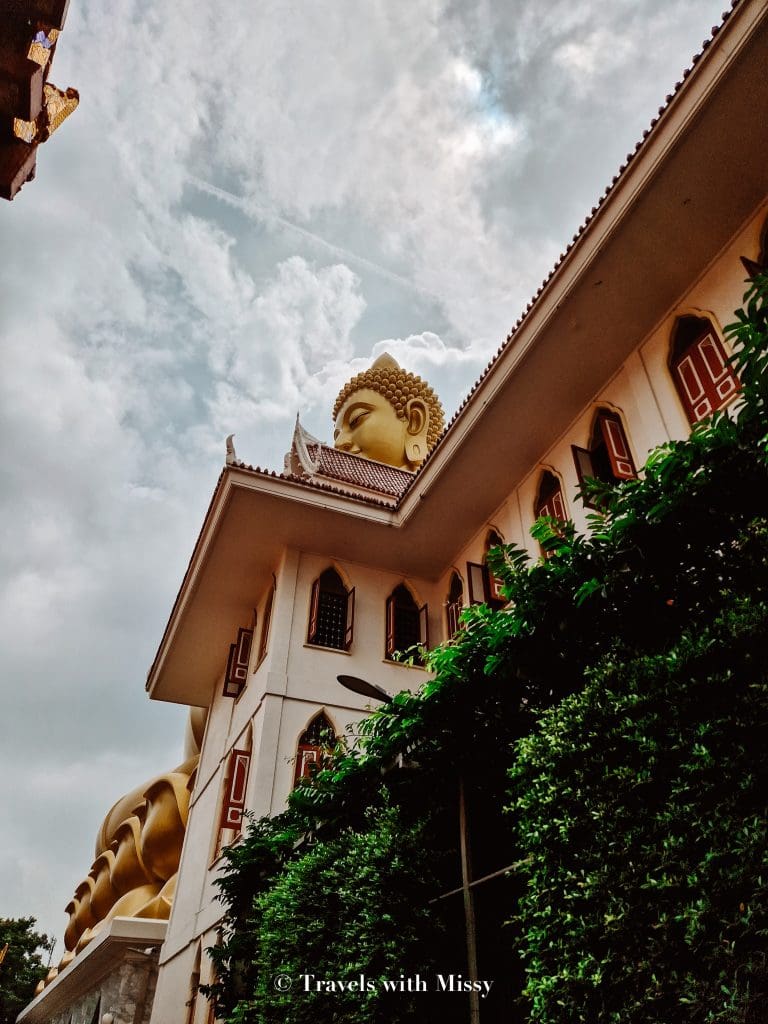 A recent addition to the city, Big Buddha was under construction in 2017 and finally finished in late 2021. It's a worthy excursion that should be added to any Bangkok itinerary, you can spend around an hour or two exploring the complex and neighborhood of Phasi Charoen.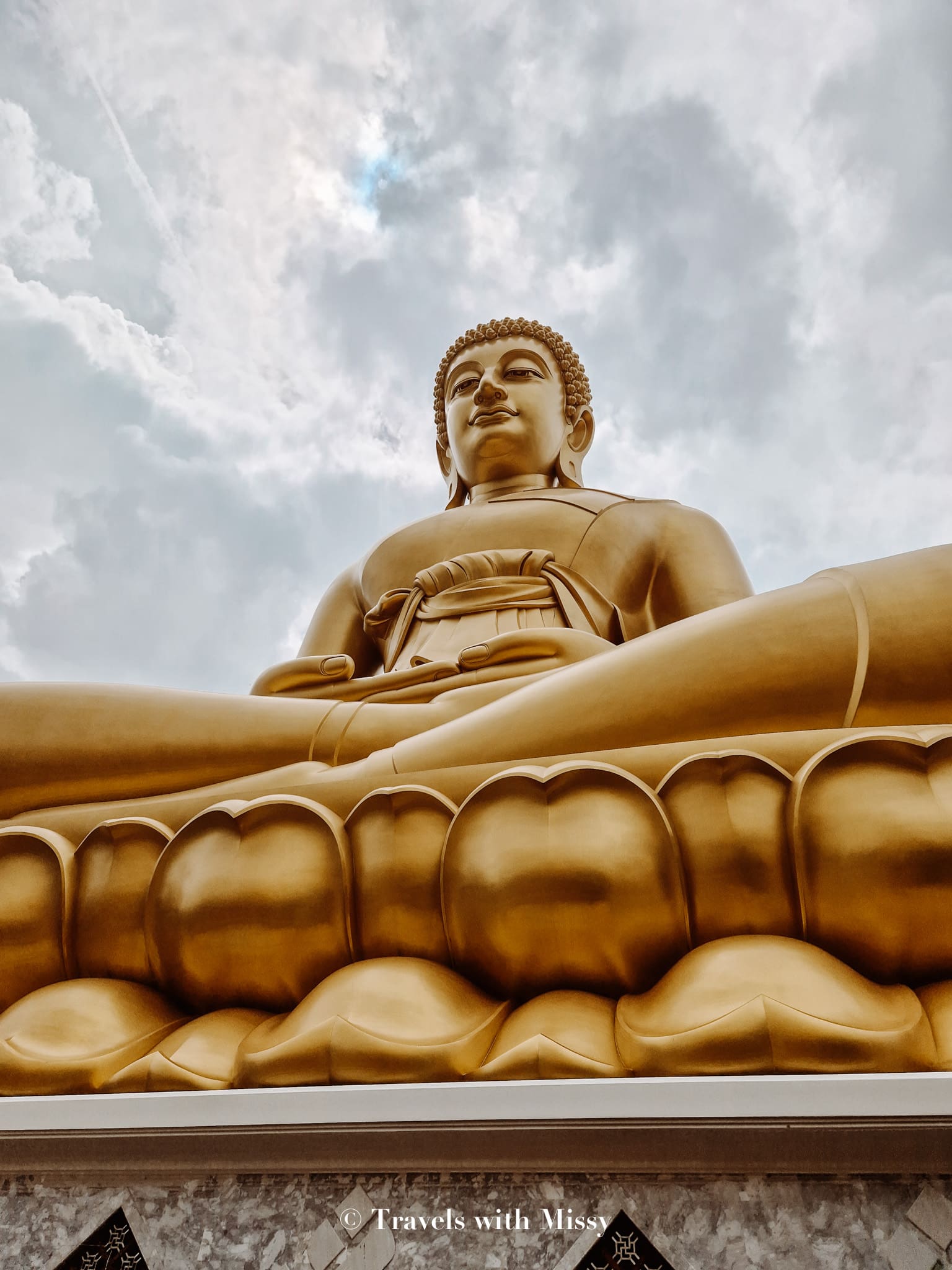 Big Buddha & Canal Tour
What better way than to see the Big Buddha than from the water. Hop onboard a guided tour of the incredible canals of Bangkok and motor past Big Buddha. Stop off at Wat Paknam and explore the Big Buddha up close.

Wat Paknam
The Wat Paknam complex dates back to the 17th century when it was constructed in 1610. The complex has a gold-leafed Buddha which visitors can adorn through a small donation.
Near the klong side of the Wat you'll find enormous catfish and for 10 Baht you can buy a bag of fish-food and feed them.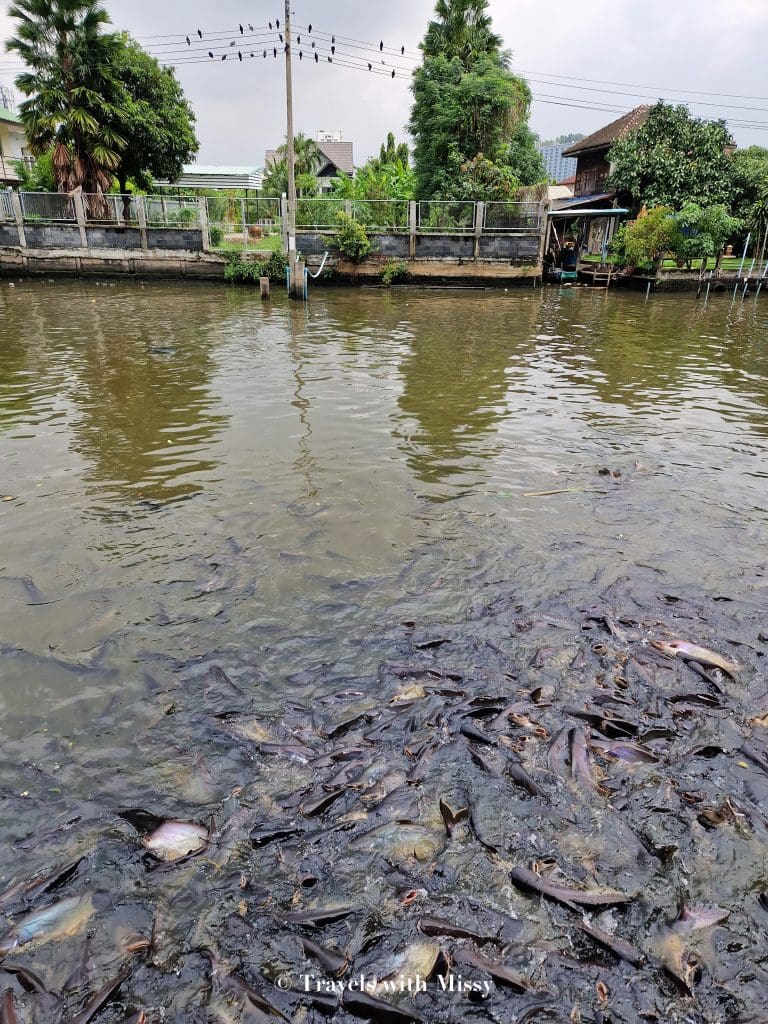 Tips for visiting Wat Paknam
Entrance to Wat Paknam, Big Buddha & Emerald Stupa is completely free.
Dress modestly. Shoulders and knees need to be covered as a mark of respect for the Buddhist religion, as well as for the Buddhist monks and nuns.
Wear easy slip-off shoes as you'll need to take them on and off several times.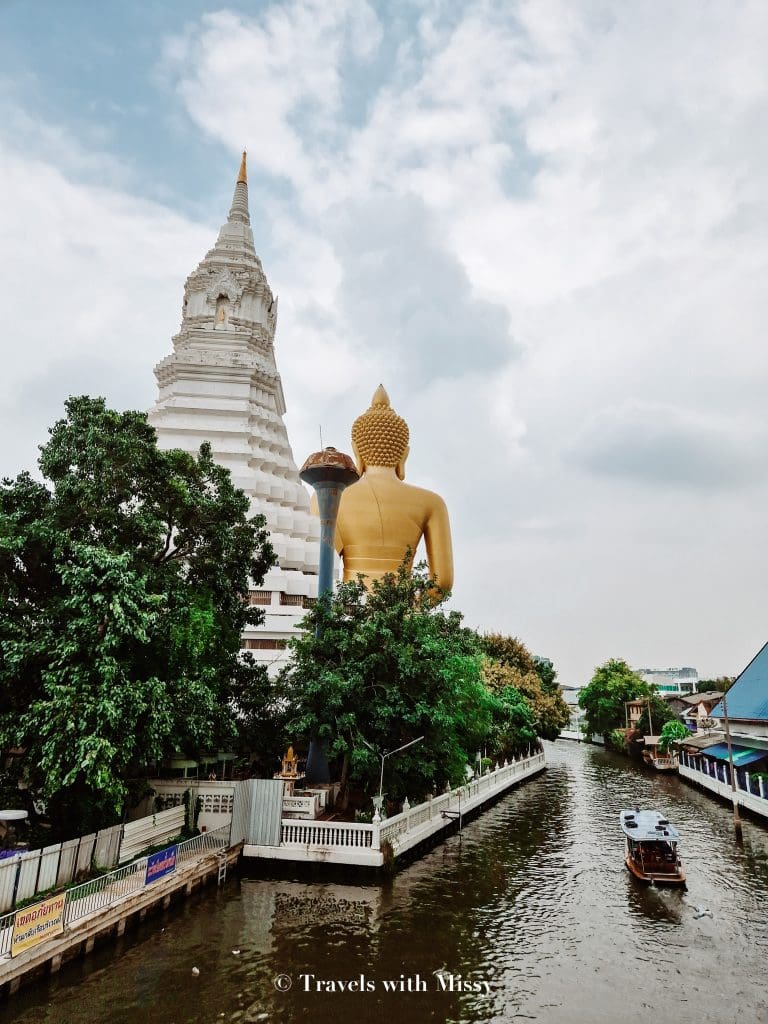 Big Buddha Statue at Wat Paknam
The temple of Big Buddha Bangkok is called Wat Paknam. Wat in Thai means temple.
Big Buddha Bangkok is enormous. It soars 20 stories high at 69 meters tall and is in the meditation pose. The giant Buddha is the world's only statue made of Bronze of this magnitude.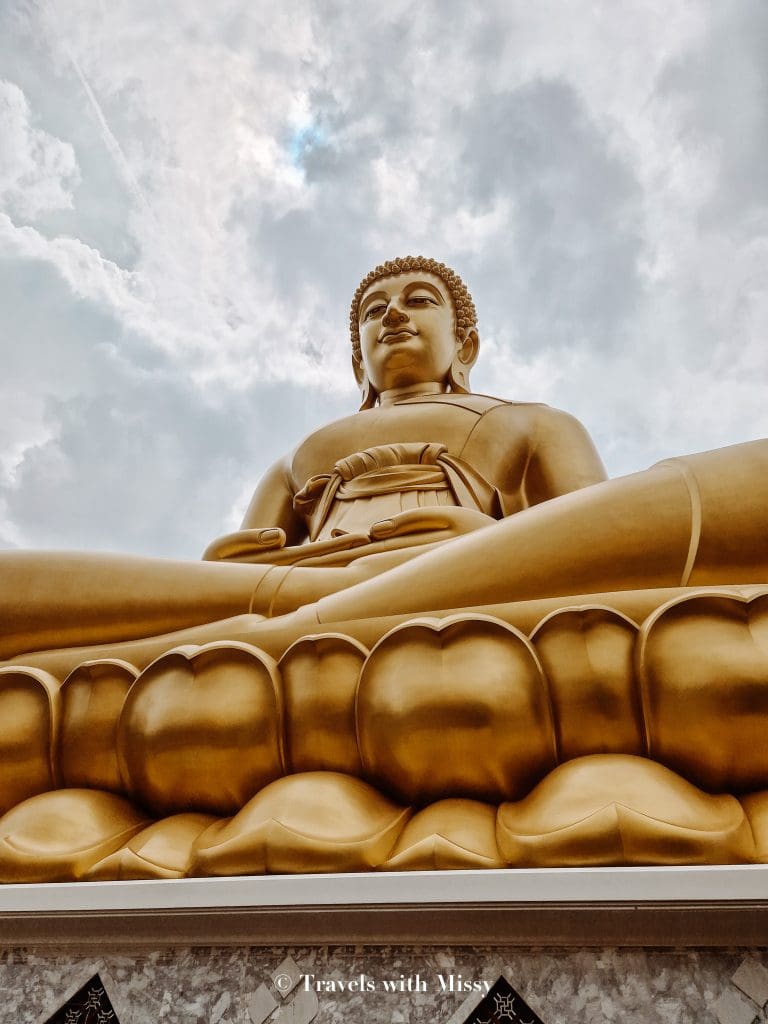 Finally finished in 2021, you can know spot the head of the Big Buddha from across the city of Bangkok.
Maharatchamongkol Great Pogada
One of the most psychedelic stupas that I've personally come across is just behind the Big Buddha statue in the vast Great Pagoda Maharatchamongkol which was constructed in the mid-2010s. Although not as enormous as the Big Buddha, the Great Pagoda is taller and soars 80 meters in height and is 52 meters wide. The Great Pagoda was constructed to celebrate King Rama IX and Queen Sirikit reaching the age of 72 in 2004.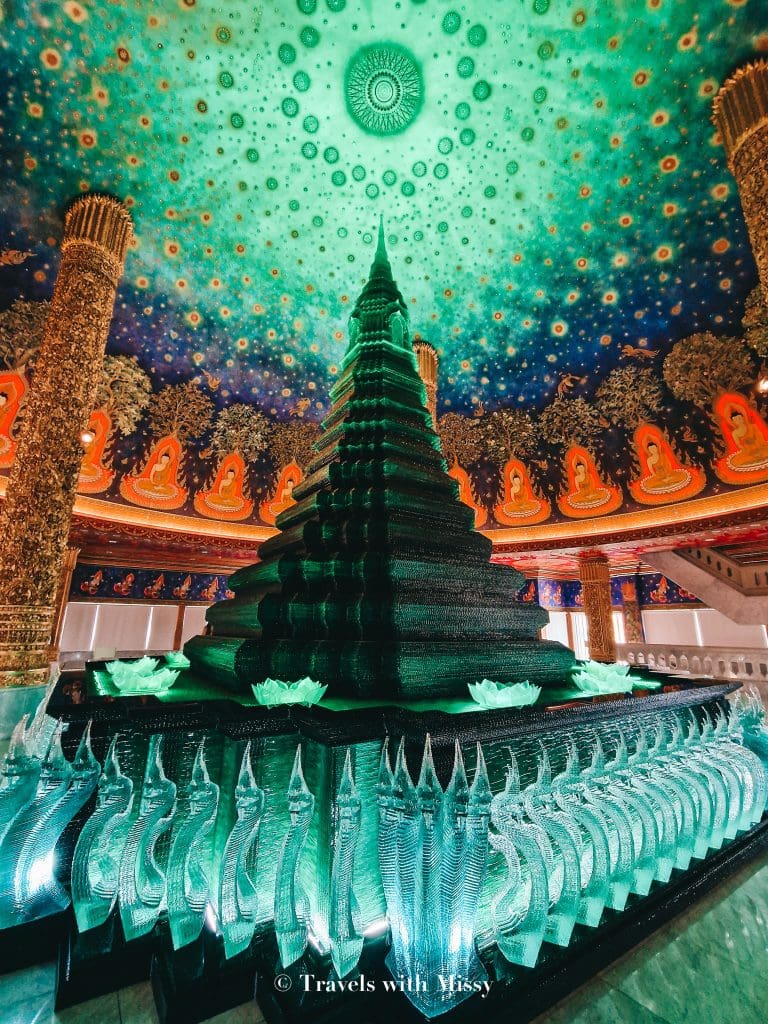 The Great Pogada houses one of the most cosmic and psychedelic emerald stupas that you'll probably find in Bangkok. Unfortunately, I couldn't find much information about why it's super cosmic.
On lower floors, you'll also find a museum dedicated to various Buddhas from around the country and in different styles and poses.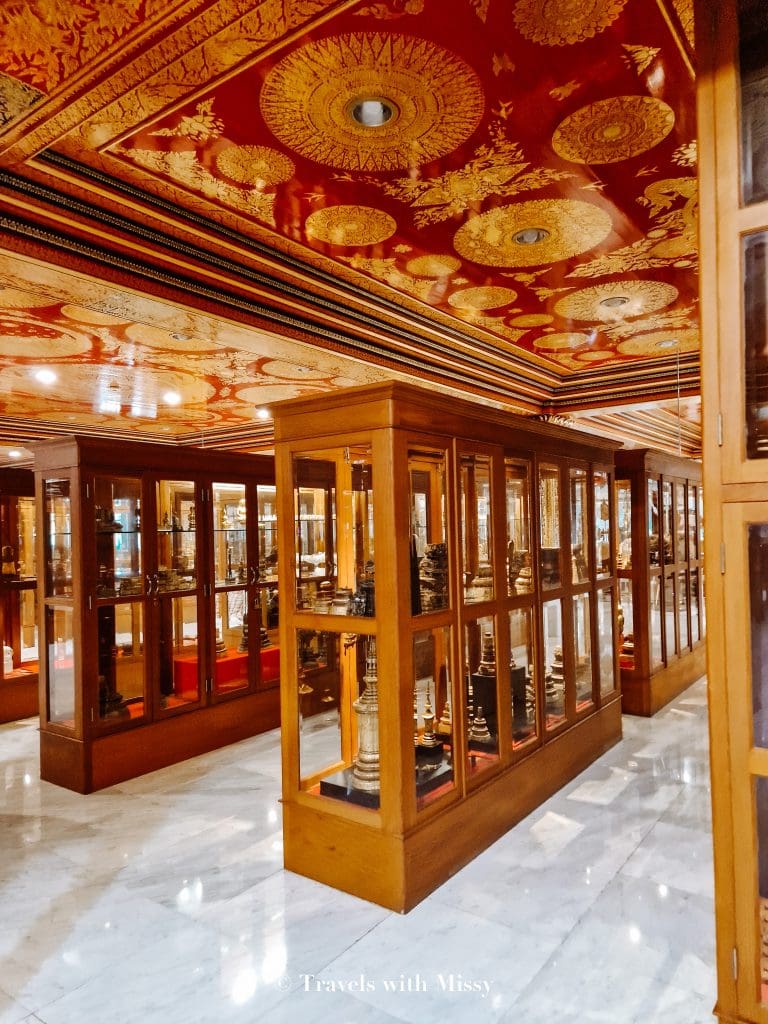 Nearby Wat Khun Chan
From the roof of the stupa, you'll be able to see the nearby Wat Khun Chan which is quite the spectacle with an array of statues, temples, deities, and a reclining Buddha. It also provides an excellent vantage point from the bridge to capture the below image of the Big Buddha Bangkok from behind and the reclining Buddha.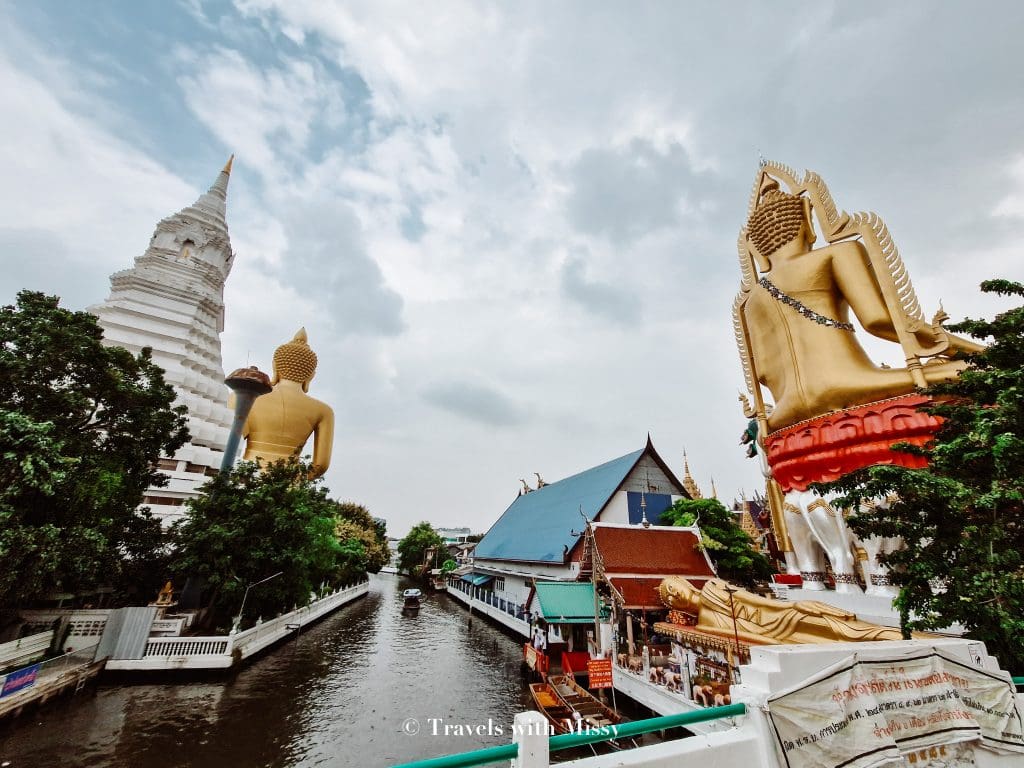 You'll also be able to take to the water and navigate up and down the Klong (canal) Dan, you can either hop on a small long-tail boat here for a couple of hundred Baht per person to take photos of Big Buddha Bangkok from the water. You can negotiate the price with the long-tail boatman.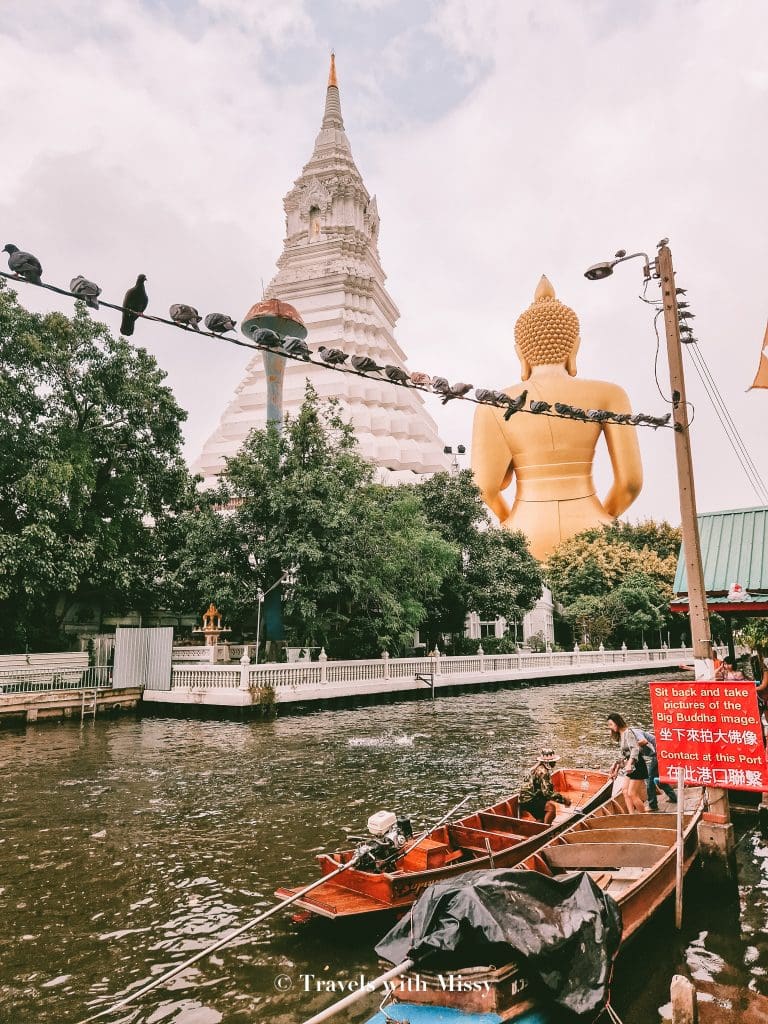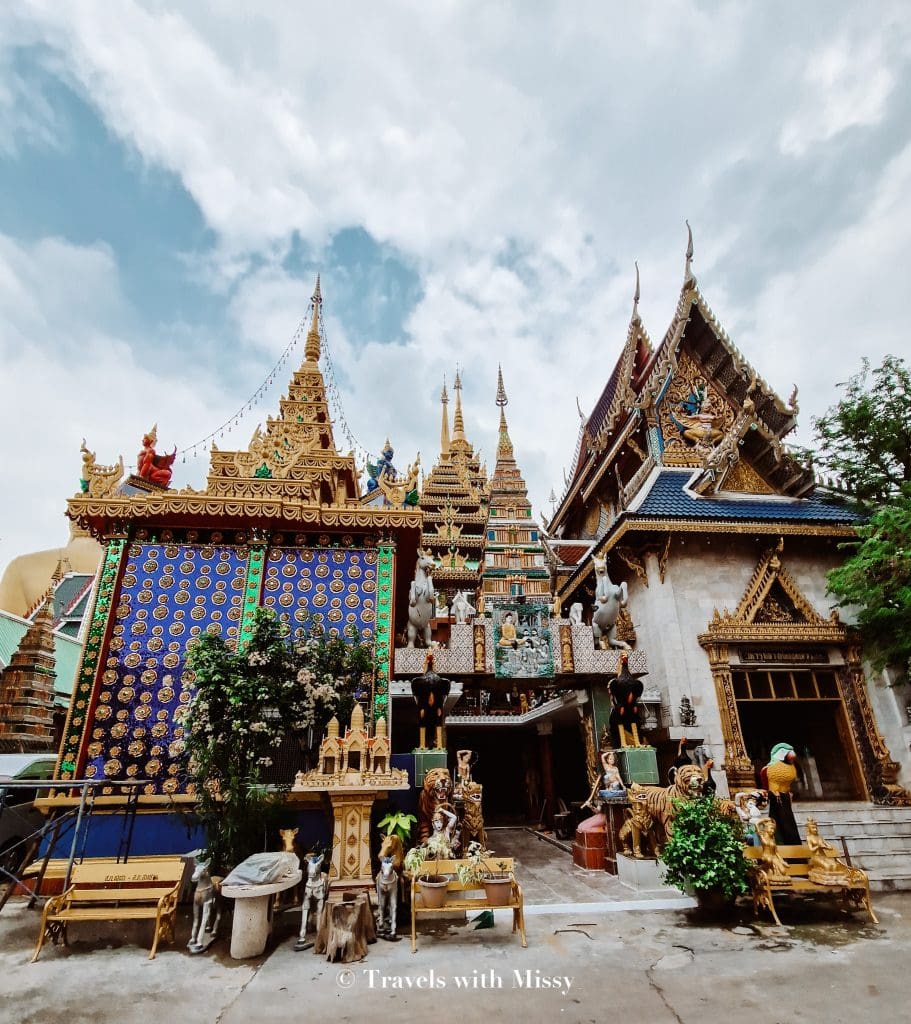 Directions to Wat Khun Chan: Turn left at the exit of Wat Paknam and head down a small soi with vendors. At the bottom of the soi, you need to turn left onto Soi Wat Apsam and walk past a small water temple. Once you see the bridge ahead you'll be granted an awesome view that's really quite remarkable.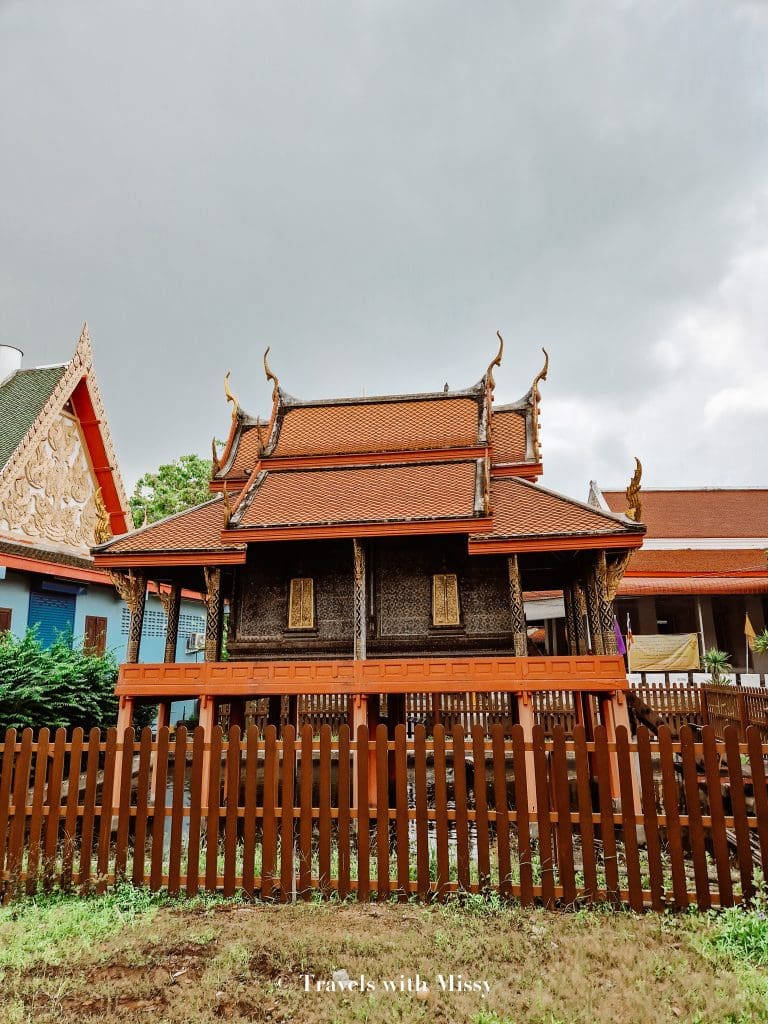 Getting to Wat Paknam
MRT: The nearest MRT station to Big Buddha Bangkok is on the Blue Line at Bang Phai. From the Bang Phai MRT stop it's a 12-minute walk. The walk is truly lovely, but if you're finding it too hot there are motorbike taximen at the beginning of the walk that will take you to Wat Paknam for a small price.
A lot of locals have opened up small restaurants and sell water, snacks, and bites to eat as you make your way to or from the MRT station.
Guided Tour: Interested in the canals of Bangkok? They're worth visiting if you've never visited the canals of Bangkok before, you'll navigate through thoroughfares that are the bread and butter of many people's livelihoods, as well as passing by the Big Buddha statue. A great way to experience the klongs of Bangkok and learn something too.
Bangkok Temple Itinerary
It's very easy to add Wat Paknam to your Bangkok itinerary. There are plenty of long-tail boatmen who would be happy to negotiate a price for a private long-tail tour of the many Wats that are on the Chao Phraya River, and the klongs that diverge from the main river.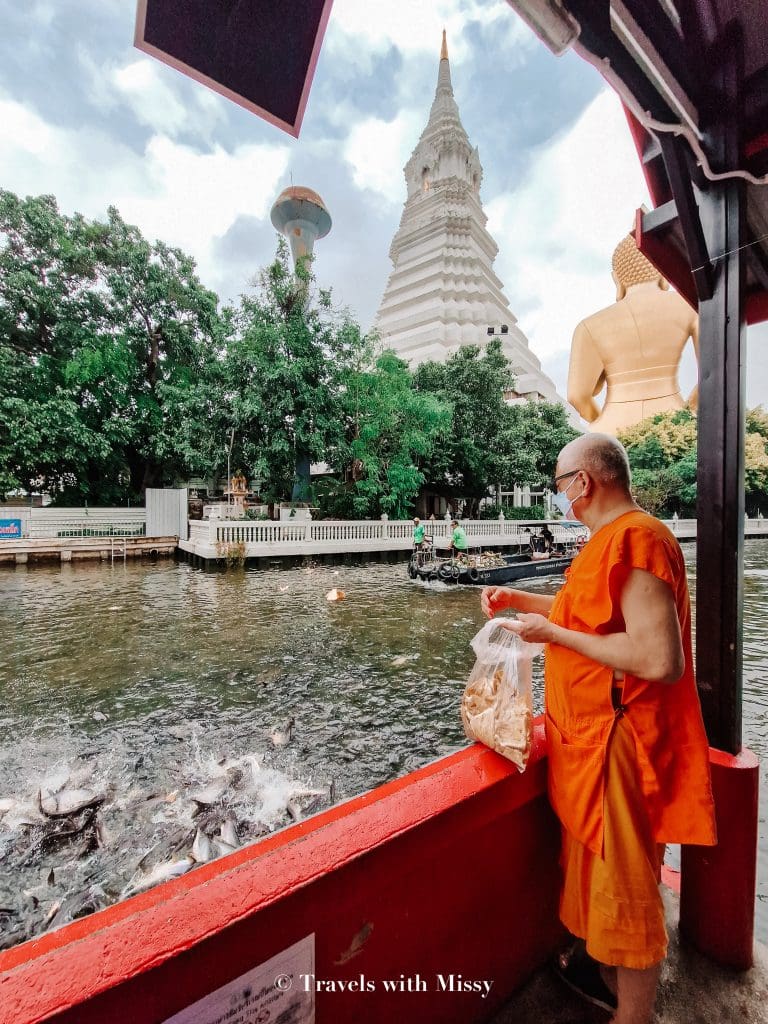 Big Buddha Bangkok is an absolute must when visiting Bangkok, the sheer scale and size of the statue is out-of-this-world enormous and a must-see. The neighborhood was stunning and I loved exploring the sidestreets around the Wat. Visiting Wat Paknam was one of my favorite activities that I did in Bangkok and I'll definitely visit again.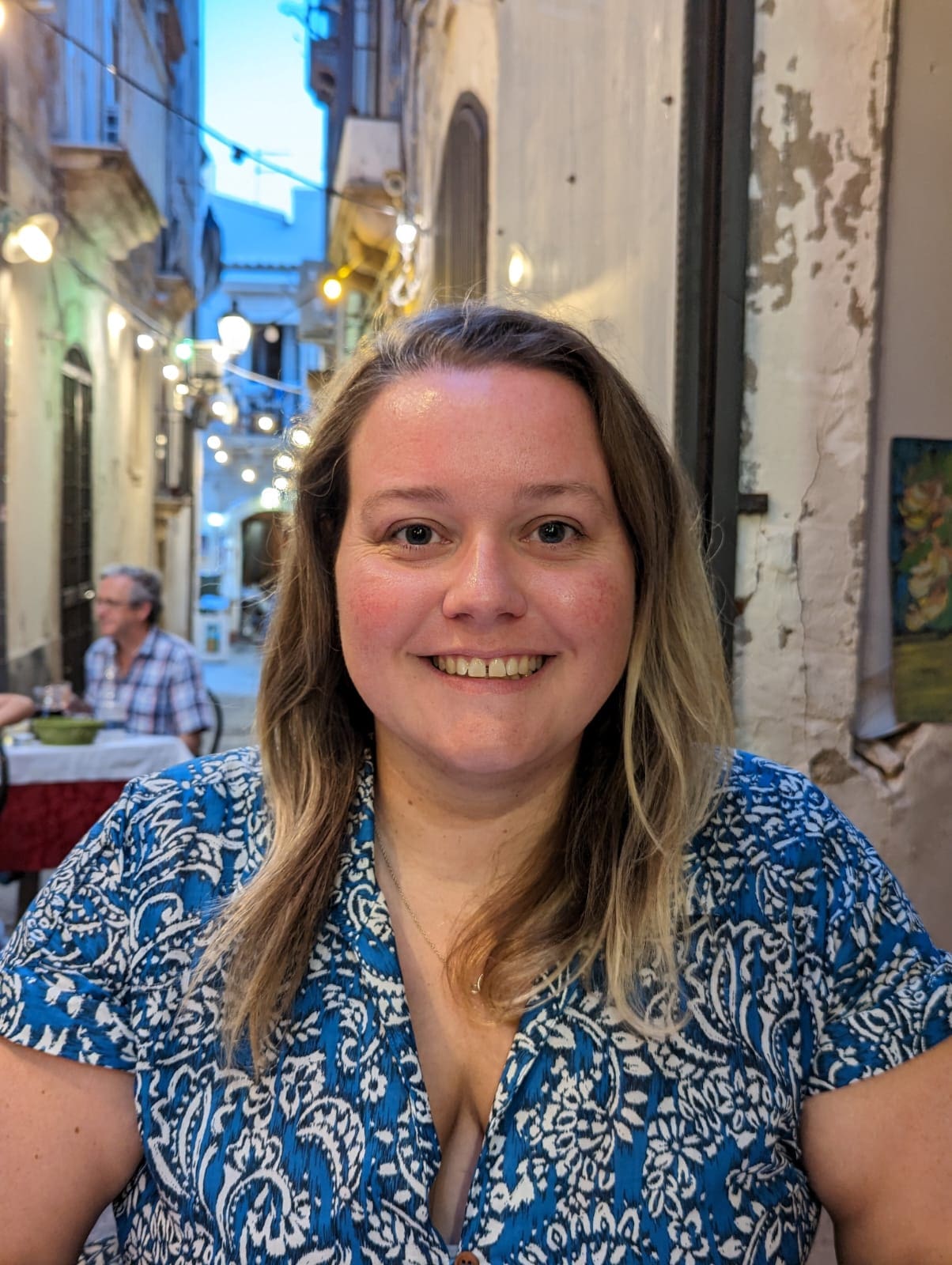 Meet Missy…
Missy spent the first 2 decades of her life living in her native Dublin, Ireland. Before a life living overseas called to her, and she spent the next decade living in China, Laos & Belgium. She now splits her time in Antwerp, Belgium, and wherever the sun is currently shining. You can follow Missy's real-time travels on her Instagram.