For such a small amount of space, Ortigia packs in a huge number of restaurants. Meander down any of the quaint side streets and you're never quite sure what hidden gem you may stumble upon.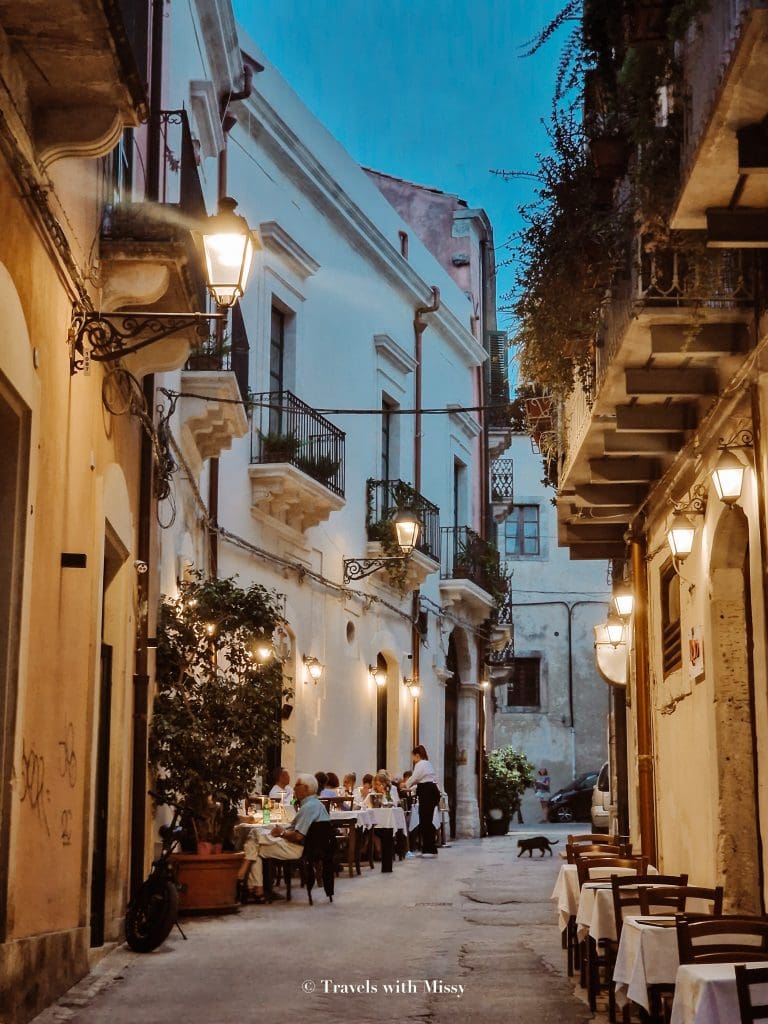 The selection of restaurants in Ortigia is fantastic and extensive, with even options for vegans who will delight in MOON, or Chiodo which breaks away from the traditional and typical dishes that are found throughout the region. 
Ortigia also has a fantastic bar scene where you'll find cocktail and wine bars in remarkable locations around the island. You'll be spoilt for choice with the selection of excellent places to eat and drink during your visit the wonderful and magical island of Ortigia.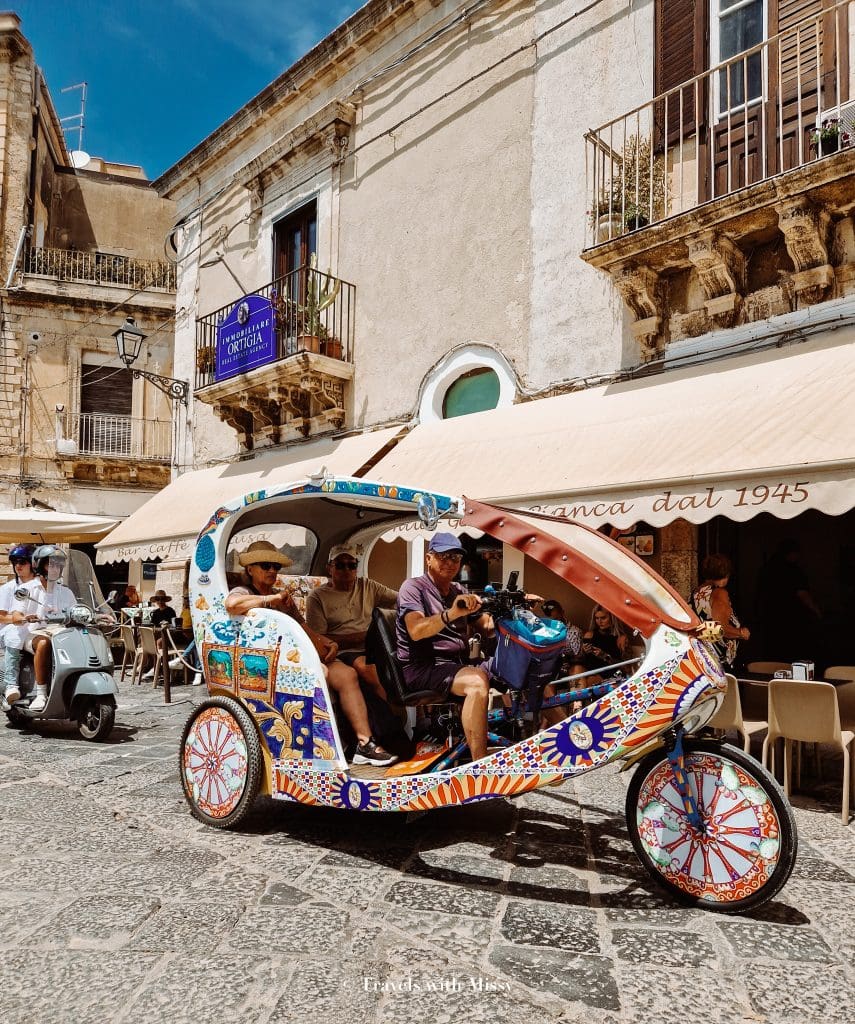 Top Pick: Guided Tour of Ortigia in a Traditional Ape
Explore the incredible historical area of Ortigia by traditional Ape (a colorful Sicilian Tuk-Tuk). Discover the narrow streets of Ortigia and learn its history.
1. Le Vin De L'Assassin
One of the best restaurants in Ortigia and my favorite meal of our week in Sicily was in Le Vin De L'Assassin. And judging by the lines of people waiting for a free table, we weren't the only ones who adored Le Vine De L'Assassin.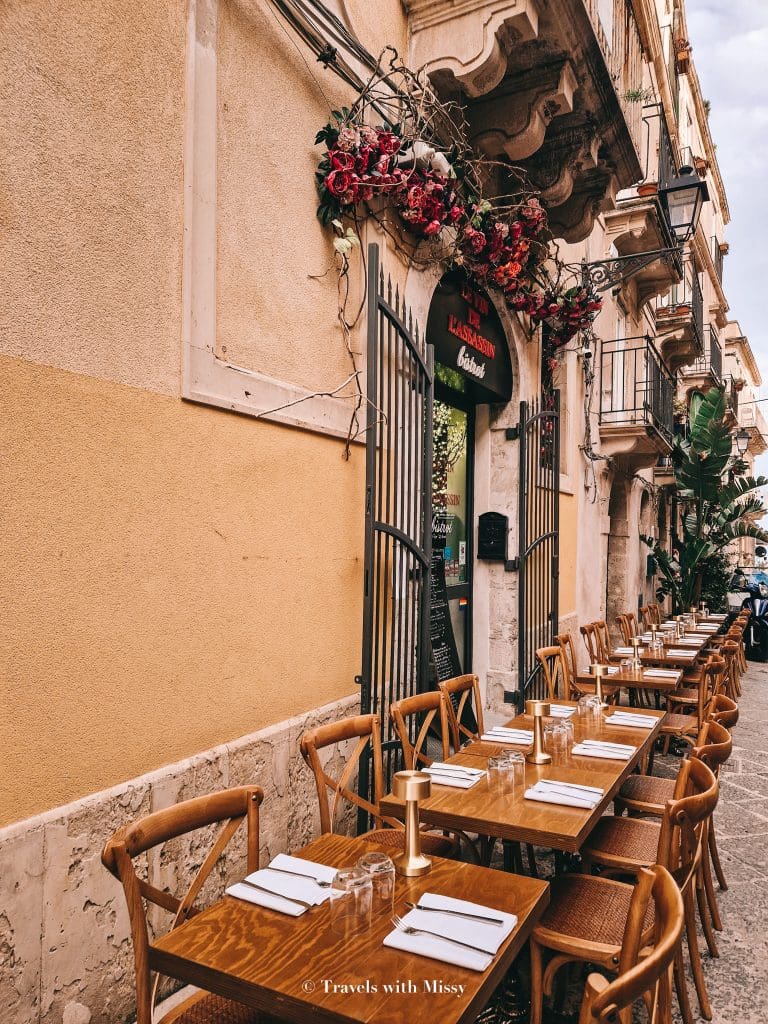 Let's start with one of my newest obsession – handwritten menus. The serving staff presents each guest with a notebook that has the handwritten menu items, and an incredibly long wine list too! I just loved it!
The food in Le Vin De L'Assassin was seriously, seriously good. I opted for a fantastic beef fillet with pepper sauce and sauteed potatoes. If you know anything about me, this is my death row meal, and it did not disappoint.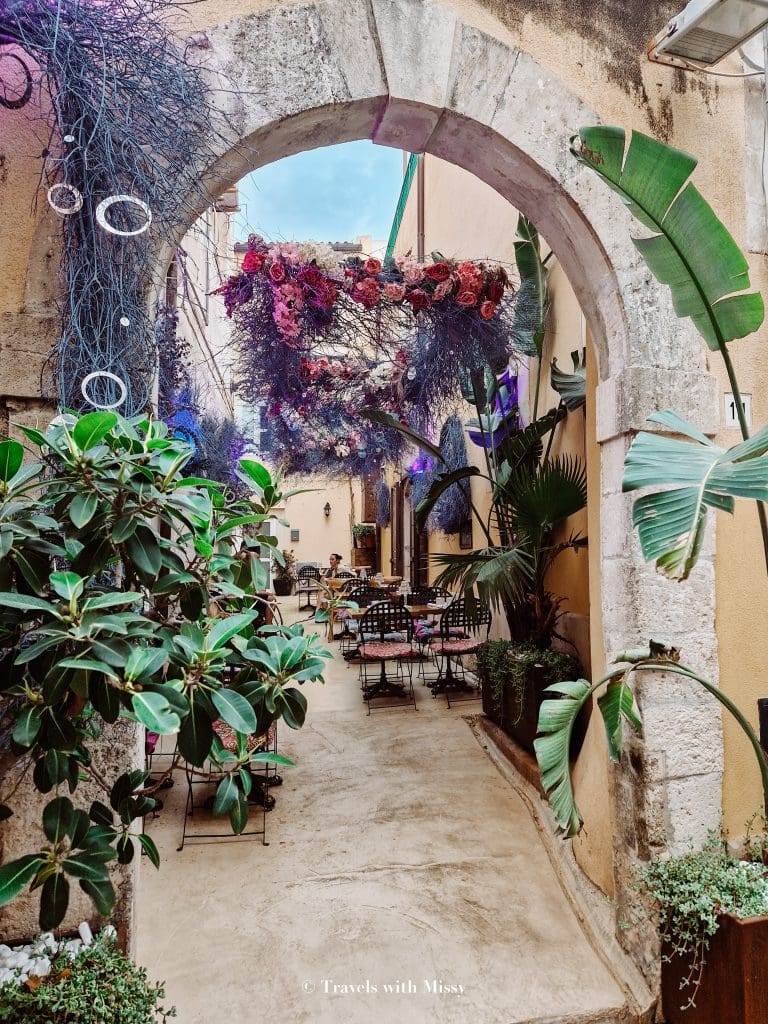 The pasta dish that B selected was his favorite of the entire vacation, so you know you're onto something good. He's the foodie in our family and does all the research that goes into eating and drinking on our vacations.
2. Chiodo
Whether you decide to visit just for a cocktail, I do recommend eating in Chiodo at least once. The food is mostly vegetarian and much like MOON further down on the list, it offers visitors a really alternative menu from the typical pasta and pizza dishes you can find everywhere else.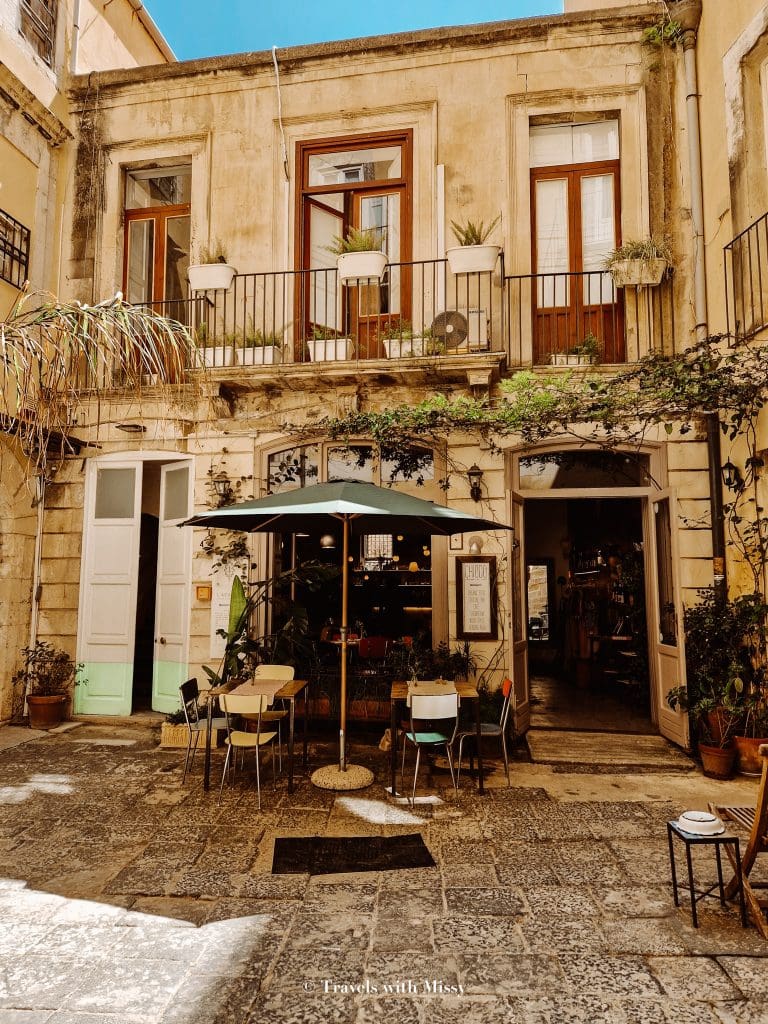 Chiodo is also a concept store with pieces of local artisan and designers works on display. The cocktails are bangingly good and if you get a chance, make sure to sit outside in the courtyard as it's just the most picturesque place. 
3. Trattoria La Foglia
You may accidentally stumble upon Trattoria La Foglia (like we did) and wonder what on earth is this place? Inside (& out) you'll find random dolls, mismatched furniture and an eclectic mix of art. It's a total vibe.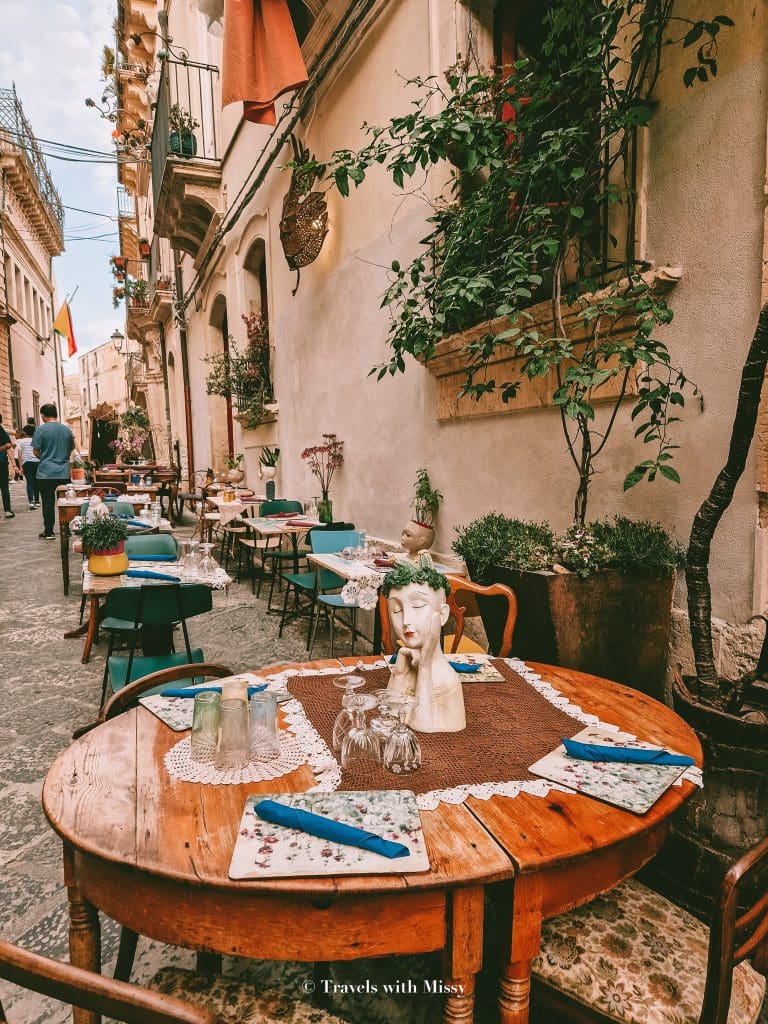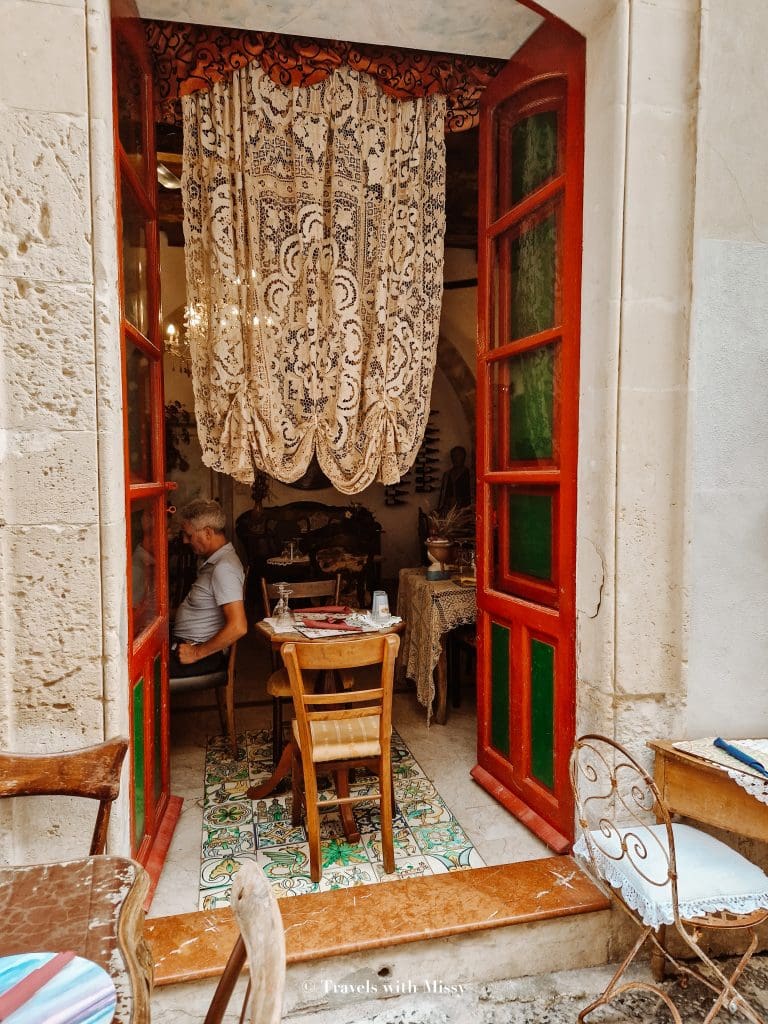 Thankfully the food matches the energy and it was so so good. We started with a cheese and meat platter (I'm in a serious cheese board mood at the moment), and followed it up with the Pasta Ragu and Butter & Sage Ravioli. 
Make sure to book a table as you're passing by. It's worth at least one dinner at Trattoria La Foglia.
4. Sicily Fish & Chips
Looking for a snack or something to sit on a park bench with? Head to Sicily Fish & Chips for some of the freshest caught fish served with little fanfare, but with a lot of flavor.
We had a disaster of a meal one night (think: canned tuna served with pasta), and so we ended up nibbling our way around Ortigia, with some calamari and chips from Sicily Fish & Chips before grabbing a slice of pizza from Degusta later on.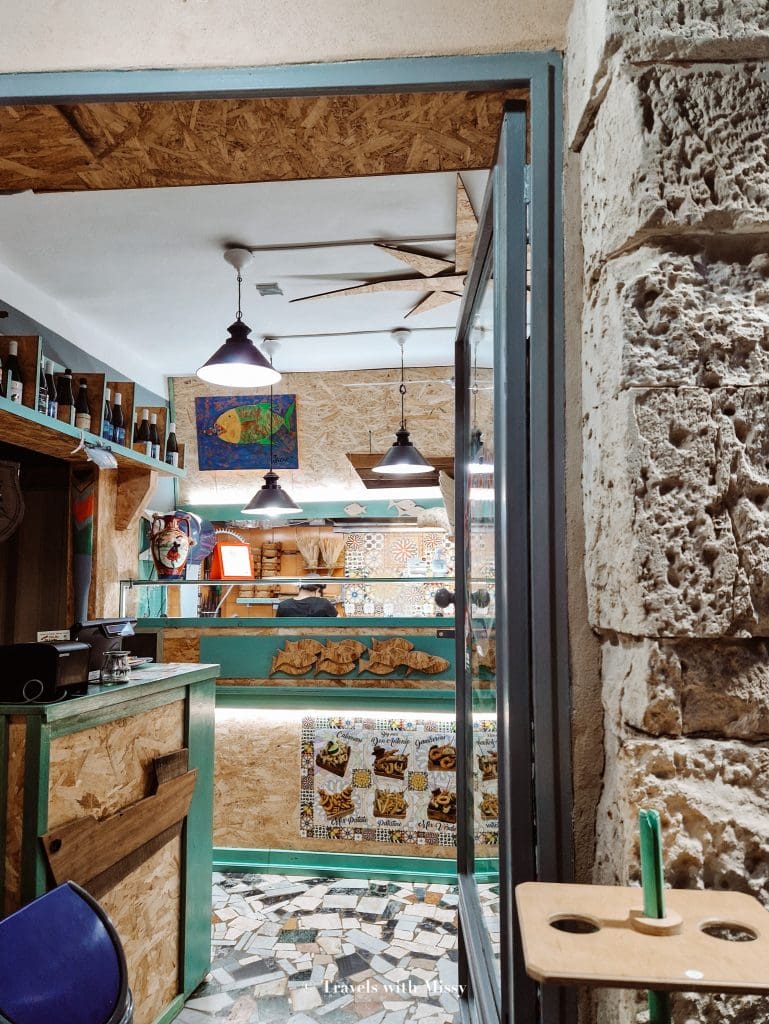 5. MOON (Move Ortigia Out of Normality)
Vegan's rejoice! MOON is not only a vegan restaurant, but also one of the best restaurants in Ortigia. Creating vegan versions of classic Italian dishes, MOON is also a celebrated cocktail bar that is one of the most popular places to grab an after-dinner drink at. 
With seating on a wooden terrace across the street from the restaurant or inside their beautiful eclectic space. Carnivores will even enjoy a night out at MOON.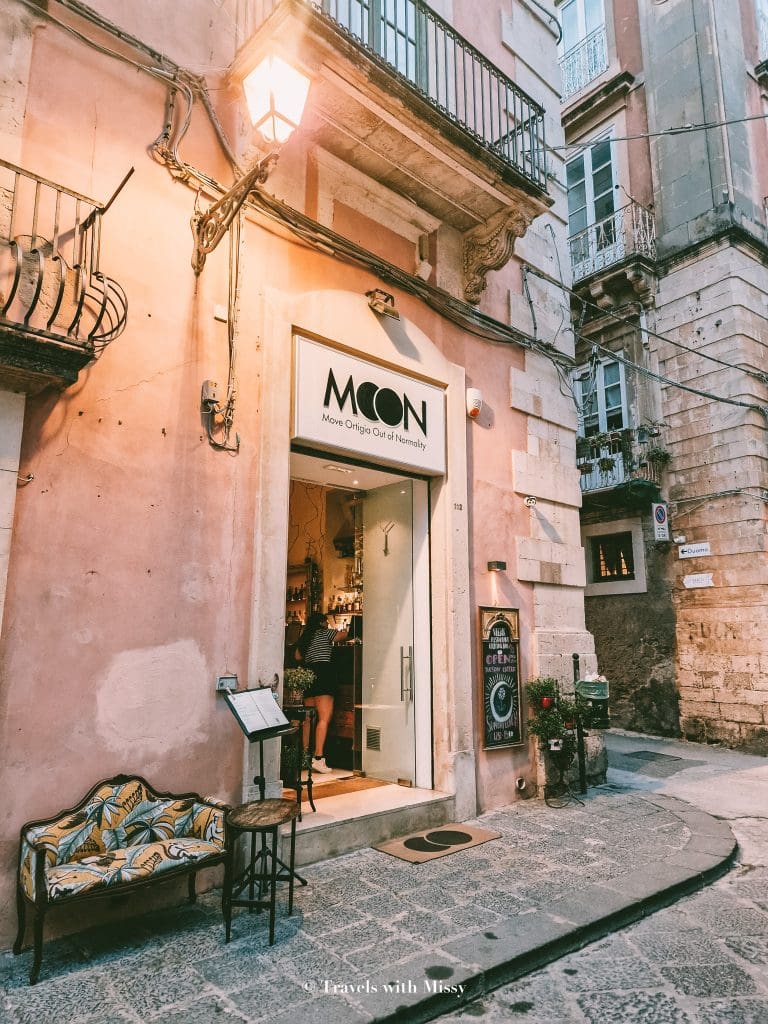 6. A Putia
If I happen to chance upon a group of people queuing I'm immediately intrigued. I'm a sucker for joining a random queue, eager to see what the fuss is about. So when we strolled past A Putia one evening and saw a long lengthy queue, I knew we were onto something good.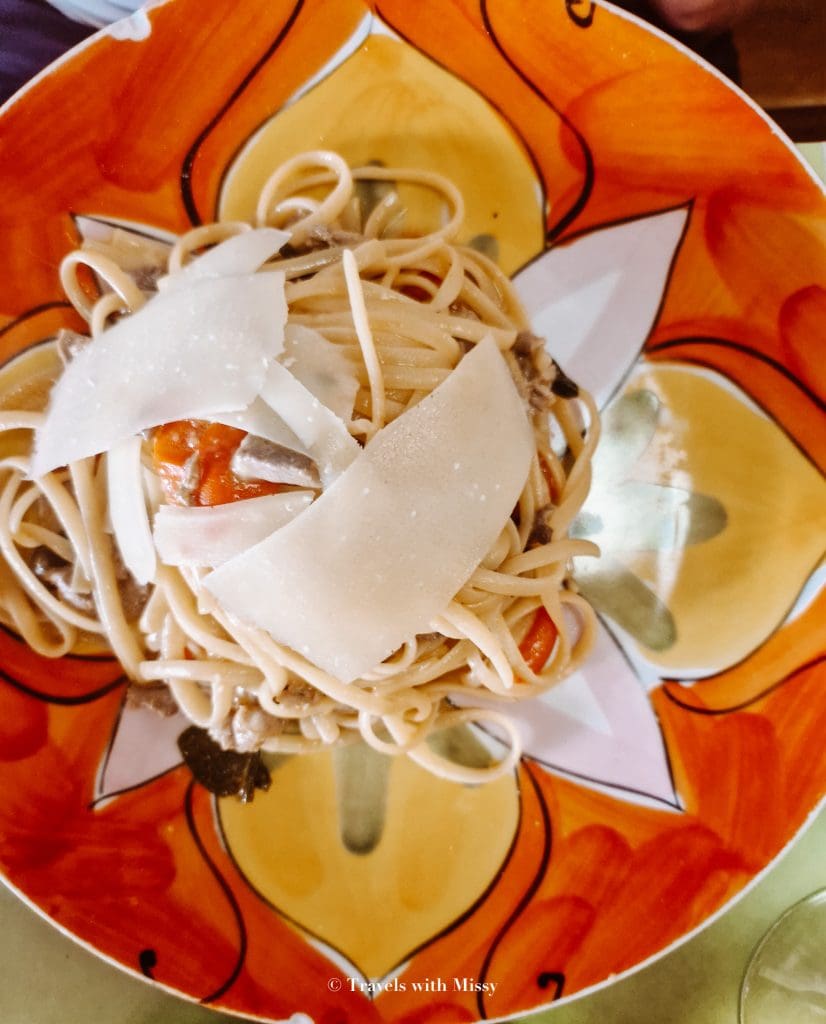 A Putia has limited seating outdoors, and a handful of tables indoors. We visited during lunchtime where customers were ordering a mix of paninis or pasta dishes. We shared a pasta and some delicious grilled courgettes. The flavors were just out of this world.
7. Gelataria Fiordilatte
I'm putting my money where my mouth is and declaring Gelataria Fiordilatte THE best ice cream I've ever tasted. Like, seriously this place! It's unreal. The selection of choices in flavors is quite different from your typical gelataria.
Head inside to Gelataria Fiordilatte to order a cone or cup, and enjoy sitting outside on their beautiful terrace that is located on one of the prettiest streets in Ortigia beside the Syracuse Cathedral.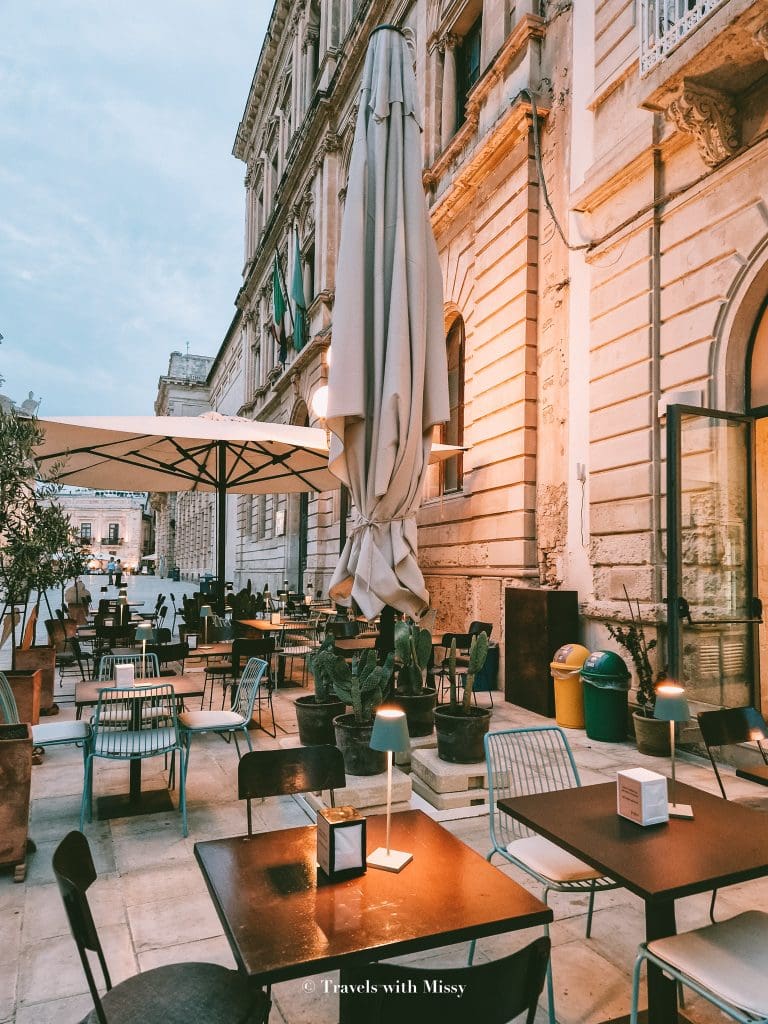 8. Gelataria Gusto
Located closeby to Gelataria Fiordilatte, the small artisanial ice cream store Gelataria Gusto has a limited selection of flavors. And whilst their selection may be small, they don't skimp on taste. The nocciola (hazelnut) was incredible decadent and very more-ish.
Takeaway only.
9. Pasticceria Artale
For the perfect Sicilian breakfast, you've got to head to Pasticceria Artale where you'll be spoilt by a huge selection of delicious Sicilian goodies and of course Granite.
If you are unfamiliar with Sicilian breakfasts, let me quickly introduce you to Granite (aka Granita), a ice slushie with flavors typical to the region. And joining a typical granite breakfast is the soft and fluffy brioche bun. Dip your brioche into the granite, or have a filled brioche bun with Nutella, pistachio cream, or a whole host of flavors.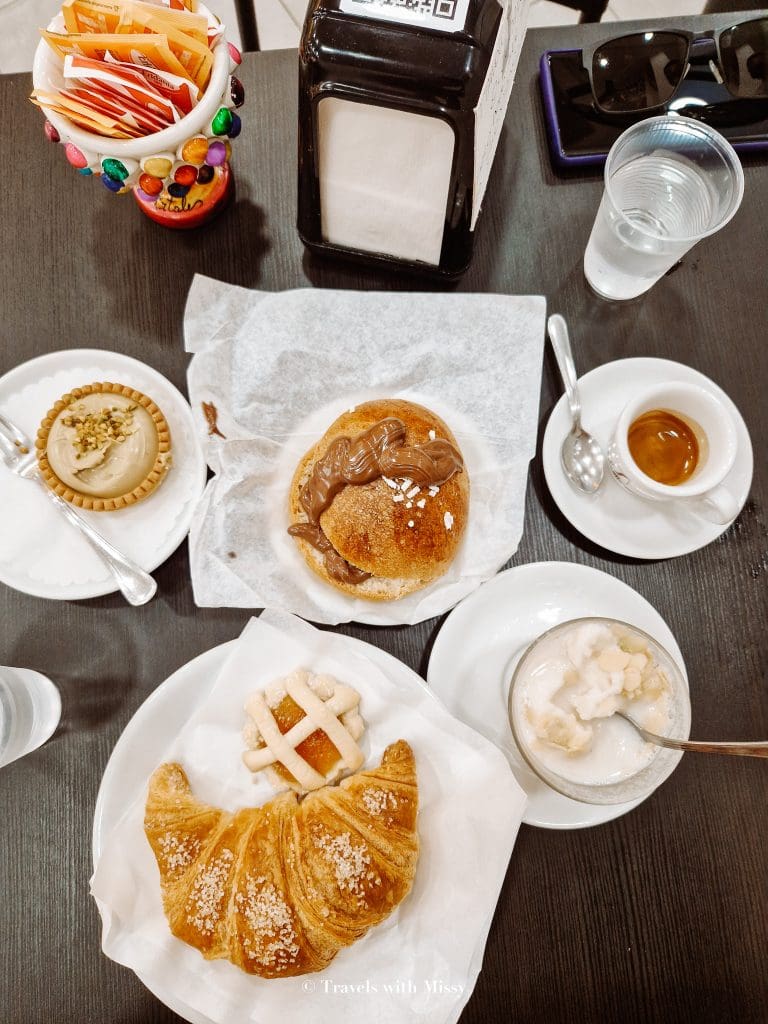 Pasticceria Artale has less than a handful of seats outside, so get there early if you want to sit and soak up the street atmosphere as Ortigia awakens.
I ate/slurped the Almond Granite (Mandorla) with an enormous brioche stuffed with Nutella. And it may have been a bit too much sugar for me at that time of the morning, but it was spectacular.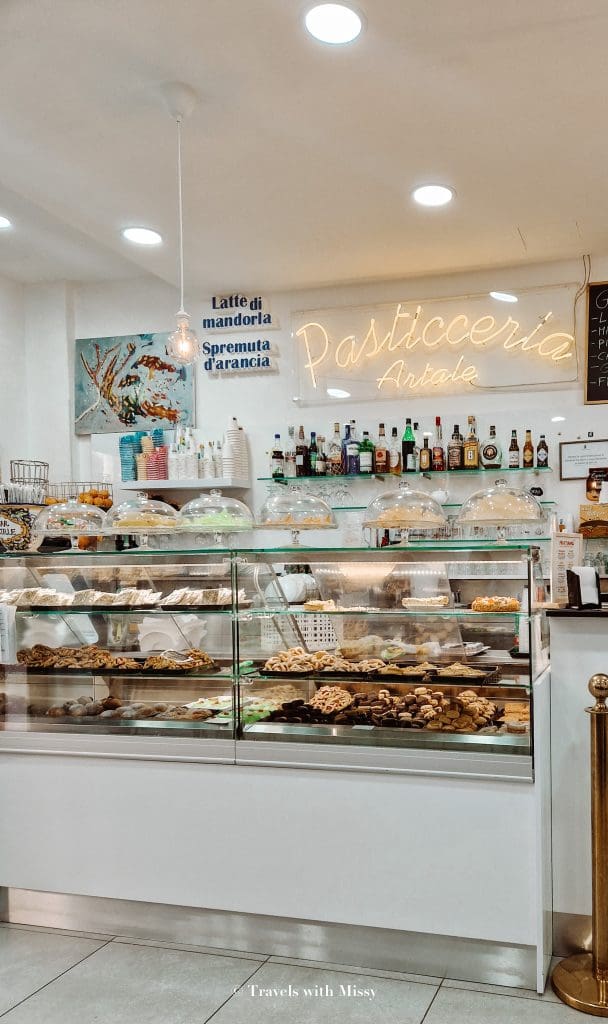 10. Piazza Archimede Caffe – Alta Pasticceria Siciliana
Another favorite place we grabbed breakfast was in front of the Fontana di Diana at Alta Pasticceria Siciliana. The brioche has hints of lemon throughout it, as did the croissants that are created in the cafe. It was my favorite brioche of the entire trip and we loved the location of the cafe.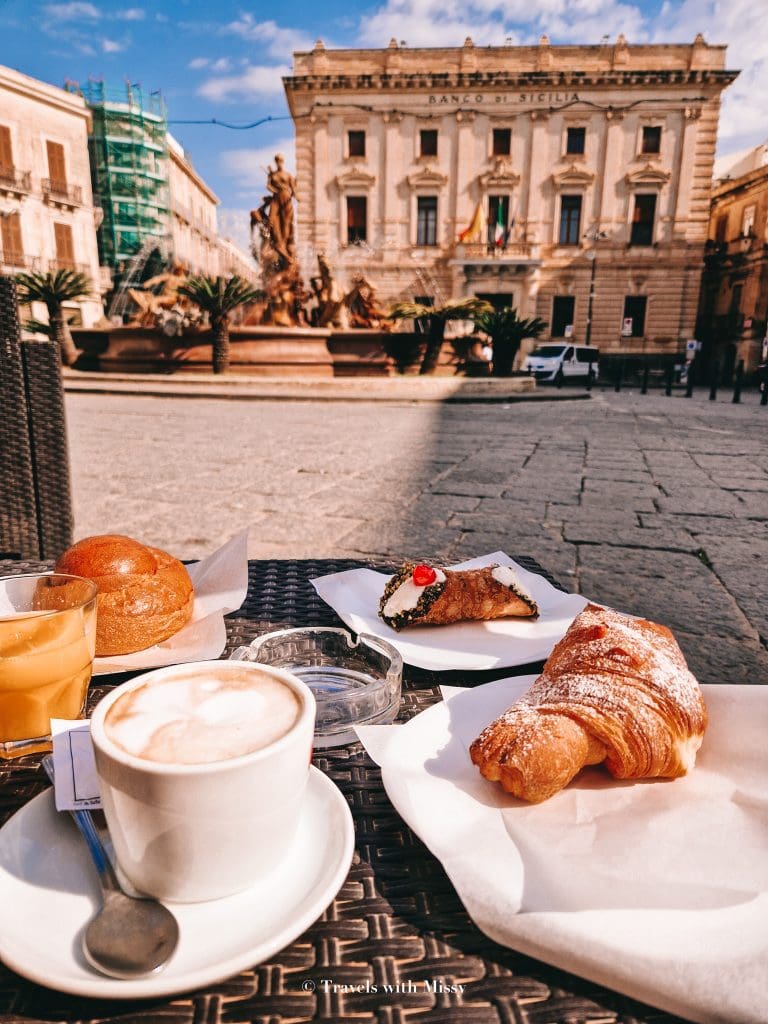 11. Pizzeria Schiticchio
Supposedly one of the best places in Ortigia for pizza, we of course had to sample it at least once. If you love Neopolitan style pizza then Pizzeria Schiticchio is right up your street. We very luckily claimed the last seat outside on the busy street and it added to the ambiance of the place.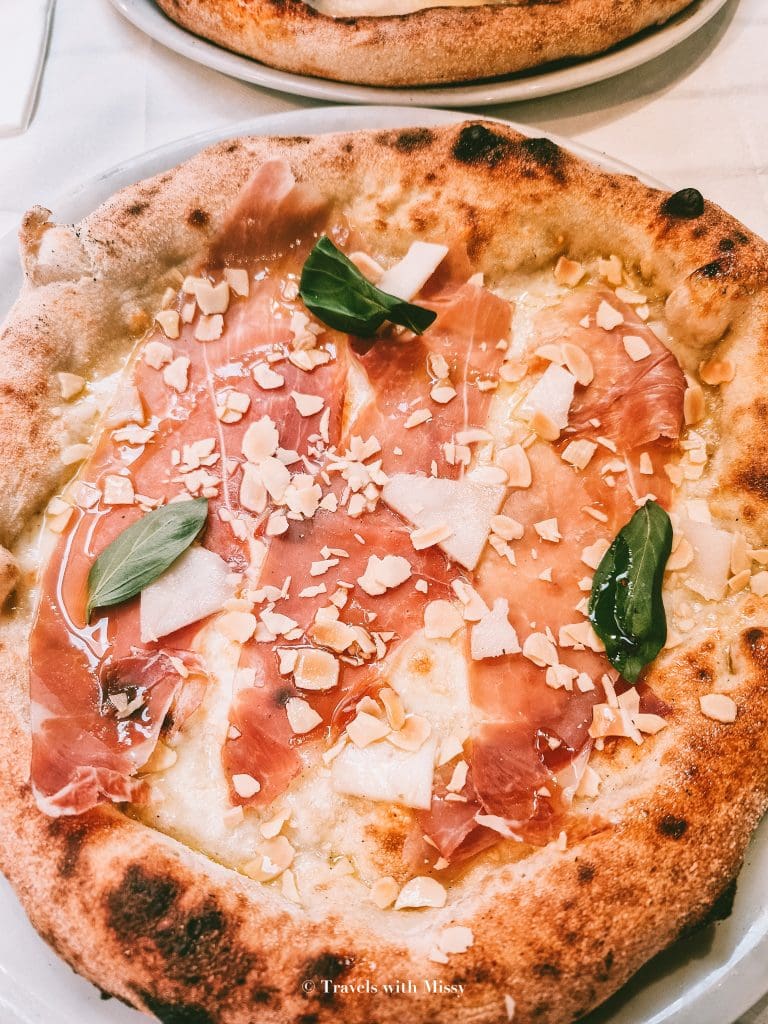 The pizza was delicious, and I opted for a Bianco pizza (no tomato sauce base) that had goat's cheese, parma ham, and almond flakes. The pizzas were really great value and incredibly filling.
12. Degusta Ortigia
If you're like me and love Roman-style pizza then you've got to stop at Degusta Ortigia for a slice of pizza. Located near the port area of Ortigia, Degusta creates a variety of pizzas with mouth-wateringly delicious toppings. We opted for simplicity and chose a slice of 'Rossa' and 'Margherita'. 
My only criticism is that they weren't heated up enough and were still slightly chilled when we ate them, but they were still delicious. Just a little bit more heat would have knocked them out of the park. You can eat on the high-round tables outside Degusta Ortigia, or do as we did and head to the nearby park and munch away whilst looking at the yachts and water.
13. Cannoli Del Re
What is a trip to Sicily without trying at least one cannolo? And when in Ortigia, you've got try one of the most decadent cannoli you'll probably ever have. Dipped in some of the richest chocolate, Cannoli Del Re specializes in opulent cannoli which makes sense as it's located in a former Palazzo. 
Once you've finished touring Palazzo Borgia del Casale prepare for a rich chocolate experience in the form of the delicious cannolo.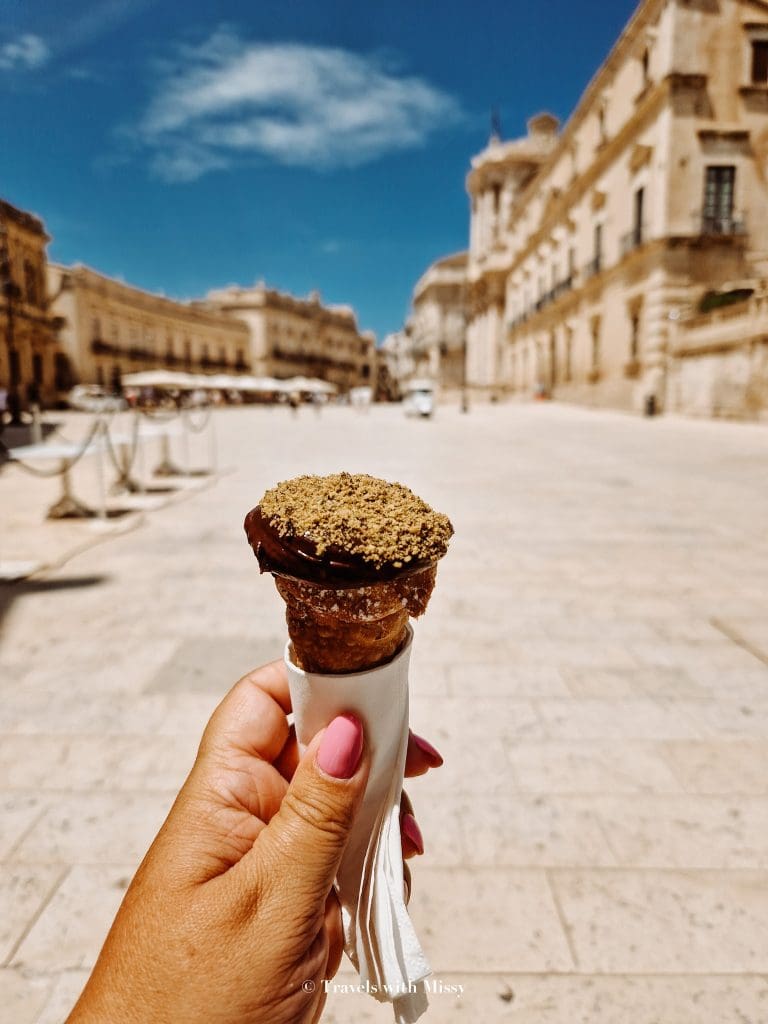 14. Caseificio Borderi
One of the most popular places to eat in the Ortigia Street Market is a small sandwich shop, Caseificio Borderi where the waiters run around delivering some of the largest panini's in Sicily. Freshly baked bread is filled with a variety of meats, cheeses and vegetables.
Sit down at the tables outside Caseficio Borderi, or join the long line to grab a take-away sandwich to eat by the water.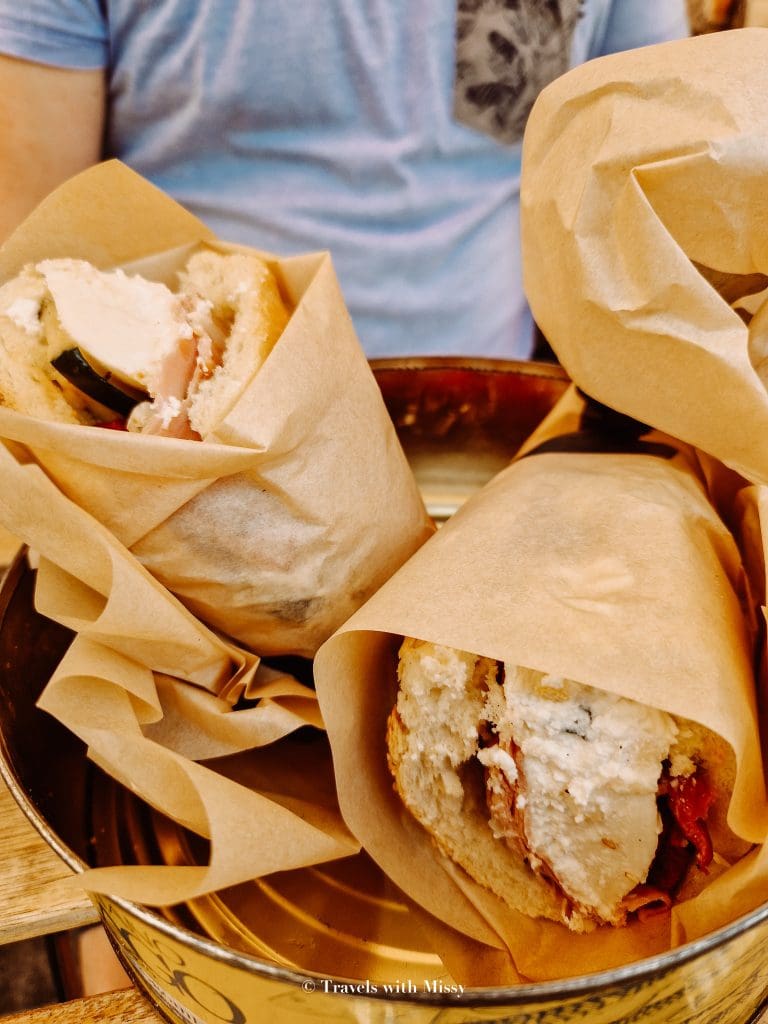 15. Ristorante Regina Lucia
Sadly we ran out of time before we could visit Ristorante Regina Lucia which would have been our splurge dinner if we'd had the chance. Located at the end of the Piazza Duomo, Ristorante Regina Lucia is the type of place where you get dressed up in your finest vacation attire and sip on eye-wateringly expensive wine. Dining in Ristorante Regina Lucia is the perfect place for that final meal in Ortigia
16. Anchovies Ortigia
Another place we simply didn't have time to eat in was Anchovies Ortigia. I'm adding it to my list in the hopes that someone will tell me whether or not they loved it. 
Located near Le Vin de L'Assassin, the decor and table lighting was what initially attracted me to it. Let me know if its any good!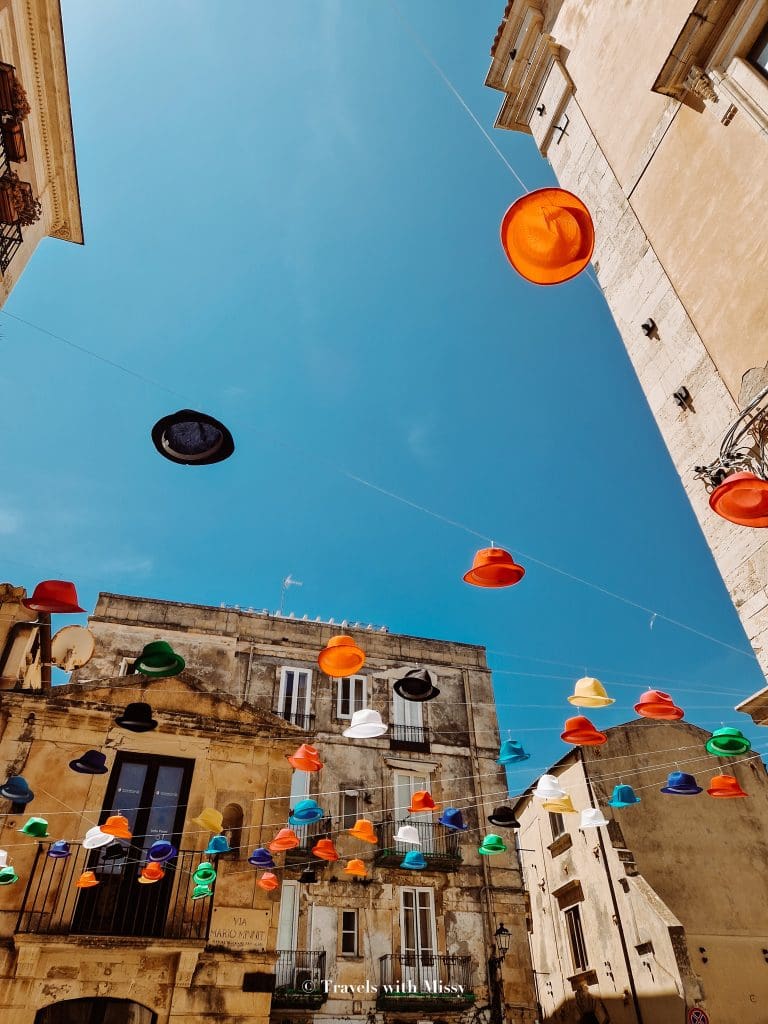 Where to drink in Ortigia
17. Enoteca Solaria
We tried for several nights in a row to get a seat outside in Enoteca Solaria, only for us to almost get in a fistfight with another couple who were trying to steal our table. It was totally worth the heated few moments it took for us to get our bums firmly on the seats and order ourselves two glasses of orange wine. 
Enoteca Solaria is the perfect wine bar for pre or post-dinner drinks and their wine selection is enormous.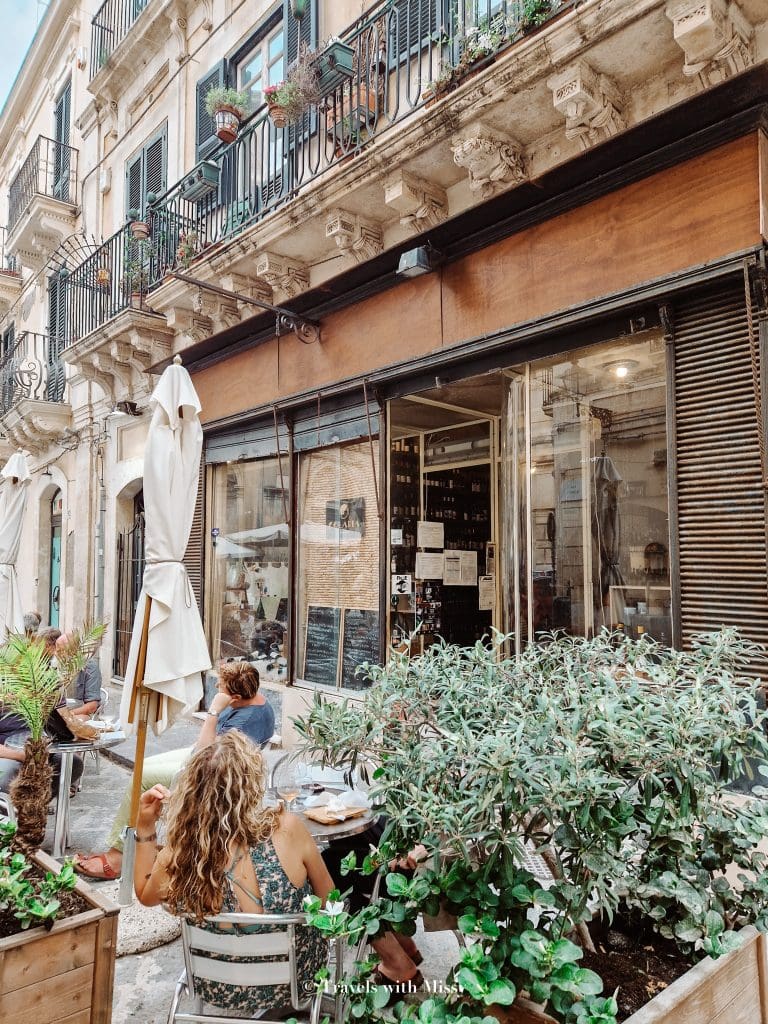 18. BOATS
We were lucky enough to be staying in an apartment a few feet away from BOATS, otherwise, I'm not so sure we would have discovered it. With eclectic seating outside (old movie theater seats etc.), and a very local clientele, BOATS is our kind of place.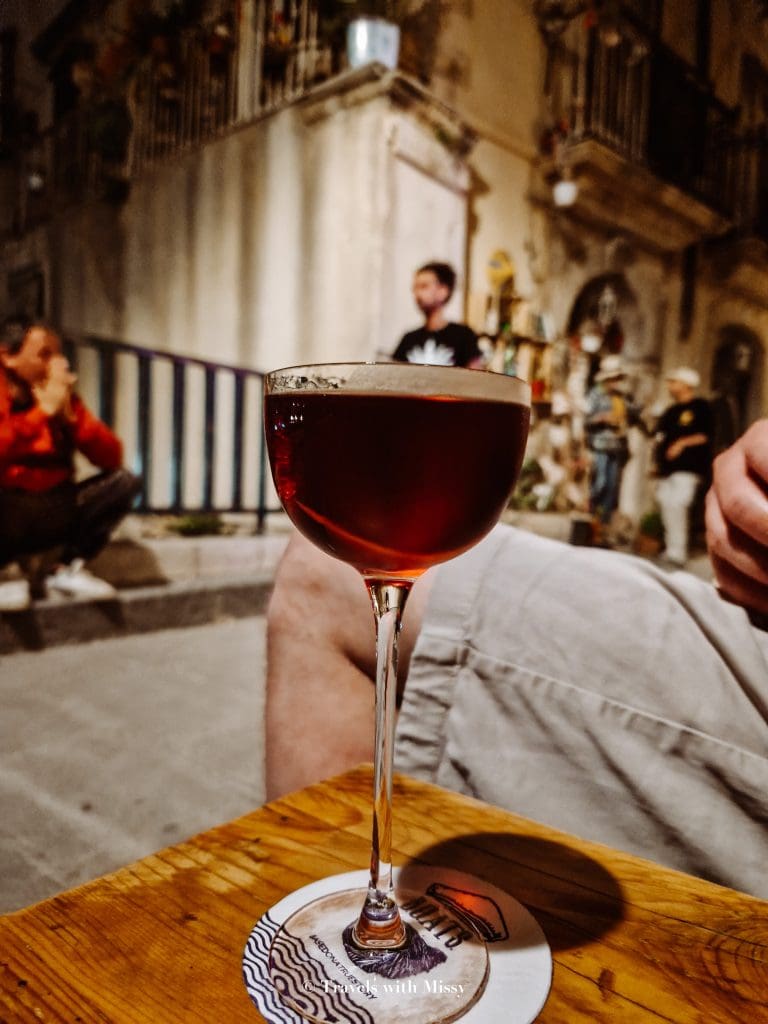 The cocktails were absolutely incredible, with each cocktail named after a person of note. I personally tried the 'Madonna' and 'Che Guevera' – both were stunning. Mezcal fans will rejoice at the vast amounts of cocktails that have it as a key ingredient. B had his first Negroni Sbagliato and loved it.
The staff are awesome and helpful when struggling to decide which cocktail you want.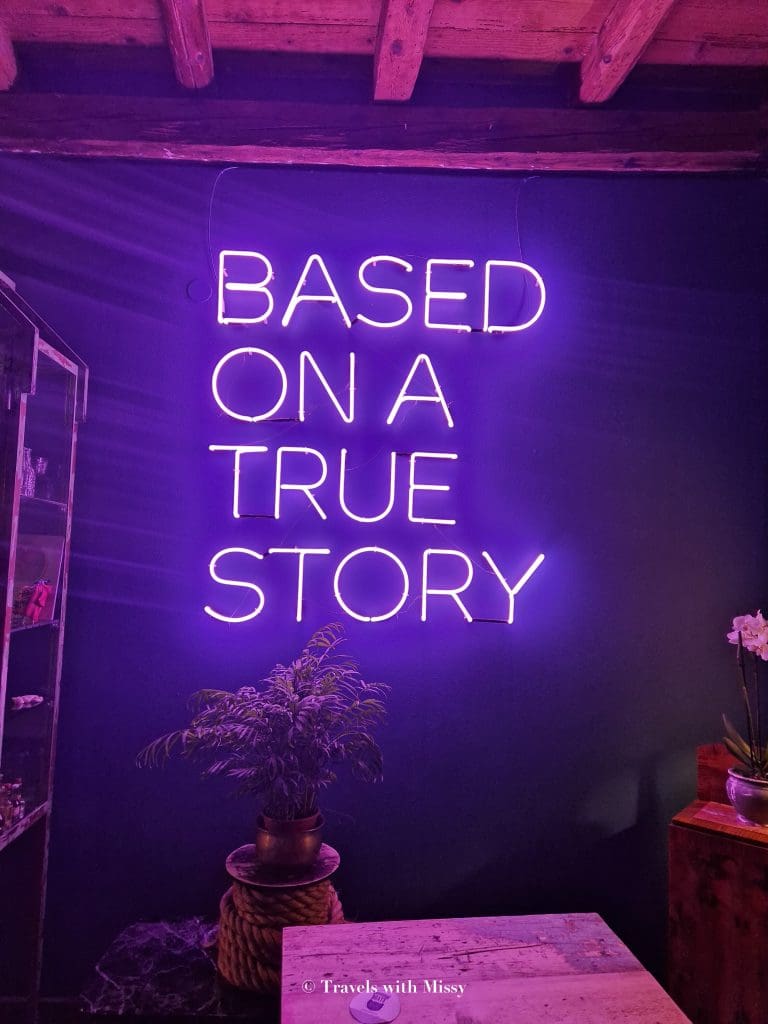 19. Verga Courtyard
Another awesome cocktail bar located in the courtyard of a former palazzo. There's a lot to like about Verga Courtyard, from the stunning setting to the superb cocktails.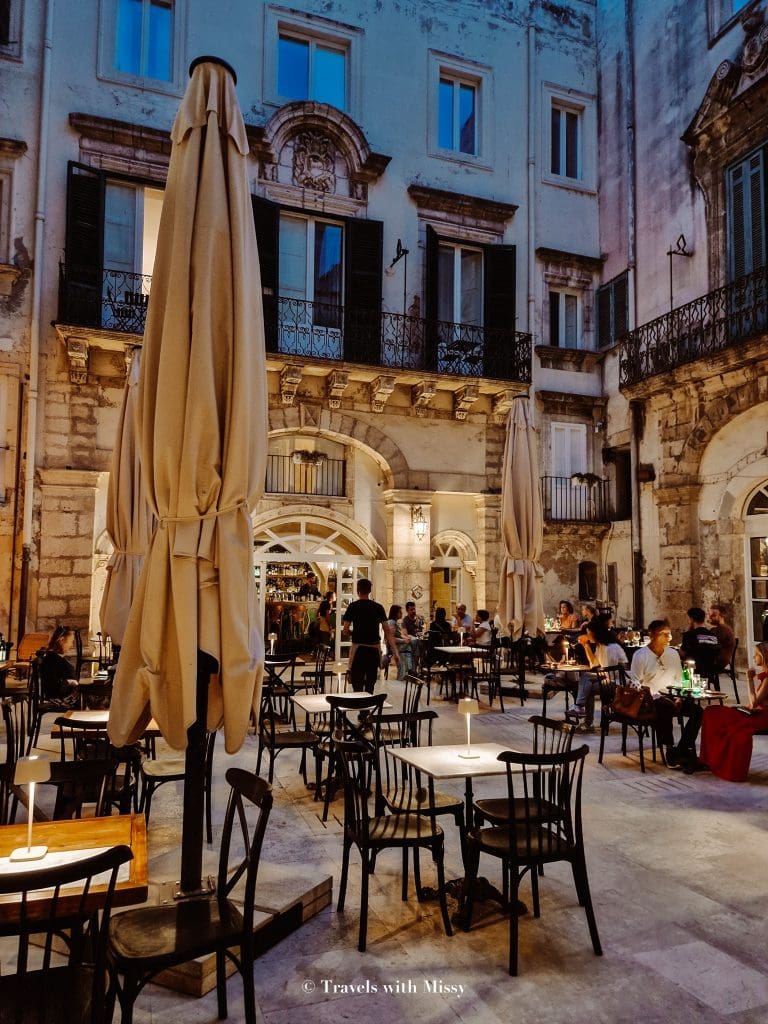 Best Restaurants in Ortigia
This is only a small selection of restaurants in Ortigia that we thoroughly enjoyed. It's all very much done through trial and error, and thankfully there was only one massive error in the form of tinned tuna that was disappointing. If you feel like I've missed out on any restaurants, please leave a comment below and I'd love to check them out!
Make sure to check out the guided food and wine tour of Ortigia that will help you uncover some hidden gems and learn more about the history of this remarkable island.
Ortigia is a fantastic place to explore and the culinary scene did not disappoint. Check out my guide to the city of Ortigia here or if you are planning on visiting the beautiful baroque city of Noto, you can read about it over here too.
Some of these may be affiliate links, which means when you buy something I may receive a small commission. There is no additional charge to you, and it really helps to support me – so thank you!