If the Mediterranean island of Ibiza is known for its partying, Mykonos is often not far behind. And this might be a very bold statement, but the Mykonos Beach Clubs might just beat those in Ibiza.
Perhaps it's the reputation of the beach clubs in Mykonos that are spoken about in revered tones that gives it its certain edge. Or perhaps it could be the fact that Mykonos is also a haven for the LGBTQ+ community and they know how to bring the flavor.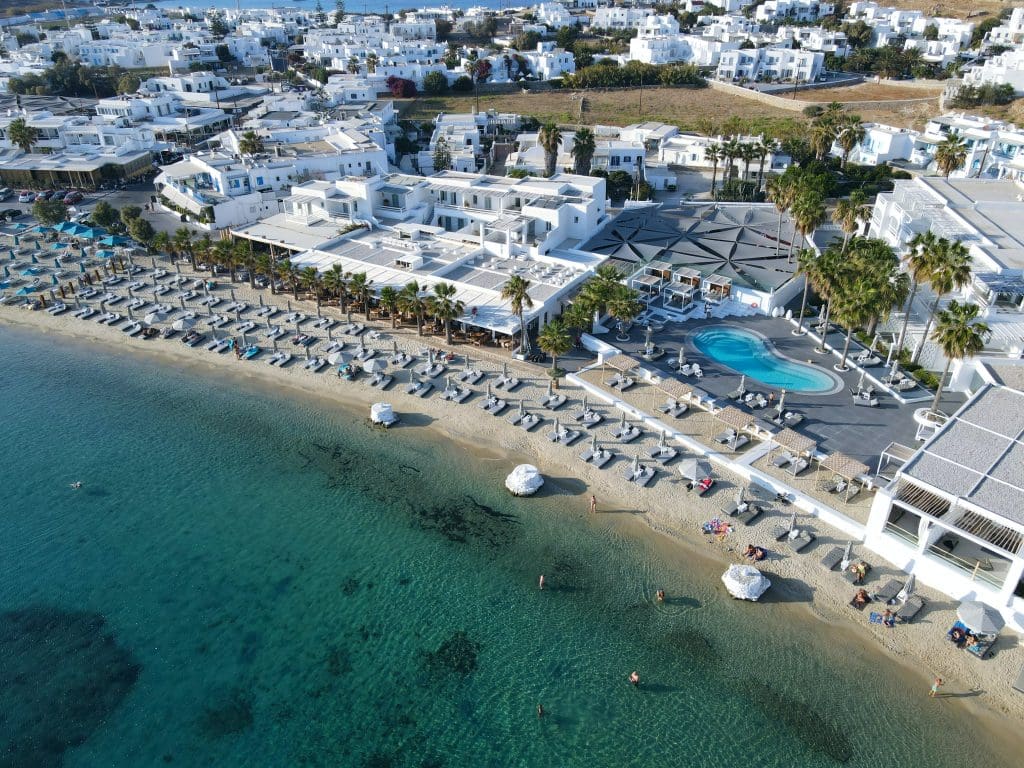 Whatever the reason, you'll find some of the world's best beach clubs in Mykonos as well as bars and nightclubs that are bursting with beautiful sunsets and of course, people.
The island of Mykonos is one of the most popular in the Cyclades and is often hotly debated when it comes to its neighbor, Santorini.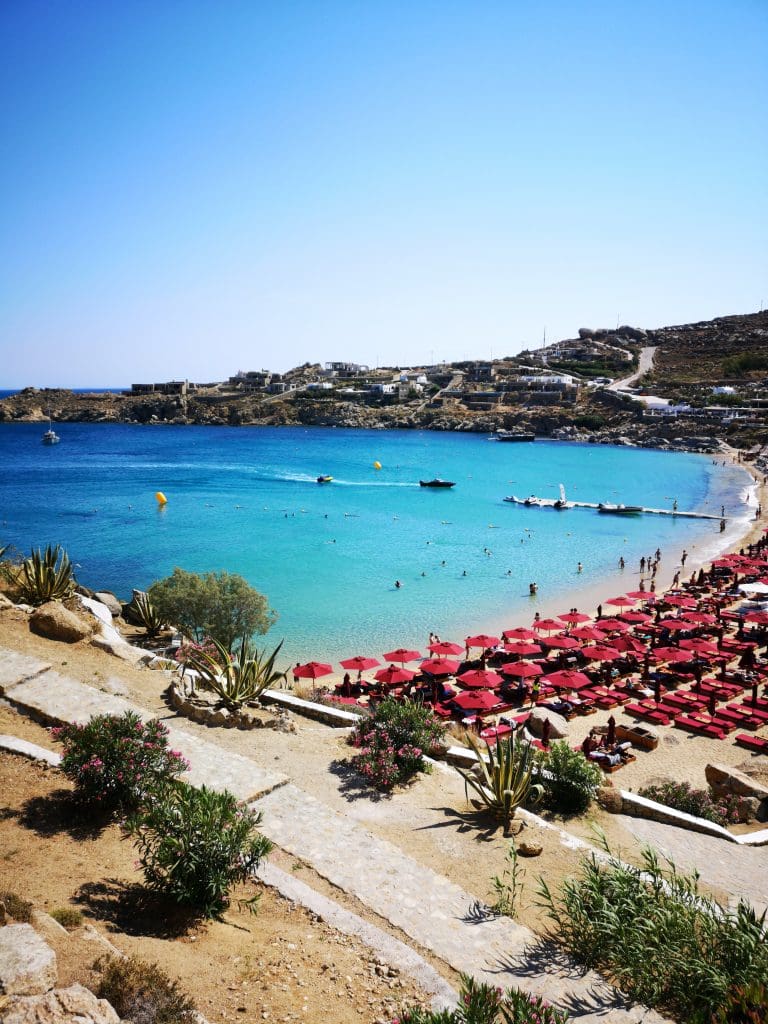 With an abundance of stellar hotels, incredible restaurants, and bars. The island is famed for its nightlife. And with a wide selection of beach clubs to choose from, I've whittled down the list of the 9 Best Mykonos Beach Clubs.
The 9 Best Mykonos Beach Clubs
1. Scorpios Mykonos
For most of the beach clubs in Mykonos, you'll find you need a reservation to experience the frivolities. Especially during the summer months of July & August. Scorpios Mykonos is one of those places where it's best to reserve your spot (especially for sunset) weeks if not months in advance. Such is its popularity.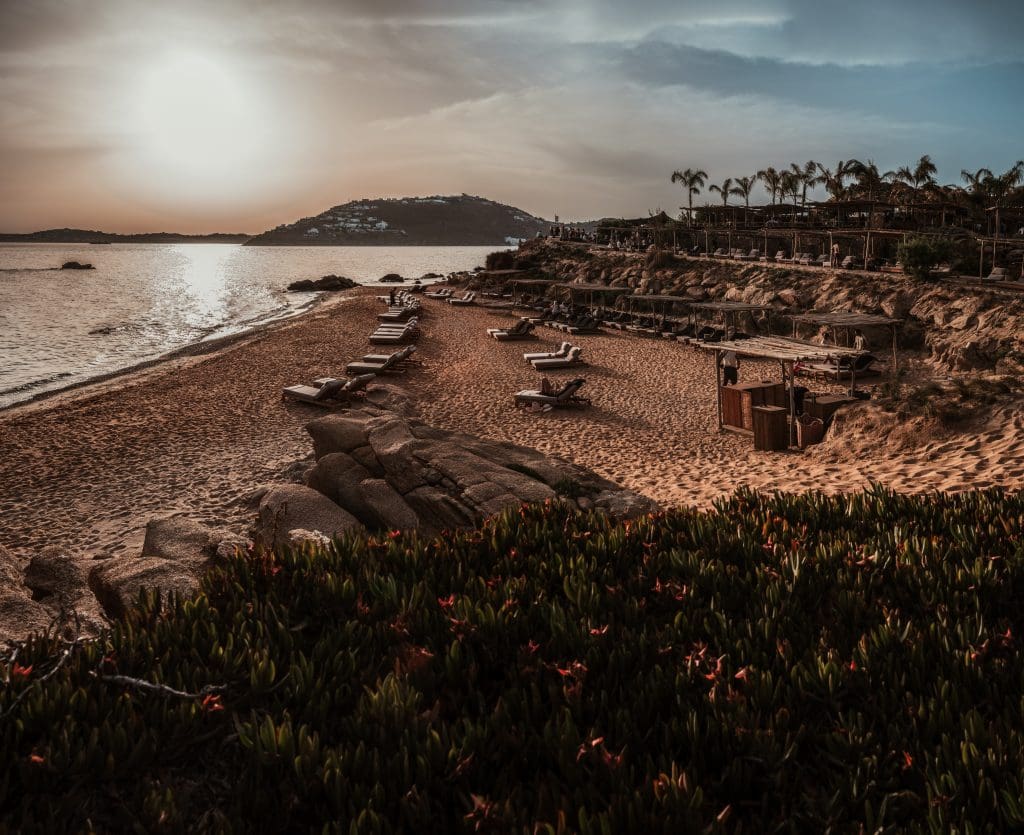 Scorpios Mykonos is an incredible experience and anyone debating about whether to splash the cash should be prepared for an expensive day and evening. It's one of those memorable experiences that you'll find from your vacation that you'll fondly remember over the years.
Everything about Scorpios Mykonos from start to finish is luxurious, from the desert tones that are threaded throughout the complex, Scorpios Mykonos almost blends into the landscape. It feels different here, as if you've made it into a very exclusive and secretive place.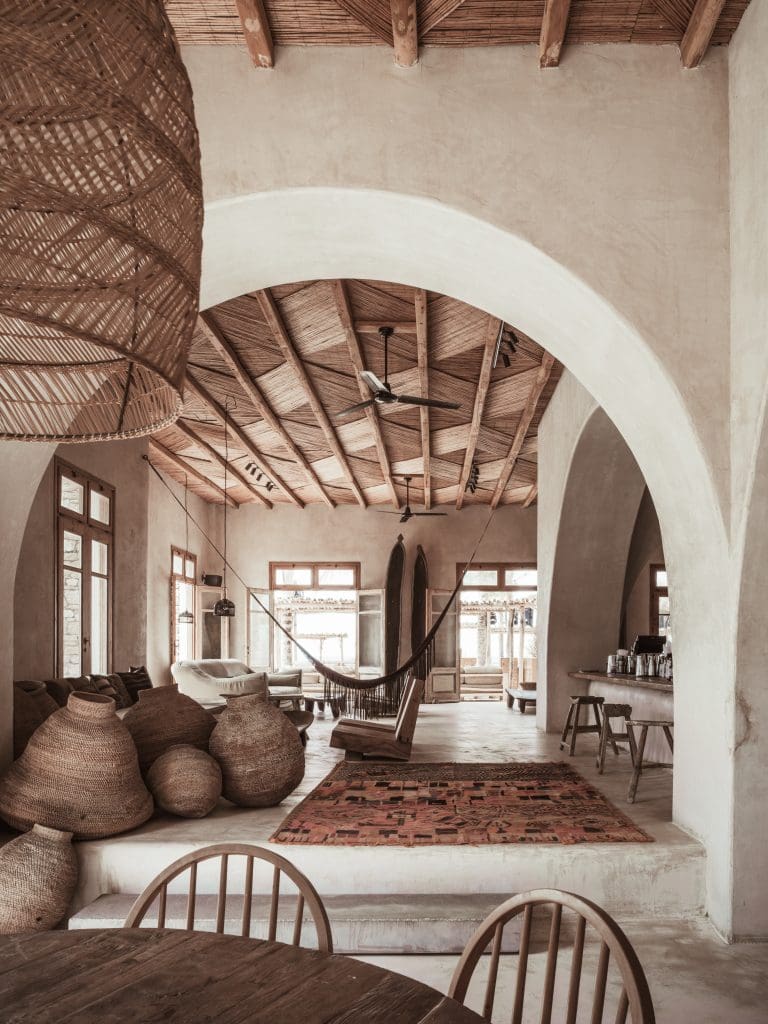 And whilst it's best enjoyed at sunset, that doesn't mean you should skip the Scorpios Mykonos experience during the daytime. The earthy tones are carried throughout its cabanas, beach beds and are also found in the 'House' space where people gather throughout the day.
Sunset Beach at Scorpios
A lot of people end up at Scorpios Mykonos for their legendary sunset parties that are accompanied by musicians and DJ performances. Reservations are necessary to take part in a fabulous sunset party. You do need to order a bottle of wine as part of the reservation process, which can be pricey if you are on a budget.
Scorpios Beach Club Prices
With several different areas across its complex, the prices vary depending on which section you choose.
Oasis Beach offers limited views of the sea but is the cheapest option available for a beach cabana that can fit up to 4 people for €140.
Slope Beach has sea views and is €140 and can fit up to 4 people.
Private Beach is the best location in Scorpios, with uninterrupted views of the sea, and right on the water's edge. The price for a cabana at Private Beach is €160.
Cabanas are available to rent for the entire day but must be occupied by 1 pm or risk being given away.
2. Thalas Mykonos | Super Paradise Beach
Located on energetic Super Paradise Beach but without the insane prices – Thalas Mykonos could be one of the most affordable beach clubs in Mykonos.
If you've dreamed of visiting one of the Super Paradise Beach clubs but the prices are a little bit too eye-wateringly expensive for you, then Thalas Mykonos offers a great alternative.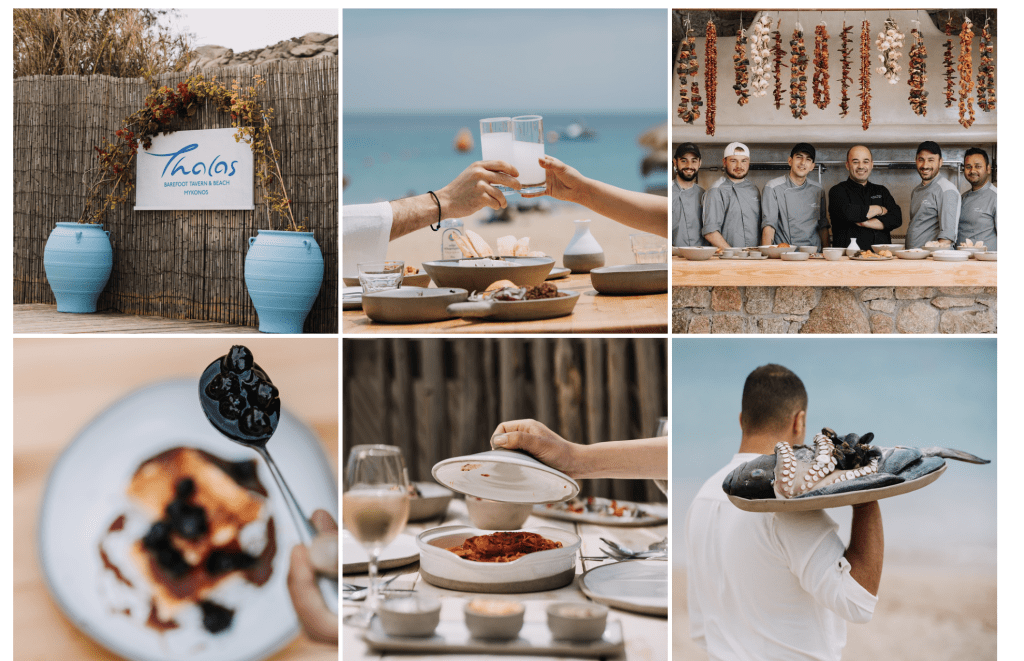 Prices for the Thalas Mykonos start at €25 per person with sun lounger in the last row. They increase in price until you reach the front row and are still reasonably priced at €40 per person and include a towel in the price.
Book your sun lounger at Thalas Mykonos via here or with the widget below.
3. Jackie O' Beach Club & Restaurant
Arguably one of the top 5 Mykonos beach clubs on the island (on an island jam-packed with fantastic beach clubs). If you've come to Jackie O' Beach Club & Restaurant you're in for one of the best day and nights of your vacation. It's got it all.
Located just above Super Paradise Beach, you'll find one of the most entertaining drag shows in all of Mykonos that attracts crowds from all over the world to its doors.
But before the show starts in the evening, you'll have spent a day on the beach or in a cabana soaking up the most festive environment in all of the Cyclades. It's hard not to feel the pulsating energy that emanates from Super Paradise Beach and be drawn to its pull.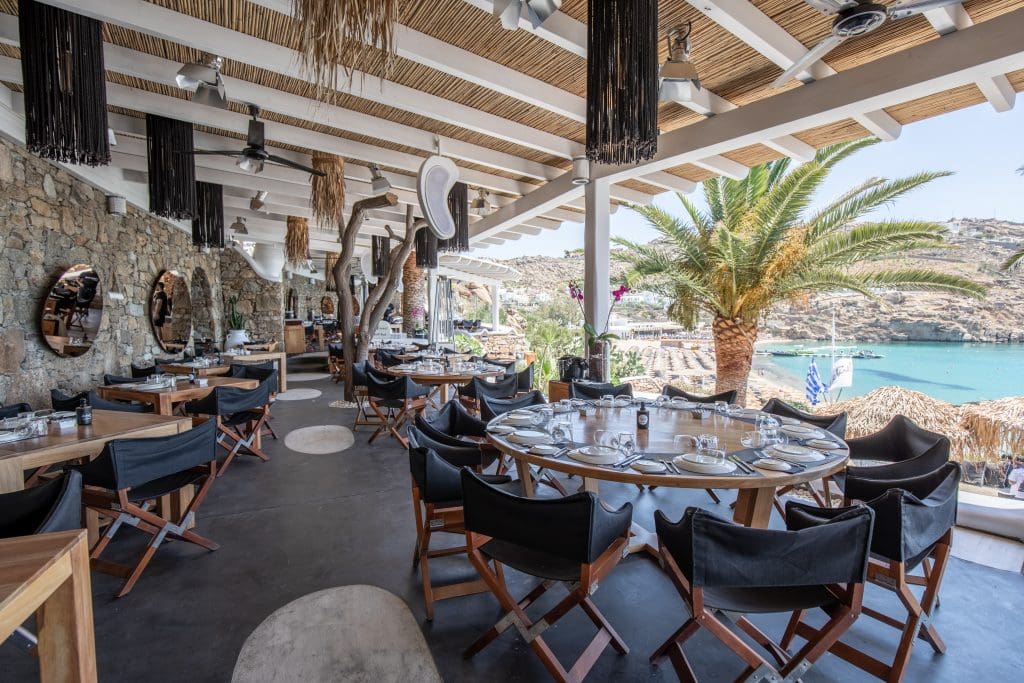 Jackie O' Mykonos is hugely popular with the LGBTQ+ community and with various bars, boutiques, and restaurants across the island you'll find them all buzzing.
The pool is the magnificent centerpiece of Jackie O' Mykonos in which you will find sun loungers, a restaurant, and insane views over one of the most festive beaches in Mykonos, Super Paradise Beach.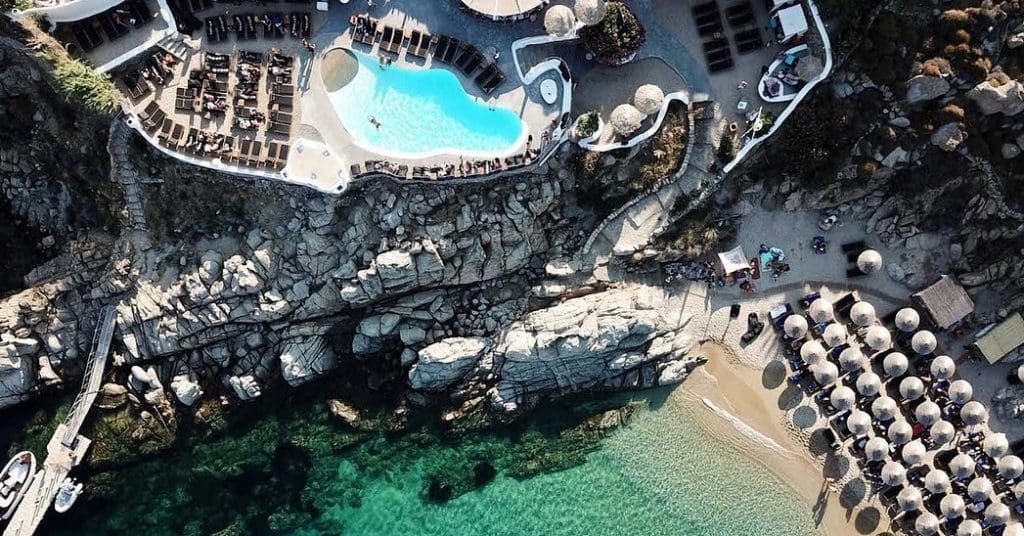 4. Super Paradise Beach Club
Welcome to Mykonos' island's most popular and essential party beach – Paradise Beach Mykonos. Here you'll find some of Mykonos' best parties and nightclubs. If you've been looking for a place to let loose and party, you've come to the right beach.
Voted the 14th best club in the world, you know you're in for a good time when you decide to spend the day at Super Paradise Beach Club. With day parties starting from 4 pm, if you've been searching for a Mykonos beach club where you're guaranteed to see an A-List Hollywood celebrity, party till the sun starts to rise and have one of the best nights of your life, then Super Paradise Beach Club is the right place for you.
Super Paradise Beach Club has various payment options for however bougie you want to make your day.
Packages for the day events start from €230 per table all the way up to €2250. Dependent on your party size, how many bottles of vodka, or champagne, or how close you want to be to the action is part of the pricing scheme.
Beach beds start at €50 for the last row and increase in price as the rows get closer to the water's edge.
5. Nammos Mykonos
Welcome to Nammos Mykonos, one of the biggest party beach clubs in Mykonos on the island and known for its world-class DJs and sets.
With numerous locations around the world including beach clubs in Cannes & Dubai, Nammos has become something of an institution in Psarou Beach Mykonos.
As the day winds down and the sun starts to set you'll find the energy of Nammos Mykonos begin to pick up, with guests standing on tables and champagne freely flowing all around. It's decadent, outrageous, loud and a ton of fun. And it's not going to be everyone's cup of tea.
Nammos Mykonos is not for those on any type of budget, so be prepared to spend between €200 and €300 for a day at the beach. And that's on a reserved budget. With cocktails starting at €25 and sun loungers somewhere around the €110 (per person) mark, you'll have to close your eyes when the final bill does eventually arrive.
Nammos Mykonos is the perfect place for those who don't mind splashing the cash and are looking for one of the best party atmospheres on the island.
6. Pasaji Beach
Located in Ornos Beach, (you'll also find their flagship restaurant in Athens), Pasaji Beach is one of the newest beach clubs in Mykonos to join the party. With a dedicated space for shisha aficionados, you'll find an extensive menu of flavors and premium branded tobacco.
Sun loungers on the front row of Pasaji Mykonos start from €120 for two sun beds and an umbrella. The second row is €100 and as the rows go back, the cheaper they get, finishing at €80.
The restaurant at Pasaji Mykonos can be hit or miss depending on what you order. There are many other restaurants to choose from along Ornos Beach.
7. Principote Mykonos
At the northern part of Mykonos on Panormos Beach, you'll find the luxury beach club, Principote Mykonos. With an entrance that leaves visitors feeling as if they have entered a 5-star spa, this Mykonos beach club is an unforgettable experience.
Principote Mykonos is easily one of the largest beach clubs in Mykonos with seemingly endless rows of tightly packed beach beds. With exquisitely hand-made umbrellas and sun loungers that are ridiculously comfortable, you can even upgrade to the larger VIP section of the beach for the ultimate beach club experience.
If you opt for the VIP treatment at Principote Mykonos you'll find yourself on an enormous sunbed that can easily accommodate up to 4 people, as well as a special VIP service that includes shisha.
Spend the late afternoon browsing in Agora, the boutique clothing store that sells bespoke and unique collections.
Beach Bed prices are €160 for 2 beach beds and an umbrella.
8. Alemagou Beach Bar Restaurant
Alemagou Beach Bar is the perfect beach club in Mykonos for those looking to escape the partying scene that makes up a lot of the other beach clubs on the island.
Here in Alemagou, the main requirement is that you settle back with a good book, a glass of wine in one hand, and relax. Alemagou will reset your body and mind with its tranquil vibes and chilled atmosphere. Of course in the late afternoon, the energy switches and the atmosphere picks up into a nice festive pace.
With dozens of sun loungers, the soft golden sand of Ftelias Beach, and that perfect Myconian sea, it's very easy to see why so many people have fallen in love with Alemagou.
In the restaurant, you'll find delicious fresh fish and locally sourced ingredients from Mykonos and nearby islands.
€100 for two sun loungers and an umbrella.
9. Kalua Beach Bar Restaurant
Kalua Beach has been a family business that originated in Kos in the 1970s. Through the years it has formed many guises and was eventually established in the early noughties and has been an integral part of Mykonos since.
You'll still find a relatively relaxed atmosphere here that is a lot tamer than some of the other Mykonos beach clubs (during the early part of the day, it definitely picks up pace and energy as the afternoon lengthens). With regular live music in the evenings, Kalua Mykonos can be a bit more affordable than several other well-known Mykonos beach clubs (but it's still Mykonos prices).
There is no charge for the sun beds in Kalua Mykonos but there is a minimum spend dependent on which row you are seated in.
10. Pinky Beach Mykonos
There are a couple of reasons why people love Pinky Beach Mykonos and try to keep it a secret all to themselves.
The level of service can be very hit and miss in Mykonos, especially when you are paying top dollar for some of the beach clubs. Not in Pinky Beach Mykonos. In fact, you'll find a dedicated service bell on each sun lounger so that you'll never run out of Mojito or whatever your heart desires.
The Agia Anna beach at Pinky Beach Mykonos is a lovely clean beach with sweeping views across the bay that looks across the crystal clear water, super yachts and white buildings built into the landscape.
A visit to Pinky Beach Mykonos won't leave you with a hearing impairment at the end of the day, and the minimum spend requirement is easy to meet with cocktails and lunch throughout the day.
Pinky Beach Mykonos Prices
During high season the prices for sun loungers are as follows:
Twin Sun Loungers – Front Row – €80 (Minimum Spend Required: €100)
Twin Sun Loungers – Second Row – €70 (Minimum Spend Required: €60)
Twin Sun Loungers – Third/Fourth Row – €60 (Minimum Spend Required: €40)
Sunlounger bookings can be made directly on their website.
During the low season, the prices drop dramatically and the minimum spend requirement vanishes.
---
Mykonos Beach Clubs are no joke. Mykonos is one of Europe's most popular destinations for party animals and beach lovers, and it combines the two so bloody well.
The atmosphere on the island is crackling and you can make whatever you want of your trip to Mykonos, be it as relaxed as possible or as indulgent. It's going to be a lot of fun.