The 2024 Guide to Ortigia Sicily: Things to Do, Eat & Drink
Oritigia Syracuse is one of those perfect places that you won't have heard of unless you're thumbing through a copy of Conde Nast Traveller, or a Tik Tok someone has created of hidden gems in Italy.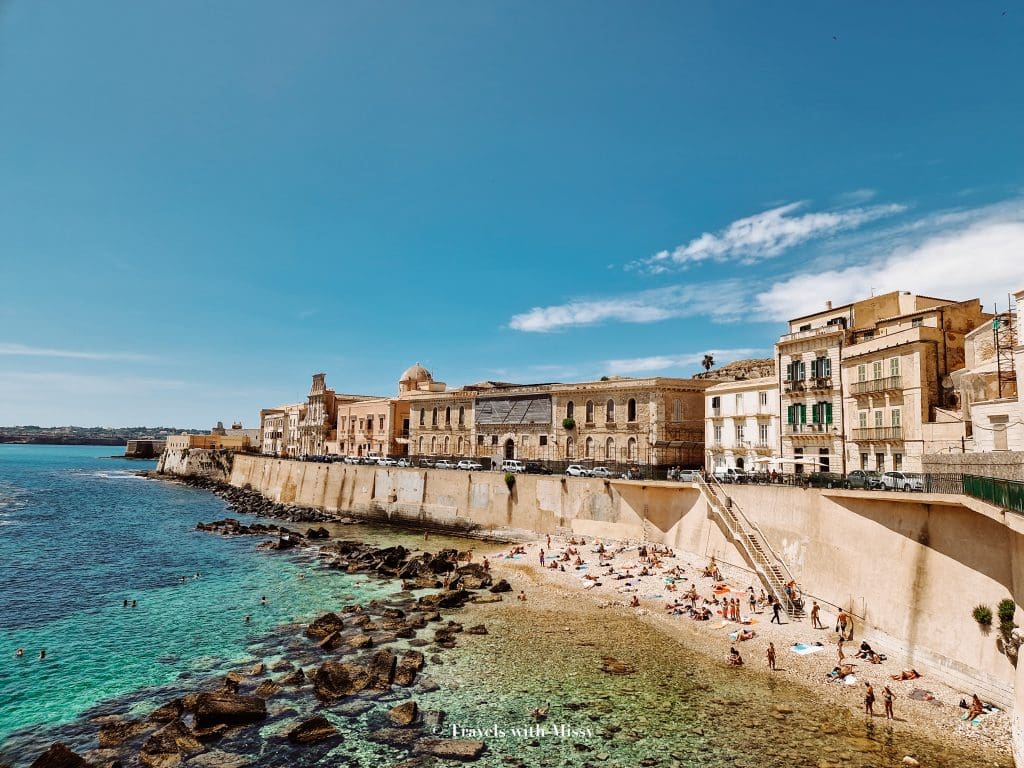 Which is how I stumbled upon one of my newest and most favorite places in Sicily (sorry Taormina!). A Tik Tok caught my attention last summer and I earmarked it for a future trip to Sicily, not realizing that White Lotus fever would sweep into my home and pique the interest of everyone living there.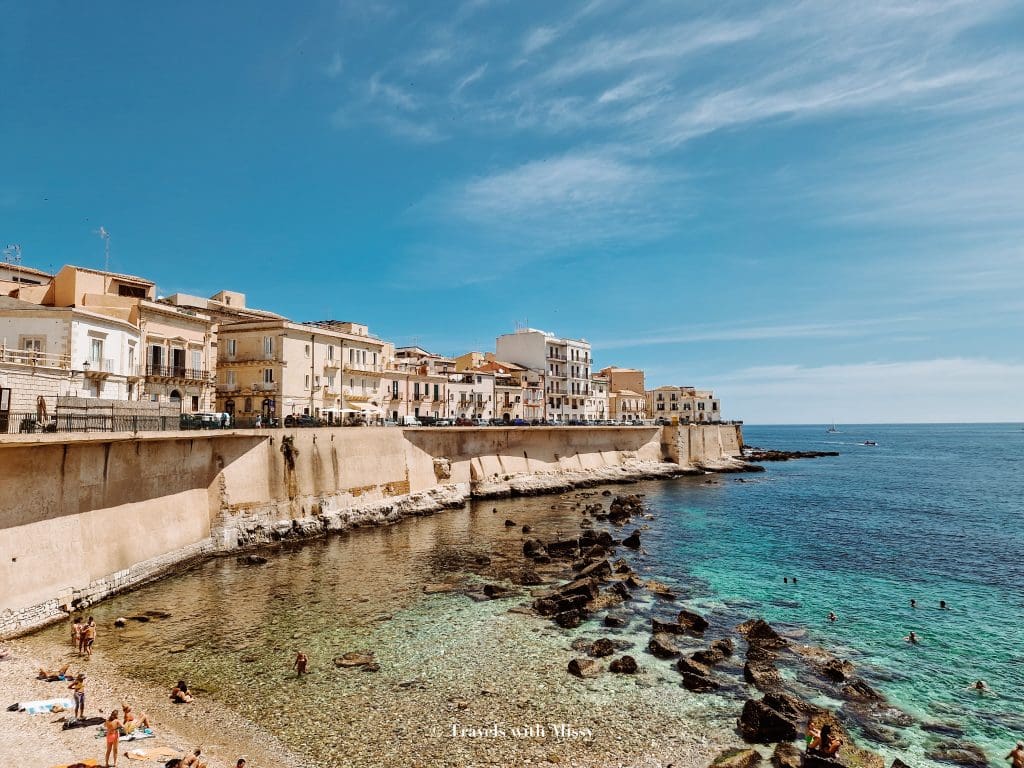 Ortigia is sometimes called Syracuse (Siracusa) as they are located in the same area. However, Ortigia is an island that sits connected to the mainland of Syracuse and is referred to as the 'old town' or 'historical center' of Syracuse.
Most visitors to Syracuse will spend the majority of their visit on the island of Ortigia, wandering the beautiful streets that are filled with artisanal stores, gelaterias, bars, and restaurants.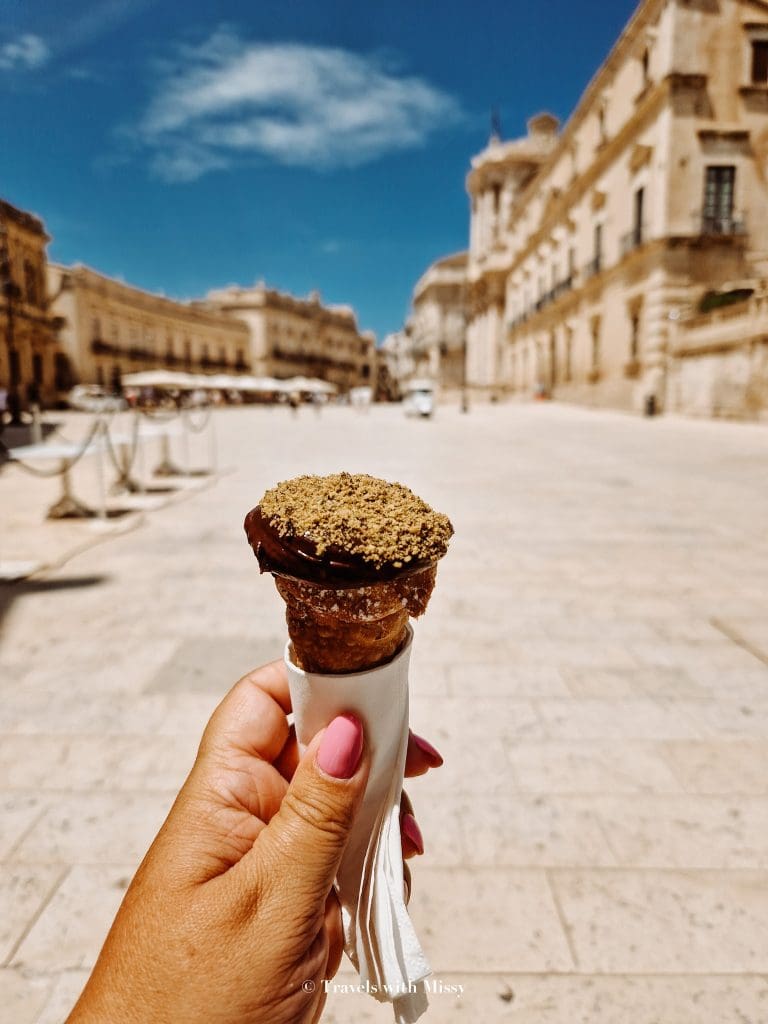 Ortigia Sicily is breathtaking in every sense of the word, and the more you explore and experience the historical center of Syracuse, you'll be promising yourself another visit within moments of arriving. So let's dig into what makes Ortigia so special and worth a visit.
Ortigia Quick Guide
Temple of Apollo
Arriving into Ortigia as you cross the bridges that connect the island with mainland Syracuse you'll be placed right in front of the Temple of Apollo. Once upon a time, a very long time ago, Syracuse was the center of Greek civilization, and the Temple of Apollo was one of the first places to build a temple out of stone (rather than wood).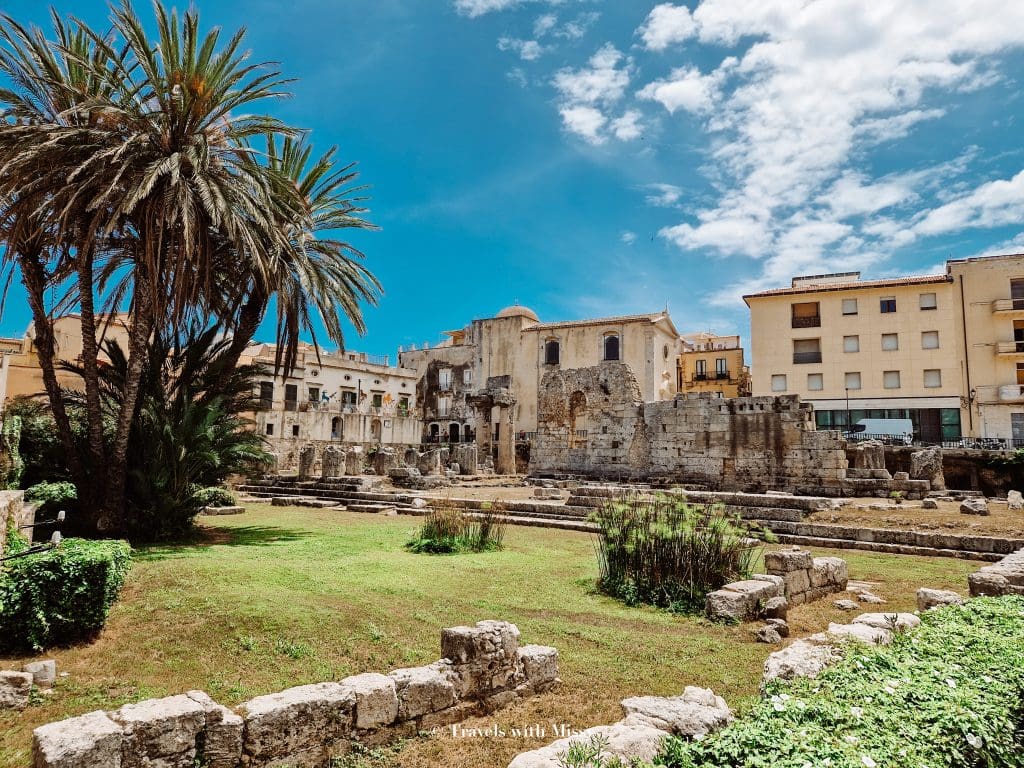 It's survived the ages, having been either a Norman Church, a Mosque and a Spanish barracks at different periods of history before being uncovered in the late 19th century and preserved for visitors.
The Temple of Apollo marks the beginning of Ortigia. You'll find numerous tours depart from this area, including the cute Ape Calessino (aka Tuk-Tuk's) tours that are whizz you around in the cutest little Piaggio car/bike's. If you are short on time, I would definitely recommend hopping into one of the Ape's and learning more about the history of Ortigia, Sicily.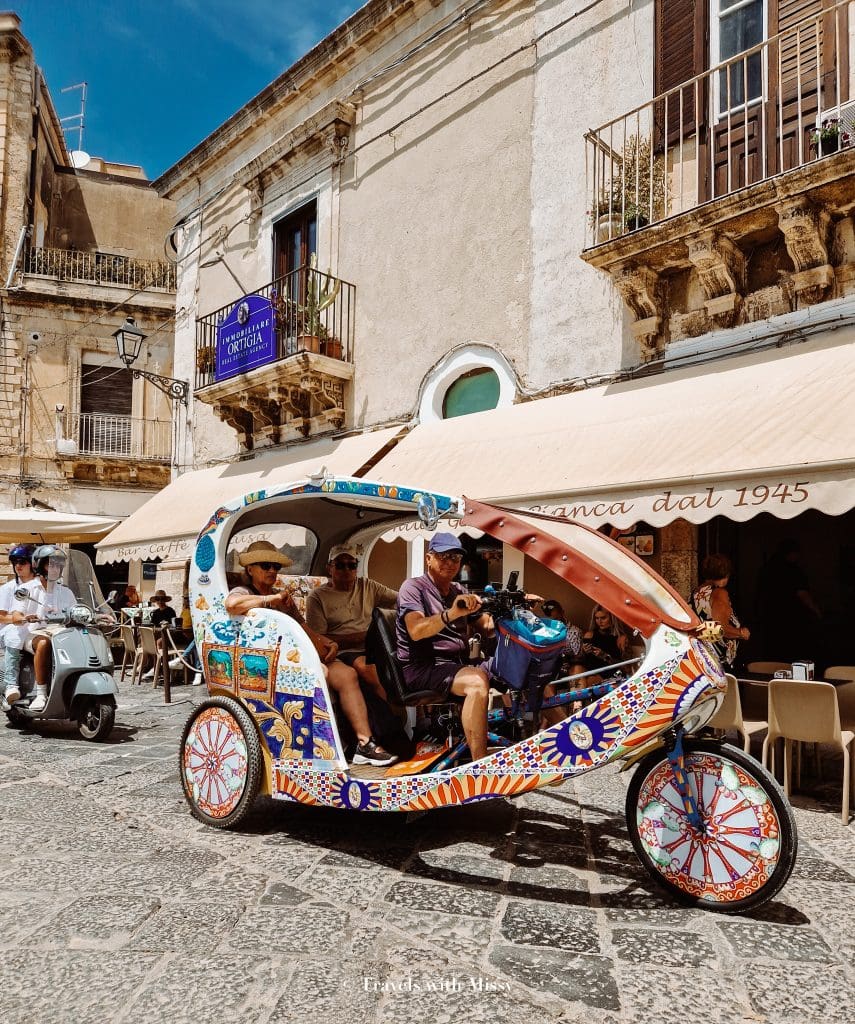 Walking around Ortigia
If you have more time to spare or are using Ortigia as a base then I urge you to spend at least a full day walking around the island and discovering all the nooks and crannies it offers. The island of Ortigia Sicily is tiny, and you easy walk from one end to the other in around 15 minutes.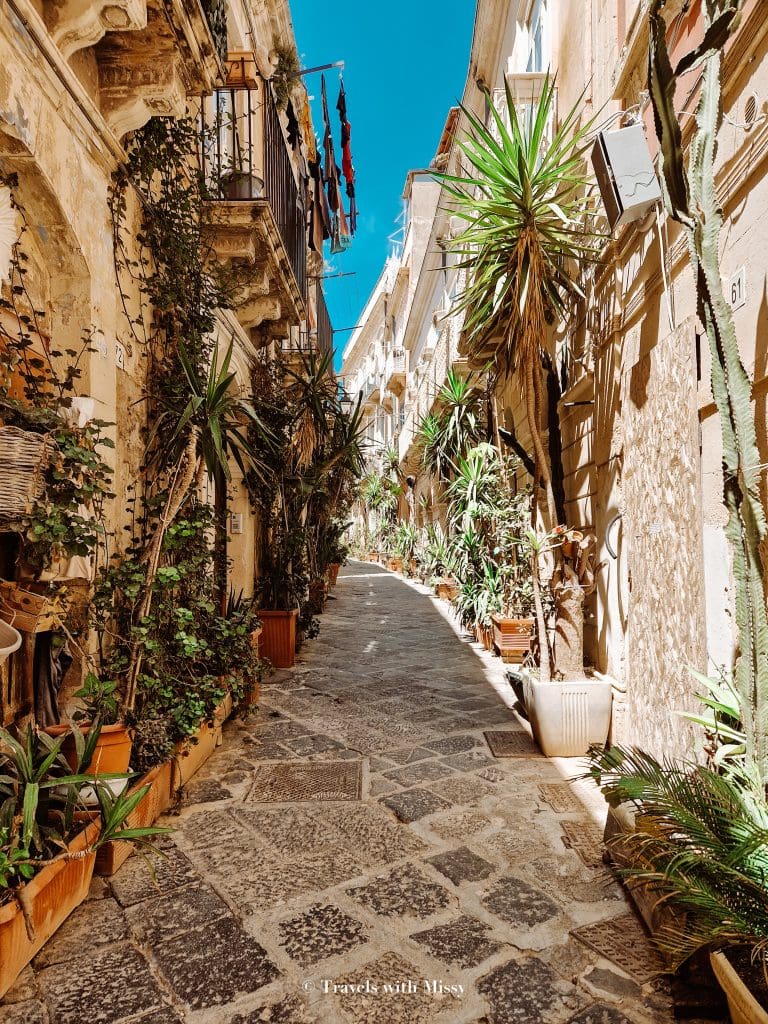 The island has tiny streets of which you never know what you'll encounter as you walk around them. What I loved about discovering Ortigia was the sense that it hadn't been overrun by tourists, that locals were still ever present, hanging out their fresh washing out on their balconies, stopping on the street, and calling out to one another.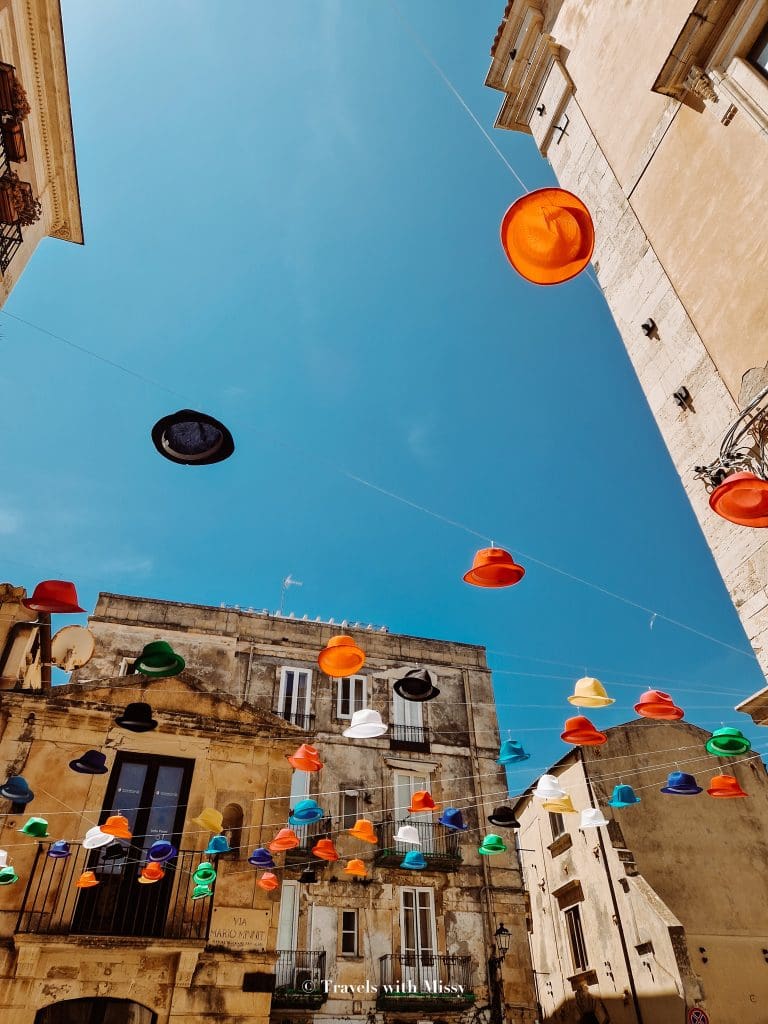 Ortigia has a fantastic creative community, with many artists selling their crafts on the streets. You'll find jewelers, painters, and ceramicists creating their artwork and selling it throughout the day and evening.
And as you explore the streets, you'll find museums dedicated to Leonardo di Vinci and Archimedes and their inventions and engineering, a puppet museum, and even a castle.
Syracuse Cathedral
One of the many sites of Ortigia is the cathedral that sits in the center of the island on a large open palazzo that invites visitors to gawp at the sheer opulence of this Baroque showstopper.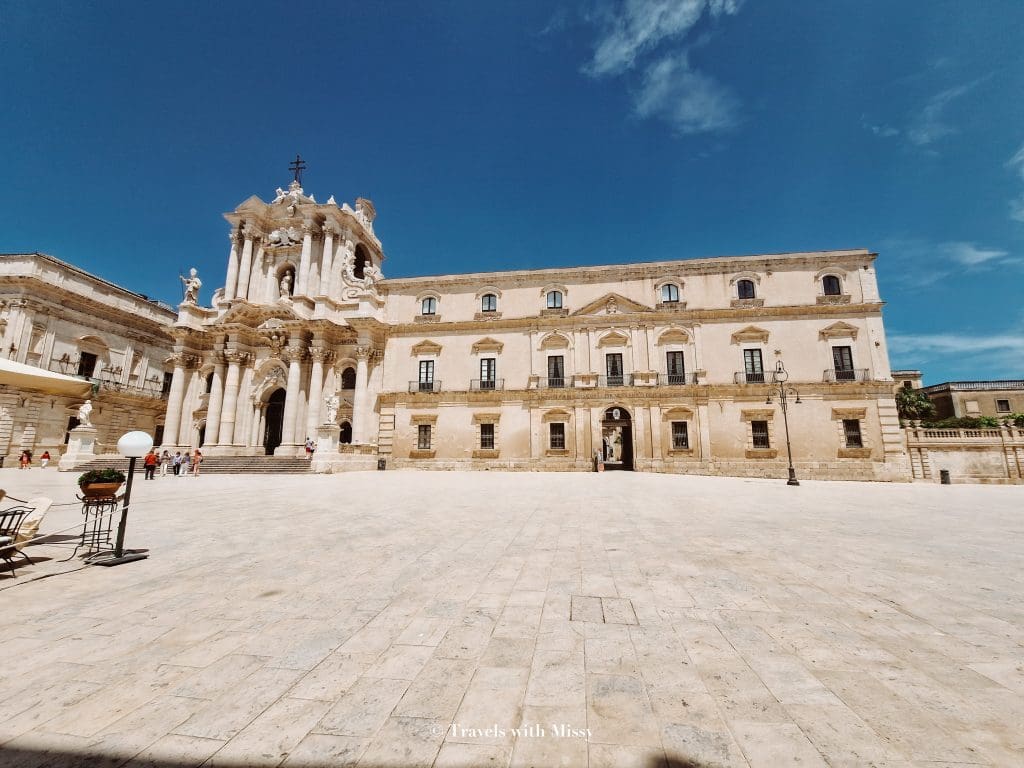 Over a period of 2400 years, its changed its form until its current iteration in the 19th century when it underwent a revival and reconstruction after a deadly earthquake in the 17th century.
For €2 you can visit Syracuse Cathedral (or a small donation of your choosing). The area immediately surrounding the Duomo is truly impressive and in my opinion much more jaw-dropping than the churches of Noto.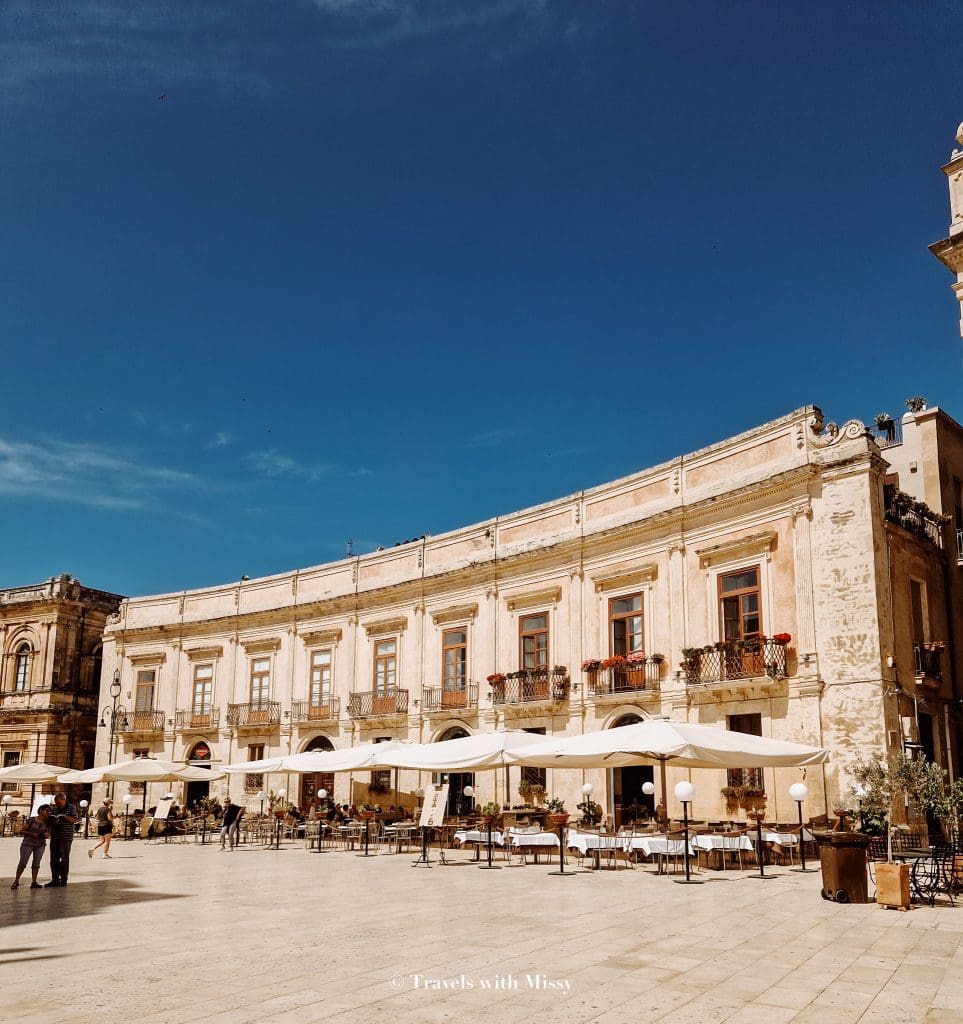 Around the square of Syracuse Cathedral, you'll find a number of beautiful cafes and restaurants that blend in beautifully with the setting and add to the dramatics of the setting.
Castello Maniace
At the tip of the island's peninsula lie the ruins of Castello Maniace. Jutting into the sea, Castello Maniace has a long history that dates back to the 13th century. Over the hundreds of years, it has been used as a prison, fort, and protector of the region. A large explosion in the 18th century destroyed most of the original castle and it has been rebuilt since.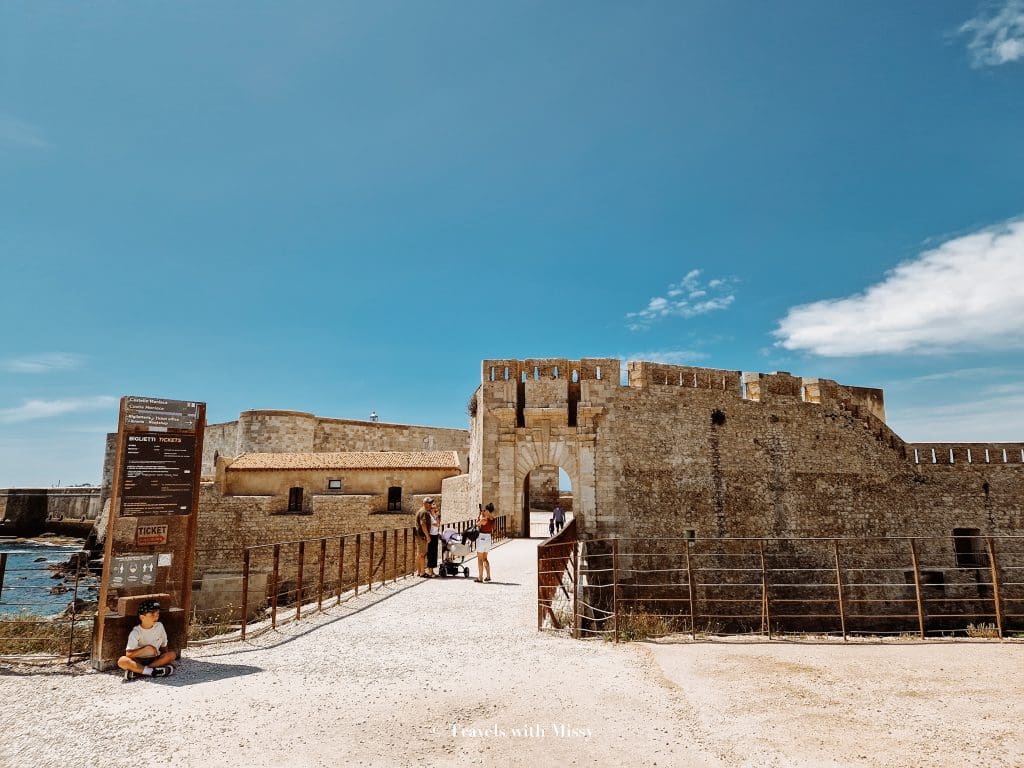 Entry tickets to Castello Maniace are €4 and can be purchased by walking through a small exhibition space that showcases some of the artifacts that were found on the site. The views back to Ortigia are beautiful and worth the entry price alone.
Ortigia Street Market
One of the best places to grab some lunch or pick up some delightful Sicilian goods is visiting the Ortigia Street Market. Located near the Temple of Apollo and the entryway to the island, the Ortigia Street Market is a foodie's paradise.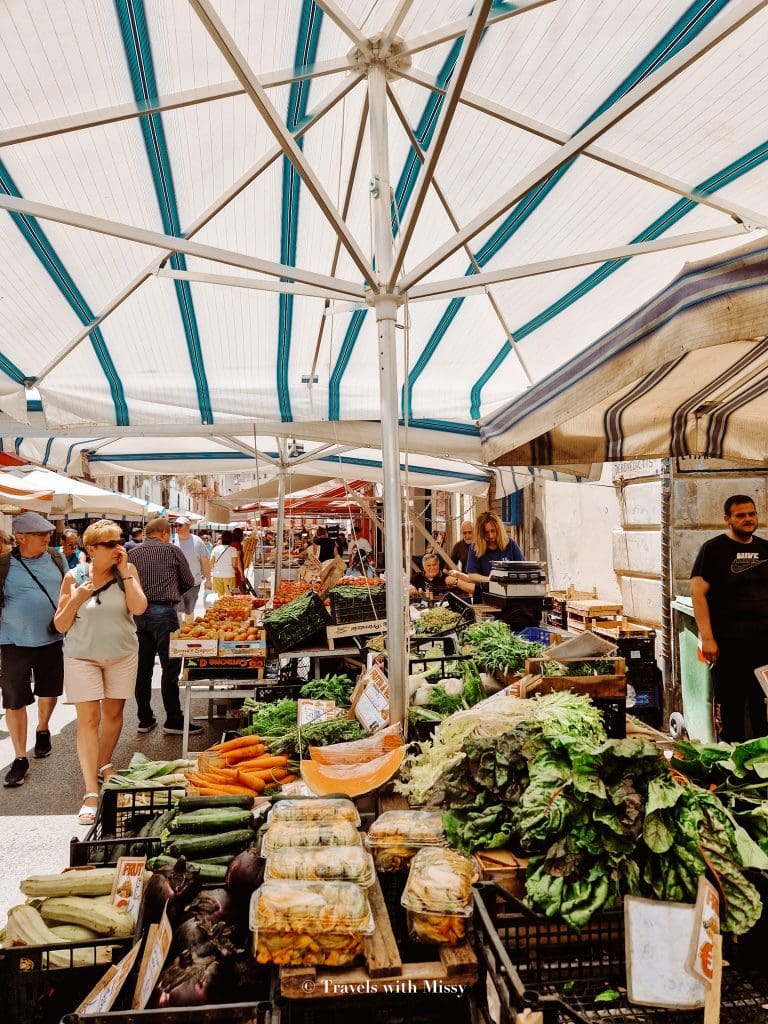 Peruse the stalls and marvel at the fresh produce that range from the juciest tomatoes, to pistachios from Bronte. Even if you've just finished breakfast you'll find your tummy rumbling as you walk around the stalls.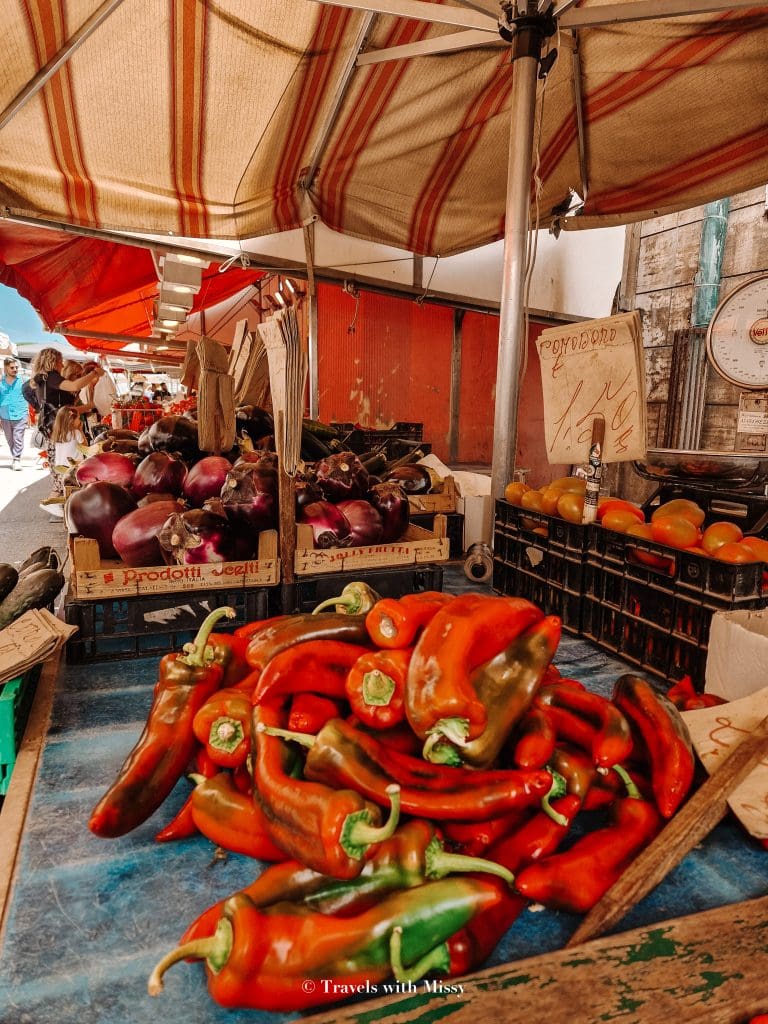 One of the most popular places to eat is a small sandwich shop, Caseificio Borderi where the waiters run around delivering some of the largest panini's in Sicily. Freshly baked bread is filled with a variety of meats, cheeses and vegetables.
Sit down at the tables outside Caseficio Borderi, or join the long line to grab a take-away sandwich to eat by the water.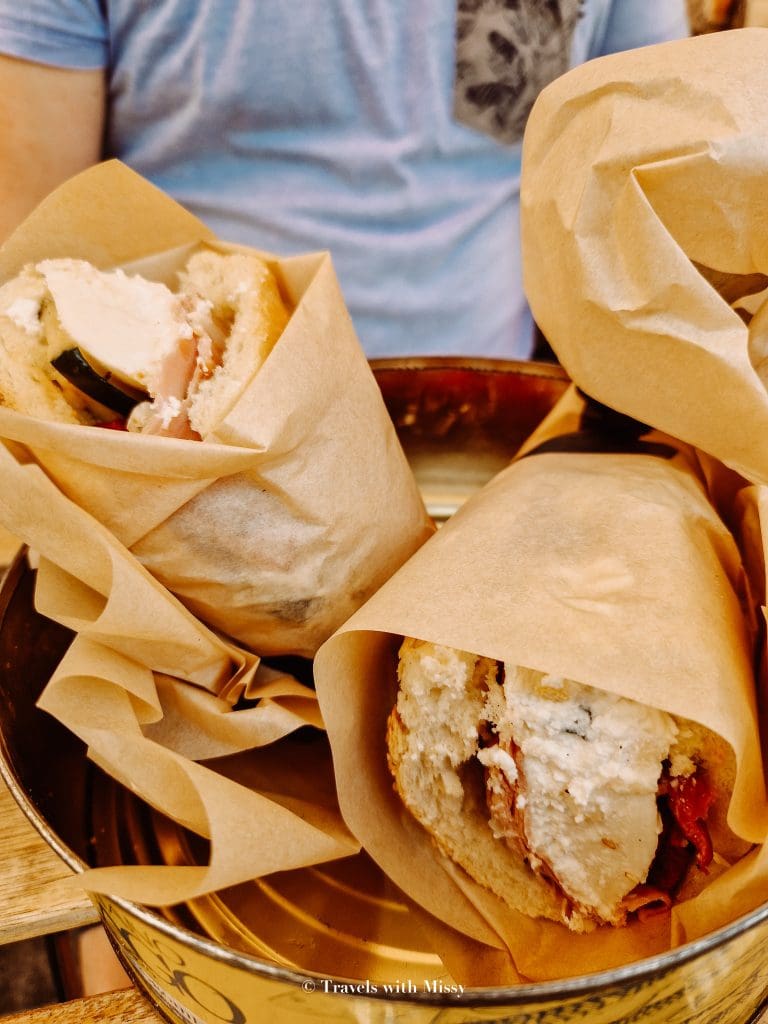 Head next door to Fratelli Burgio a beautiful food emporium that sells cheeses, preserves, cured meats and a fantastic wine selection.
The Ortigia Street Market eventually backs onto the side of the Temple of Apollo (Via del Mercato) where you can pick up some souvenirs, hats, sunglasses and other tokens of your visit to this beautiful part of Sicily.
Shopping in Ortigia
The shopping in Ortigia is stellar. If you have been looking for handcrafted pieces of art, or jewelry then you've come to the right part of Sicily. Walking around the streets of Ortigia you'll be impressed by the level of craftsmanship and artisans selling their pieces.
If you're after a unique piece of art or ceramic then you're in luck as you can shop to your hearts content in the old town of Syracuse. And if you love fancy-smelling soaps and candles then you've got to visit the beautiful Ortigia Sicilia which has some of the most beautifully decorated boxes and creations for a reasonable price.
Beaches in Ortigia
Whilst Ortigia is completely surrounded by water, there aren't too many places to dip your toes into the water for a swim. During the summer months, solariums are constructed for revelers to swim and sunbathe, with Zefiro Solarium being a permanent year-round fixture.
When I was visiting in mid-June they were only constructing the free solarium – Forte Vigliena which offers a platform to sunbathe and access the water for free.
Zefiro Solarium
Zefiro Solarium has a number of white sun loungers and umbrellas available to rent throughout the summer months. You can make your bookings online, or pop by and see if they have any availability.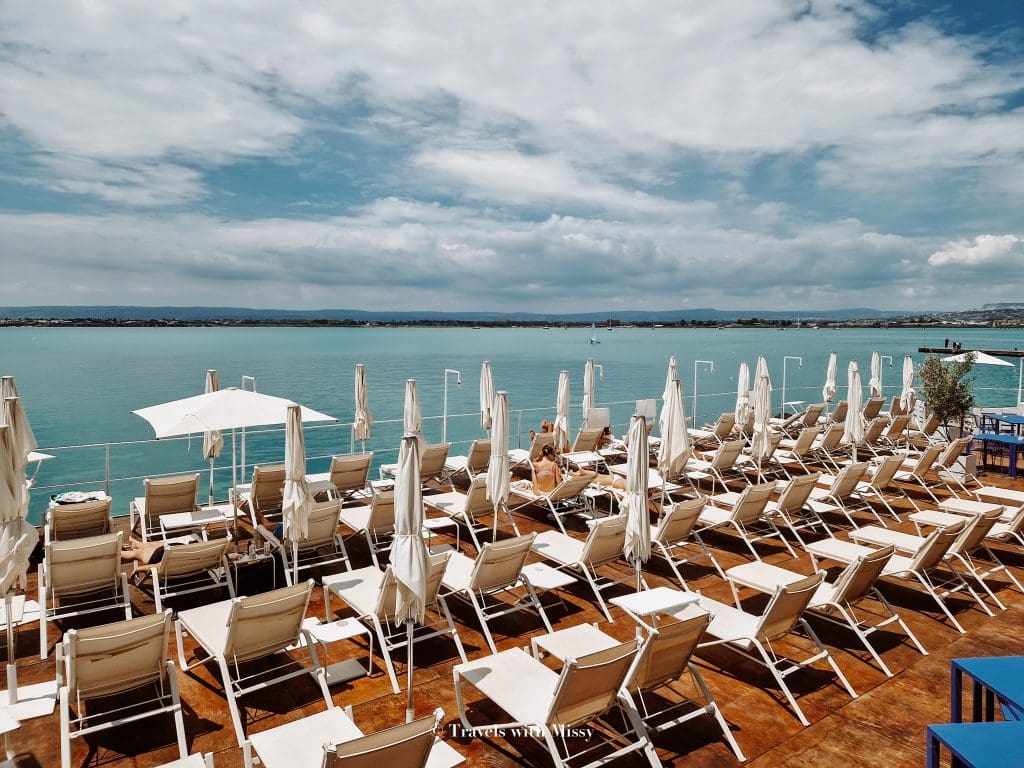 Prices for a sun lounger at Zefiro Solarium is €30 each. And there is an on-site restaurant if you do fancy some food. There are ladders to access the water directly too.
Cala Rossa Beach
A small sliver of stone beach is found near the peninsula of Ortigia. The water in Cala Rossa Beach is shallow with rocks and sea-shoes are definitely needed here in order to get out to swimming depth water.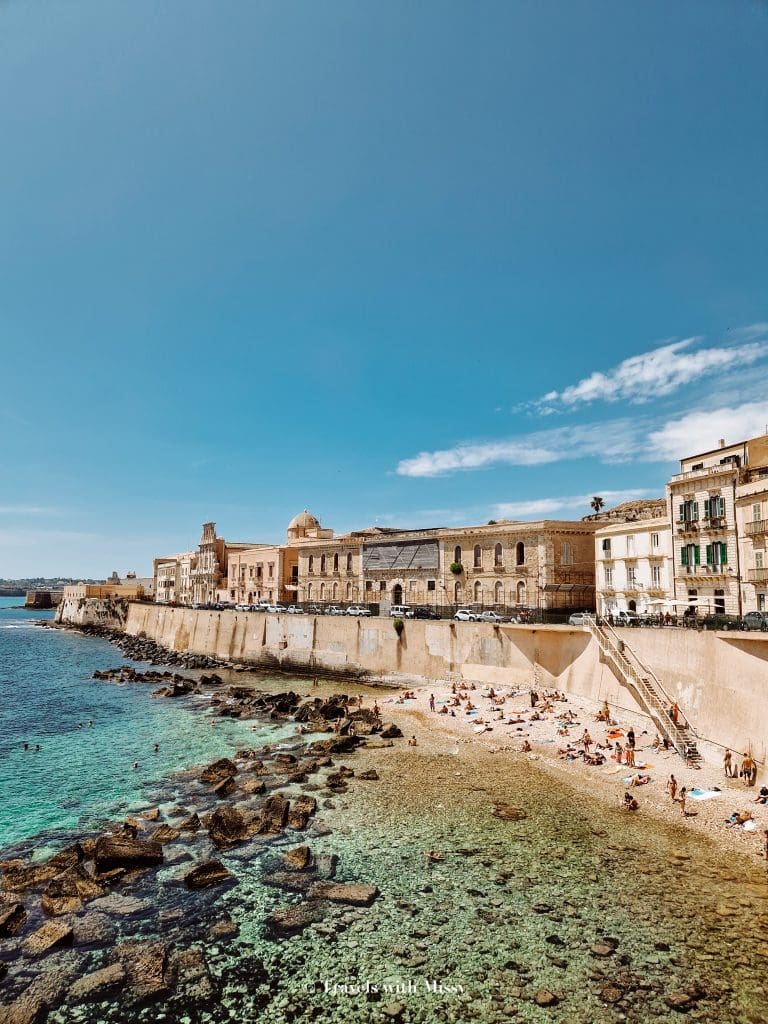 The beach at Cala Rossa is busy throughout the summer months and is the only beach in Ortigia. Grab some fish and chips from nearby 'Sicily Fish & Chips' and enjoy an afternoon on the pebbly beach and crystal clear water.
Eating and Drinking in Ortigia
I've written a more detailed piece on where to eat and drink in Ortigia in a post here. The selection of restaurants on this small island is outrageous and the quality of food is just outstanding. Fish lovers will be in heaven with the number of restaurants that cater towards curating menus filled with swordfish, tuna and seafood pasta'.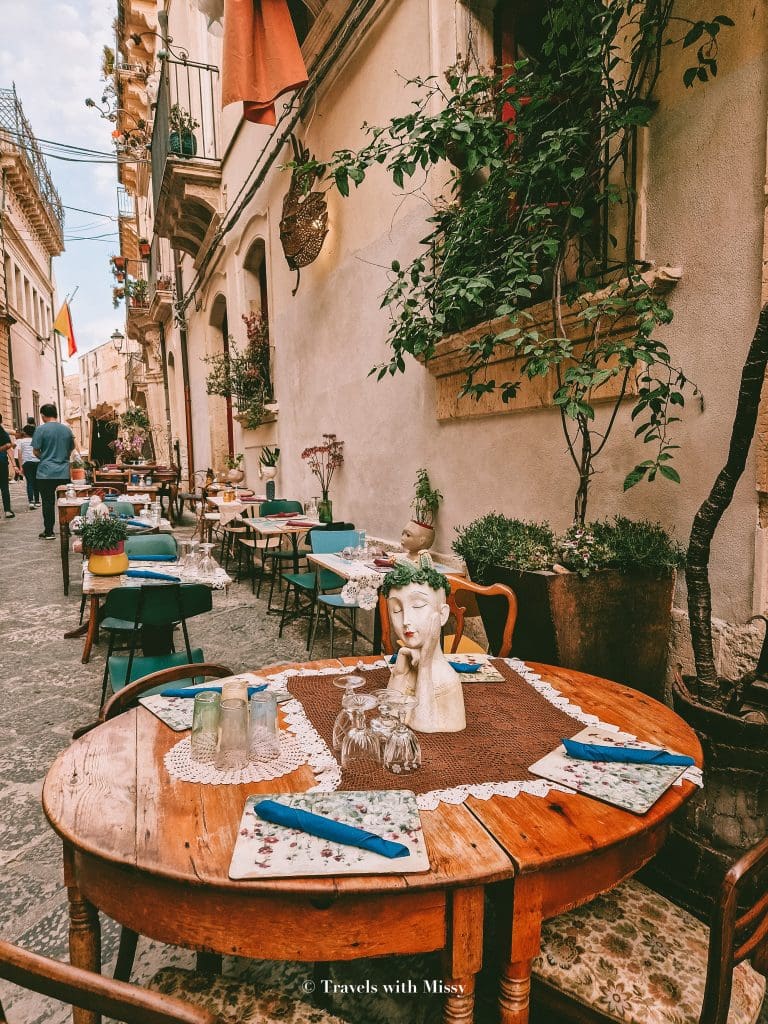 And I'm going to put my money where my mouth is, the best ice cream I've ever tasted was in Fior di Latte in Ortigia. The flavors are a little bit more unusual than those found in other traditional gelateria but my goodness they are incredible.
The bars along Lungomare Alfeo like Sunset Ortigia are popular for sunset and there's a couple of restaurants that looked nice. My favorite cocktail bar in Ortigia was BOATS, where you were not only guaranteed some of the most creative cocktails but to be surrounded by actual locals.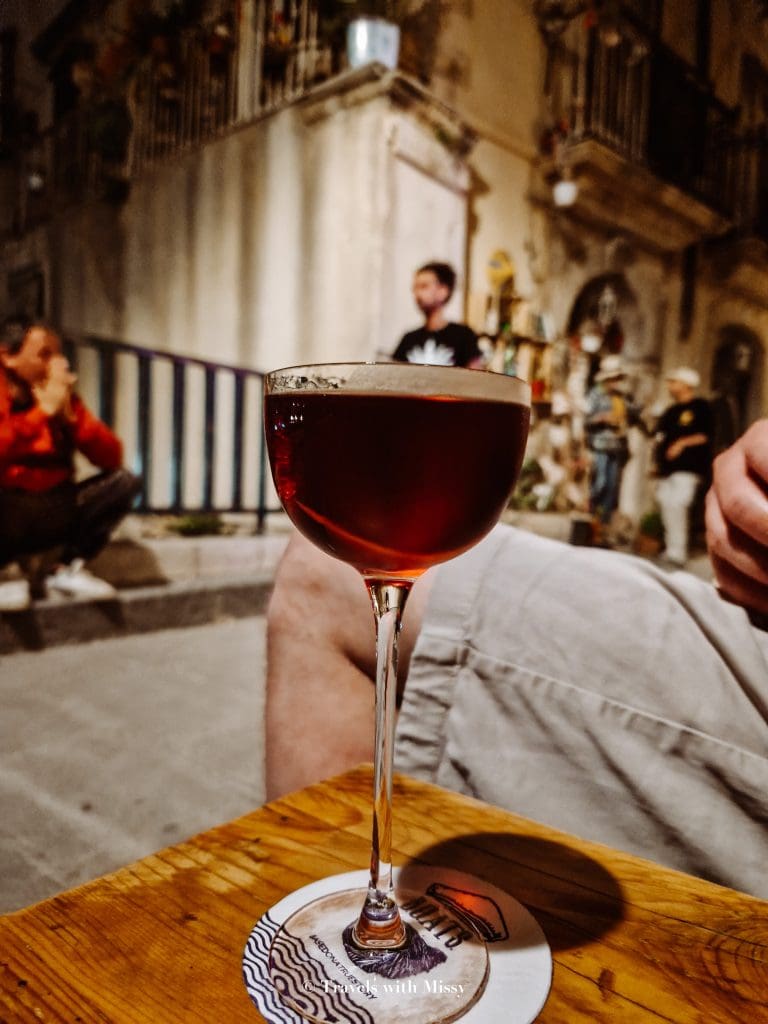 Where to stay in Ortigia
I urge you to spend at least a single night in Ortigia, visiting on a day trip will allow you to barely scratch the surface of this remarkable city and island. We spent 4 nights in Ortigia and loved our time there. 3 nights is the perfect balance of exploring places like Noto for a day trip or Ragusa & Modica and having enough time to spend in Ortigia.
As mentioned, the island is small and offers a fantastic variety of apartments and small boutique hotels.
Getting to Ortigia
Whether you're driving, flying or taking a train to Sicily there are several ways of getting to your destination of Ortigia Sicily.
Nearest Airport
The nearest airport is Catania-Fontanarossa Airport around 50km from Syracuse. The airport is small but has several flights to mainland Italy, as well as destinations around Europe and beyond.
From Catania Airport you can take buses to several destinations such as Syracuse, Taormina, and Catania City Center. The bus stop is directly outside the arrivals hall.
The train station is a 10-minute walk from the airport, and if you have the patience to wait there is a shuttle bus that connects Catania Airport to the Catania Airport Fontanarossa Airport that costs €1.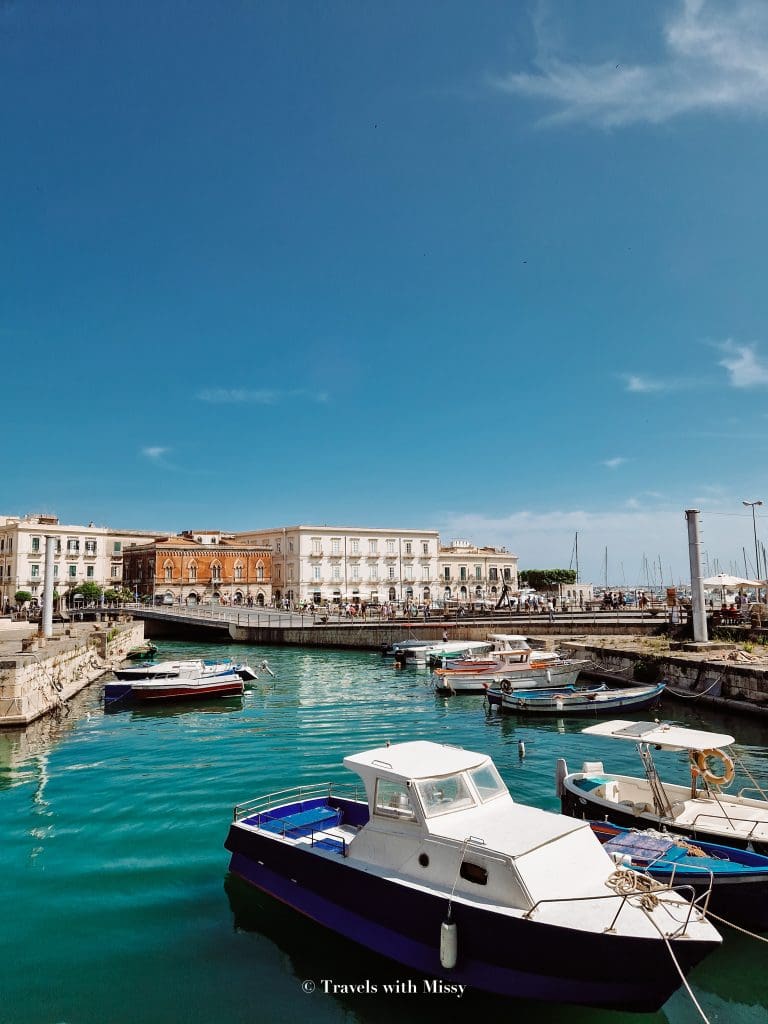 Renting a Car
One of the best ways of exploring the many sites Sicily has to offer is by renting your own set of wheels and seeing this remarkable island. Do note that if you are planning on renting a car in Sicily and visiting the island of Ortigia in Syracuse that the island is a car-free zone. Parking is difficult to find, so talk to your hotel or accommodation host and they'll be able to help you with parking in the city.
I always rent from RentalCars.com to find the best deal for my trips. We didn't rent a car in Sicily this time as we planned on using buses and trains to get around and had very little difficulty with getting from destination to destination.
Train
Syracuse has a small train station that serves popular towns such as Noto and has a direct connection to Catania. You'll also find that there is a train several times throughout the day that leaves from Syracuse to Rome (and has a section of the journey that is on a ferry).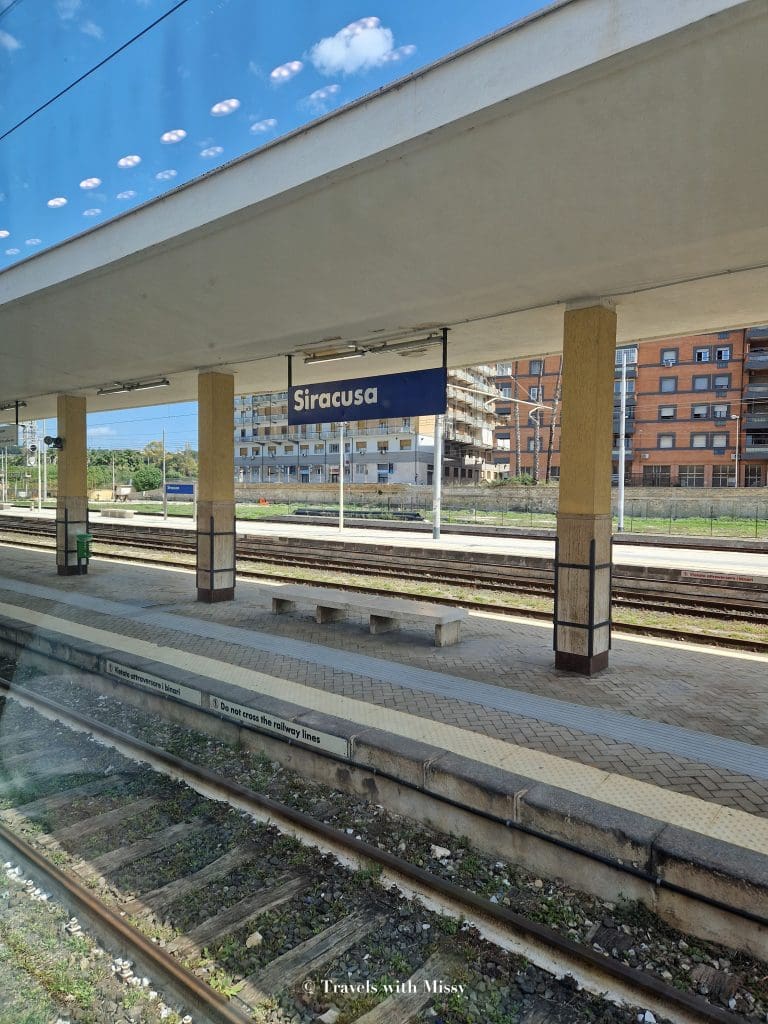 We took the train from Syracuse to Taormina in under 2 hours and it was perfect. We purchased our tickets through Trainline and paid an extra €5 each for First Class tickets. Well worth the price.
Bus
The bus station in Syracuse is located around 200 meters from the train station. The Interbus Service runs from Catania and Catania Airport to Syracuse. We initially took the bus from Catania Airport to Syracuse, which cost €6 per ticket for a 55-minute bus ride.
You can connect with the bus service to other parts of Sicily from Syracuse. Check the bus schedule for more information.
Some of these may be affiliate links, which means when you buy something I may receive a small commission. There is no additional charge to you, and it really helps to support me – so thank you!