I'm fresh off the plane from a fantastic couple of days in Chicago. Visiting the 'Windy City' has been high on my USA bucket list for quite some time and it did not disappoint. With an even more impressive skyline than New York City, Chicago makes a perfect city break. Discover some of the best ways to spend 3 days in Chicago with this jam-packed itinerary.
Chicago is one of those cities that is best explored on foot, and it's effortless to navigate your way around. With skyscrapers that seemingly touch the skyline, you may end up with a crick in your neck, but it's totally worth it. Even if you have no background or interest in architecture, you can't help but admire the Chicago skyline. It's breathtakingly beautiful and awe-inspiring.
One of the most startling things about Chicago is how clean it is. During our visit, we often compared it to New York City which is dirty and grimy in comparison to Chicago. We failed to spot any trash on the streets, nor did we ever see any street sweepers, but it was spotless the entire time we were in the city.
Chicago Travel Tips
Getting around Chicago
Walking is honestly the best way for exploring Chicago. It's an incredible city to walk around and you never know what you'll stumble upon.
If you'd rather take the elevated train, 'the L', that rumbles around the city above street level, you can buy a daily (or multi-day) Ventra ticket that provides you unlimited rides around Chicago on the CTA trains & buses network.
If you are mobile, I highly recommend walking around downtown Chicago and experiencing the city. I never felt uncomfortable or unsafe.
GoCity Pass Chicago
If you are planning on visiting a couple of museums, taking some tours and visiting a skyscraper or two then you should definitely think about getting the GoCity Pass Chicago. Like most cities, there is a lot to see in Chicago and purchasing tickets for a couple of activities can get expensive really quickly.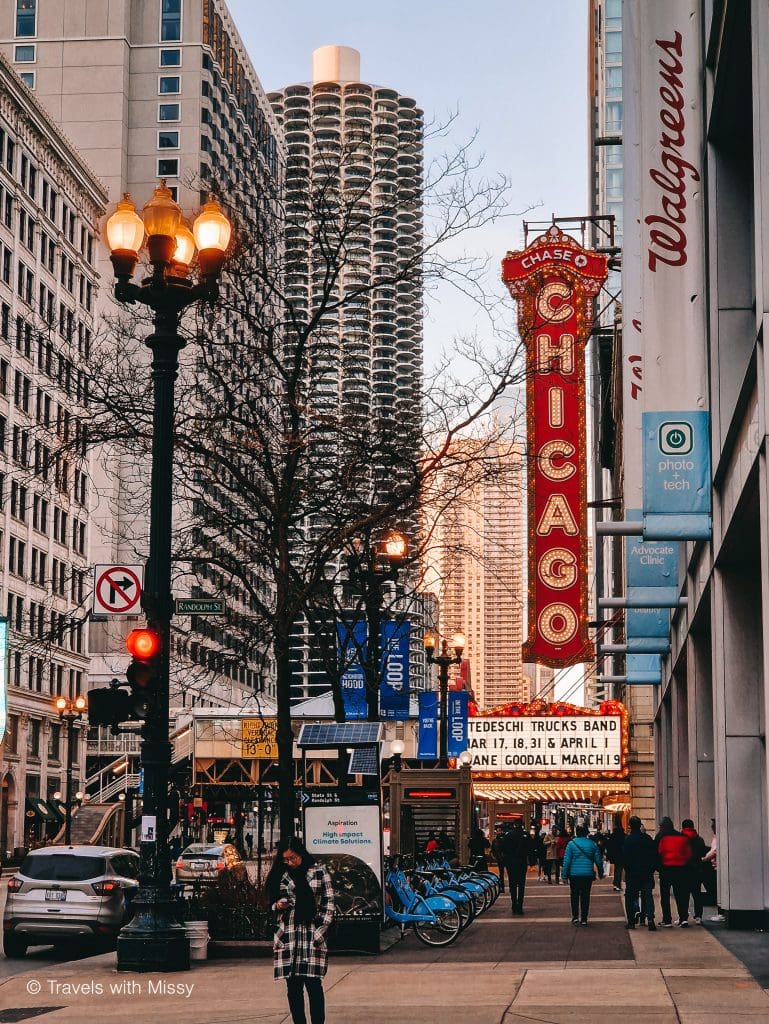 I would highly recommend purchasing the GoCity Pass Chicago as it offers you access to the following attractions:
Hop-on/Hop-off Buses
Shedd Aquarium
360 Chicago
Skydeck at Willis Tower
Museum of Science & Industry
Navy Pier rides & attractions
Architecture Cruise
& much more…
The GoCity Pass Chicago offers 1, 2, 3 & 5 day-passes for a selection of attractions across the city. We saved ourselves a small fortune by purchasing the 1-day GoCity Pass when we recently visited Chicago. In hindsight I wished we had purchased the 3-day GoCity Pass Chicago but oh well.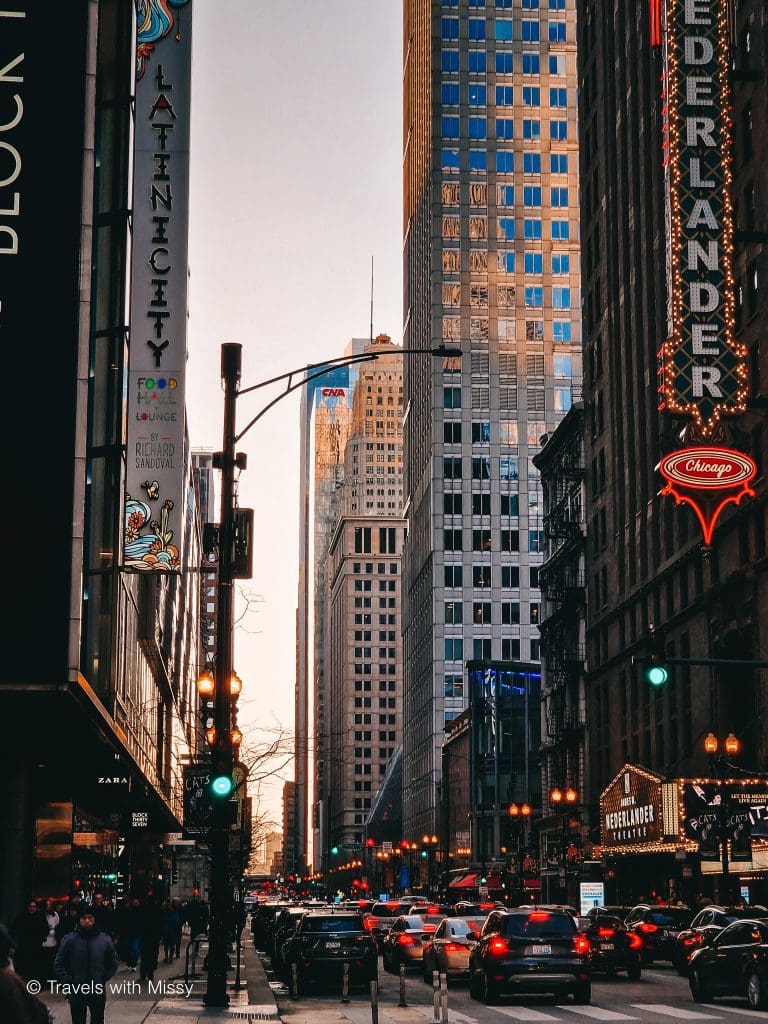 Day 1
Millennium Park & The Bean
On the first day of your 3 days in Chicago Itinerary it's time to explore one of the most iconic sights in the city (& it's not the skyline!). Visit Millennium Park, an enormous city park that runs parallel to Lake Michigan. The park is home to the Bean (aka the Cloud Gate), which is one of the most photographed public art sights in Chicago.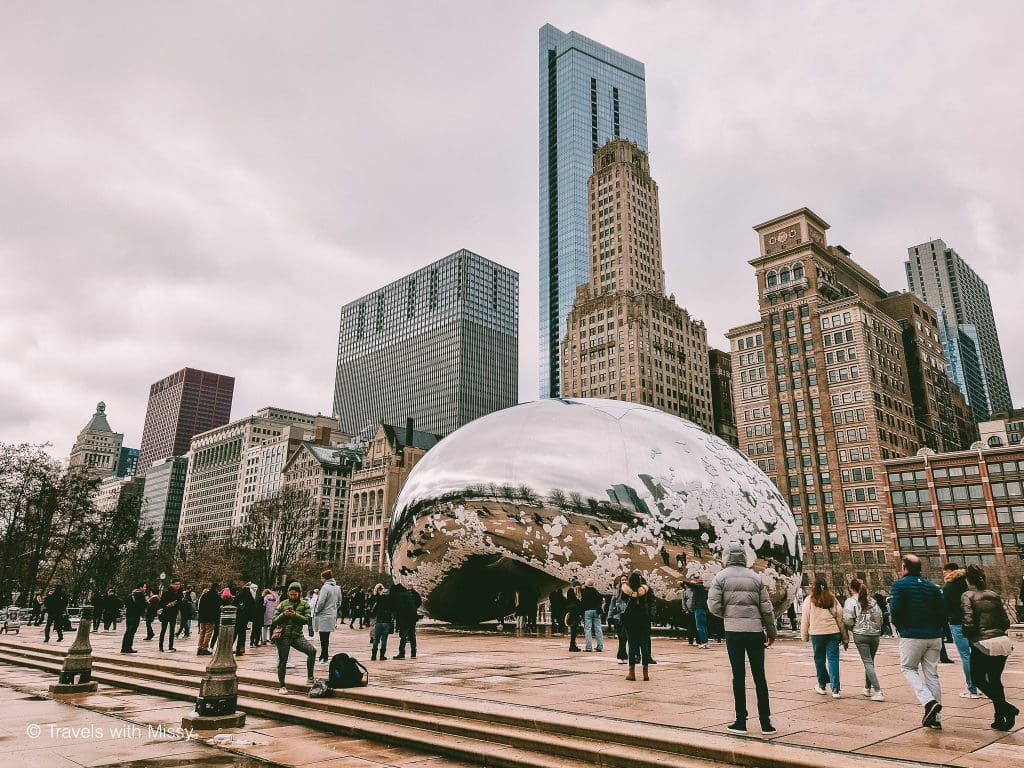 The Bean landed in Millennium Park in 2004 and was designed by Anish Kapoor. It draws millions of visitors each year, and during our visit at the end of winter, was covered in a light dusting of snow (the Snow Bean).
Looking for an iconic and frame-worthy photo of your 3 days in Chicago then head down to Millennium Park and have your photo taken in front of the Bean.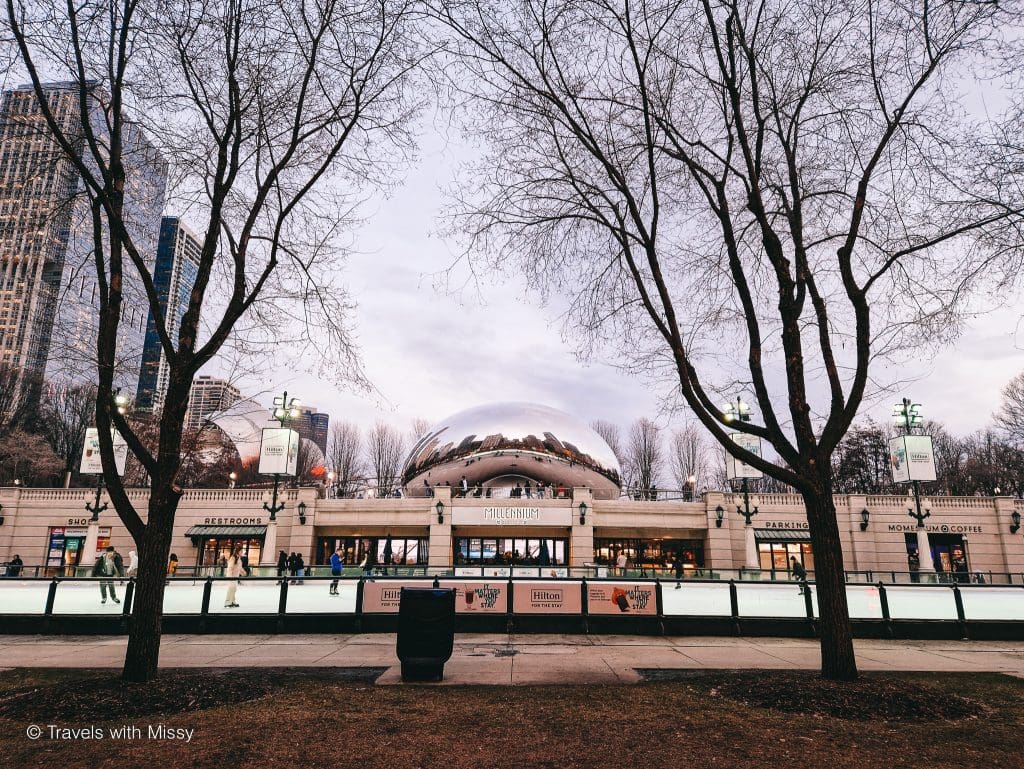 Explore the rest of the park (it stretches for a number of blocks), or head to the Art Insitute of Chicago which happens to be one of the largest art museums in the world. Use the GoCity Pass Chicago to bypass the lines and gain quick access to the art displays.
You can spend an entire day exploring the whole museum which houses iconic artworks such as Grant Wood's 'American Gothic' (the farmer with a dour face holding a pitchfork, whilst his wife looks extraordinarily displeased with him), George Seurat's 'A Sunday on La Grande Jatte', and Edward Hopper's 'Nighthawks' (a painting of a moody late-night diner and its handful of patrons).
Chicago Architecture Boat Tour
One of the best tours you can do in Chicago is an architecture boat tour on the Chicago River. Truly, this was one of my favorite activities that we did in Chicago on our vacation.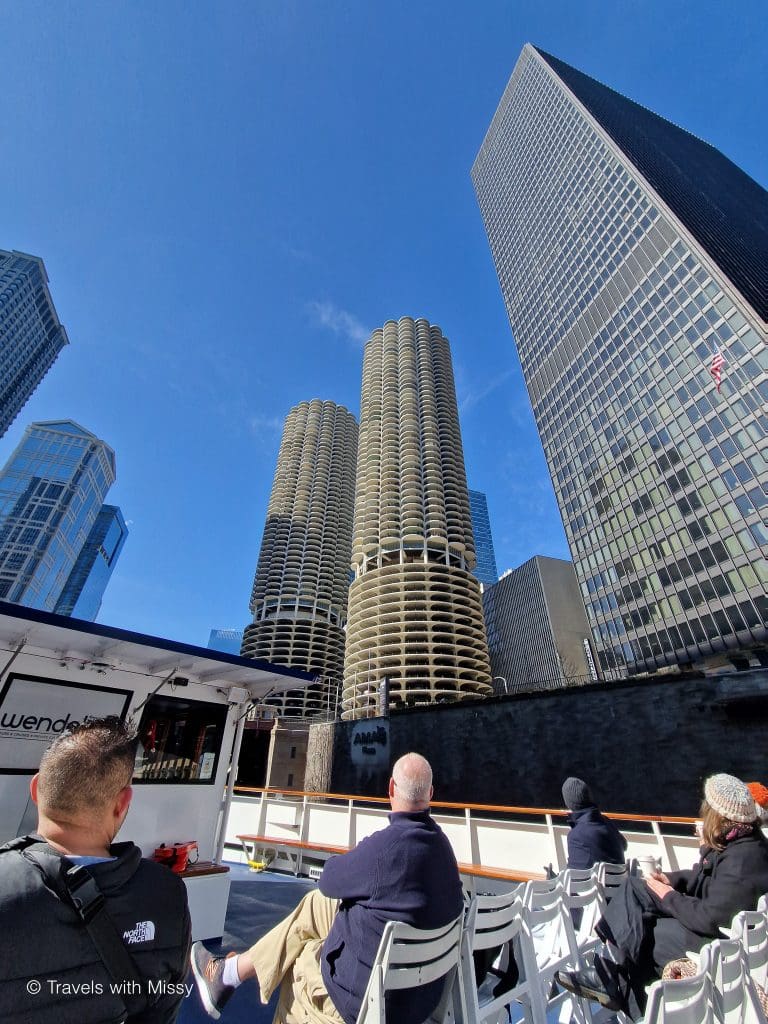 The Wendella Boats have a 90-minute Chicago Architecture Boat tour with excellent and knowledgeable guides who rapidly explain the architectural styles of the skyline, as well as the history of the city.
You don't need to be into architecture to appreciate the Wendella Boat tour, and the seating on the top deck allows for some of the most fantastic views of Chicago's skyline.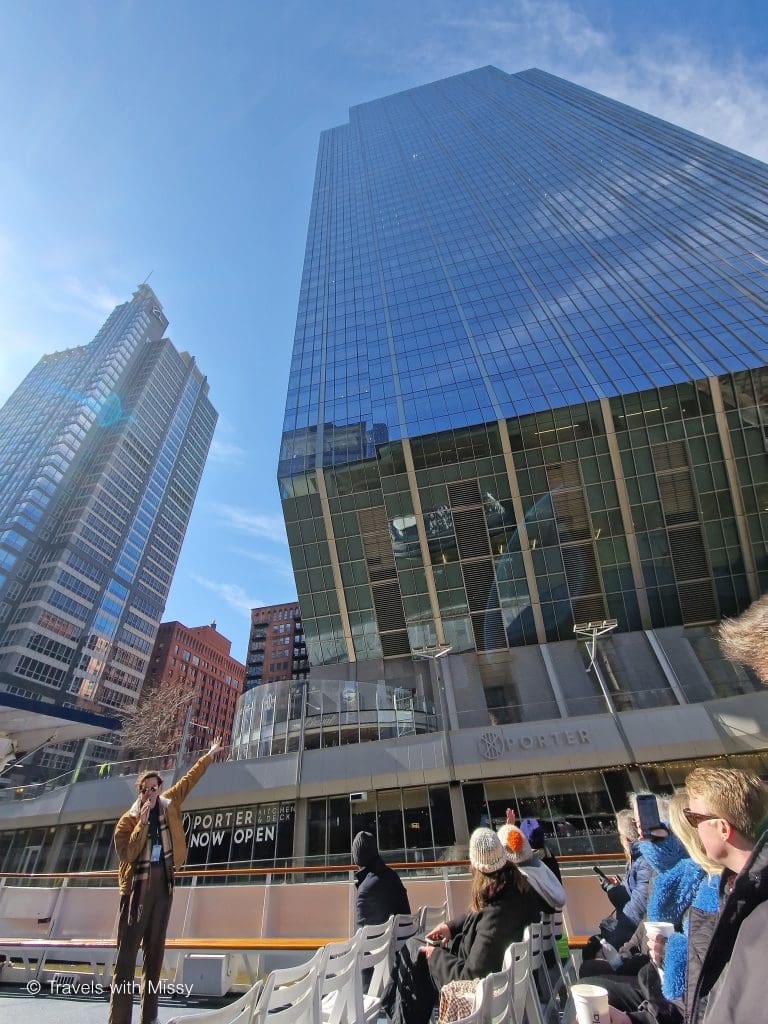 Our tour guide was absolutely fantastic and during his break was happy to answer any questions that people had. His knowledge of the city was incredible and I loved his anecdotes.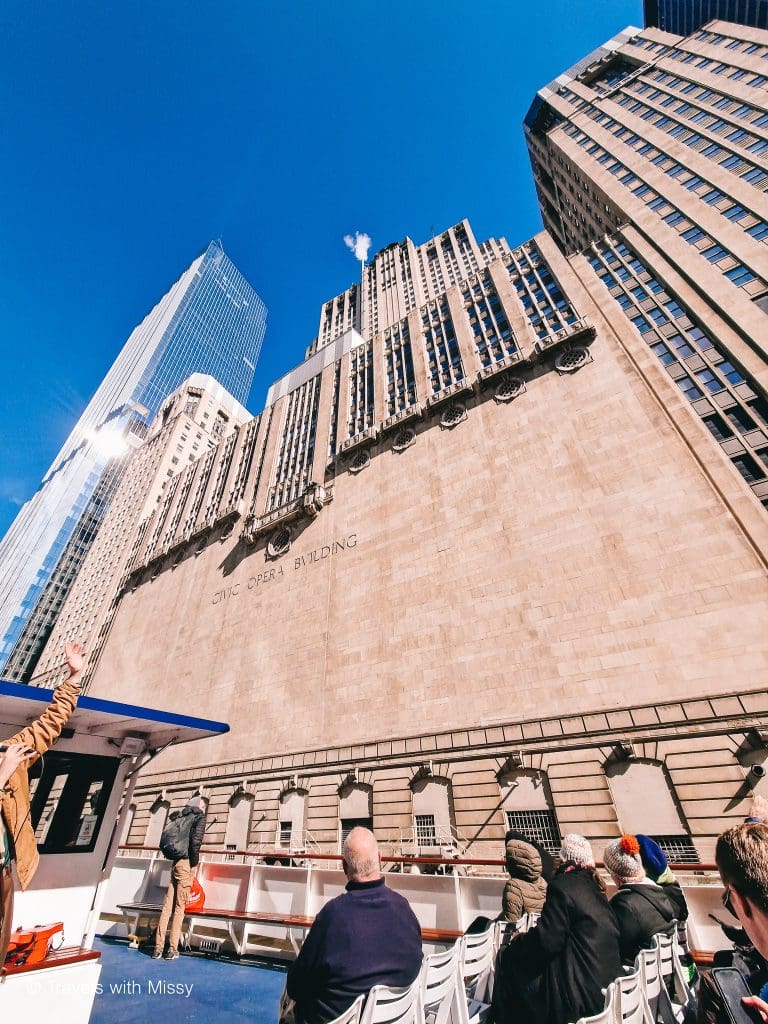 Chicago Deep Dish Pizza
Plenty of research went into our Chicago trip as to where we could lay our hands (& mouths ) on the best Chicago Deep Dish Pizza. We studied forums, spoke to friends, and watched endless YouTube in preparation for our Chicago deep-dish pizza experience.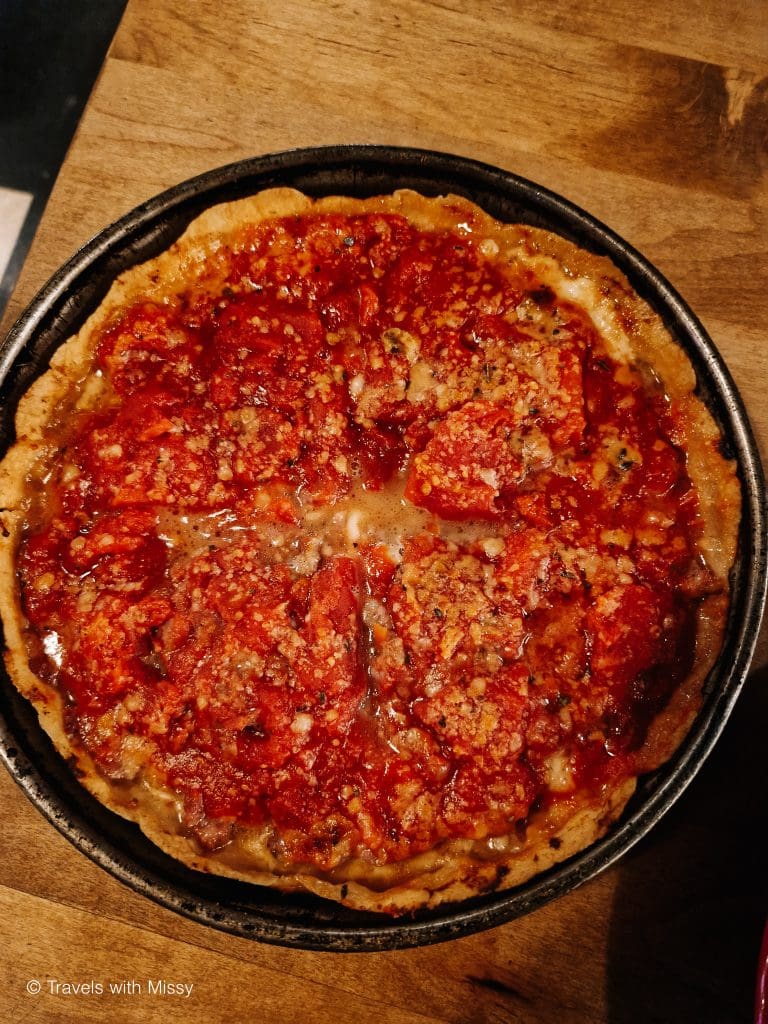 If you're not sure what a Chicago deep-dish pizza entails, it's essentially a pie. The crust is fitted into a pizza pan, with the cheese on the bottom of the pizza crust and then the toppings are added. It's baked in the oven for around 30-40 minutes and is an absolute feast.
We ended up eating in the following restaurants in search of the best Chicago deep-dish pizza:
Lou Malnati's (It came highly recommended but it wasn't our favorite)
Uno Pizza (Our favorite)
Gino's East
The following places were mentioned in our research:
Pequod's Pizza (we didn't have a car, and it was too far for us to visit).
Giordano's
I'll be completely honest with you, Chicago deep-dish pizza was not for me, however, I know that a ton of people will completely disagree with me. I gave it 3 chances, and I'm very happy to have crossed it off my travel bucket list.
It is one of those things in your 3 days in Chicago that you've simply got to try though. Form your own opinion on it.
Day 2
Navy Pier
Spend your morning walking the beautiful Navy Pier that juts into Lake Michigan and admiring one of the best spots in the city for excellent Chicago Skyline views. Navy Pier is a great way to spend an afternoon or evening, dining in restaurants, hopping on the enormous Ferris wheel, or going on a cruise on Lake Michigan. You almost certainly spend an entire day of your 3 days in Chicago at Navy Pier.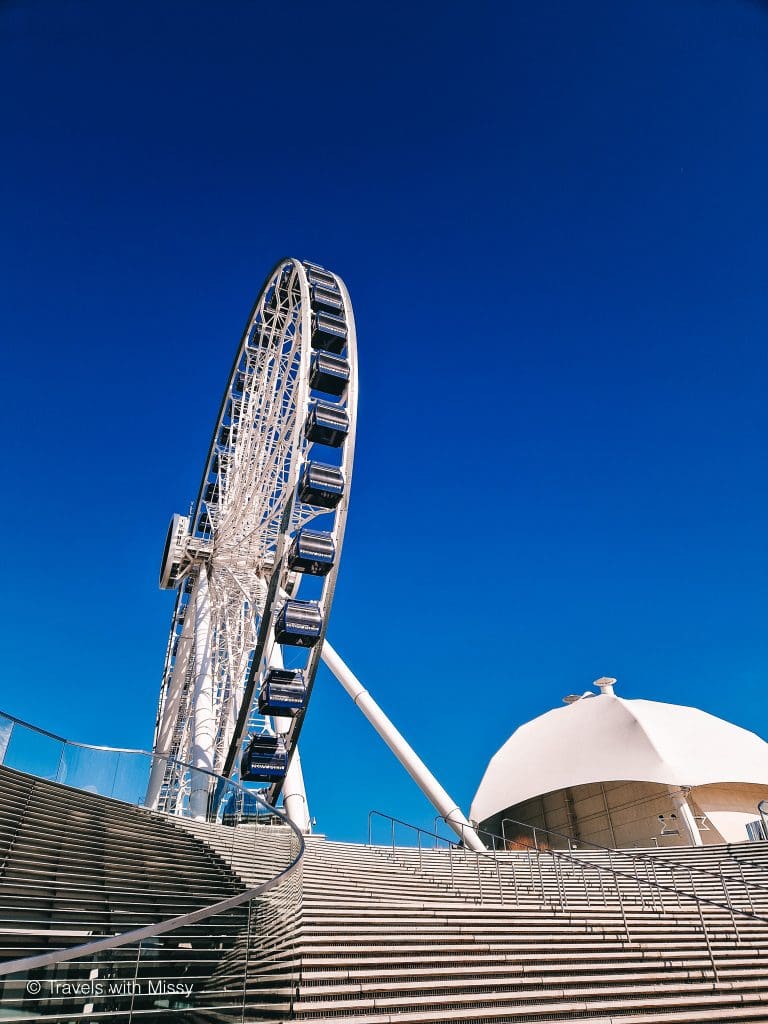 The Centennial Wheel lights up at night and is a great way of taking in the city as it starts to light up. Personally, I think this is a better place to take nighttime photos of the city, rather than the likes of the 360 Chicago Observation Tower.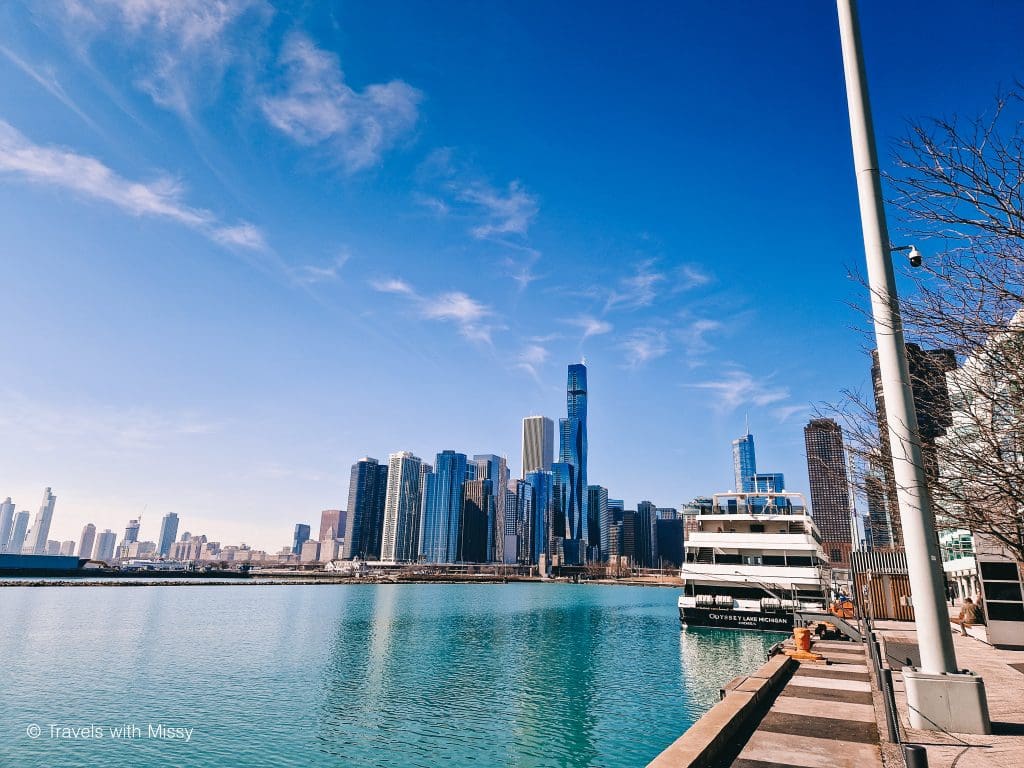 You'll also find a quaint carousel, tea cup rides, and one of those terrifying rides that swing you around in tiny seats (aka The Swinger). If you purchase the GoCity Pass Chicago you can use it on the 4 attractions at Navy Pier.
Eat and drink your way through Navy Pier with a number of fast-food outlets such as McDonald's, Garretts Popcorn, and a number of other restaurants and stalls. Or enjoy a laid-back cocktail or drink in the largest rooftop bar in Chicago (and apparently the US) – The Offshore Rooftop.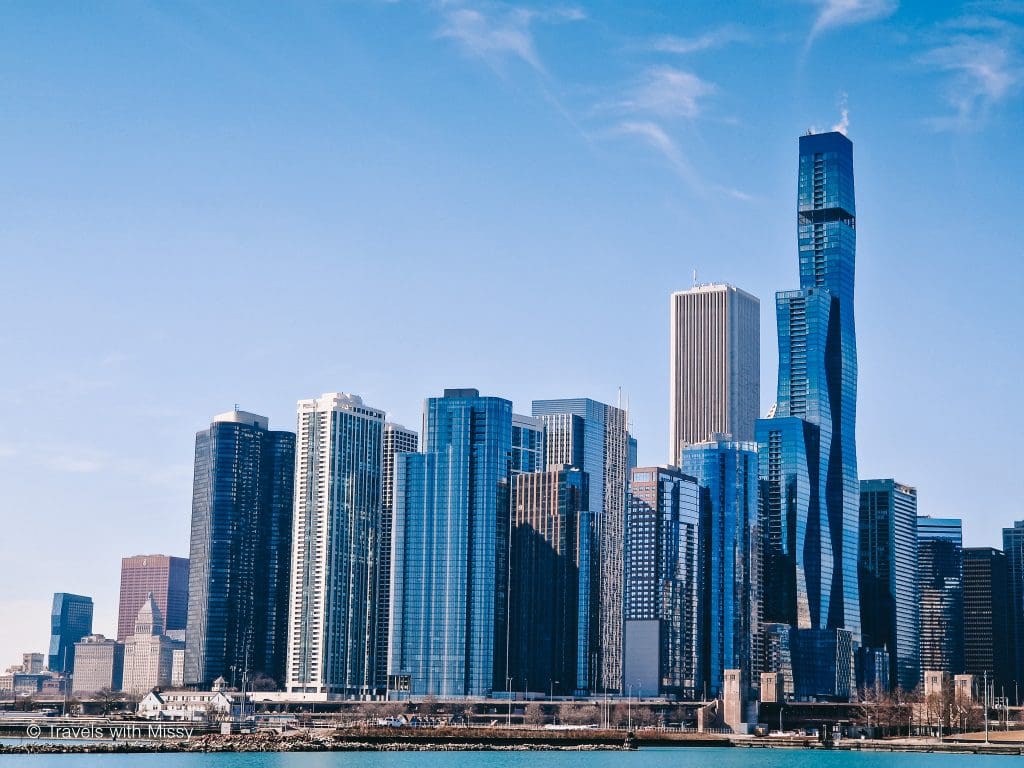 Navy Pier is also just a great place to explore and walk around to take in the sights of the city and Lake Michigan. Hop on one of the many cruise boats that line the pier and explore the lake from a large 148-ft Schooner sailboat to lunch and dinner cruises. Sadly these tours do not operate in winter (when we visited) but are operational from April through early November.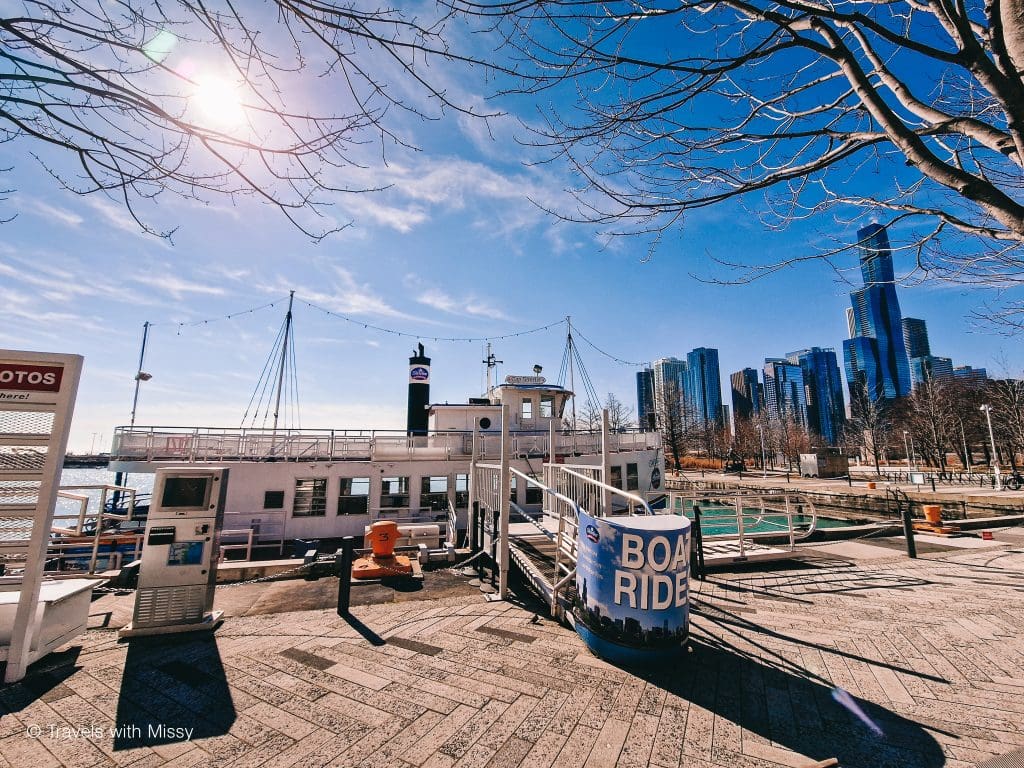 Magnificent Mile
A very short walk from Navy Pier is one of the premier shopping destinations in Chicago – Magnificent Mile. If you're anything like me and love to shop, you'll find this particular stretch to be absolutely incredible. Along the Magnificent Mile, you'll find department stores such as Nordstrom, Neiman Marcus, and Saks 5th Avenue, as well as iconic stores such as Sephora, Burberry, Tiffany & Co, and countless others.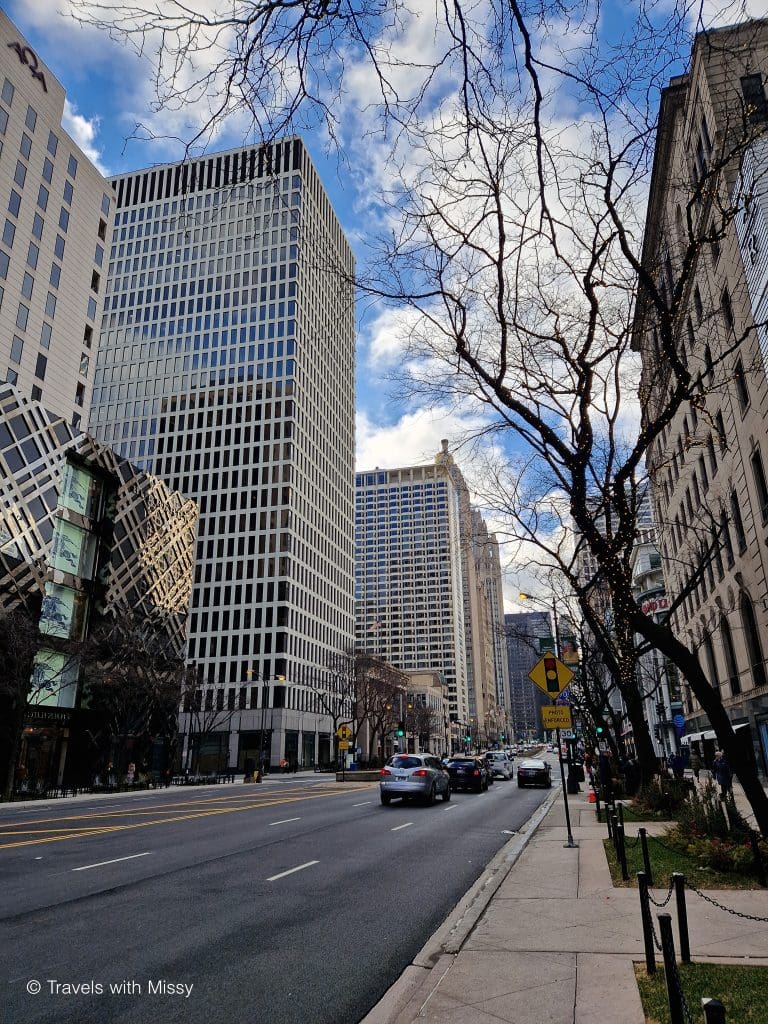 We spent a morning checking our emails in the Starbucks Reserve Roastery which is a must when visiting the Magnificent Mile. Even if you deplore the coffee from Starbucks, a visit to this beautiful roastery is a must. With large open spaces and a pretty solid selection of pastries and coffees to choose from, this is not your typical Starbucks experience.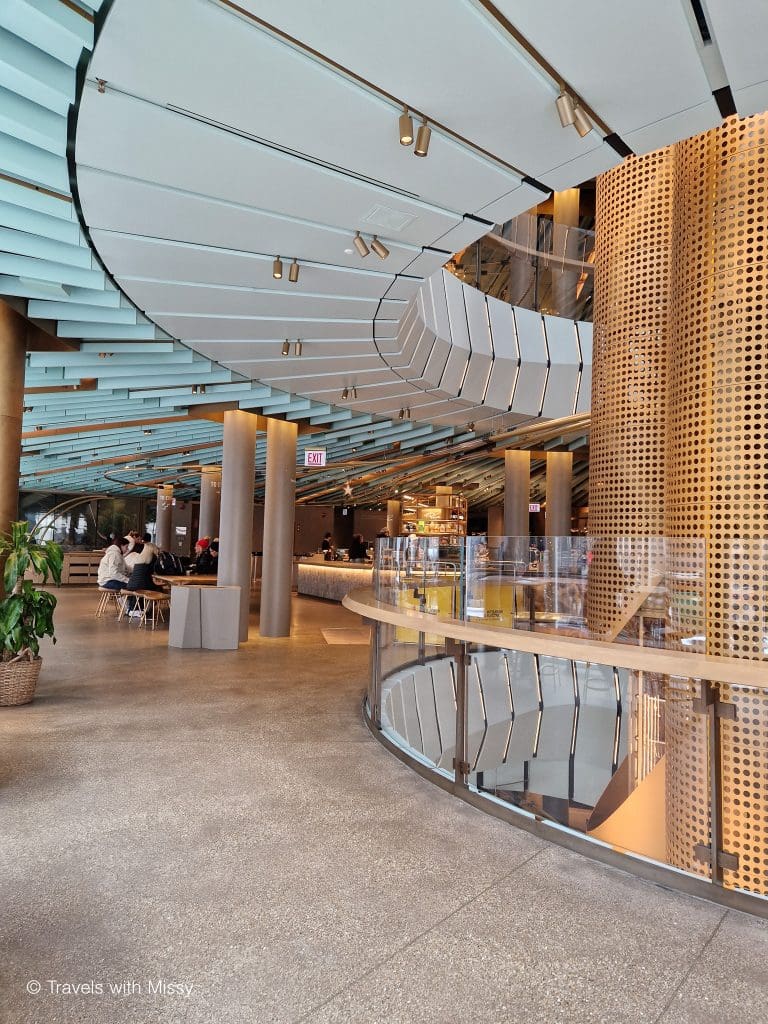 It also comes with a hefty price tag. Pictured is our order from Starbucks Reserve Roastery which includes two lattes, two croissants, and an apricot pastry for an eye-watering $48. We weren't aware until our architecture tour later that afternoon that our coffees were in the region of $12-$15 each. I mean they were tasty and enormous, but not worth the price tag.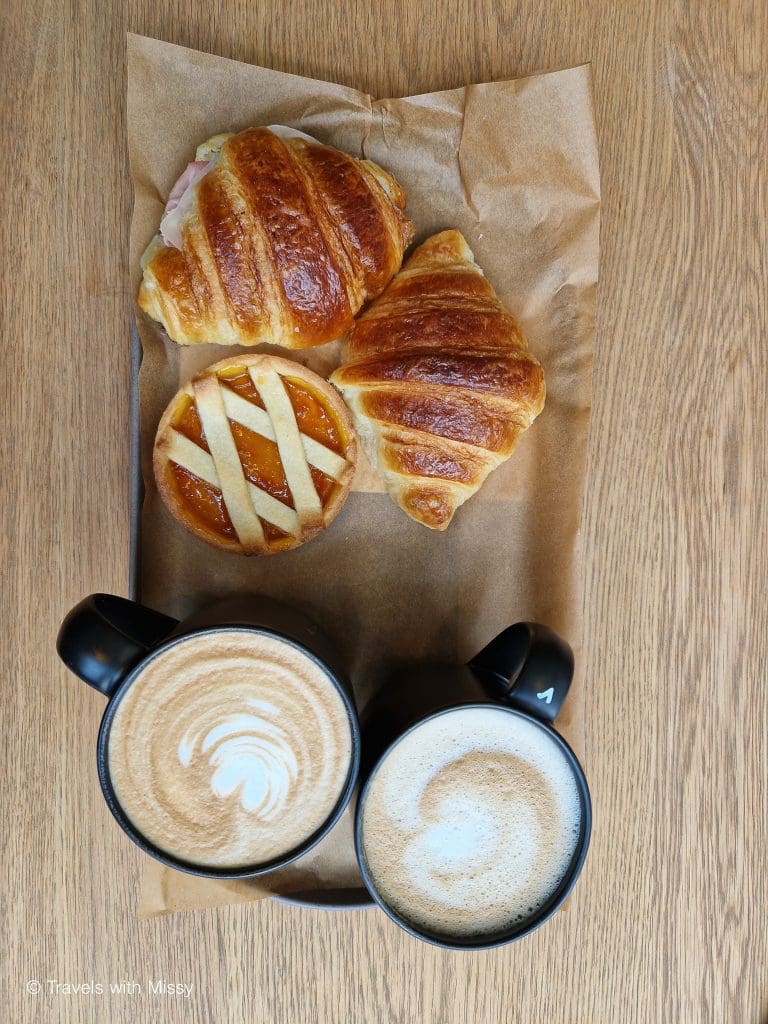 You can easily spend days exploring the stores on the Magnificent Mile and all that it has to offer.
360 Chicago John Hancock Building/Sky Deck at Willis Tower
I'm a sucker for an observation deck, I think mainly because I come from Ireland where our tallest building is something like 20 floors high. The opportunity to visit the 103rd floor of any building is always a treat.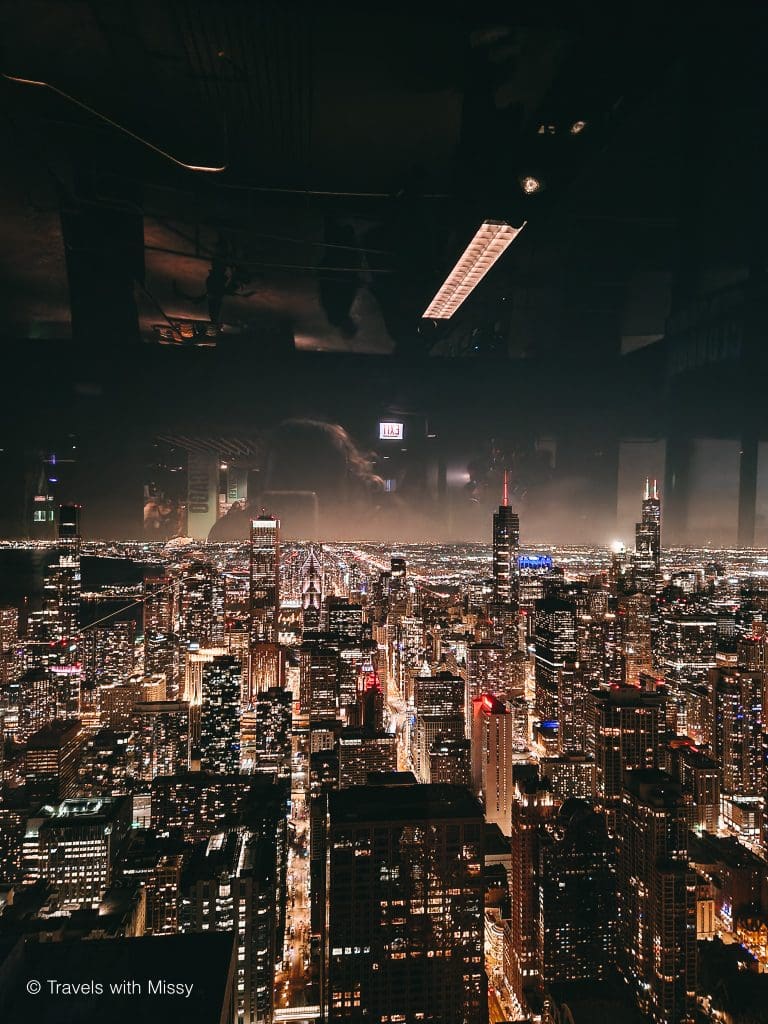 We visited the 360 Chicago Observation Deck on the 94th floor of the John Hancock Building, where you can also participate in the thrilling 'TILT' experience. The building calls it a ride, but it's a glass floor and window that extends out of the building and tilts you forward.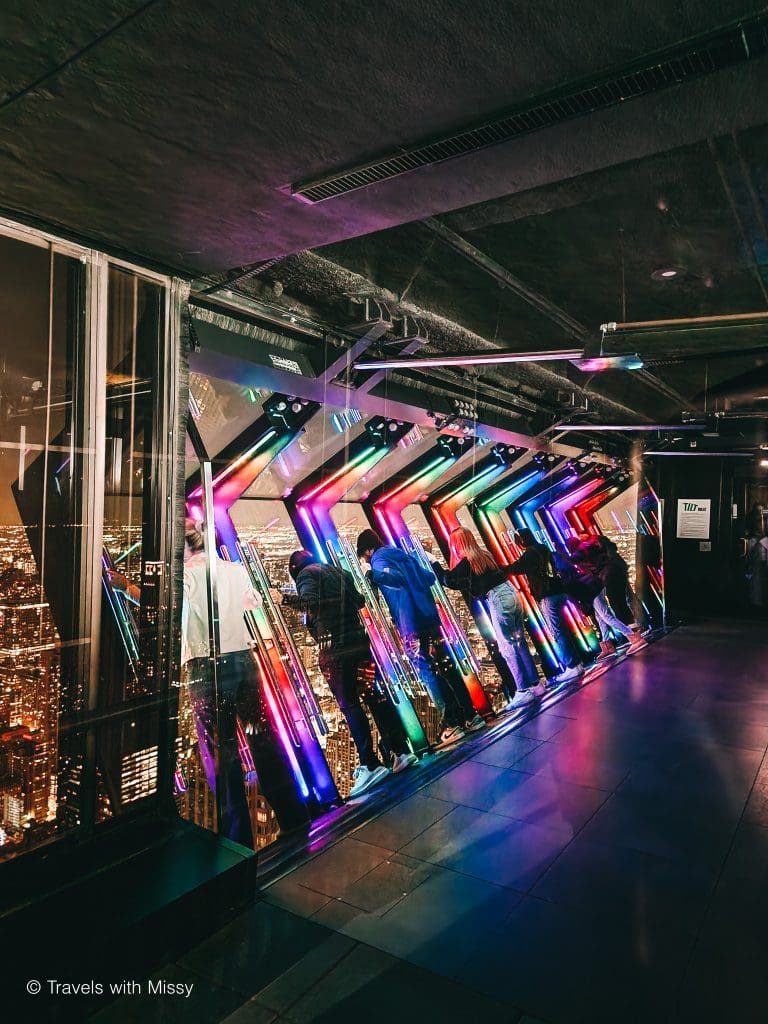 The 360 Chicago Tilt is not for the faint of heart or those who suffer from a fear of heights (like myself). Watching the experience was enough to make me weak in the knees and you frankly couldn't pay me enough money to do something like this! But much braver people will find this a lot of fun and something very different.
The best time to visit either the 360 Chicago Observation Deck is just as the sun is setting and about to emerge into that beautiful dusky setting. Tickets are timed, so you will need to check the sunset schedule for your visit to time it just right.
After visiting the 360 Chicago Observation Deck, I do wish we had decided to visit the Skydeck at Willis Tower (formerly known as the Sears Tower) which is the highest building in Chicago.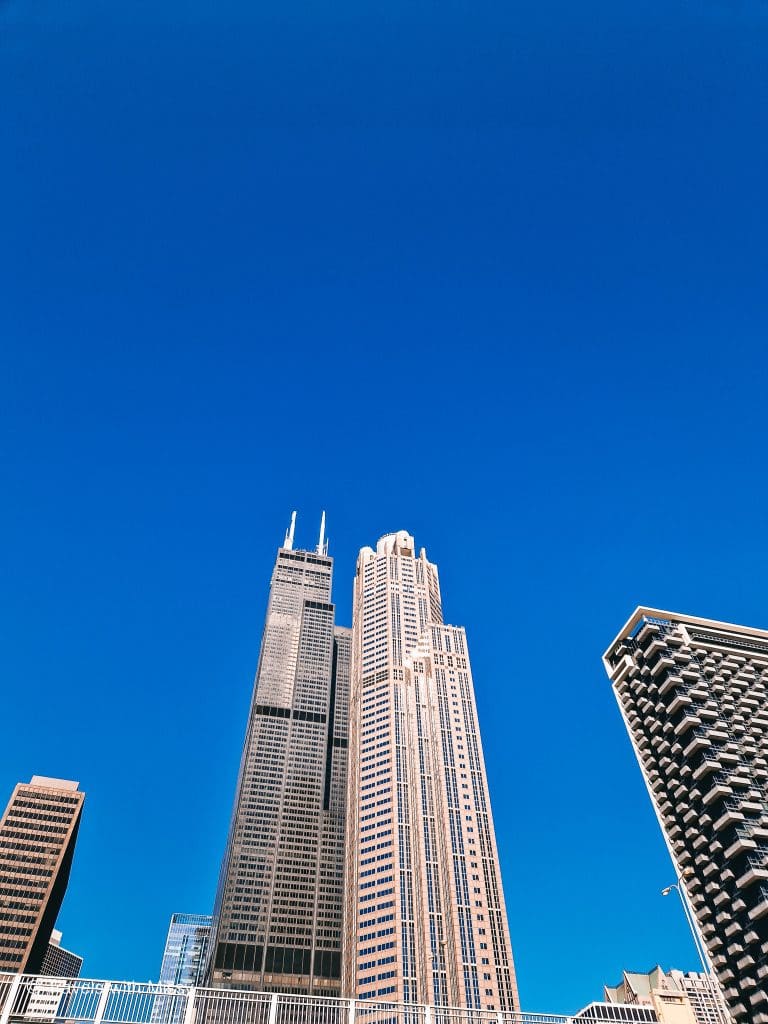 The Skydeck at Willis Tower is on the 104th floor and has views across Lake Michigan and downtown Chicago. Apparently, you're also able to see on a clear day up to 4 neighboring states. At the Skydeck, you'll find the transparent 'The Ledge' that juts out from the building where you can look down 104 floors below.
Day 3
Today on the final day of your 3 days in Chicago itinerary you can spend an entire day at Museum Campus where you'll find Field Natural History Museum, Adler Planetarium & Shedd Aquarium. If you purchase the GoCity Pass Chicago you can save a lot of money and use it on these superb museums.
Field Natural History Museum
Rivaling New York's Natural History Museum, the Field Natural History Museum if one of the largest in the United States. It also has the largest T-Rex on exhibit too.
I'm not sure about you, but I absolutely love a good natural history museum. There's something for everyone and in a world where humans like to hunt things into extinction, this can sometimes be the only way of seeing species that no longer exist.
Museum of Science & Industry
The Museum of Science & Industry is a must if you are looking for something entertaining for the kids on your 3 days in Chicago. There is so much to see and do in this incredible museum that will peak everyone's imagination.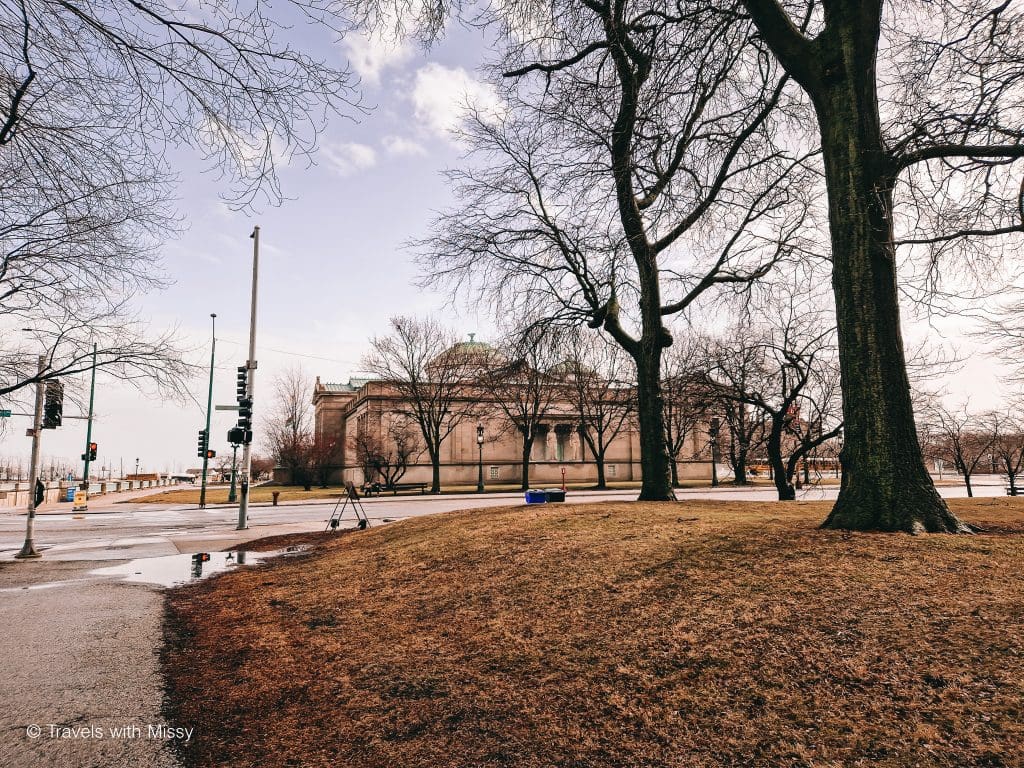 Featuring incredible permanent exhibits such as a real U-Boat, the stunningly beautiful Zephyr train, and a tornado machine. Seriously there is so much to see and do in the Museum of Science & Industry that you could dedicate an entire day to seeing everything it has to offer.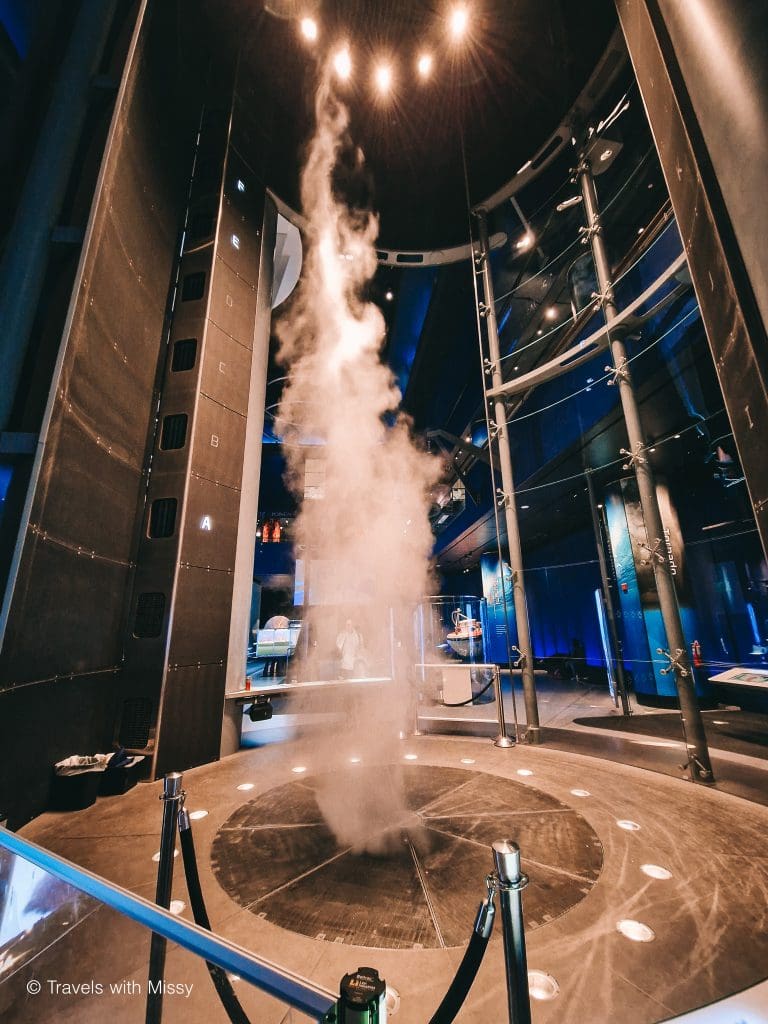 A great family-orientated museum, we probably weren't the target crowd for this particular visit, but nonetheless, we enjoyed our time visiting the Museum of Science and Industry.
The Museum of Science & Industry is located a few miles from downtown Chicago, and if you are traveling without a car you can hop on a Metra train from Millennium Station and exit at the 55th/56th/57th stop. The station is less than a 5-minute walk from the Metra stop.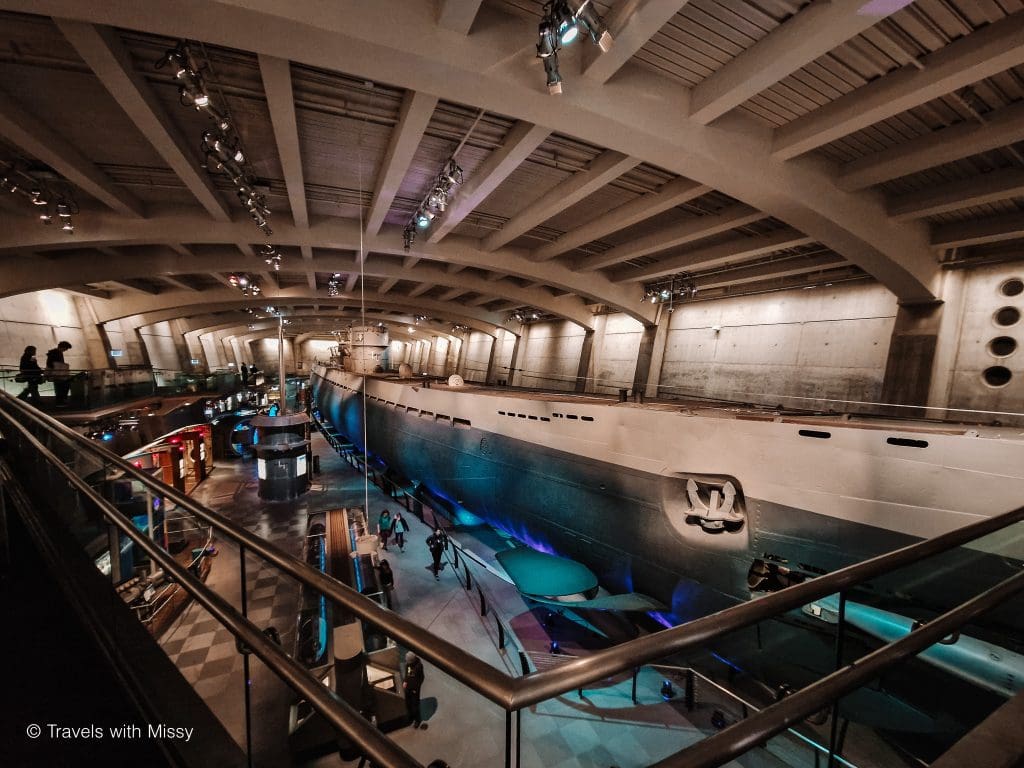 If you want to visit the Museum of Science and Industry, you will need to purchase a Metra ticket (Ventra tickets aren't accepted). The price for a Metra return ticket from the Museum of Science & Industry costs $4.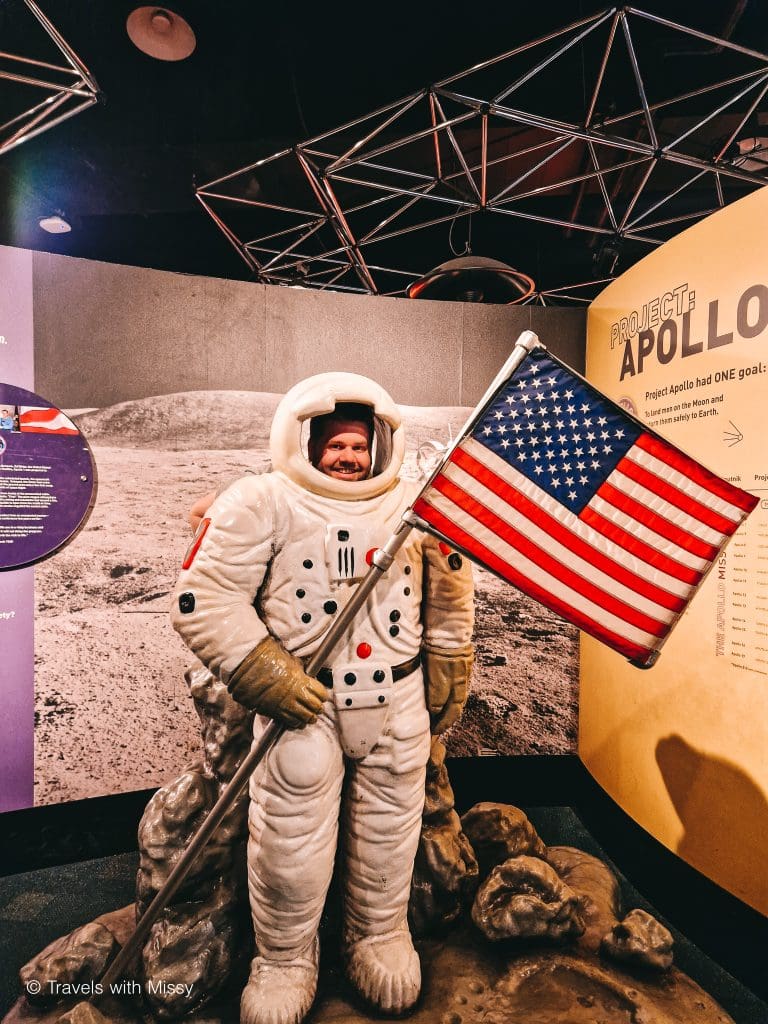 Gangsters & Ghosts Tour in Chicago
A solid walking tour of the Loop in Chicago of one of the most famous gangsters in the United States – Al Capone. The Gangsters & Ghosts walking tour starts at the Chicago River and has some fascinating tidbits of Chicago history laced throughout the tour, as well as that of Al Capone and other notorious gangsters of the time.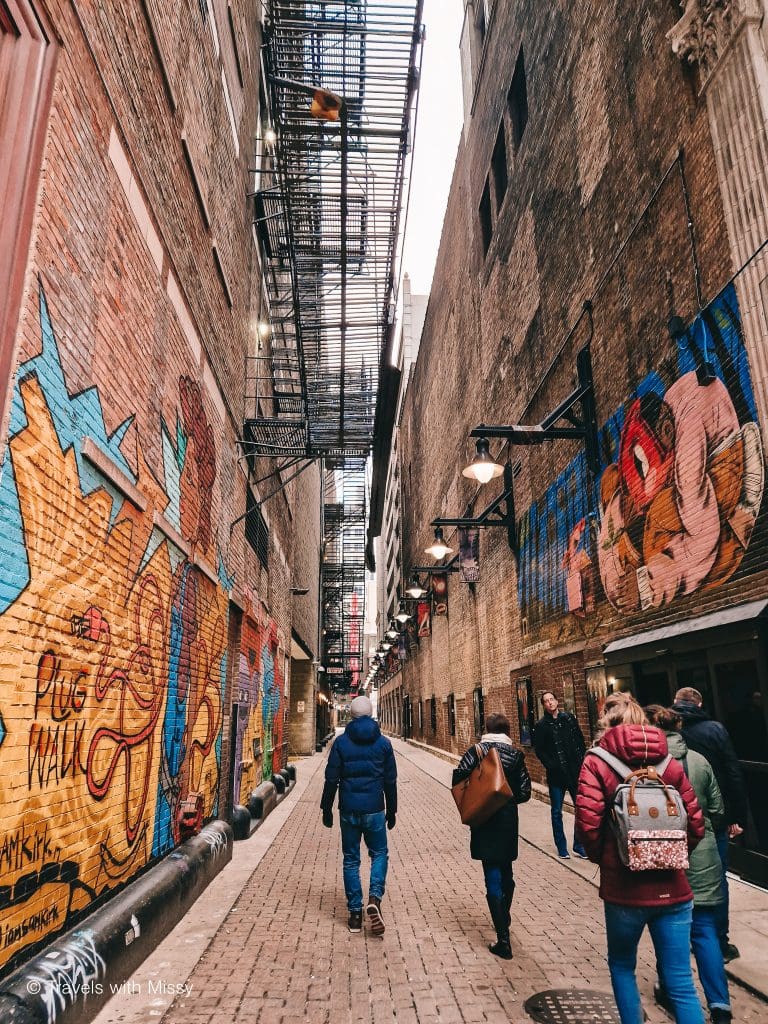 The ghost stories are pretty spooky but as a treat, halfway through the tour, you get to visit the Palmer Hotel where you can purchase a sampling of the infamous Brownie that was created during the Chicago fair in the 19th century on its premises.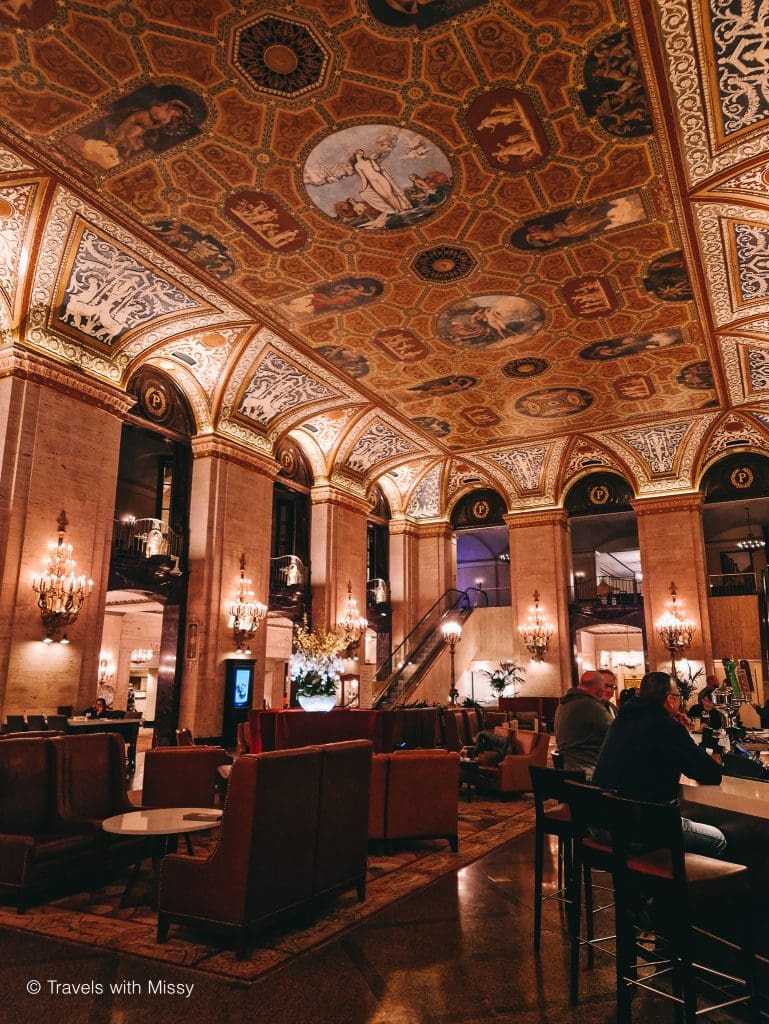 A little caveat to the Gangsters & Ghosts Tour in Chicago, you should have some knowledge of who Al Capone is and the Prohibition era of US History. You may end up slightly lost if you are unfamiliar with either.
Cool places to eat in Chicago
We're always on the lookout for cool places to eat in Chicago or wherever we travel to. Sometimes it's a lot of hits, and then there are a lot of misses too. Chicago was one of those places where I think if we had an infinite amount of time we could have found some really cool places to eat in Chicago.
The cool places to eat in Chicago that we did find and enjoy were through recommendations of friends who live in the city or have repeatedly visited. Google reviews and Tripadvisor reviews are always notoriously sketchy, so we try not rely on them too much.
All the places listed below in the cool places to eat in Chicago were actually visited and enjoyed and you should consider adding them to your 3 days in Chicago itinerary too.
Beatrix
Our hotel was just around the corner from Beatrix on North St. Clair Street (there are various locations around the city), so we lucked out with a really good breakfast and brunch spot. The food in Beatrix was seriously good.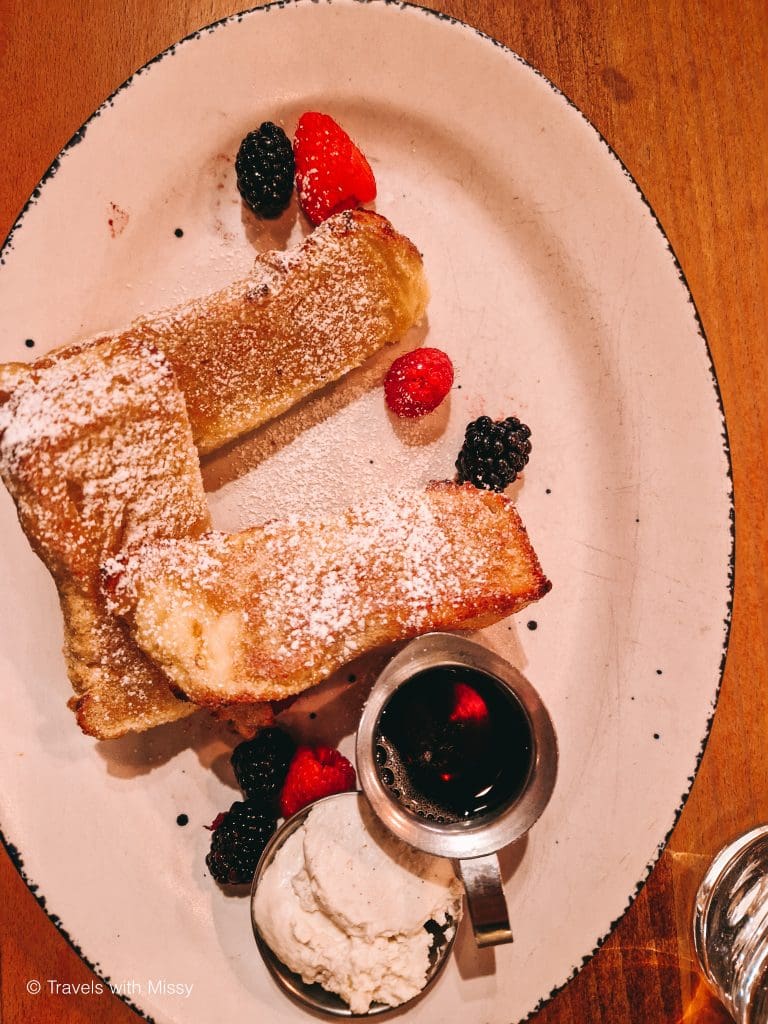 At this stage of the vacation, I needed a break from pancakes (I don't eat eggs), so Beatrix had some excellent options such as Chia Pudding, and a delicious Granola Yogurt bowl.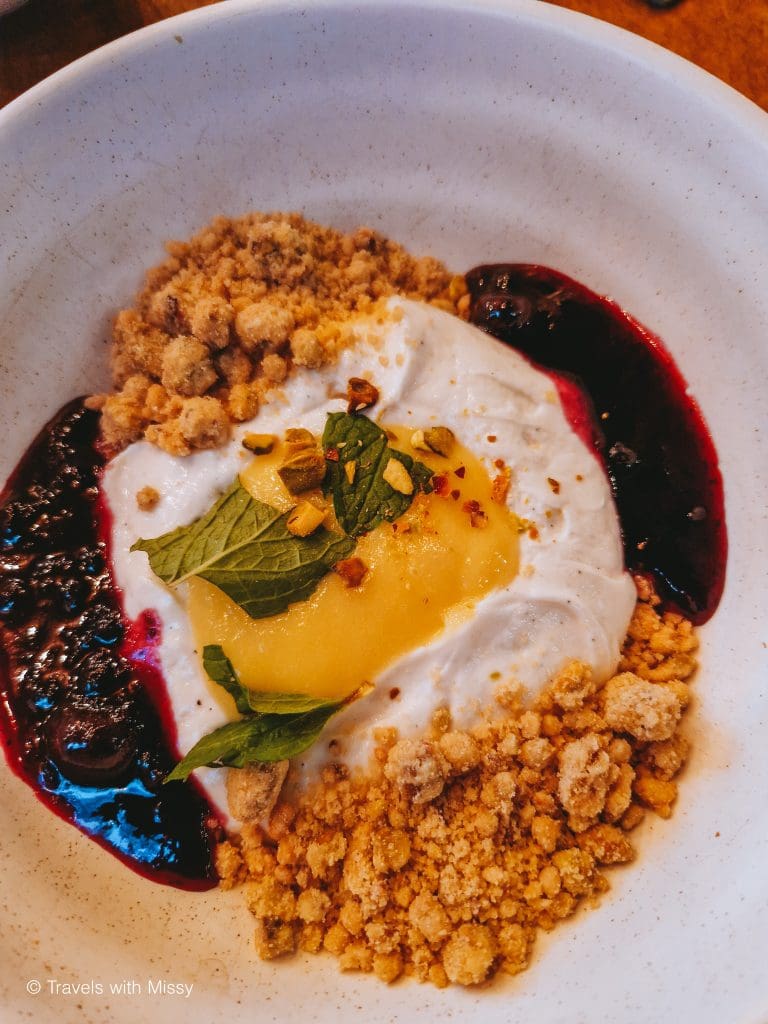 My partner B ordered the French Toast and it was absolutely life-changing. The breakfasts at Beatrix were fantastic and it would definitely be one of the cool places to eat in Chicago the next time you visit.
Gibsons Bar & Steakhouse
We thoroughly enjoyed our fantastic fillet steaks in Gibsons Bar & Steakhouse in the Gold Coast part of Chicago. It's an absolutely buzzing restaurant, that even on a Tuesday night was packed to the brim with patrons. It's a short walk from 360 Chicago and serves seriously good value steaks.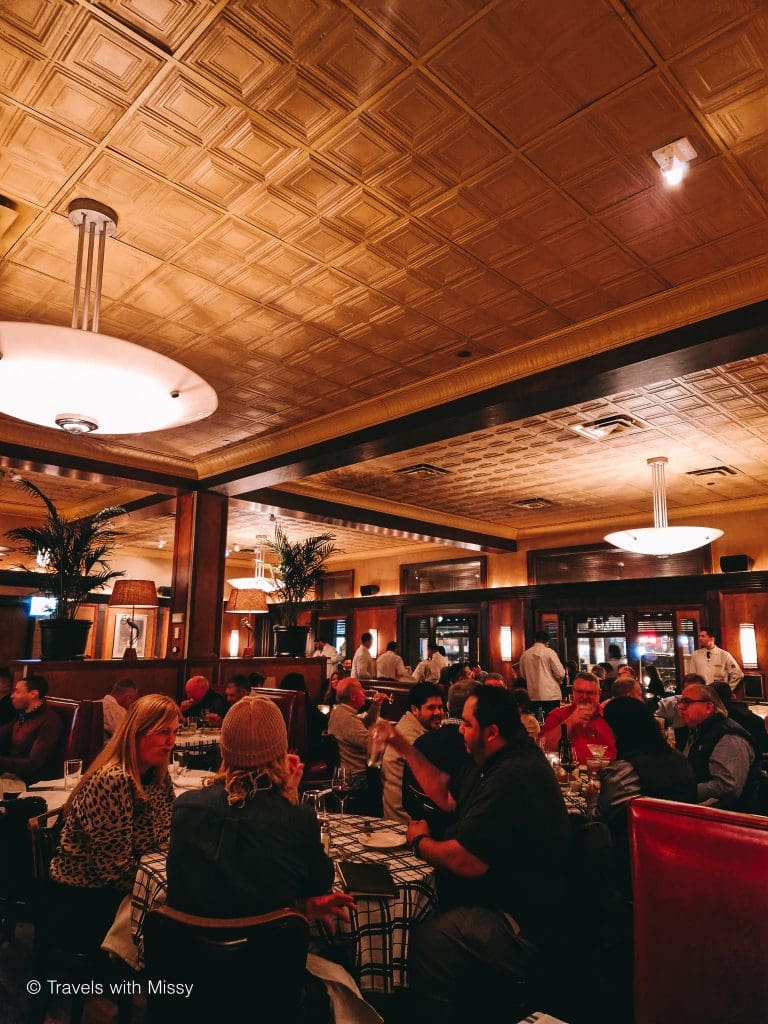 The food was so good here, I didn't even take a picture of any of the food. Some tips for ordering:
If you are ordering the fries as a side to your steak or fish, there is enough food for 3-4 people. And ask for no salt, as they were slightly oversalted.
On a separate note, I loved this part of Chicago and would have liked to have spent some more time exploring the area. It's got a bougie village feel to it.
Lil' Ba-Ba-Reeba!
We fancied some Spanish tapas one evening and set our sights and stomachs on Lil' Ba-Ba-Reeba! If you're not familiar with Spanish Tapas then you are in for a treat. It's essentially small dishes that range from ham croquettes (jamon croquettes), small cubed potatoes in a fiery tomato sauce (patatas bravas), grilled peppers with salt (Padron peppers), and lots of other deliciousness.
This was definitely one of the cool places to eat in Chicago on a Monday night as they serve $20 pitchers of Sangria and the restaurant was packed. The food was delicious and we ordered 4 tapas to share. We could have definitely eaten more but we really wanted to try Garretts Popcorn on our way home.
Cool places to eat in Chicago that I wish we'd had more time to try:
Au Cheval
Girl & the Goat
Green Street Smoked Meats
The Purple Pig Restaurant
Bavette's Bar & Boeuf
Tzuco
Time Out Market Chicago
The Smith
---
Where to Stay in Chicago
There are a lot of really decent hotels in Chicago that are spread out across the city. When deciding where to stay in Chicago make sure you do some research for yourself and your needs. I've broken down 4 key areas that are worth looking into when deciding where to stay in Chicago here.
3 days in Chicago is just enough time to get a feel for the city and tick off some of the highlights that the city has to offer. There's a lot to keep everyone entertained, whether that means shopping or visiting museums or hanging out on Lake Michigan.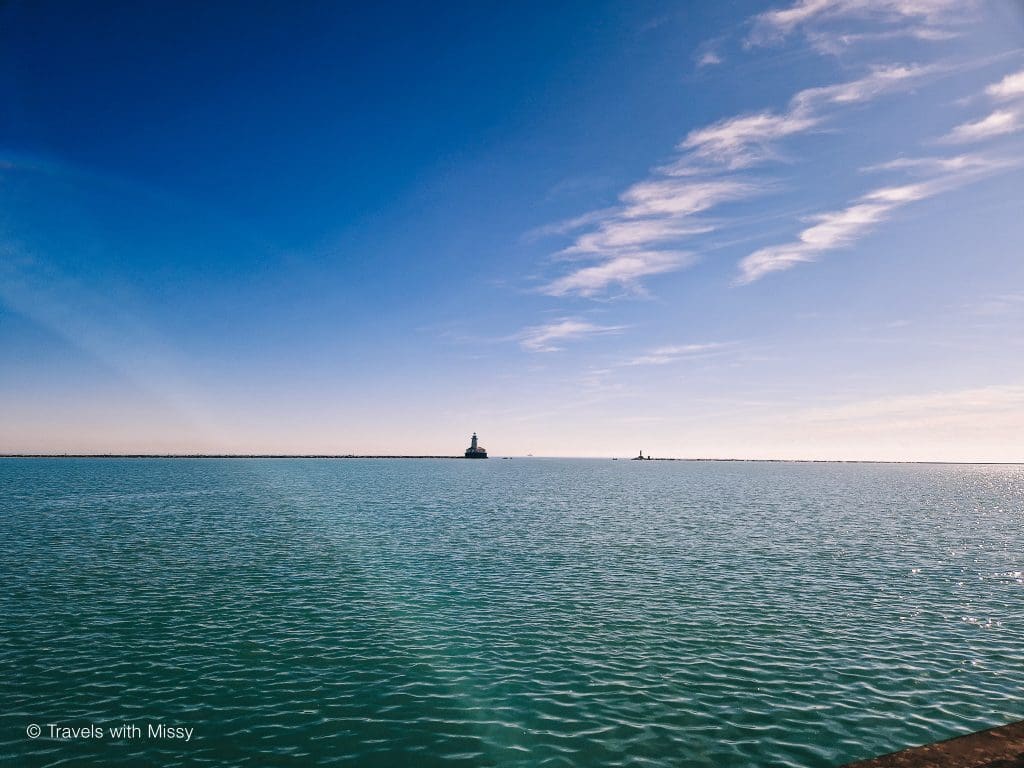 Our visit at the end of winter meant that we couldn't go out on a boat on Lake Michigan but everything else was operational. The weather was relatively mild (considering it was the end of February), and there were even 2 days that I walked around without a jacket. I believe this is very abnormal for that time of the year in Chicago.
Let me know what you thought of your 3 days in Chicago and what changes you would make to the itinerary. Fewer museums? More tours? More shopping?