Marbella is one of the most luxurious places to stay on Spain's Costa del Sol. With areas known for their multi-millionaire Euro homes, an array of superb restaurants, and some of the best beach clubs on the mainland, Marbella oozes luxury.
That doesn't mean you need to have a superyacht to stay in the beautiful city of Marbella. In fact with plenty of affordable accommodation, deciding where to stay in Marbella is one of the trickier decisions you'll have to make this year.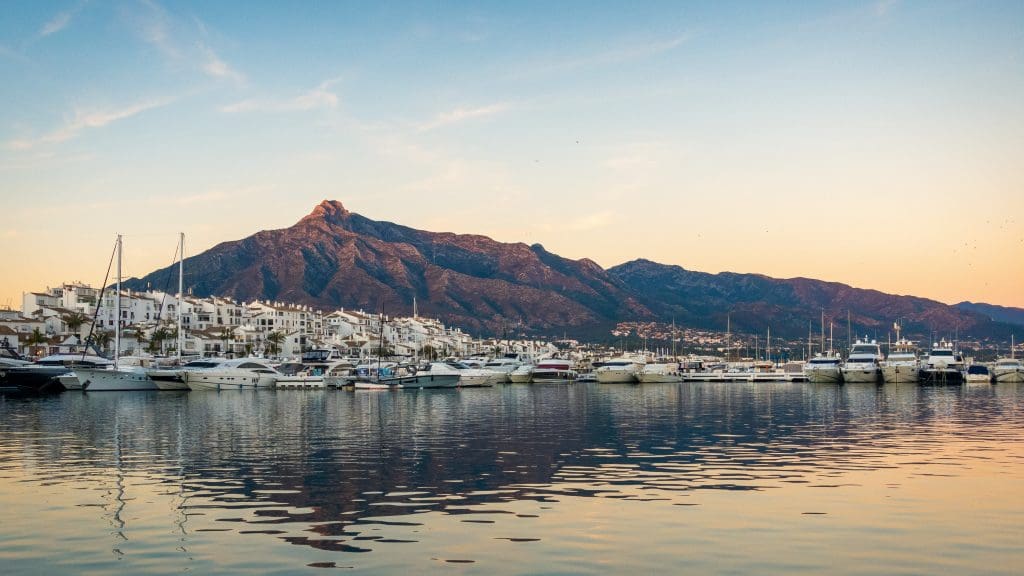 With seemingly endless beaches, restaurants, and throbbing nightlife, the city of Marbella is one of the best places to visit throughout the year. It picks up pace as the weather improves and attracts scores of visitors from all over the world.
The old town of Marbella is a typically beautiful Spanish town with boutique and designer shops. Evenings can be spent walking the promenade that lines the beaches or admiring the stunning yachts in Puerto Banus Marina.
Figure out which is the best area to stay in Marbella with suggestions on hotels and locations.
Some of these may be affiliate links, which means when you buy something I may receive a small commission. There is no additional charge to you, and it really helps to support me – so thank you!
5 Star Hotels Marbella
With an incredible selection of 5 Star Hotels in Marbella, you'll find luxury hotels in the area surrounding Puerto Banus and beyond. On Marbella's Golden Mile you'll find opulent homes and hotels with 5-star facilities and services. Of course, this being Marbella, there are of course several world-class golf courses in all directions. Marbella has the fortune of being a place on the Costa del Sol which is a popular tourist destination to visit all year round.
Marbella Club Hotel – Golf Resort & Spa
One of the finest hotels in Marbella, the spectacular Marbella Club Hotel not only has a superb golf course but also features an incredible spa. Staying in the Marbella Club Hotel gives guests, especially those with an affinity for golf the perfect opportunity to play several holes during their stay. Each guest receives one free green pass to sample the course.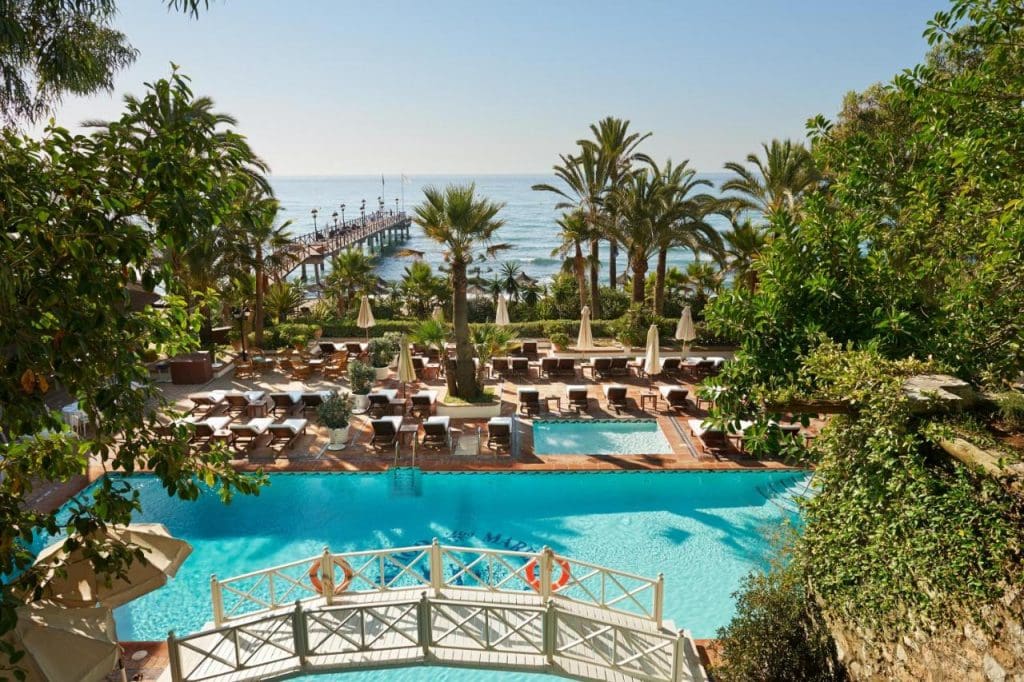 If golf isn't your thing, you can enjoy the two swimming pools and dine in all 5 of the Marbella Club Hotel's restaurants. With direct access to the beach, you can spend your day between the incredible pools that are surrounded by botanical gardens and having treatments in their world-class spa facilities.
The Marbella Club Hotel is one of the best luxury hotels in Marbella for its opulent hotel facilities and fantastic service. It's long been considered one of the best hotels in Marbella for its timeless chicness and attention to detail.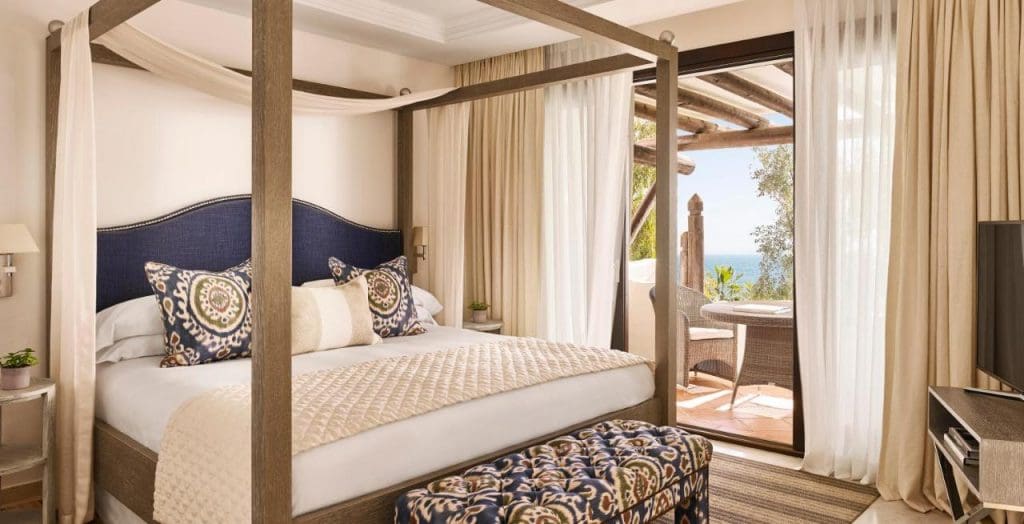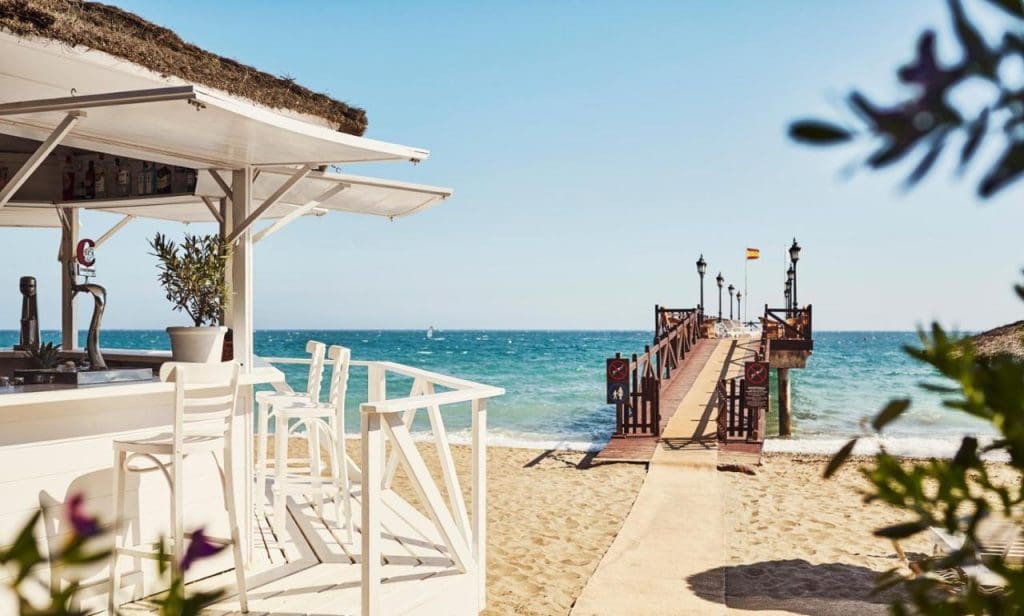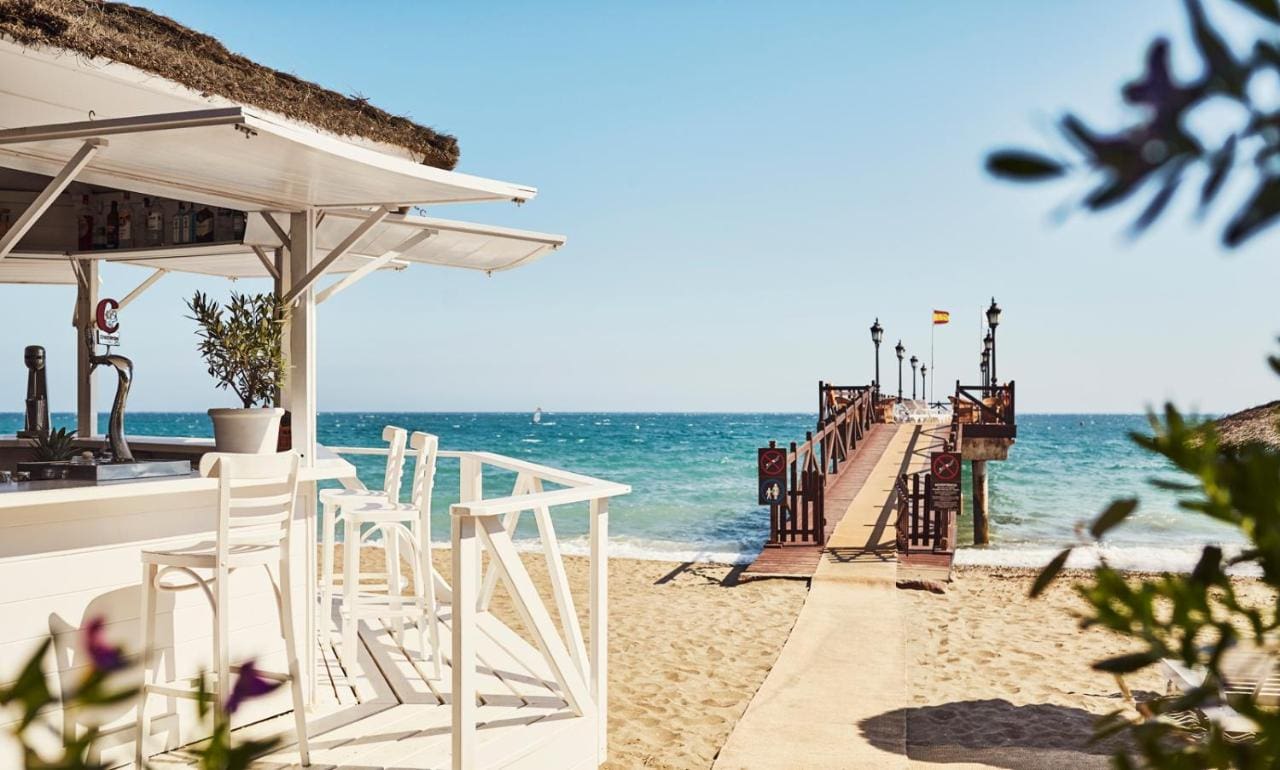 Nobu Hotel Marbella
Nobu Hotel Marbella is the perfect 5-star hotel in Marbella for guests who want to experience a stunningly beautiful hotel and vibrant nightlife too. With one of the most exclusive and popular nightclubs in the hotel, Nobu Hotel Marbella is also one of the best places to enjoy some of the best restaurants in Marbella.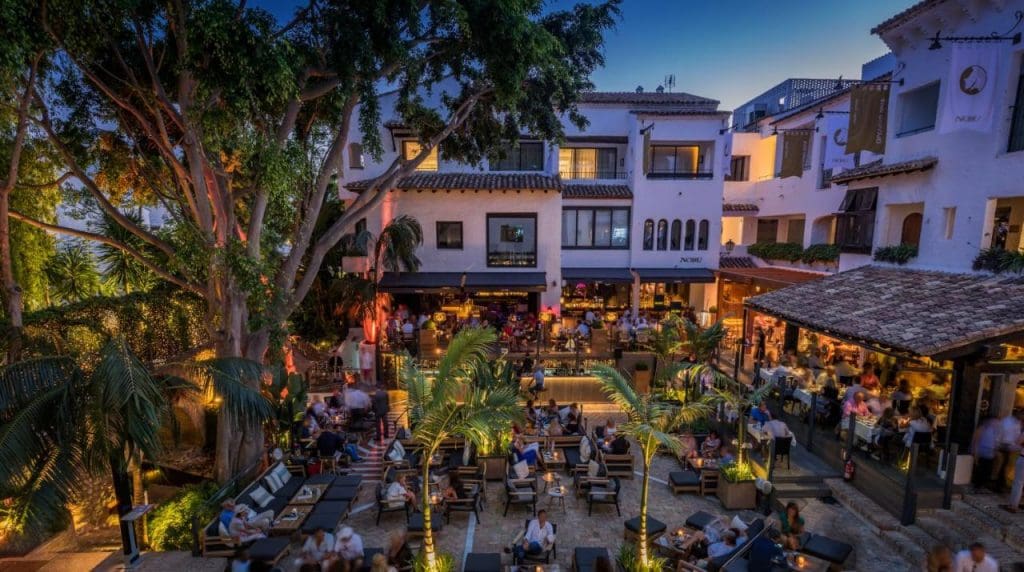 Steps from the beach, guests can enjoy the superb beach club and pool on offer to guests at Nobu Hotel Marbella. During the evening the central area of the hotel, the plaza, is turned into a fantastic gathering place for its restaurants, bars, and nightclub. The Japanese restaurant, Nobu Marbella, is one of the best restaurants in Marbella for high-quality sushi dishes and flavors.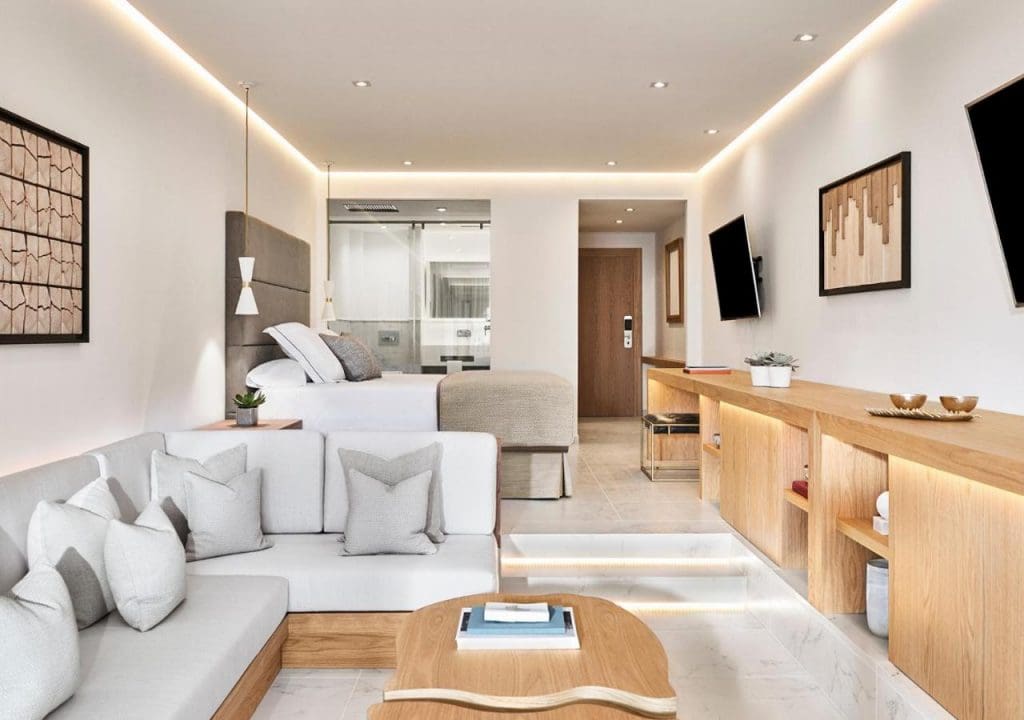 Nobu Hotel Marbella is elegantly designed with all rooms facing the plaza, but don't fear, the sound doesn't travel and you'll still be able to sleep soundly at night.
A stay at the Nobu Hotel Marbella ensures quality service and the best sushi you'll experience outside of Japan.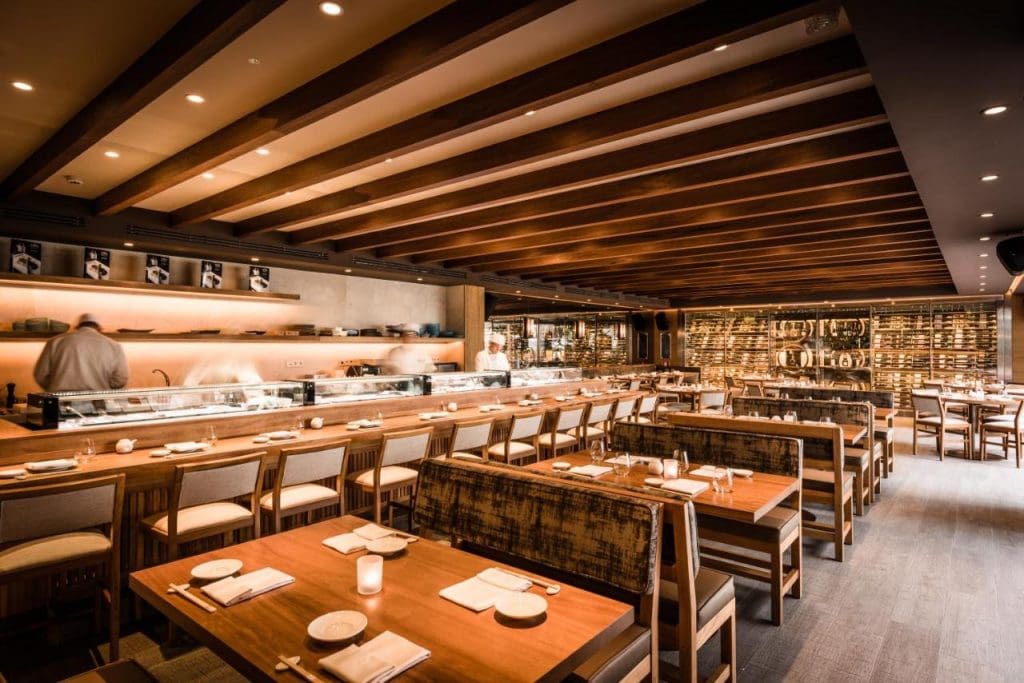 Vincci Selección Estrella del Mar
It's hard not to be impressed by the Vincci Seleccion Estrella del Mar hotel with its 4 pools. Yes, you read that correctly, four swimming pools. The hotel makes up for the fact that it doesn't have direct access to the beach, but provides more than enough swimming facilities for everyone staying in this incredible 5-star luxury hotel in Marbella.
The beach is a short 400-meter walk away from the hotel where you will find its own beach club and restaurant that has subsidized prices for guests of the hotel.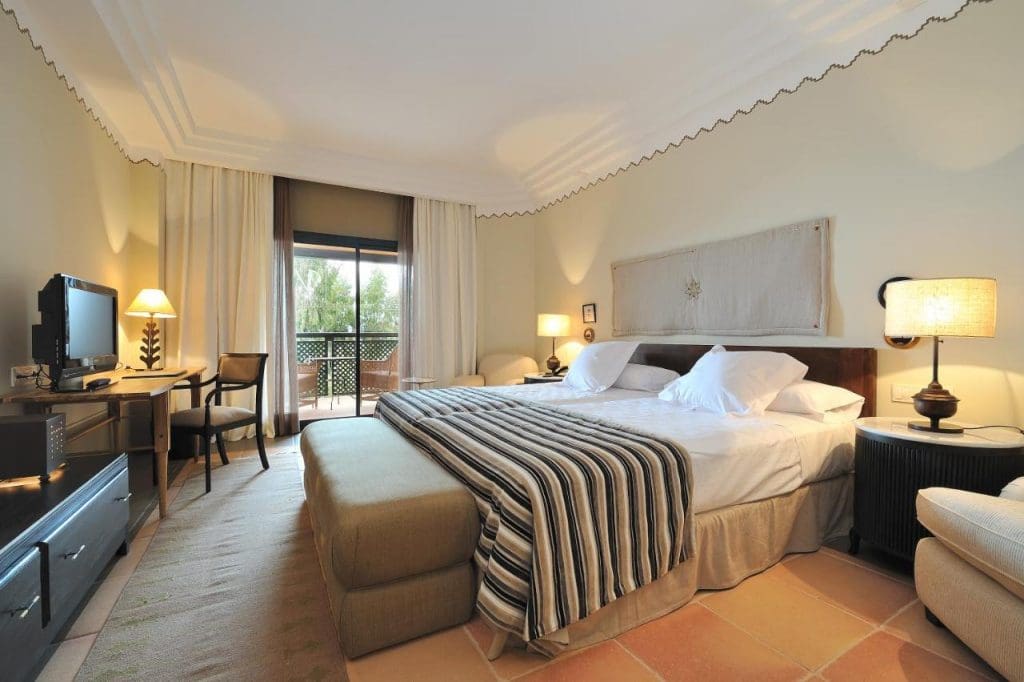 Hotel rooms are beautifully decorated with classic and clean furnishings which make the hotel feel warm and comfortable. Each of the rooms has a balcony that overlooks the sea, pools, or gardens.
Guests can spend the morning in the spa availing of spa treatments or fitness activities in the pool such as aqua pilates!
Spend the day at the adults-only infinity pool that overlooks the Mediterranean Sea before enjoying lunch at the many restaurants available at the hotel.
Boho Club
Delightful Boho Club is a mixture of bungalows and small apartment-like hotel rooms on beautiful grounds that have spectacular views of the Sierra Blanca mountain in the background.
The scrumptious interiors of the hotel rooms and accommodations are expressed through bold velvet throws and come with small kitchenettes with a toaster and fridge.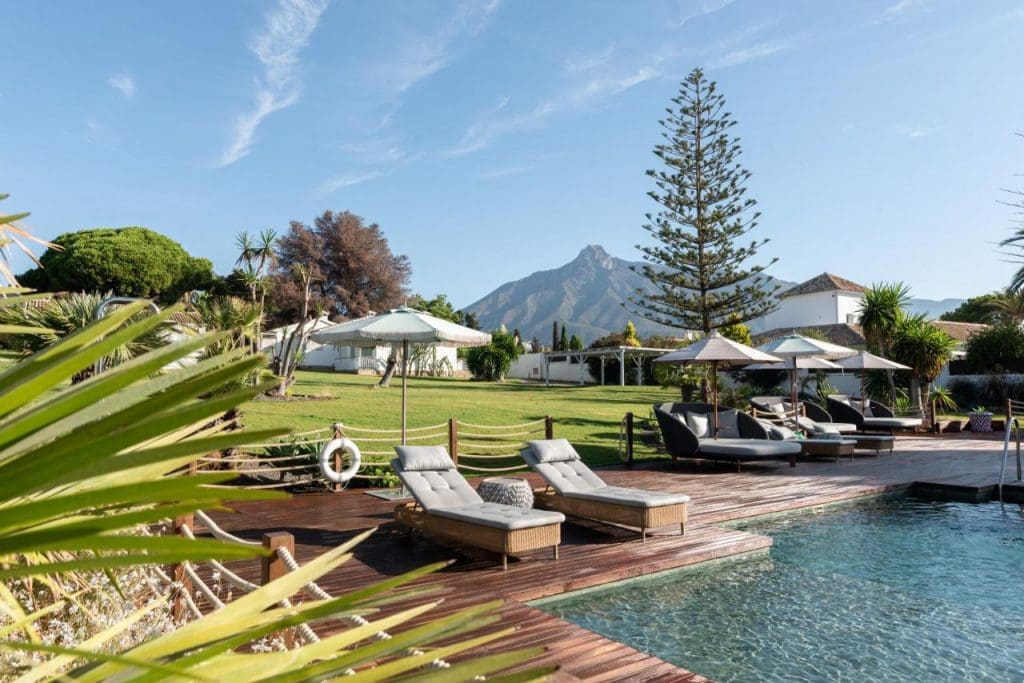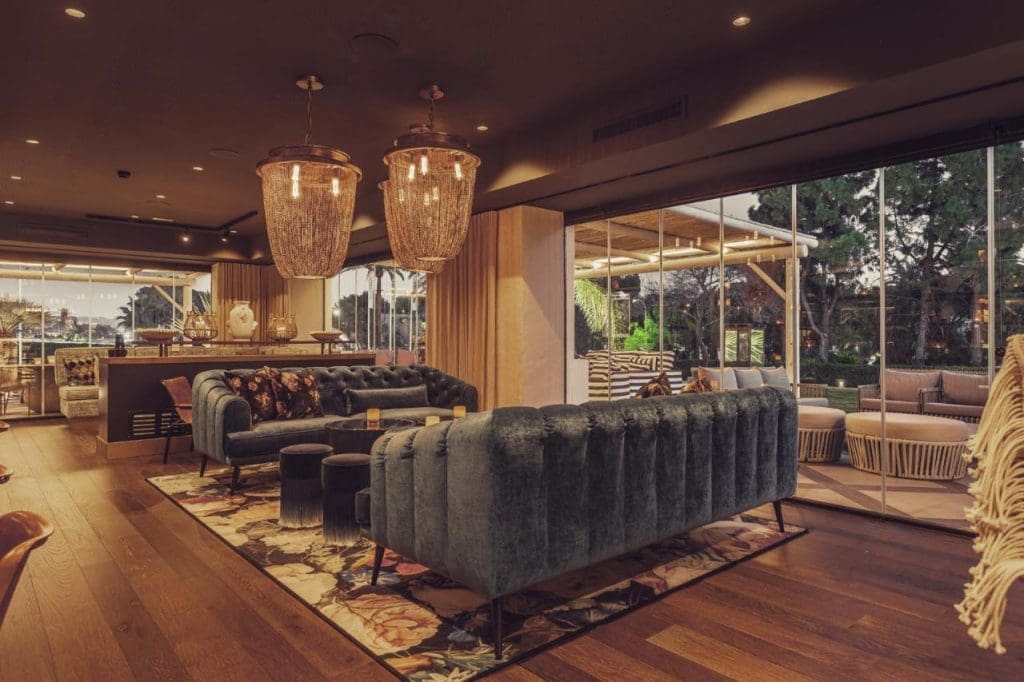 The grounds of the Boho Club are picturesque with a beautiful pool that sits fringed by the restaurant and the lush green grass of the hotel. Boho Club is a quaint boutique hotel set in the midst of Marbella's Golden Mile that feels like a small green sanctuary. It's considered the best area to stay in Marbella because of its surroundings, and nearby millionaires row.
The Rio Verde beach is a short 5-minute walk away from the hotel and guests can easily travel to Puerto Banus or Marbella old town with the hotel's Boho Range Rovers.
Don Carlos Resort & Spa
Don Carlos Resort & Spa is one of the most popular 5-star hotels in Marbella for several reasons. It happens to be the home to one of the most famous private beach clubs in the world, Nikki Beach Marbella which sits on its grounds.
The famous Nikki Beach is an experience for those who want to enjoy and savor partying at one of the most exclusive beach clubs in Spain, known for its infamous white parties.
But Don Carlos Resort & Spa is not just about its popular beach club, it's a stellar 5-star hotel in Marbella that has long been one of the most important hotels in Marbella for its outstanding facilities and services.
With a heated swimming pool, guests can enjoy swimming throughout the year and being surrounded by beautifully manicured gardens.
Children will delight in a special pool created entirely for them as well as a kids club that will keep them entertained for the entire day.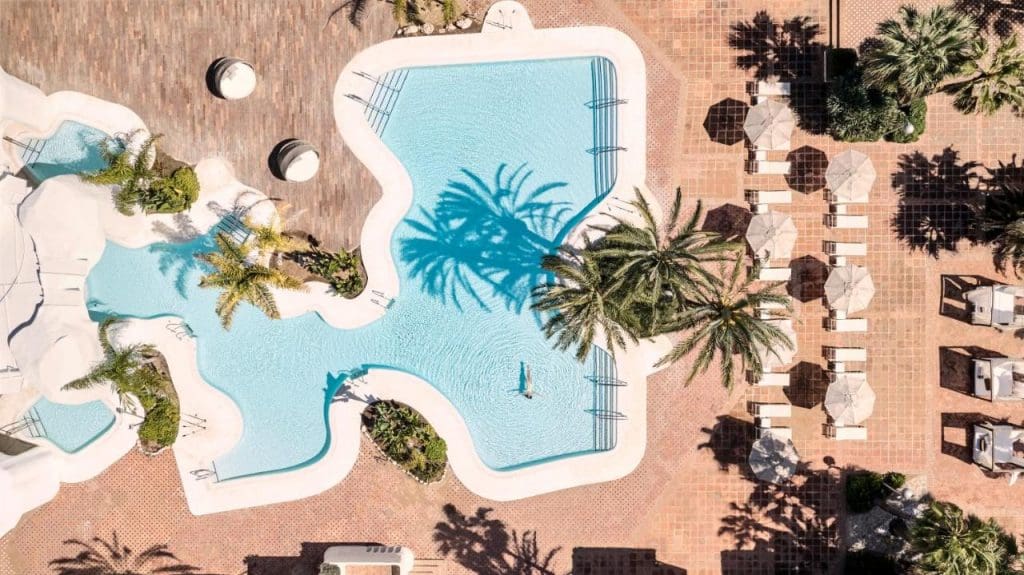 Tennis lovers will delight with 2 clay courts on offer, as well as a fully equipped gym. The Don Carlos Beach Club invites guests to spend afternoons soaking up the sun in its beautiful loungers and Balinese beds and dining in its seafront restaurant. If you've been on the lookout for where to stay in Marbella that suits the entire family, then Don Carlos Resort and Spa has you covered.
Hotel Don Pepe Gran Meliá
Hotel Don Pepe Gran Melia is an enormous 5-star hotel on Don Pepe Beach and only a short 15-minute walk from the Marbella Old Town. With direct access to the beach and 3 outdoor pools, guests can enjoy sampling the many activities on offer at the hotel.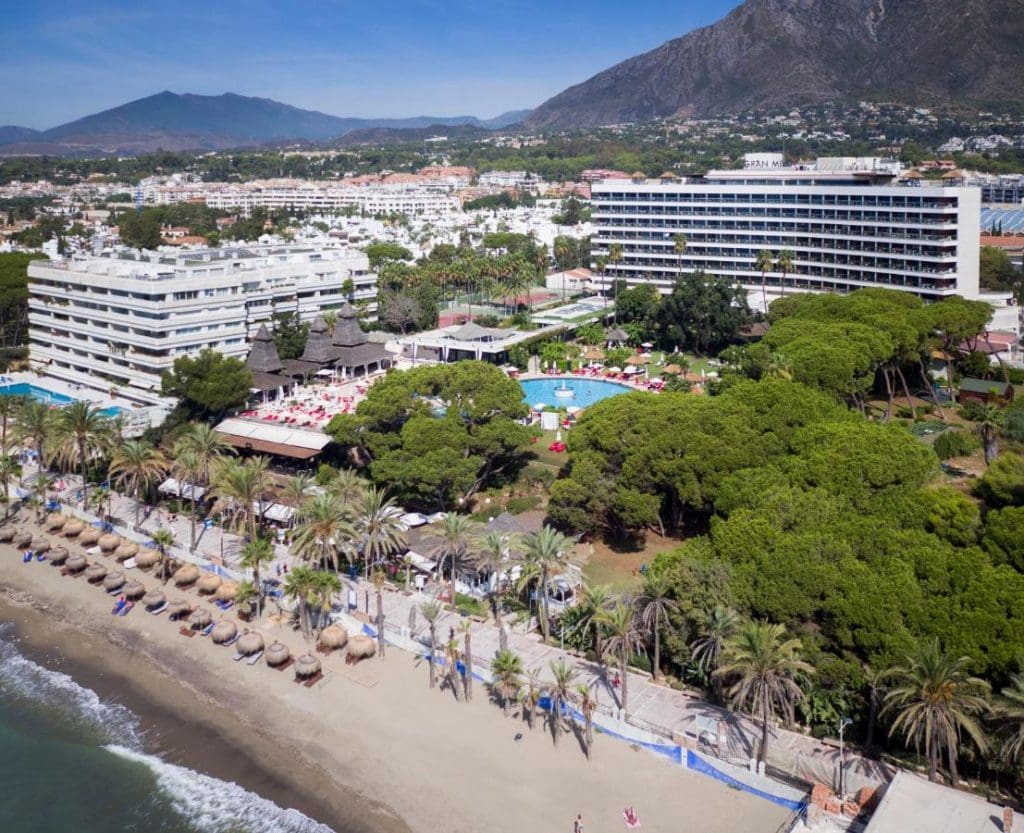 A newly installed Paddle Racket court is a new draw for guests who enjoy the sport, and a year-round indoor swimming pool is heated for guest use. Guests will particularly enjoy the private beach club for guests which also has a wonderful cafe and restaurant. There are ample sun loungers and Bali beds found throughout the resort, and guests can enjoy cocktails by the pool in the Bardot Bar.
For proximity to the beach and the old town, if you've been looking for a hotel that covers both, Hotel Don Pepe Gran Meliá is the best place to stay in Marbella.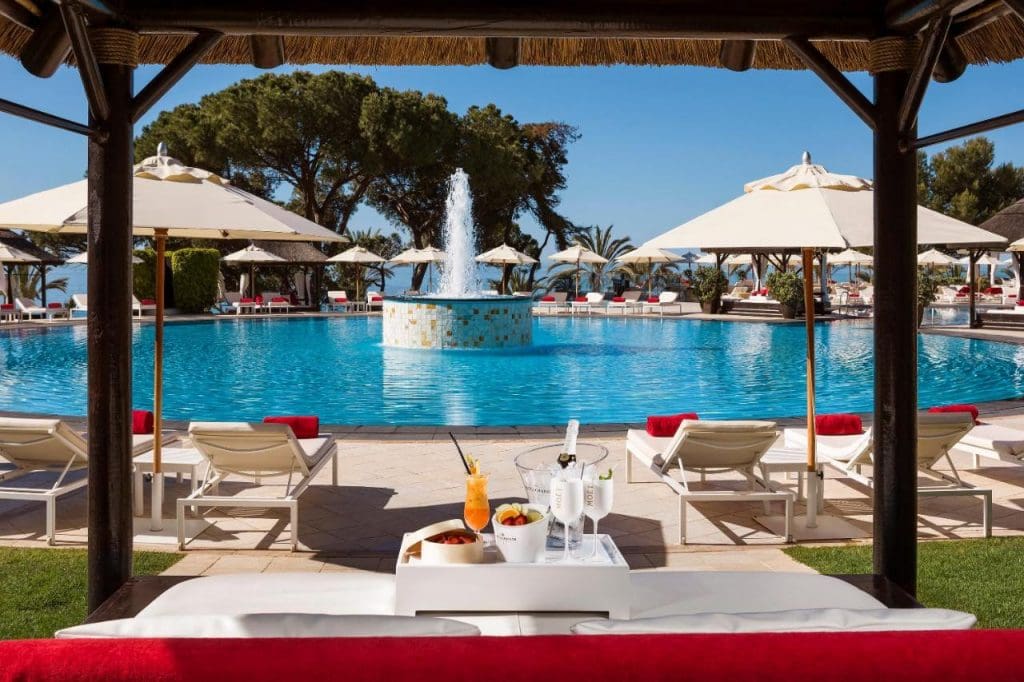 Marriott's Marbella Beach Resort
Families will love the Marriott's Marbella Beach Resort for its fantastic and child-friendly facilities. Each apartment on the complex comes equipped with a small kitchen and can sleep up to 6 people depending on the room.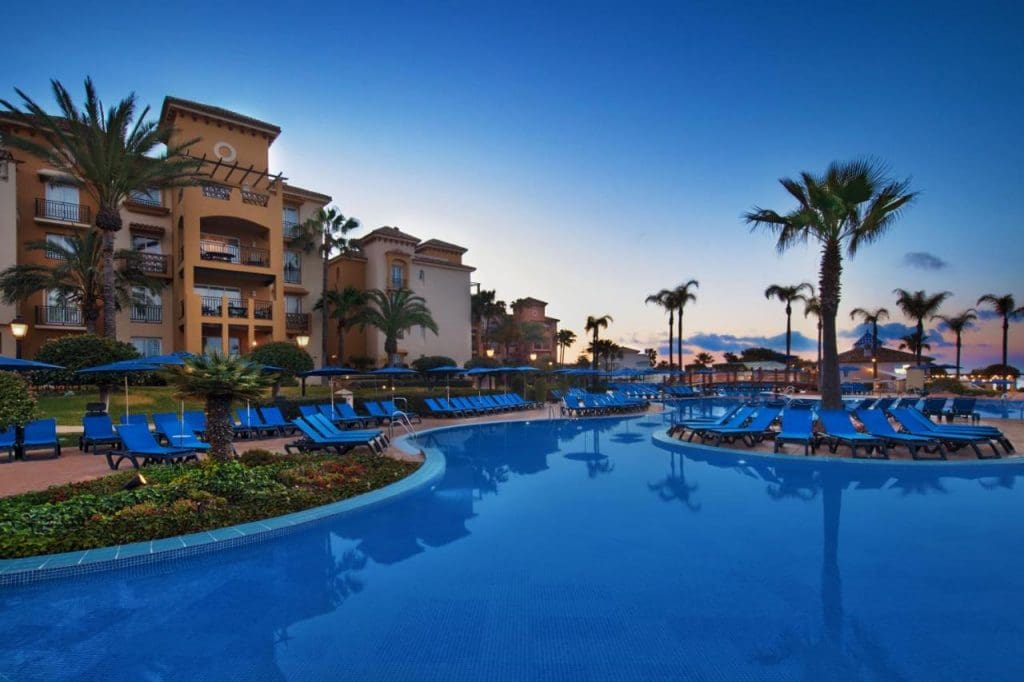 There are four pools for families to choose from, two indoor pools and two outdoor pools. The facilities for children are some of the best in Marbella, and parents will definitely be delighted with the many children's play areas found across the hotel.
A large ball pit and kids club will keep the kids entertained for the entire day. A babysitting service is available on request at Mariott's Marbella Beach Resort.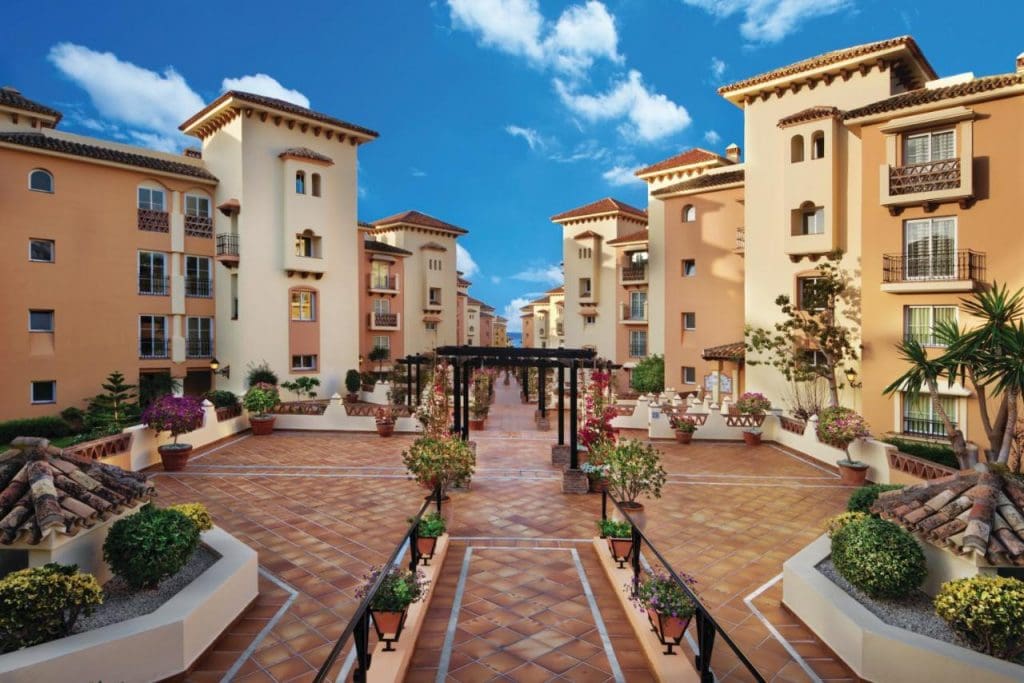 The onsite supermarket is a wonderful addition to the hotel, and if you don't feel like cooking, you can find two excellent restaurants on the hotel's grounds.
This is the best place to stay in Marbella for families with small children. It covers everything that parents are looking for in a vacation.
Marbella Old Town Hotels
Marbella has grown over the years thanks to its popularity since tourists first started to discover the Costa del Sol in the 1960s. Nowadays the old town of Marbella is a place to spend your holidays shopping and dining in some of the restaurants found away from the beach.
The old town of Marbella is incredibly charming, with cobblestone streets and boutique shops with well-known brands from around the world. Its charm has to do a lot with the fact that it has retained its character even as Marbella expanded and changed in its appearance.
Linda Boutique Hotel
A stay at the Linda Boutique Hotel in the heart of Marbella's old town is a fantastic choice for guests who want to be surrounded by excellent restaurants, and shopping and be relatively close to the nearby beaches.
Each room is beautifully decorated and you'll feel as if you are part of a family when you stay at Linda Boutique Hotel. Cocktails and beers can be enjoyed on the fabulous rooftop terrace that overlooks the old town. The beach is a short 10-minute walk away from the hotel.
Linda Boutique Hotel is one of the nicest old town hotels in Marbella.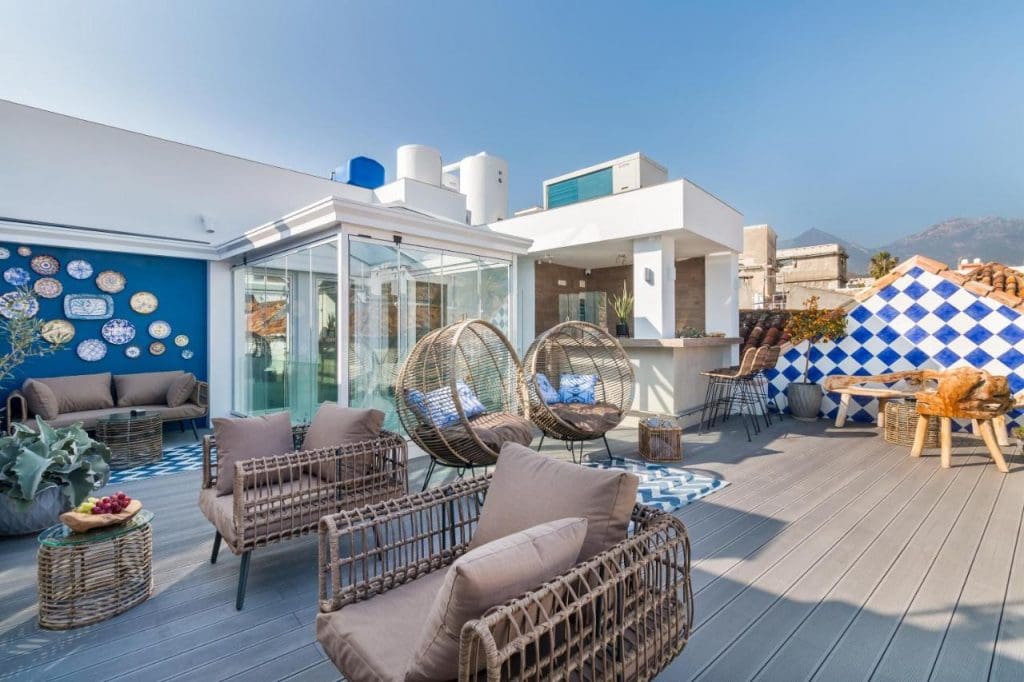 Casita Bonita Old Town Marbella
If you've ever dreamed of staying in a typical Spanish townhouse, then a stay in the newly renovated and stunningly designed Casita Bonita Old Town Marbella is a must.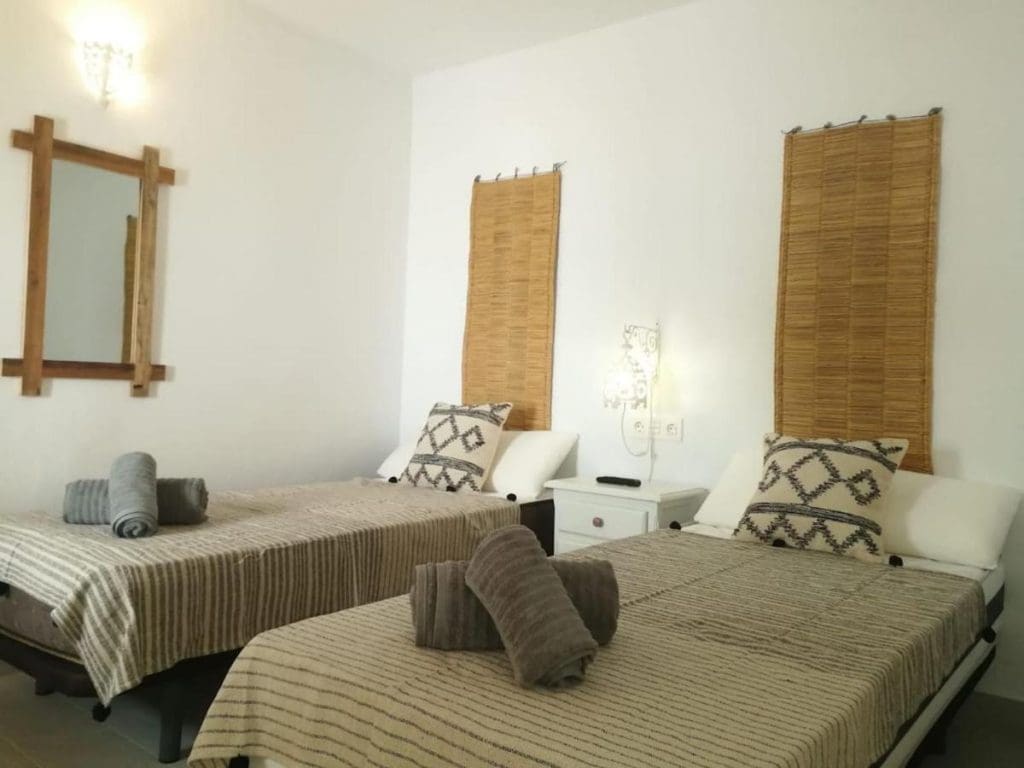 Set over several floors, this two-bedroomed house has recently had a facelift and has been tastefully designed with touches of boho chicness to its appearance. With a fully equipped kitchen, guests will love the rooftop terrace that has superb views of the mountains and the old town.
Guests will feel like a local staying in Casita Bonita Old Town Marbella is a fantastic choice for a small family or friends looking for a central base in Marbella's Old Town.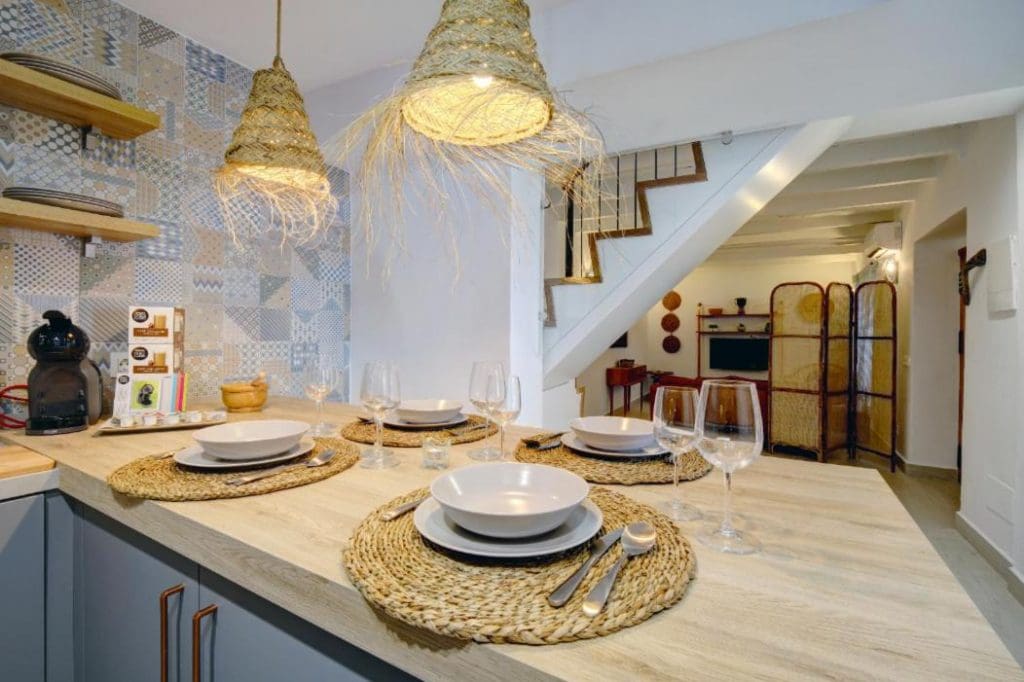 La Villa Marbella – Old Town
La Villa Marbella is a quaint boutique old town hotel in Marbella in the center of Marbella's historic center. Each room has been inspired by a place in Asia and has been decorated accordingly so. Its central location in the town whilst also being a 7 walk from the beach, has made this hotel popular with tourists.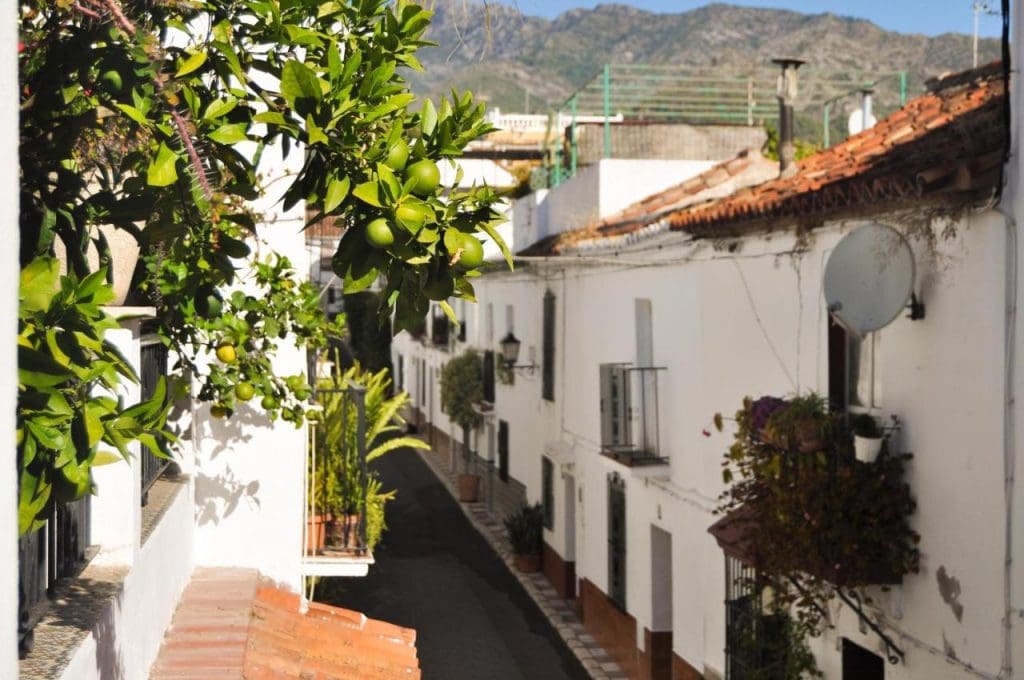 Where to Stay in Puerto Banus
The area around the famous marina of Marbella is known as Puerto Banus and can be found in Nueva Andalucia. It's one of the most opulent areas on the Costa del Sol which can easily be seen in the superyachts that line the marina.
With fantastic nightlife, restaurants, and shopping found on Calle Ribera, this is one of the best areas of Marbella to stay in for partying, shopping, and exclusivity. With beaches surrounding either side of the marina, you can spend your day on the beach or at one of the famous beach clubs that can be found in Puerto Baus.
Read more: Best Beach Clubs in Marbella
Hard Rock Marbella
A staple in the hotel industry and a known name for a hotel brand that likes to have fun. A stay in the Hard Rock Marbella is a guarantee of a good time and a perfect place for those looking for a hotel in Marbella for hen party or nightlife will be delighted with the brand new Hard Rock Hotel Marbella.
Set to open in July 2022, guests will find hotel rooms that have been heavily influenced by the role of music, from Latin jazz to classics, guests will be delighted to savor specially selected musical tracks directly into their room and even order a guitar to play in their room!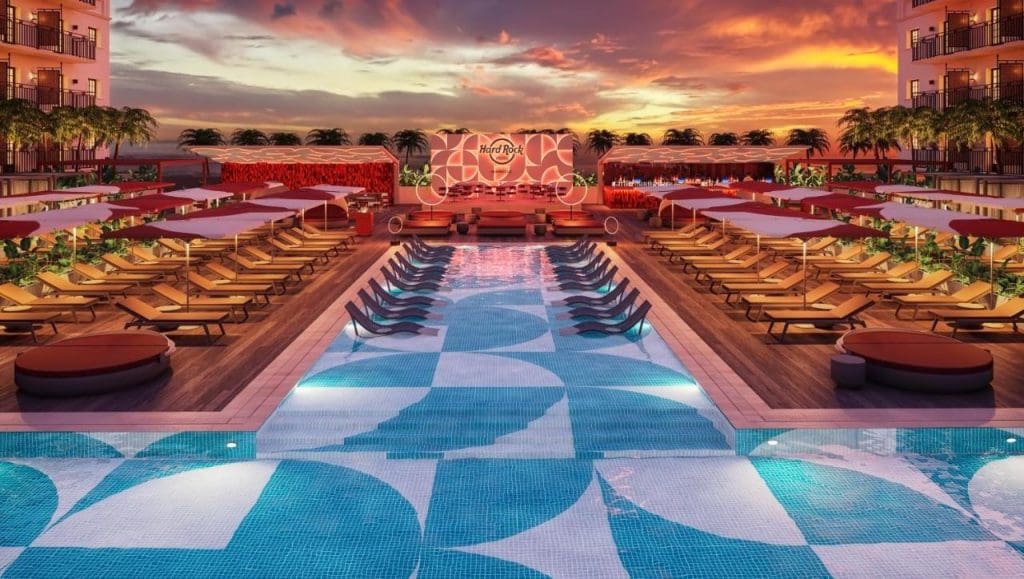 Throughout the hotel, guests will find memorabilia from musical artists from around the world to enjoy.
Guests will delight to find that a stay in the Hard Rock Marbella also means a stay for your pets too! Furry friends are more than welcome to stay in the 4-star hotel and will be treated with a special red carpet service that you won't find anywhere else.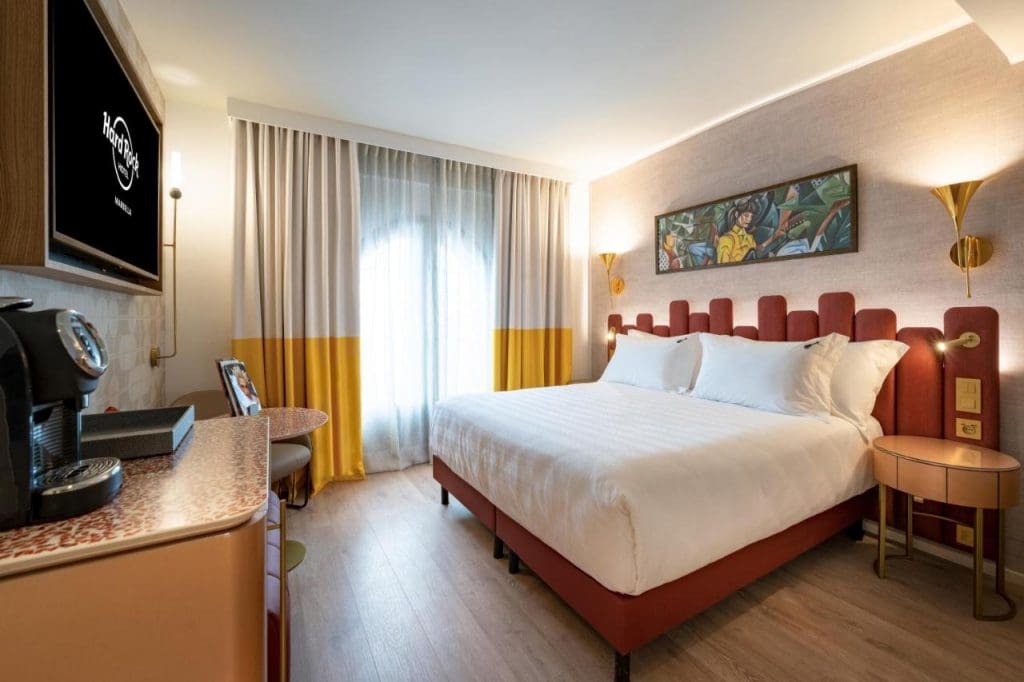 The Eden Pool is the epicenter of the hotel, with lounge chairs built directly into the water and surrounding the pool area, a restaurant and bar will keep the drinks flowing for guests.
Gran Hotel Guadalpin Banus
Located directly on the beach, Gran Hotel Guadalpin Banus is a 5-star hotel with outstanding facilities and a 15-minute walk from the center of Puerto Banus.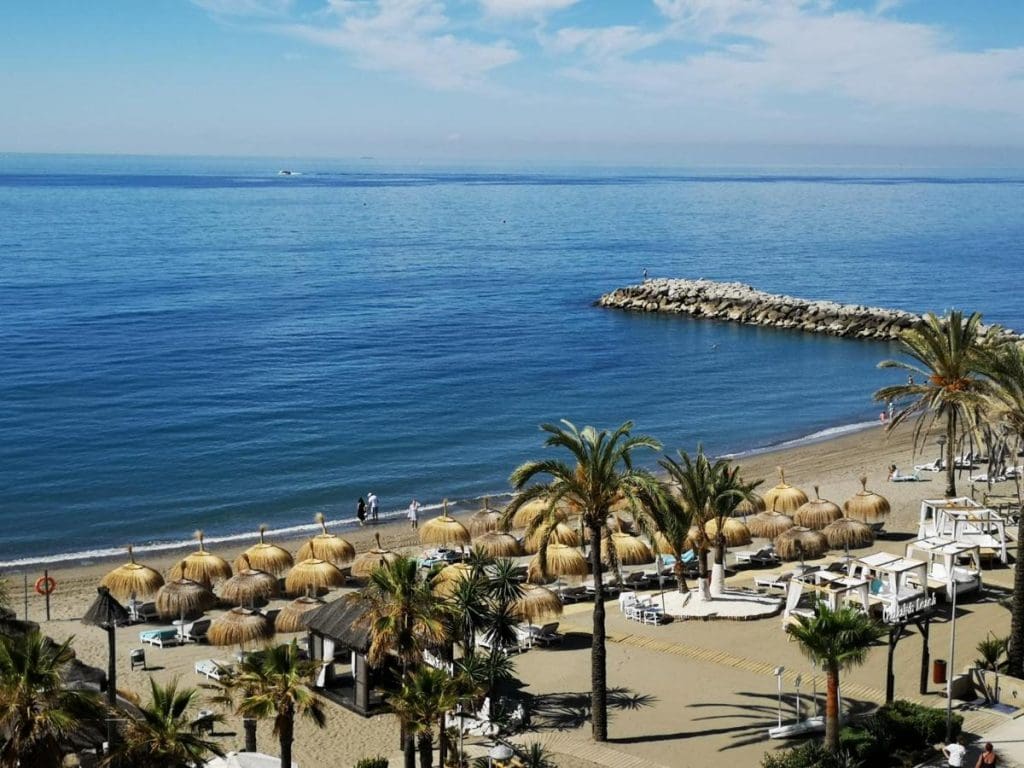 Featuring a superb beach club, an enormous outdoor swimming pool, and uninterrupted views of the Mediterranean Sea which guests can enjoy from their private balcony.
With three restaurants to choose from, guests might struggle to leave the hotel's grounds with so much choice.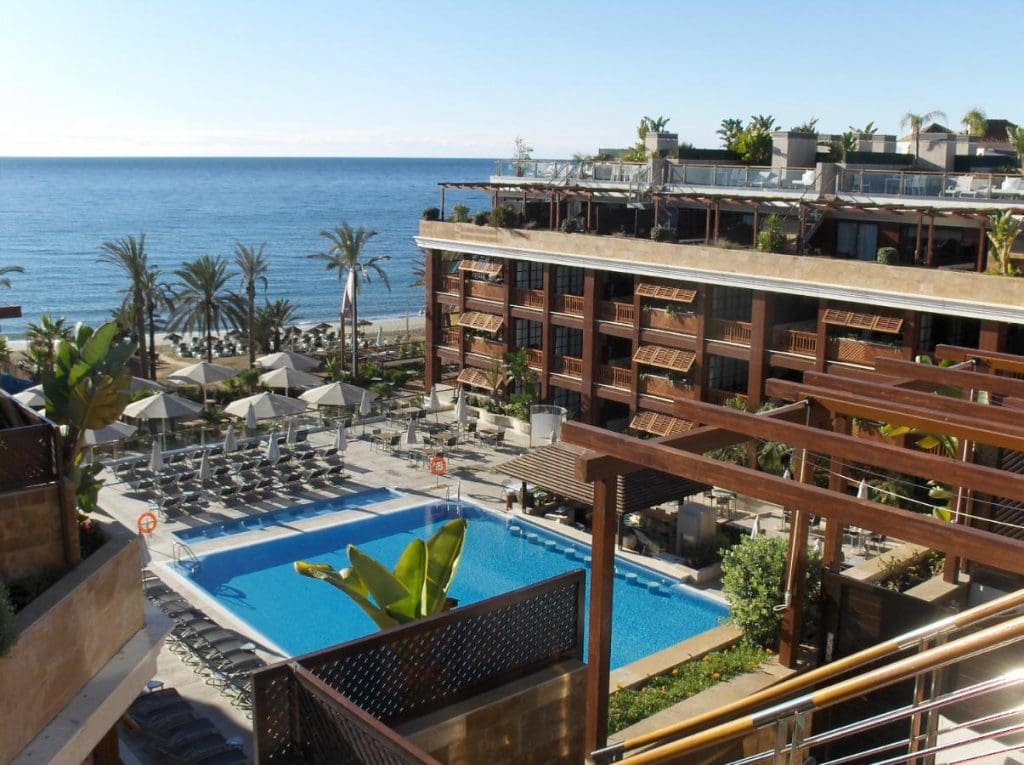 Where to Stay in Marbella for Nightlife
Hotels that have been recommended as some of the best places to stay in Marbella for nightlife include:
Things to do in Marbella
Once you've decided where to stay in Marbella, there are plenty of places to visit in and around the area of Marbella. You easily spend your days exploring the old town of Marbella or the many beaches that are found in the area. Neighboring towns and cities such as Gibraltar, Malaga, and Sevilla are quite close by and an easy day excursion.
The beautiful towns of Nerja & Frigiliana are just over an hour's drive away and are two of the prettiest towns on the Costa del Sol.
How to get to Marbella
The nearest airport to Marbella is Malaga Aeropuerto (Airport Code: AGP) located 47 km away. There are several ways to get from Malaga Airport to Marbella, the easiest and fastest way is organizing either a hotel transfer or a personal transfer.
A direct bus runs from Malaga Airport to Marbella several times throughout the day. The bus takes 45 minutes and will leave visitors at Marbella Bus Station from which you will need to get a taxi to your accommodation. You can check the bus schedule here. Taking the bus from Malaga Airport to Marbella is one of the cheapest ways to get to the city and costs between €6 and €10.
Malaga Airport has several car companies to hire a car from. And driving from the airport to Marbella is fairly straightforward as you follow the Mediterranean Motorway (A7) and look for signs to Marbella or Puerto Banus. I always recommend using RentalCars when booking a car, as you can compare prices between the various companies and get a great deal.