Two of the most popular islands in Greece are Santorini and Mykonos. With millions of visitors each year, most visitors will have these two spectacular islands on their bucket list travel itineraries. Discover how to travel from Santorini to Mykonos and experience some of Europe's most stunning scenery and luxurious islands in the Cyclades.
Some of these may be affiliate links, which means when you buy something I may receive a small commission. There is no additional charge to you, and it really helps to support me – so thank you!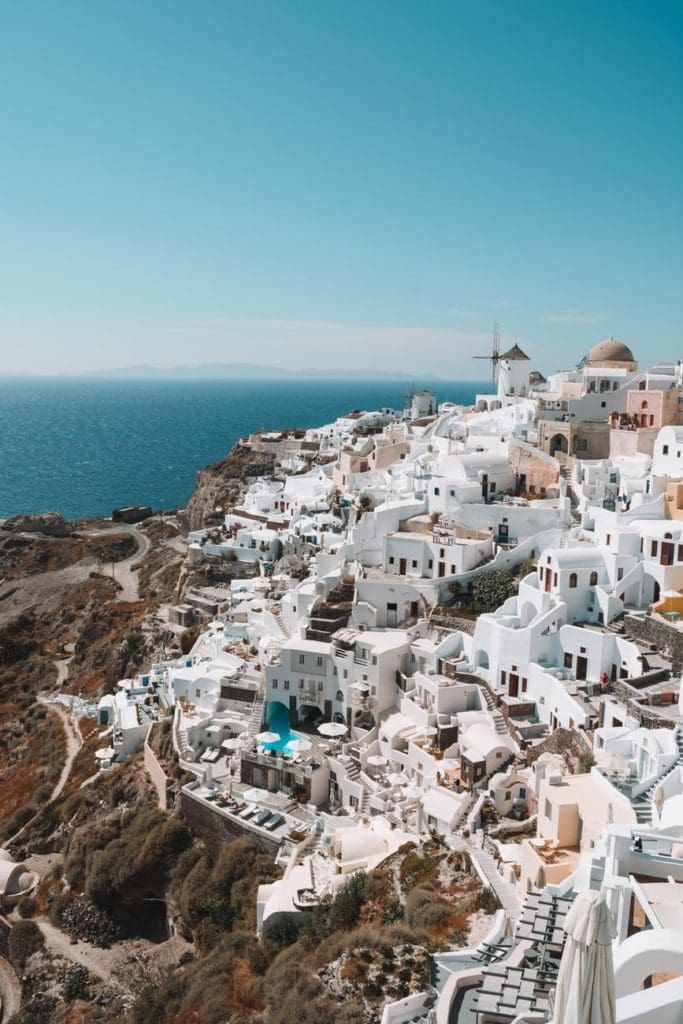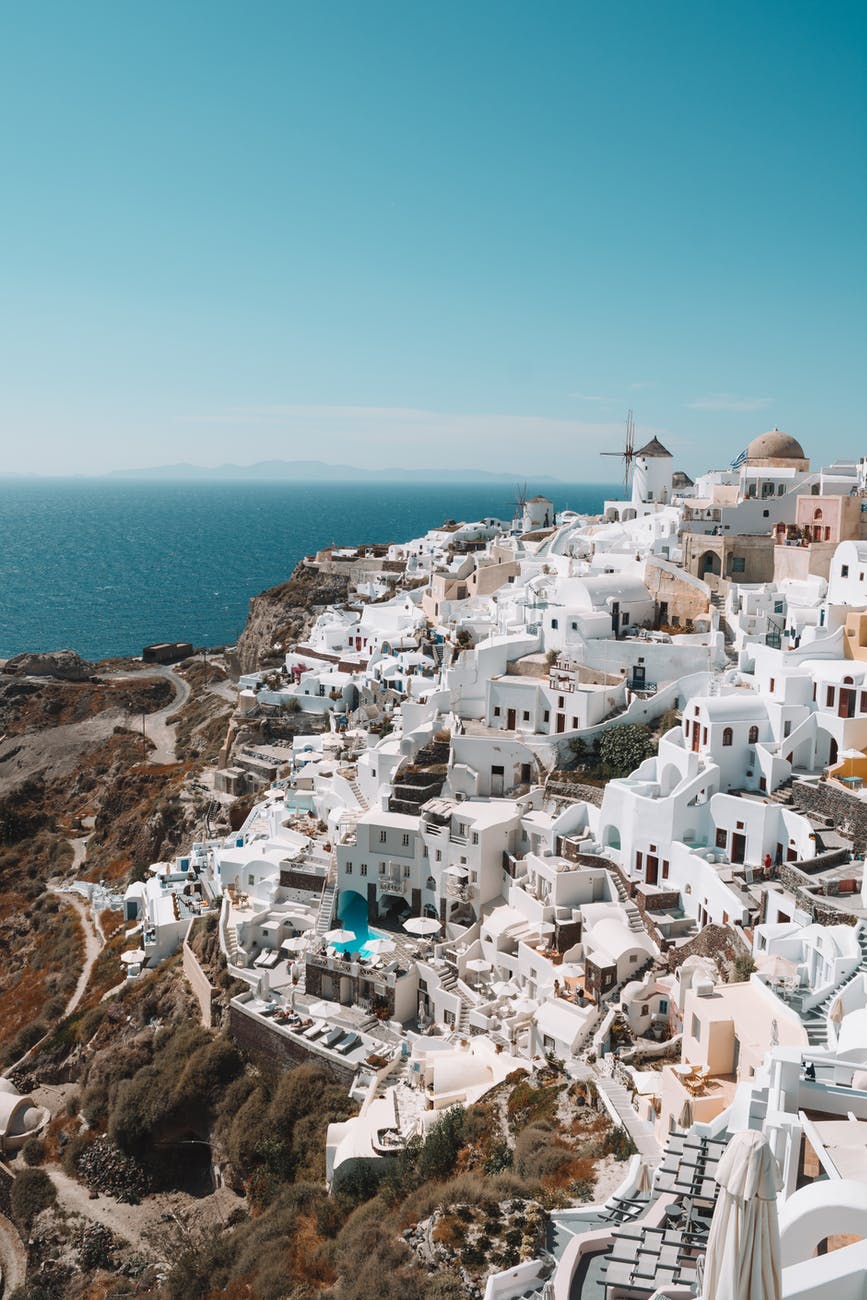 Santorini and Mykonos Trip
Greece is a fantastic place to island-hop. With its extensive ferry routes and operators, exploring the islands in the Aegean Sea is remarkably easy thanks to the frequency of ferries and connections between islands. Spend a few days on the magical island of Santorini, before catching an early morning ferry to Mykonos. Or spend time exploring some of the quieter, but equally beautiful islands in the Cyclades.
Mykonos Town is famous for Little Venice, a beautiful outcrop of restaurants and bars that sit right on the water's edge and overlook the sea. Exploring the famous windmills of Mykonos and spending an afternoon at some of the Mediterraneans most famous beaches, Super Paradise Beach, are just some of the fun activities you can do on one of the liveliest Greek Islands.
Santorini is best known for its luxury hotels and infinity pools that cling to the caldera's edge in towns like Oia and Imerovigli. A honeymoon destination because of its sheer beauty, Santorini is quite unlike anywhere you've ever been before. With wineries and sunset cruises, Santorini is the perfect place to unwind and indulge in 5-star luxury.
Is there a ferry from Santorini to Mykonos?
During the high season (May – October) there are up to 5 daily departures that connect the island of Santorini to Mykonos. The earliest departure of ferries leaving from Santorini to Mykonos departs at 10 am and the latest departure time is at 4 pm. Ferries depart from Adamas Port, which can be chaotic with ferry arrival and departures.
| | | | | |
| --- | --- | --- | --- | --- |
| Ferry Name | Departure Times & Arrivals | Price | Stops | Frequency |
| Power Jet | 10.05 – 12.10 | €79 | Ios, Naxos | |
| Santorini Palace | 11.15 – 14.10 | €59 | Paros | |
| Worldchampion Jet | 12.00 – 14.05 | €79 | Naxos | |
| Superjet | 12.15 – 16.05 | €79 | Katapola, Koufonisia, Naxos | |
| Superexpress | 16.15 – 18.50 | €70 | Paros | |
How do you travel from Mykonos to Santorini in 2023?
Most of the same ferry operators that run a service from Santorini to Mykonos, also operate the route in reverse from Mykonos to Santorini. The routes and times vary throughout the seasons, but during the high season expect up to 4 daily crossings from Mykonos to Santorini.
Ferries from Mykonos to Santorini depart from the New Port in Tourlos, which is 1.5 km from the main town, Chora, of Mykonos. Chora is a Greek word that you will see frequently when travelling the region, and it means the main town on an island.
The first ferry of the day departs at 9.50 am and the final ferry that leaves for Santorini departs at 13.00 pm.
| | | | | |
| --- | --- | --- | --- | --- |
| Ferry Name | Departure Times & Arrivals | Price | Stops | Frequency |
| Superexpress | 09.50 – 12.10 | €70 | Paros | Monday, Wednesday, Thursday, Friday, Saturday, Sunday |
| Worldchampion Jet | 09.50 – 11.40 | €79 | Naxos | Every Day |
| Seajet 2 | 11.00 – 14.30 | €79 | Naxos, Koufonisia, Katapola | Monday, Wednesday, Friday, Sunday |
| Power Jet | 12.40 – 15.30 | €79 | Paros, Naxos, Ios | Every Day |
| Santorini Palace | 13.00 – 16.35 | €59 | Paros, Naxos | Monday, Thursday, Saturday |
How much does it cost to get from Santorini to Mykonos?
Ferry prices depend on the ferry operator and type of vessel. The slower ferries, such as Blue Star Line, are the cheapest and cost €20. Whereas the faster, hydrofoils, can reach prices between €60 and €80. These prices are for foot passengers and include a seat on the vessel.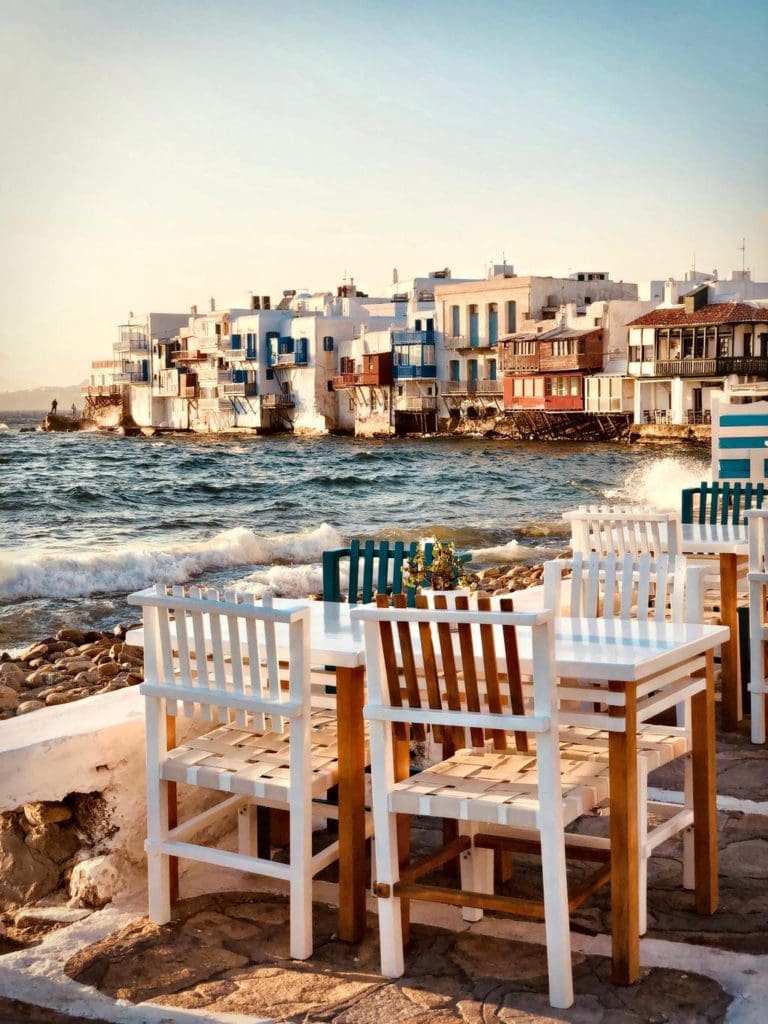 How long is the boat ride from Santorini to Mykonos?
The ferry from Santorini to Mykonos takes between 2 and 3 hours depending on whether it is a slow ferry or a fast ferry, and of course, if there are any stops along the way. Most ferries have stops in the following islands, Naxos, Paros & Ios, but stops at these islands are incredibly brief.
Where can I buy ferry tickets from Santorini to Mykonos?
One of the easiest ways to book ferry tickets is through FerryHopper. You can purchase ferry tickets directly from the website or app, with tickets being immediately delivered to your account. FerryHopper makes it really easy to check out the ferry routes and timetables for the ferry operators. Click on the widget below and start planning your Greek island-hopping adventure.
Ferry tickets are usually released 6-8 weeks before departure. During the months of July and August, it is essential to purchase ferry tickets in advance as they do tend to sell out.
Can you do a day trip from Santorini to Mykonos?
The easiest way to visit Mykonos from Santorini for a day is by organised tour. The ferry timetables do not align for spending a day on either island easily, and more than likely you would have the spend a night in Mykonos.
You can do an organised tour from Santorini to Mykonos that departs early in the morning and arrives in Mykonos with plenty of time for exploring the island, before departing and arriving back to Fira in the late afternoon/evening. This is the easiest and least stressful option to consider for a day trip from Santorini to Mykonos.
Do note that day trips are more common in the summer months when there is a demand, in the off-peak months you will need to travel by ferry.
Is it better to go to Santorini or Mykonos first?
One of the great things about Santorini and Mykonos is that they both have international airports that have daily flights from all around Europe landing on the islands. It's easy to start your trip on either island and with ferries between the islands being so frequent, it means you can island hop with relative ease.
Consider Mykonos first if you want to indulge in some nightlife and partying, or days spent relaxing at the many beaches. You may want to use Santorini to unwind and relax as you stare at the incredible caldera view from your luxury hotel in Oia.
Whether you start your incredible Greek vacation in Mykonos or Santorini, you are assured to have an incredible experience.
Are there flights from Mykonos to Santorini?
There are no direct flights between Mykonos and Santorini. In fact, if you do wish to travel by plane, you will need to have a layover in Athens. Whilst the flights are short from either island to Athens, the transfer time between flights can be quite long. It is much quicker to take a ferry.
As both of the islands have international airports with numerous flights from Athens and Europe arriving daily. The airports are quite small and during the summer months can get quite busy, so plan to arrive earlier than you normally would.