The 15 Best Restaurants in Nerja in 2024 (+ Map!)
With almost 100 restaurants in Nerja Spain, finding a fantastic restaurant to eat in Nerja can be an overwhelming decision. Nerja Spain lies almost an hour outside of Malaga. Unlike some of the other places on the Costa del Sol, it is not built up with high rises and maintains its authentic Spanish self in parts of the town.
Nerja has an abundance of great restaurants, so much so, that it can be difficult to decide where you want to eat. You are guaranteed in these Nerja restaurants to have some of the best meals of your holiday.
I've personally eaten at all of these restaurants over the years, and these are my tried and tested opinions. Sometimes the restaurants have their off-days, or even months as chefs change or move on, but overall these are the best restaurants in Nerja that have been consistently good or excellent.
These are the 15 best restaurants in Nerja that have been repeatedly tried and loved every time.
The 15 Best Nerja Restaurants
1. Ayo | Burriana Beach
Visiting Nerja and eating in Ayo's is the equivalent of going to Rome and visiting the Colosseum. It's an essential part of any trip. And it's always one of my first stops when I visit Burriana Beach. It's one of the oldest Chiringuitos (Beach BBQ Restaurant) in Nerja, having been established in 1969. And what makes it truly special is Ayo, the owner and chef, cooking enormous paellas on Burriana beach.
These gigantic cast iron pans sizzle and crackle in the scorching sun, filled to the brim with prawns, rice, rabbit and clams. Ayo's paella is truly a masterpiece.
As you glance around the restaurant you will see plate after plate of paella rushing around in wonderful organised chaos. It's really great fun to be a part of it. And the paella is unforgettable. You won't forget Ayos in a hurry.
I also highly recommend the Pollo Asado which comes with to-die-for vegetables that melt in your mouth. If there is one dish in the world that I would love to be able to cook, it's Ayo's chicken. Without a doubt, this one is probably the best restaurant in Nerja Spain for lunch.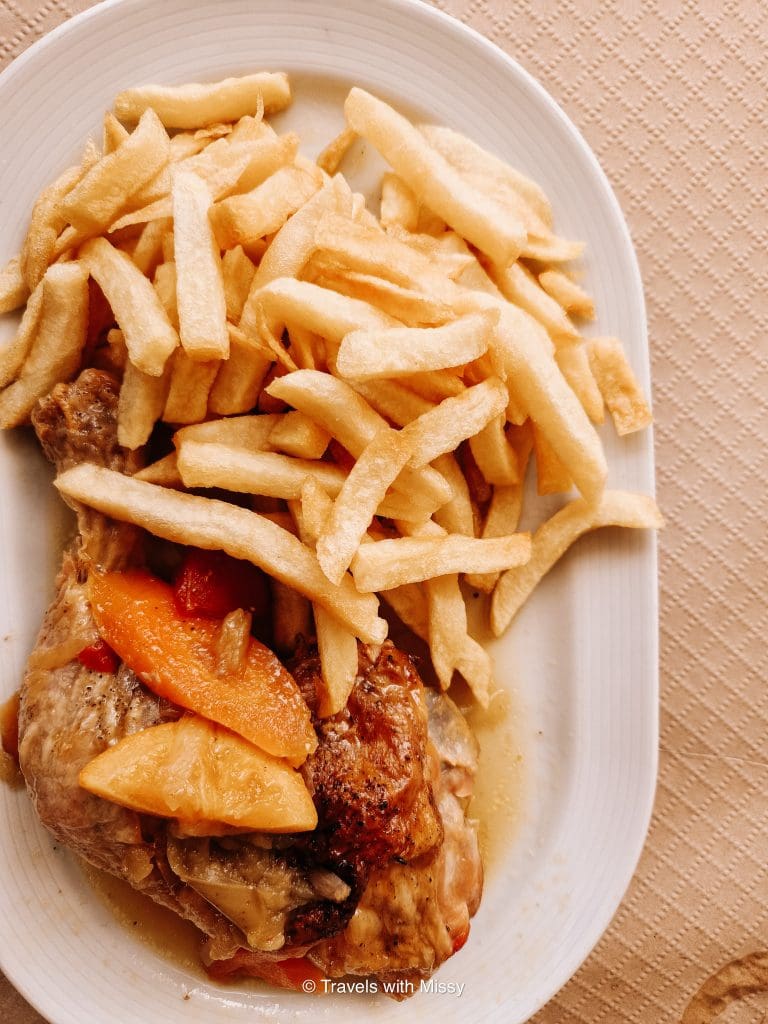 Note: Ayo's is only open in the afternoons for lunch.
Price Range: €
2. Copa Vino | Calle Almte. Ferrándiz
A relatively new restaurant in Nerja, Copa Vino has only a handful of dishes on its menu. We managed to make our way through the menu in our two visits to the restaurant, and honestly, everything we ate was delicious.
Not only is the food sublime, but the selection of wine is probably one of the best in Nerja.
Copa Vino has created a really warm and cosy environment, and, their staff are really attentive, without being too pushy or in your face. A must-try dish is the Penne Piccolo served with a heavenly melt-in-your-mouth mushroom sauce.
It's also one of the value dishes on the menu. The dish is enormous and could easily feed 2 people at a very generous price of €11. If visiting in the months of June-September make sure you book a table, as it does fill up quite quickly. This has been one of those Nerja restaurants that completely surprised me with its incredible flavours and presentation.
Price Range: €€€
3. Taste of India Nerja | Calle Hernando de Carabeo
Taste of Nerja is not only one of the best restaurants in Nerja, but one of the best Indian restaurants in general. Its popularity stems from its incredible dishes that are so rich in flavour, that this is one restaurant that I can't stop thinking about.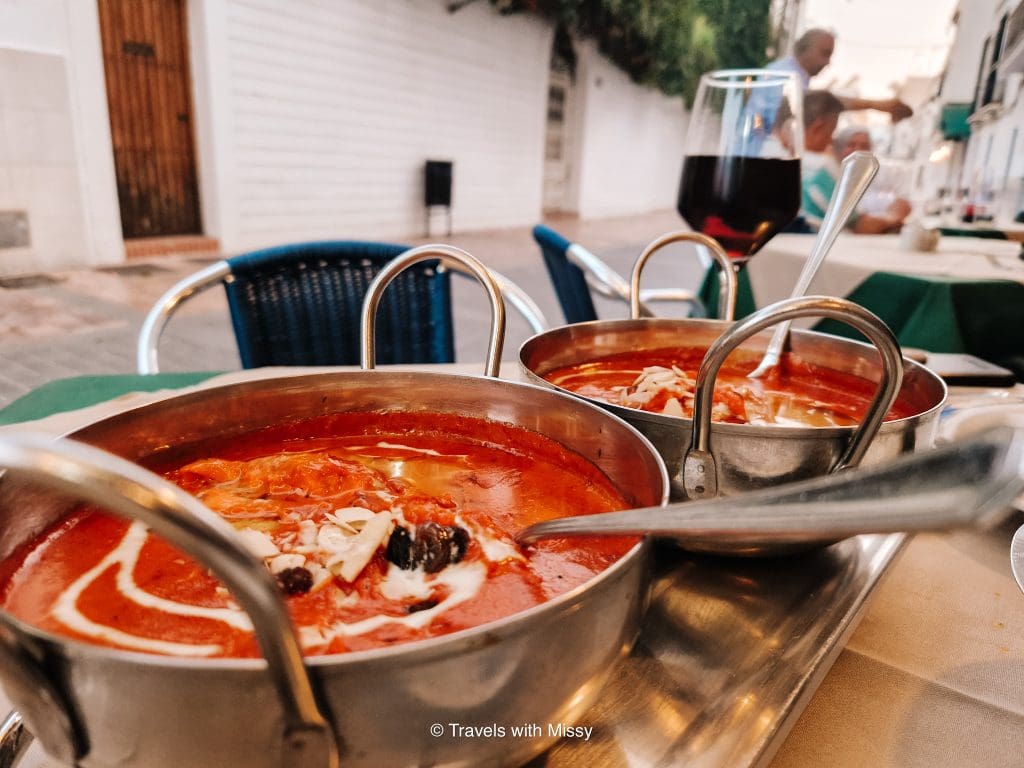 And while it may be an unusual cuisine to indulge in whilst the lure of excellent Spanish cuisine is so nearby, it's definitely worth trying. Taste of India has one of the best Butter Chicken dishes on the planet. Its creamy textures and tandoori chicken are mouthwateringly delicious. This is one dish not to miss.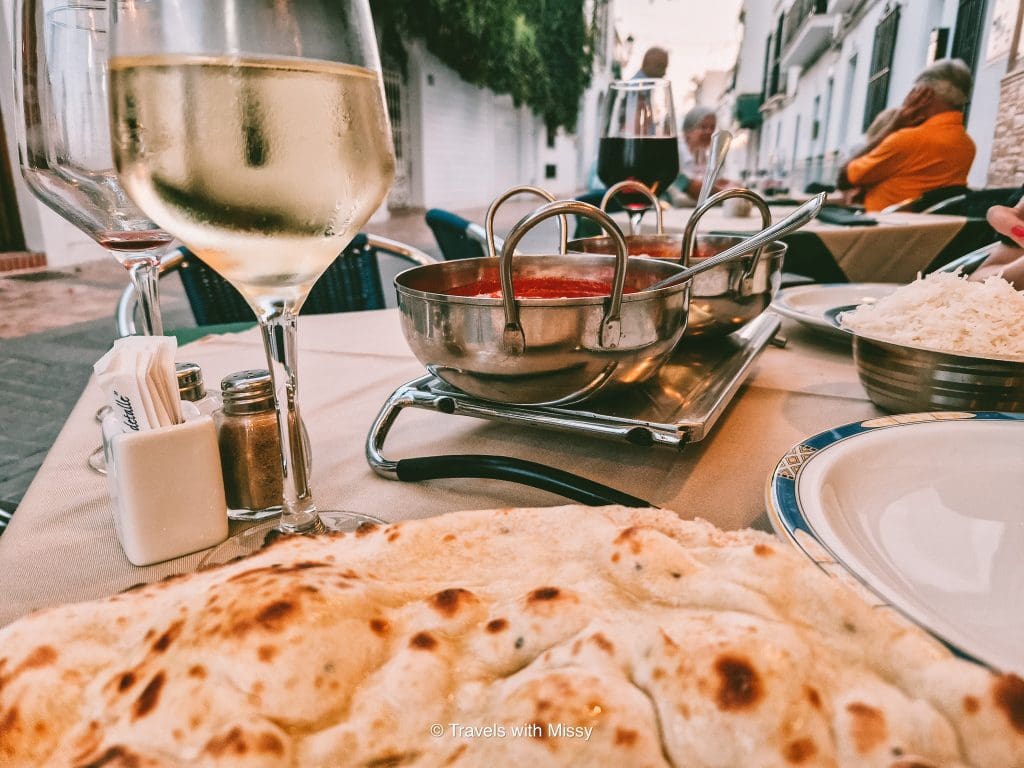 Nerja has a huge variety and a selection of Indian restaurants to choose from. Taste of India just happens to be one of the best. Its popularity naturally stems from its excellent food, but also its kind and attentive wait staff that are knowledgable about its dishes and extremely attentive.
The only negative thing about Taste of India is that you will be completely spoilt with its deliciousness, that all other Indian restaurants pale in comparison.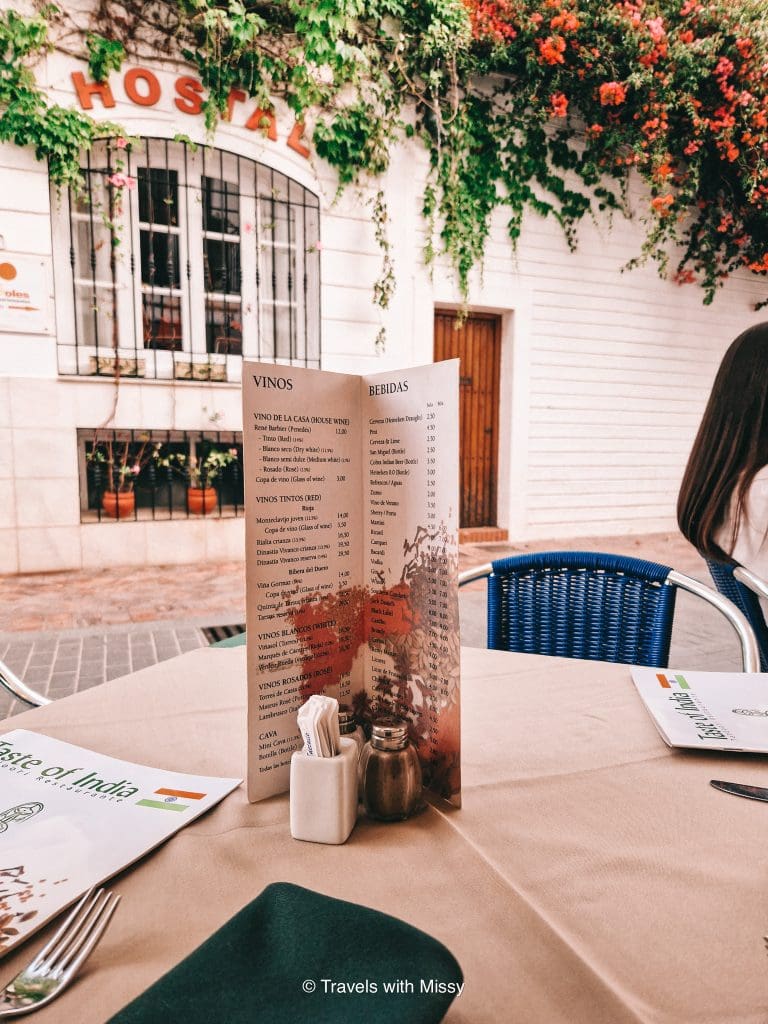 Price Range: €€
4. Restaurant 34 Nerja | Calle Hernando de Carabeo, nº 34
Restaurant 34 is one of the fanciest restaurants in Nerja and it's always firmly reserved for the last night of the holiday. It's worth saving till the end. And for this reason alone, the 34 is an all-time favourite and best restaurant in Nerja Spain.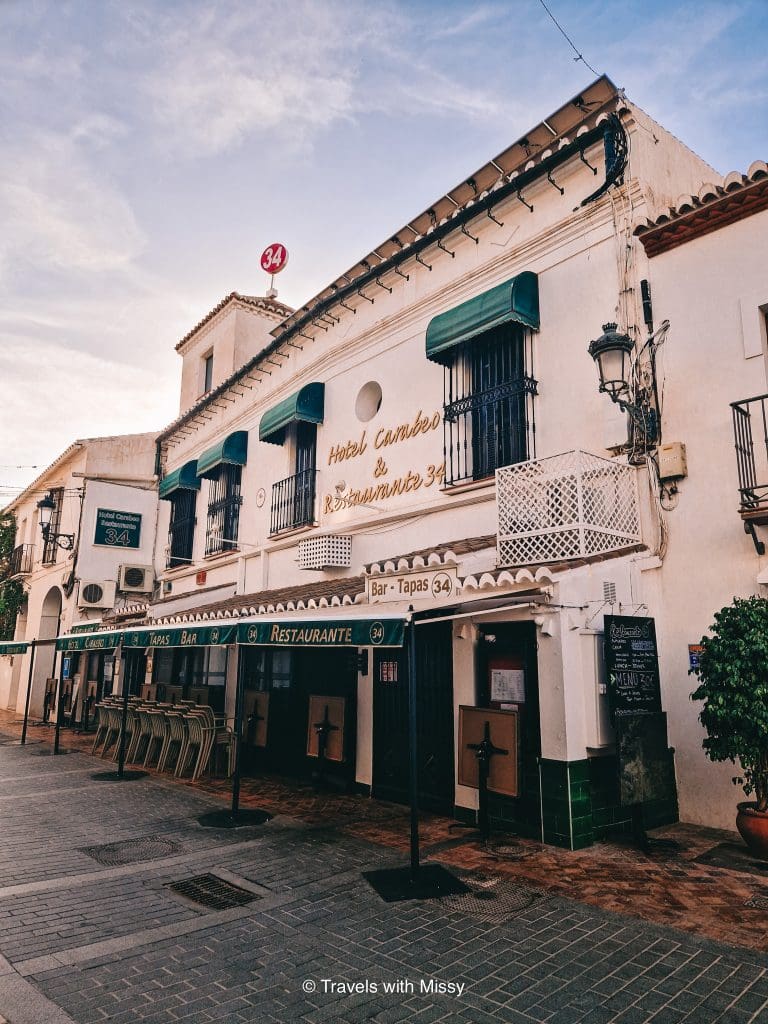 The restaurant is set on the grounds of a boutique hotel with a lot of old-world charm and sophistication. A quaint tapa bar at the front of the hotel is also super and well worth a visit.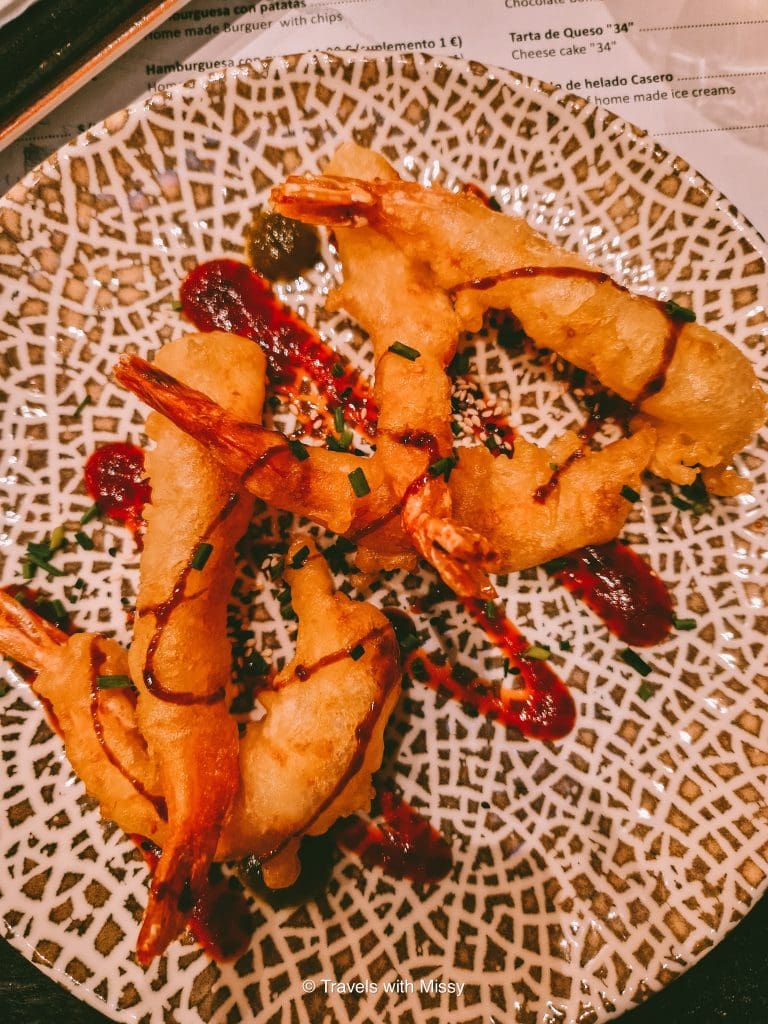 Want to Read More? Discover where to Stay in Nerja
Restaurant 34 has one of the most beautiful dining settings in Nerja. With exquisite views over the Mediterranean Sea, it oozes romance and charm. The restaurant has a variety of ambient choices to sit at, from the romantic seafront terrace, you can dine to the sounds of the sea lapping below. Or dine by candlelight at the tables by the pool.
The setting of the restaurant is really romantic and definitely a must for couples looking for a quiet romantic dinner. The menu is diverse and really caters for all dietary requirements. The menu rarely changes and it has been consistently excellent for the longest time. If you can manage to squeeze in a dessert, the chocolate fondant is truly to die for.
Restaurant 34 is always the highlight of any trip to Nerja and it shouldn't be missed. There is live Flamenca music several nights throughout the week during the summer months.
Price Range: €€€€
5. Dolores El Chispa | Calle San Pedro
If you are seeking a truly authentic experience away from the hustle and bustle of some of the touristy places in Nerja, then you've got to visit Dolores El Chispa.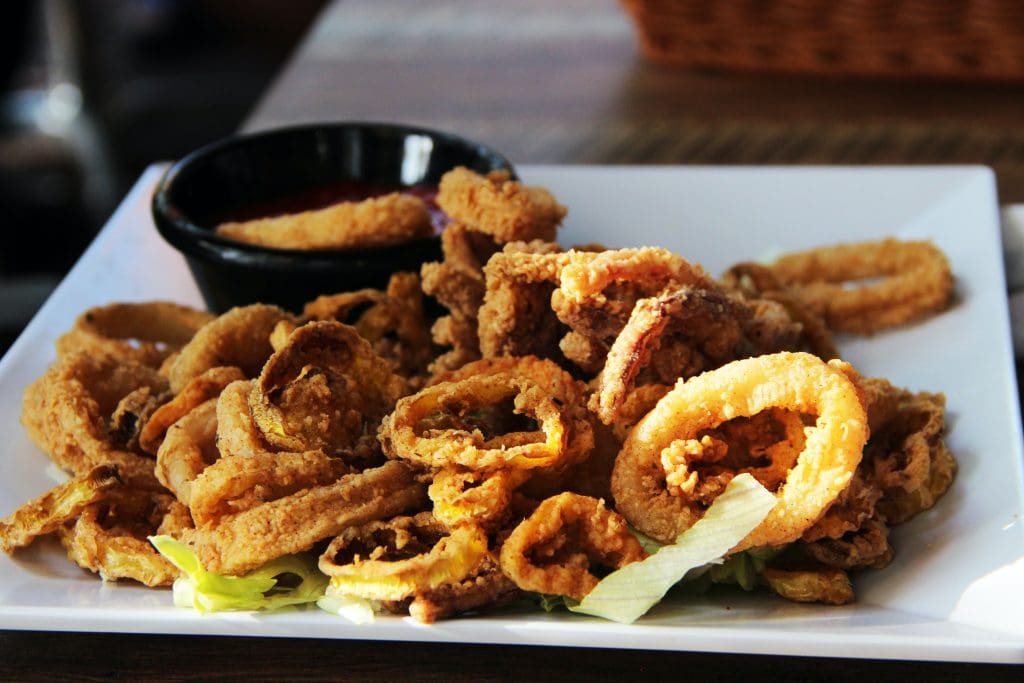 Located on the beautiful streets of Calle San Pedro, this is as local as it gets and Nerja at its most beautiful. Dolores El Chispa is a traditional tapas restaurant and incredible value. But be warned you will have to either arrive as they open, or late in the evening in order to secure your table – it's that popular.
A visit to Dolores El Chispa is an absolute must for visitors to Nerja looking for a really authentic Spanish seafood tapa restaurant.
6. D'Vinos | Calle Almte. Ferrándiz
D'Vinos is a restaurant that gives tapas a bit of a twist. Here you will find Japanese and Indian infused with traditional Spanish tapas. D'Vinos has a great rooftop terrace that gives views over the busy and bustling street below.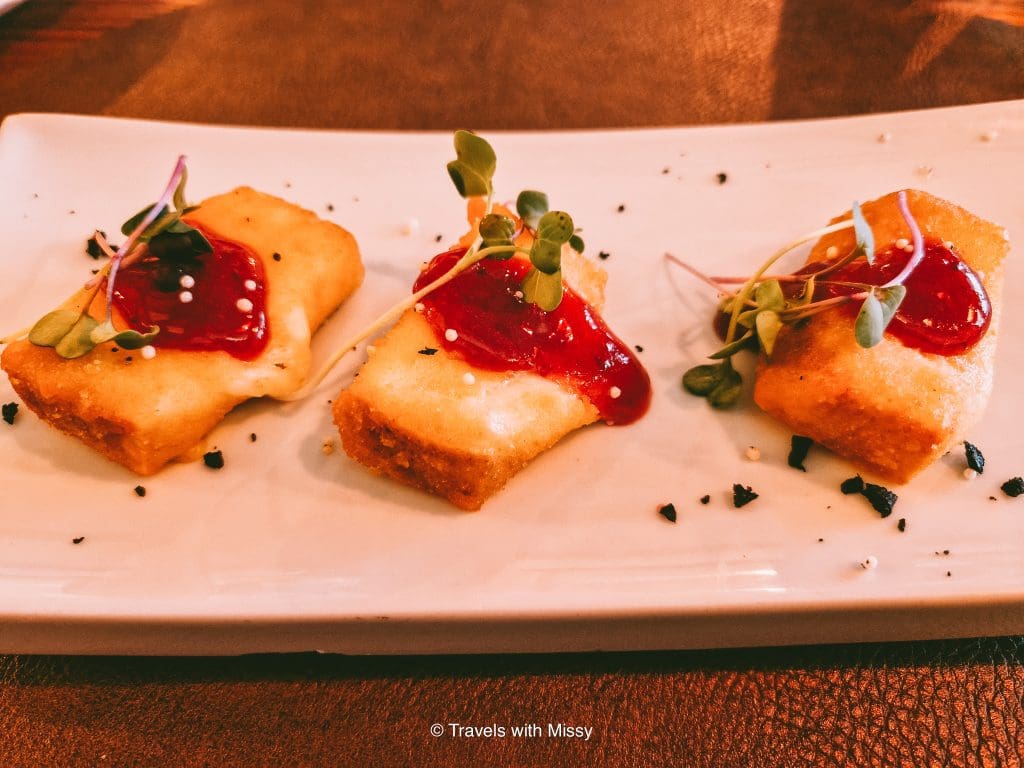 It's worth noting that the tapas are quite small here and to order a minimum of 2 to start with. The size varies from tapa to tapa, some of which are decently sized and can be shared, with others being consumed in a single bite.
We loved the infusion of different cuisines and its rooftop terrace. You can do some great people-watching!
Price Range: €€
7. Bar El Pulguilla
One of the liveliest tapas restaurants and local experiences can be found in Bar El Pulguilla. It's as basic as you can get, but offers a truly authentic Spanish tapas experience.
With high tables and limited seating at the front of the bar, embrace the chaos from the TV which seems to be permanently showing Spanish football and a rambunctious crowd. Bar El Pulguilla has excellent seafood tapas that are typically served with each drink you order.
The restaurant in the back has a large seating area and an extensive menu of freshly caught fish to choose from. I can't recommend Bar El Pulguilla enough for those seeking a really authentic and fun experience.
Price Range: €
8. Bar Redondo
The infamous Bar Redondo is my favourite tapas experience in Nerja. Part of the fun is trying to procure a seat at their barrel tables outside the front of the bar on a very busy alleyway.
This is an excellent spot for people-watching and enjoying free tapas with each drink you order. You can also order off their menu for larger portions of tapas. It's one of the cheapest places to eat in Nerja. Just make sure to order their flaming chorizo, it's a lot of fun cooking it at the table and tastes incredible. 
On my most recent visit in May 2023, Bar Redondo still retained its charm for grabbing a drink and jostling through the crowd to secure a barrel. However the tapas were very mediocre and some inedible. I'm keeping it on this list in the hopes of it returning to its former glory. Its still very much worthwhile to have a couple of drinks at.
Price Range: €
9. Restaurante Patanegra 57
Patanegra 57 is one of Nerja's fine dining experiences. Located at the top of the beautiful Calle Almt. Fernandez and opposite Copa Vino, there are seats available inside their beautifully restored premises and some outside on the cobblestone streets.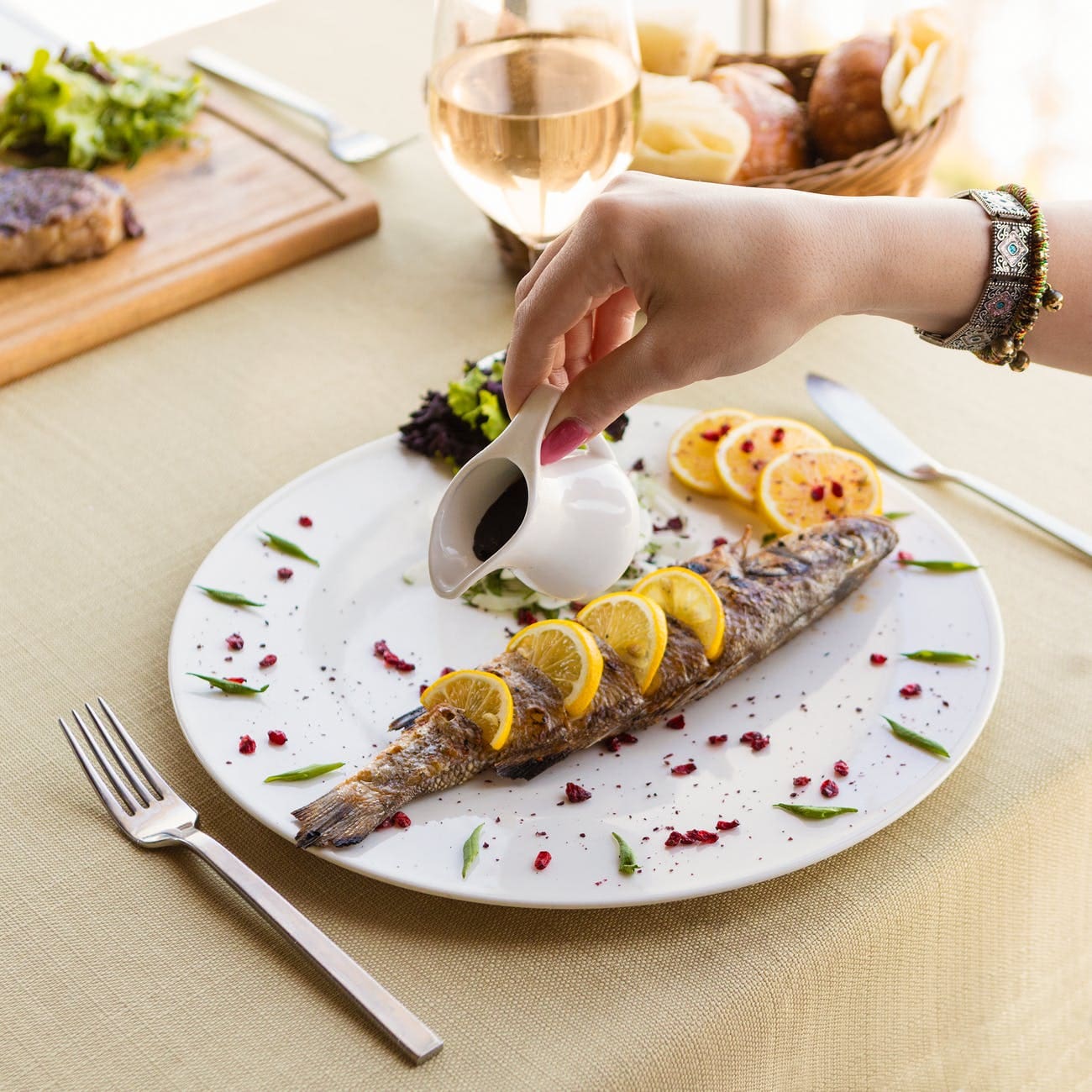 Whilst the prices are expensive, it's worth the price, with excellent ingredients locally procured as well as those from across Europe.
The restaurant has a strong emphasis on local ingredients that make Spain's culinary experience so tasty and worthwhile. Ingredients are seasonal and occasionally unique, with items such as sea urchin and Malaga goat appearing on the menu.
For foodies, Restaurante Patanegra is an absolute must. During the months of July & August, make sure to book in advance.
Price Range: €€€€
10. Bakus
One of the most popular restaurants in all of Nerja is the Bakus. Bakus is a restaurant with sea views that during the summer months has some of the dreamiest sunsets visible from its terrace.
Located above the Playa Carabeillo, Bakus is perennially popular for its quality ingredients, excellent and personable service and rarely loses its form.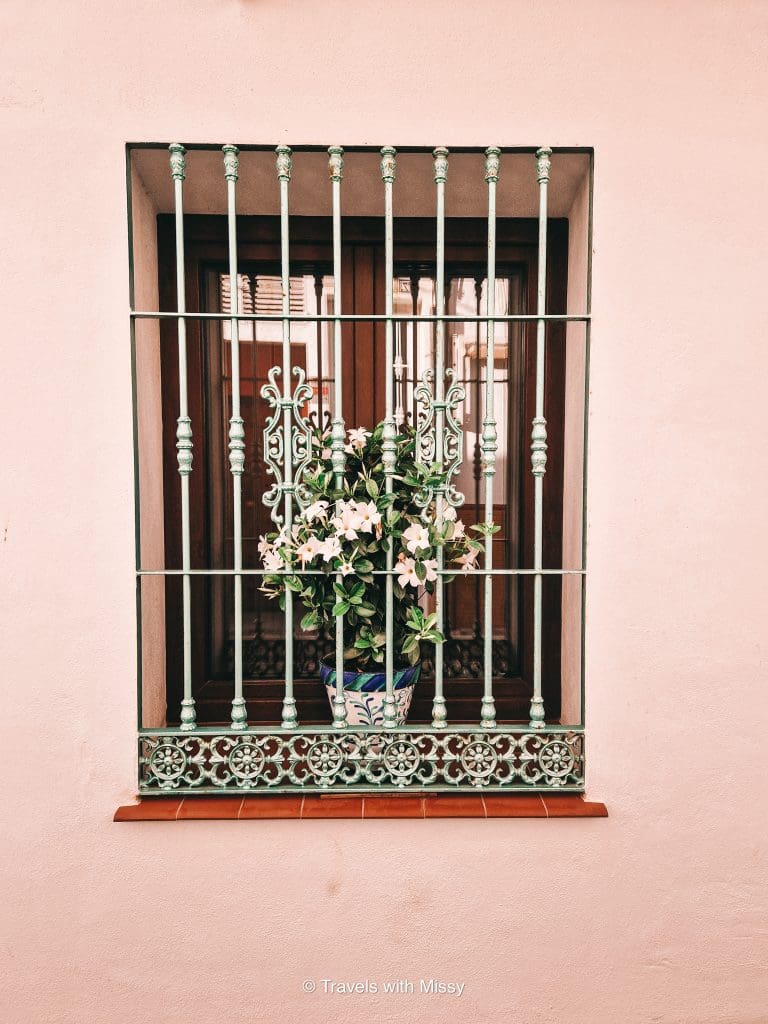 Bakus creates dishes that are art like in appearance, almost being too pretty to consume. The flavours are bold and creative, with menu items such as pig cheeks and wild risotto being firm favourites with restaurant-goers.
For visitors looking for reliable and ambitious dishes that are mouthwateringly delicious, consider Bakus and enjoy the sunset with a sundowner.
Price Range: €€€€
11. Oliva | Plaza de España
Oliva has enjoyed a successful iteration throughout the years, moving to larger premises as its popularity grew. Now firmly established at Plaza de Espana, Oliva can be considered one of Nerja's most popular restaurants.
Oliva lovingly uses the finest ingredients from the region on their menu and creates ambitious flavours and textures inspired by Spanish cuisine.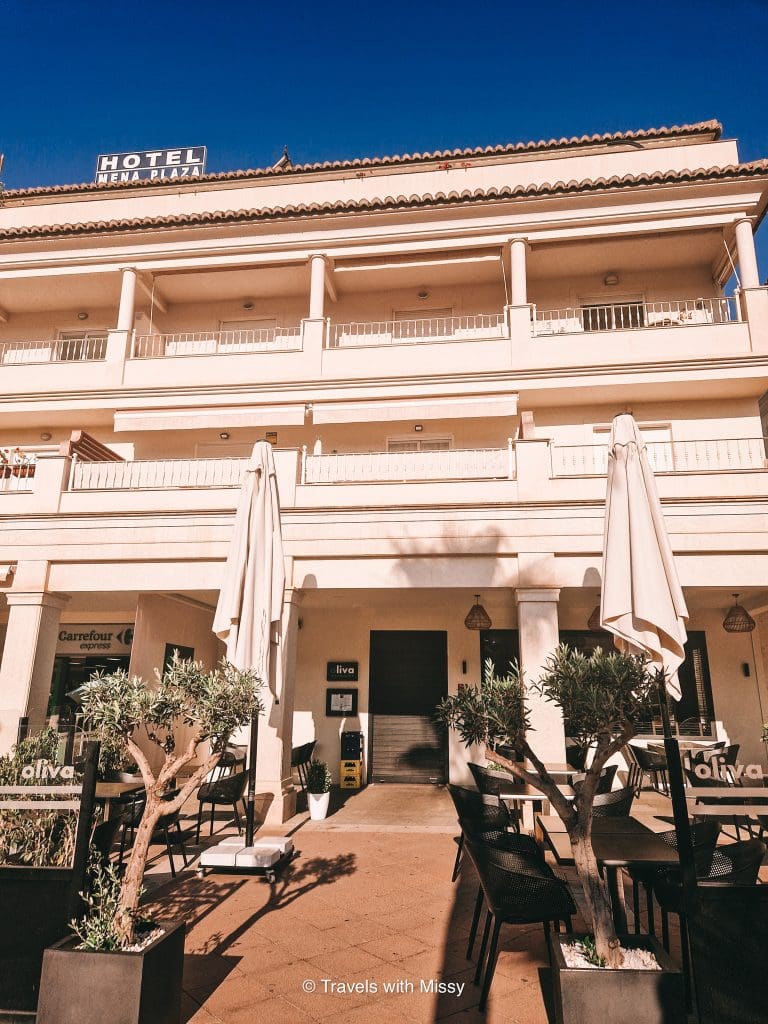 For fine dining and creative flavours, Oliva is exemplary in its presentation of dishes. Of course, they come with a hefty price tag, but it's worth the price. Stand-out dishes include the Iberico Pork Shoulder, Monkfish & Shrimps from Motril, Bluefin Tuna Tartar.
Price Range: €€€€€
12. Restaurante Trattoria Italia | C. Almte. Ferrándiz
A new favourite restaurant of mine was discovered on my latest vacation to Nerja. It was so tasty and such good value I ended up eating in Restaurante Trattoria Italia 3 times over the 2 weeks.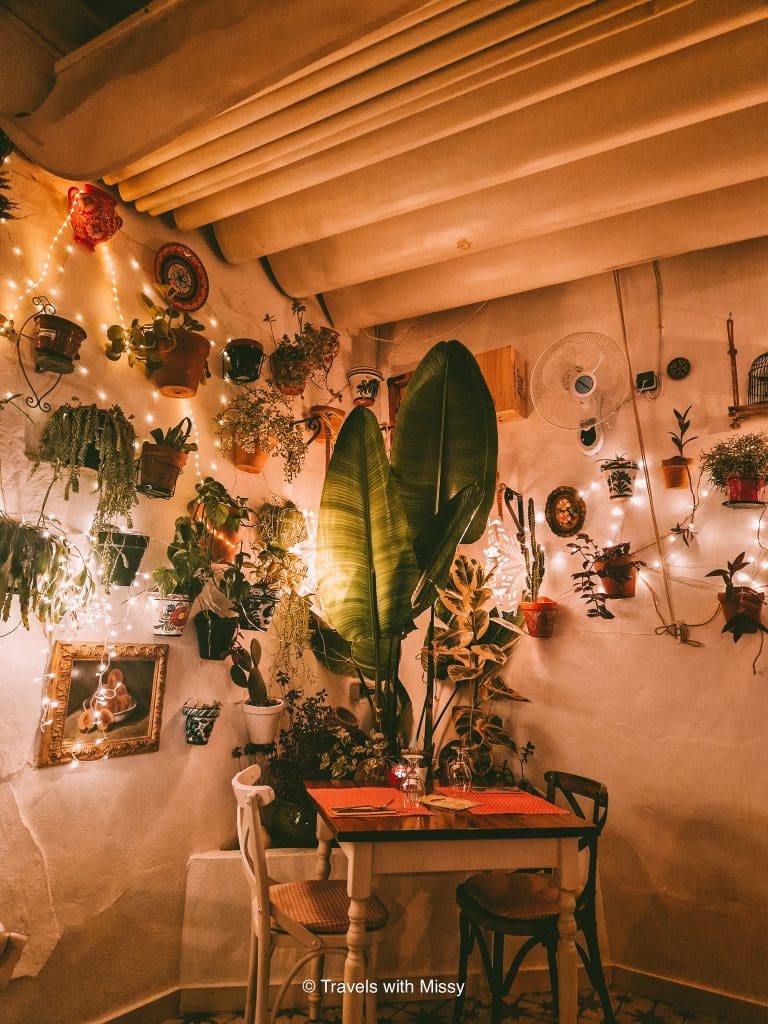 The staff are so incredibly kind and attentive, the food is seriously good and the ambience is something really special. Highlights for me were the unbelievable steak with potatoes, mushrooms and parmesan shavings, as well as the pasta carbonara.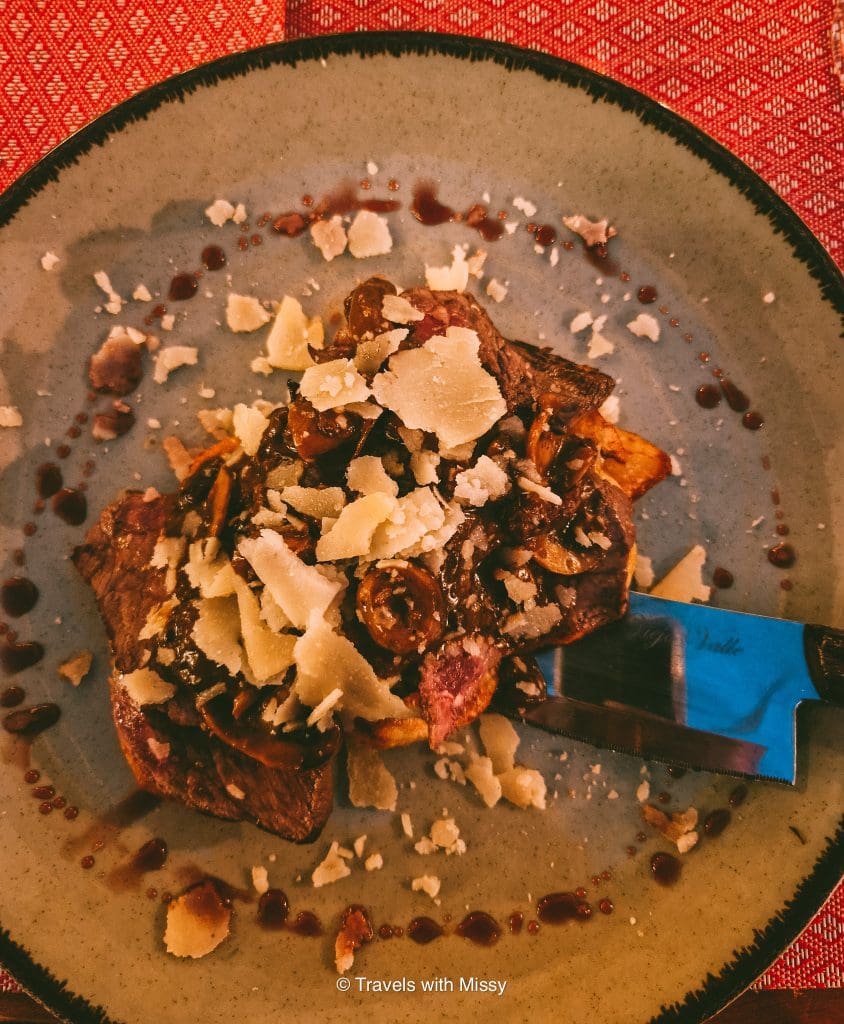 Make sure to reserve a table as it is extraordinarily popular. The courtyard in the back is a particular favourite.
Closed on Wednesdays
Price Range: €€€
13. Esquina Paulina | C. Almte. Ferrándiz
Esquina Paulina has been a firm favourite in our family and friends for the longest of times. It's essentially a small bar at the junction of Calle Almte. Ferrándiz and there are only a handful of seats. However, it does an incredible range of cheese plates, small bruschetta's and little slices of cake that are simply divine.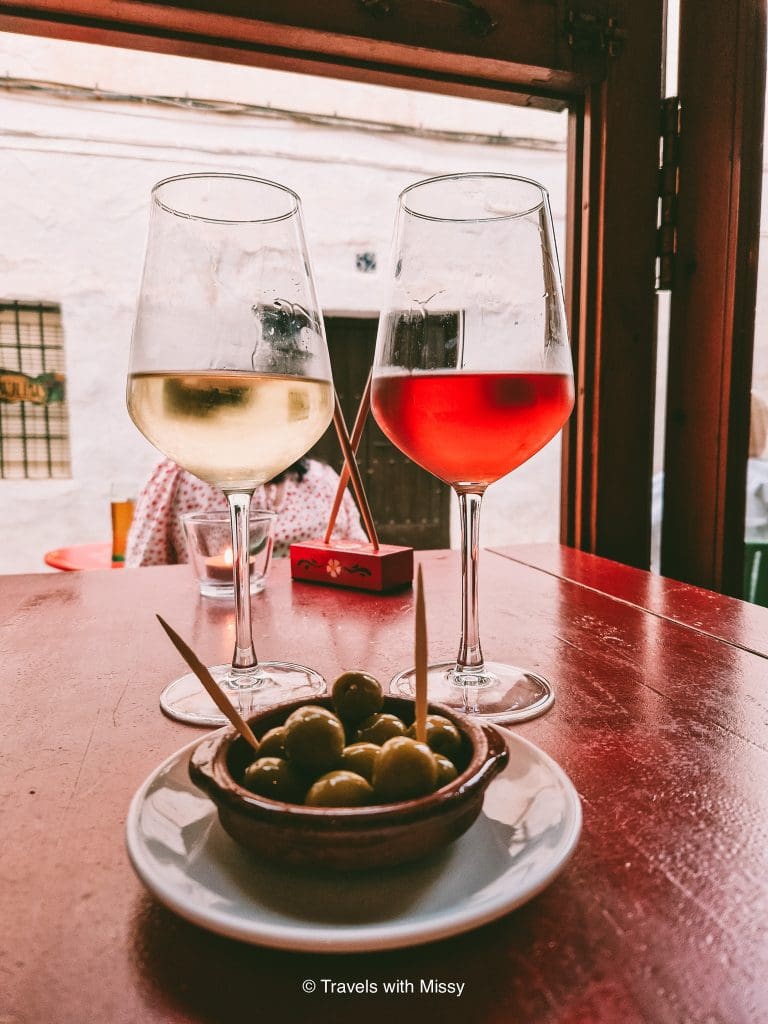 If you're tired of eating out, or have had a huge lunch at the beach, you've got to visit Esquina Paulina. The jugs are sangria are excellent value, the wait staff are some of the nicest and friendliest people in Nerja and the people-watching is top-notch.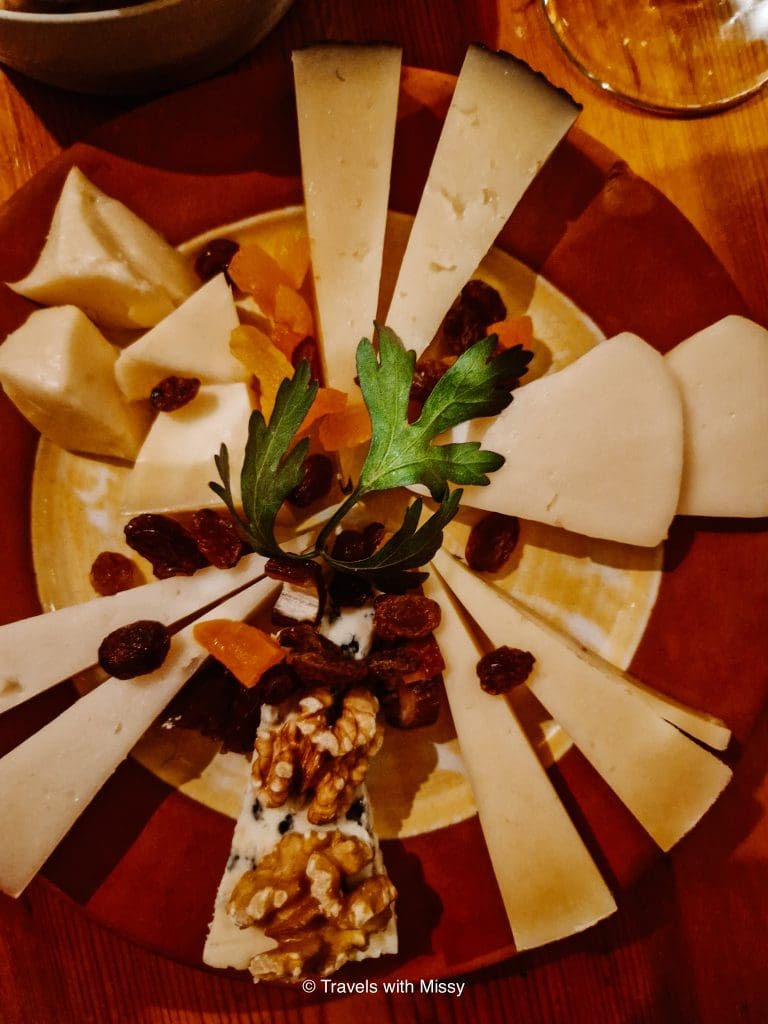 If you manage to secure a small table outside on the street, good for you! When visiting in mid-May we were only able to secure an outside seat once despite visiting it solidly for 2 weeks straight.
Open from 6 pm
Closed Sundays
14. Restaurante la Puntilla | Calle Boliva
A few doors down from the fantastic Dolores El Chispa, you'll find another fantastic local restaurant in Nerja – Resturante la Puntilla. Featuring a menu that serves freshly caught fish and made-to-order Paella (you have to order ahead of your visit), this is one of those experiences in Nerja you do not want to miss.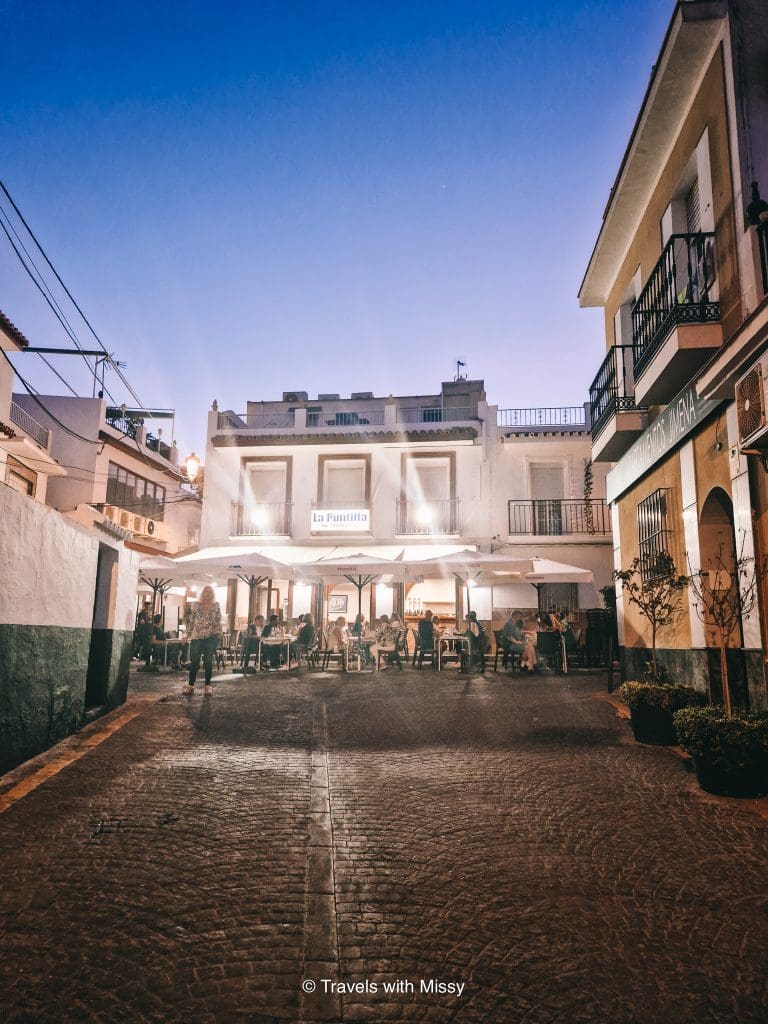 You can get a mix of tapas at Restaurante la Puntilla, but it is the fish that steals the show here. It might not have the most beautiful of views, but it's got character and great food.
15. Mo GastroTapas | Calle Andalucía
I've been visiting Mo Gastrotapas for years now and it's gone through its ups and downs. However, on my last visit to Nerja, it was back to its usual excellent form. What I love about Mo Gastrotapas is the fusion of traditional Spanish flavours combined with a modern flair that really enhances each dish.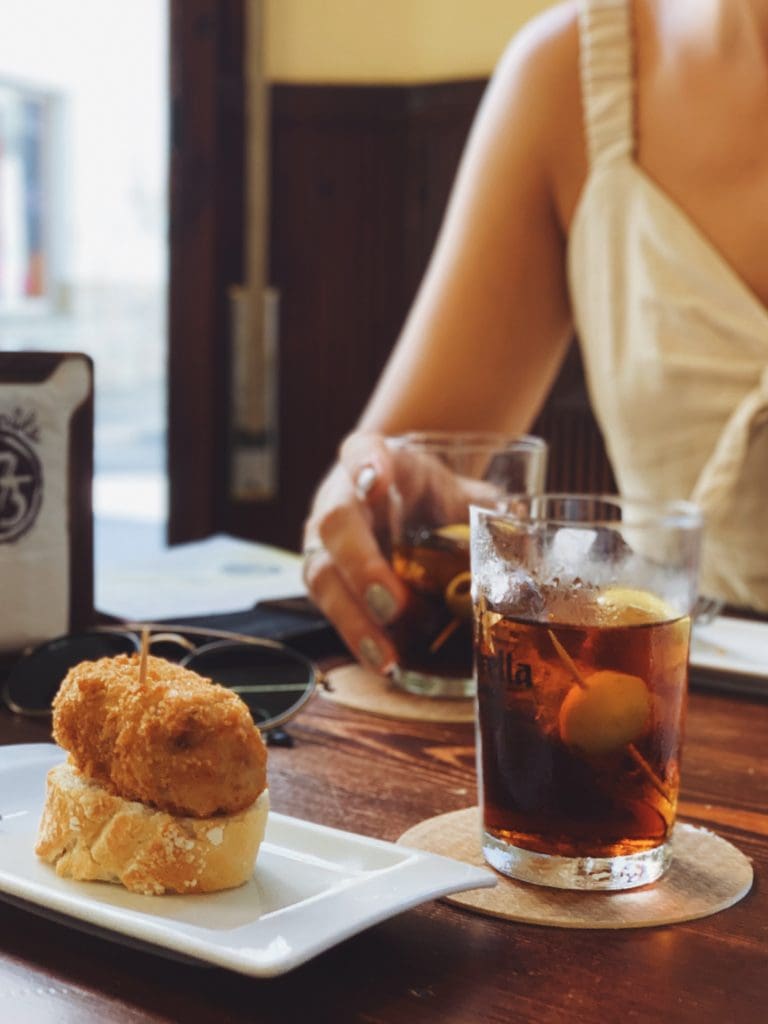 During the summer months, it ranges from being absolutely jam-packed one evening to empty the next. The kitchen is small, and the wife of the owner is the chef who is a fantastic cook. It does mean that orders can be slow as the kitchen can only handle so many orders. However, the food is worth waiting for.
Make sure to book the restaurant if you are staying near the Hotel Villa Flamenca as it really is worth a visit, even if it's quite some distance from the town centre of Nerja.
Travel Essentials
Planes, Trains & Automobiles – I'm always on the hunt for great flight deals and Omio usually has excellent offers throughout the year. Booking a ferry is easily done through Ferry Hopper or Omio. For car hire, I've found RentalCars to be consistently the best.
Hotels – For hotel comparisons, I use Trivago to check where I can get the best deal. Booking.com usually ends up having the best deals around and has been consistently reliable throughout the years.
Tours & Guides – Searching between Viator & Get Your Guide, I can usually find a good deal on a food tour or event in the city that I'm visiting.
It's hard to mention just a few of the best restaurants in Nerja. With an abundance of choices, you are guaranteed to have a great meal wherever you end up. These Nerja restaurants are sure to make everyone in the family happy, but make sure to leave a comment below and let me know which one's were tried.