In the just under a year, I managed to visit Valencia twice. It's the type of city that begs to be explored and devoured in every way possible. The delicious food (the birthplace of Paella), the stunning architecture, and one of the greatest parks in Spain (Jardín del Turia). Is Valencia worth visiting? Absolutely!
Whether you visit Spain's most incredible festival, Las Fallas, or a weekend away, there are ample things to do in Valencia to keep everyone entertained.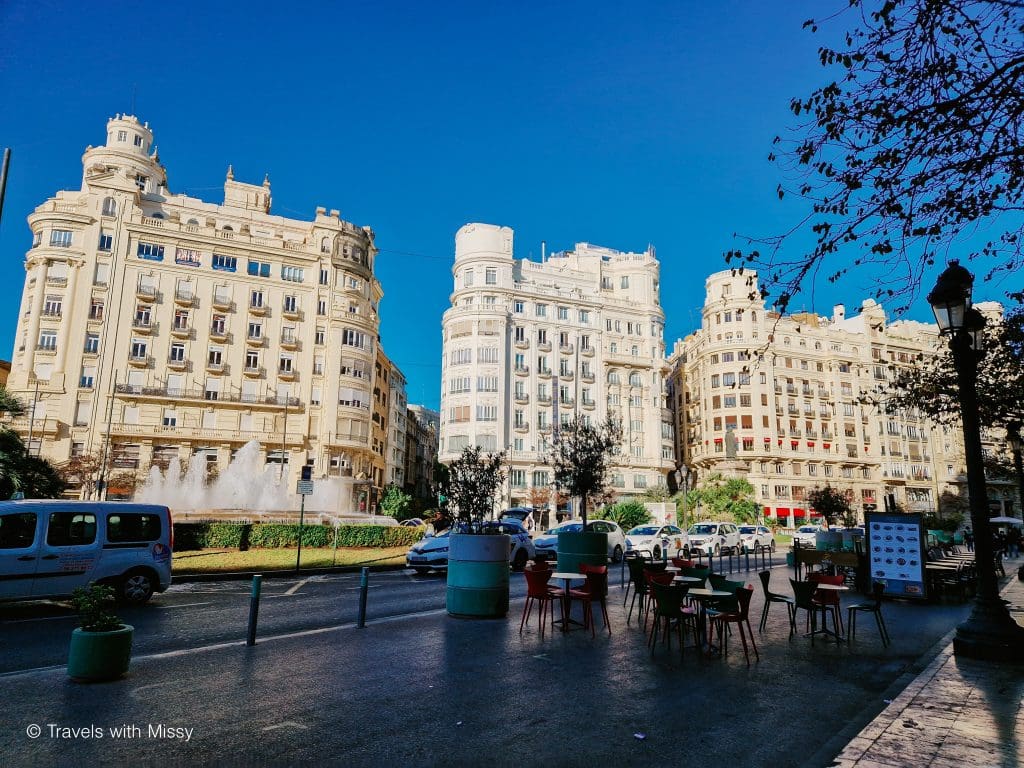 There's a lot about Valencia that keeps visitors entertained for days, and during the summer months, the close proximity to a fantastic beach keeps everyone happy.
Long lengthy strolls in the former riverbed of the Turia make Valencia one of the greenest cities in Spain. It's easy to fall in love with Valencia and the meandering streets of its old town, where you never know what you'll stumble upon. When finalizing your trip, make sure to check out my guide on where to stay in Valencia.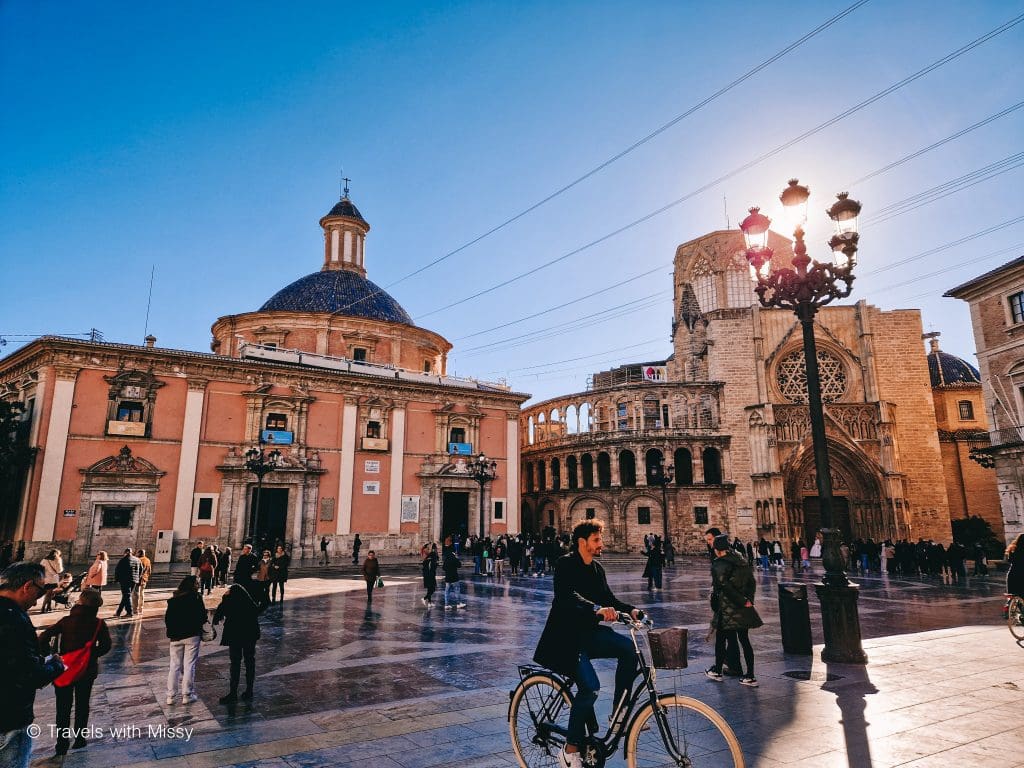 1. Walking Around The Historic Old Town of Valencia (Ciutat Vella)
Walking around one of Spain's oldest cities is one of the best things to do in Valencia. Explore the maze-like streets and you never know what you might stumble upon. The historic old town of Valencia is incredible and even after spending a week living in the city, I could just about navigate the meandering streets.
The historic part of Valencia dates back 2000 years, and nowadays you'll find the streets complete with excellent restaurants, stores, and lots of cafes. Is there anything more fantastic and European than sitting in a cafe in a square and watching the world go by?
2. Las Fallas
Las Fallas is one of the most spectacular festivals in Spain. And if you've been wondering if is Valencia worth visiting for Las Fallas then let me tell you that this is one of the best reasons to visit Valencia.
The month-long festival of Las Fallas culminates during a week in March where you can walk around the city and experience fireworks, marching bands, and spectacular effigies that will be burned during the final night of partying.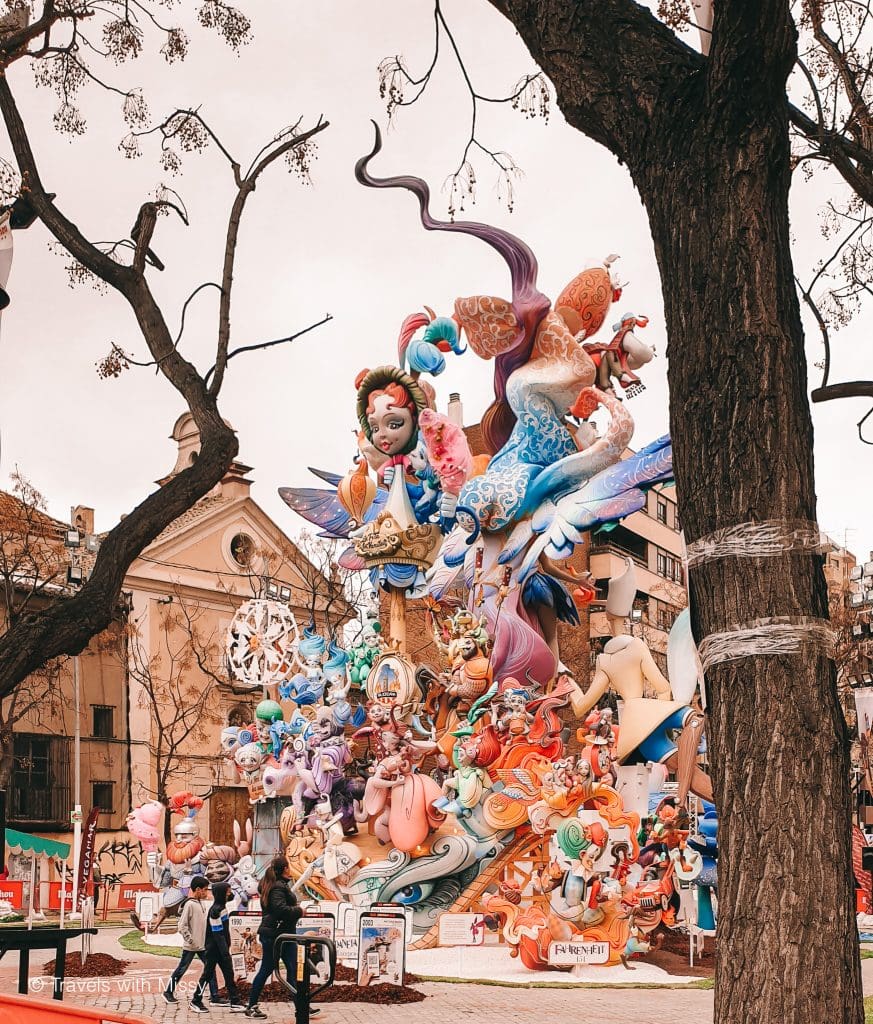 The festival celebrates the patron saint of Valencia and is a rowdy affair that will leave you marveling at the sheer creativity that does into creating the papier-mache effigies that are burned on the final night of the festival.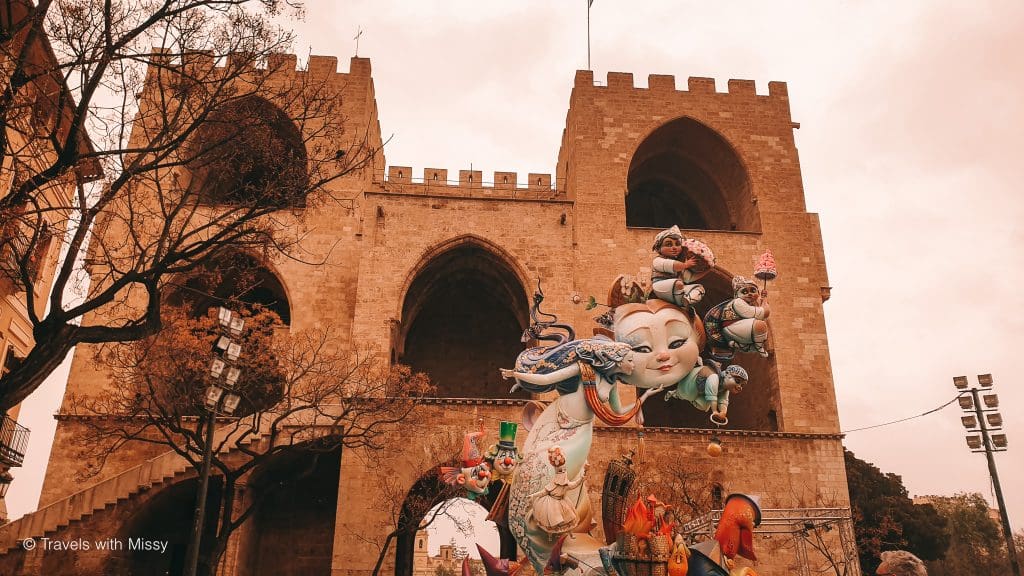 This is one of the best times to visit Valencia, but be warned, finding accommodation can be difficult. Also, you may not get any sleep as the city parties throughout the night for the entire week Las Fallas culminates. But it's all tremendously fun and worth the lack of sleep.
I've written an extensive guide on what Las Fallas is and the traditions around Valencia's most important festival.
3. City of Arts & Sciences
One of the most impressive newly built areas of Valencia is centered around the City of Arts & Sciences at the mouth of the former Turia River. The beautiful buildings enhance the already beautiful city and their contents within are truly incredible.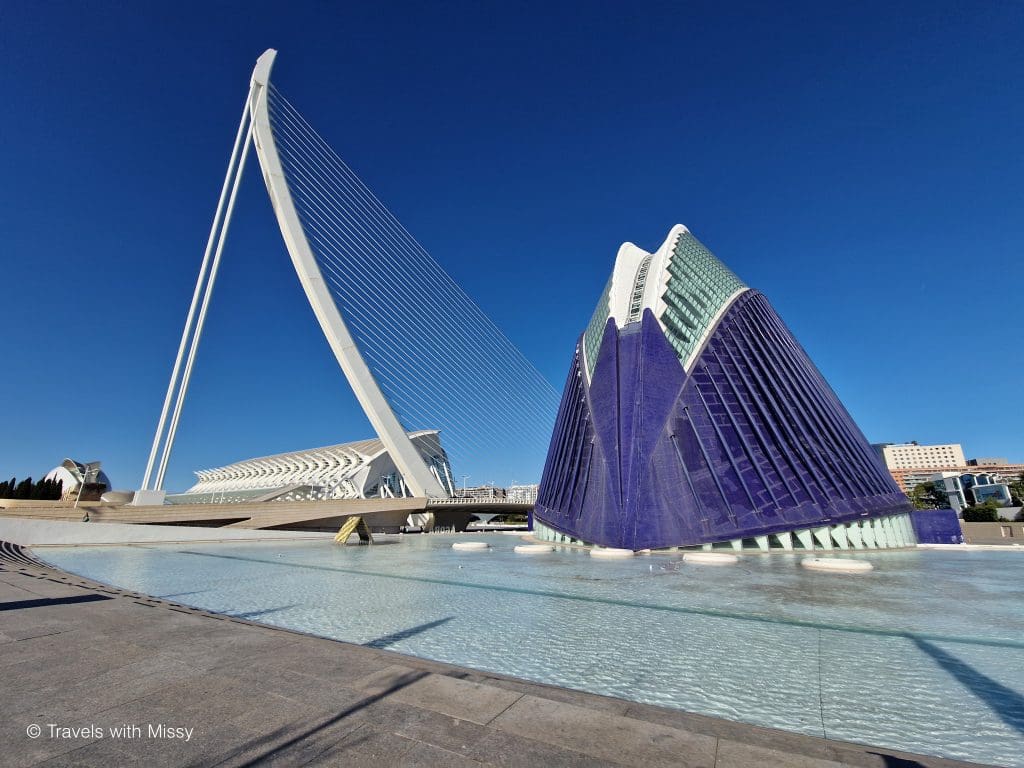 Science Museum
For those curious about how the world works, or everyday biology, step inside the science museum. Touching all the exhibits and being curious is their mantra as you explore the interactive displays.
Combine a visit to the Science Museum with the incredible Oceanografic Museum right next door.
Oceanografic Museo
One of the largest marine parks in Europe, the Oceanografic Museo is a marvel and an absolute must when looking for things to do in Valencia. Displays in the Valencia Aquarium provide access to some of the sea's most diverse and spectacular creatures.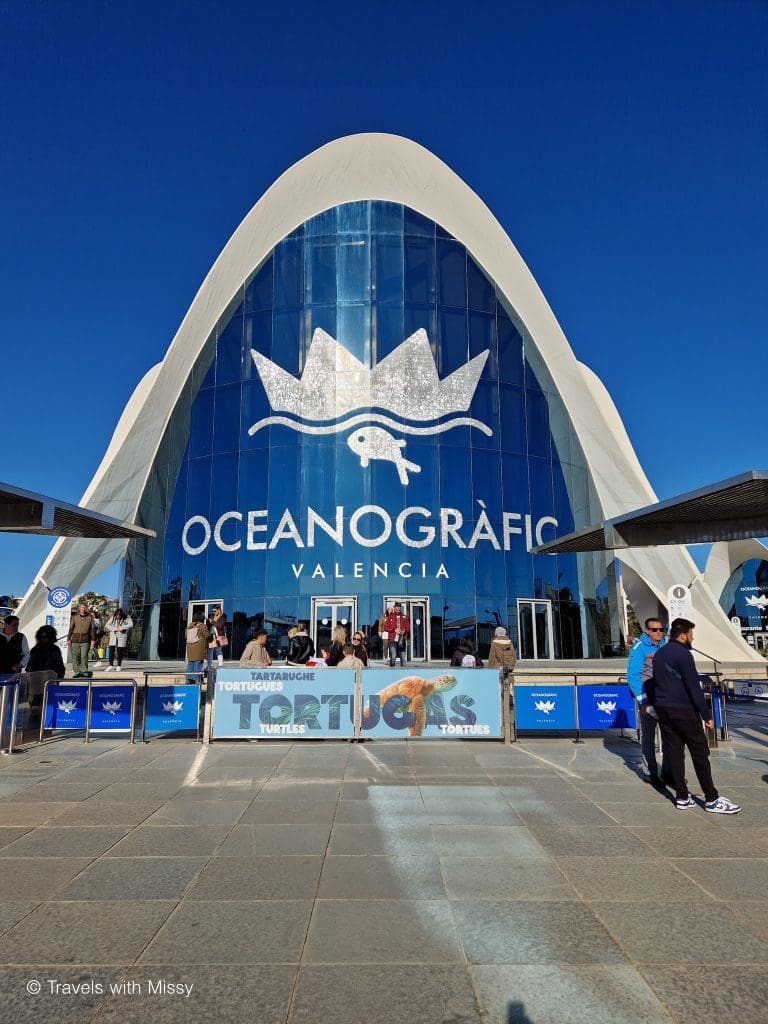 Peer into the clear waters and you'll see sharks of all varieties, as well as the amazing manta rays and their happy little faces! Oceanografic Museo is home to two beluga whales, turtles, sea lions, and a huge dolphinarium.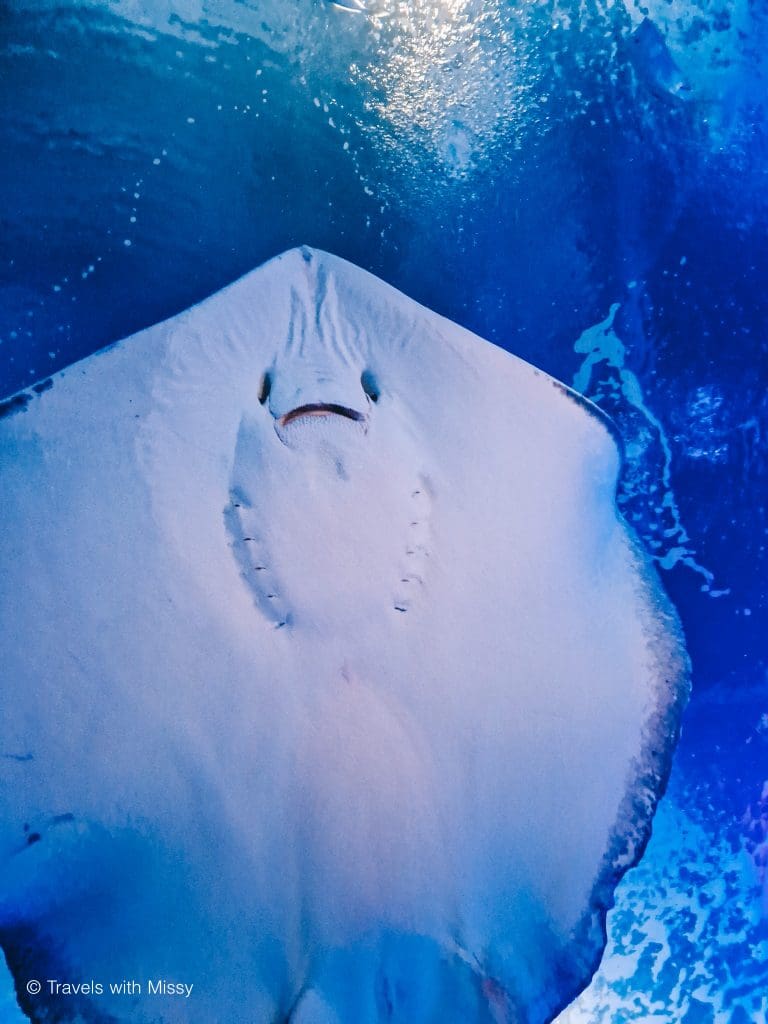 Over the course of 15 sections in the park, you'll come face-to-face with some of the most fascinating aquatic creatures.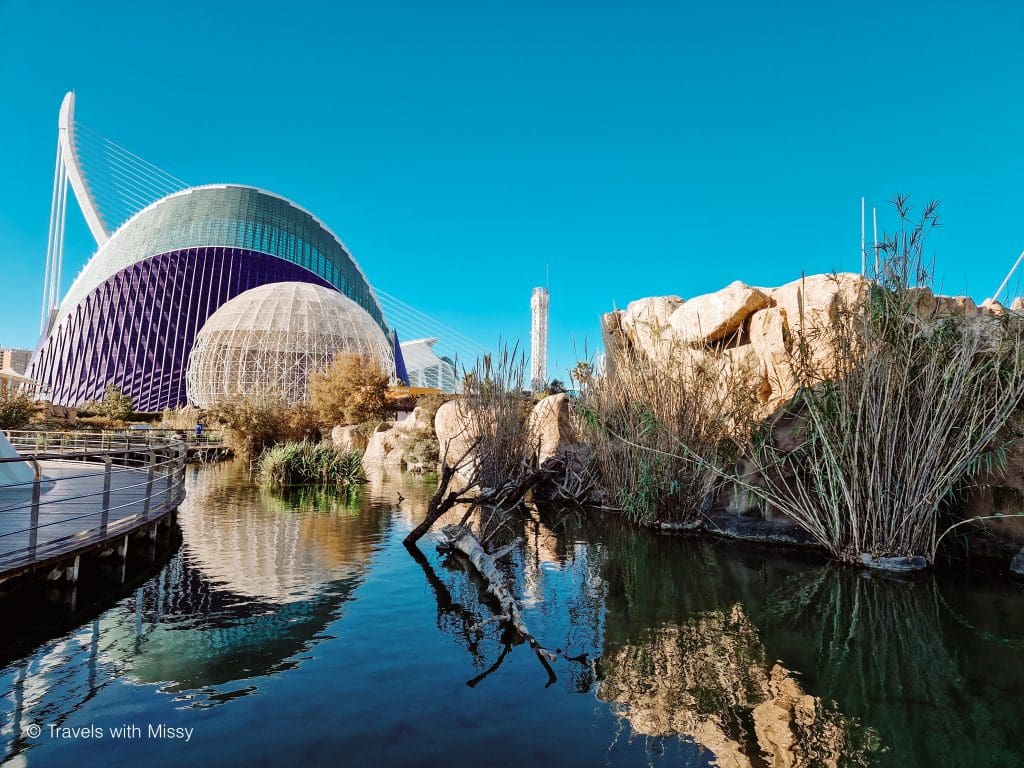 4. Valencia Beach
One of the reasons Valencia is a fantastic place to visit aside from all the things on this list, is to visit the spectacular beach in Valencia. Its close proximity to the city means that you can hop on a bus or tram and be on the beach within minutes.
The wide sandy beaches heave during the summer months and make it the perfect place to cool down after a long day exploring the city. Or set aside a full day and enjoy lunch on the beach, swimming and sunbathing.
Walk along the promenade and enjoy delicious ice cream as the sun slowly sets and marvel at this incredible city. It really has so much to offer.
For those seeking a beach club, make sure to check out the Marina Beach Club. This is one of the premier spots on Valencia beach for those looking for a party and a bit of luxury.
5. Turia Park
Is Valencia worth visiting for its title of Green Capital of Europe? Well, the city of Valencia once used to have the River Turia running through the center of it.
Until it started to wreak havoc on the city, destroying homes during flooding and being a general nuisance. So the local government diverted the river away from the city and were left with kilometers of the river bed.
Deciding to make use of the space, they turned the former river bed into an incredible Turia Park. Running nine kilometers around the city, this incredible park is an amazing way to spend a couple of hours meandering through.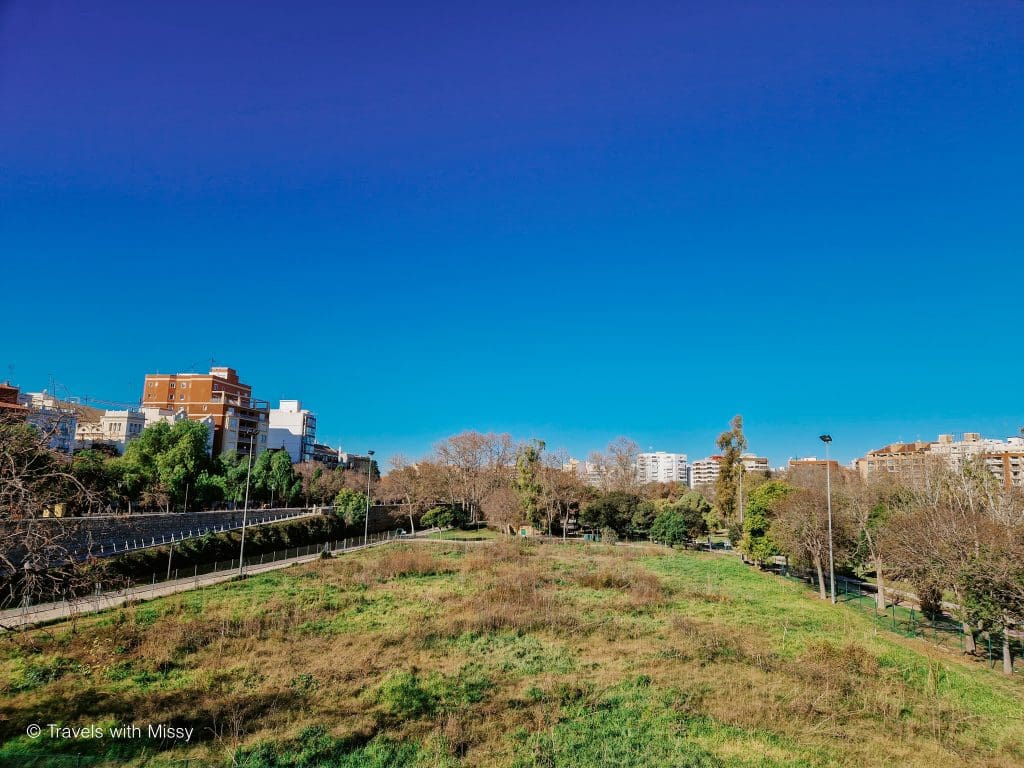 During the summer months, you'll find city dwellers strolling through the park in the evening, or young couples and friends laying out on the grass. It's the perfect place to start your morning and one of my favorite things to do in Valencia.
6. Paella
If you're wondering, is Valencia is worth visiting for sampling Paella, then you're in for a treat. Valencia is the birthplace of Paella, one of Spain's most popular dishes. The saffron-colored rice is a rich staple here and the traditional Valencian Paella contains chicken and rabbit.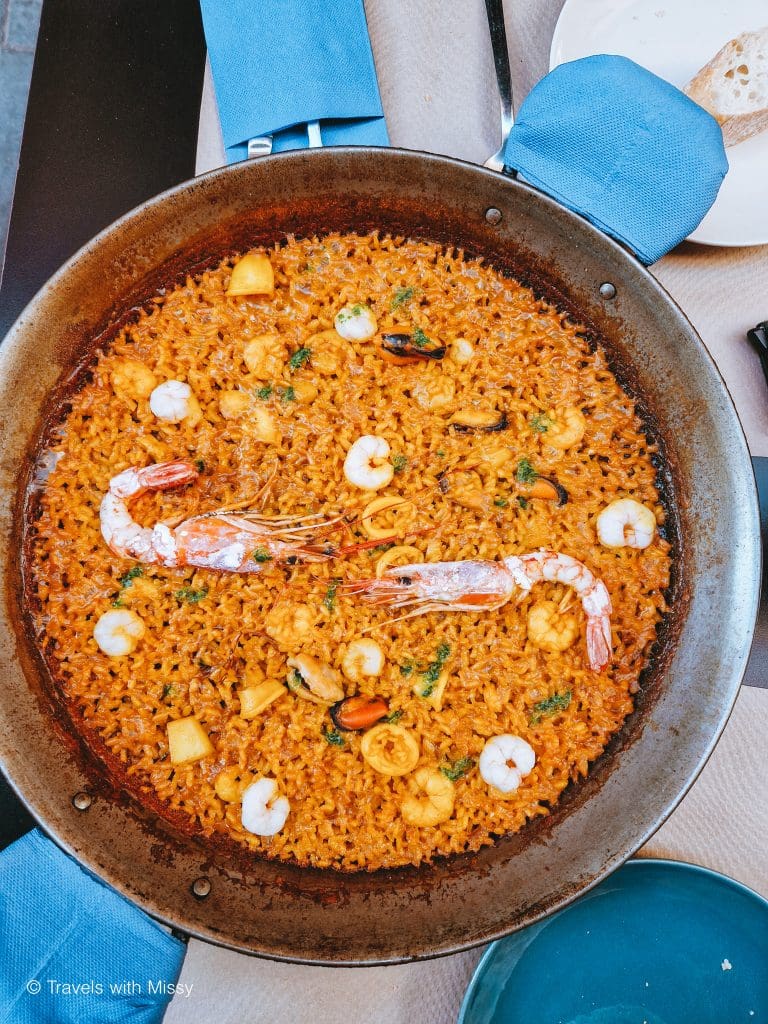 The seafood Paella that you've been enjoying whole-heartedly is a bastardized version of the dish and not a traditional Valencian Paella in the slightest.
That being said, you will come across all versions of Paella throughout the city, as well as the delicious squid-ink Paella that turns the rice black. Whichever version you decide to go for, they're all pretty damn delicious.
7. Agua de Valencia
One of the most famous drinks in Valencia is known as Agua de Valencia. And despite its innocent-sounding name (Water of Valencia), it is incredibly potent. Served by the glass or a jug, Agua de Valencia is made by combining gin, vodka, cava, and of course Valencian oranges.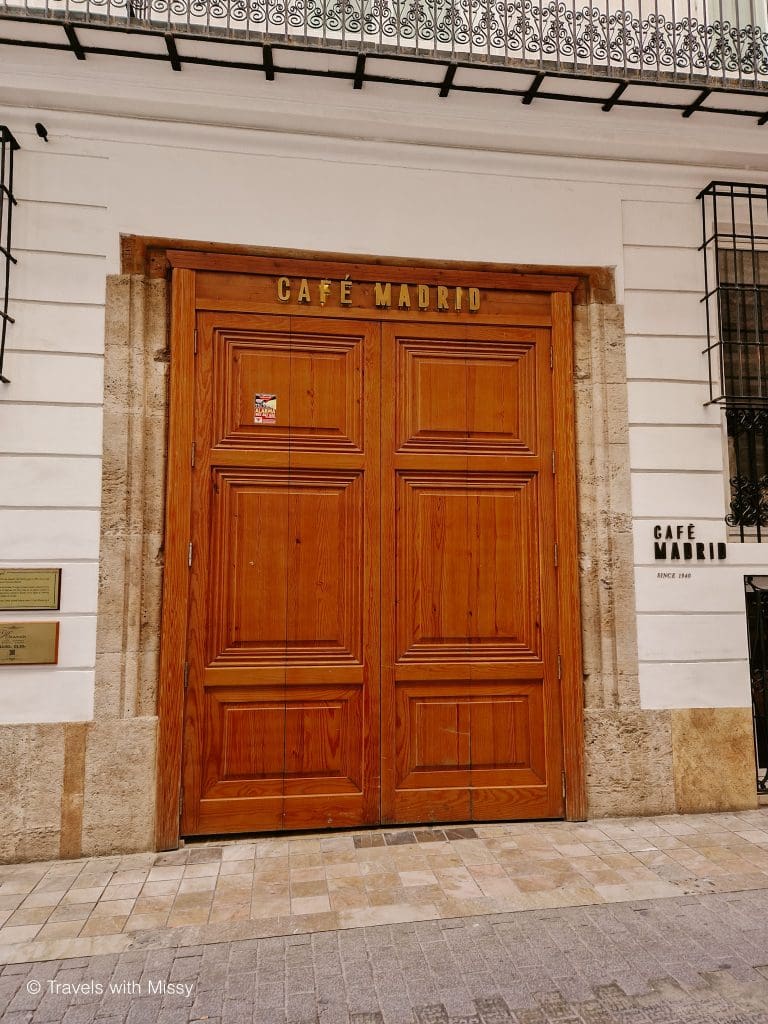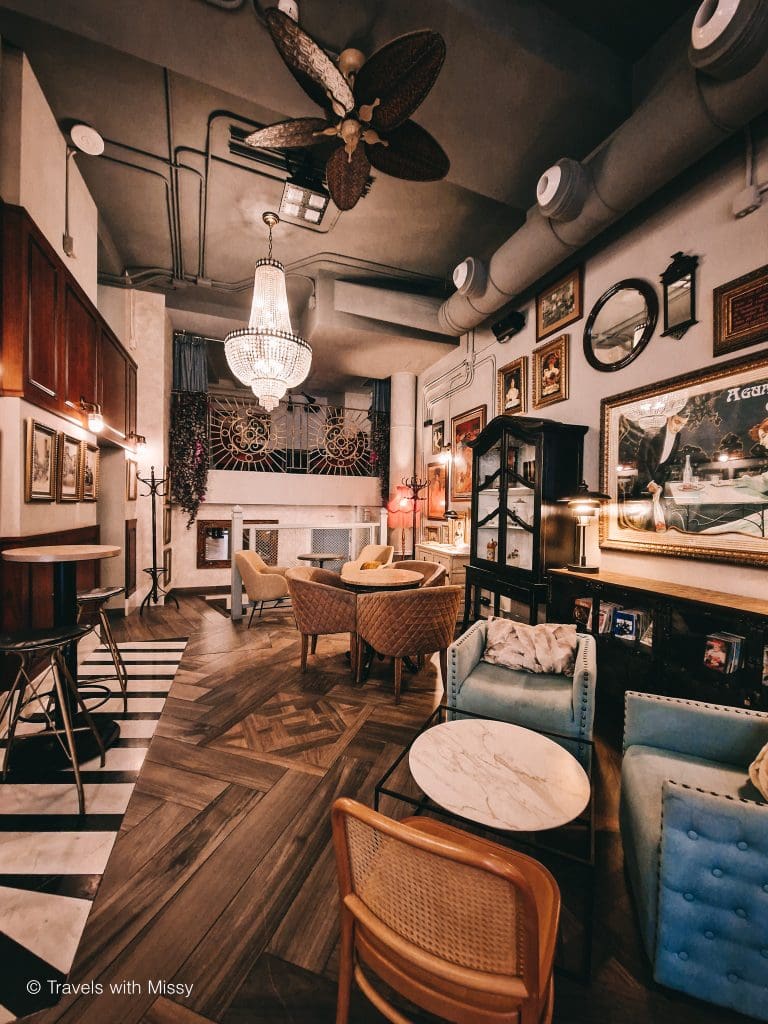 The creation of Agua de Valencia is claimed by Cafe Madrid, and it's traditionally served in a champagne glass. Alongside eating Valencian Paella and horchata, drinking Agua de Valencia is an absolute must when looking for things to do in Valencia.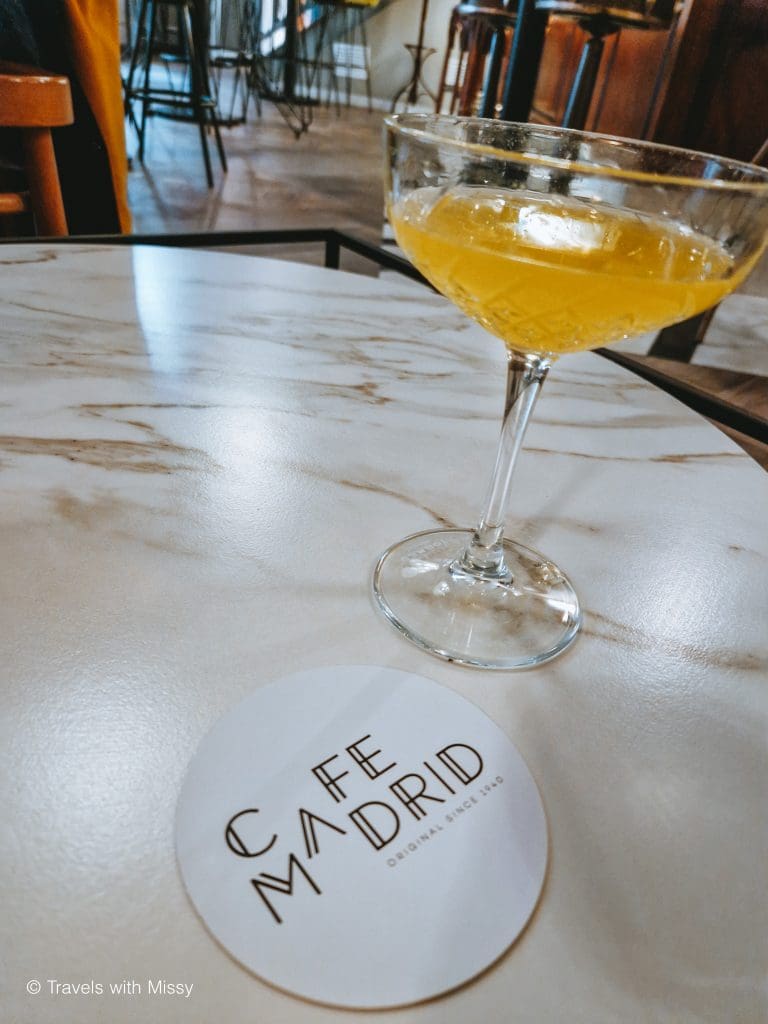 Where to drink Agua de Valencia
Pretty much everywhere serves Agua de Valencia, but the traditional (and best) places to sample it are in:
Cafe Madrid // Carrer de l'Abadia de Sant Martí, 10, 46002 València, Valencia, Spain
Cafe Sant Juame // C/ dels Cavallers, 51, 46001 València, Valencia, Spain
Café de Las Horas // Carrer del Comte d'Almodóvar, 1, 46003 València, Valencia, Spain
8. Horchata
One of my favorite bands of all time, Vampire Weekend sang a song entitled 'Horchata'. Until visiting Valencia, I hadn't a clue what it was until I started spotting signs for Horcharia's throughout the city.
One of the things to do in Valencia is to visit a Horchateria, order a horchata and consume it with fluffy sweet dough sticks known as farton.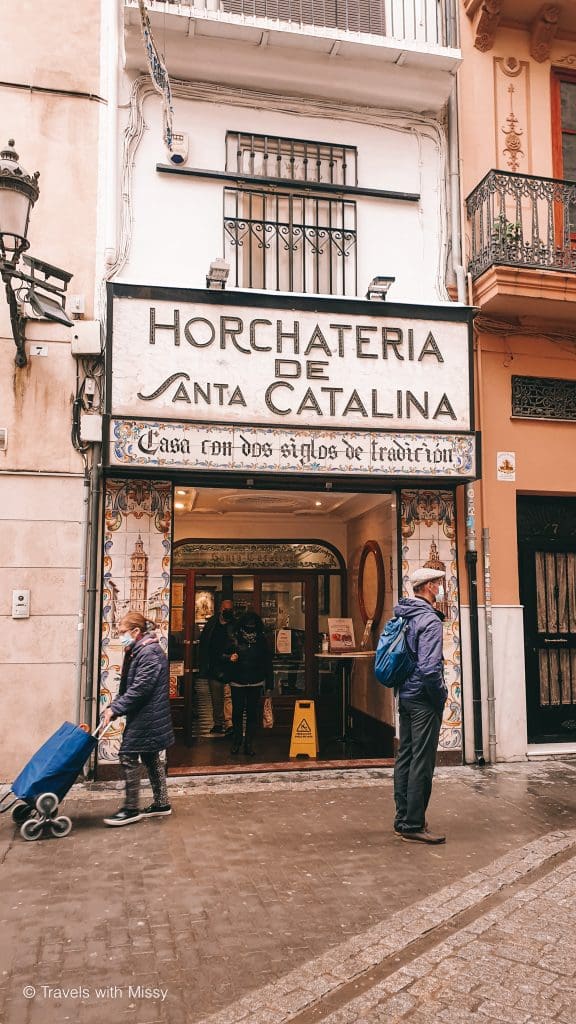 Horchata is a typical Valencian drink made out of tiger nuts. The milky tiger nuts are then combined with water and sugar and it's rather tasty. Despite how it sounds.
The next step is to dip the farton into your cold glass of delicious horchata. It taste's better than it sounds. I loved visiting the horchateria, and it felt like a really authentic thing to do in Valencia that wasn't overly commercialized.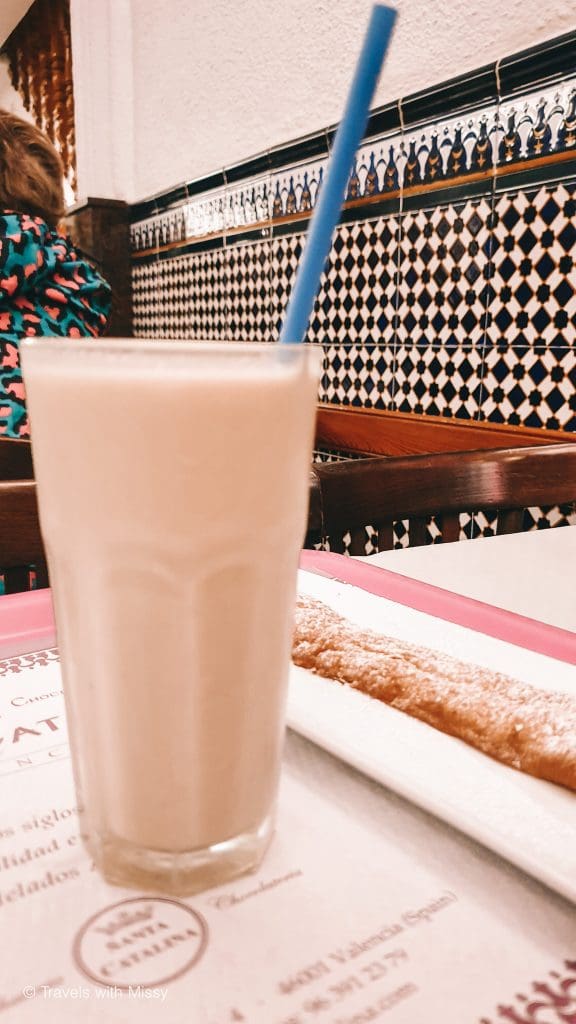 Where to drink horchata in Valencia
Horchateria de Santa Catalina // Plaça de Santa Caterina, 6, 46001 València, Valencia, Spain
9. Mercado Central de Valencia
Located just across the street from the Silk Market (Llotja de la Seda), this is one of the most famous food markets in Valencia – the Mercado Central de Valencia. Step inside the largest food market in Europe and work your way through the 1200 stalls selling everything from Valencia oranges, and fresh fish to little tapa bars dotted throughout.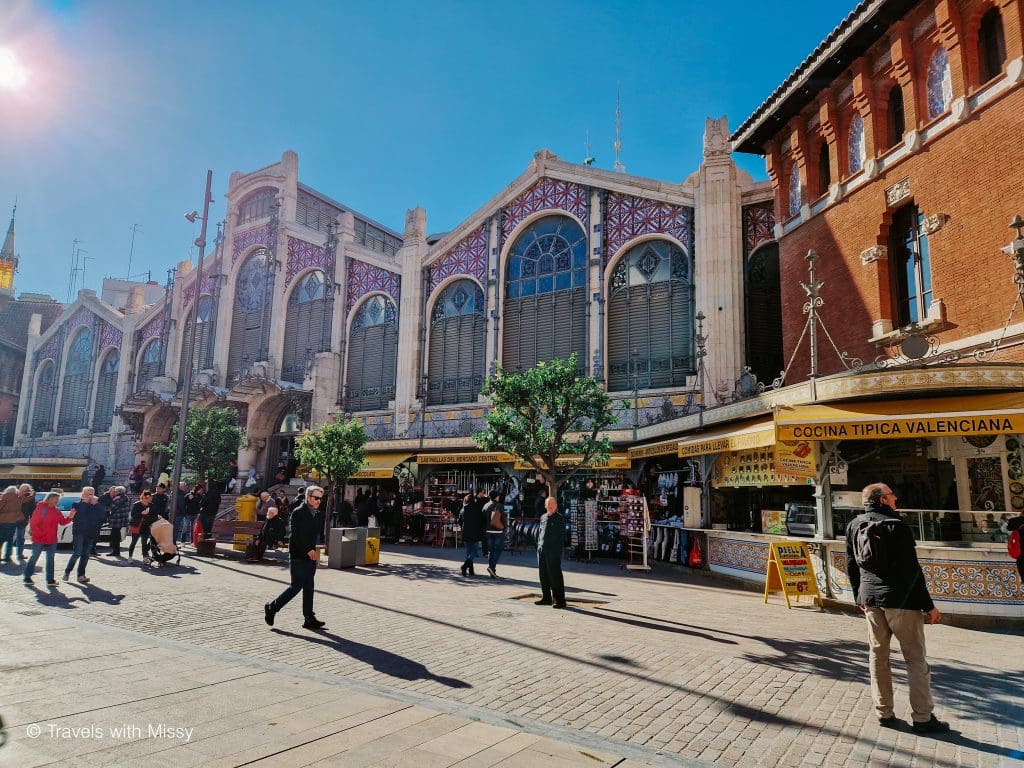 The stunning architecture of the Mercado Central de Valencia is beautiful and it's easy to see why it is a landmark in Valencia. Open from 7.30 am until 3 pm, this is a great place to wander up and down and pick up some snacks or lunch.
There are many tapa bars inside the Mercado, join the busiest one and you'll have an unforgettable experience.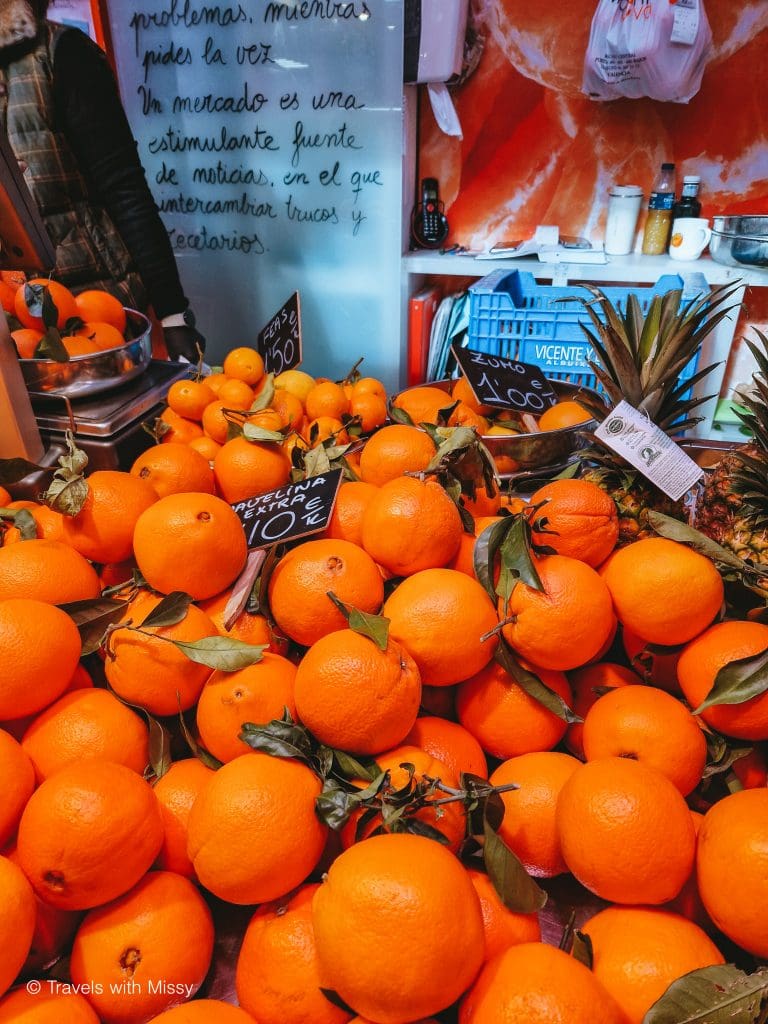 The stalls just outside the main entrance were recommended to me as one of the better places to sample a typical Valencian Paella. Plus, you can order it by a dish at these stalls.
10. Llotja de la Seda (The Silk Market)
Valencia was once the hub of Europe and seafaring. The Borgia family (known for their many Popes and Cardinals during Roman times) had a residence in the city, such was their importance.
The Silk Market (Llotja de la Seda), a UNESCO World Heritage Site, is a remarkable gothic building that is worth visiting. The Llotja de la Seda was the seat of commerce and exchange during the middle ages and it was a hugely important structure during this period. Admire the really cool twisted columns that span an extraordinary height. (Apologies to any architects reading that brutal description).
Llotja de la Seda Opening Hours
Open 10 am – 7 pm Monday – Saturday
10 am – 2 pm Sundays & Public holidays.
11. Walking Tour
Pretty much everything I learned about Valencia was provided through the walking tour I did of Valencia. If you are on a budget, there are free walking tours of Valencia which are fantastic. Make sure to tip at the end a couple of euro's to the guides as they do a great job.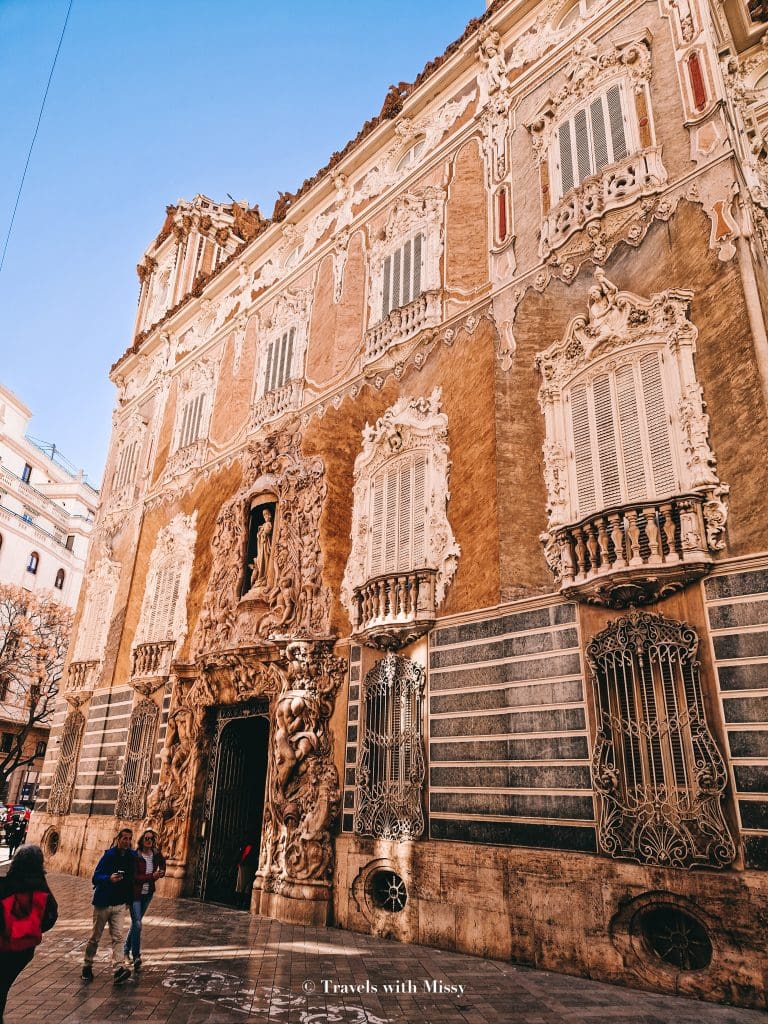 12. Cycling Tour
After a recent visit to Valencia, I couldn't help but notice the huge rise in the popularity of cycling tours that were taking place throughout the city.
Which makes sense as Valencia is incredibly cycle friendly with kilometers of cycle paths in Turia Park and on the major roads around the old town. It's also relatively flat, so if you hate cycling as much as I do, this can make all the difference.
A cycling tour of Valencia sounds perfect for those winter and fall days when the weather is slightly cooler.
13. Food Tour
One of my favorite things to do in a new place is to do a food tour. Not only do you get the opportunity to learn about the place that you're visiting, but you'll also get the opportunity to try local dishes that may have escaped your notice.
Join the Valencia Old Town Tour that combines history and tapas in an 11th-century building. Dine on a 10-course tapa menu and enjoy Spanish wine.
Is Valencia Worth Visiting?
Hopefully, after you've read about some of the things to see and do you'll decide whether or not if is Valencia worth visiting. Valencia offers so much to its visitors, be it incredible museums, historical old cities, fantastic festivals or delicious food and drink. Valencia is definitely worth visiting and exploring for a couple of days.