Trying to find the perfect place to stay in Oia, Santorini can be overwhelming. There are endless choices of truly out-of-this-world accommodation. If you've ever seen any dreamy pictures of Santorini, they will most likely have been taken in the village of Oia.
Oia is home to some of the world's most opulent hotels, in one of the world's most insanely incredible backdrops. Santorini had long been on my bucket list and I made it my mission to stay in one of the most incredible hotels in Santorini – Canaves Oia Suites.
Canaves Oia is one of the most exclusive names of hotels in Santorini, and you'll find several of their hotels dotted throughout picturesque Santorini.
Voted in prestigious travel magazines such as Conde Nest's Traveler, as well as Travel & Leisure as one of their reader's favorite hotels – you can rest assured you are in good hands when staying in Canaves Oia.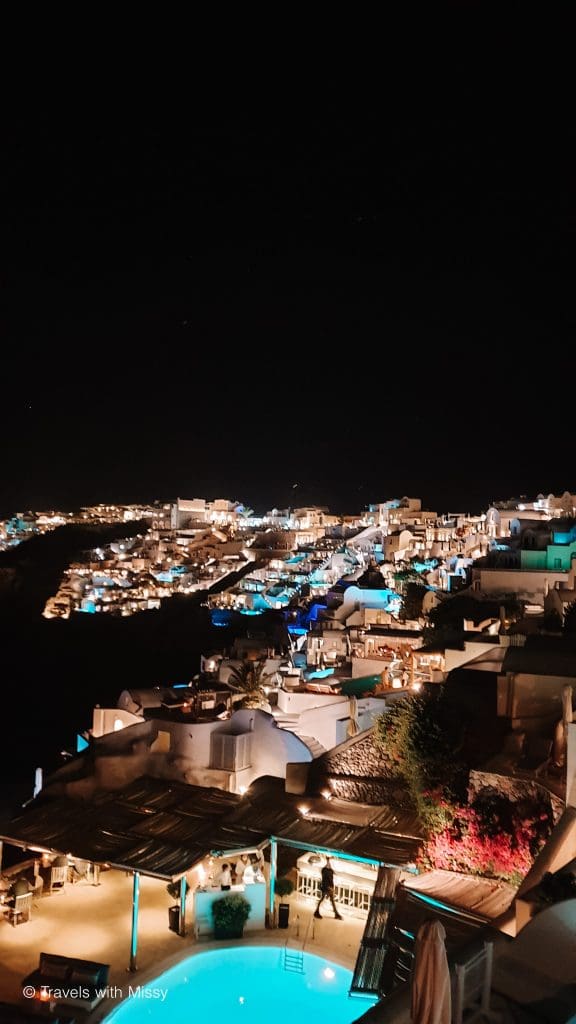 Welcome to 5-star luxury – Canaves Oia Suites
Canaves Oia Suites is a 5-star hotel perched on the edge of Santorini's caldera. It offers some of the most incredible hospitability and service from the moment you step inside the doors of the reception. We wanted for nothing.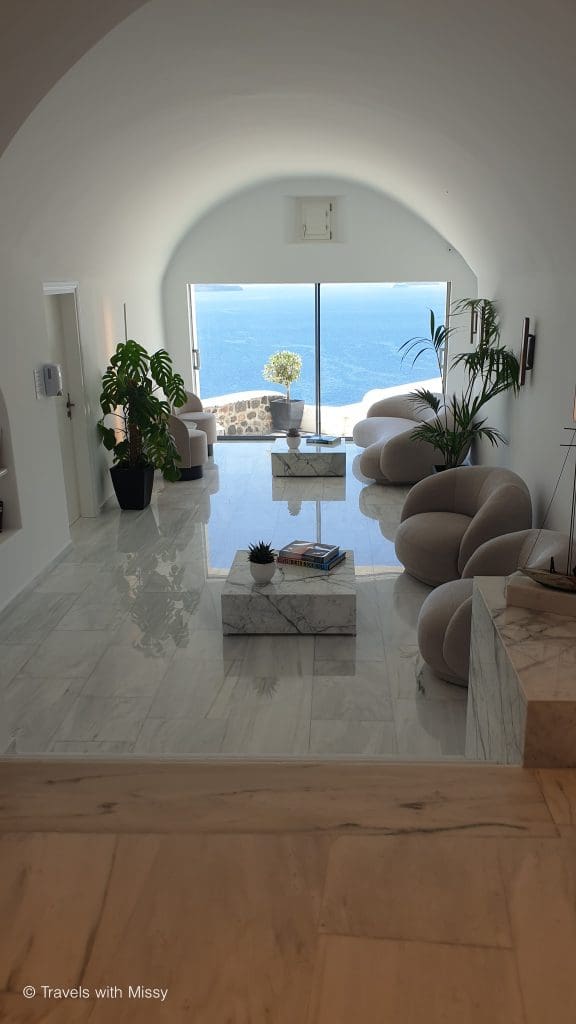 The staff in Canaves Oia Suites are absolutely incredible. They are attentive without being overbearing and are some of the nicest people.
Their kindness and discretion were truly appreciated when I fell head-first into the pool. I prayed that no one had seen one of the most embarrassing moments of my life as I emerged spluttering and looking like a swamp monster from the depths of the pool. The staff turned a blind eye. And I will be forever grateful.
Canaves Oia Suites Facilities
After a stay in Canaves Oia Suites, you will find yourself having one of the best unintentional workouts, as you climb to and from your hotel suite. Oia is built on the edge of a cliff, and like most of the hotels that have been carved into the cliff face, you'll find yourself hiking up and down to the pool, restaurant, and hotel suite.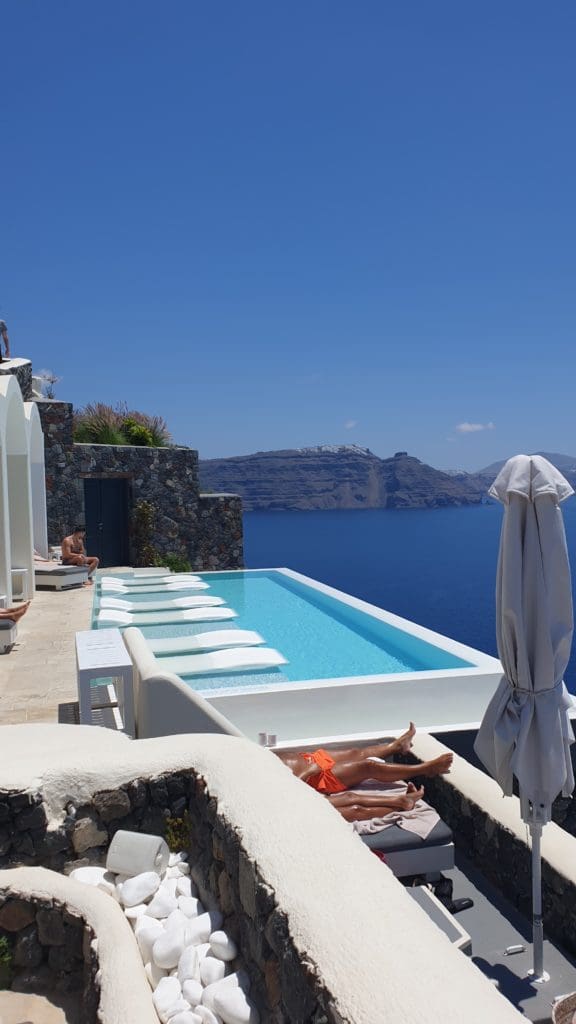 Canaves Oia Suites Swimming Pools
You'll find two pools in Canaves Oia Suites. The larger of the two lines the main restaurant area, that during the day has some of the comfiest sun loungers you'll ever experience. This main pool in Canaves is incredibly deep and perfect for cooling off from the hot Santorini sun.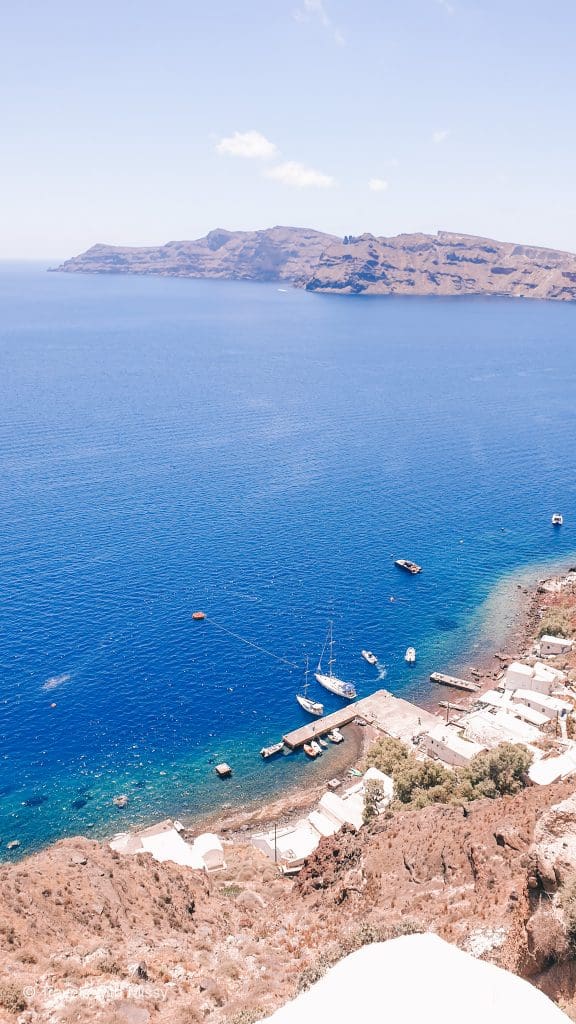 You'll find a small jacuzzi in this pool and it's a great way of cooling down, reading a book, and planning the rest of your vacation in Santorini. I highly recommend booking a sunset cruise in Santorini. Or if you fancy glamming it up, booking your own Flying Dress Photoshoot!
It is the infinity pool in Canaves Oia Suites that steals the show. Offering exquisite views across the caldera of Santorini, you'll find 6 sunken beds that have been built into the pool. This is the ultimate Instagram perfect spot.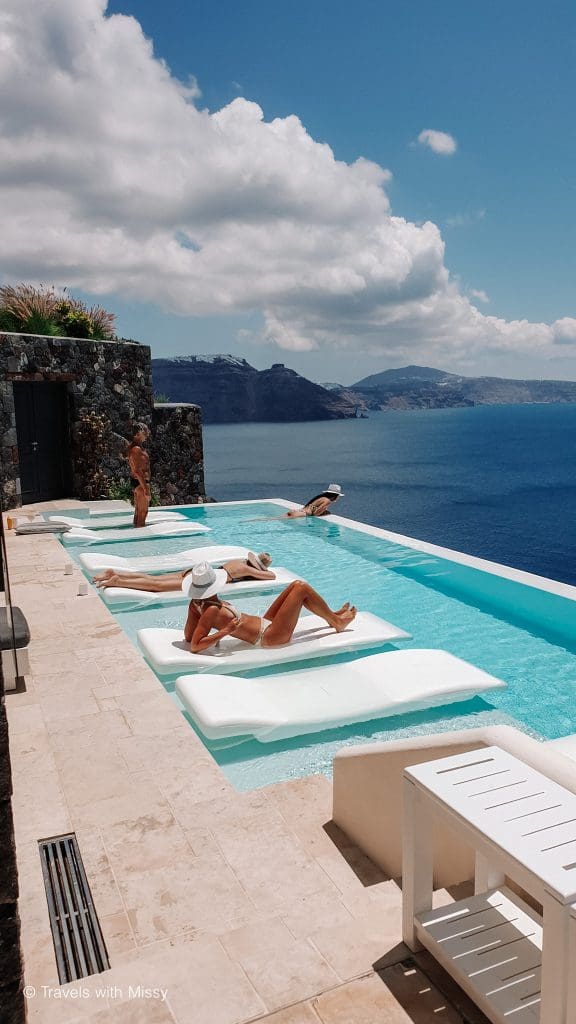 I may or may not have Facetimed friends and family from the infinity pool at Canaves Oia Suites.
The Spa at Canaves Oia Suites
I personally didn't get the opportunity to experience a world-class massage or treatment at Canaves Oia Suites. But oh, boy do I wish I could have sampled at least one of the incredible-sounding treatments.
Set inside a natural cave that dates back to the 17th century, guests can indulge in a range of dreamy and rejuvenating massages, facials, and treatments. The Candle Massage using creamy oil wax sounds like heaven as I sit hunched over this computer.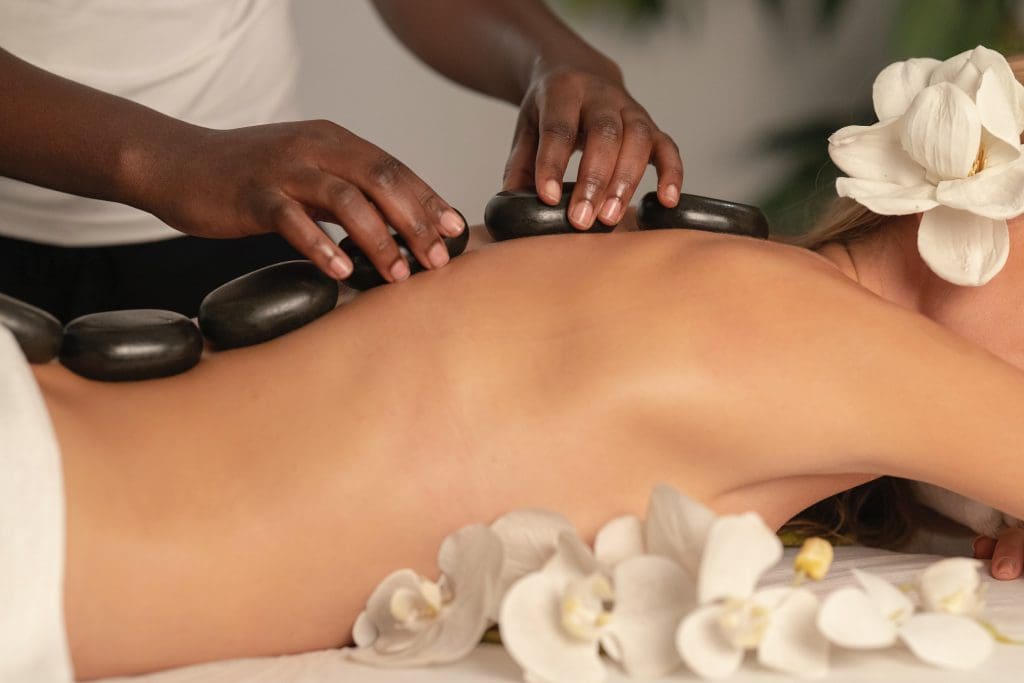 Start your day with a relaxing yoga class, or choose to wind down your evening with a sunset yoga session on a spectacular vista that overlooks Santorini's Caldera.
Petra Restaurant – Canaves Oia Suites
Most guests will spend their morning enjoying breakfast at the Petra restaurant. The hotel serves it's welcome drink upon check-in here too and it's truly a special spot. It is at night that the Petra Restaurant at Canaves Oia Suites really shines.
As the sun sets behind Oia, the town comes alive with the twinkling lights of all the other incredible accommodations and which really sets this place apart from anywhere else in Greece.
Dine on a decadent Greek menu that changes depending on the season. Savour delicious cocktails, or enjoy an enormous wine menu, of which the wait staff are more than happy to part with their expert knowledge.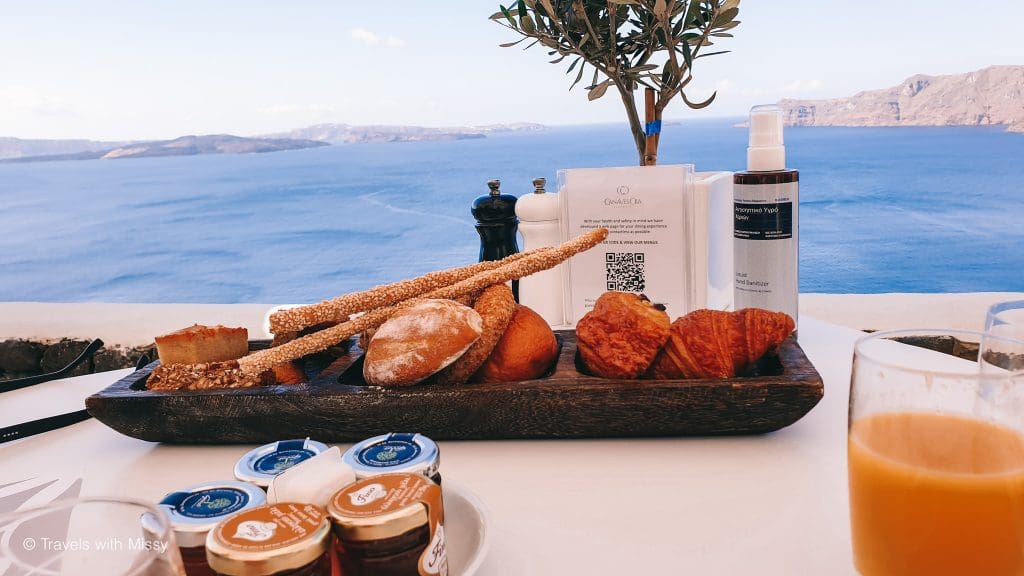 We enjoyed a fabulous lunch in the Petra restaurant, as well as a couple of glasses of wine in the evening that were recommended to us.
The Junior Suite with Plunge Pool
Hands down, one of the most incredible hotel suites that I've ever stayed in was the Junior Suite with Plunge Pool in Canaves Oia Suites. The Junior Suite with Plunge Pool was on a level of dreaminess that I didn't know was possible.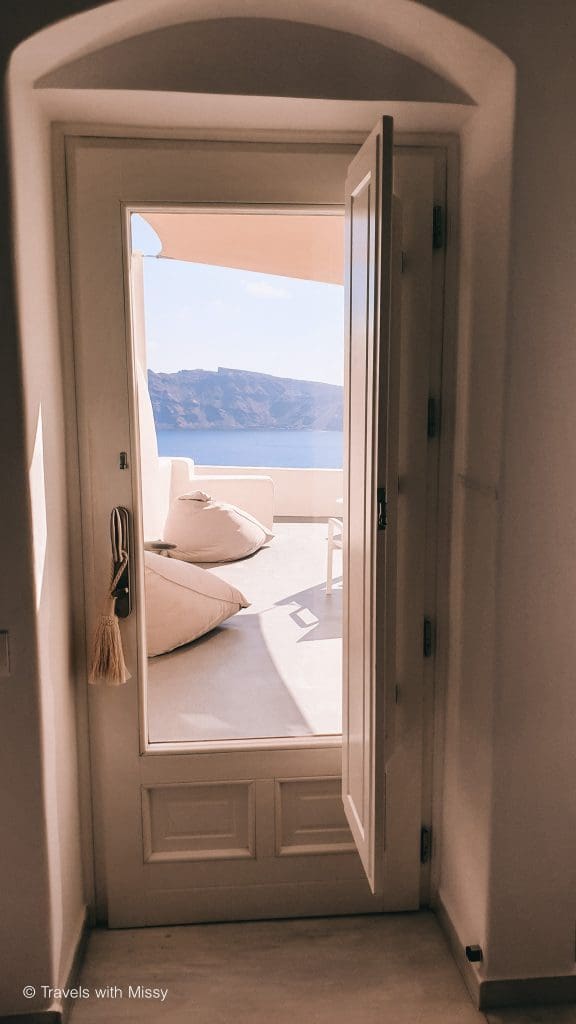 We had a room for our luggage in our suite! This room also housed a Nespresso coffee machine and mini-bar. In the enormous living area, there was a sofa, TV (which never was turned on), and a complimentary bottle of wine. Perfect for sipping in the plunge pool.
The junior suite also featured two bathrooms, his & hers, with Hermes products. The shower room had a double shower and more Hermes products.
And at the back of the cave suite, we had a bed that came straight down from heaven. It was like sleeping in a cloud. I'm 100% sure our suite was much larger than our entire apartment.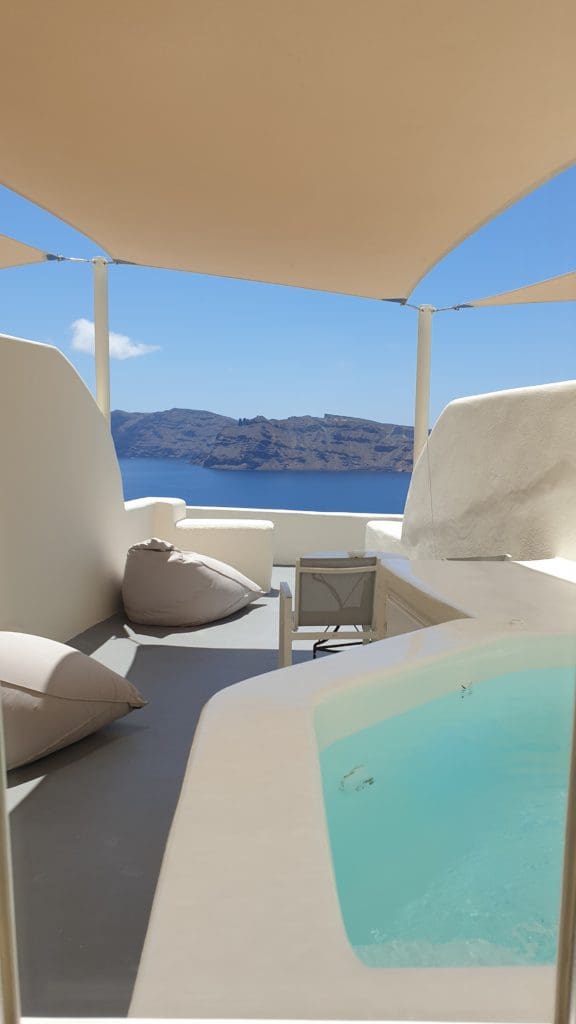 Outside our plunge pool was set to the most perfect temperature and was very private. Our plunge pool was set back from the edge of the walkway and offered a lot of privacy and we never felt overlooked.
Some of the suites were quite exposed, but that also adds to the glamour and desire of staying in a place like Canaves Oia Suites Santorini. You want to be seen in your plunge pool sipping on your wine.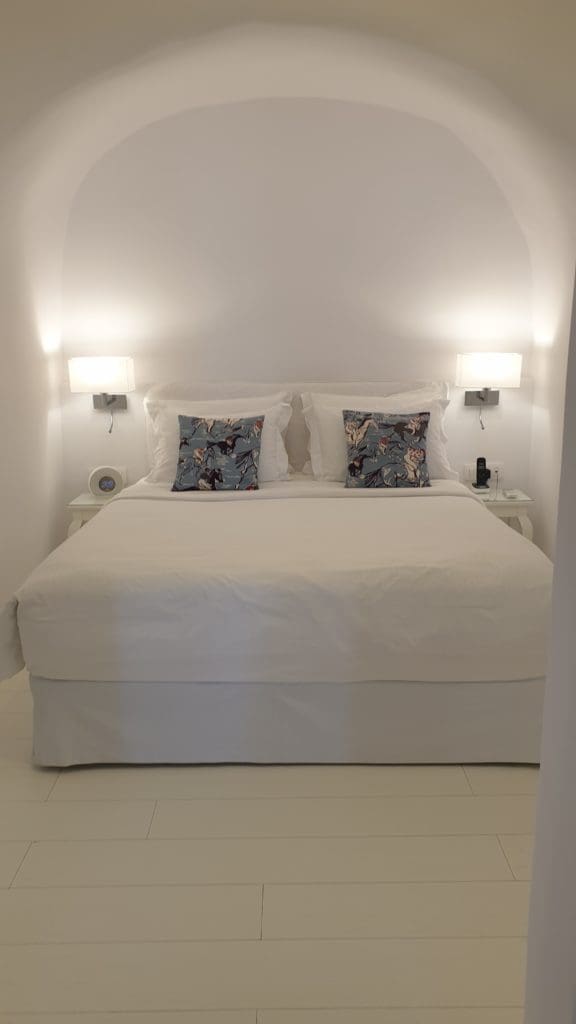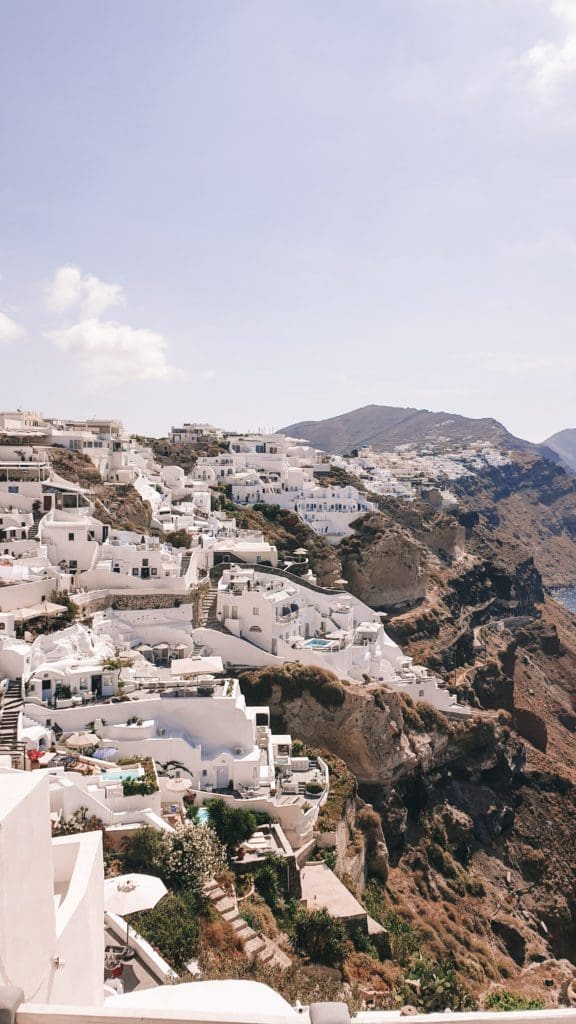 How much does a night in Canaves Oia Suite cost?
Look, let's put it straight out there. This is not a cheap hotel. This is a 5-star luxury hotel at the highest end of the spectrum.
A single night in Canaves Oia Suites in August starts at $1100.
However, you can get much more affordable (!) if you visit off-season. Of course, this comes with the caveat that you may not get to use the swimming pools in April or November.
Canaves Oia typically closes during the months of December – March, as Santorini quietly shuts down during the winter months.
All Good Things Must Come To An End
And just like that, the fastest 24 hours of my life completely vanished. Our luxury stay in Canaves completely spoilt us rotten. So much so that our next hotel was an absolute disaster and a massive letdown.
This was truly a once-in-a-lifetime opportunity to stay in such a luxurious place and most likely not to be repeated anytime soon.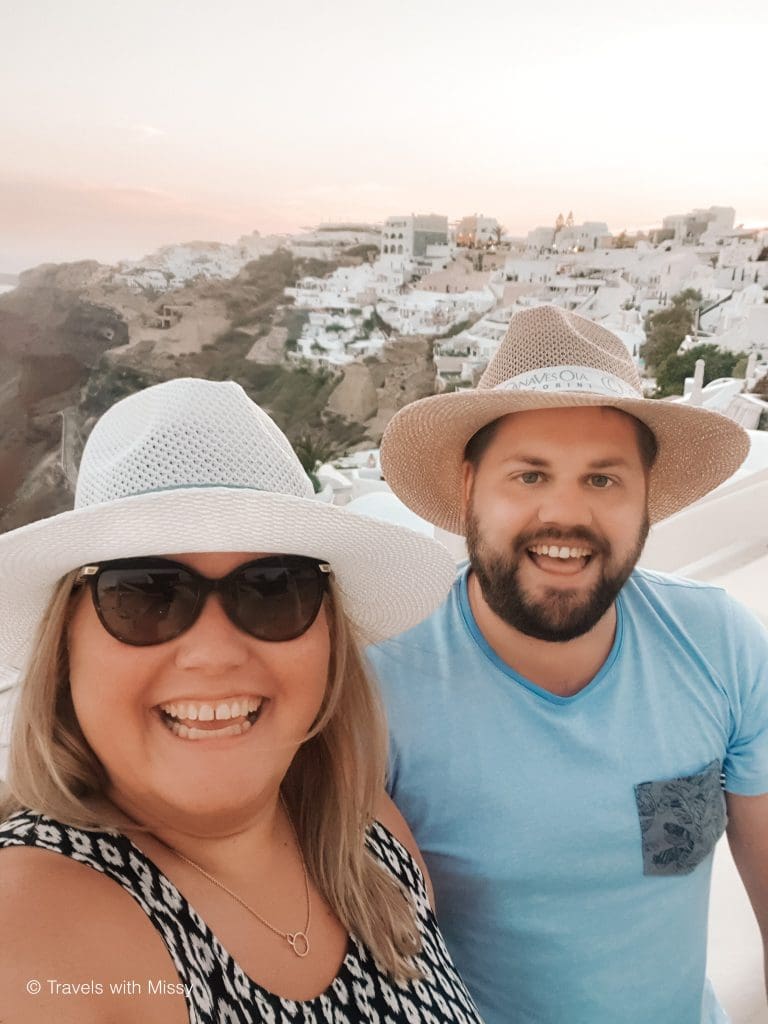 When you stay in Canaves Oia Suites you are mingling with a different level of wealth. It can feel a little bit overwhelming being surrounded by women decked out in head-to-toe Gucci for the average citizen like myself.
Whereas I swanned around in my €12 Shein swimsuit. We did have to look closely at the menu before we ordered anything, as it's easy to get carried away with all the glamour.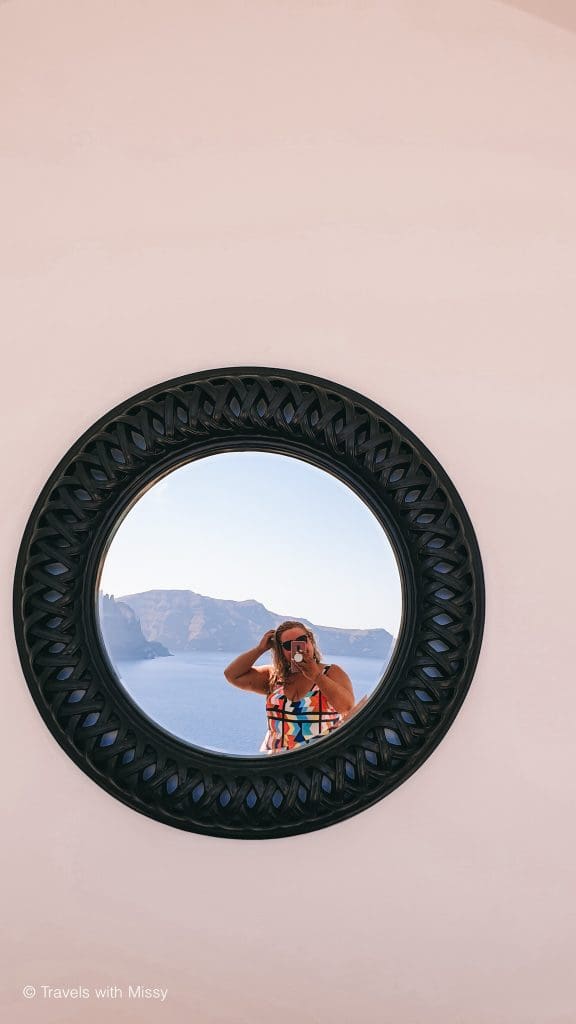 If you are planning on going to Oia, do you have a dream stay in mind? Have you stayed in Canaves Oia Suites in Santorini? Leave me a comment below!
Some of these may be affiliate links, which means when you buy something I may receive a small commission. There is no additional charge to you, and it really helps to support me – so thank you!