The Guide to Santorini Flying Dress Photoshoot 2023 – Cost & Dress Rental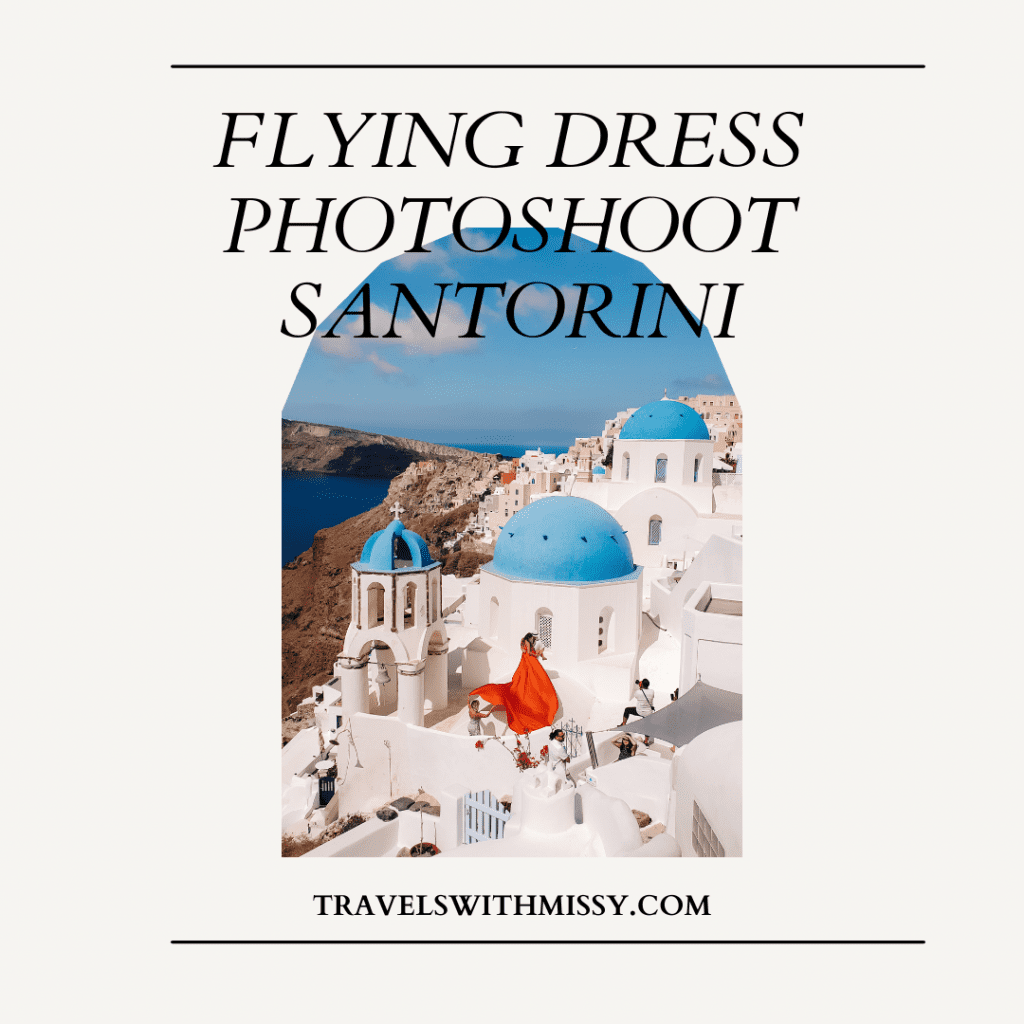 The Guide to a Santorini Flying Dress Photoshoot
Visiting Santorini is like a dream. It's hard to fathom just how incredible the stunning scenery is. White buildings cling to the edge of what once used to be a volcano. And everywhere you look, your jaw continues to drop in awe because there is nowhere quite like Santorini.
One of the more popular trends to emerge on social media is the stunningly beautiful flying dress photoshoots.
And with the stunning backdrop of Santorini, it's easy to see why the flying dress of Santorini has exploded in popularity. Beautiful satin gowns, armies of photographers, and make-up artists transform women, couples, and families into superstars.
A Santorini flying dress photoshoot is one of the most memorable activities on the island and is completely unforgettable.

Reasons to add a Santorini flying dress photoshoot to your vacation Bucketlist
A once-in-a-lifetime experience to be the star of your own photoshoot.
The incredible location of dreamy Santorini is unlike anywhere else in the world.
Feel like a celebrity with a team of photographers and make-up artists.
Be a goddess.
Unforgettable memories from your vacation to Greece.
When you're 90 years old, how amazing will it be to look back on your Santorini flying dress pictures?

Discovering the Santorini Flying Dress
It started with a beautiful girl dressed in a satin red flowy dress scurrying through the main street of Oia, Santorini. She had her head down and was led by a man through the small throng of people. At the time I thought it a bit strange that she had her beautiful red dress wrapped around her arms and was being guided by a gentleman with a backpack.
10 minutes later I spotted her, red dress flying in the wind against the most magnificent backdrop of white buildings with blue-domed churches. I had just discovered the flying dress of Santorini.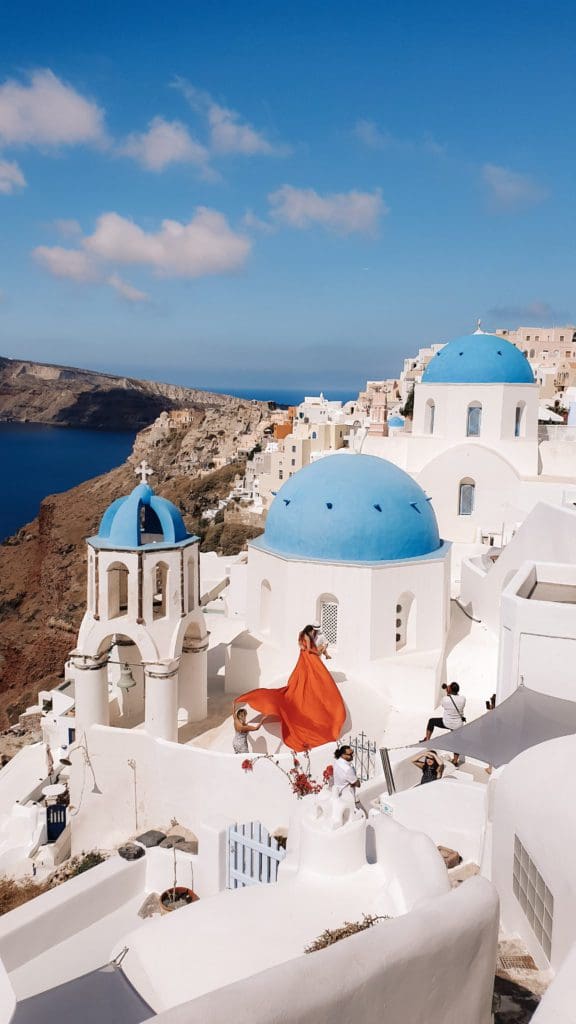 As we made our way around Oia and Imerovigli it became clear that this was not just a once-off but a most definite recurrence. From our balcony in our hotel in Oia, over a 24-hour period, we witnessed 11 photoshoots in every dress color you can imagine.
From a family of 4 (mom, dad, and their two daughters) to a solo shoot in every available breathtaking spot, I watched in awe at the incredible beauty of both Santorini and the flying dress photo shoots.
Naturally, my interest was piqued. Santorini is one of the most visually stunning places I've ever visited. We witnessed photoshoot after photoshoot of the flying dresses in locations that were straight out of a Vogue photoshoot. Was a Santorini flying dress actually affordable?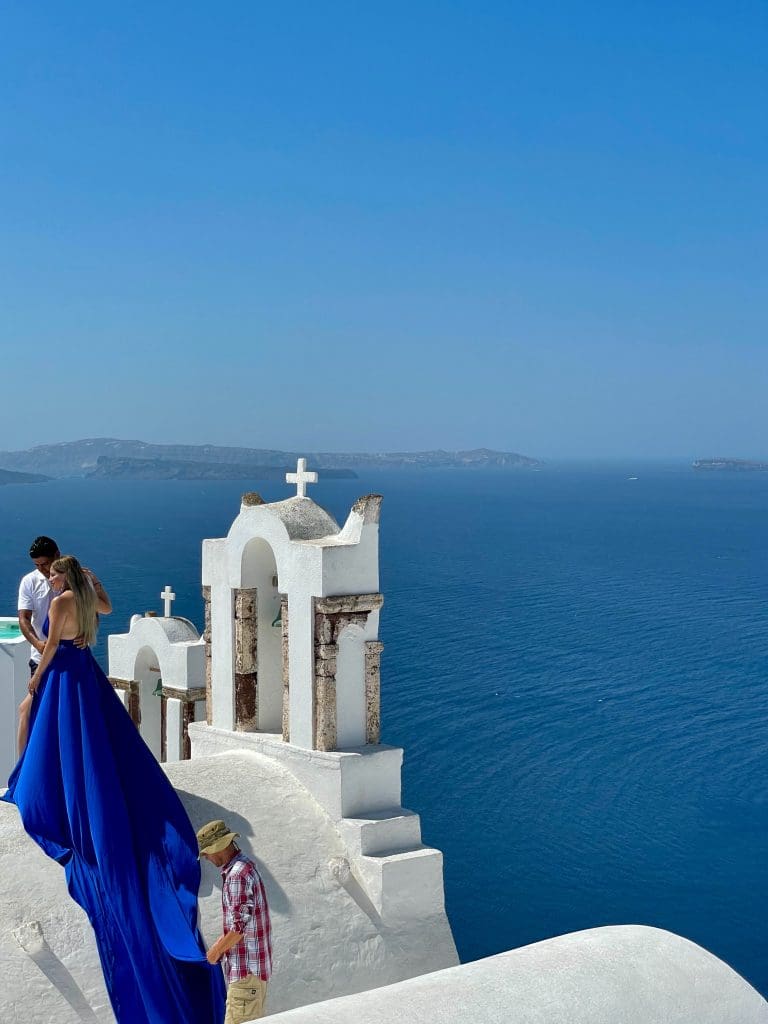 How much does a Santorini flying dress photoshoot cost?
Unsurprisingly, organizing a professional photographer and renting a flying dress does not come cheap. But should you wish to have a once-in-a-lifetime vacation experience in Santorini, the average price for the flying dress and dress rental and professional photographer is around $400 per hour.
The dresses range from $200 to $1000 for the hiring of the dress and then an additional starting price of $250 for a professional photographer. For $250 you can hire a professional photographer for 30 minutes and it includes 15 Hi-Res Digital Photos. With all the incredible Instagram spots in Santorini, especially Oia, you would need a minimum of an hour to get all the shots.
Obviously, the more money you have, the longer you can have with the photographer and perhaps do multiple locations. Some places insist that you use their photographer too, so be aware before committing to one place. All in all, a minimum of $450 for a world-class view and iconic photos, seems like a super deal.

Santorini Flying Dress Photoshoot Packages and Costs
This is a perfect option for anyone who doesn't want to do a photoshoot by themselves. The private flying dress photoshoot in Santorini is a must for couples or even a group of friends to do something completely memorable. This is one of the most popular photoshoots available in Santorini and usually sells out pretty quickly. The package includes the following:
2 Hour Photoshoot
2 different dress styles in 6 different colors and sizes from XS-XXL.
Locations around Santorini include favorites in Oia & Imerovigli.
Private transportation with pick-ups included from your hotel or accommodation.
60 edited photos.
Photoshoot times start from 8 am until 8 pm.
Total cost $440/€400
Miami Dress Photo comes highly rated and it includes the following in its package:
Photoshoots start from 6 am through to 9 pm.
Flying Dress Photoshoots in either the towns of Oia or Imerovigli.
Select between a 1-hour or 2-hour photo shoot.
You will receive between 80 -150 photos of which 4-10 will be sent off to be retouched for the final products.
Choices of dresses and different colors from their catalog.
1-week turnaround for final product delivery.
Makeup and Hair (additional cost)
Total cost $570/€520
Tips
Styling is not always included in the prices quoted, so make sure to enquire when booking the photoshoot.
Beat the crowds and start your flying dress photoshoot before 9 am. The earlier the better and your photos will be crowd-free.
Confidence is key, remember this is your special flying dress photoshoot. Channel your inner Beyonce.
Don't purchase your flying dress before your shoot, save money by renting the dress instead.
Remember to have fun!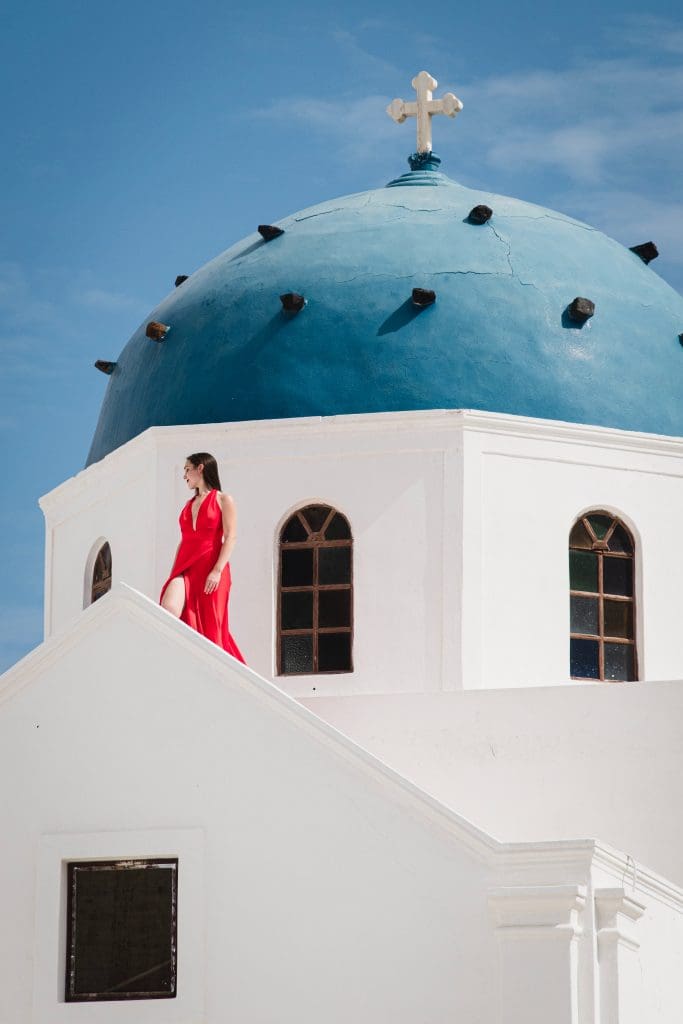 Create your own Flying Dress Photoshoot?
So perhaps you want to create your own flying dress photoshoot in Santorini but without the price tag attached? Most of the companies who organize the photoshoots insist that you use their own flying dress. Look at recreating your own by purchasing a flying dress on Amazon and making your own flying dress photoshoot.
Would you star in your own flying dress photoshoot in Santorini?
If you are looking for a once-in-a-lifetime photo shoot, then why not experience a flying dress photoshoot with the iconic Santorini backdrop? The memories you will create from this once-in-a-lifetime experience will last forever. How great will it be to look back on when you're older?
Have you looked into having your own flying dress photoshoot? Perhaps you've already had your own experience? Leave a comment and let me know how you got on with having your own flying dress photoshoot in Santorini.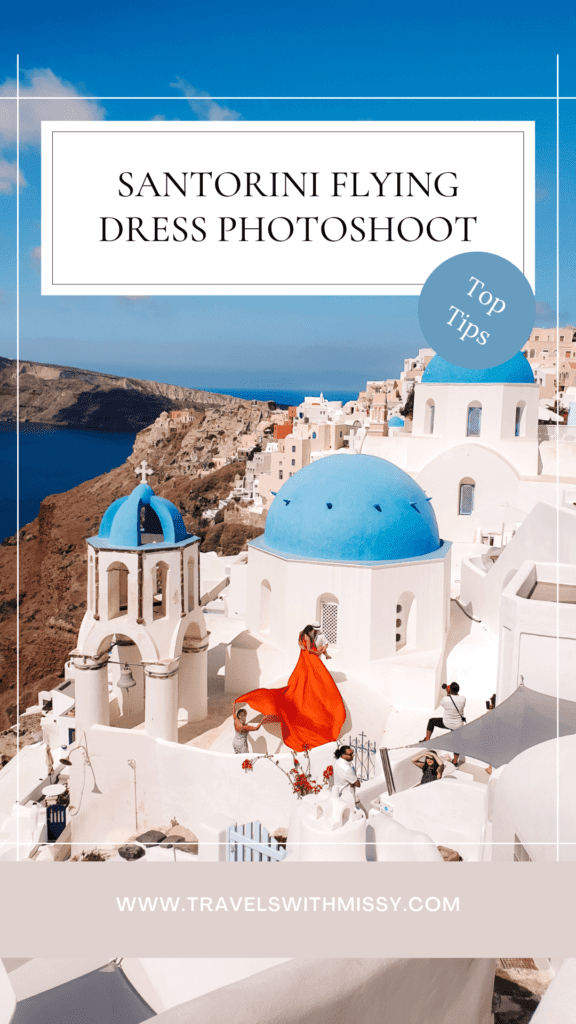 Some of these may be affiliate links, which means when you buy something I may receive a small commission. There is no additional charge to you, and it really helps to support me – so thank you!