The 11 Best Restaurants & Cafes in Naoussa, Paros in 2023
Dining in Naoussa Paros is a visual treat. With an abundance of restaurants in Naoussa to choose from, you will not find yourself disappointed. From traditional Greek restaurants to fishing tavernas on the water, this is one of the most delightful Greek villages to find the perfect restaurant.
Stroll around the town and you are bound to find somewhere tasty to grab a bite. And when you've had your fill of delicious food, find a nice place to watch the sunset in one of the many cocktail bars in Naoussa.
Restaurant prices in Naoussa are considerably cheaper than those of neighbouring islands such as Mykonos or Santorini. You will also find really high-quality dishes in many of the restaurants and seems to be a lot more foodie than in other parts of the Cyclades. Below you will find some of the best restaurants in Naoussa, Paros.
The Top 5 Best Restaurants in Naoussa Paros
Best Restaurant in Naoussa Paros for Seafood – Sigi Ikthios
Best Cafe for Bali Wellness Vibes – Almond in Paros
Best Restaurant for Excellent Food & Ambiance – Safran Restaurant
Best Cafe for Breakfast – Ragnoussi Bakery
Best Gyros – Pita Frank
11 Best Restaurants in Naoussa Paros
1. Sigi Ikthios
Without a doubt one of the prettiest settings in the entire town of Naoussa, Sigi Ikthios is set up on one of the most beautiful squares in all of Greece.
Overlooking the water, with fishing boats bobbing and a Venetian Castle in the background, this is Naoussa at its most perfect and beautiful.
Once you've picked up your jaw from the floor, you'll be pleased to know that Sigi Ikthios serves incredibly fresh and fantastic seafood.
For seafood lovers, this is one of the best restaurants in Naoussa Paros for superb shellfish and fresh-off-the-boat fish.
The menu also caters to those who aren't too keen on seafood and serves traditional Greek dishes such as Mousaka.
Sigi Ikthios also hosts wedding events, and honestly what an incredible place to get married in.
2. Yemeni – Wine Restaurant
An institution in the Naoussa culinary scene since it opened its doors in 2007. You'll find Yemeni down one of the looping lanes that make up the gorgeous town of Naoussa. You might even smell it before you stumble upon it, as the aromas of traditional Greek cuisine waft through the streets.
Dine on slow-cooked chickpeas that have been cooking throughout the night. Indulge in the locally-caught octopus that has been thinly sliced and presented beautifully in a salad. Or try the fantastic and traditional Mousaka – you can't beat a hearty serving of Greece's most famous dish.
Yemeni may not have sea views or epic sunsets, but what it lacks in sights it makes up for in traditional and local produce. You'll also find a stellar wine selection in one of the best restaurants in Naoussa.
Website: Yemeni Wine Restaurant
3. Kapari Restaurant
Greece has some of the best cuisines in the world. And Kapari takes it to a new level, introducing local flavors that are found primarily in the Cycladic Islands.
Kapari is fine dining without being pretentious or expensive price tags.
Local dishes that must be sampled in Kapari are the feta cheese filo pastry pies or the Gruyere cheese from the surrounding area of Paros.
This was our favorite meal in Naoussa and everything we sampled was absolutely delicious.
Be prepared to bring your appetite to Kapari as the portions are quite large. The pork belly was out of this world.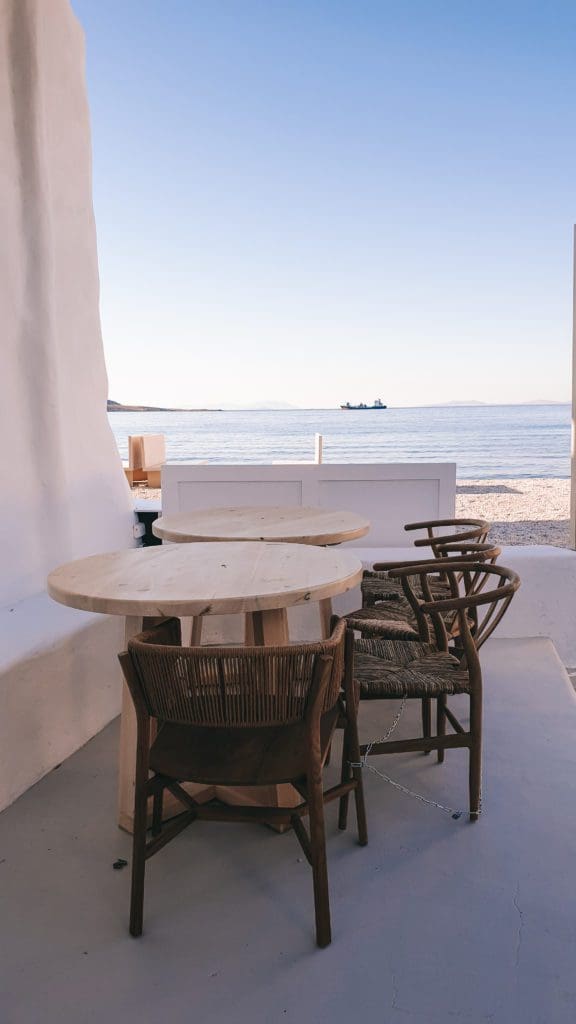 4. Taverna Glafkos
Taverna Glafkos almost wins the prize for the prettiest setting. It's a toss-up between it and Sigi Ikthios, Taverna Glafkos sits on the water and in the evening enjoys truly stunning sunsets.
Nestled between Fotis and Come Back Bar, the food varies from pasta to traditional Greek Dishes. The food is nice, but it's the setting that steals the show. Try to book a table near the water for the ultimate beach setting.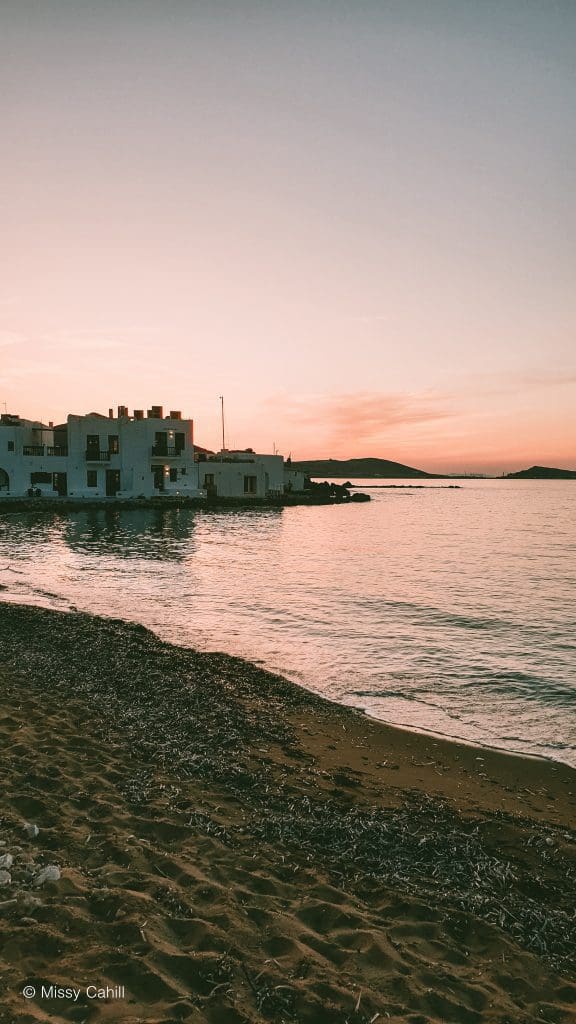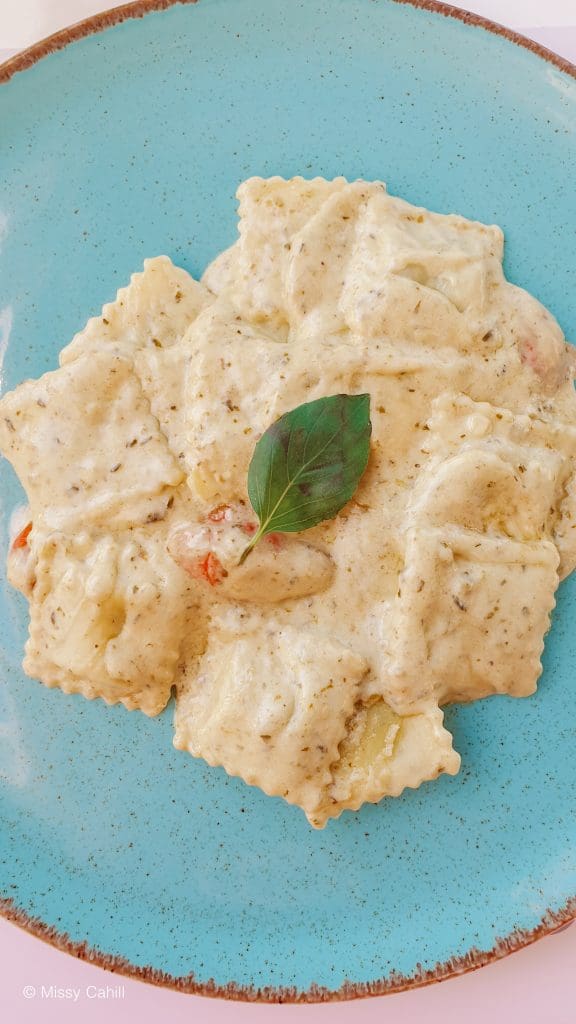 5. Almond in Paros
Beautiful Almond in Paros lies at the entrance to the town of Naoussa in the town's main square. Serving breakfast and pancakes in a boho Bali terrace, you'll want to spend a lot of time in this cafe and wellness center.
Its lushing setting serves really healthy smoothie bowls, vegan and vegetarian dishes and promotes wellness. Almond in Paros' chill vibes makes it an essential place to visit in Naoussa Paros.
6. Safran Restaurant
Nestled down one of the many alleyways in Naoussa, you'll find the beautiful Safran Restaurant. It's a fantastic setting for people watching and on top of that has excellent dishes and presentation. The waiters in Safran are exceptionally nice and had fantastic suggestions of what local dishes and wines to sample.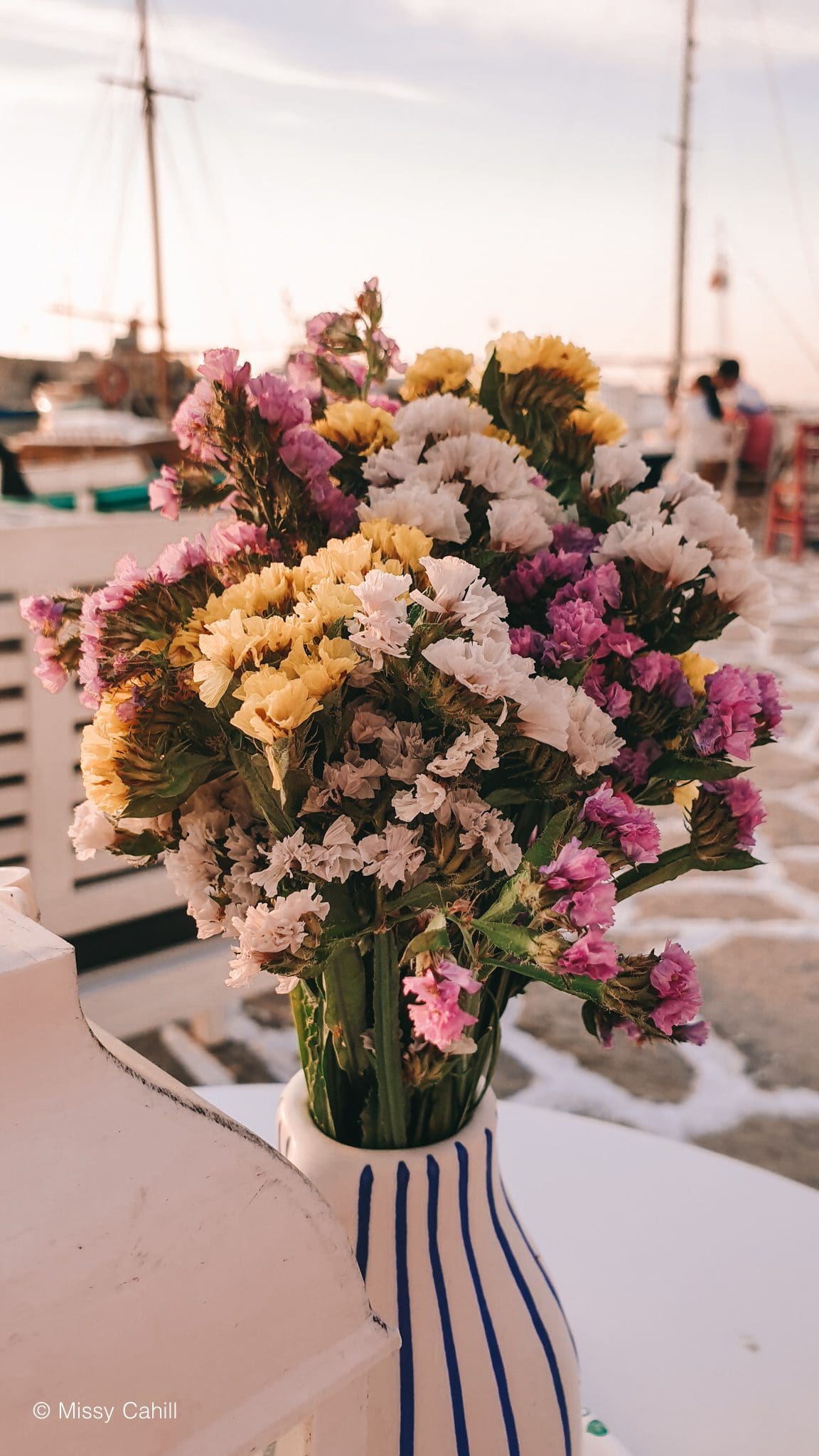 7. To Takimi
To Takimi is a great space to find little Greek Tapas. We ate our way through the menu here when one evening we found ourselves with restaurant fatigue.
All we wanted were a few little dishes to graze on and a glass of wine whilst discussing our plans for the next day. With views of the church and a local square, you will find yourself watching the locals and eating some delicious Greek tapas.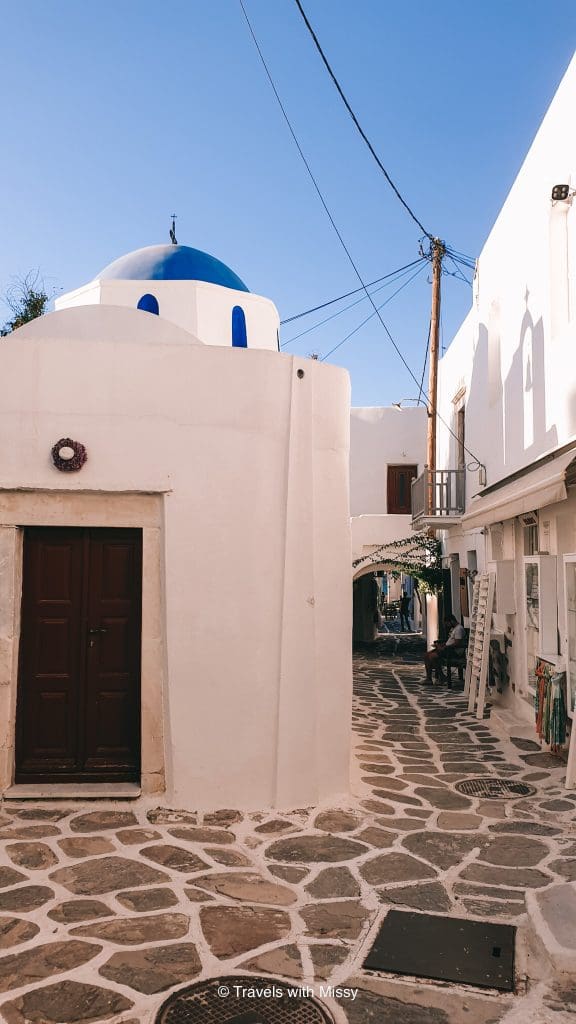 8. Fotis All Day Bar
Fotis is a superb breakfast and brunch spot with one of the prettiest views in Naoussa. The menu has lots of healthy options complete with protein pancakes, salads, and typical Greek dishes. In the evening it turns into a cocktail bar, and whilst you can eat food, it's definitely more suited as a place for brunch.
It's hard not to fall in love with Fotis and it's easy to see why it's one of the most popular spots on the entire island.
We grabbed a quick lunch in Fotis All Day Bar on our first day in Naoussa and had a lot of great healthy options. If you need a break after eating Gyros and need a protein pancake or salad, then this is one of the places to check out. Set almost right next to Come Back Bar, you will need to meander around a few alleyways to find this spot.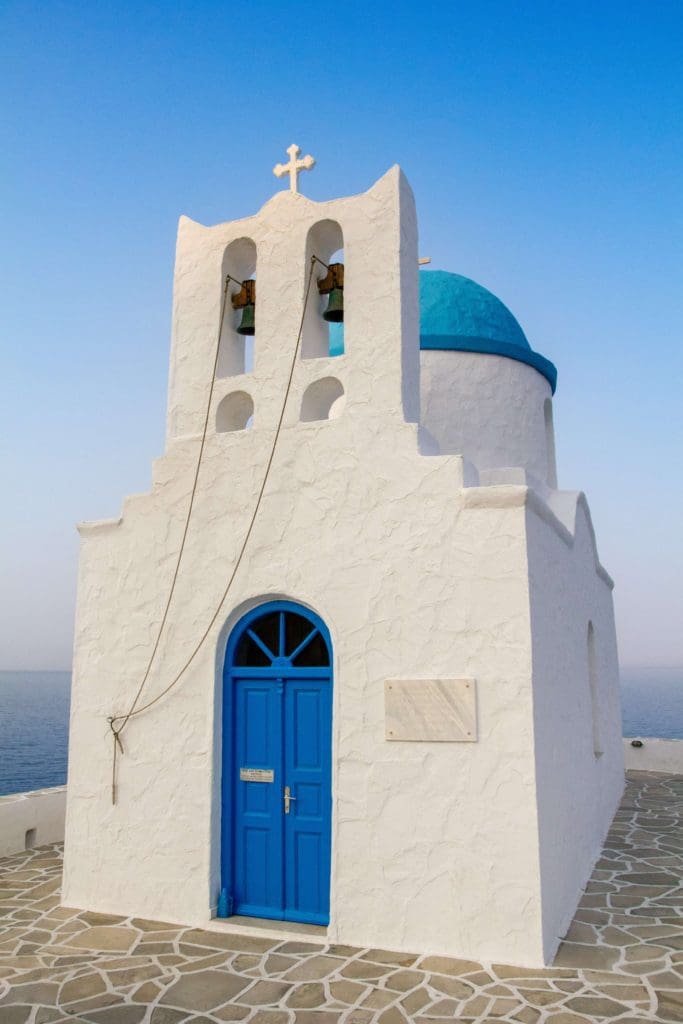 9. Pita Frank
Ok so it may not qualify as one of the best restaurants in Naoussa Paros but it would be rude not to include Gyros, right? Not only is Pita Frank delicious, but it's also incredibly cheap. After you have spent all your money on expensive cocktails, for €3.50 you can purchase an enormous Gyros stuffed to the gills with meat, veggies and fries and drenched in yummy sauces.
We unashamedly ate ours during daylight hours and loved it so much we visited Pita Frank three times during our 7-day stay.
10. Ragoussis Bakery
If you love baked goods then look no further than Ragoussis Bakery. Located just before you enter the fishing village of Naoussa, I highly recommend you either have breakfast or lunch here. We grabbed some treats from here before heading off to the beaches of Paros for the day.
There are dozens upon dozens of Greek baked goods here, some of which I had never tried before. Definitely worth stopping by and having a coffee.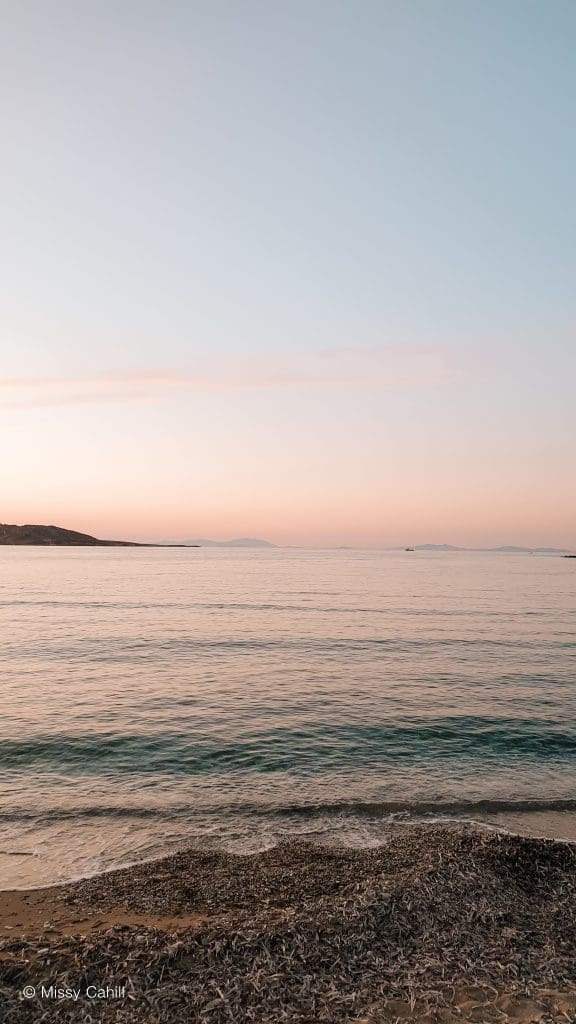 11. Barbarossa
Set against the backdrop of fishing boats and lapping water, you will have a tough time finding a prettier spot in all of Greece. There are 3 other restaurants in this area and they all looked so fantastic and great fun.
We absolutely would have loved to have eaten at Barbarossa but sadly we ran out of time to eat there. Fresh fish is the speciality and it's easy to see why when you are surrounded by fishing boats on all sides.
Too Many Places, Not Enough Time
Naoussa is a glamorous fishing village with plenty of chic options to dine in. It can also be a casual affair but do note that people do dress up for dinner in Naoussa in places like Sigi Ikthios and Barbarossa.
With options for all types of eaters, you will be hard-pressed to find restaurants in Naoussa that doesn't cater to your needs. Read more about discovering the most fantastic place to have a cocktail and watch the sunset in Paros.