People are drawn to Kinsale for a variety of reasons. It's considered one of the gourmet capitals of Ireland, with a fantastic variety of seafood restaurants and several found in the Michelin Guide.
Kinsale also happens to be one of the prettiest towns in Cork, which is quite a feat considering how many quaint and adorable towns and villages there are in West Cork.
Regardless of the season or weather, Kinsale is always a vibrant town with something going on, which makes it incredibly popular with visitors from all over the world. You'll also find a fantastic selection of hotels in Kinsale, ranging from boutique hotels to opulent 5-star hotels. 
Some of these may be affiliate links, which means when you buy something I may receive a small commission. There is no additional charge to you, and it really helps to support me – so thank you!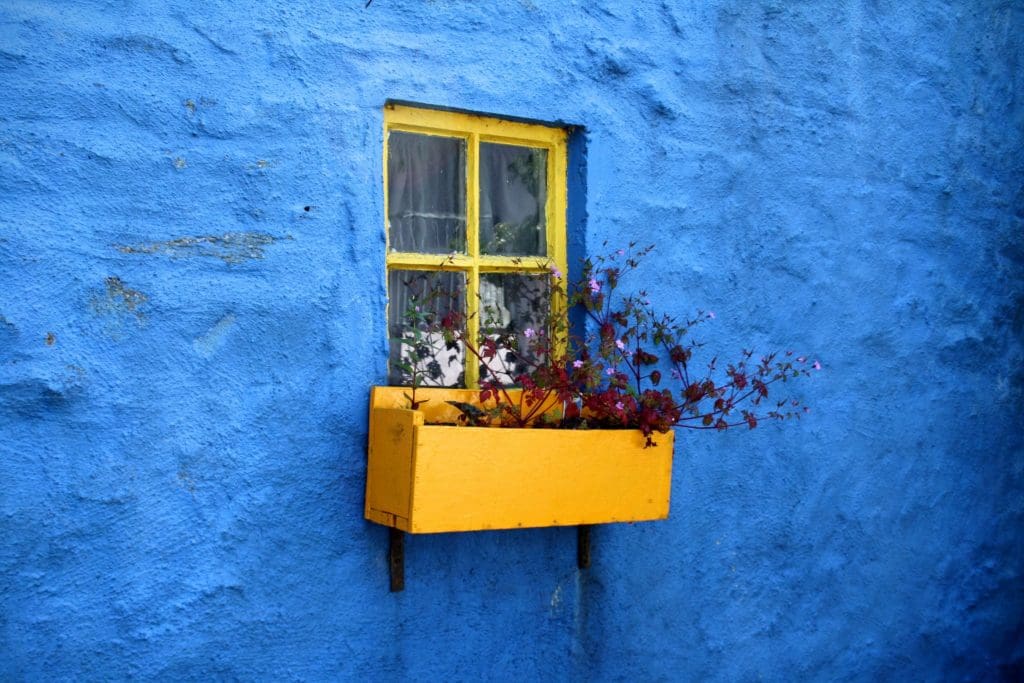 Hotels in Kinsale
Actons Hotel Kinsale
With views over Kinsale Harbour, Actons Hotel is a former-period house that now boasts an indoor swimming pool, fully equipped gym, and sauna. Actons Hotel is a 4-star hotel a few minute's walk from the center of Kinsale, and offers beautifully decorated rooms with superb amenities. 
A popular wedding venue, it's easy to see why newly married couples choose Actons hotel as their wedding destination. Its spectacular views over the harbor and luxurious decor make this one of the most inviting hotels in Kinsale.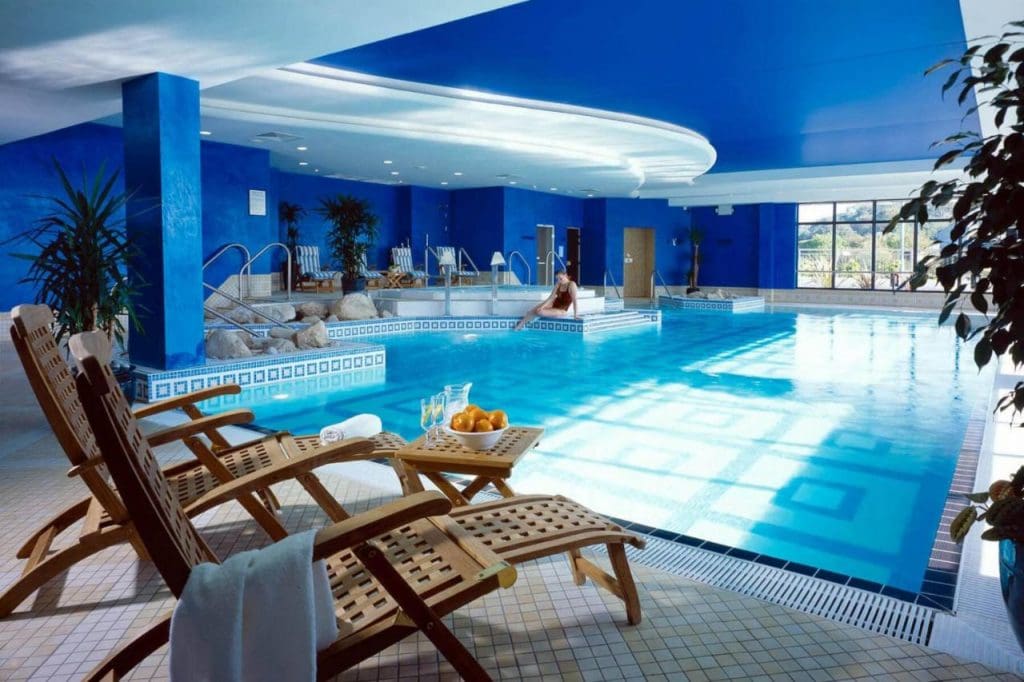 The waterfront bar and bistro are highly recommended and the beach is less than a 15-minute walk away.
If you've been struggling with where to stay in Kinsale Ireland which has spectacular views, beautifully decorated rooms and is close to the center of Kinsale town, then Actons Hotel is the best place to stay in Kinsale.
Kinsale Hotel & Spa
A modern 4-star hotel in Kinsale with views over Oysterhaven Bay, Kinsale Hotel & Spa is a luxurious hotel that offers guests unparalleled spa treatments and tranquillity.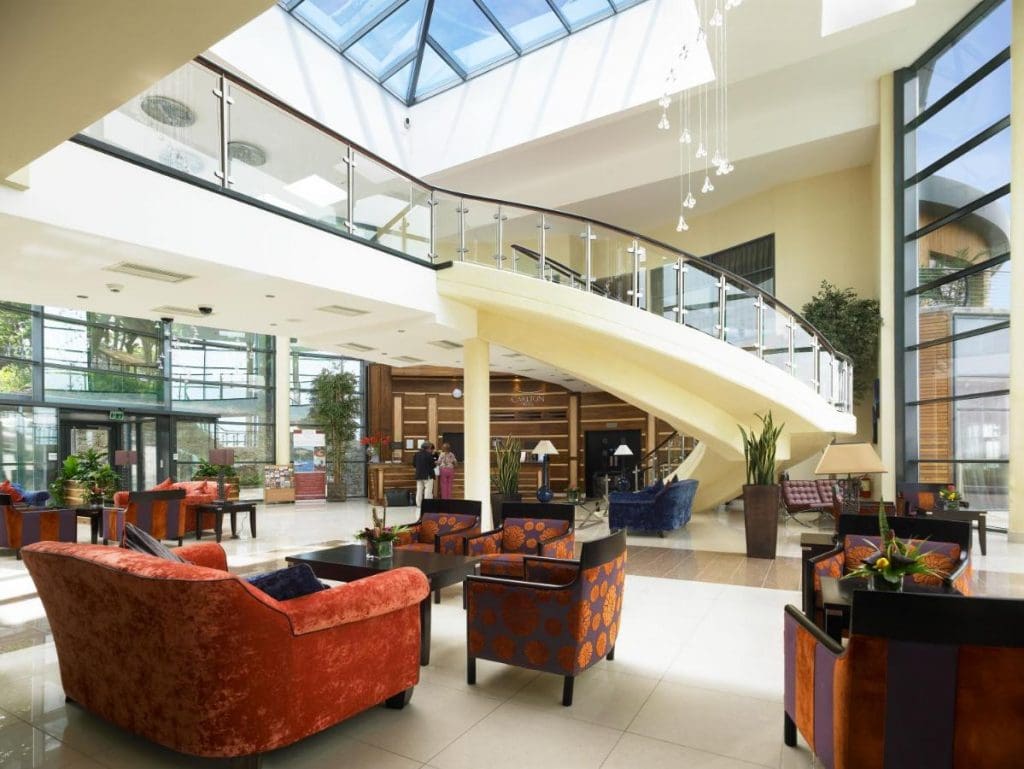 With an enormous indoor pool, complete with hot tubs and jacuzzis, guests can enjoy relaxing and indulging in some of the incredible treatments on offer. Treatments include deep tissue massages, anti-aging treatments, hydrotherapy baths, and Indian head massages. One of the only hotels in Kinsale that specialises in Spa treatments.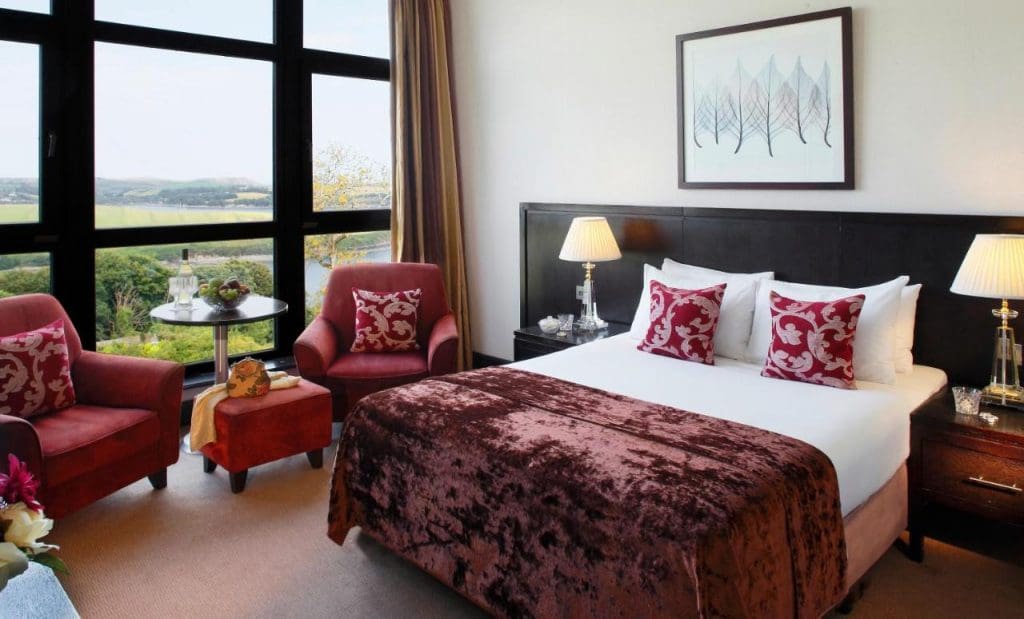 The rooms are nicely furnished and some include views over the bay. The Rockpool Restaurant & Bar offers panoramic views of Oysterhaven Bay and guests can enjoy afternoon tea on the terrace whilst soaking up the stunning scenery and views. Make sure to take a walk around its grounds and explore the area.
Kinsale is a 10-minute drive from the hotel. 
The Blue Haven Hotel
A boutique hotel in the heart of Kinsale town, Blue Haven Hotel is perfect for visitors looking for a cozy hotel in the middle of things. With everything on your doorstep from art galleries, restaurants, and vibrant nightlife, staying in the Blue Haven is perfect for guests who want to be in the mix of Kinsale.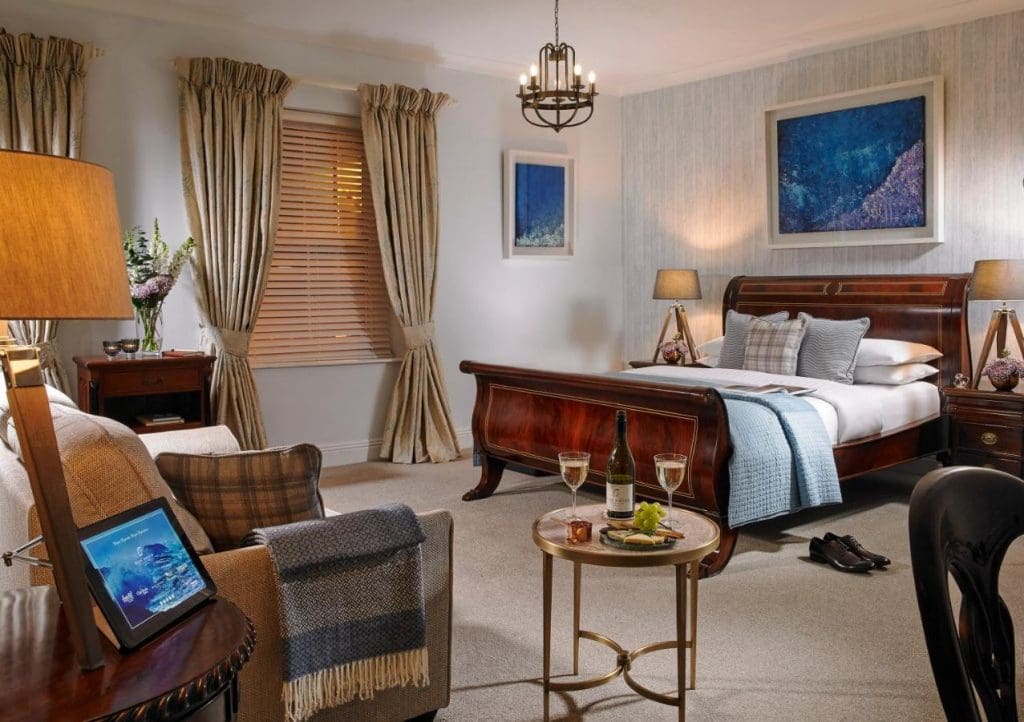 Enjoy its onsite cafe the Blue Haven Cafe which serves scones and traditional tea each day. The rooms are decorated with comfort in mind, from its comfy box spring mattresses to its high-quality bathrobes.
One of the timeless and classic hotels in Kinsale for visitors who seek refined accommodation choices.
Trident Hotel Kinsale
The resplendent Trident Hotel sits prettily on Kinsale's magnificent waterfront. Staying in the Trident Hotel Kinsale will make you feel as if you're in the comfort of your own home, with staff attentive to your every need.
Not only do the rooms have uninterrupted views of Kinsale Harbor, but they are beautifully decorated with a strong nautical theme running through the hotel.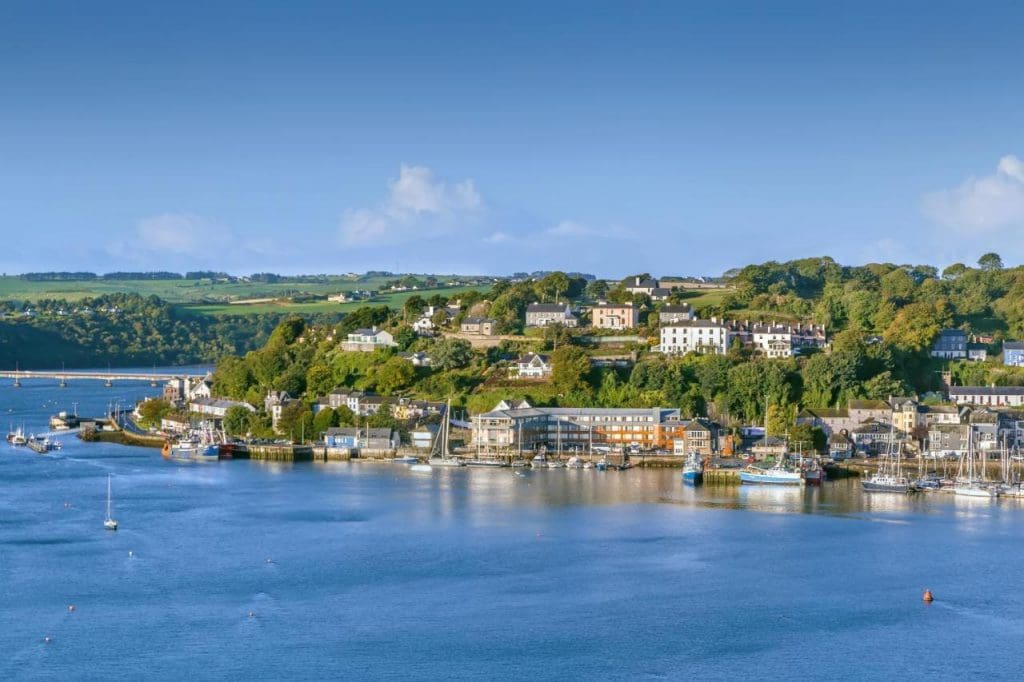 Recently refurbished, the 75 rooms in the Trident Hotel Kinsale all have sea views of the surrounding area and some include balconies to enjoy the weather during the summer months.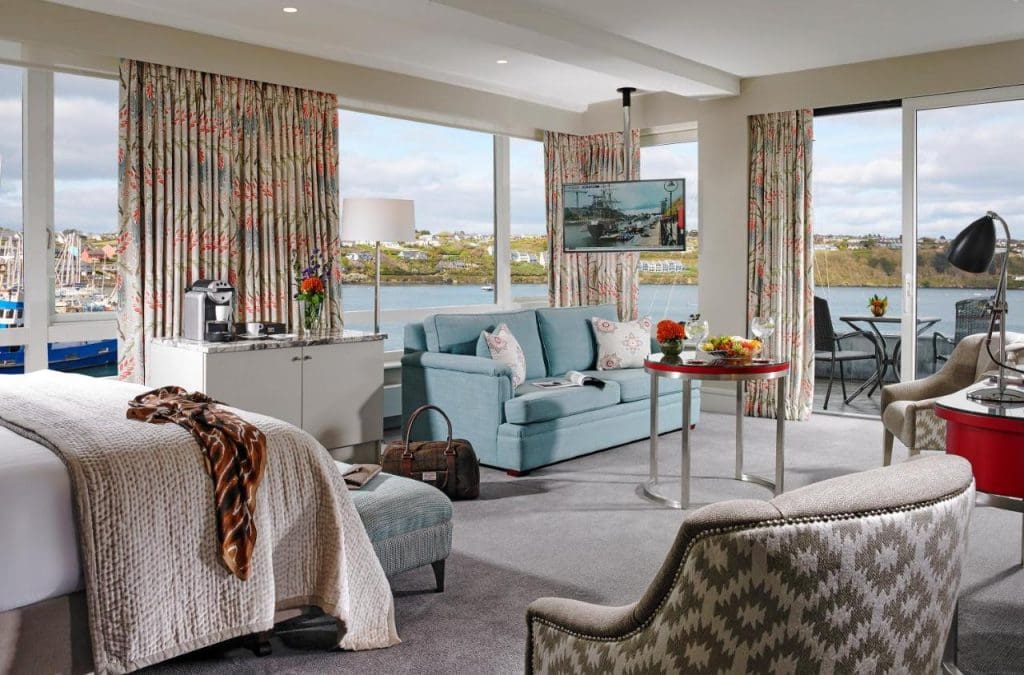 What was once used as the Naval Dockyard in Kinsale in the 18th century is now the site of the Trident Hotel, with its 400-year stone store area being converted into its signature restaurant – Pier One.
Enjoy the sunshine in the outdoor bar, The Foredeck Bar, watch the many yachts that line the harbor, and soak up one of the best places to stay in Kinsale for ambiance and incredible setting.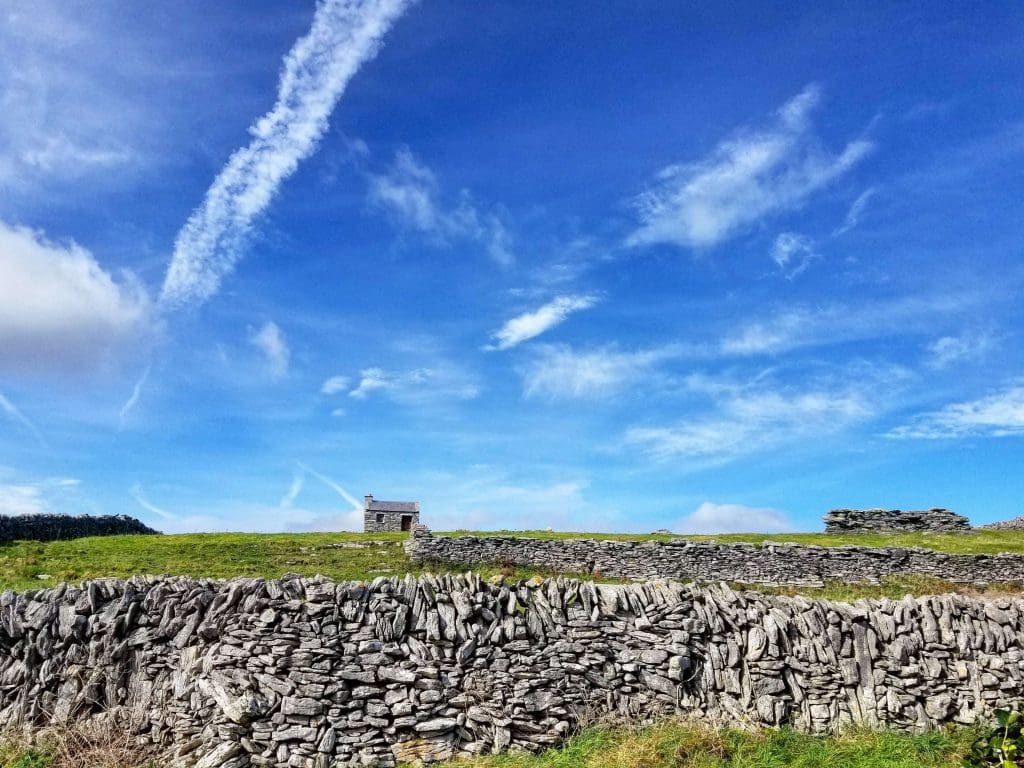 Guest Houses & B&Bs
Perryville House
Romantic Perryville House sits in the center of Kinsale and oozes romance from every angle. Perryville House was originally built in the 1820s and has been restored to its former glory. It's hard not to fall immediately in love with Perryville House as you lay eyes on its unique facade.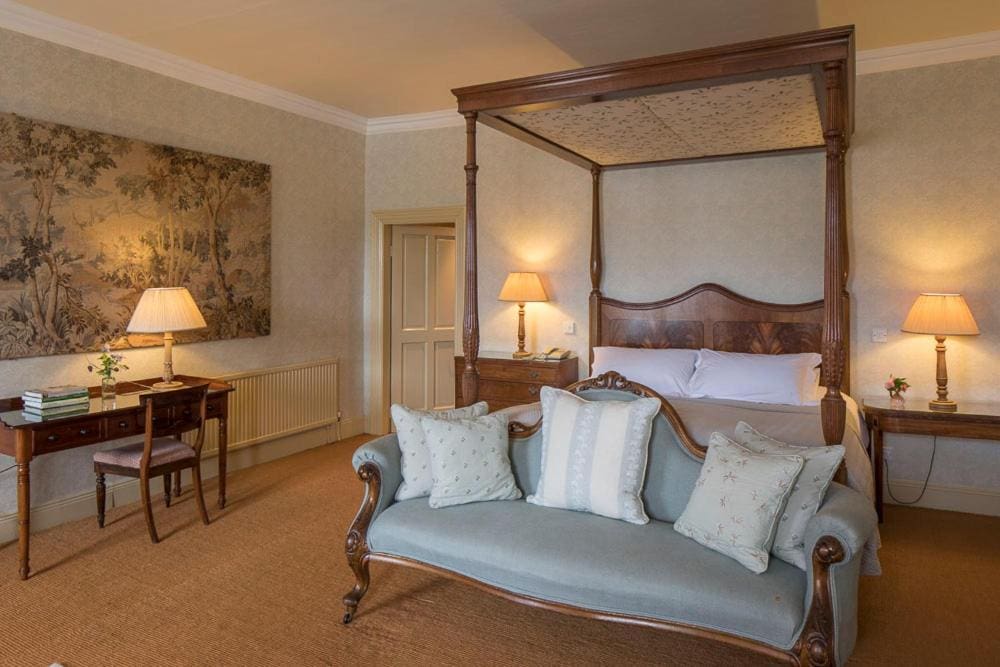 Each room is stunningly decorated with four-posters beds in rooms and views across the town. All 25 rooms are bespoke and unique in their appearances, offering complimentary bar and snacks, as well natural and organic toiletries.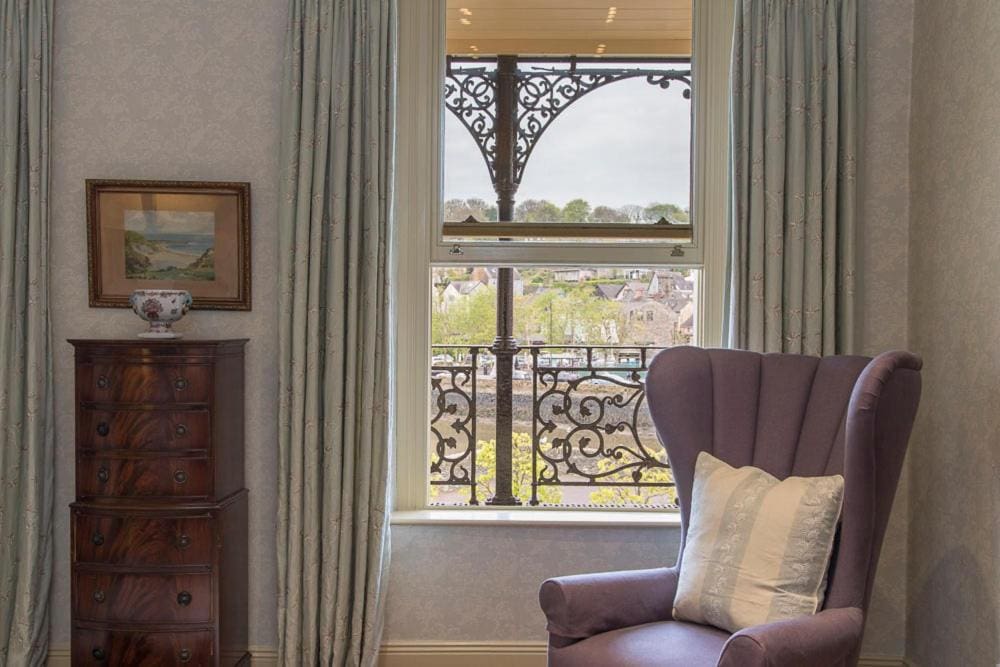 The breakfasts are alone worth staying for at Perryville House. With all ingredients procured locally, you'll find honey from their own beehive each morning and stories behind every item found during their beautiful breakfast service. 
For visitors looking for a place to stay in Kinsale that is complete with charm and charisma, Perryville House ticks all the boxes.
Giles Norman Gallery & Townhouse
Directly from the pages of an interior design magazine, Giles Norman Gallery & Townhouse is one of the most stunningly bespoke accommodations in Kinsale. Each room offers a stylish setting, with luxury beds and furnishings that were heavily influenced by Vogue magazine.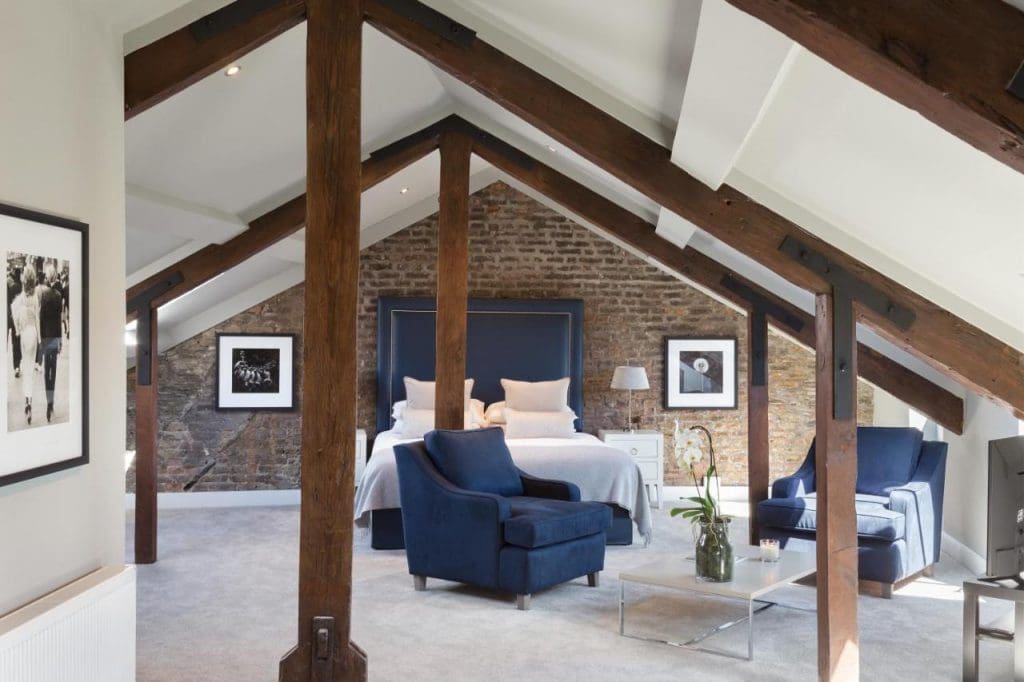 Guests seeking a modern accommodation choice in Kinsale will be impressed by the decor and small touches that make this townhouse feel rich and luxurious. Each room includes facilities for making tea and coffee. There is no breakfast served, but with such a variety of places to choose from in Kinsale, you'll be spoilt.
Visitors looking for accommodation in Kinsale that oozes sleek sophistication should consider Giles Norman Gallery and Townhouse when deciding where to stay in Kinsale Ireland.
The Old Bank Town House
Beautiful and embracing its Georgian architecture, the Old Bank Townhouse is gorgeously restored. Sleeping in some of the comfiest beds in the world will leave you feeling rested and refreshed, and quite like a Lord & Lady.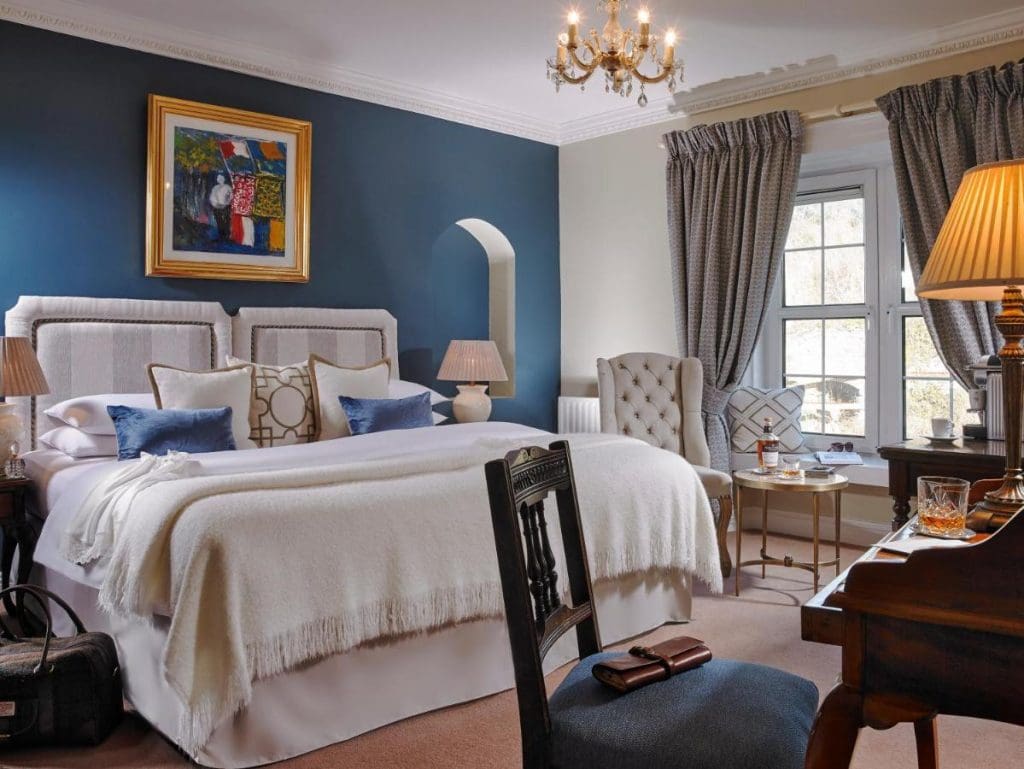 Each room has an en-suite bathroom, and the facilities include a gourmet food store that sells local produce from the area. One of the best restaurants in Kinsale, Blue Haven Restaurant is located next door.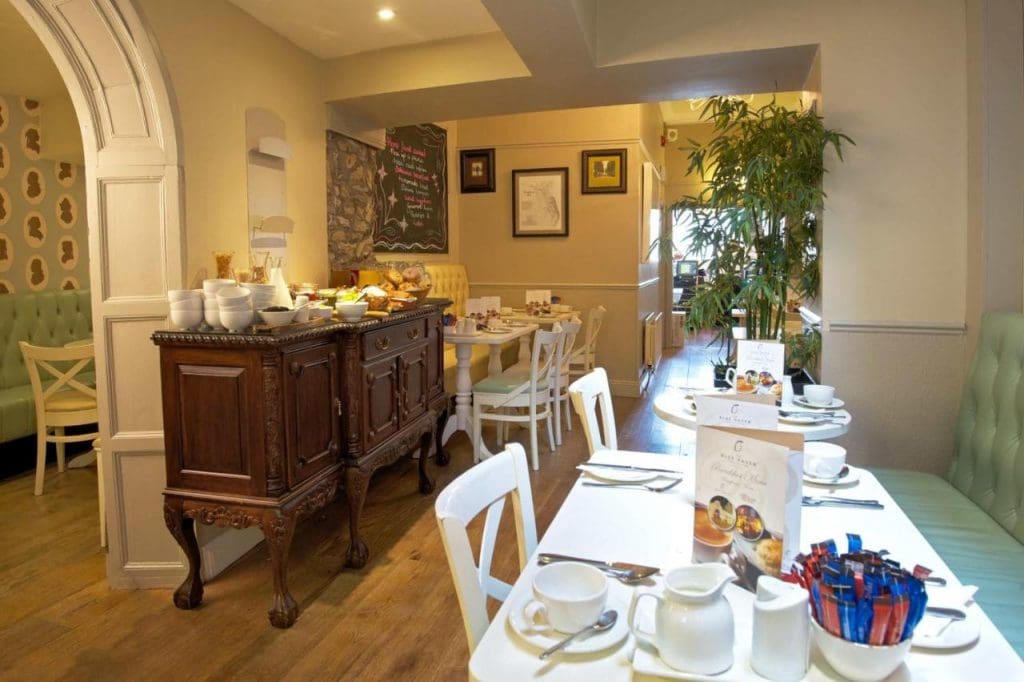 Guests staying in the Old Bank Town House will be charmed by its history and location. The cozy cafe is welcoming and serves excellent scones and tea.
The Old Dispensary
The beauty of staying in some of the rooms or apartments in the Old Dispensary is that you may end up with a fully functional kitchen. This is vital for families with children or those who want to cook some of the fantastic local ingredients found in Cork and Kinsale.
Not only will the home comforts make you feel like your a home away from home, but the traditional Irish stoves will keep you warm during the colder months.
The Old Dispensary is a magnificent place to stay during your time in Kinsale. The owners have created comfortable rooms that are welcoming and cozy, with modern appliances and really beautiful decor.
A short walk into the center of town, you can enjoy the fine restaurants and pubs on the seafront.
The Lemon Leaf Cafe Bar and Townhouse
Located in the heart of Kinsale town with rooms available over the delightful Lemon Leaf Cafe, guests will love staying in this excellent guesthouse. The wonderful cafe serves breakfast that is worth trying regardless of whether you are staying in the townhouse or not.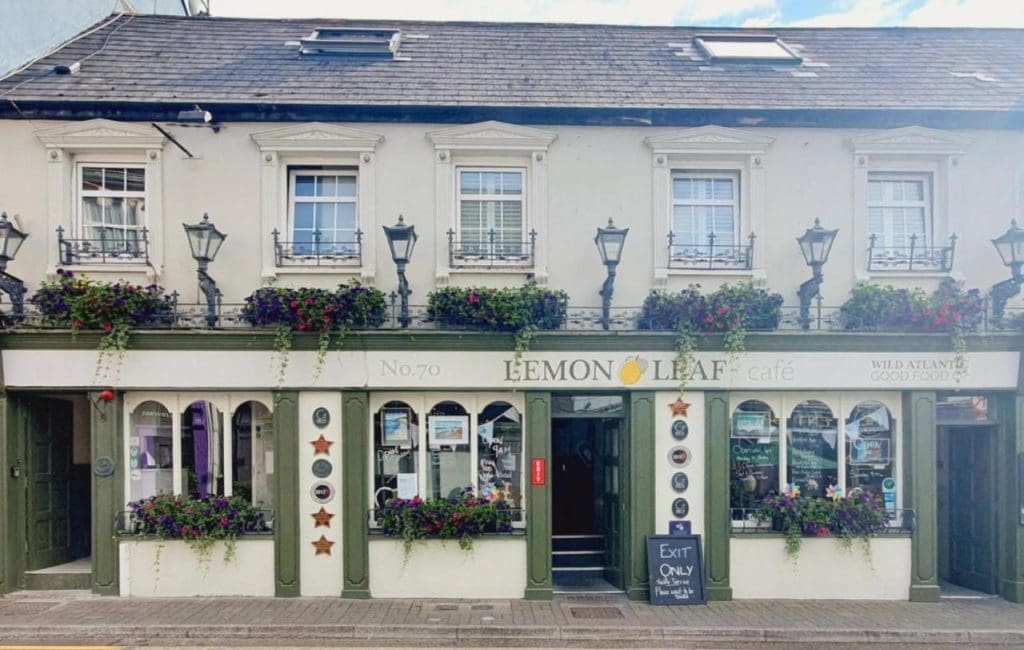 The rooms can be quite small but that doesn't really matter as you'll be spending most of your time exploring the town of Kinsale and beyond.
The guest rooms have made excellent use of the space with creative adjustments that enhance the room, such as removing closet space and replacing it with creative hangers. There are many small touches that I loved in the rooms that made it feel snug and comfortable.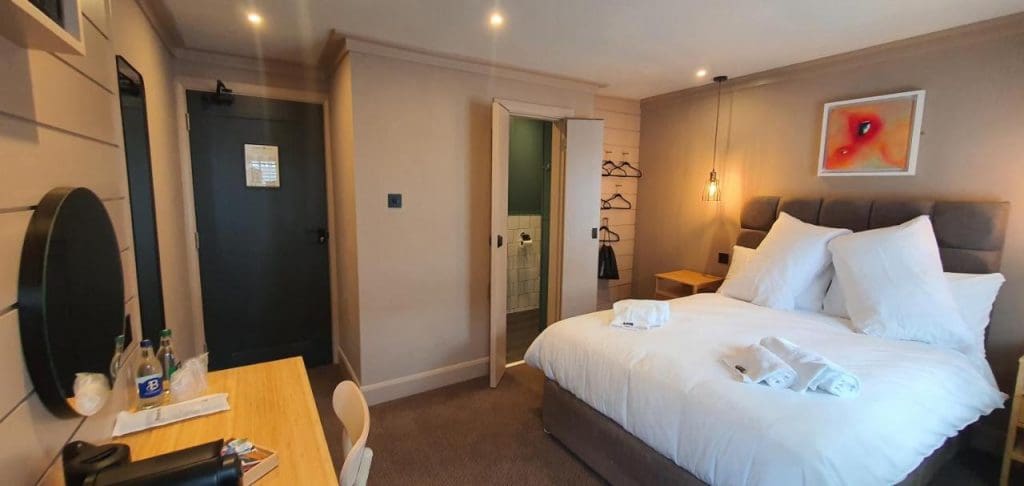 During the summer months, the outdoor terrace is a fantastic place to spend an evening and the food that is served throughout the day is not to be missed. The Lemon Leaf Cafe is one of the loveliest and liveliest places to stay in Kinsale.
Whether you spend a day visiting the town of Kinsale or spend a couple of days exploring the area, there is an ample selection of choices for hotels in Kinsale. There's a reason for its popularity and guests who love the outdoors, excellent restaurants, or sailing will find themselves in heaven.