The 5 beautiful villages of Riomaggiore, Monterosso, Vernazza, Corniglia & Manarola that make up the Cinque Terre have long been on visitors bucket lists. The colorful villages of the Cinque Terre have attracted visitors from all over the world and offer a fantastic opportunity to hike, swim, and explore the lush Italian landscape.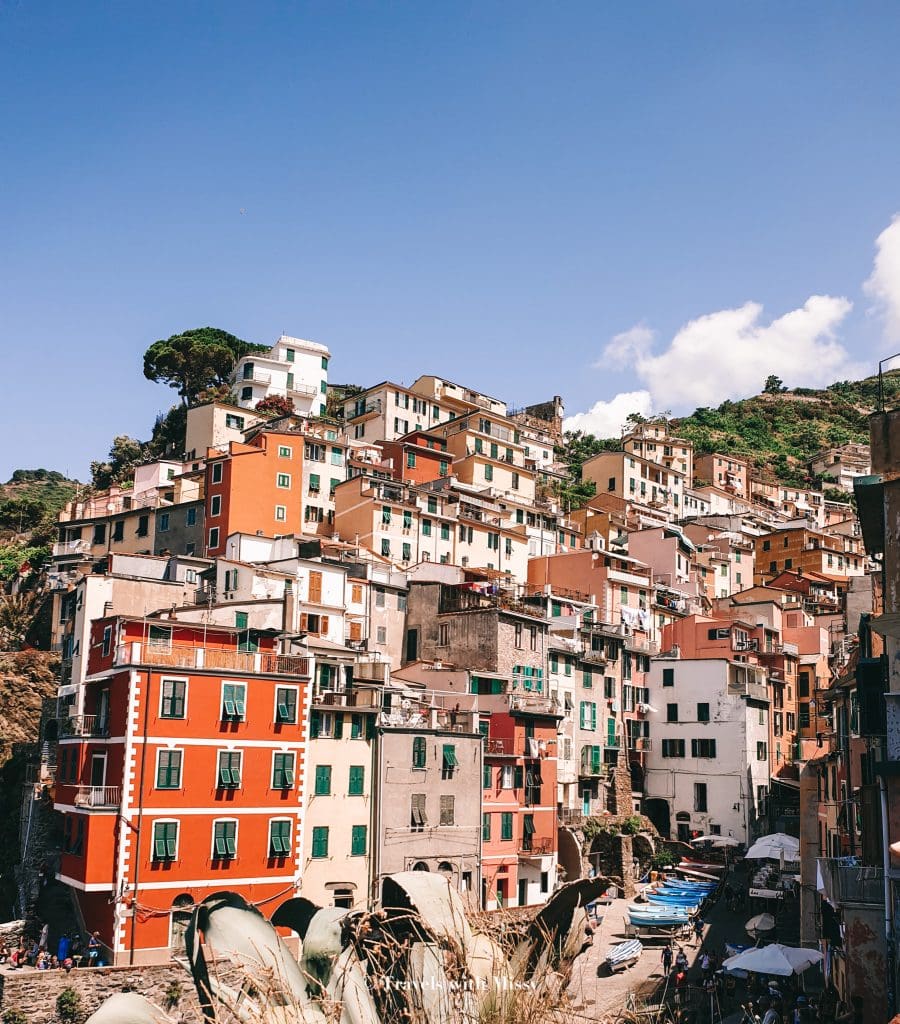 Depending on your schedule and allotted time you may be wondering is Cinque Terre worth visiting. And the answer is a resounding yes! Approaching the villages from the water leaves you with a sense of awe, and as you explore each village you'll soon come to have a favorite one which you'll hope to revisit in time.
Most people are attracted to exploring and deem the Cinque Terre worth visiting for their excellent hiking trails between the villages, as well as offering an insight into life in a small Italian village.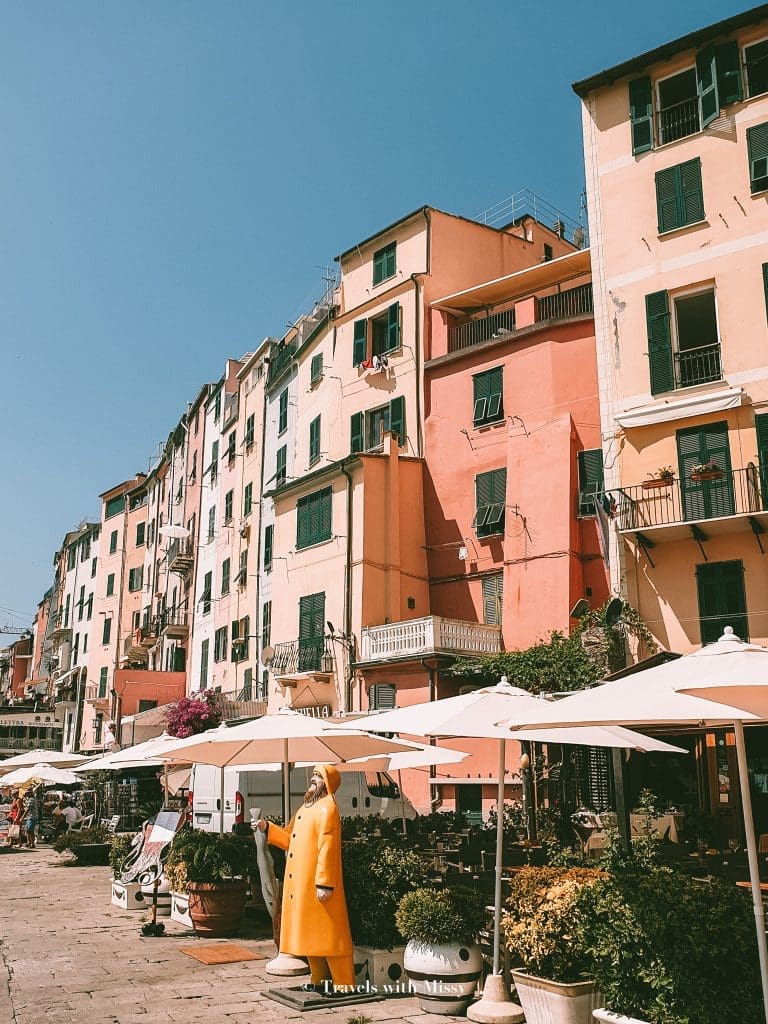 If you're seeking a destination in Italy that harks back to a slower pace of life, or simply looking for a day trip excursion, then the Cinque Terre is worth visiting for its beautiful appealing, and dramatic villages that spill down steep slopes and into the crashing seas below.
The Cinque Terre Towns
Riomaggiore
Riomaggiore is the southernmost town of the Cinque Terre and if you are traveling from the direction of La Spezia, then it will be the first town that you'll see on the ferry or on the train.
The town of Riomaggiore is stunning (I'm going to use that word a lot throughout this piece because I can't think of a better adjective to describe how bloody stunning these towns are).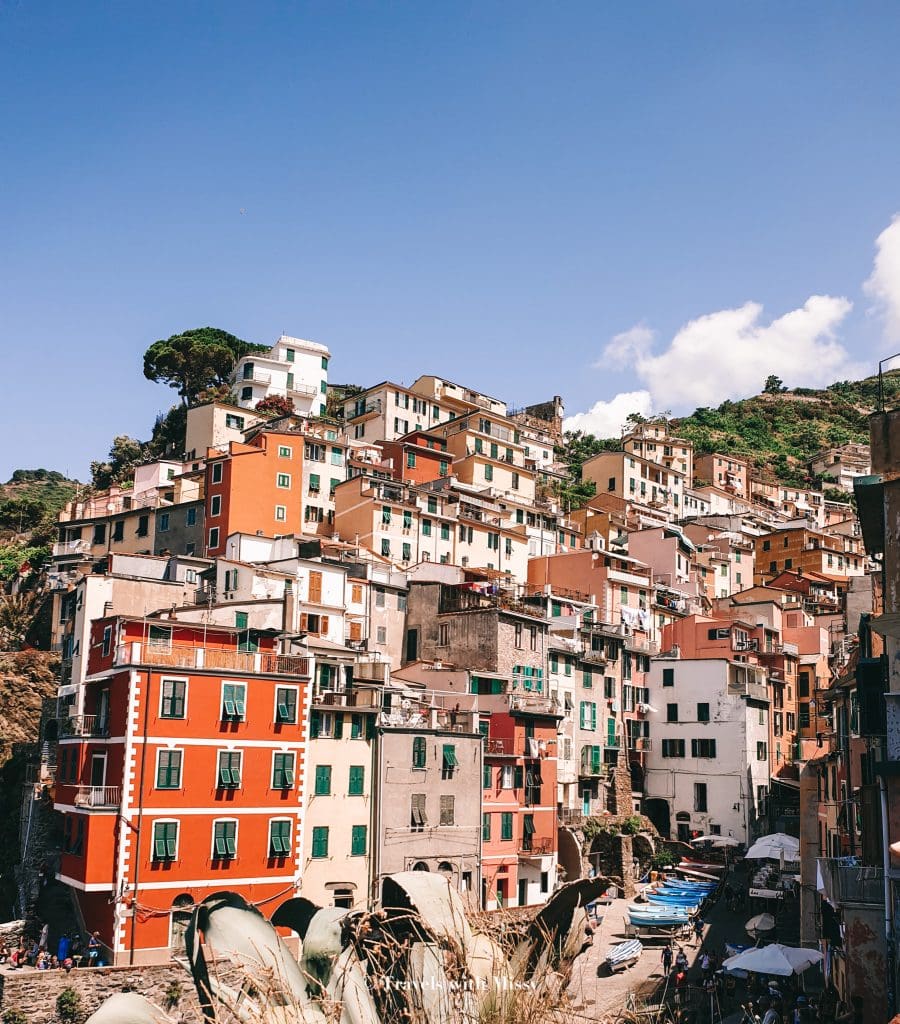 The town culminates in a series of colorful buildings that almost touch the shore as they spill down to the harbor. Arriving by ferry is an experience! Stroll up and down the Via Colombo admiring the stores and quaint artisans' workshops. We purchased some really cute ceramics.
Manarola
Romantic Manarola is one of the most charming towns of the Cinque Terre. Navigate the steep and winding streets that wind their way around this narrow headland. If you're feeling brave you can jump off the rocks into the deep sea below.
Corniglia
The smallest of the 5 towns and only accessible by train or car. If you're planning on travelling by ferry you'll need to get off at either Vernazza or Riomaggiore and take the train to Corniglia.
There are a number of stairs to climb once you do get to Corniglia, or you can take the small shuttle bus from the train station. Corniglia is one of the quietest towns on the Cinque Terre and is surrounded by vineyards.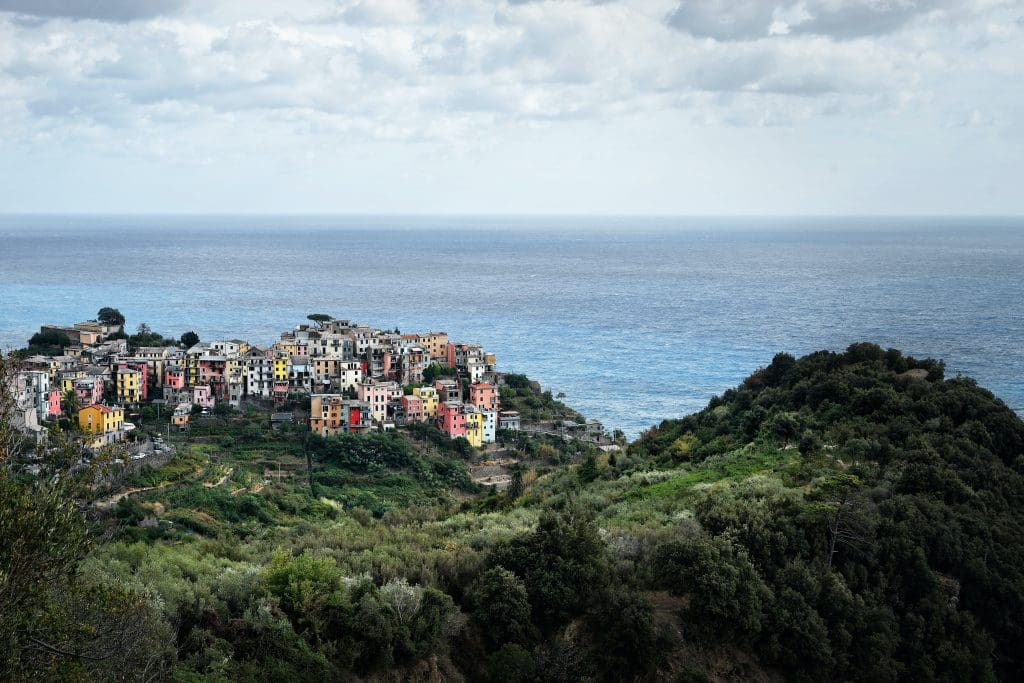 Vernazza
One of the busier towns of the Cinque Terre, Vernazza has a lot going on. You can easily spend an entire day just hanging out in the town. There's a small pebble cove that gives access to the sea (sea shoes definitely required) that is one of the easier beaches to get into the water from.
The small harbor has a number of restaurants and bars lined around it, as well as on the narrow alleyways around the town.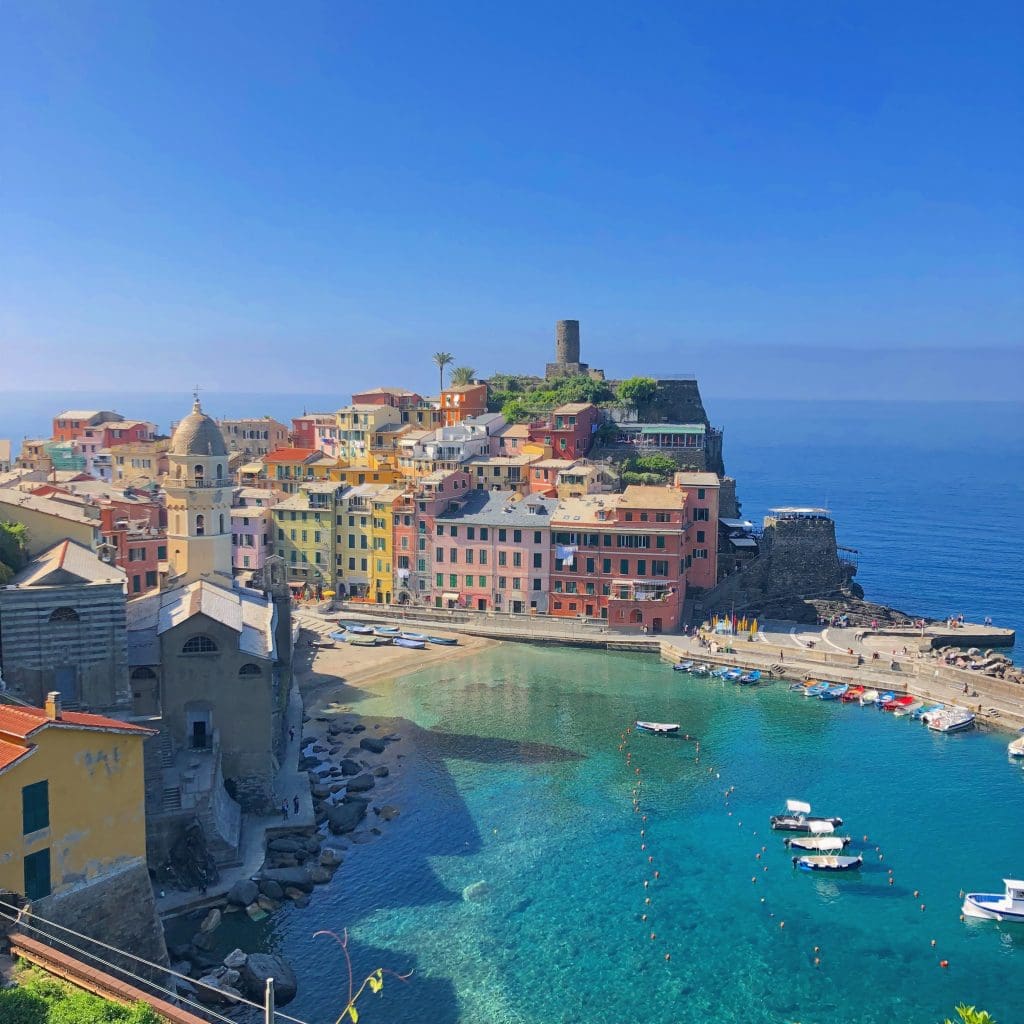 If you are short on time Vernazza is a great place to spend some quality time in. You can climb to a viewpoint that overlooks the town of Vernazza which offers spectacular views over the town and harbor.
Those interested in hiking should consider the 2-hour (steep) hike from Vernazza to Monterosso. Read below for more information on the Cinque Terre Hiking Pass .
Monterosso
Monterosso is the largest of the Cinque Terre towns and has several beaches which is a bonus! If you are planning on staying in one of the Cinque Terre towns, then Monterosso al Mar is a great place to base your vacation. Spend your mornings exploring the neighboring towns, before relaxing at the gorgeous beaches of Monterosso.
One of the most popular hiking trails starts in Monterosso and ends in Vernazza. You will need a daily hiking pass during the months of March to November.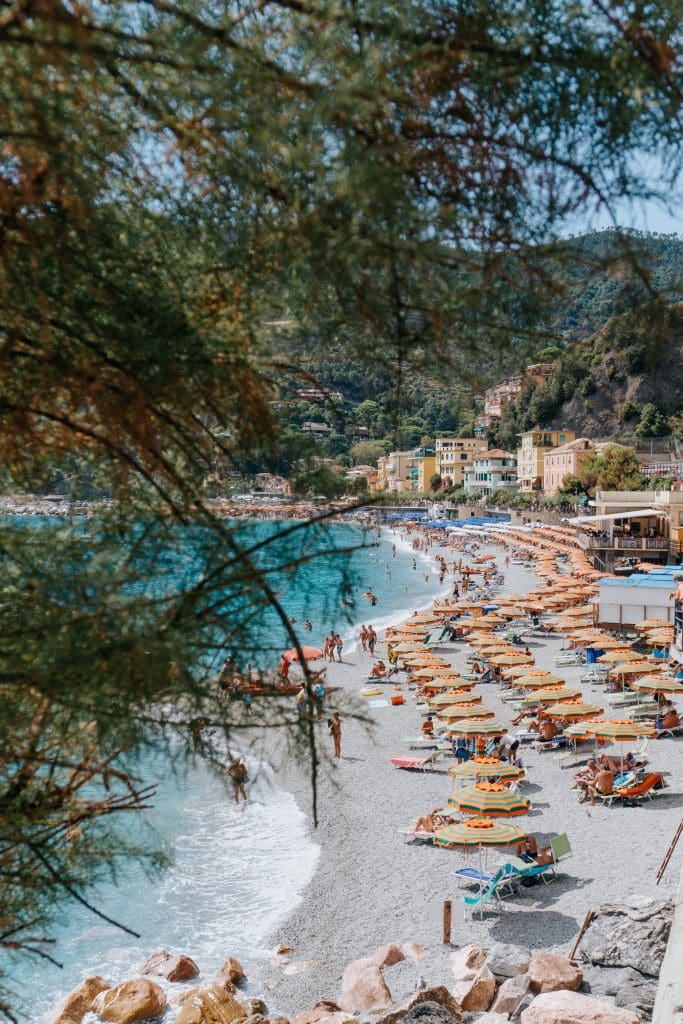 How Many Days Do You Need in Cinque Terre?
The short answer to how many days do you need in Cinque Terre is one. One day will cover the majority of the towns but at a very rushed pace and I'm basing it on the fact that you'll be staying in nearby Portovenere, La Spezia or Levanto.
One day will allow you to visit 2-3 towns either by train or by ferry. You'll have enough time to take some pictures, guzzle down an Aperol spritz, and have a quick dip before heading back to your accommodation for the night.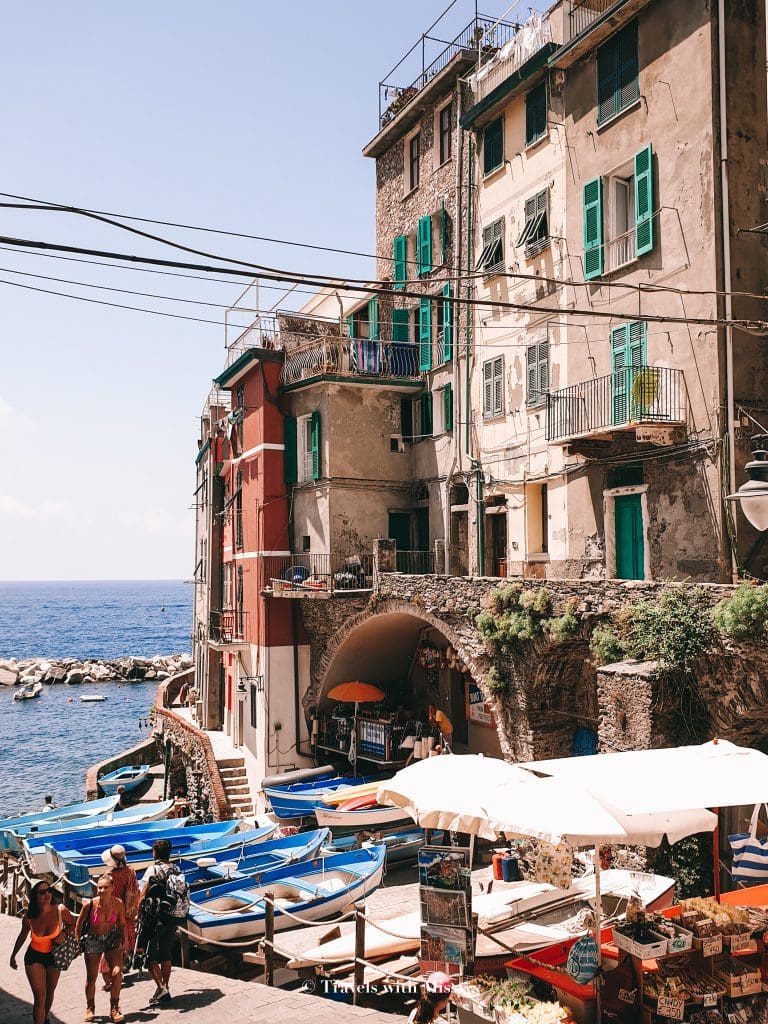 A bit rushed, but if you are short on time, totally manageable.
The longer (more appropriate) answer is that 2 days is sufficient to see the Cinque Terre towns which won't make it feel rushed. If you are planning on hiking between Monterosso to Vernazza I would add an additional day to that itinerary.
Is a Day Trip to Cinque Terre Worth it?
I understand that not a lot of people have vacation time to explore Italy and the wider world. And so you make do with the little time off that you have. There are a number of tours that operate from the likes of Florence to Cinque Terre which make it completely viable to visit for a day trip to the Cinque Terre.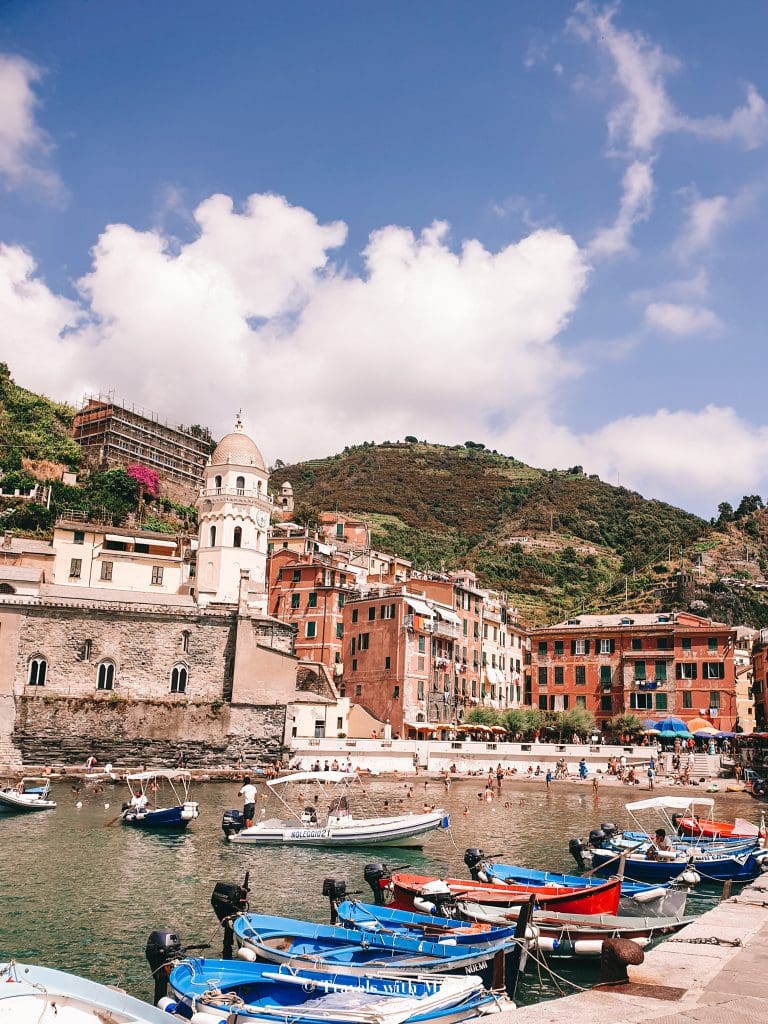 If you are short on time and are desperate to see the Cinque Terre then you should look into the following tours. I don't recommend trying to do it on your own – trying to time trains from Florence or Milan leaves very little margin for error. Let someone else take the reigns and organize the entire day trip for you.
I recommend the following tours from Florence;
Florence: Cinque Terre Tour (optional hike) – A jam-packed 13 hours traveling from Florence to the towns of the Cinque Terre. If you're short on time, this is the tour for you.
From Florence: Seaside Beauty Day Trip To Cinque Terre – Experience all 5 towns of the Cinque Terre with a long lengthy lunch (own expense) in Monterosso al Mar.
If you are staying in nearby Portovenere, La Spezia or Levanto then a day trip to Cinque Terre is totally worth it and incredibly manageable. I stayed in Portovenere for my trip to Cinque Terre which made it an excellent base for catching the ferry to and from the towns. 
Is Cinque Terre Expensive?
Visiting the Cinque Terre can be as expensive as you like. It can also be incredibly budget-friendly too.
Ferry tickets from La Spezia/Santa Margherita/Portovenere are very reasonable. A 1-day Adult roundtrip ticket is €39. If you plan on visiting just one of the towns then you can purchase a ticket for €5/€10 from La Spezia to Riomaggiore for example.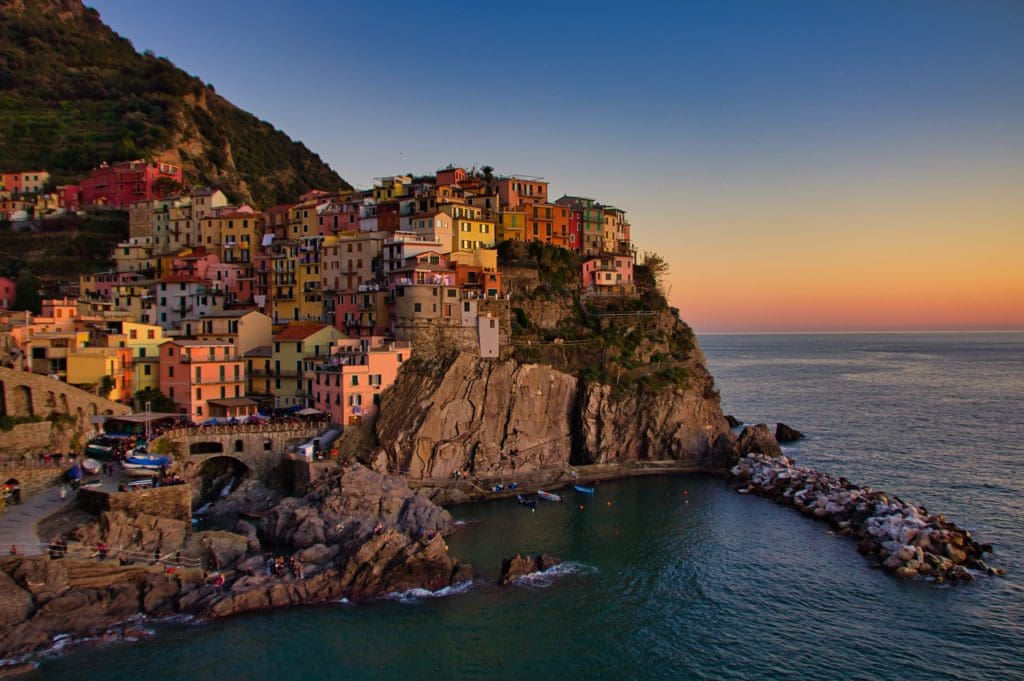 For more information on ferry ticket prices – check out the Cinque Terre Ferry schedule and prices here. 
Traveling by train? Check out the Cinque Terre Train Card which allows you to travel by train up and down the coastline for €18 per person. If you are planning a one way ride between two towns, you can expect to pay €5.
Planning on hiking? Add on €7.50 for the Cinque Terre Trekking Card which is a one-day pass.
Eating and drinking in the Cinque Terre depends on your budget. You can grab a slice of pizza, or a cone of fried fish from local stalls in the towns. Or you can sit down at a restaurant and expect to pay between €30 -€45 for a main dish. 
Is Cinque Terre Touristy?
The Cinque Terre is incredibly popular and during the months of May through to October, the towns are busy with day trippers who come from near and far. 
There are pockets of the year when the crowds tend to die down, the first couple of weeks in October see swelling crowds begin to slow down. Ferries finish their season by the beginning of November and resume in late March. Bad weather stops the ferries from running completely, so it's best to wait to book your tickets until you've checked the forecast. 
The towns of the Cinque Terre have been popular for what feels like forever, and each year they see a renewed interest, especially as the rise of TikTok promotes beautiful and interesting destinations.
Compared to the likes of Amalfi Coast, there is a similar level of interest and excitement that does make visiting the towns during the months of July and August feel particularly unpleasant due to huge volumes of tourists. If you can avoid traveling to these places during these times and instead choose new up-and-coming areas that are much quieter and still as beautiful.
Where to Stay in Cinque Terre
There is limited accommodation choices in the towns of the Cinque Terre, so if you have a dream of staying in one of the Cinque Terre towns then you need to book well in advance. 
Here are some ideas of where to stay in each of the Cinque Terre towns.
Riomaggiore
Alla Marina Affittacamere // Absolutely incredible rooms in the heart of Riomaggiore with breathtaking views. This is a once-in-a-lifetime accommodation that is run by a local family.
EC Luxury Rooms // Brilliant location with modern interiors and jaw-dropping balcony views.
Monterosso al Mare
Hotel Villa Adriana // A 100m from the beach, featuring a swimming pool and close proximity to the train station.
Hotel La Spiaggia // Unbeatable beach location with basic rooms and decent room prices.
Is Cinque Terre Worth Visiting?
Still wondering is Cinque Terre worth visiting? I hope that over the course of the post I've been able to outline why the 5 towns are worth a visit, either on a day trip, or if you can spare more time over a couple of days.
The towns of the Cinque Terre are really and truly beautiful, and worth seeing at least once in your lifetime.
If you enjoyed the post you can Buy Me a Coffee by clicking on the button below!
Some of these may be affiliate links, which means when you buy something I may receive a small commission. There is no additional charge to you, and it really helps to support me – so thank you!