The town of Nerja Spain has exploded in popularity over recent years. Like much of the Costa del Sol, people are drawn to beautiful sandy beaches, endless sunshine and out-of-this-world Spanish cuisine. It's no wonder that before the Corona Pandemic there were 5.2 million visitors who chose the Southern coast of Spain as their annual holiday destination. Nerja is one of the prettiest places on the Costa del Sol and it's easy to see why so many visitors keep revisiting it year after year. With plenty of Nerja hotels and apartments to choose from, there is something for everyone.
Location & Things to Do
Located 50 minutes from Malaga Airport, it has kilometers of beaches to choose from and maintains a quaint Spanish feel that many other locations on the Costa del Sol have lost. Nerja keeps its authentic feel in the heart of the town, with cobbled streets and traditional restaurants, and great local shopping. And it caters to all types of travelers, from families to couples, there is something for everyone in this sun-soaked town of Nerja. 
Visitors can spend their time visiting the infamous Nerja Caves which is home to the world's largest stalactite. These caves were only discovered relatively recently in 1959 and are a wonderful way to spend a hot afternoon in the cool subterranean chambers. Concerts also used to be held in the underground wonderland due to their incredible acoustics.
The nearby town of Frigiliana is also worth visiting. Pristine with whitewashed houses which are traditional to the region is one of the prettiest towns in all of Andalusia. The trip from Nerja is made easier with a local bus that leaves from the Nerja bus terminal to Frigiliana. The town has lots of adorable shops selling locally produced honey, wines and oils. A visit to Frigiliana is a must when visiting Nerja.
There is something for every budget requirement with plenty of accommodation in Nerja, ranging from 4-star hotels, private villas, and apartment rentals. For such a small town, Nerja has a huge amount of accommodation to offer.
Some of these may be affiliate links, which means when you buy something I may receive a small commission. There is no additional charge to you, and it really helps to support me – so thank you!
Luxury Nerja Hotels
There are plenty of options when it comes to mid-range Nerja hotels. Included on this list are some of the luxury hotels that have a 4-star hotel rating and excellent reviews. Their locations are centrally located and offer plenty of amenities for guests. For visitors wanting to splurge or treat themselves, these Nerja hotels will tick those boxes.
Parador de Nerja
The Parador de Nerja is the perfect choice for travelers wanting a touch of class. With manicured lawns and breathtaking sea views, the 4-star Parador has one of the best locations in Nerja and is a highly revered hotel. With a private elevator that enjoys direct access to the Burriana beach, you can easily choose between the Parador's hotel outdoor swimming pool or one of the best beaches on the Costa del Sol.
For those wanting to burn off some calories, the Parador also has two tennis courts. The pool is also fenced off for those with young children. This Nerja hotel is only a short walk into the center of Nerja along the Carrabeo, with beautiful views of the Balcon de Europa and other smaller beach coves.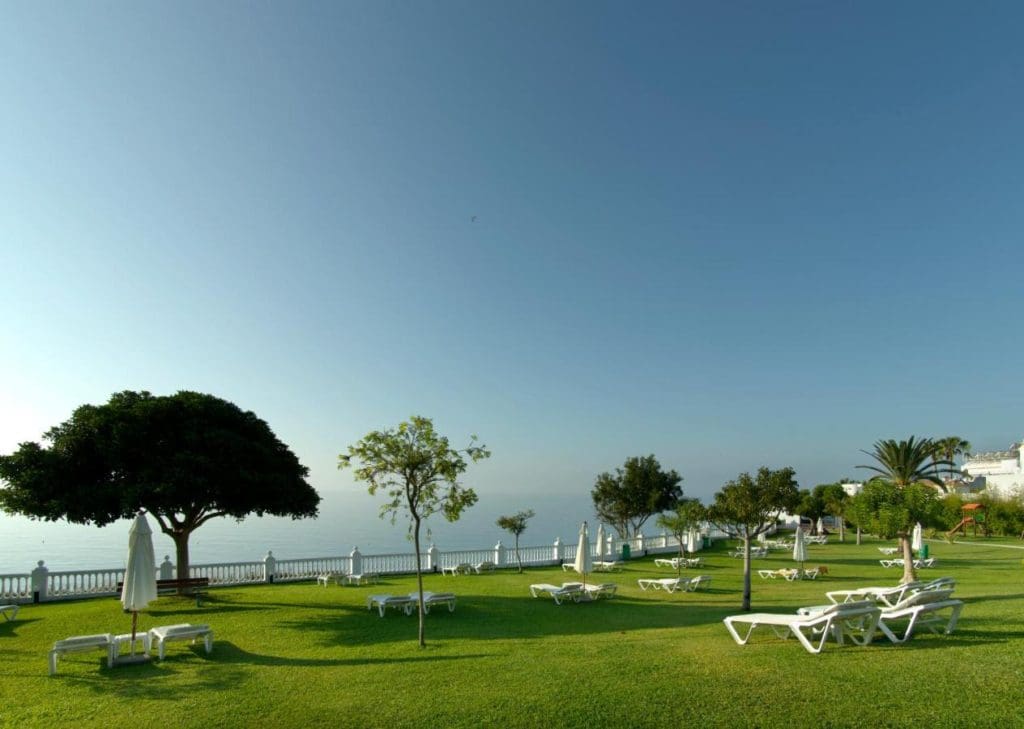 Hotel Balcon De Europa Nerja
The Balcon de Europa is one of the highlights in Nerja town. It is essentially a long promenade out to the Mediterranean sea and in the evening comes alive. Most evenings you can find portrait painters, jugglers, and musicians playing on the Balcon. The Balcon de Europa juts out into the sea and gives visitors a sweeping view of the coastline for kilometers.
Situated right on the Balcon and in the heart of Nerja is the Hotel Balcon de Europa. With direct access to the Caletilla Beach from the hotel and a swimming pool, guests will be torn about where to spend their time. The pool is heated during the cooler winter months. The rooms are decorated in floral patterns and most of the rooms have balconies that overlook the sea. And the best part is that you are only steps away from excellent restaurants and bars. The Hotel Balcon de Europa is one of the best centrally located Nerja hotels.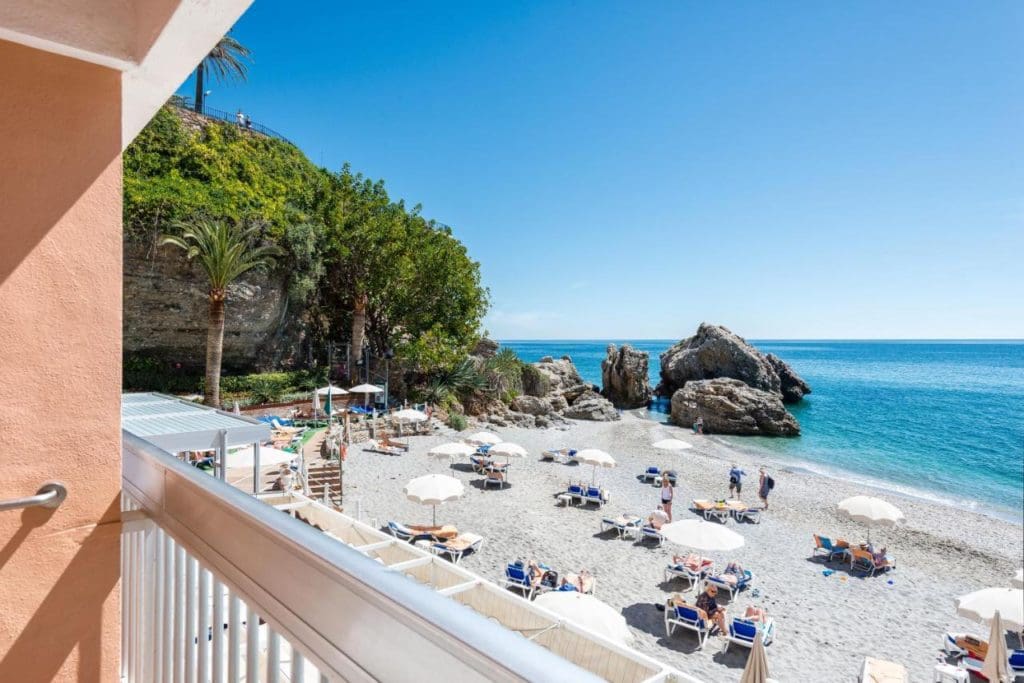 Hotel Carabeo
The Hotel Carabeo is a fantastic boutique hotel choice for couples. It is stunningly decorated in scrumptious mid-19th century decor and oozes character. The small enclosed pool is perfect for dipping in and cooling off. But the reason the Hotel Carabeo stands out is the restaurant on its premises.
The 34 Restaurant is one of the best restaurants in Nerja and is the perfect place to have a candlelight dinner for two. A small quaint bar at the front of the hotel doubles up as a tapas bar with live Flamenca music several times a week during the summer months. The Hotel Carabeo also has a furnishings and decor store directly opposite the hotel, where you can purchase lovely homewares. This is one of the most romantic Nerja hotels and you can't help but fall in love with its stunning interiors.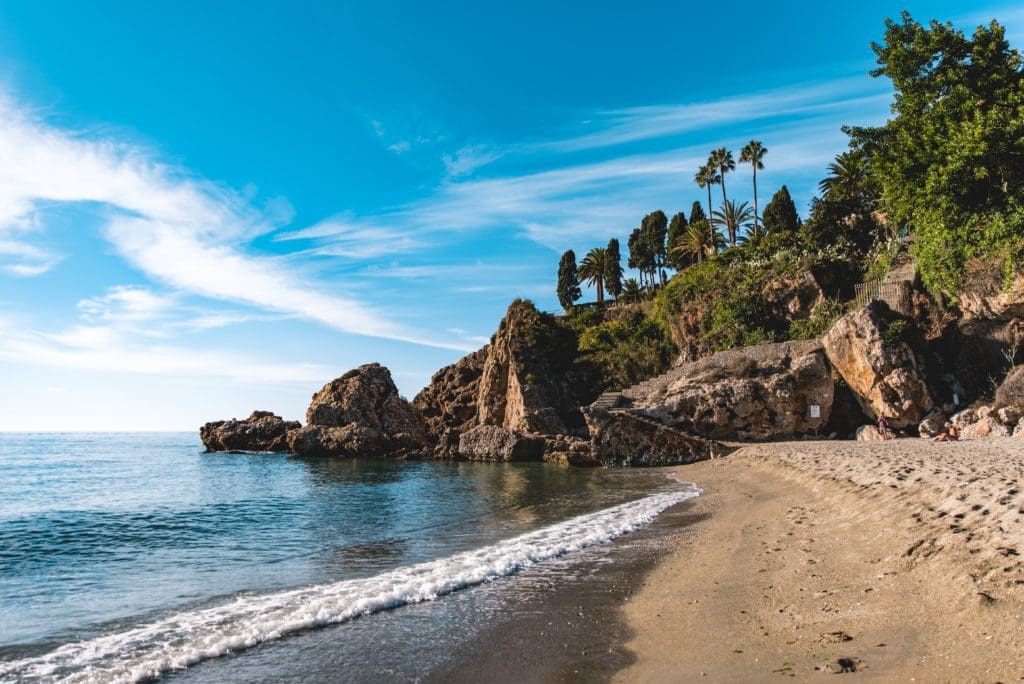 Family Hotels in Nerja
Toboso Apar – Turis – 3 Star Hotel
Set a stone's throw away from the Balcon de Europa, Toboso Apar Turis is a mix of hotel and apartment rentals. With 12 studios and 16 apartments, you will find fully equipped kitchen units and sitting rooms for visitors who wish to have more home away from home comfort. This Nerja hotel has an outdoor pool, sauna, gym, and indoor pool, guests will also find the beach a short 100m stroll away. Its proximity to restaurants and beaches makes this a wonderful choice for families.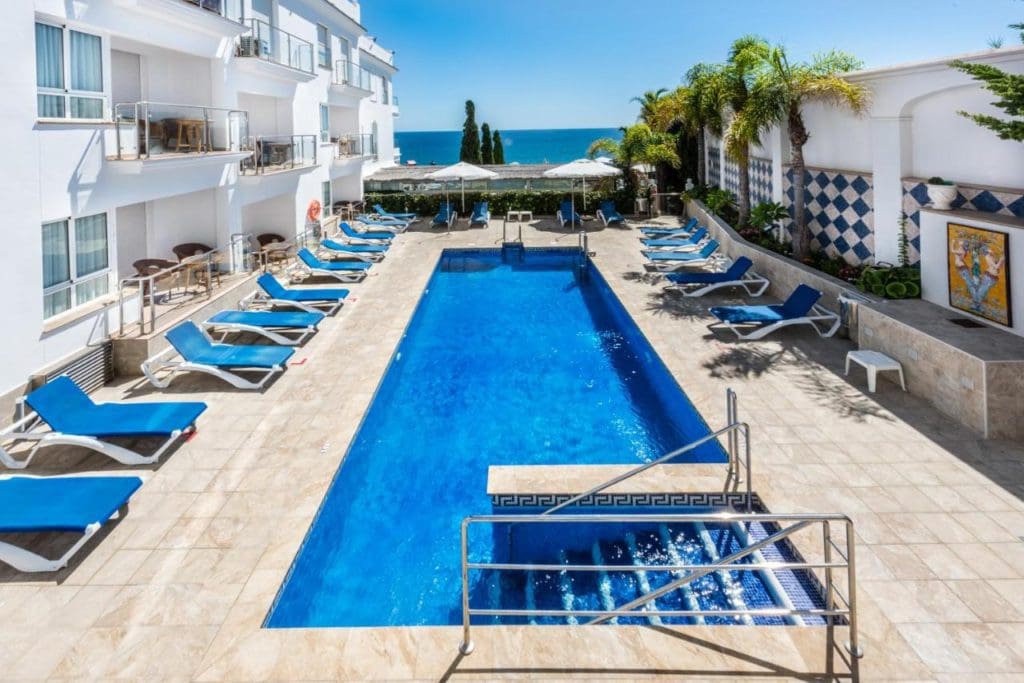 Hotel Plaza Canava – 3 Star Hotel
The Hotel Plaza Canava makes a fantastic choice for travelers seeking an affordable centrally located hotel. Set 100m from the Balcon de Europa and complete with a rooftop swimming pool and terrace, visitors will love this space during the summer months with a small pool bar serving snacks and drinks. The rooms are decorated in different styles, with some being a little more dated than others. It's the location of this Nerja hotel though and its excellent value for money that makes Hotel Plaza Canava a real winner.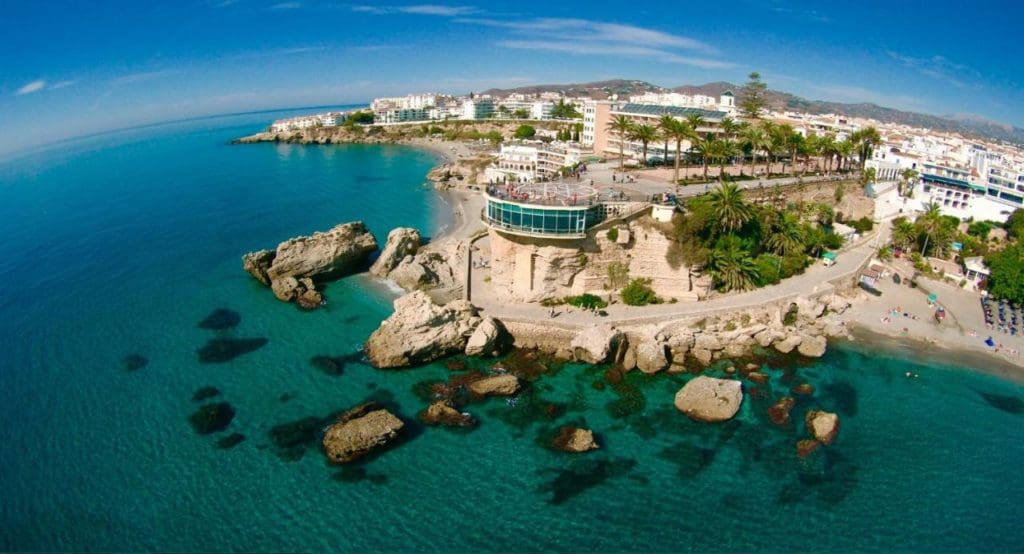 Hotel Villa Flamenca – 3 Star Hotel
The Hotel Villa Flamenca undertook a huge facelift and modernization in 2016. What had once been a stuffy and outdated Nerja hotel, has been gorgeously outfitted and brought into the 21st century. The hotel rooms have been renovated with wooden floors and new bathrooms.
A terrace complete with a jacuzzi and sun loungers can be found on the roof. The large pool has also been carefully looked after and new sunbeds litter the area. Hotel Villa Flamenca also offers a small well-equipped gym. One of the nicest new features of the hotel is the new bar that at one point offered food. The location is great, with a quick 10-minute walk down a hill to the Burriana beach (returning is another story). The town center of Nerja is also a 1km walk away. 
A favorite Nerja hotel for a lot of British & Irish repeat visitors to Nerja, they are especially drawn to its decent location and fun-themed nights.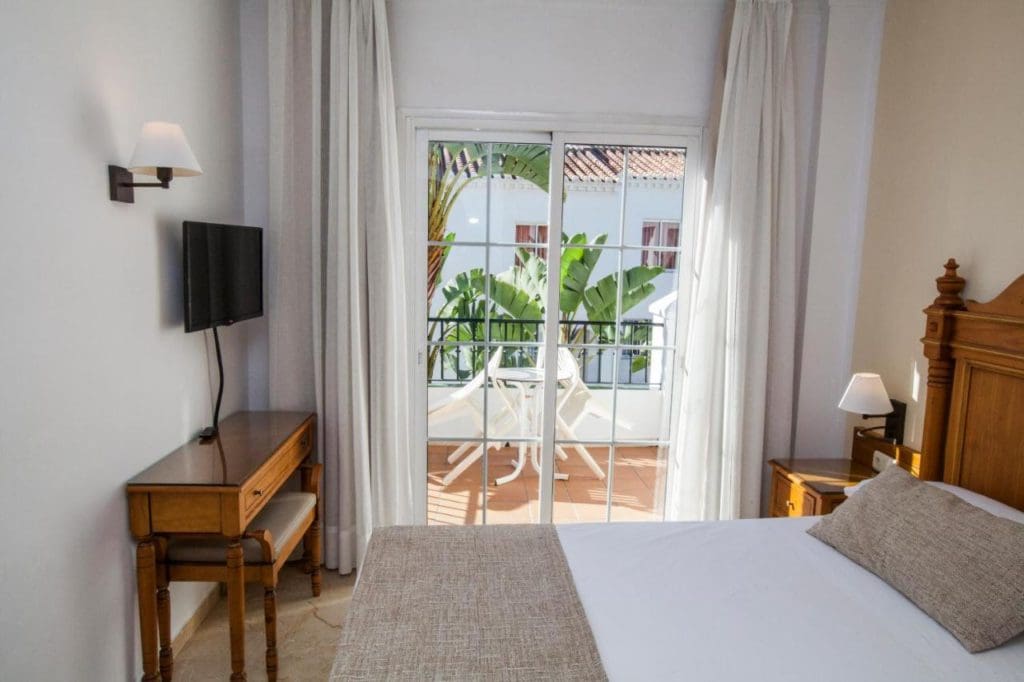 Nerja Pool Villas
Offering more privacy and comfort than your average apartment or villa rental, Nerja has plenty of great selections available. But do be warned, the locations of some of the rentals require a car or taxis to get to Nerja town center. A small price to pay for luxury comfort.
Villa Manhattan
A stunning three-bedroom villa with a private pool, this villa makes the perfect holiday retreat for a family. Its stunning decor and aqua green theme is carried throughout the house and finishes in the large terrace area replete with an incredible outdoor swimming pool. Villa Manhattan is tastefully decorated and completely modern, with large bedrooms and living areas. A car or taxi is necessary for those wanting to visit the beaches around Nerja or dine in Nerja town centre.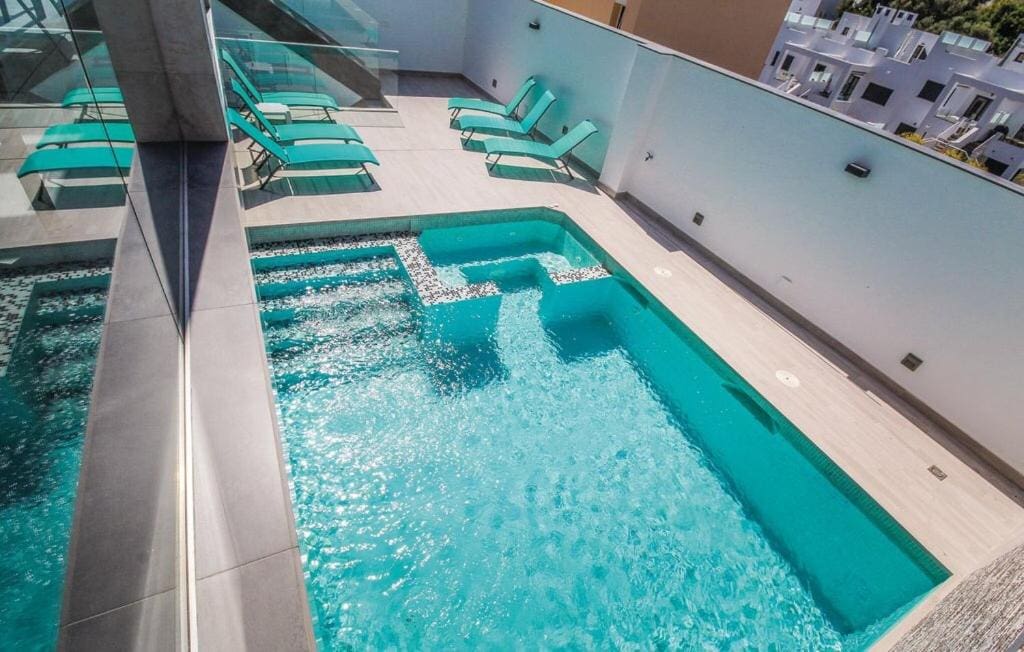 Villa Monica
If you have ever dreamt of staying in a traditional farmhouse then Villa Monica can make your dreams a reality. A traditional Finca with a touch of modernity is complete with an outdoor jacuzzi and outdoor swimming pool. Located 2.5km from the Balcon de Europa a car is necessary for this accommodation if planning on visiting nearby attractions. Set on lush grounds, the surrounding views are truly breathtaking and the sea is within sight. This would make the perfect family vacation spot for those looking for a contained house with a terrace, sun loungers and swimming pool.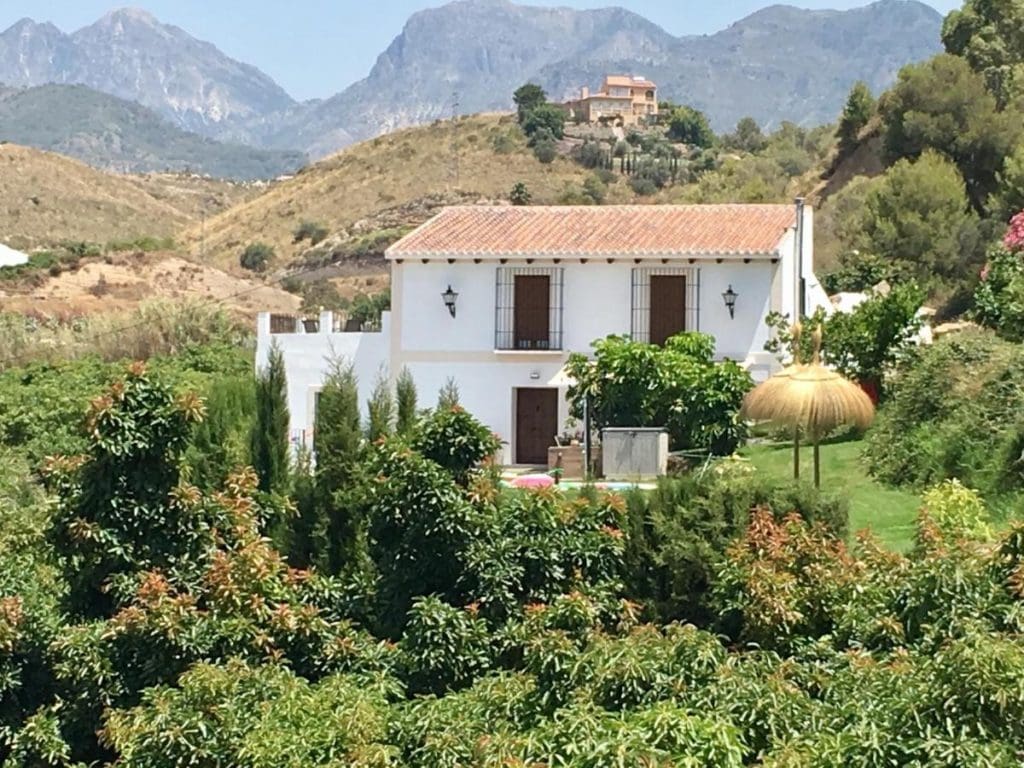 Nerja Rental Apartments
Apartment rentals make a great choice for families or those seeking long-term rentals. With the convenience of having a kitchen and more space to move around it, there are plenty of apartments or villas for rent when looking for the perfect accommodation in Nerja. Depending on the time of the year you can get some really good deals on long-term rentals. Traveling out of the season always helps too. There is also plenty of availability when searching for Airbnbs in Nerja.
Balcon de Europa Apartment
For those seeking a brand new apartment in the center of Nerja, the Balcon de Europa (not to be confused with the hotel of the same name) is pure luxury. With two bedrooms, a fully fitted kitchen, and a washing machine, guests will have an uninterrupted view of the gorgeous Balcon de Europa and sea views. The apartment is gorgeously stylish and the large terrace is a must for those early morning coffees and people watching.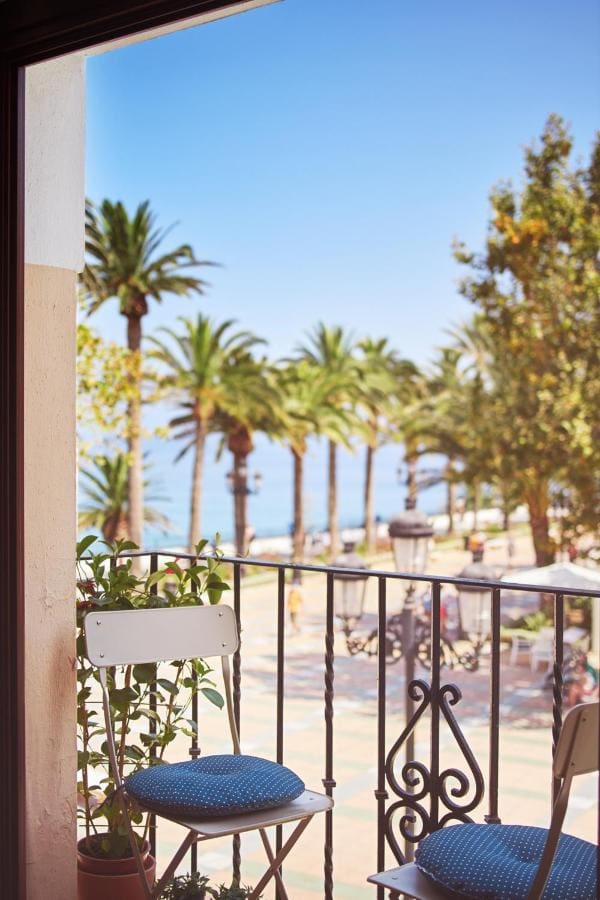 30 Los Pinos
This small house is the perfect accommodation in Nerja for a family of 4. Located a 10-minute walk from the Burriana beach and 800m from the center of Nerja, the house shares access with a communal pool. A large terrace with lounge chairs and an outdoor dining table make this space really inviting in the evenings.
Solaga Horizonte Club
A very recent addition to the Nerja accommodation scene, Solaga Horizonte Club oozes luxury. Set on the edge of a cliff with ocean views, Solaga Horizonte has an incredible sunken pool and breathtaking terrace. With a large bbq and hot tub, the penthouse apartment can accommodate up to 6 people. Located only 300m from the Balcon de Europa, there are restaurants and bars mere feet from the front door. All apartment rentals have a fully equipped kitchen and air conditioning.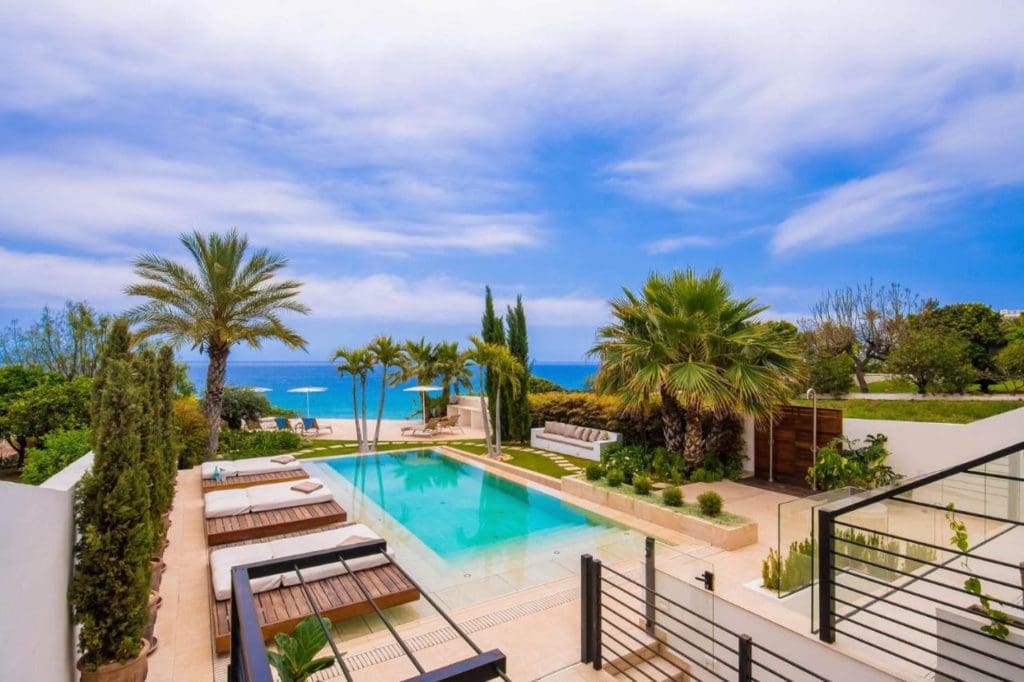 Best time to visit Nerja
Naturally, the summer months are always the busiest time in Nerja and the Costa del Sol. The summer is when Nerja is at its busiest with restaurants and accommodation booked out. The town is lively and there is a great atmosphere around. The beaches, especially the Burriana beach have lots of activities such as kayaking tours, paddle boarding, parasailing, and inflatable toys to hire.
On the shoulder of the summer season is a personal favorite time to visit Nerja. The months of May and September are quieter and accommodation prices tend to come down quite a bit. The weather in May is beautiful, with the temperature creeping into 23C/73F+ sunny days. September is the perfect month in Nerja, the sea is the warmest it will be, the beaches are quieter and the weather is gorgeous. The average temperature is 28C/82F.
During the winter months, you'll find a lot of Irish & British ex-pats spend a lot of time as the town never really shuts down unlike other towns on the Costa del Sol. The temperatures are mild with cloudy and occasionally cold days. A lot of the homes aren't really equipped to deal with the colder weather.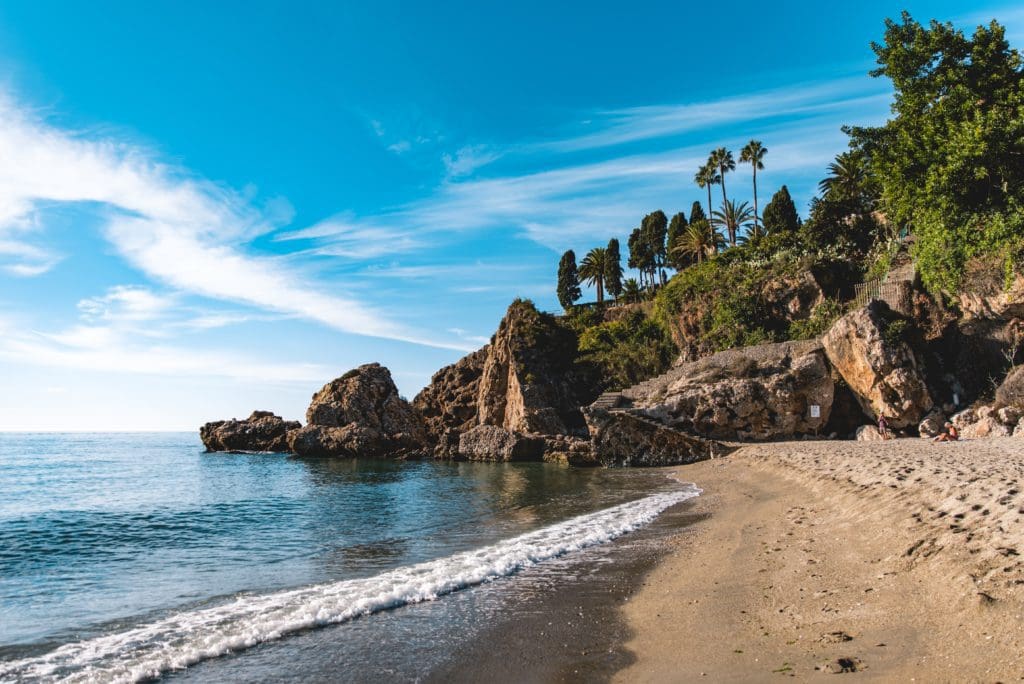 Getting to Nerja
Malaga airport is a 50-minute drive to Nerja. With connections from all across Europe and cities on the east coast of the United States, Malaga airport is incredibly well connected. There are no regular bus services from the airport to Nerja. You can catch a train from Malaga airport to Malaga train station and walk across the road to Malaga Bus depot where you will be able to hop onto a bus. The bus schedule varies and the journey takes an hour with stops in Velez Malaga and Torre del Mar.
Malaga – Nerja Bus Information
| | | | |
| --- | --- | --- | --- |
| Bus Ticket Price | Frequency | First Bus. | Last Bus |
| €4.58 | 32 Daily | 07.00 | 23.05 |
You can find all the big car rental company names in Malaga airport. Rentalcars is a great website when making bookings for rental cars and they have an extensive list of reputable companies such as Hertz and Avis on their books.
If you want a more straightforward way of getting from Malaga airport to Nerja, then Nerja Taxis are great to use. With large 7-seater vans and a fixed price, Nerja Taxis are reliable and safe.
Whatever your choice of in any of the Nerja hotels, there is something for every visitor. Nerja is one of the loveliest towns in Andalusia and it offers visitors plenty of things to see and do when planning your next visit to the Costa del Sol.