Dumbo Manhattan Bridge View: Location, Tips & Maps
The Dumbo Manhattan Bridge View is one of the most iconic images from New York City that competes with a serious amount of already spectacular sites – the Empire State Building, the Statue of Liberty & Brooklyn Bridge to name just a few.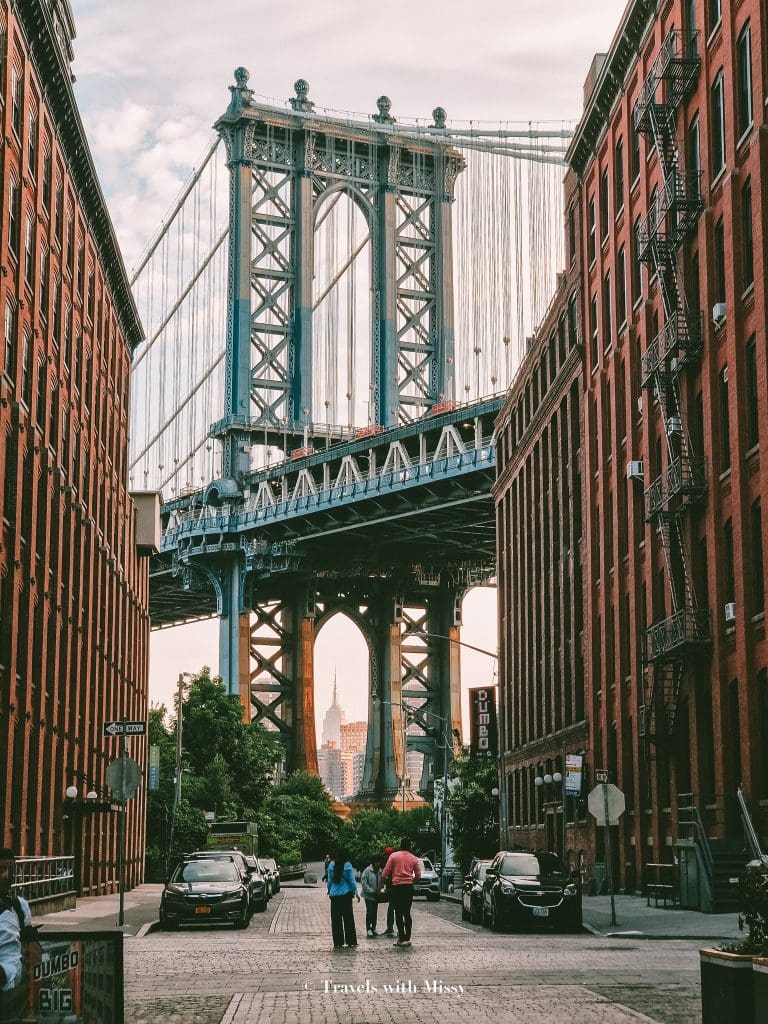 What makes this Manhattan Bridge photo spot so iconic is its juxtaposition of red-bricked warehouse-style buildings framing the Manhattan Bridge in the background, through which you can perfectly frame the Empire State Building. I'm not quite sure there's a more memorable image you'll find, that's also as easy to access!
So where is one of the best Instagram spots in NYC and how can you join the hordes (or avoid them) of crowds that head to this Brooklyn landmark?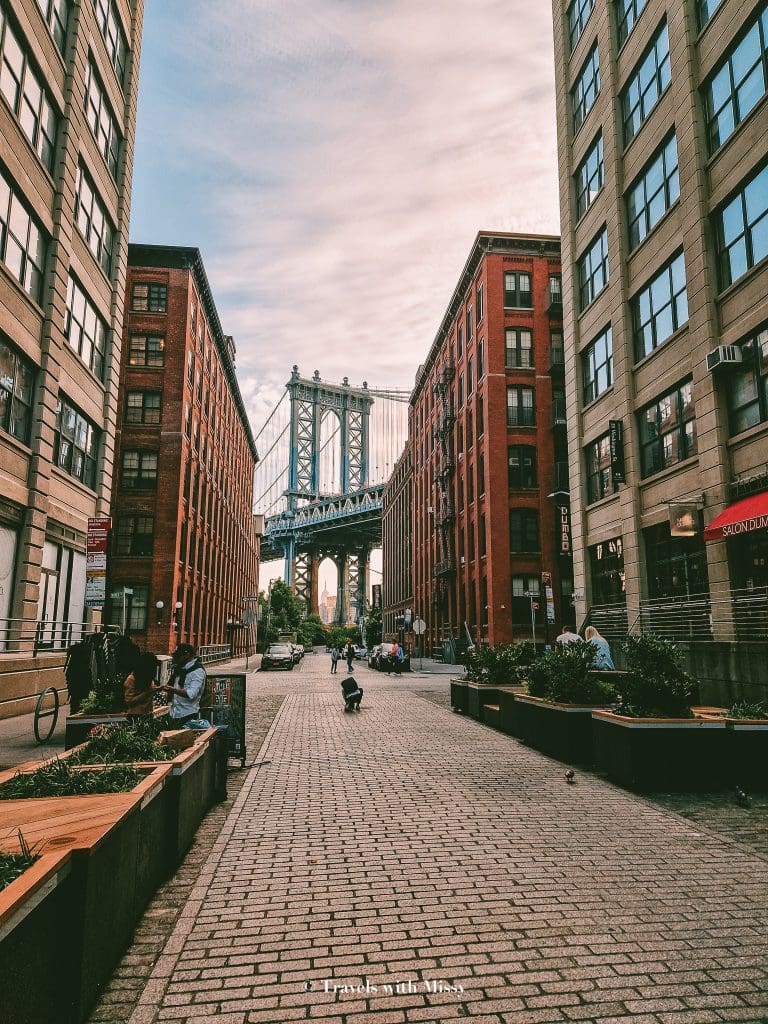 Where is the Dumbo Manhattan Bridge View?
You'll find the Dumbo Manhattan Bridge View on Washington Street in DUMBO (which stands for Down Under the Manhattan Bridge Overpass). The intersection of Washington Street and Water Street is where you'll find the majority of people posing and taking pictures.
This Manhattan Bridge photo spot is consistently considered to be one of the best Instagram spots in NYC and depending on what time you arrive at you may have to wait a while, or utilize your photoshopping skills.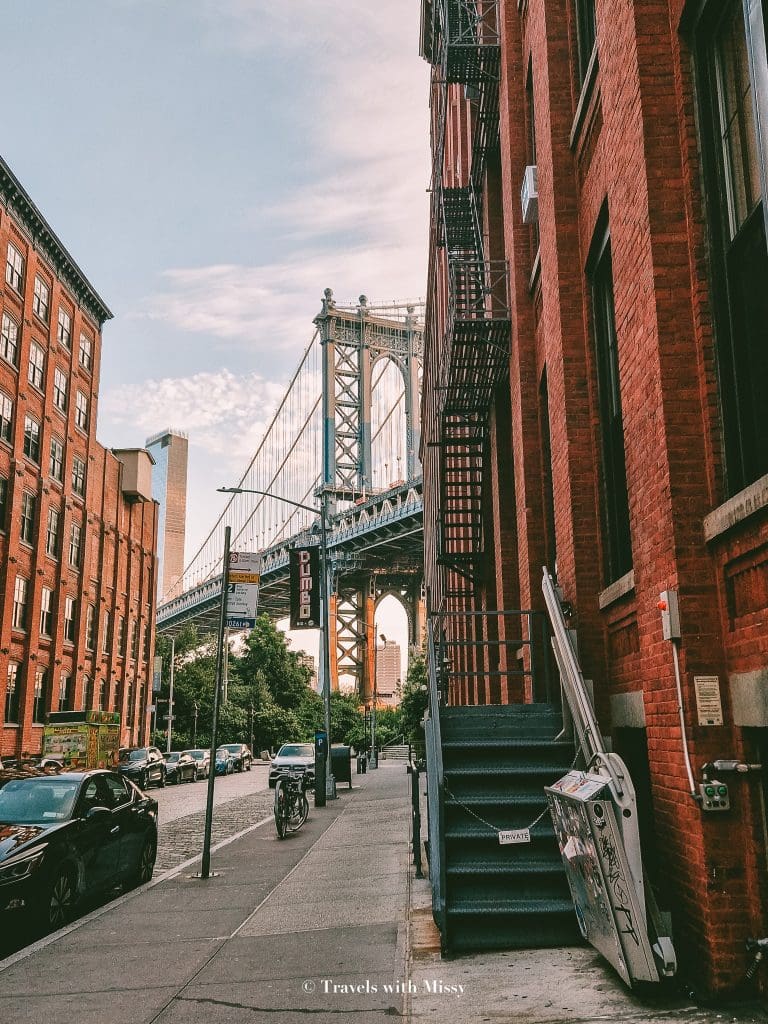 Best Time To Visit DUMBO Bridge View
If you want uninterrupted photos of the Dumbo Manhattan Bridge View with no other spectators or photoshoots happening then you should try to arrive just after sunrise (summer).
I visited this iconic Manhattan Bridge view and took all these photos just before 7 a.m. in August and there were only a handful of people who were there.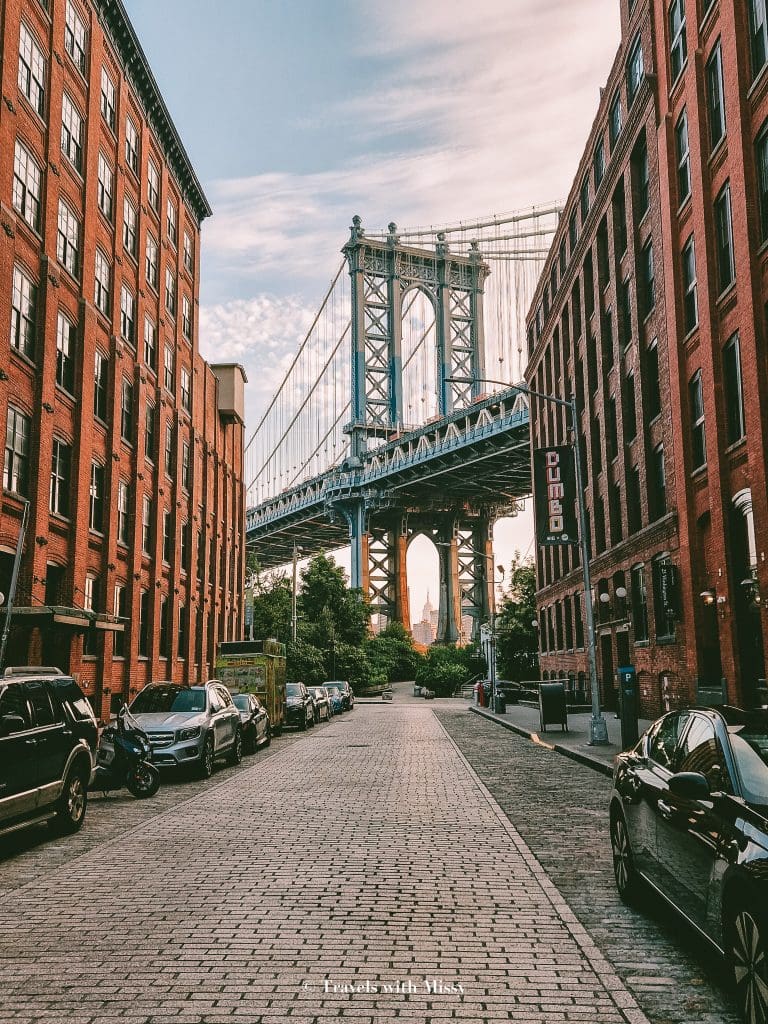 I compared it to later in the day at around 1 pm and the street was packed with people trying to take photos. If that doesn't bother you then you don't need to bother setting an alarm, you can waltz down at any time.
For those serious about their photoshoots you will need to get there at first light to set up your shot and optimize the fact that there are limited numbers of people. The same can be said for the Brooklyn Bridge, either walking across it or taking pictures on it – the earlier the better.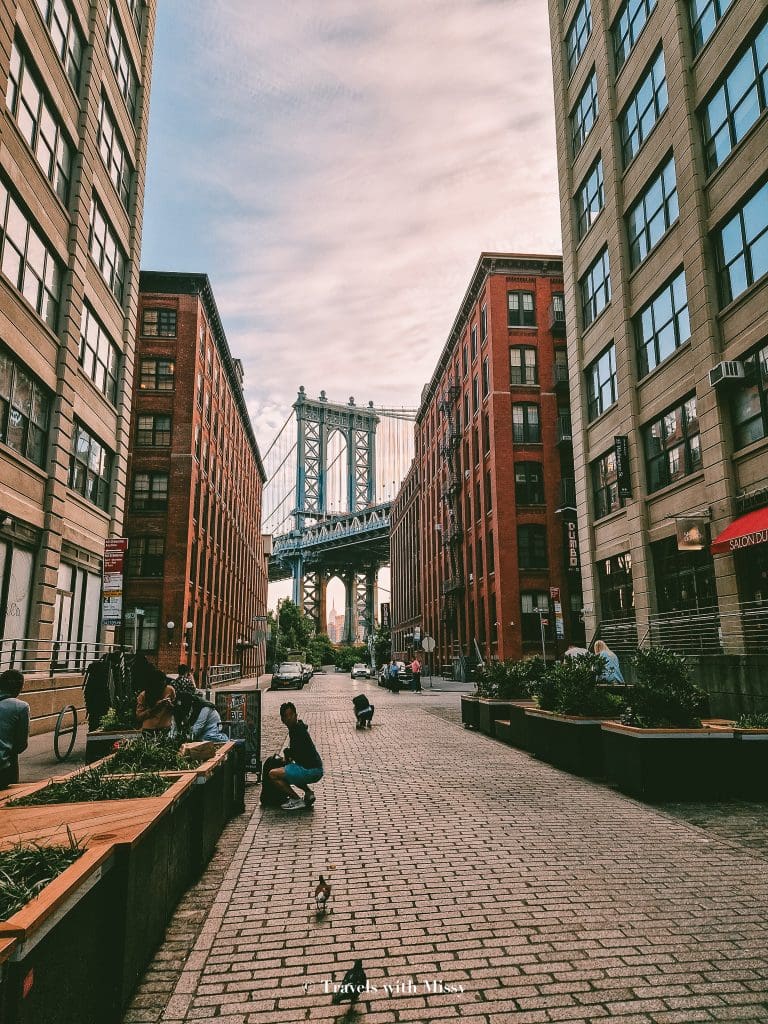 Do note that Washington Street is a busy street and you will need to contend with not only dozens of other people but also traffic too. Try not to disturb the residents who live in the apartment complexes in the area as well. 
Subway Stations
There are a number of subway lines nearby which will require you to walk around 8-10 minutes from the station to Washington Street.
A & C High Street – Brooklyn Bridge
2 & 3 Clark Street
F – York Street
Ferry
The Fulton Ferry/DUMBO connects with Wall Street/Corlears Hook & several South Brooklyn stops.
The East River Ferry in Manhattan connects with the North & South Williamsburg, as well as a closer stop of DUMBO/Fulton Ferry.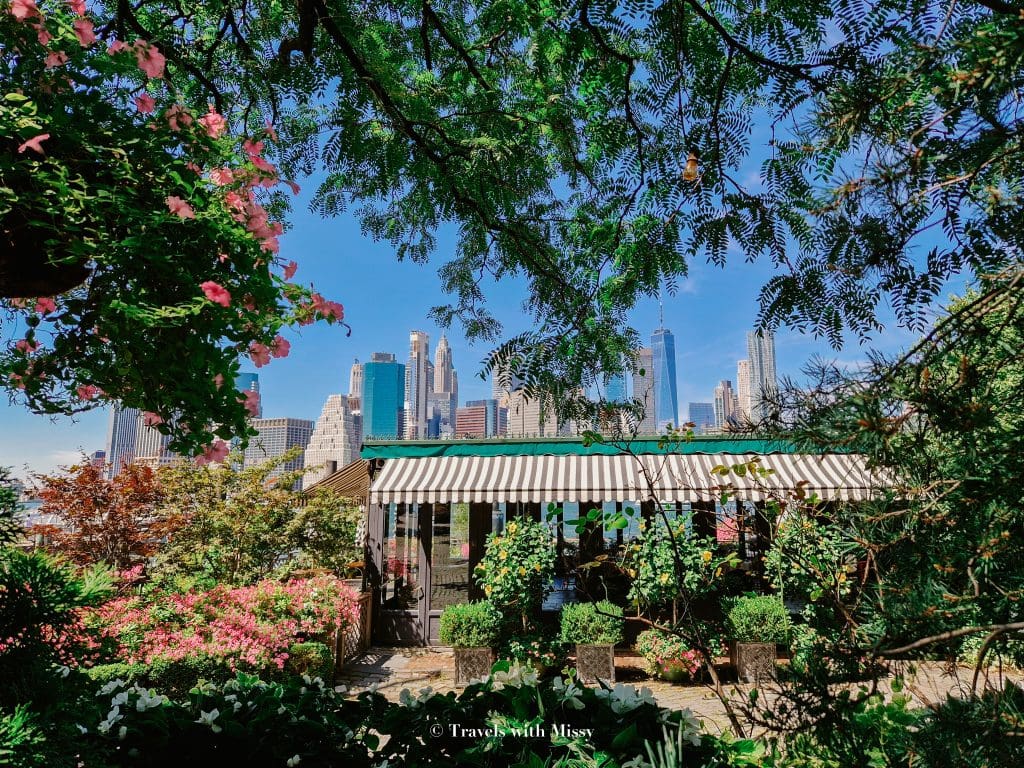 Other Things to do in DUMBO
Walk the Brooklyn Bridge. One of the best free activities to do in New York is walking across one of the most famous bridges in the world. Worth every second.
Head to the Time Out Market New York for some breakfast or lunch depending on the time of the day. A great selection of restaurants to choose from. Spectacular views from the rooftop.
Brooklyn Bridge Park offers incredible views of lower Manhattan and a wonderful place to walk around.
Exploring Brooklyn & Brooklyn Heights is a great way to spend an afternoon.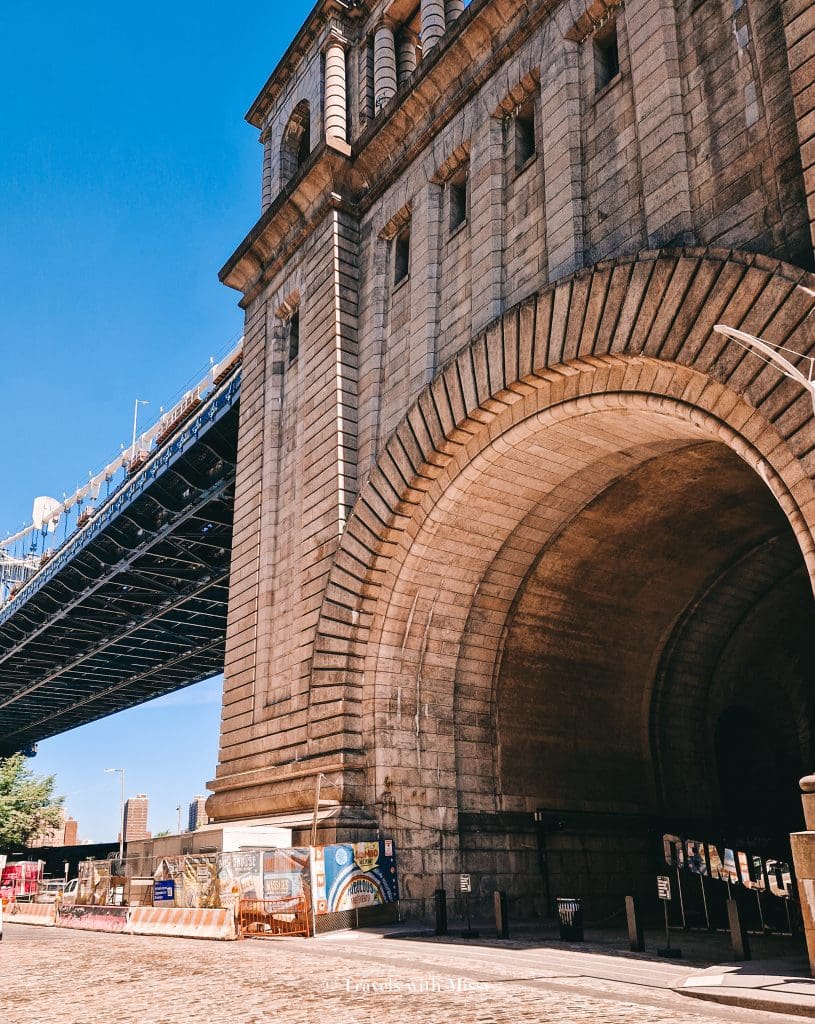 There are so many things to do in New York, and even if you are a solo traveler, visiting the iconic Dumbo Manhattan Bridge View should be on everyone's NYC bucket list especially if you're planning on spending time in Brooklyn.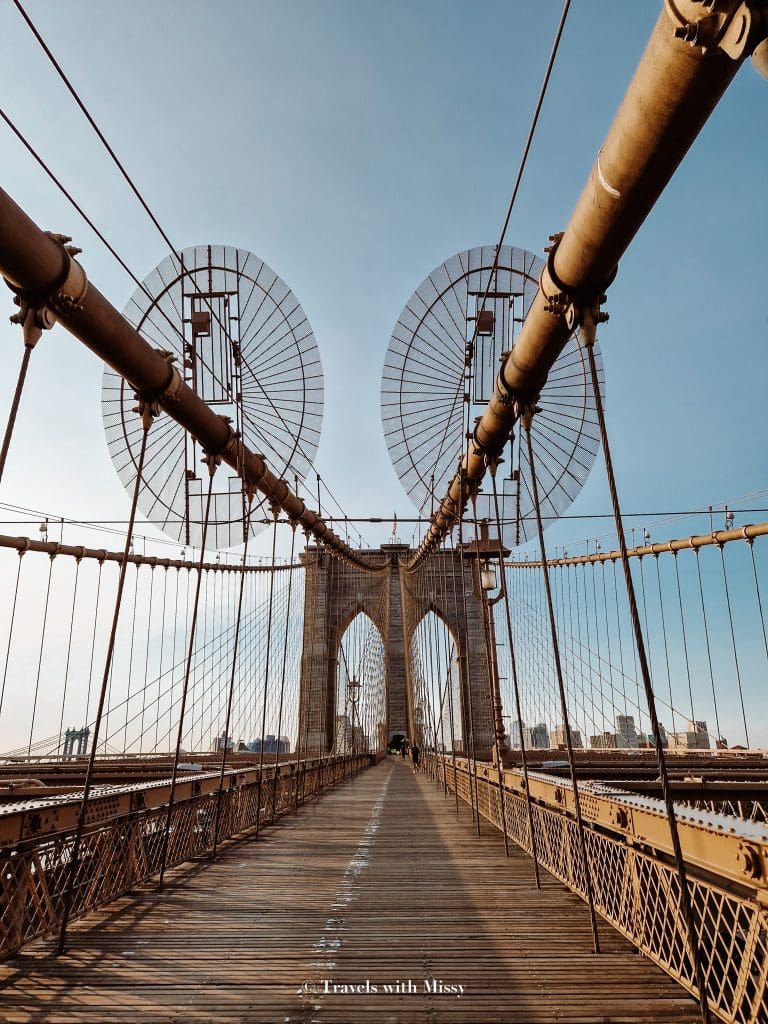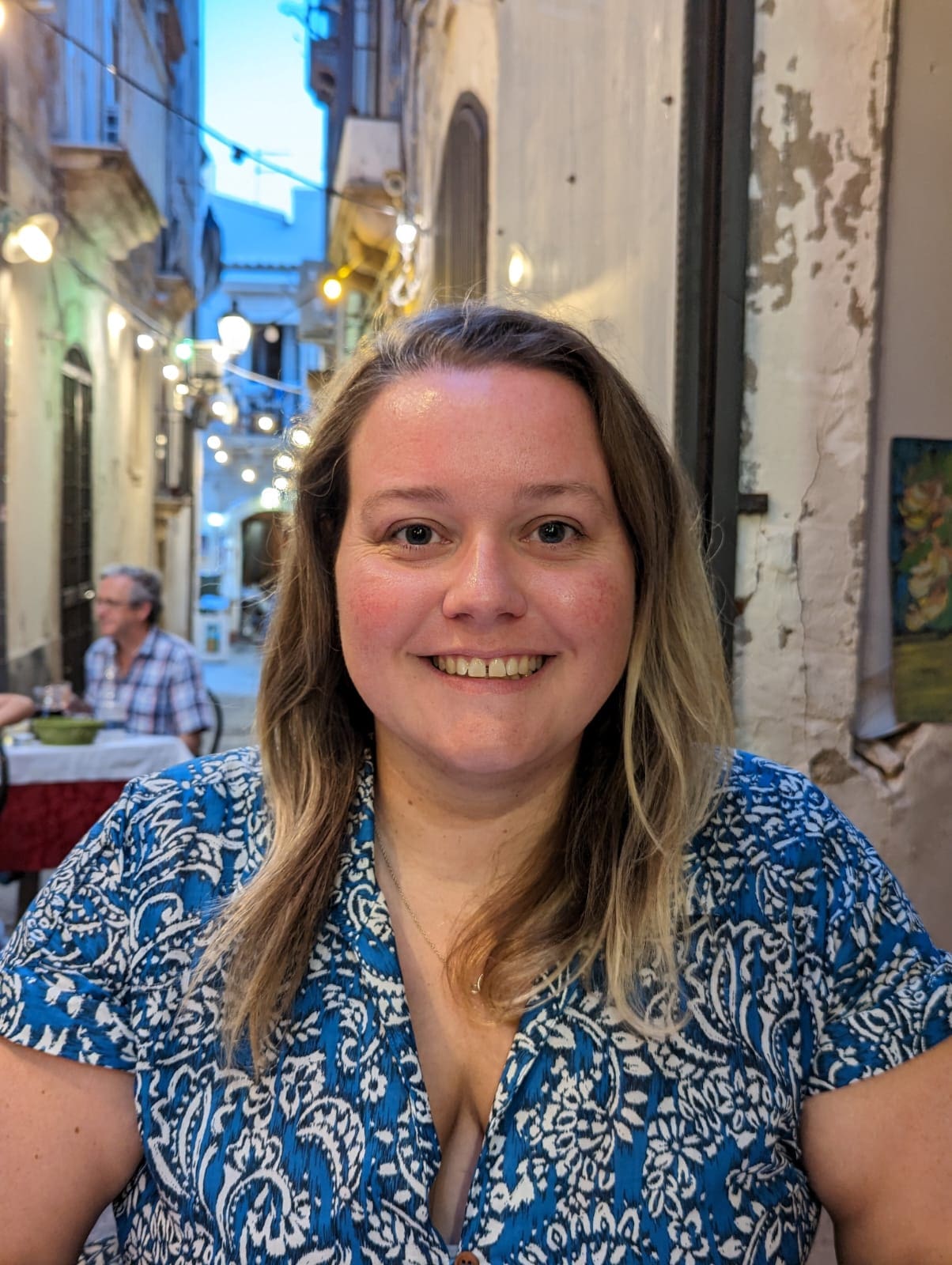 Meet Missy…
Missy spent the first 2 decades of her life living in her native Dublin, Ireland. Before a life living overseas called to her, and she spent the next decade living in China, Laos & Belgium. She now splits her time in Antwerp, Belgium, and wherever the sun is currently shining. You can follow Missy's real-time travels on her Instagram.