As much as I despise the colder months (January I'm looking at you), I can't help but love the months of November and December for the sole reason that it means festive lights, enormous Christmas trees, and an excuse for shopping. Some of the best European cities for Christmas are those that make you feel like you're in a winter wonderland or at least embrace the season to its fullest.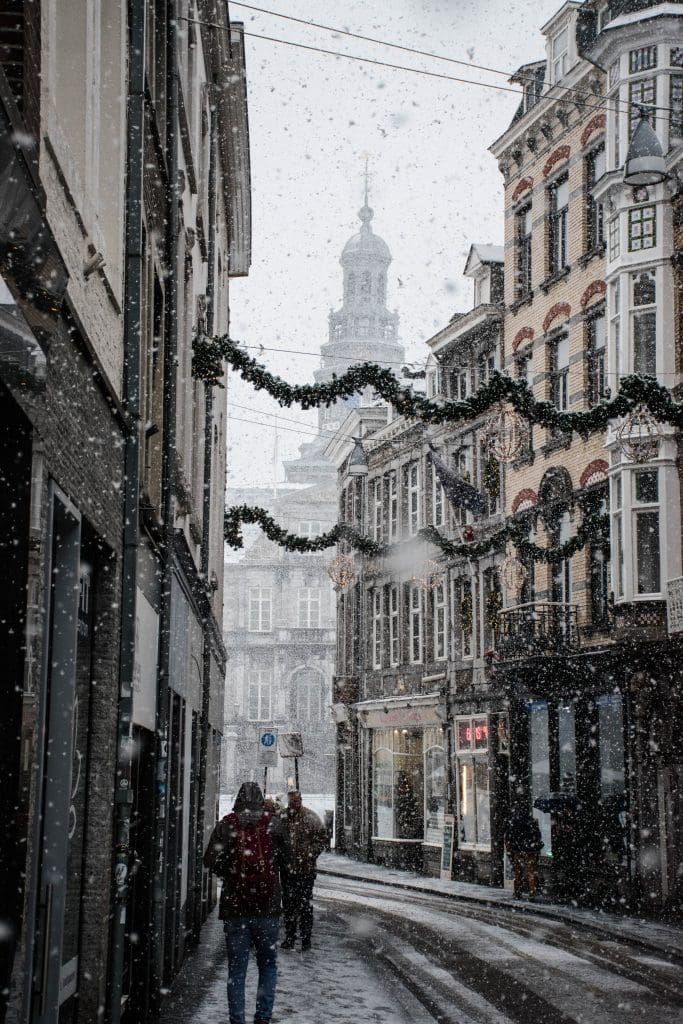 I'm talking romantic cobblestone lanes, cute little bars with steamed-up windows, and of course the essence of Christmas in the air.
Whether you're looking for a weekend getaway or are in search of some festiveness these are some of the best European Cities for Christmas vibes.
The Best European Cities for Christmas
1. Bruges
Bruges is one of the best European Cities for Christmas with its dreamy cobblestoned streets, excellent beer halls, and quaint canals that ooze romance at every turn. And even if you're a solo traveler, family, or loved-up couple looking for a romantic getaway, Bruges is best visited in the lead-up to the Christmas season.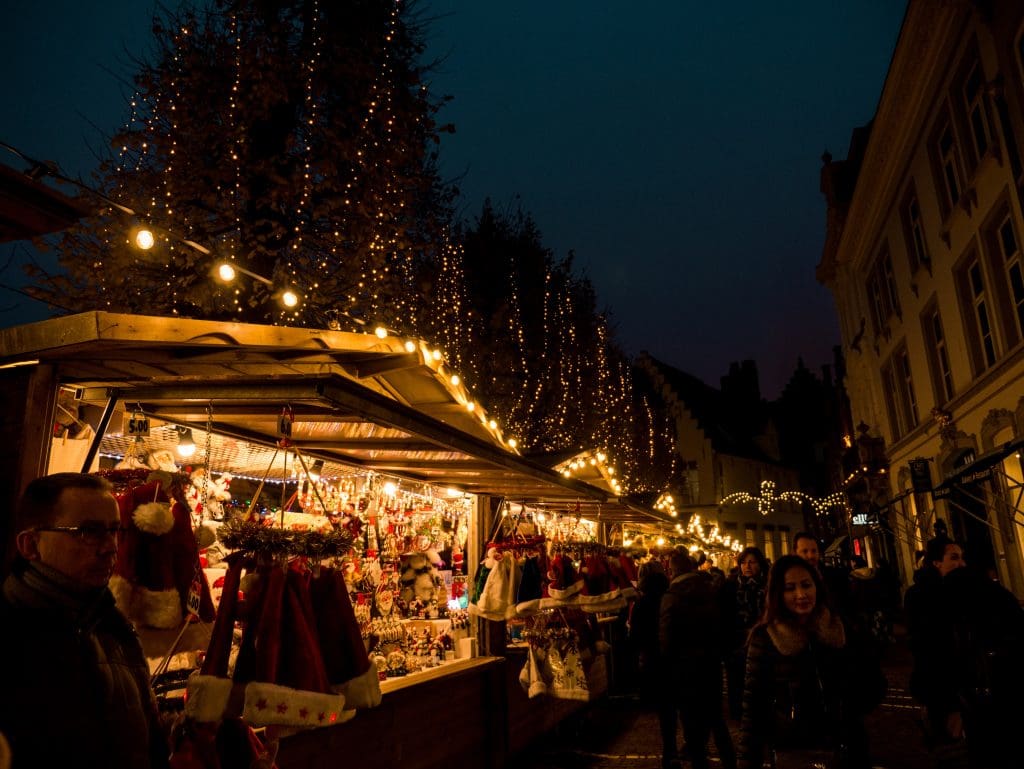 Explore the small Bruges Christmas Markets for small gifts, or nibble your way around the city with lots of delicious offerings of chocolate and waffles on pretty much every corner.
Bruges is known as the 'Venice-of-the-North' with a series of canals that meander the historic city, and even in the depths of winter make for a cute excursion. Witness the festive lights that are strung across the city and even in the waterways as Bruges embraces the 'Winter Glow' festival.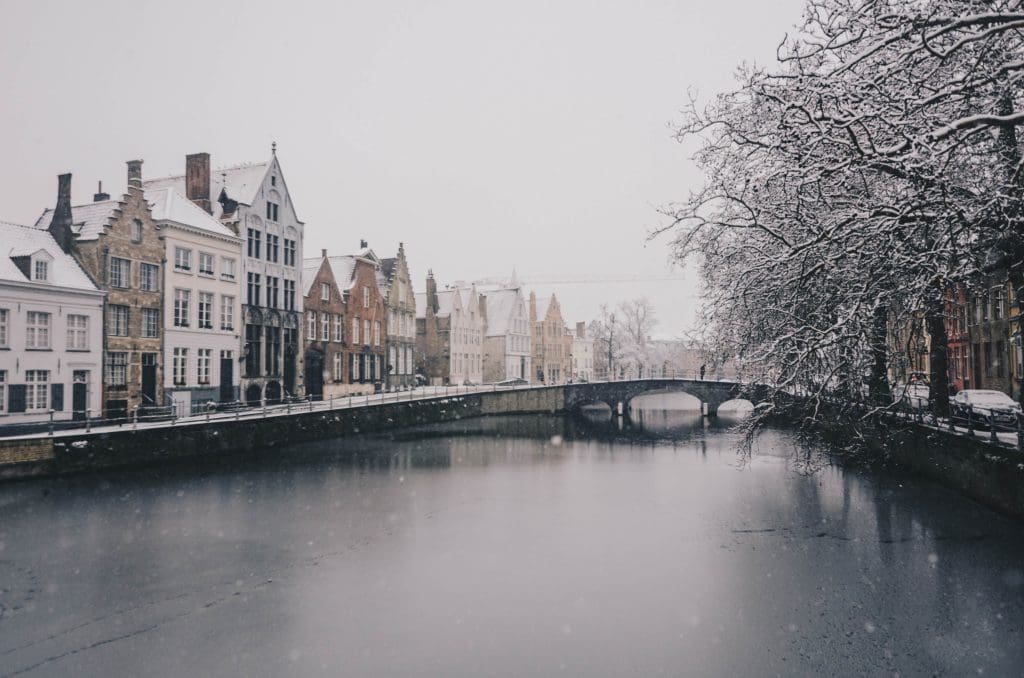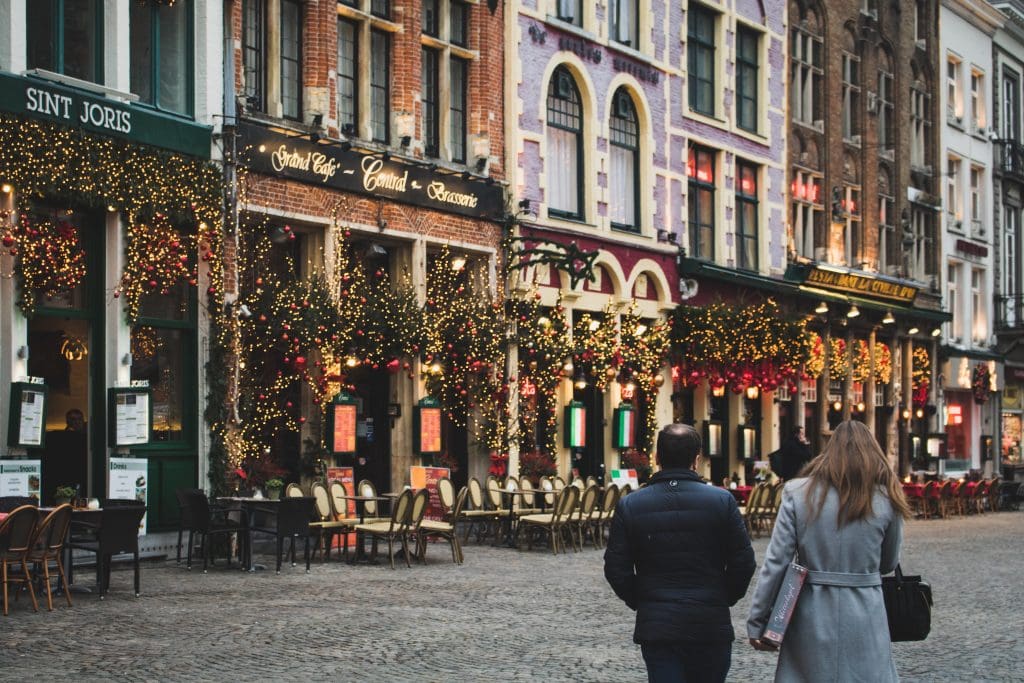 Getting to Bruges: A very easy city to get to by train or car. I recommend getting the train from Brussels, which has connections to France (Thalys/TGV) and the UK (Eurostar).
2. Antwerp
Nearby Antwerp is one of the hidden gems of Belgium that is often bypassed by tourists in favor of Brussels or Ghent. Antwerp is a city that makes the perfect European Christmas vacation for those seeking a fantastic and lively city with excellent museums, Christmas Markets, and endless things to do.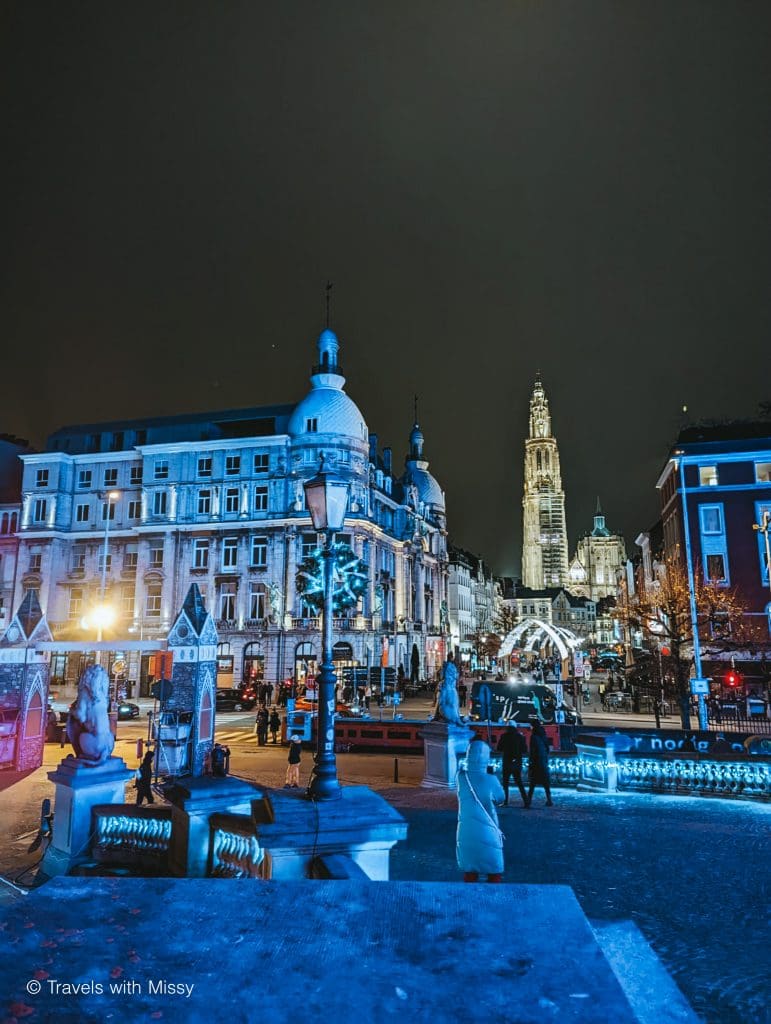 Antwerp during the Christmas season is ridiculously pretty. The old town of Antwerp becomes the center of the Christmas Markets that are underrated and worth a visit. The cobblestone streets are lined with restaurants and bars that even in the depths of winter offer an opportunity to eat and drink under rows of space heaters. 
The best way to discover Antwerp is on foot, and as you explore the city you'll discover some of the best shopping outside of Milan or Paris. For art and fashion lovers, the city of Antwerp is home to galleries and designer boutiques that are always beautifully dressed.
Antwerp is one of the best European cities for Christmas shopping and will delight visitors who want to combine a couple of destinations within one country.
3. Wrocław
Wrocław may have a very difficult name to pronounce (I still can't manage to get it right), but it makes up for in beauty. Stepped in history and featuring 130 bridges a visit to this Polish city is a must for a fantastic European Christmas vacation.
The city of Wrocław is set over 12 islands and gives Bruges for its money over the title of 'Venice of the North'. The Wrocław Christmas Markets are ambiently set in beautiful St John's Market, a fairytale-like square with market stalls selling Polish dishes and of course mulled wine.
If you're looking for where to spend Christmas in Europe then you can't beat the fairytale-like city of Wrocław. The main square is a multi-colored paradise of Baroque and Gothic architecture and you may even be lucky enough to experience it when it snows.
One of the coolest thing about the old town of Wrocław is the traditional lamplighter that each night lights the 100 gas lamps. Try and spot the lamplighter just before sunset and follow him throughout the city.
Wrocław makes a fantastic European Christmas destination for young and old alike with the almost 700 dwarf statues that are hidden across the city. Spend an afternoon or day trying to find as many of the bronzed statues as you can.
4. Prague
Prague is one of those cities that no matter what time of the year you decide to visit it, remains spectacularly beautiful. Prague is one of the best European cities for Christmas for festive feelings, Christmas markets & overall ambiance.
Prague may be one of the most popular cities in Europe for a number of reasons, but it especially comes alive during the Christmas season. Charles Bridge, a medieval stone bridge that spans the Vltava river throngs with tourists, but during the colder winter months, you'll experience uninterrupted views of the spectacular city and maybe even snowfall.
The main sights of Prague, the Astronomical Clock & Prague Castle are ever popular but now with added festive lighting, Christmas trees and market stalls.
The prices for accommodation make Prague one of the best European cities for Christmas and affordability. The prices for hotels and Vrbo's throughout the winter plummet considerably, making it one of the best locations in Europe for budget travelers or those seeking a bargain.
The Prague Christmas Markets have been voted the most beautiful Christmas Markets in the world and are open from late November to early January each year.
And of course, what is Prague without its beer? The city of Prague is considered to be the beer capital of Europe and you'll find the beer halls and bars across the city booming with trade as visitors take refuge from the cold.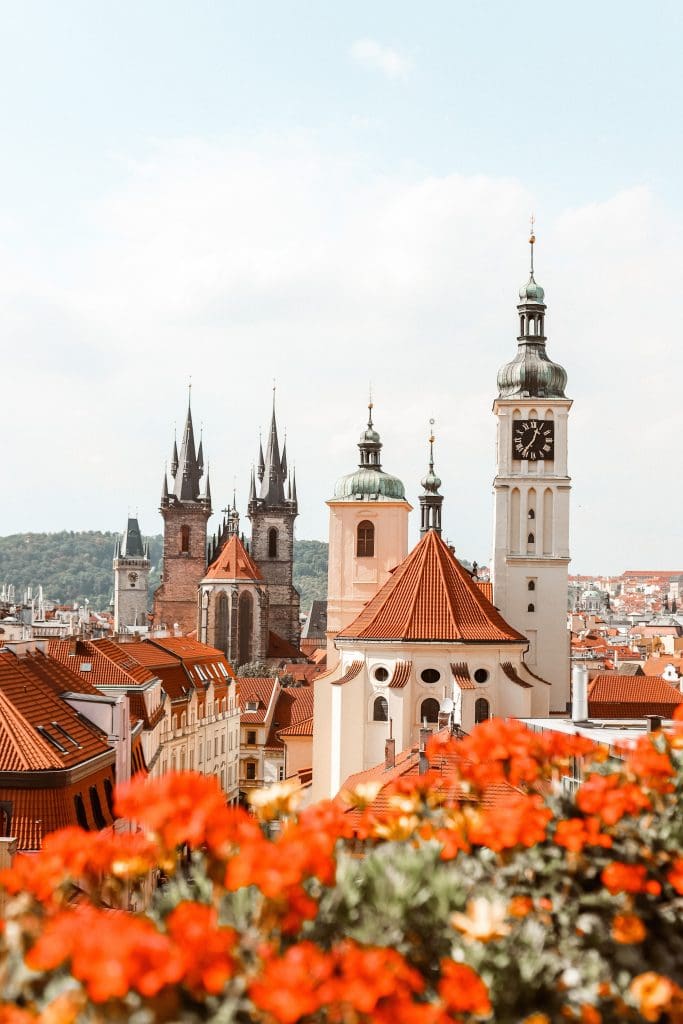 5. Bath
If you're looking for a winter destination to celebrate the Christmas season but don't want to deal with remortgaging your home (hi London!), then a visit to Bath is a must for the perfect European Christmas vacation.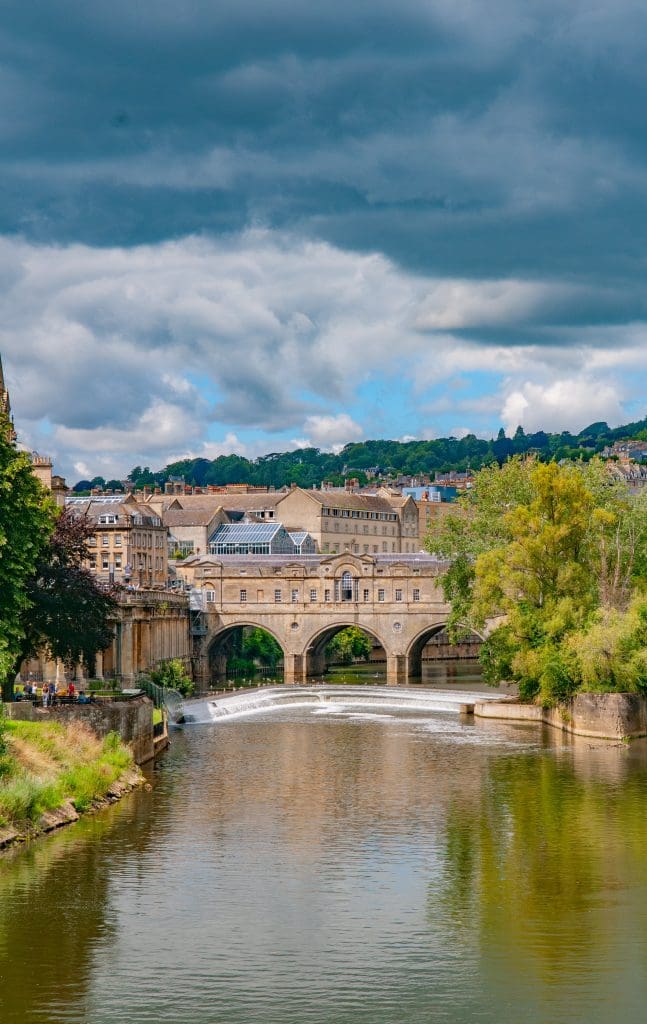 Bath is a stunning city with Georgian architecture that makes walking around the city feel like you're in a Jane Austen novel or in Bridgerton. It also has UNESCO World Heritage Status which makes the city even more appealing to visit.
Hop from pub to pub sampling comforting pies, roast dinners and of course delicious Ales and Beers. Or spend your day exploring the beautiful Bath Botanical Gardens, or visiting the Roman Baths that date back over 2000 years. Take a day out and relax at the Thermae Bath Spa which offers indoors and outdoor natural thermal spas.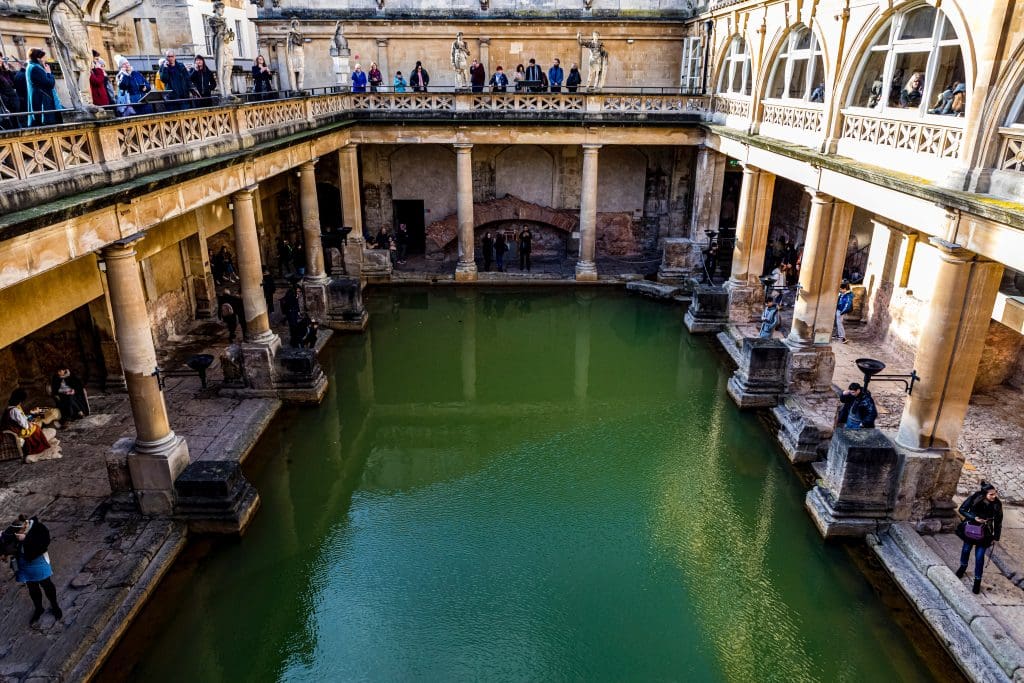 The Bath Christmas Markets have increased in popularity over the past 20 years since their inception and make a perfect Christmas weekend getaway. Stroll around the various market stalls across the city and enjoy the best of Bath.
6. Dublin
I'm super biased when it comes to Dublin being perhaps the best European city for Christmas. My hometown of Dublin just oozes Christmas festive cheer throughout the entire city. Walk down Grafton Street and you'll be met with store windows adorned with lights, decorations, and carol singers.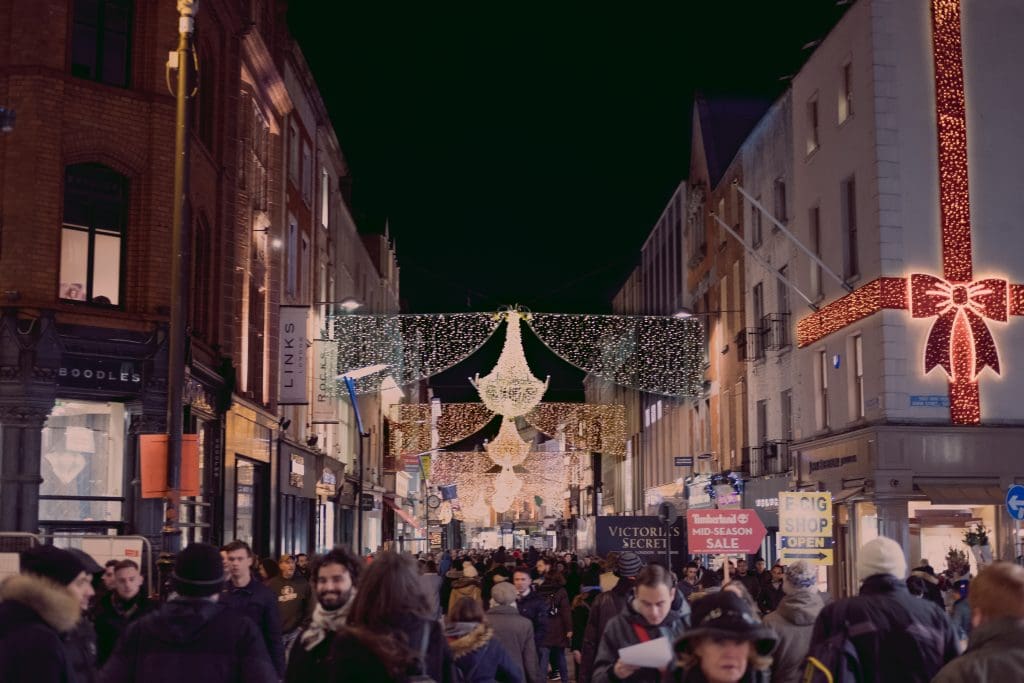 The small Dublin Christmas market is so popular each year that the free tickets to the events are sold out within minutes. Dublin is a super European Christmas vacation city for atmosphere, simply walk into any pub in the city and you'll be met with a festive cheer unlike any other.
The Ginger Man is an absolute must when visiting the city, a pub that is decorated from floor to ceiling with Christmas lights, baubles, tinsel, and anything related to Santa Claus.
However, if you are looking at Dublin as a cheap European Christmas vacation destination you'll be in for a nasty surprise. Dublin is incredibly expensive and between soaring hotel prices, meals, and drinks in restaurants.