What To Do In Portofino in 2023
Portofino was one of those places that I'd had on my bucket list for as long as I could remember. As a young adult, I'd read a description of it somewhere and it long haunted me. Portofino promised to be a small fishing village where romance awaited you in every cove, and a millionaire's son wanted to sweep you up into his muscly arms.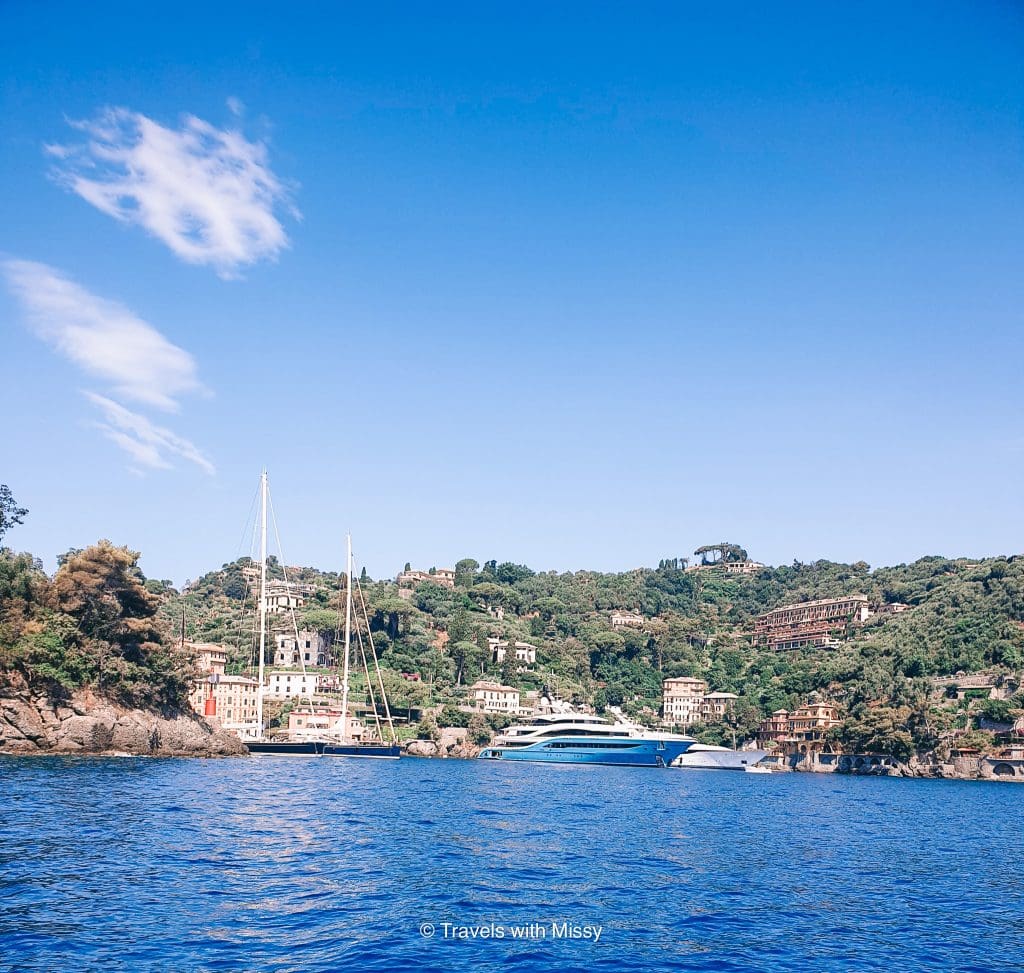 And in reality, Portofino is a lot of those things. It's insanely quaint and romantic. The main square of Portofino sits beautifully facing the seafront where you'll find some of the largest super yachts moored in the world bobbing in front of you. All the while surrounded by delightful deciduous trees that make the beautifully painted buildings of Portofino appear more lush than they even are.
And the millionaire's son sits on his superyacht just offshore.
Is Portofino worth visiting?
The restaurants and bars in Portofino offer the kind of service that will either intimidate you or make you feel like you've always belonged. And come with a hefty price tag. That glass of wine you've been planning in your head since booking your plane tickets may end up costing more than your flight to Italy.
But it's oh worth it.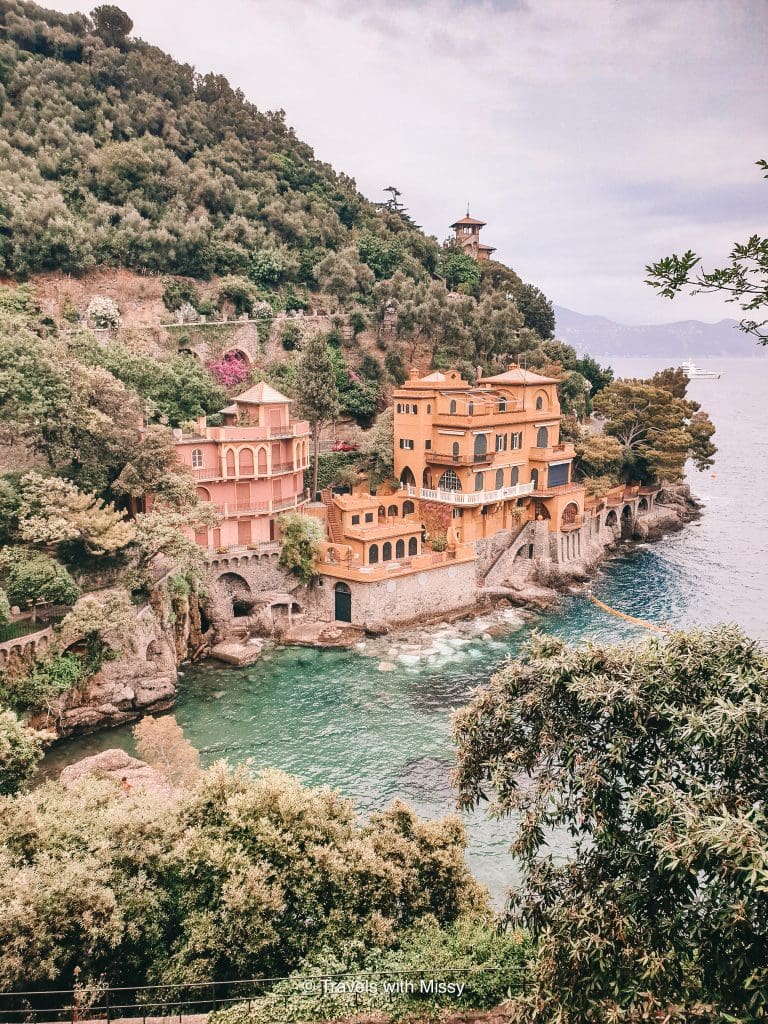 Portofino is the type of place where a lot of us who visit can imagine in a single setting how the other 1% live. It's not ostentatious like Dubai or decadent like Monaco.
It's a quiet level of extreme wealth in which, average people like us (I'm assuming you dear reader are not a billionaire – but if you are, do you need a very average and mediocre friend?) won't be swanning off on our super yachts and enjoying thousand euro bottles of wine and Champagne.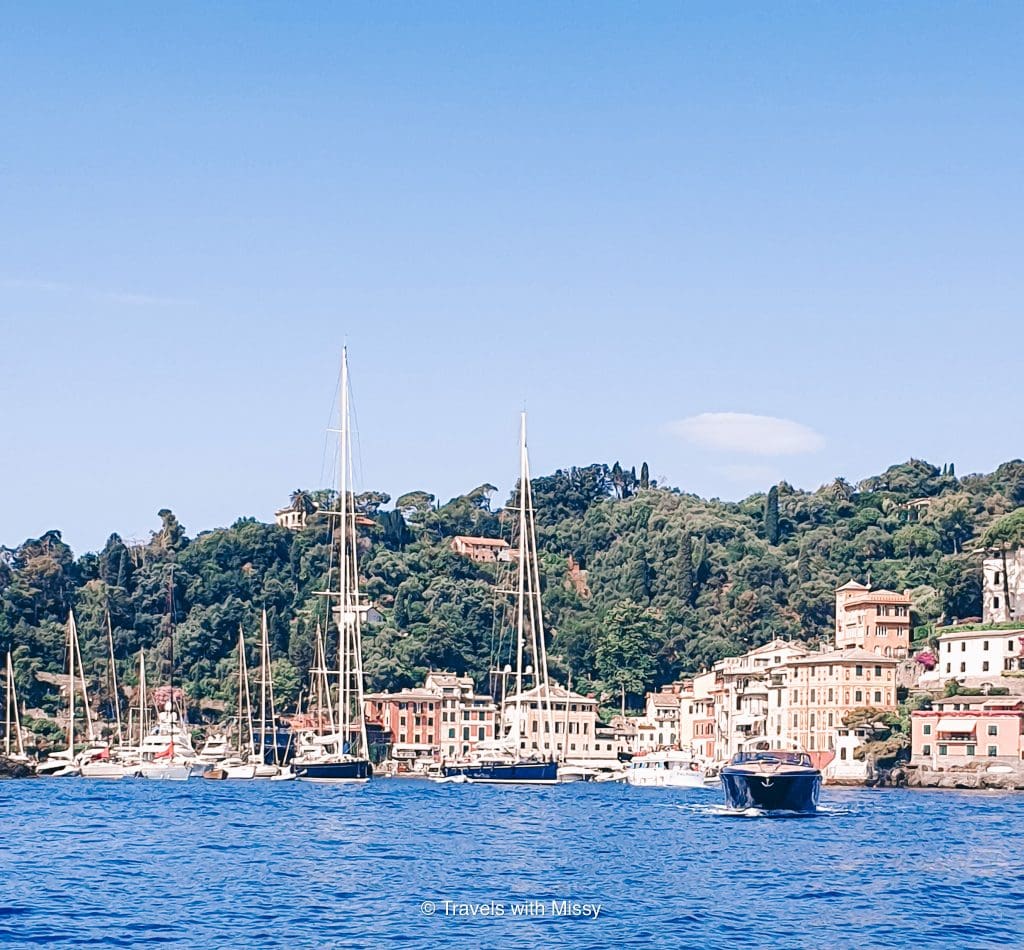 So what can you do in Portofino if you managed to leave your superyacht elsewhere? Well, thankfully you'll be pleasantly surprised by how delightful Portofino and the surrounding area are, that you'll wish you had just a little bit more time to spend here.
Portofino Town
The town of Portofino is teeny tiny. You can saunter around it in less than 15 minutes, but obviously, that's not why you've traveled hundreds or thousands of miles for just 15 minutes of sightseeing.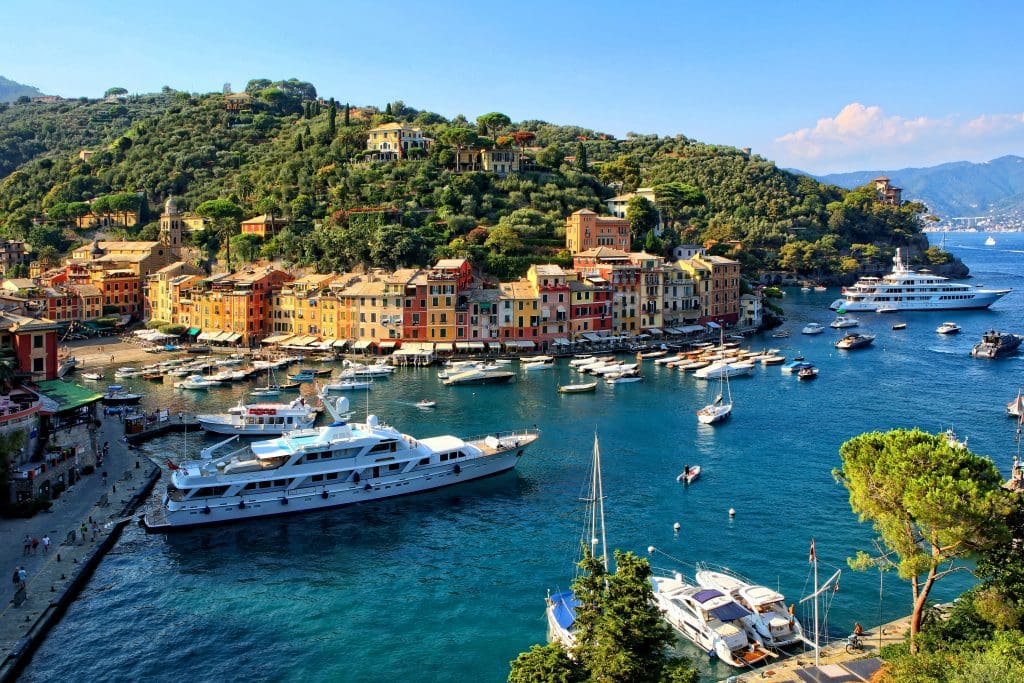 You'll find a range of expensive boutiques, restaurants, and bars just off the main square of Portofino. The eateries are a mixed bag of pretentious places, wine bars, and traditional Italian restaurants.
Explore the small Sculpture Park – Museo del Parco, which offers stunning views over the town of Portofino and some interesting artwork.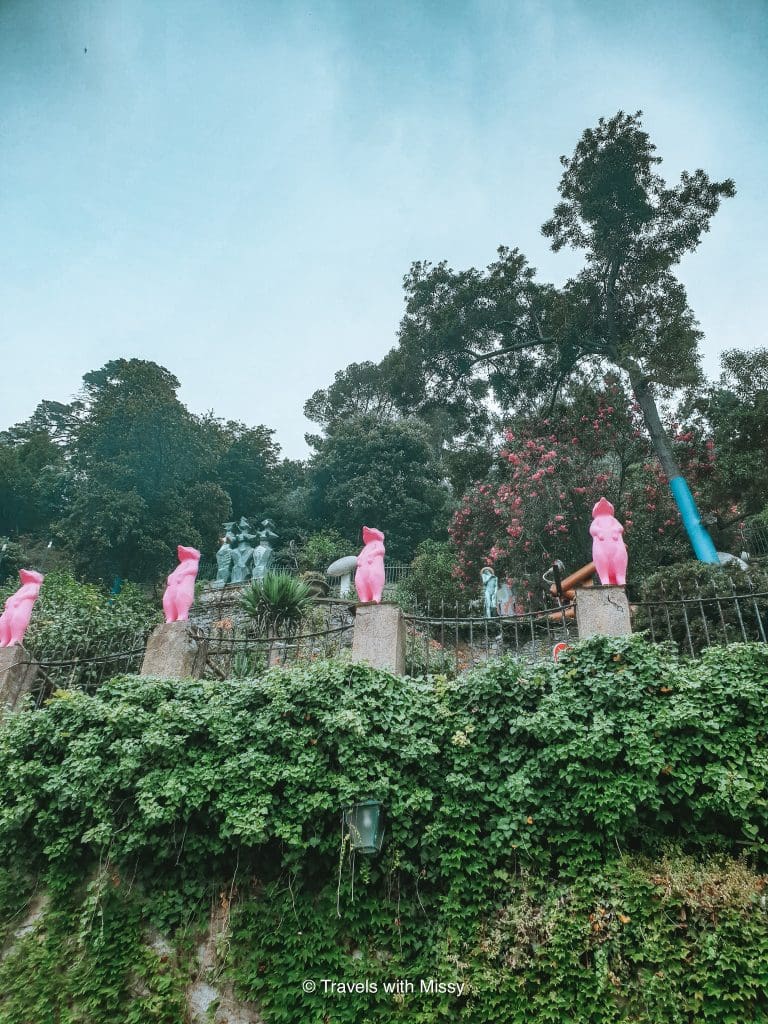 Castle Brown (Castello Brown) towers over the gulf of Portofino and is a must when visiting the town. Used for private events, if you're planning on a wedding venue in Italy, this would make an incredible setting. For €5 you can explore the gardens and museum of Castle Brown throughout the year.
Walk up to the viewpoint of Portofino and you'll be presented with an absolutely incredible vista that takes in some of the best angles of Portofino.
Keep walking on the headland and you'll be rewarded with stellar views time and time again until you reach the Portofino lighthouse. There is a bar in the Faro di Portofino that rewards thirsty walkers and hikers with a drink and a view (& a nice price tag to go with it).
Walking to Portofino
One of my favorite walks happened by accident. We were exploring Santa Margherita on our first day there, and just kept walking along the coast road (the only road) to Portofino and ended up enjoying one of the nicest walks I've ever been on.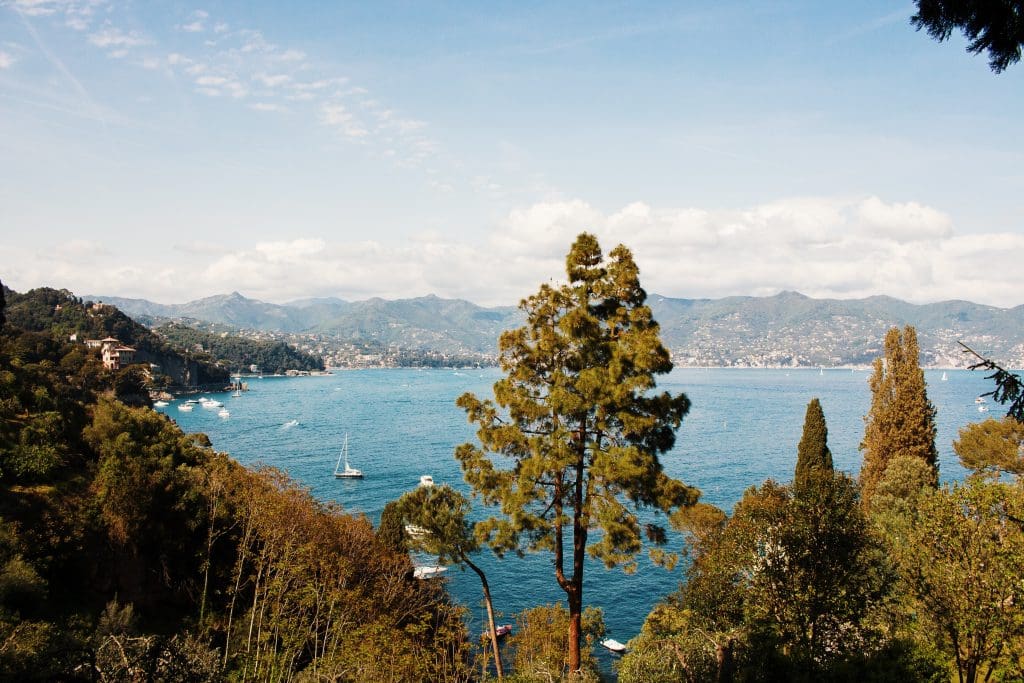 If you enjoy looking out at the summer yachts (in the summer), or the spectacular range of buildings, you'll love this walk from Santa Margherita to Portofino. It's also quite a short walk too, less than an hour from start to finish.
The walk is all flat except for one part which takes you through the beautiful Portofino Regional Park and the Walk of Kisses (isn't that just the loveliest name for a hiking trail?). Once you make it to the top of the hill (it's not that far), you'll be left with outstanding views over the village of Portofino. It's magnificent.
San Fruttuoso
San Fruttuoso is an absolute must when visiting the area of Portofino. It's a tricky place to access, but once you've either taken a small ferry to it or hiked through the hills and sharp cliff access, you'll be rewarded with a semi-secluded paradise.
A former abbey, it's nowadays one of the most popular day trips from Santa Margherita and Portofino. Take a ferry from Santa Margherita (or as part of an organized tour), and spend the day sunbathing on the pebble beach, enjoying a lengthy Italian summer lunch in one of the restaurants in San Fruttuoso before swimming in the crystal clear waters.
Entrance to the San Fruttuoso Abbey is €8.50 and you'll find a rather surprising modern and small museum that is open year-round.
In the bay of San Fruttuoso is Christ of the Abyss, a sunken statue of Jesus found 50 feet below the surface of the water. Bring a snorkel with you, as it can be hard to make out that far below the surface of the water.
I'll admit I was a little spooked by the statue (but I also suffer from Thalassophobia aka fear of open and deep water (Thanks, Jaws!)), but it was pretty gnarly to see one of the main attractions in the area.
If you're arriving by private boat to San Fruttuoso, a mooring spot is around €10 (although this may have increased in price) and was cash only. A tender will take you to shore.
Portofino Bay
Even if celebrity spotting isn't your thing, it's hard not to be in awe at the enormous super yachts that line the tiny marina of Portofino and especially the ones moored in the bay.
If you're anything like me, you'll spend half your time looking up the cost of how much these superyachts cost to purchase and rent for the week. Spend an afternoon in Portofino, sipping wine and planning which superyacht you'll 'rent' for next summer on the Ligurian coast.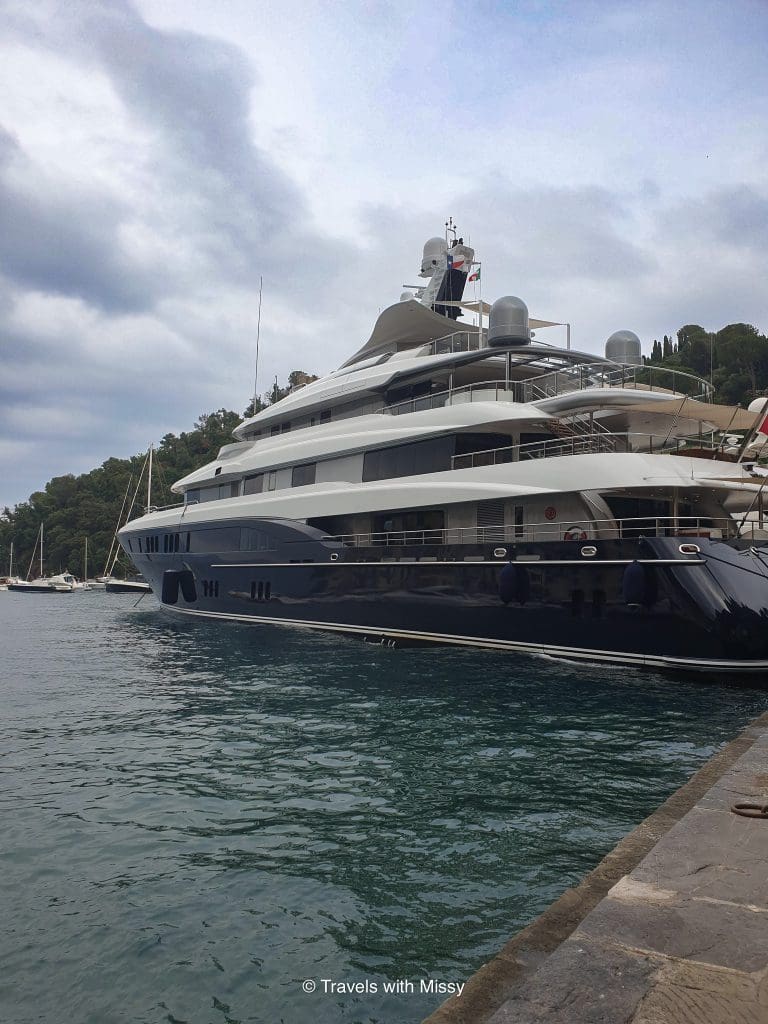 Rent Your Own Motorboat
One of my favorite things that I've ever done on any vacation was to rent a small motorboat in Santa Margherita for the day and explore the coastline. You don't need to have a motor license (we clearly have no sea-faring skills whatsoever), and you can rent your boat for either a half day or full day depending on your needs.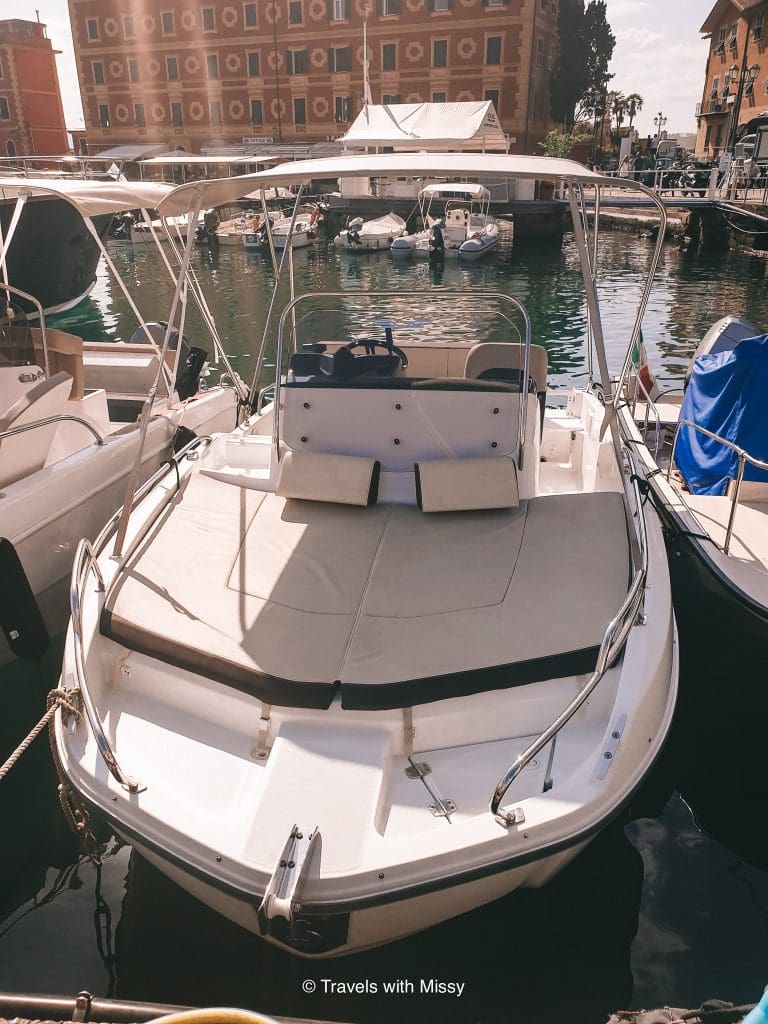 We opted for a full-day rental and explored the coastline at our own pace. Our hotel which we rented from even threw in a bottle of Prosecco for us to enjoy on our day out. We opened and enjoyed in San Fruttuoso, climbing in and out of the water and remarking on how incredible the day was.
You don't need to rent a superyacht to feel like a millionaire.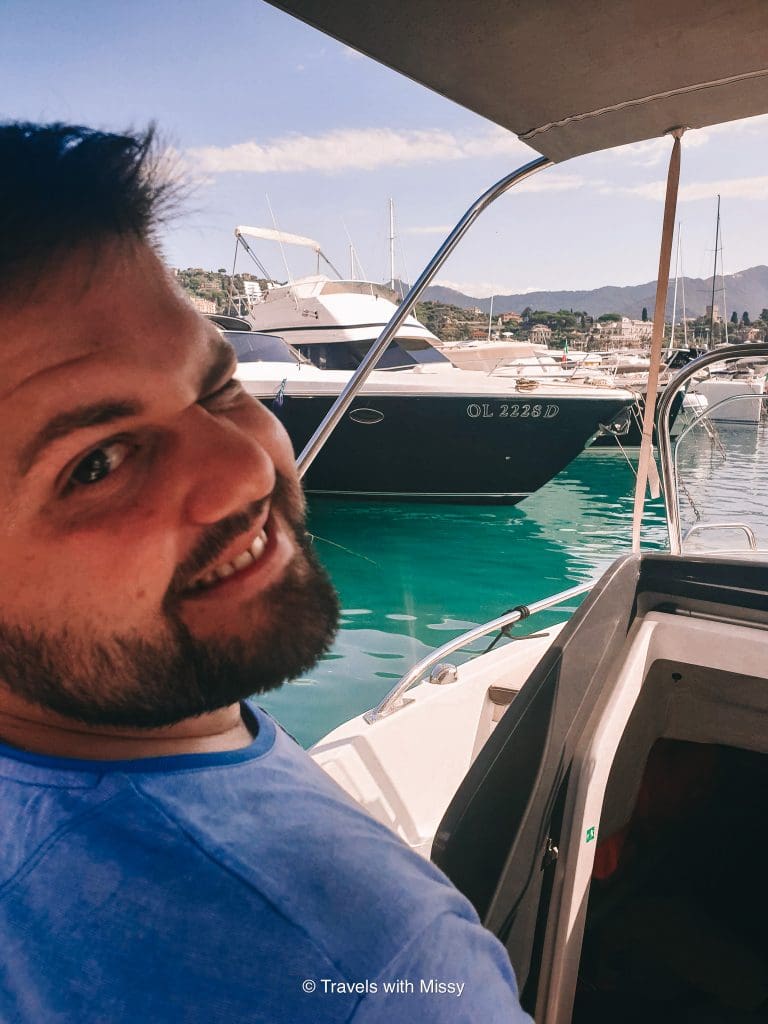 Our boat rental in Santa Margherita was €300 for a full day organized via our hotel. If you're not confident about your skippering skills, you can rent a boat with a skipper. But seriously if we can do it, you can do it too.
What to do in Portofino in one day
There's no denying that Portofino is tiny and definitely manageable to visit in a day. However, this part of the Ligurian coast is really beautiful and worth spending a couple of days exploring.
You can visit Portofino in a day, then spend the next couple of days basing yourself in Santa Margherita. From Santa Margherita you can visit San Fruttuoso, Cinque Terre and Rapallo. It's a great place to base your Italian vacation.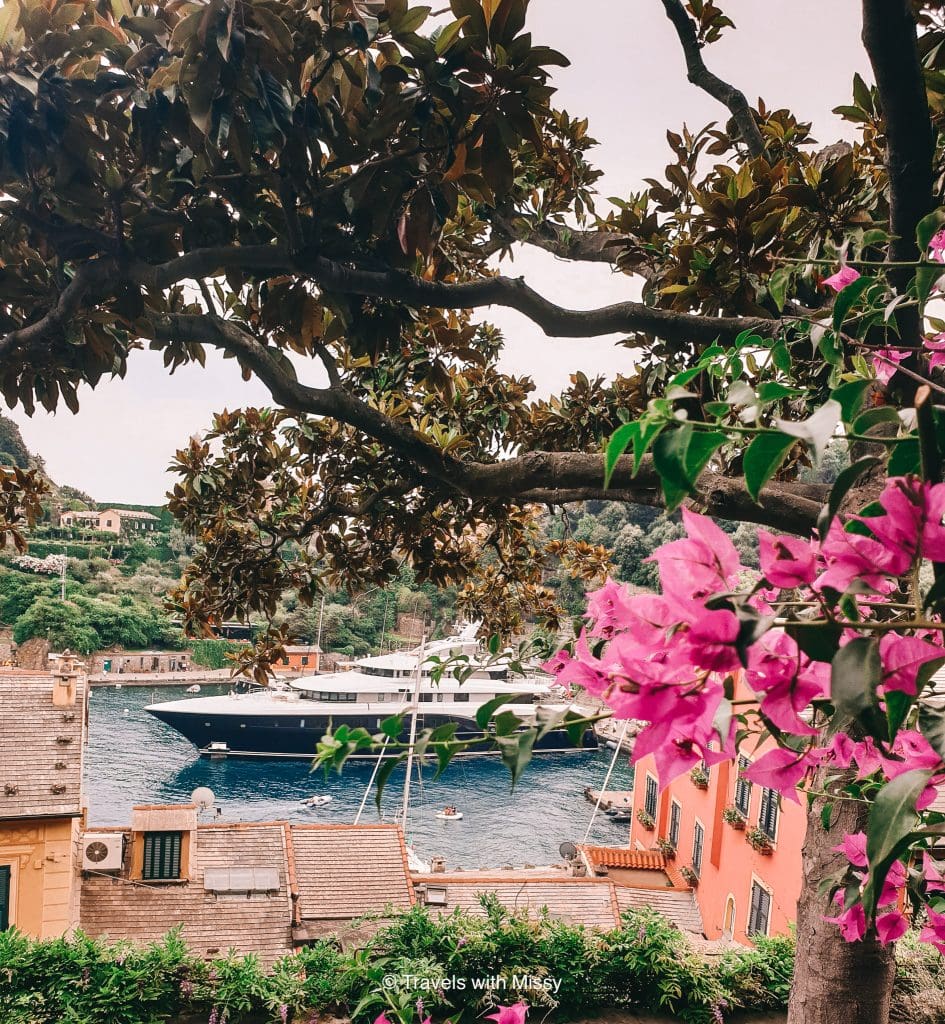 Getting to Portofino
Portofino is on a peninsula around 6 km from the nearest train station of Santa Margherita Liguire. There are 4 ways of reaching Portofino.
Bus: Small buses run the frequent route from Santa Margherita to Portofino and takes around 15 minutes. These buses are really small and in the summertime can be packed with people squeezing their way onto the bus.
Taxi: If you want one of the most expensive taxi journeys of your life, a taxi from Portofino to Santa Margherita one-way is €50. It's around a 10-minute car journey.
Ferry: You can easily connect to Portofino from Santa Margherita with a number of ferries that visit Portofino as part of their San Fruttuoso tour.
Walking: A hugely enjoyable way of getting to Portofino is to walk from Santa Margherita. It's one of the prettiest walks and you'll enjoy stops along the way with little seaside bars and coves to swim in.
The closest airports to Portofino are Milan and Genoa.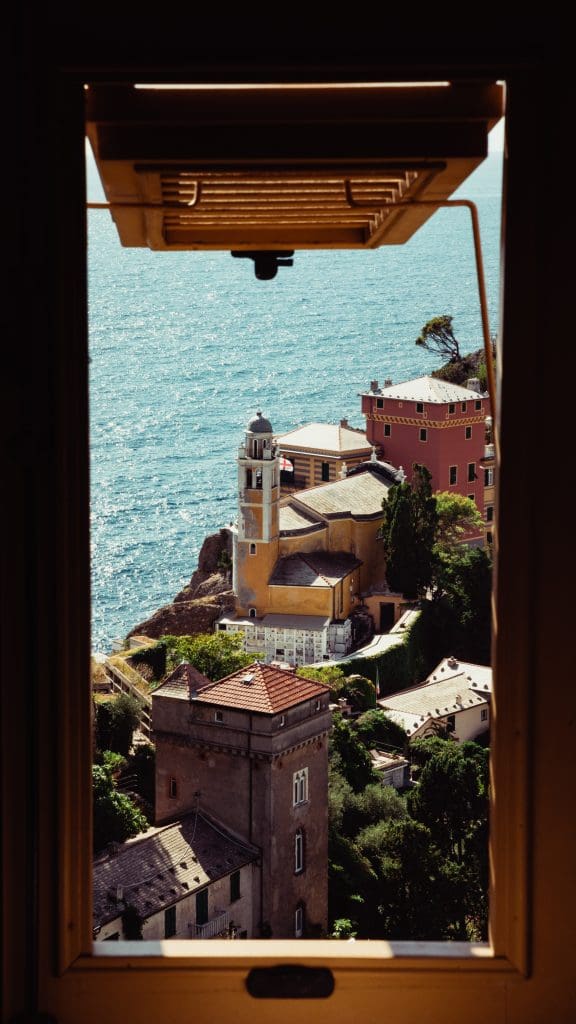 Where to Stay in Portofino
If you have the cash to splash then you simply must stay in Portofino. You'll find a mix of local B&Bs, hotels, and 2 Belmond Hotels. That's right two Belmond Hotels. That's how you know this area of Italy is incredibly fancy when it can host one of the best names in hotels. (Also, CEO of Belmond Group if you read this, I'd love to stay in your hotels. Thanks!)
Albergo Nazionale // An affordable hotel in the heart of Portofino.
Hotel Piccolo Portofino // Views for days and a small private rocky beach in this 4 Star Hotel.
When I visited Portofino I was on a teacher's salary and couldn't quite justify dropping the cash to stay in Portofino. Instead, I decided to base myself in the absolutely gorgeous (and hidden gem) of Santa Margherita.
Santa Margharita Liguire is 5 km from Portofino and this is where you'll be able to catch the numerous daily buses that run to and from Santa Margherita to Portofino.