What better way to experience the majestic beauty of Key West than by cruising around at sunset in a boat? Enjoy a fantastic Key West sunset with live music and bottomless booze with several different sunset cruise operators to choose from.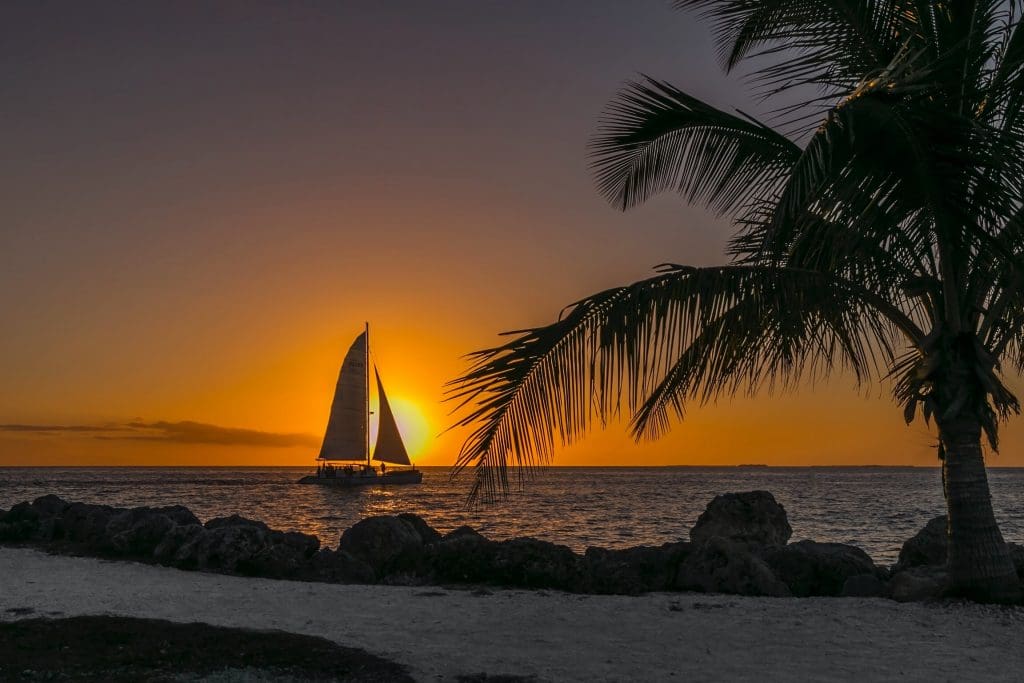 There are plenty of options for a sunset cruise in Key West, with many providing drinks, snacks, or dinner as you take in the sunset. The most popular options are watching the sunset on a catamaran, listening to a live band, hoisting the sail and enjoying the best of Key West.
Meeting Points & Information
Most of the Key West sunset cruise meeting points are Key West Historic Harbor or near Conch Republic.
The minimum drinking age is 21 years old.
The time of sunset in Key West varies throughout the year, but you can expect boat departures between 6 pm and 8 pm.
Booze Cruises in Key West
Key West Sunset Champagne Catamaran Cruise
Included in the tour:
Unlimited wine, beer, soft drinks
A modern catamaran
Tour length: 1 Hour & 30 Minutes – 2 hours.
Price of Cruise: $60 per person.
What Guests Said:
"This was one of those "never forget" activities. Wonderful experience, wonderful crew, amazing experience. LOVED IT.."
"Had a great time. Crew was engaging and charismatic. Price was more than fair. We would absolutely do it again."
Key West Dolphin Watch Sunset Sail with Premium Wine, and Tapas Pairings
Price of Cruise: $92 per person.
What Guests Said:
"Aside from the amazing sail, the chats with the crew and other passengers was really an added highlight. We love being on the water and sunset did not disappoint – we also got to see some dolphins, but, being able to talk to the entire crew and some passengers really did add to the overall experience. Highly recommend this experience. Captain Rachel was phenomenal and we thoroughly enjoyed it."
Key West Premium Sunset Sail aboard Schooner with Hors D'oeuvres and Full Bar
Unlike several of the other Key West sunset cruises which take place aboard a catamaran, sailing on a classic schooner is a completely different experience.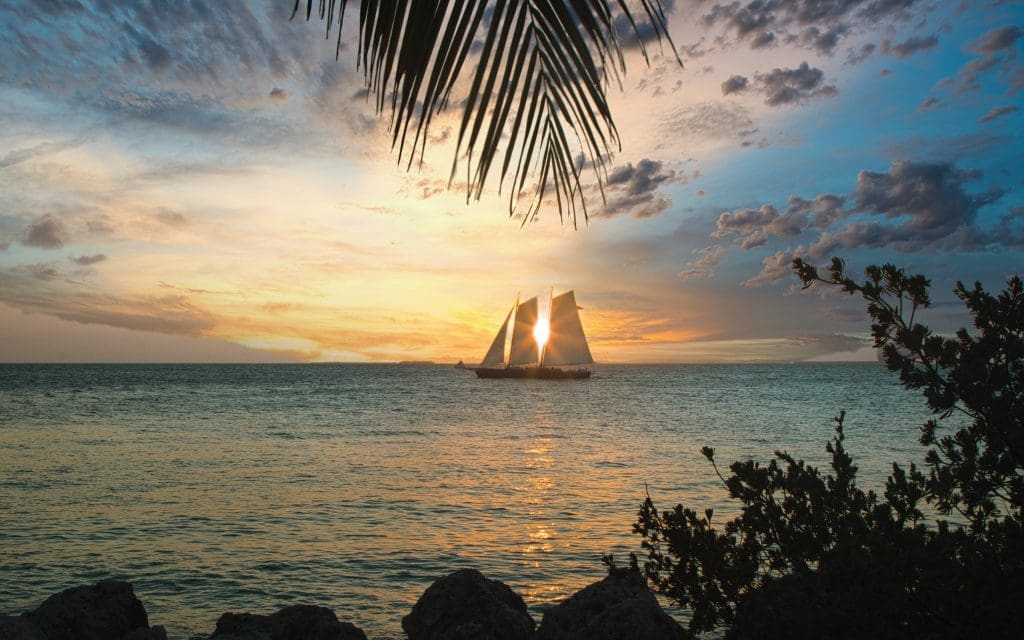 The classic schooner offers visitors a romantic vessel to enjoy watching the spectacular Key West sunset. With gorgeous hors d'oeuvres provided as you sail around iconic Key West landmarks such as Mallory Square which also happens to be the birthplace of watching sunsets in Key West.
Take in the sights and even help the crew hoist the sails on this classic Key West Schooner. The romantic sunset cruise on Appledore Star is one of the more traditional cruises in Key West.
Included in the Key West Sunset Cruise:
Open Bar
Tasty finger food
Hoist the sails with the crew
Tour length: 2 hours
Price of Cruise: $100
What Guests Said:
"Crew was amazing. Drinks and food were nice. Would go with them again. No loud music so you could visit and get to know the other people on the schooner. Great for romantic evening."
"Great crew, just the right amount of time and beautiful sunset. The hors'd 'oeuvres were tasty and lots of drink options. Champagne at sunset was my guilty pleasure! We'll book again next time we visit!"
Key West Sunset Cruise with Tropical Buffet Dinner
Included in the tour:
Tropical buffet dinner
Open bar
Live music
Air Conditioning
Spectacular Key West sunset views
Price of Cruise: $88
What Guests Said:
"The wonderful people that we met and time that we spent with each other. I would recommend this cruise to anyone."
"The food was amazing!! The service outstanding! Entertainment was great and funny! The performer engaged the crowd and was family friendly."
Key West Sunset Sail with Full Bar, Live Music & Hors D'oeuvres
One of the top-rated Key West Sunset Cruises is the Key West Sunset Sail with Full Bar and Live Music. Set sail in the late afternoon and enjoy terrific live music, a full open bar, and plenty of delicious hors d'oeuvres.
One of the busiest booze cruises in Key West that has a solid reputation for its energetic crew and entertainment. Dance the evening away while enjoying a full open bar that includes beer, sodas, wine and sparkling wine.
The hors d'oeuvres are tasty finger food staples such as egg rolls, shrimp and other great food for soaking up all the booze!
With live commentary and information about the island of Key West, the Key West cruise takes in the landmarks of Key West and one of the most spectacular sunsets in the Florida Keys.
Included in the tour:
Live music
Hearty snacks
Open bar
Departures from Key West Historic Harbor
Price of Cruise: $80
What Guests Said:
"Very nice sail and sunset cruise. Drinks and appetizers were very good! The crew took very good care of us and the music was great!"
"Live music, good appetizers and great crew! We had a blast! We'd do it again and recommend to anyone especially couples."
2-Hour Private Sunset Cruise around Key West
Want to escape the crowds and charter your own private sunset cruise in Key West? Then Blue Chi Charters offers an incredible and intimate experience. Experience the incredible Key West sunset with just your loved ones, as you spend 2 hours passing by the iconic Key West landmarks.
Savour the privacy and experience Key West without the crowds, as you head to points of interest like the Southernmost Point in the USA, or uninterrupted views of Fort Zachary Taylor State Park & Mallory Square.
You can enjoy your private sunset cruise in Key West with complimentary beverages. You can also bring your own bottles of wine and beer on board as they have an ice cooler.
Included in the tour:
Private Charter Boat
Bottled Water
Soda
Ice Cooler
Price of Cruise: $200
What Guests Said:
"I took my significant other for a private, romantic cruise into the sunset and we had a wonderful time on this two hour ride around Key West. Our Skipper was very knowledgeable and kind, he provided interesting insights at just the right moments without being intrusive. It was a truly romantic and memorable experience that ended with a spectacular sunset."
"We wanted to avoid the drinking cruises and have a quiet experience. That's exactly what we got on this wonderful cruise. Thank you, Captain Donnie!"
Key West Sunset Snorkel with Unlimited Draft Beer & Wine
Set sail and explore the incredible crystal clear waters of Key West, stopping off for snorkeling and swimming in the waters of the Atlantic Ocean. Experience the magic of the coral reefs that are abundant with marine life.
Spend the hours before sunset swimming the 3rd largest natural reef in the world, the Florida Marine Sanctuary. Keep your eyes peeled for turtles, reef fish and you may even spot a wild dolphin!
Back on board, enjoy the amazing Key West sunset with a nice cold beer or glass of wine as your dry off.
Included in the private catamaran:
Snorkeling equipment
Open water snorkeling in a coral reef
Open Bar
Price of Cruise: $60
What Guests Said:
"The crew made the experience easy and super enjoyable. The tour isn't crowded and comfortable. Definitely recommend this one out of all the tours in Key west!"
"The sunset was absolutely amazing! We saw a ton of tropical fish and a few dolphins on our ride out to the reef. The crew was great!"
Sunset Tiki Boat Tour in Key West
If you are in Key West with a group of friends, what better way to enjoy the amazing sunset in Key West than by renting your very own Tiki Boat?
Bring your own booze as you and your friends set sail on a tiki boat complete with a tiki bar!
Price of Cruise: $60
What Guests Said:
"What a great night! Very fun to be on the water on this boat! Nick the captain was personable and fun! We brought our white claw and snacks! We will book this again!!"
"Captain Morgan (his actual name) was fantastic. We had hoped for the sunset experience. The weather did not cooperate, but we still had a wonderful time. He told us stories about his experiences in Key West and told us places to go and things to see. It was a blast! Would do it again (rain or shine)."
A Key West Sunset Cruise You Won't Forget
Why not take the hassle and claustrophobia out of watching the Key West sunset by taking a splendid and squish-less experience of a fabulous Key West sunset cruise? Drop a comment below and let me know which one you ended up choosing and how it was!