I'll state it now, but Sifnos is the rising star in the Cyclade Islands that you need to keep an eye out for. If you've been on the search for the next 'Paros' or 'Milos', then Sifnos is your best bet. It ticks all the boxes that its neighboring islands have in buckets – beautiful beaches, outstanding scenery, and top-notch accommodation. This is your complete guide on where to stay in Sifnos.
There are several places to stay in Sifnos that have absolutely stellar accommodation choices. The island of Sifnos is considerably hilly and mountainous, which coming from Milos is quite surprising. You'll find steep mountains that nestle the island's main town, Apollonia. 
And as you explore the winding roads, you'll find that Sifnos has bays and coves where small villages lay, or a church perched peacefully on a rocky outcrop.
You can easily travel around the island by local bus, but I would recommend renting your own vehicle. Parking is of course limited in certain areas, especially in the height of summer. So bear in mind that you might want to rent an ATV or something similar. 
Some of these may be affiliate links, which means when you buy something I may receive a small commission. There is no additional charge to you, and it really helps to support me – so thank you!
Where to Stay in Sifnos
1. Kamares
Kamares is the main port of Sifnos and where all ferries arrive and depart from. The port town of Kamares is a popular place on the island to stay for those visitors who are short on time. There are a number of beachfront hotels and the restaurants that line the walkway from the port are busy throughout the day and evening.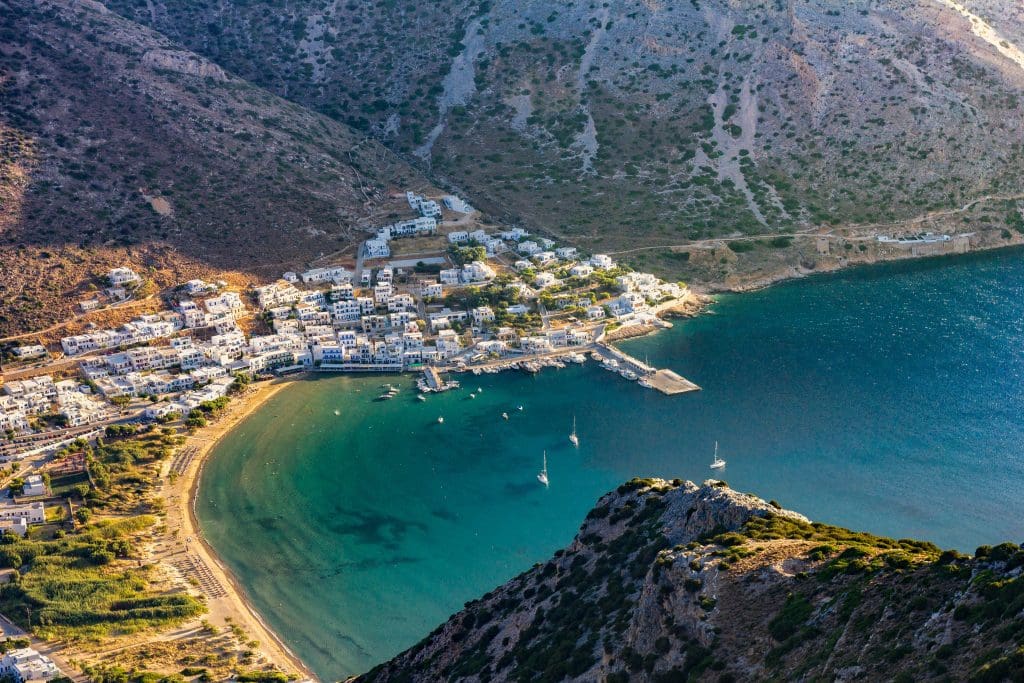 The small beach in Kamares is sweet, but nothing special. Kamares is where to stay in Sifnos if you are visiting for a single night. It has the setup most visitors require with decent restaurants and a few souvenir shops. 
It's very cute, but the real attraction lies beyond in the Sifnos' main town, Apollonia. For those looking for where to stay in Sifnos on a budget, you'll find a good selection of accommodation in Kamares.
Hotel Kamari // A very sweet family-run hotel on the beachfront of Kamares and a short walk from the port.
Afroditi Hotel // Clean, basic hotel with each room having a sea or garden view.
2. Platis Gialos
There's a lot to love about Platis Gialos, and for me, it ticked all the boxes in what I was looking for when figuring out where to stay in Sifnos.
You'll find Platis Gialos has a great restaurant scene, and all the places that we tried were pretty fantastic. The beach at Platis Gialos is very family-friendly, with shallow water that is ankle-deep for a few meters. There were hardly any waves breaking along the beach.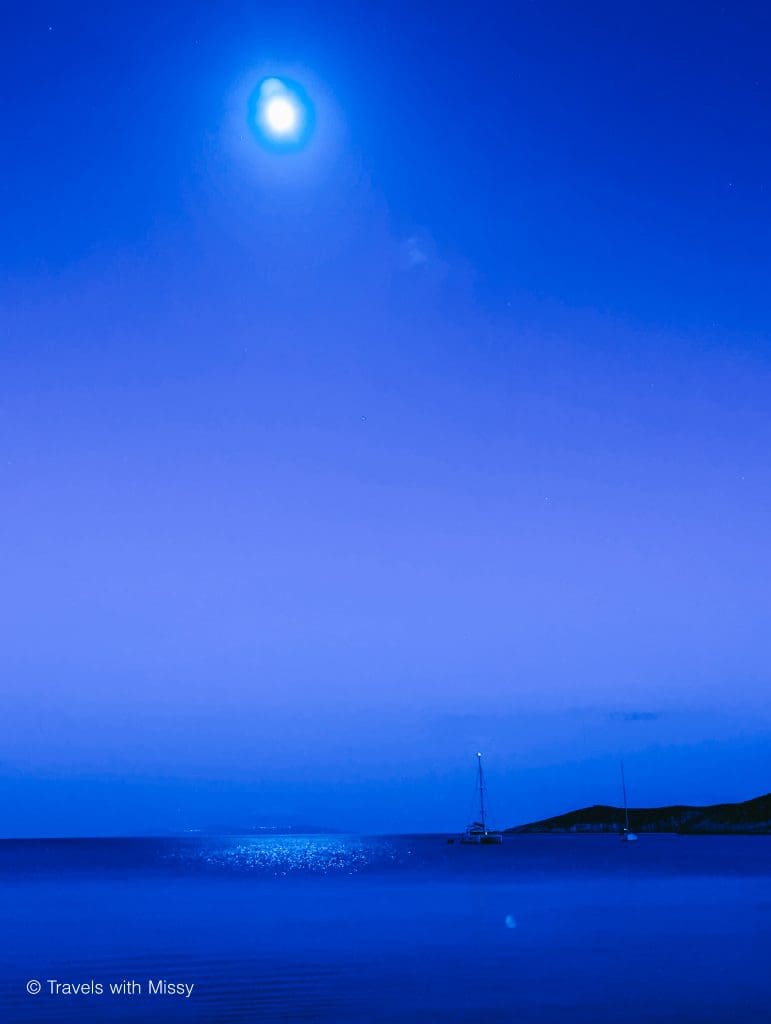 The only downside about the beach at Platis Gialos is that it is very narrow. And during the tail-end of July and August, you may end up fighting for a small patch of sand to call your own.
The accommodation selection in Platis Gialos is some of the best on the island, with a variety of choices along the seafront, luxury hotels, family-friendly apartments, and all that's in between.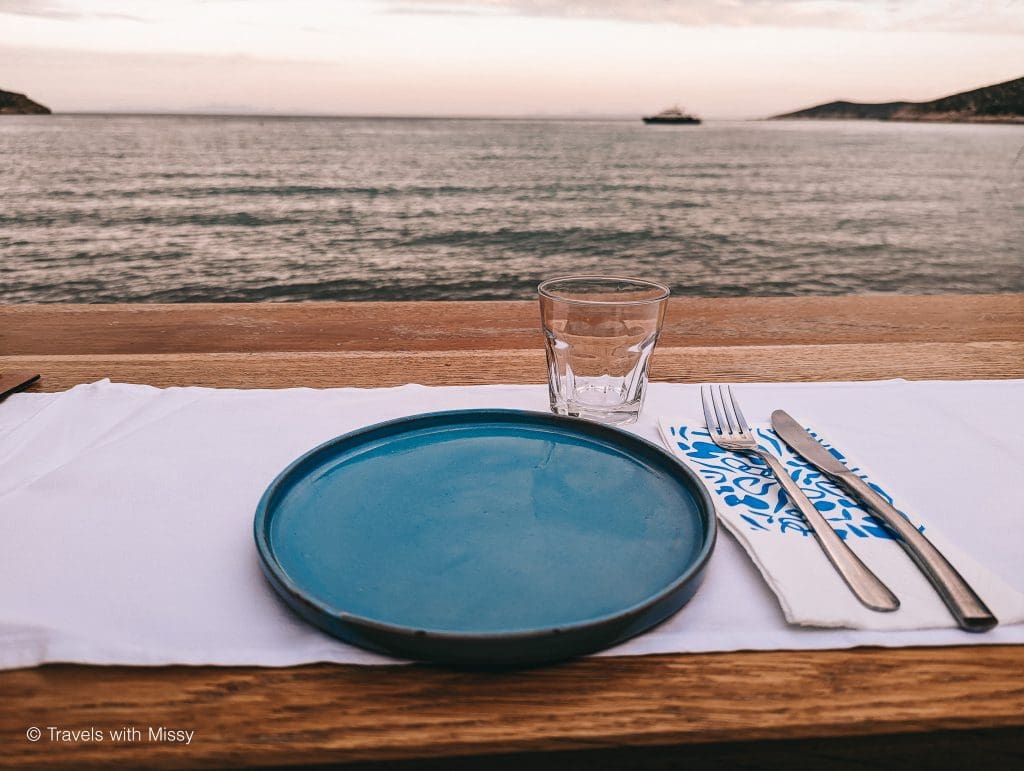 Dine in NUS and enjoy the spectacular views and cuisine offered here. Head next door to the cozy beach bar, Lost Bay Cocktail Bar for some tasty and delicious cocktails. Bring mosquito spray.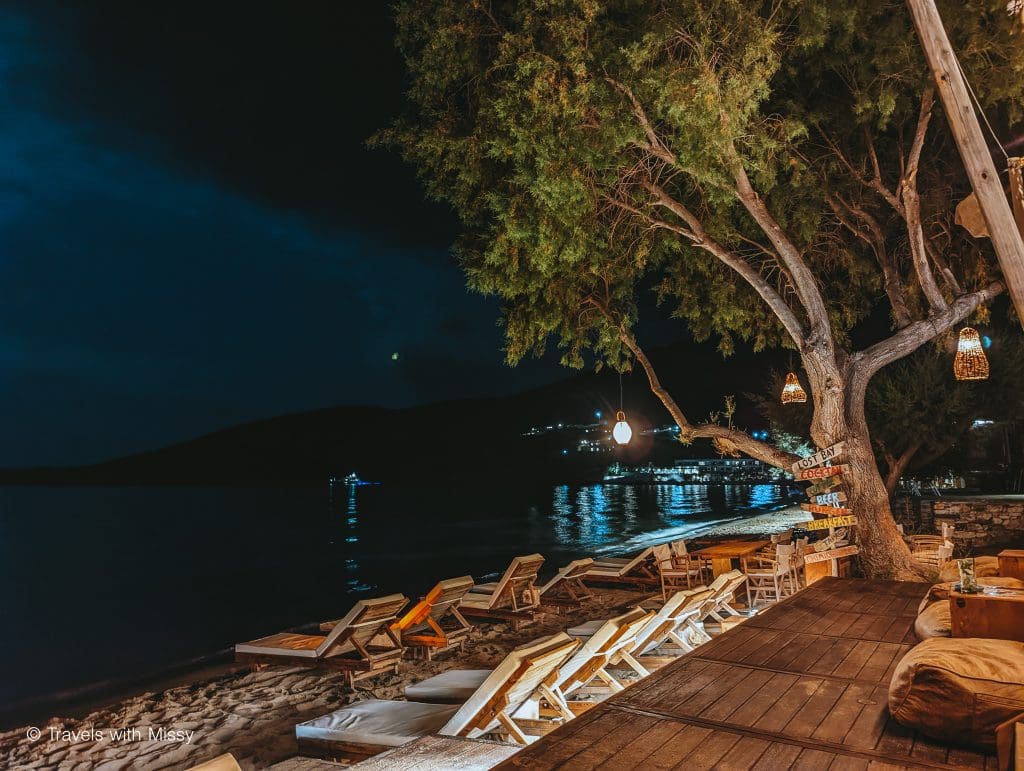 Villa Irini // Set back off the main road, it's a short 3-minute walk from Villa Irini to the beachfront. The rooms are beautifully decorated and there's a decent-sized pool to cool off in.
Verina Terra // Lush luxury accommodation on the main street of Platis Gialos, you'll find yourself wanting to purchase all the linens and decor throughout the property.
3. Apollonia
Nestled at the top of the island and looming over the rest of the island is the largest settlement on Sifnos, Apollonia. If you decide not to stay in Apollonia, you must make sure to visit it at least once.
Apollonia is a tremendously pretty Greek village, where white-washed buildings lead you in circles as you discover boutique stores, restaurants, and bars hidden around each corner. The shopping in Apollonia for locally-made goods is worth visiting Sifnos alone.
Apollonia is the hub of the island and it's the largest town, so you'll find it a great place to connect to other villages from here. Dine on the main street known locally as 'Steno', there are a fantastic selection of Greek Tavernas and ridiculously good cocktail bars.
Nearby in Kastro, one of the most photographed churches on the island of Sifnos, the Church of the Seven Martyrs is a short drive away. The church sits on a small rocky outcrop, backed by the aquamarine waters of Sifnos. It's very pretty and oh-so Greek.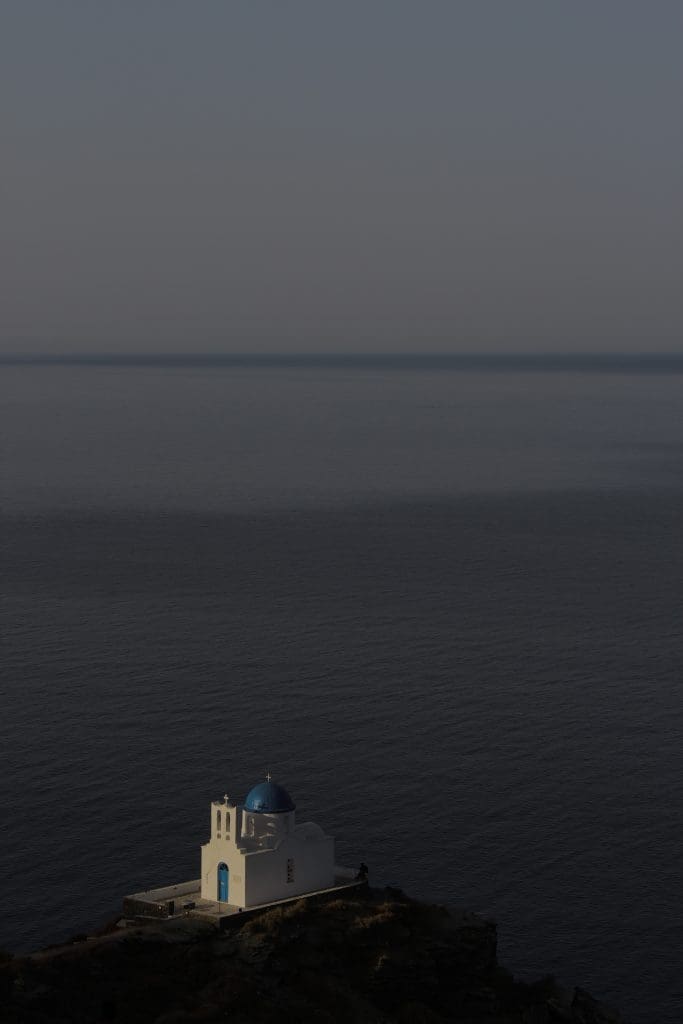 The itty-bitty village of Kastro is worth exploring with its winding streets and a former castle. The village is a car-free zone, with free parking provided at the entrance of the town. You'll need to walk down to the Church of the Seven Martyrs in order to view it.
Nival Boutique Hotel // A brand new hotel just on the edge of Apollonia, you might be surprised to find that its only 3 stars with its high-end finishing.
Petali Village Hotel // An adorably sweet hotel with some of the best views across the island. A 30-second walk to the center of Apollonia. You can't beat the location.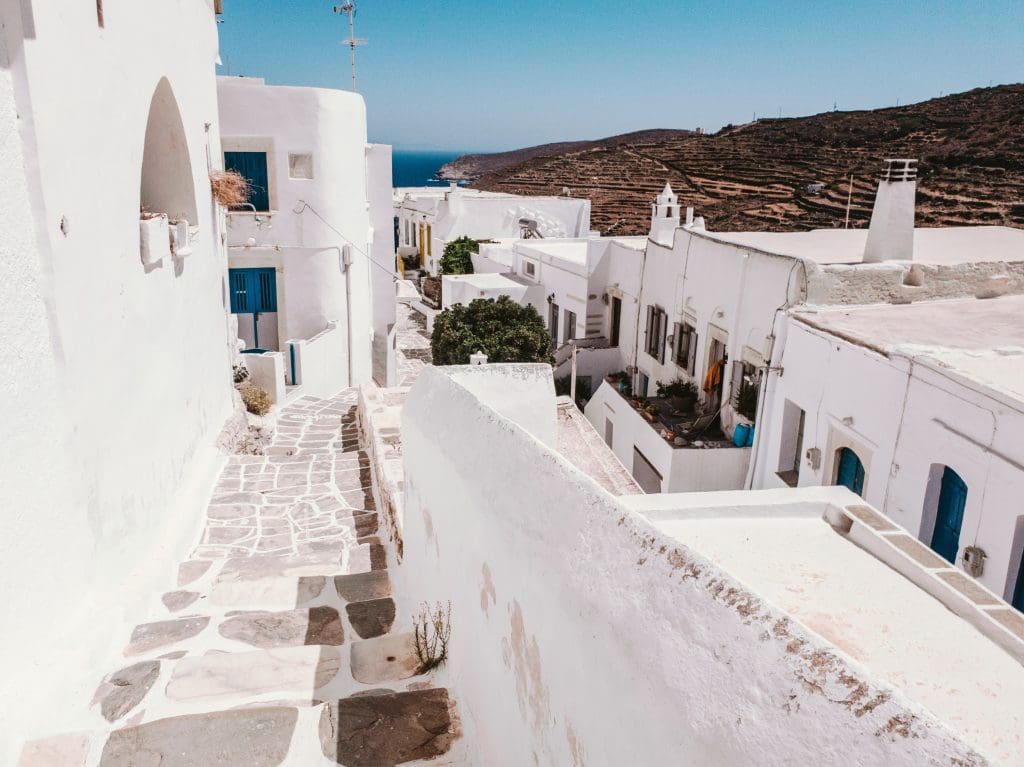 4. Vathi
Tiny, quiet, and quaint Vathi (Vathy) is the ideal place to escape if you are in search of some solitude. There's not a lot happening in Vathi, and that for some is more than perfect. The crescent bay is fringed with hills, and you'll find yourself dining under leafy trees with the company of cats.
Grab the latest must-read summer novel that everyone is talking about, find a patch of sand, and marvel at how quickly the day just disappears when you're doing nothing. Absolute bliss. 
With a handful of restaurants, bars, and a store, Vathi is the where to stay in Sifnos for those seeking escapism and relaxation.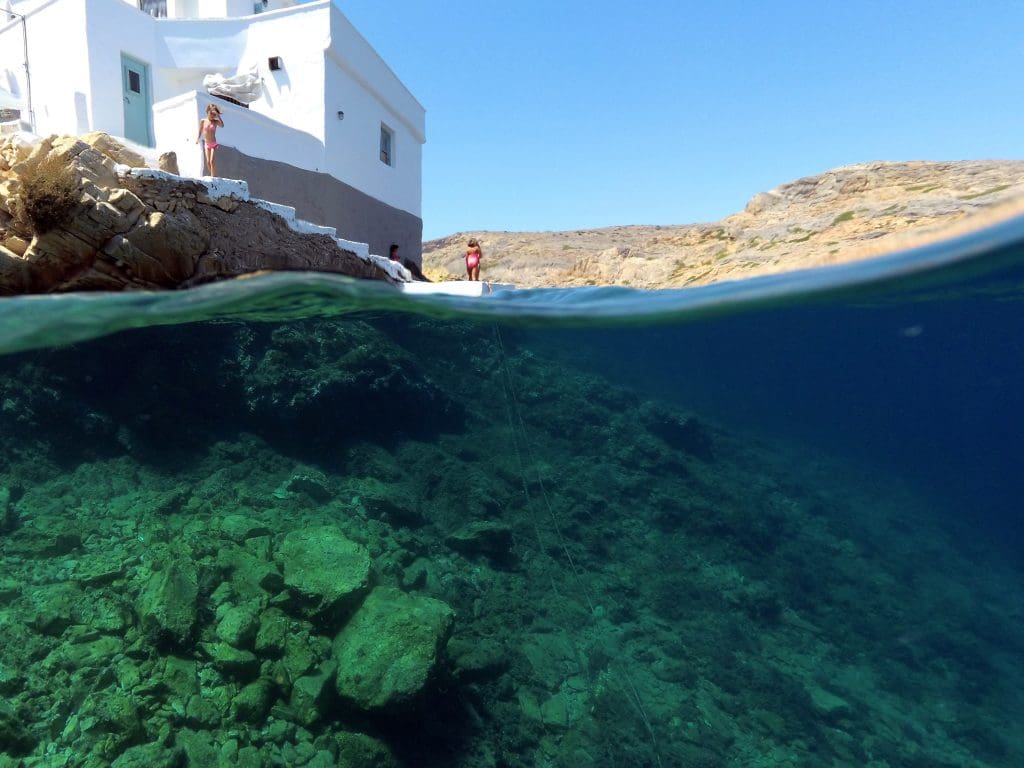 Studio Anna // Small private bungalows on the beach. Wake up to the sound of lapping waves, and seek inspiration from the stunning view before you. 
Elies Resorts // A surprising 5-star hotel in Vathi with top-of-the-range facilities and features. A splurge hotel in Sifnos. 
Sifnos may not have the glitz and glamour of Mykonos or the abundant 5-star cliff hotels of Santorini but it's as close to an unknown gem of a Greek island as you can get. The culinary scene is fantastic, and Apollonia at night can really get going during August when Athenians descend upon the island.
If you've been searching for the next up-and-coming star of the Cyclades, Sifnos should be on your radar. Why not add it to your next Greek island itinerary? 
Some of these may be affiliate links, which means when you buy something I may receive a small commission. There is no additional charge to you, and it really helps to support me – so thank you!