First time visiting Greece? I've got the perfect 10 days in Greece itinerary for you. Combine the incredible city of Athens with 4 of the best Cyclades islands of Milos, Paros, Mykonos & Santorini. This itinerary allows you to experience the best of the Greek islands, without missing a thing and giving you a taster for next time.
With this example of how to spend the perfect 10 days in Greece, you can spend more time on 2 islands instead of 4, or follow it right down to the letter. Overall it will give you a good idea of how and where to spend your time in Greece and some ideas of where to revisit.
There is one thing that I've learned about Greece and that is once you've sampled this magical country, you'll want to revisit time and time again. Greece is simply incredible.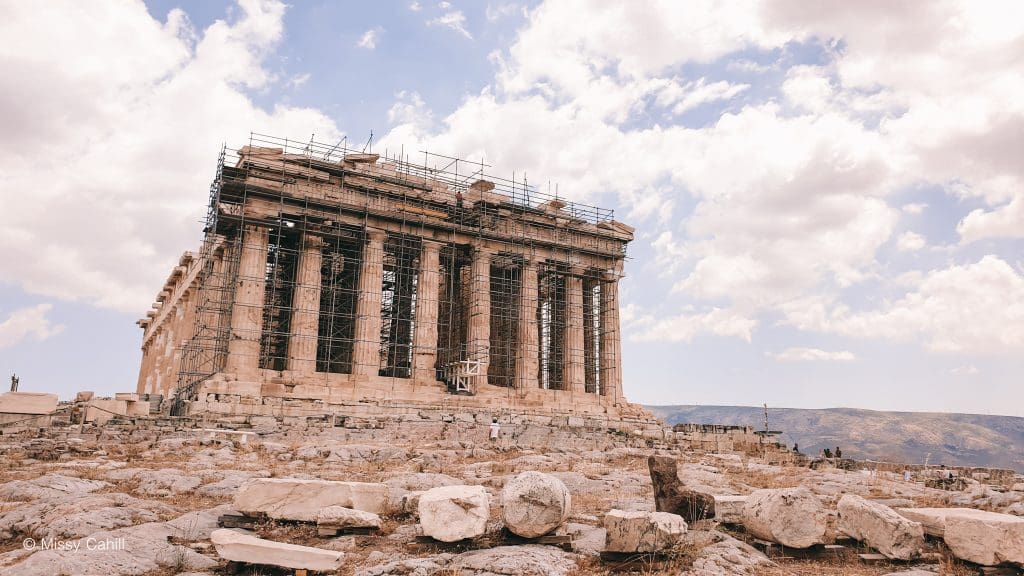 Day 1 – Athens
Arriving in Athens, grab a taxi from outside the arrivals terminal, or organize a Welcome Pickups transfer to deliver you to your hotel in the city center. One of my favorite ways of arriving at an unknown destination is having organized my transfer in advance, it takes the hassle out of trying to figure out the local buses and trains.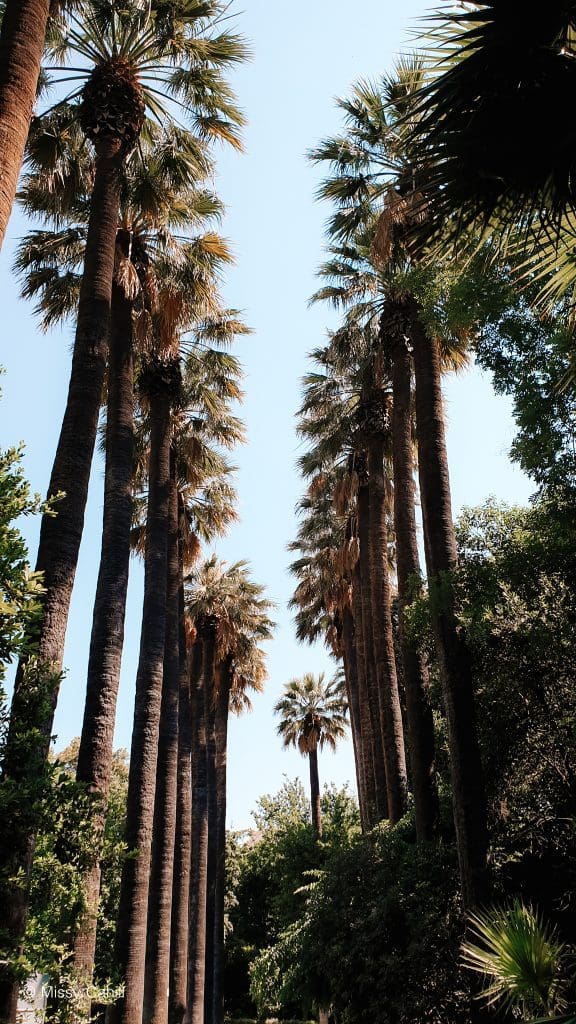 Athens is incredible and you could easily spend your 10 days in Greece exploring the city and the Riviera. Time is of the essence and on day 1, you'll explore the neighborhoods of Monastariki and Plaka. The shopping in these areas is so good, and you'll find lots of hidden restaurants and bars dotted around the area.
Visit the Monument to the Unknown Soldier to see the remarkable changing of the guard that is performed on the hour every hour. The Evzones are one of the most elite branches of the Greek army and the changing of the guard is not to be missed.
Have a quick stroll through the beautiful National Gardens of Athens before visiting the Panathenaic Stadium where the Modern Olympics were first held in 1896.
Where to stay in Athens
Coco-mat Athens BC – Fantastic 5-star hotel in a superb location. The small rooftop pool offers unreal views of the Acropolis and has a nice restaurant.
BED in Athens – Fairly basic accommodation but in a great location.
Day 2 – Athens
On day 2 of your 10 days in Greece, you're going to be up bright and early. One of Athen's most iconic landmarks, the Acropolis is on today's agenda. Book a guided tour of the Acropolis (you can also add a tour of the Acropolis Museum) for the earliest start possible.
Walking around the Acropolis is really hot, and if you are visiting Athens in July & August, the earlier you can visit, the better.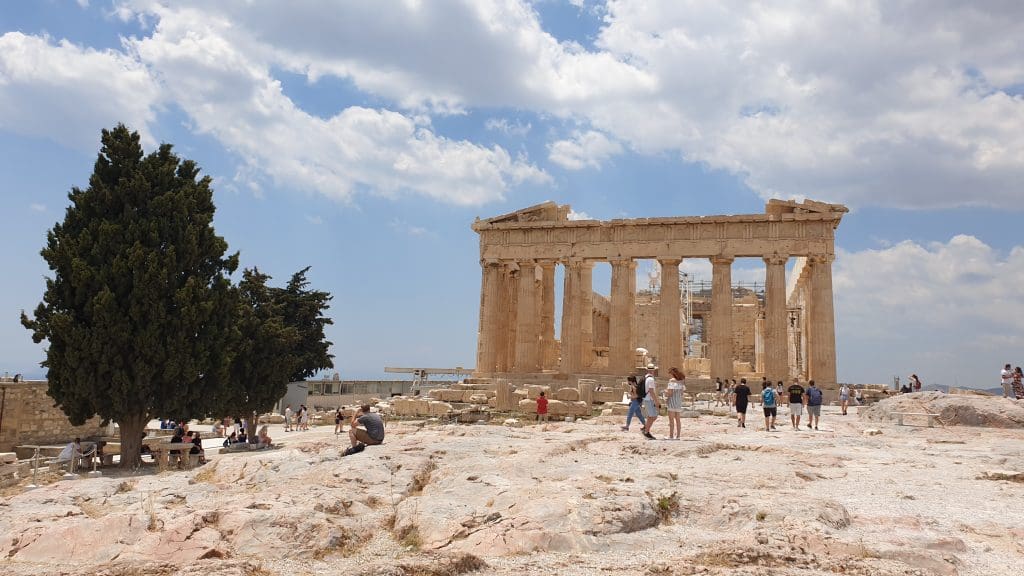 A visit to the Parthenon is absolutely unmissable and to really understand its history and importance, a guided tour is recommended. This activity will take up a good portion of your day. If you still have energy afterward, head to Lycabettus Hill which is the highest point of Athens. You can save your legs a climb by taking the Lycabettus Cable Car.
Freshen up in your hotel and head out to Plaka for dinner.
Day 3 – Santorini
Heading to the airport this morning, you're going to save some time by taking a flight from Athens to the most popular Cyclades island of Santorini. Flying to Santorini from Athens takes around 50 minutes and during the summer months, there are numerous flights throughout the day.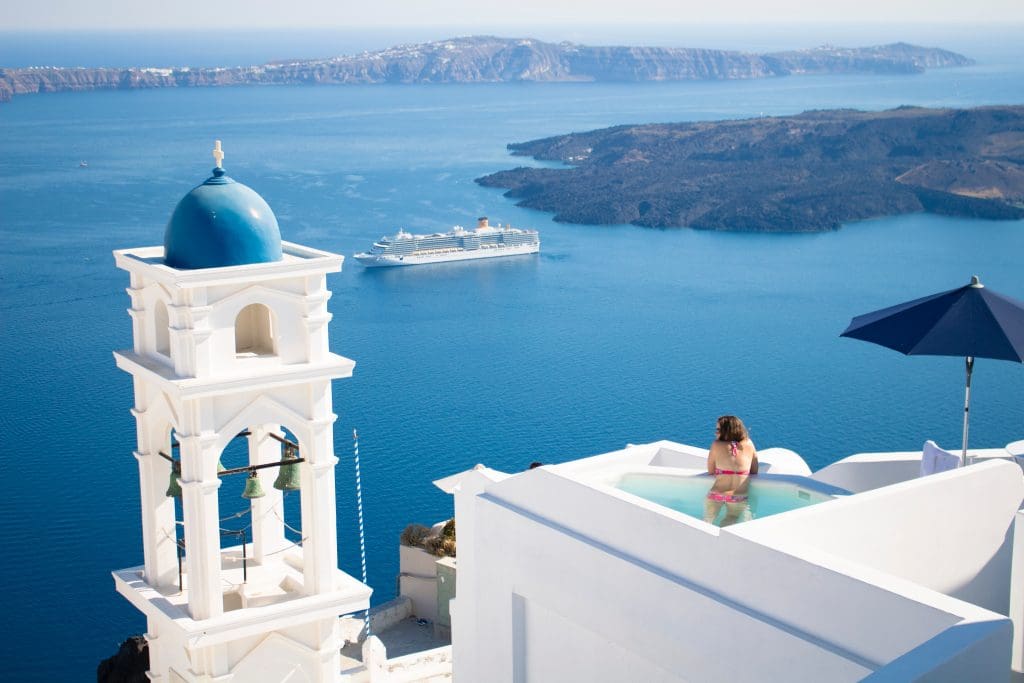 Take the earliest flight possible to ensure you make the most of your 2 days in Santorini. You can check flight times and prices here. A flight from Athens to Santorini can be as cheap as €20 with Ryanair, one of the cheapest budget airlines in Europe.
Hop into your Welcome Pickup transfer and make your way to your hotel on the island. There are endless accommodation options on Santorini, but one of the best places to stay is either in romantic Oia or bustling Fira.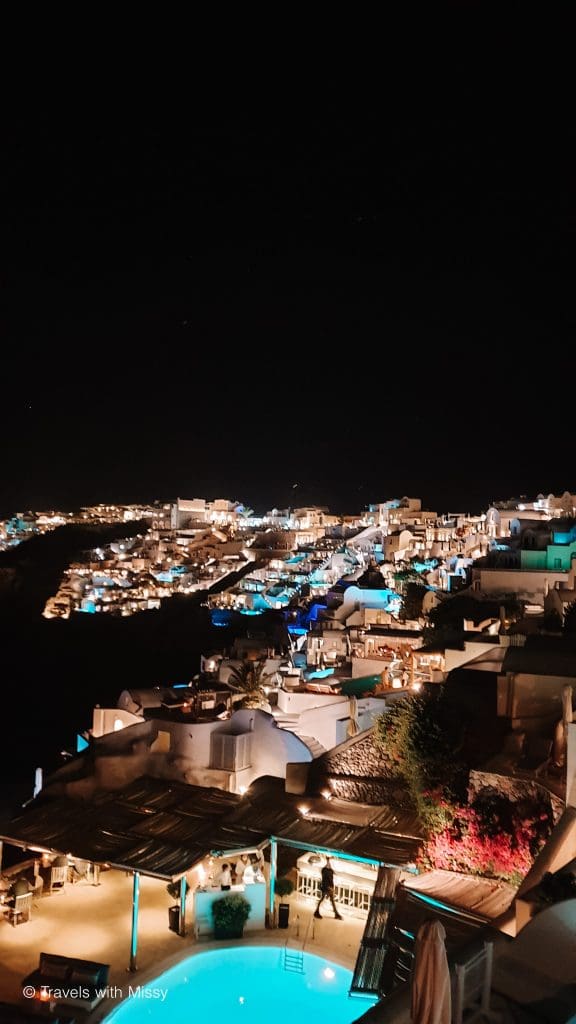 Today is all about relaxing after a busy couple of days in Athens. Lounge by your hotel's dreamy pool that overlooks the infamous Caldera of Santorini. Soak up the sights of Santorini from the comfort of your hotel and enjoy one of the world's most incredible views. Honestly, you won't be able to take your eyes off the panorama.
Visit Oia or Fira for a late lunch and a bit of exploration of those towns if sitting by the pool isn't your thing.
In the late afternoon take a Santorini Sunset Cruise that will make you reconsider ever heading back home to the reality of work and 'life'. The sunset cruises around Santorini take in all the sights of some of the most famous beaches of the island and give you a perspective of just how impressive the island of Santorini is from the water.
There are numerous options when it comes to booking a Santorini Sunset Cruise, in which you can read more about in my guide. Two of the most popular cruise options are the Oia Sunset Cruise which includes pick up and drop off from your hotel, a Greek meal, and a beautiful catamaran with a smaller group of people.
Where to stay in Santorini
The options on where to base your stay in Santorini are endless. However for such a short stay, and perhaps this is a once-in-a-lifetime vacation, I would recommend staying in the town of Oia. For more budget-friendly options, consider Fira. Imeroviglia is a great honeymoon destination too but lacks restaurants and bars.
These are a few of my favorite hotels in Santorini:
Canaves Oia Suites – Ultra-luxury Canaves Oia Suites in Oia is the splurge hotel that you'll never forget. It will be one of your most talked about hotels on the entire vacation.
Aethrio Sunset Village – Superb location and one of the best places to watch the sunset from its rooftop terrace. Aethrio Sunset Village may not be the most luxurious hotel in Oia, but I loved its traditional Greek rooms and the hospitality was second to none.
The rooms are huge and the pool is insanely deep. Aethrio Sunset Village may not have the views of the Caldera, but its location is hard to beat and it is also great value.
For more recommendations for all towns in Santorini, check out my post on where to stay in Santorini to consider all your options.
Day 4 – Santorini
First things first, grab a coffee/tea and head out to your terrace of your hotel and take in one of the most impressive backdrops in the world. Is there a more beautiful view to wake up to?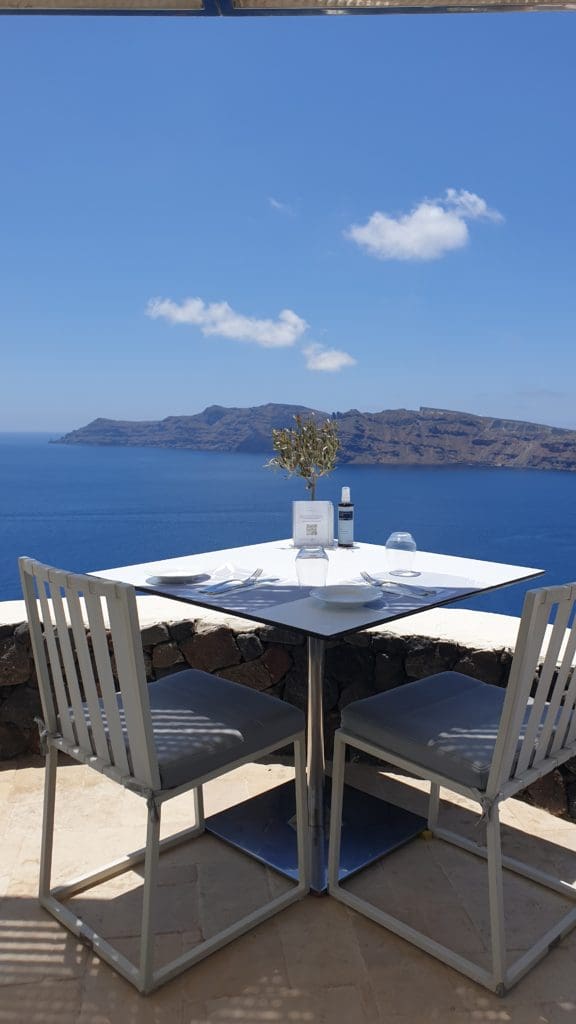 There are numerous options to choose from today depending on your energy levels:
Spend the day at one of the beautiful beach clubs in Santorini.
Or visit one or two of the spectacular and delicious wineries on the island.
Travel to Akrotiri and visit the historic Bronze Age settlement and ruins.
Rent an ATV to explore the island – one of the best ways of seeing everything Santorini has to offer.
Hike the Fira to Oia path, one of the best ways to see the stunning landscape of the island.
Take a cruise around the island and visit neighboring Thirasia and swim in the hot springs of the island's former volcano.
Or relax in your hotel, have a lazy lunch, and catch up on your latest book.
Two days in Santorini doesn't do the island any justice, but you can fit a lot into a 48-hour period. If this section of your 10 days in Greece itinerary feels rushed, then skip one of the next islands and add another day or two in Santorini.
Purchase A Guide to Santorini – 31 Pages
Day 5 – Paros
I have the biggest soft spot for Paros. It was the very first Greek island I visited and it was everything I imagined and so much more. Paros is heavenly. It has so much to offer visitors, and it's picture-perfect.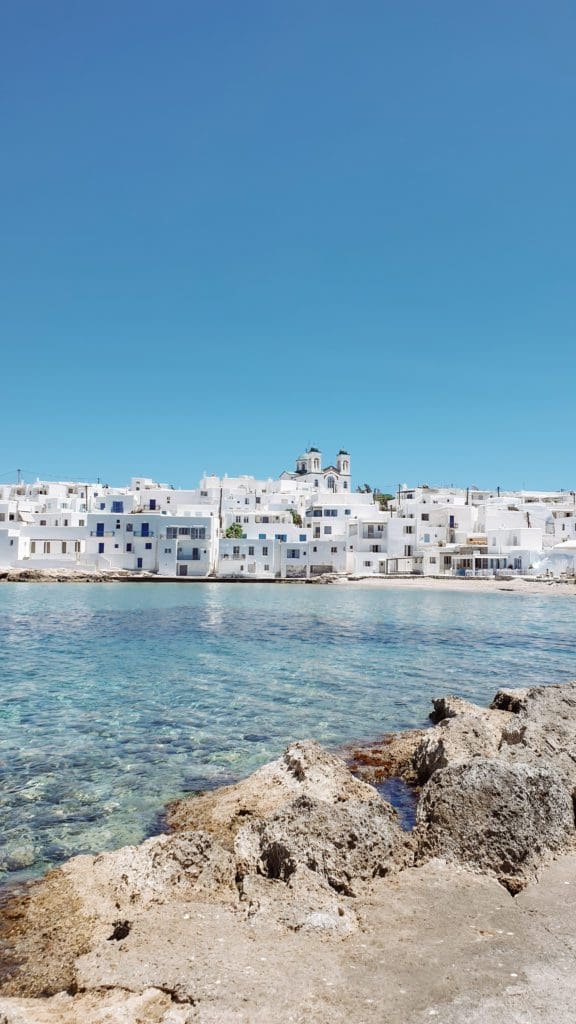 Explore the winding maze-like streets of Parikia or Naoussa, find the perfect beach on Paros, or explore fantastic Antiparos.
Take an early morning fast ferry from Santorini to Paros, and base yourself in either Parikia or Naoussa. Personally, Naoussa is my favorite of the two largest towns on Paros. Naoussa has incredible restaurants, one of the prettiest harbors to dine at and excellent cocktail bars. The hotels in Naoussa are superior to those in Parikia.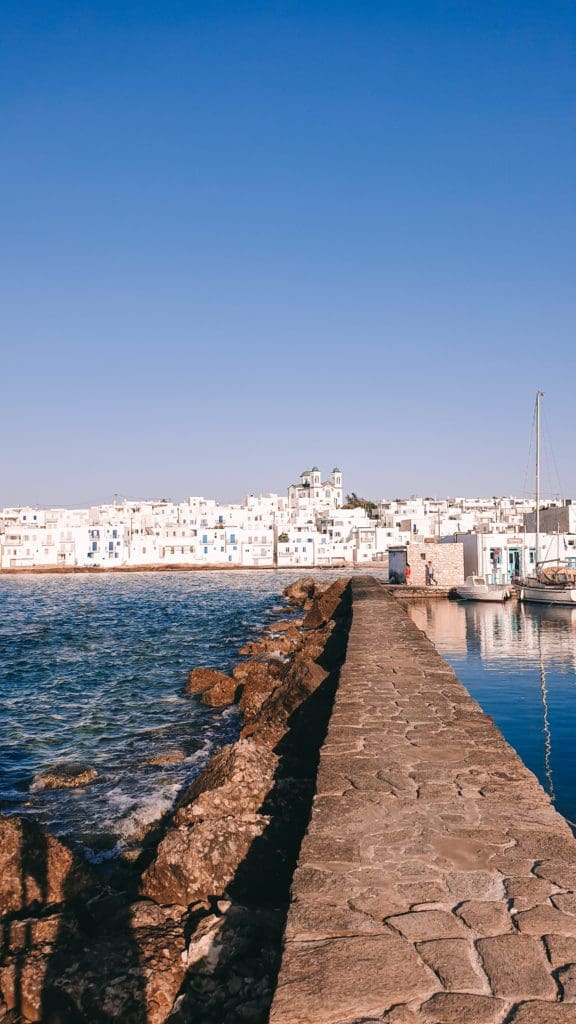 Once you've grabbed your rental car or ATV from Parikia, make your way the short distance to Naoussa and spend the remainder of the day falling in love with Naoussa and its maze-like streets. Grab dinner in one of the restaurants located in the most romantic harbor in Greece (Mario's is a great choice), and watch as the town comes alive.
Spend the night in one of the many cocktail bars and try not to consider what it would be like to sell all your worldly possessions and move to a Greek island. It's a fantasy that we can all relate to.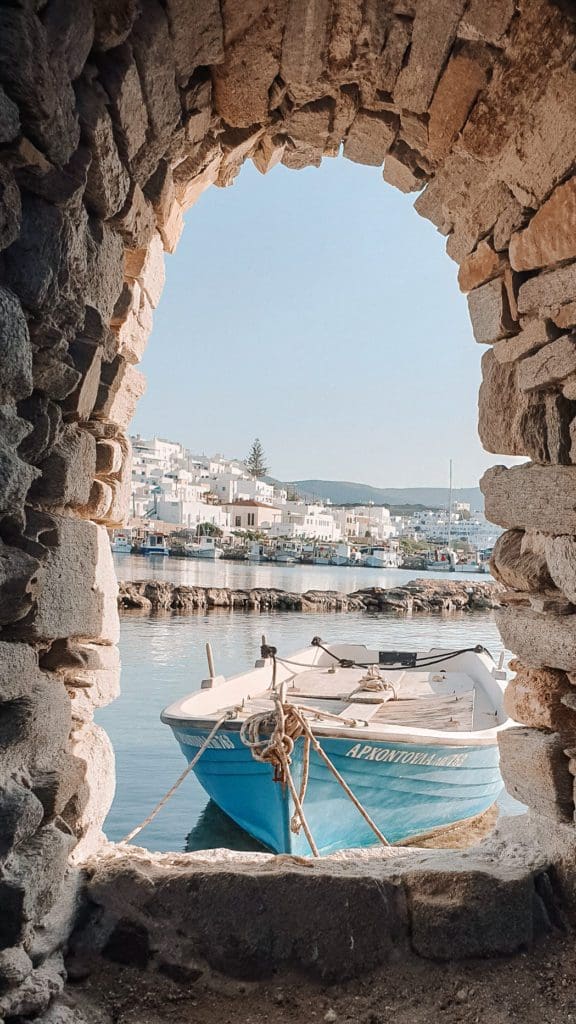 Where to stay in Paros
For such a small island, there are a number of places to consider basing your stay in Paros. Because you're short on time on your 10 days in Greece, the best place to stay in Paros is either Parikia or Naoussa.
Parikia is where the ferries arrive and depart from, so this makes it a solid choice for easy access. Naoussa is a short distance from Parikia, around 10 minutes by car. Read my guide for more locations across the island if Parikia or Naoussa has no hotel availability.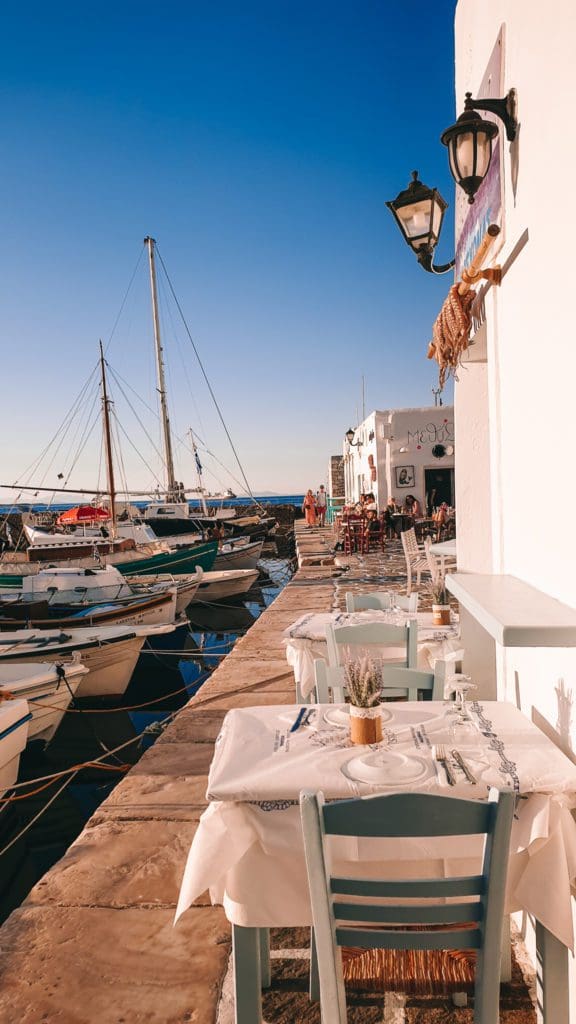 These are a few of my favorite places to stay in Paros:
Kanales Rooms & Suites – A short 7-minute walk from the town of Naoussa, you'll be spoilt with a stay in this boutique hotel. It's a two-minute walk from the beach.
Day 6 – Paros
There are a number of options to choose from on your second day in Paros.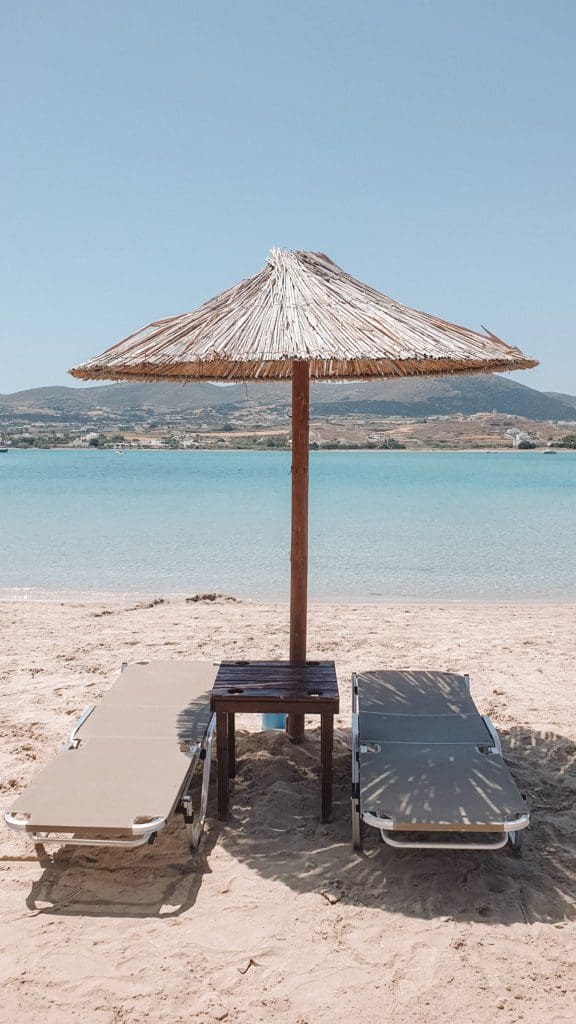 Spend the day exploring the island and its beaches in your rental car or ATV.
Visit the island of Antiparos and try to spot Tom Hanks in his vacation home.
Explore the towns of Lefkes, Naoussa or Parikia (whichever one you're not staying in).
Sip on wine in the Moraitis winery outside of Naoussa.
Catch a taxi boat from Naoussa and sprawl out on Kolymbithres beach, before enjoying a long lengthy Greek lunch in one of the nearby tavernas.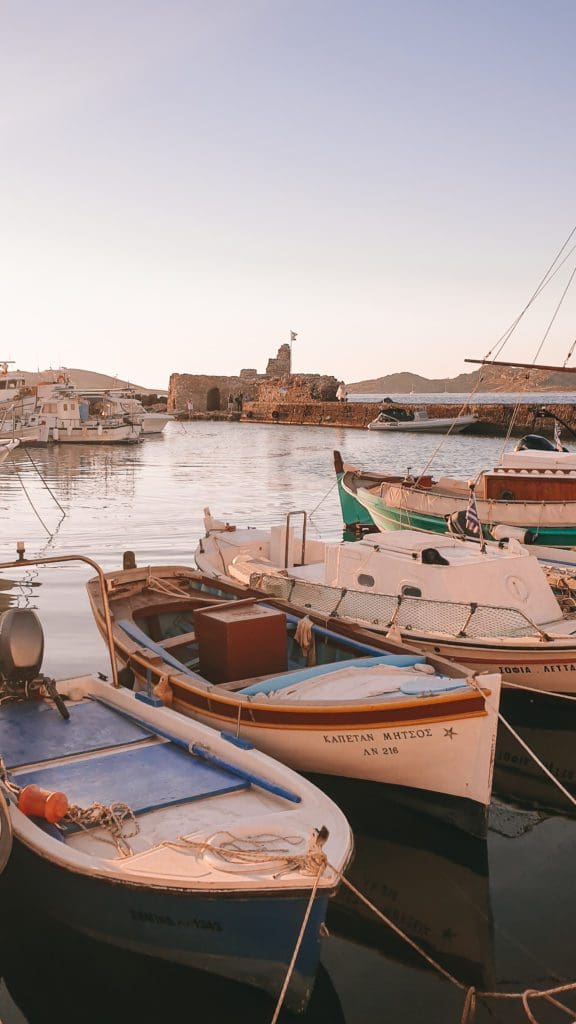 Depending on the ferry schedule, you may need to leave on the fast ferry to Milos (ferry schedules are released in April each year) in the evening of day 6.
Day 7 – Milos
I discovered Milos around 6 years ago thanks to Instagram and quickly became obsessed with it. It was only last year that I had the opportunity to visit Milos and it is absolutely incredible. Milos totally lived up to the hype of rugged beaches, incredible restaurants (Medusa), and the prettiest villages.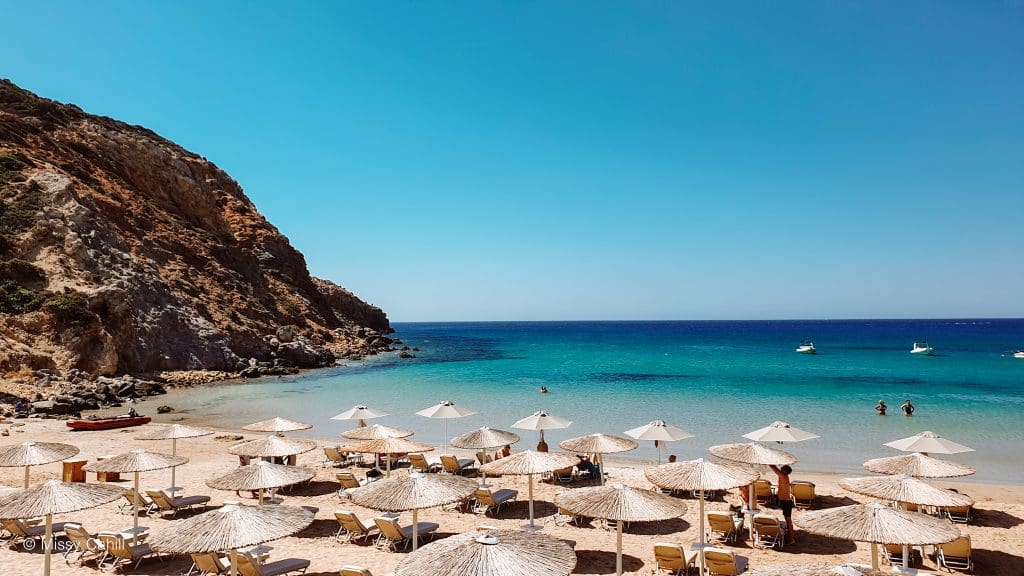 I would recommend renting a car or ATV in Milos because there is a lot to see and do.
Milos has superb beaches, and you can reach them by public bus, but you'll be waiting quite some time for the buses to arrive. During the height of the summer months, make sure to get to the beach as early as possible with a car as parking becomes almost impossible closer to midday.
Once you've picked up your car, check in to your accommodation and hit the road. Depending on your car rental company there are certain parts of Milos that are inaccessible due to the roads. The rental company will inform you of where you can visit in their offices.
On your first day in Milos, it's time to check out one of the most famous beaches – Sarakiniko Beach. The lunar landscape of Sarakiniko has made this one of Milos' most popular spots. And it's not just influencers in the wild that you'll spot here, but daredevils flinging themselves off the rock formations into the aquamarine sea below.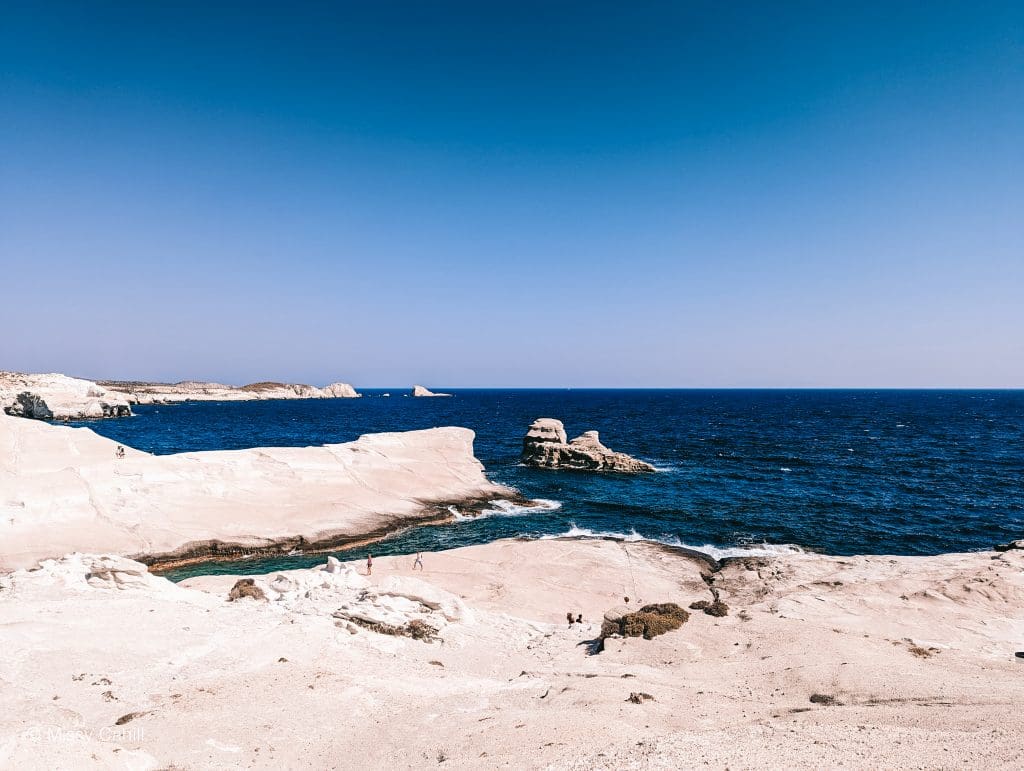 Dine in the town of Plaka, one of the highest points on the island. The town of Plaka has several sweet stores selling handmade jewelry, clothes, and other goods. For the ultimate sunset spot, hike up to the Kastro (castle) at the very top and watch as the sun descends for another day. You'll have certainly earned your dinner.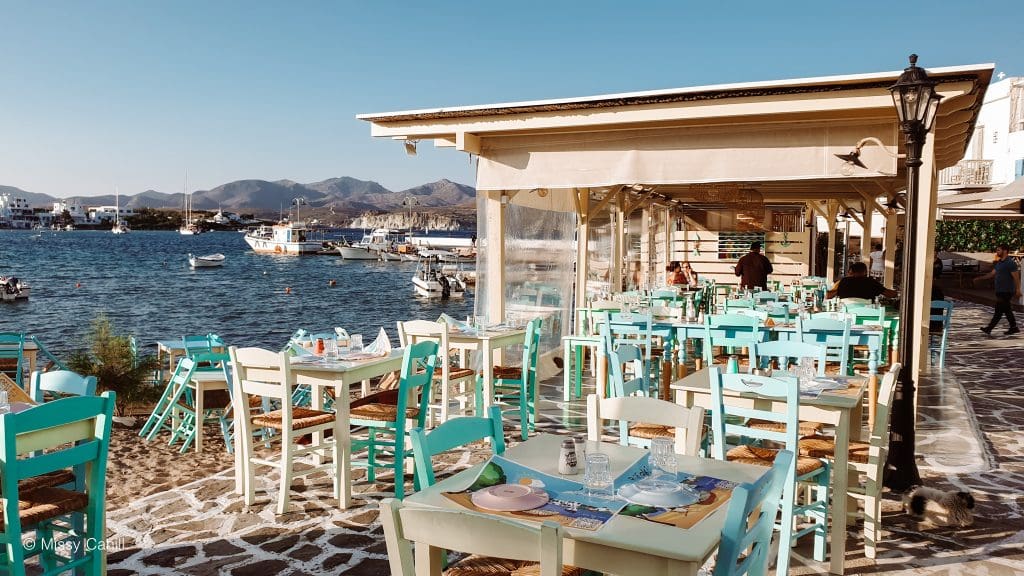 Where to stay in Milos
For an in-depth guide on where to stay in Milos, check out my guide. Here are a few of my favorite places to stay in Milos (SeaScape Mandrakia is my absolute favorite):
Santa Maria Village – A fabulous 4-star hotel with an incredible outdoor pool that overlooks the sea, Santa Maria Village is one of the best luxury hotels in Adamas. Each room has been tastefully and thoughtfully decorated, and some include super balconies that have spectacular views across the island. It's a 10-minute walk to the marina.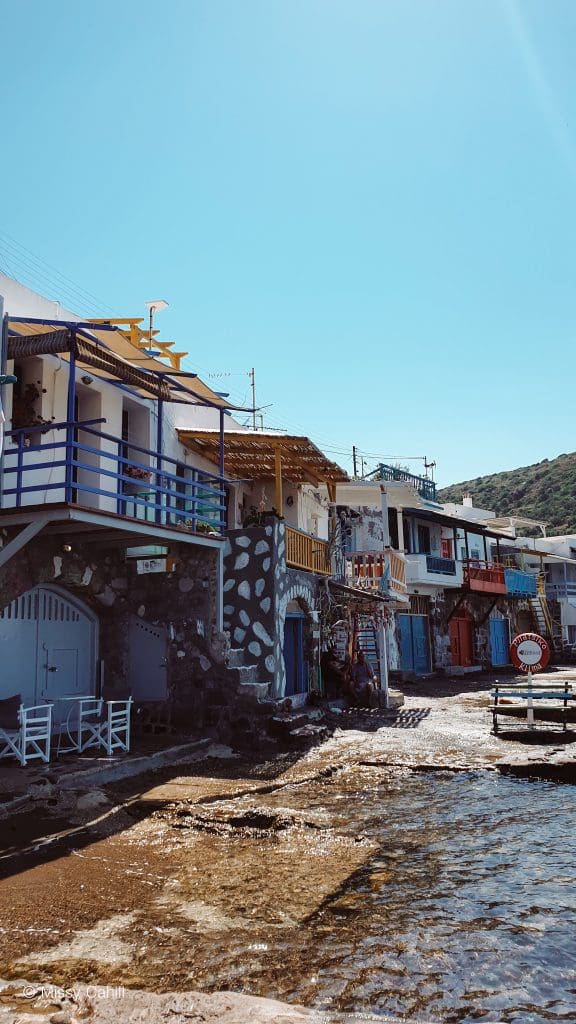 Vasealis & Seafis Sirma Klima – Beautifully remastered, you can have your choice of the ground floor apartment that opens up directly onto the sea. Or a little bit more precious with the apartment upstairs that has a fantastic balcony overlooking the superb view. With beautiful interiors and modern amenities, Vasealis & Seafis Sirma Klima is a magical place to stay in Milos.
SeaScape Mandrakia – A superb small house that sits just above the water's edge of Mandrakia, SeaScape Mandrakia is a beautiful one-bedroom apartment in one of the loveliest spots on Milos.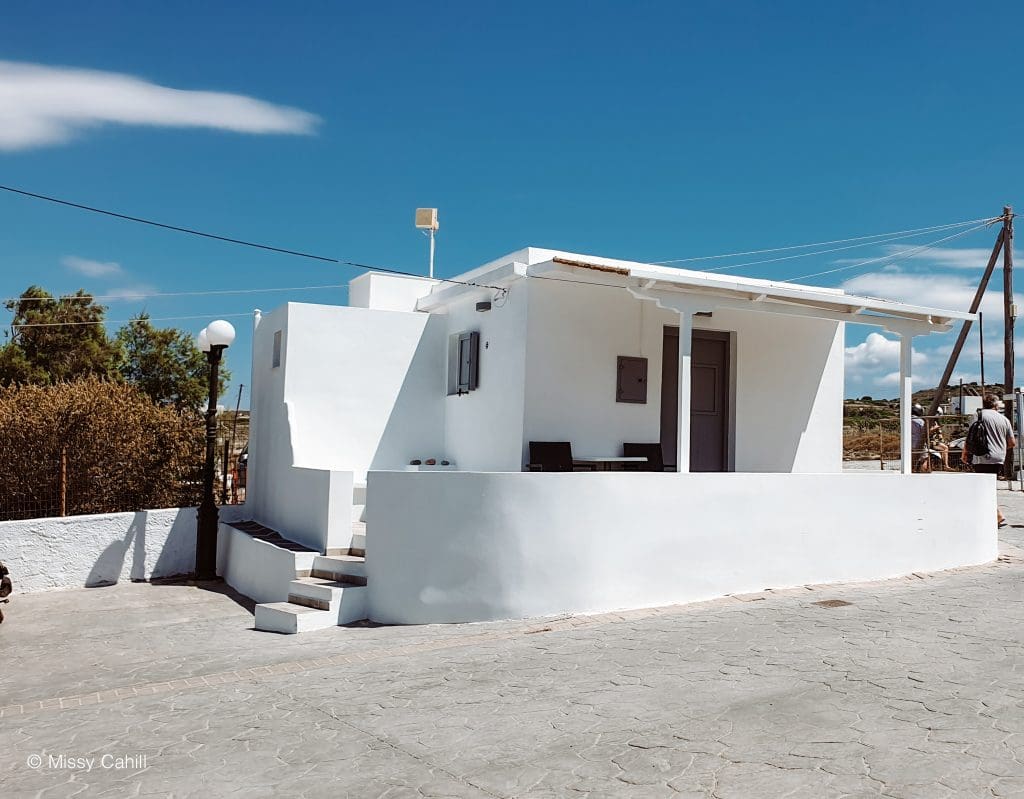 Day 8 – Milos
Explore the beautiful and multi-colored fishing huts of Klima. Make sure to get to Klima as early as you can as the car park is tiny. Wander around the former fishing huts that have now been transformed into some of the most beautiful vacation apartments on the entire island.
Enjoy breakfast or a cafe at the only restaurant in Klima, Astakas Restaurant before heading off to another quaint fishing village. Even though Mandrakia is tiny, it's worth visiting for its picturesque fishing huts and for the best restaurant on the entire island – Medusa. You cannot leave Milos without eating a single meal here. Not only is the food delicious, but it's such good value.
Sip over a glass of wine, watch the local fishermen hang up their freshly caught octopuses to dry in the sun, and marvel at this incredible spot. Mandrakia might be the very spot where you really do consider selling everything you own and moving to Greece. I know I contemplated it several times whilst dining in Medusa.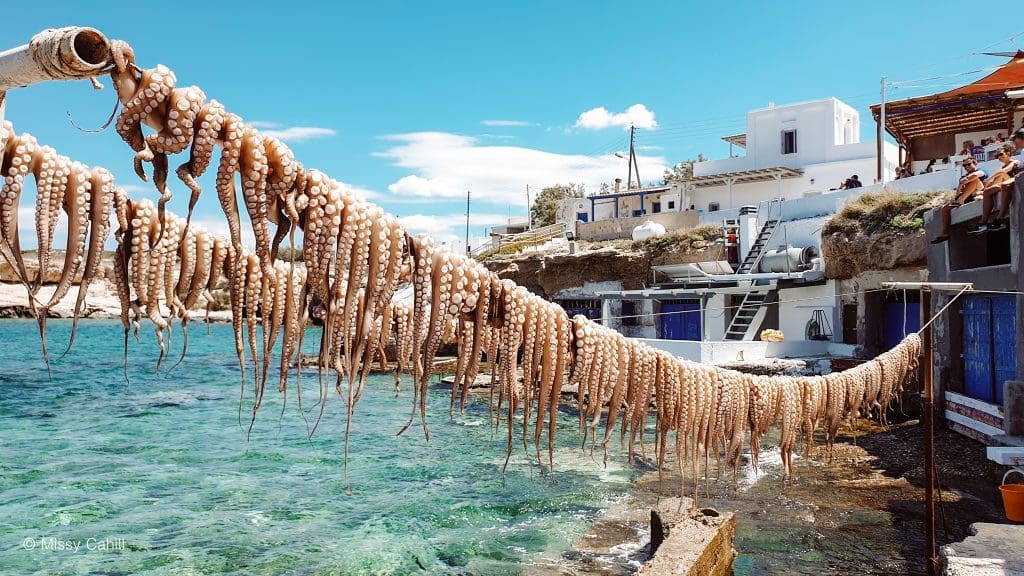 Explore another small fishing village of Firopotamos (the road down to the village is incredibly steep), and have a quick dip before racing off to your hotel for a quick change. Visit the beautiful seaside town of Pollonia for dinner in one of the many seafront restaurants. If you've based your stay here, then head to Adamas for dinner instead.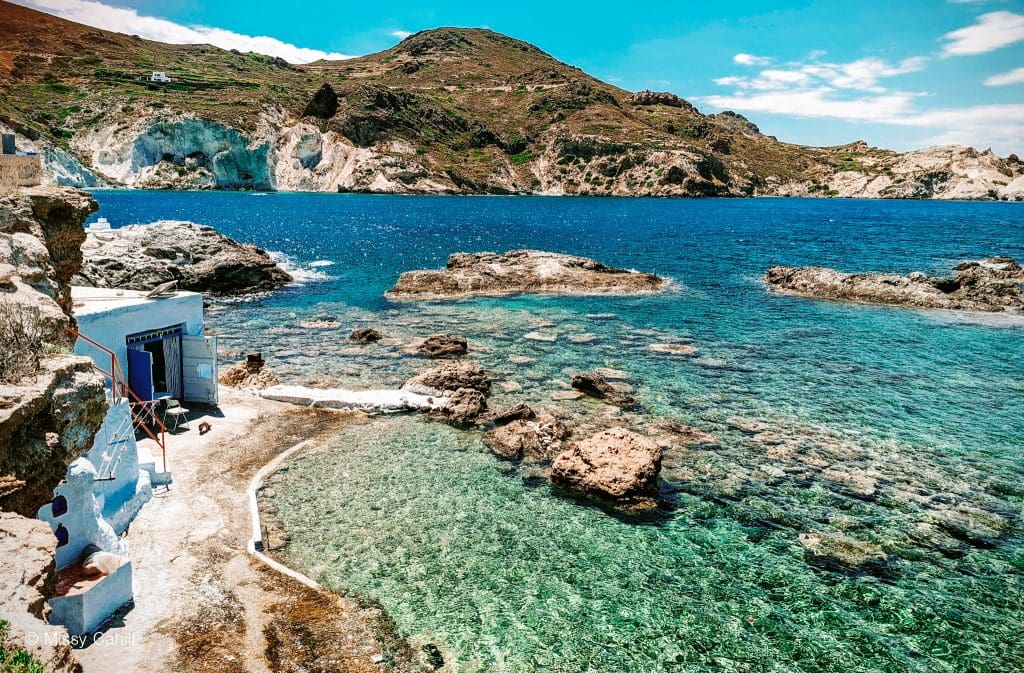 Day 9 – Mykonos
Take a fast ferry from Milos to Mykonos and enjoy your very last Greek island of your 10 days in Greece itinerary. Mykonos is whatever you want it to be. It can be bougie with some of the most expensive beach clubs in Greece, or it can be as low-key as you want.
Once you've checked into your hotel, it's time to visit Mykonos Town. Grab a drink or lunch in Little Venice, one of the most romantic spots on the island. Buy some souvenirs to take home from one of the many boutique stores, before heading up to the iconic windmills of Mykonos.
If you didn't manage a sunset cruise in Santorini, this would be a great alternative place to enjoy one. Spend a late afternoon sailing around Delos, one of the most important archaeological sites in Greece, before swimming and snorkeling in the bluest Aegean seas. Check out the prices for a Mykonos cruise here.
Party the night away in Mykonos town, or have a quiet night. The world is your (Greek) oyster.
Day 10 – Mykonos
Today's the last day of your 10 days in Greece 😢. Depending on your flight back to Athens, you may be able to squeeze in a visit to one of the many excellent beach clubs in Mykonos. Make sure to book well in advance your beach beds, especially during the months of July & August.
Spend your final couple of hours soaking up the sun, eating one final Greek salad, and planning your next visit.
Time to head off to the airport. Or change your flights and extend your vacation for another couple of weeks. Work can wait 😅.
Where to stay in Mykonos
Ftelia Bay Boutique Hotel // Hotel inland and only a 5-minute drive to Panormos Beach and Ftelia Beach – €300 per night.
Villa Varnali Small Boutique // Super location in the Mykonos Town for less than €200 a night. Includes a small pool.
Lithos by Spyros & Flora // Listen to the sounds of the waves from your hotel room. Located only 100m from Agios Ioannis Beach and €250 per night.
This is a jam-packed 10 days in Greece itinerary and was created to help with planning. Adapt and change the 10 days in Greece as needed. It's a really good taster of what Greece offers its visitors and the next time you visit the country, you may want to spend a longer time in places and skip others completely.
If you enjoyed my 10 days in Greece itinerary, please leave a comment down below. What would you recommend to first-time visitors? What would you skip?