Beach Clubs in Capri
The island of Capri is perhaps one of the most famous of Italy's islands; known for its glamorous stores, rock star superyachts that bob on the sea, and stunning beauty, there's a reason why this island is a perennial summer favorite. The incredible beach clubs in Capri are a fantastic way of rubbing shoulders with the rich and famous, as well as soaking up the stunning sights.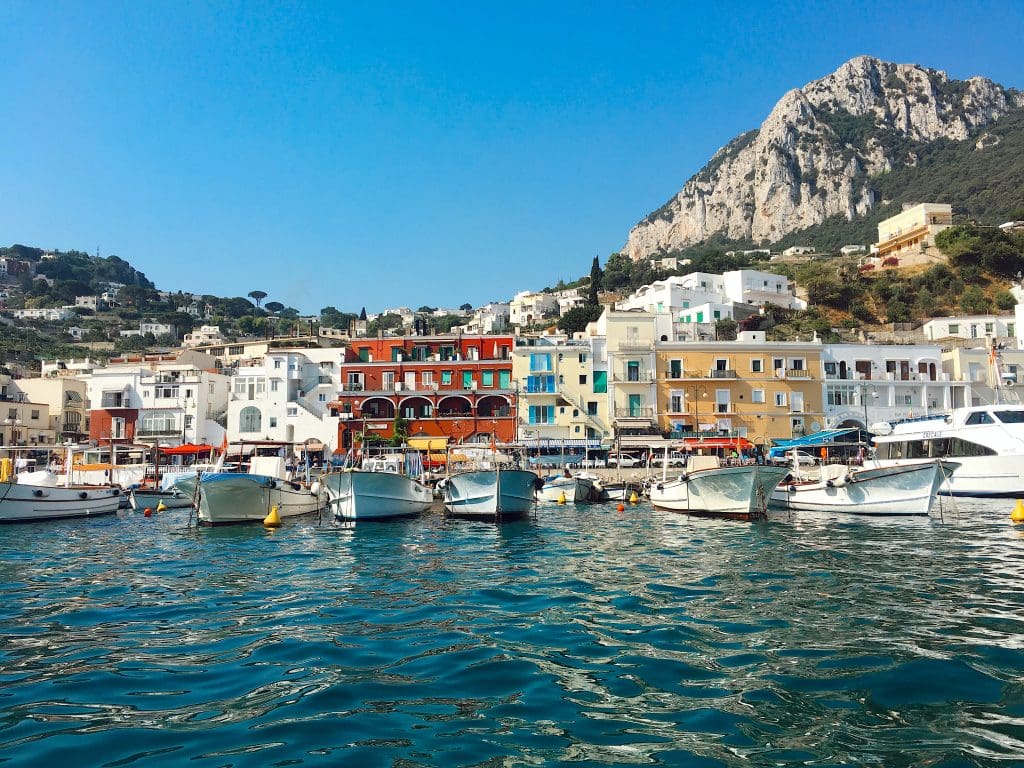 Like much of this area, you won't find white sandy beaches but instead, you'll stumble across the famous lidos and beach clubs that are an essential part of an Italian summer.
Beach clubs are so popular in Italy that often you'll have to reserve space months in advance in order to secure your beach bed for the summer. But with Capri being a popular day trip for a lot of tourists, you'll be in luck with some of the beach clubs on the list below and can easily spend a couple of hours soaking up the sun in the beach clubs in Capri.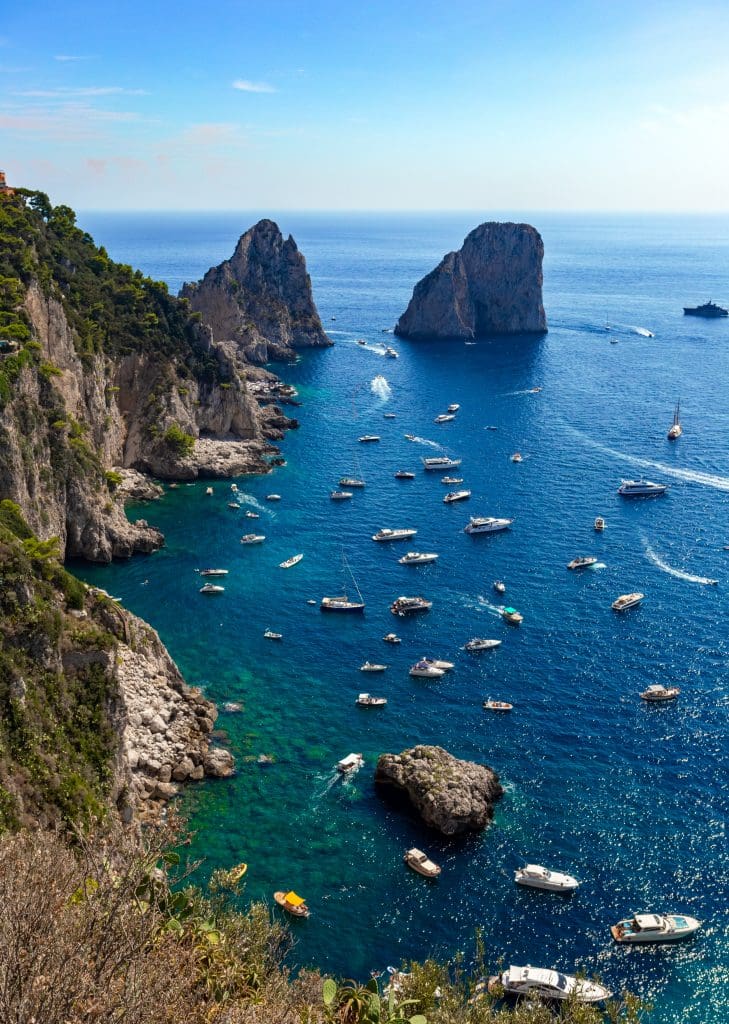 Quick Guide to Capri
Getting to Capri
There are several ways of getting to Capri from the mainland. The easiest is to take a ferry from Naples, Sorrento, or Positano. You can book ferry tickets on Omio.
There are also several organized day trips that depart to Capri from various locations. These are often the easiest and most convenient way of exploring Capri.
Day Tours to Capri
Getting Around Capri
Funicular – The Funicular operates from Marina Grande and drops you in the center of Capri town. Ticket prices are €2.20. This is the fastest method of getting to Piazzetta.
Bus – There are several small buses that traverse the island. Tickets can be purchased in advance (€2.20) or on the bus (€2.70). Expect long lines during the busier summer months. The island is small and distances are short. The bus schedule can be found here.
Walking – The cheapest and easiest way to explore Capri is by foot. Some parts of the island do require a certain level of fitness and are quite hilly.
The Best Beach Clubs in Capri
La Fontelina Capri
Without a doubt, the most exclusive beach club in Capri is La Fontelina. Which is rather unusual as it's a beach club that is essentially perched on a series of rocks.
However, it is the dream-like setting that is the most arresting part of La Fontelina Capri. Surrounded on all sides by tropical azure water, you also happen to have one of the best seats on the island for superyacht watching. The waters in front of La Fontelina are during the summer months a hive of activity and one of the prime reasons to visit Capri. It's hard not to be impressed by the sheer scale of the superyachts and megayachts that lurk just offshore.
The famous sea stack – Faraglioni is located just beside the beach club La Fontelina Capri, which also happens to be a popular day-trip destination for most visitors who visit the island of Capri. From the comfort of your deck chair or sun lounger, you can spend the entire day watching the many boats in the waters zipping around and trying to count the number of superyachts and millionaires in one small area.
La Fontelina Capri was originally set up in 1949 and throughout its history was destroyed by sea storms and the elements that surround the small island of Capri. It has been rebuilt over the years and now enjoys being one of the most prestigious beach clubs in Capri thanks to its simplicity, history, and location.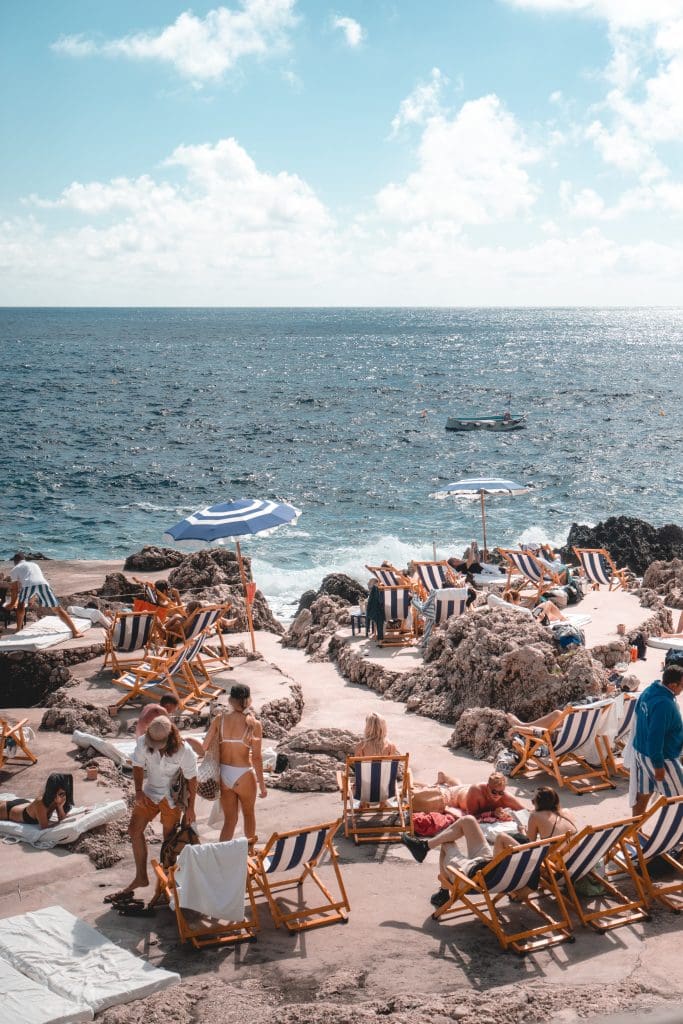 La Fontelina Beach Club Prices
In order to access La Fontelina Beach Club during the High Season (mid-June to mid-September) you must also make a restaurant reservation.
Considering its reputation and the clientele that it serves, the entrance to the beach club starts at €40 and includes access to the changing room, a deck chair, and an umbrella.
Each additional sun lounger is an extra €20.
Reservations are an absolute must when visiting La Fontelina Capri.
The easiest way to reach La Fontelina is by water taxi or the beach club's own shuttle boat which transports guests from Marina Piccola to the beach club. The shuttle boat is priced at €7 per person and departs every 30 minutes.
Address: Via dei Faraglioni, 2, 80073 Capri NA, Italy
Telephone: +390818370845
Lo Scoglio Delle Sirene
Situated on the coast of Capri that is home to some of the most beautiful hotels, views, and beach clubs on the island, you'll find Lo Scoglio Delle Sirene nestled at the very corner.
Ticking all the boxes of a wonderful beach club by having a stellar setting, incredible views, jaw-dropping water colour, and a scrummy restaurant to satisfy all your Italian tastes and dishes.
What better place to enjoy a day at the beach than at Lo Scoglio Delle Sirene.
Address: Via Mulo, 77, 80073 Capri NA, Italy
Telephone: +390818370221
Le Ondine Beach Club
You'll stumble upon Le Ondine, a popular beach club, a short walk from the Marina Grande and the port of Capri. With views over the Bay of Naples, a day spent on this lido in Capri is a well-spent afternoon. The blue-striped changing rooms are reminiscent of days gone by and the classic decor can be traced throughout the beach club.
Le Ondine beach club is a great choice for anyone who is short on time but wants to lay out in the sun for a couple of hours. Its close proximity to the ferries and boats in the port makes it a sensible choice. The restaurant in Le Ondine is reasonably priced (for Capri!) and offers a good selection of fresh pasta dishes and seafood.
Le Ondine Beach Club Prices
Sun loungers are priced at €15 and include an umbrella.
Address: Via Marina Grande, 80076 Capri NA, Italy
Telephone: +390812779056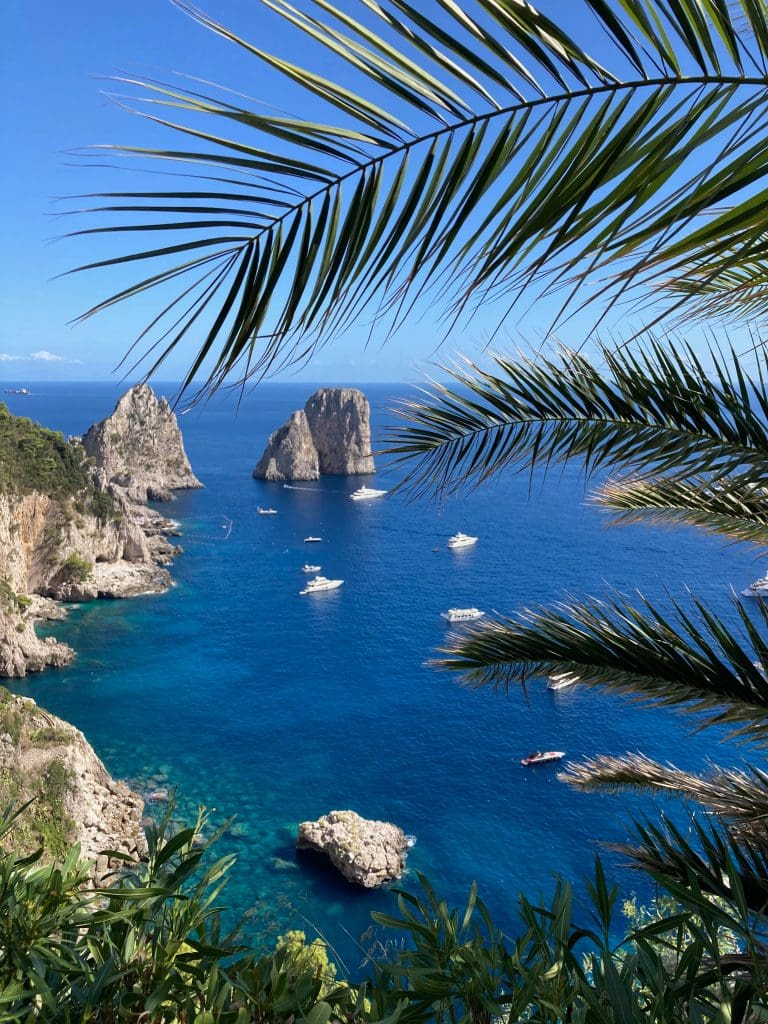 Bagni Tiberio
What could be more appropriate for Capri than getting a gozzo (typical wooden motor boat found in Capri) to a beach club and arriving in style. You can make your dreams come true at Bagni Tiberio by taking one of their gozzo's (gozzi?) from Marina Grande and heading out to sea before arriving at the sheltered inlet of Bagni Tiberio.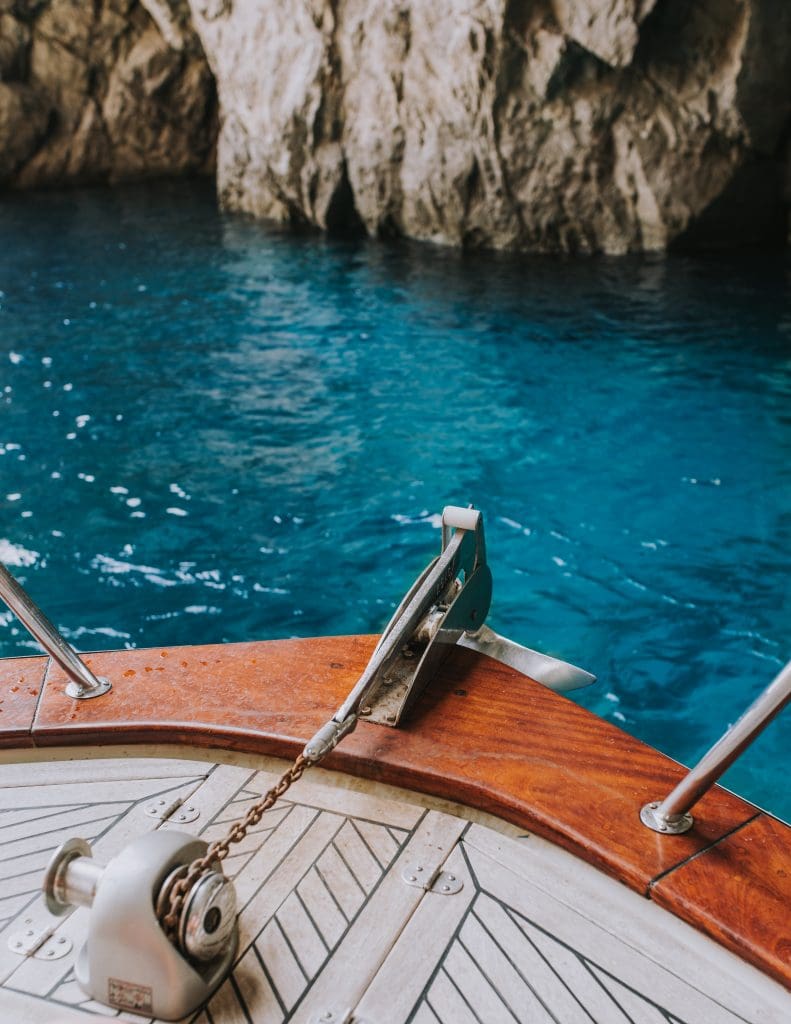 The water color here is an outrageously clear aquamarine that is so inviting, that you'll end up spending the entire day in and out of the translucent sea. Lunch at Bagni Tiberio is a must and its terrace overlooks the stunning vista that is often hard to take your eyes off of. Fish lovers will love rejoice in the superb selection of freshly caught fish.
Bagni Tiberio Beach Club Prices
Prices for Bagni Tiberio are really excellent and very modestly priced.
The entrance fee for Bagni Tiberio is €14 and includes changing rooms, showers, and access to the sea.
A sun lounger or a deck chair rental for the day starts at €8 and an umbrella is an additional €8.
If you've managed to forget your towel, you can rent one for the day for €6.
Reservations for either lunch or for its beach club are highly recommended.
Lido del Faro
Sun lovers will delight at Lido del Faro, the only beach club in Capri that has the longest amount of sunshine on the entire island. It also makes this spot one of the most popular places at sunset. It helps that the setting of Lido del Faro is quite spectacular and feels quite different from the rest of the island.
At Lido del Faro you will encounter more locals than anywhere else on the island and can swim in the sea until 9 pm each summer evening. During sunset hours prepare to enjoy DJs and cocktails as the afternoon winds down and night approaches.
It's easy to climb into the water with strategic ladders placed at various vantage points so you can enjoy the incredible waters. Lido del Faro is one of the few places on the island of Capri that cares for those with mobility issues and is a proud advocate for mobility accessibility on the island.
The stunning backdrop of the lighthouse, soaring cliffs, and epic sunsets make Lido del Faro one of the most loved and underrated beach clubs in Capri.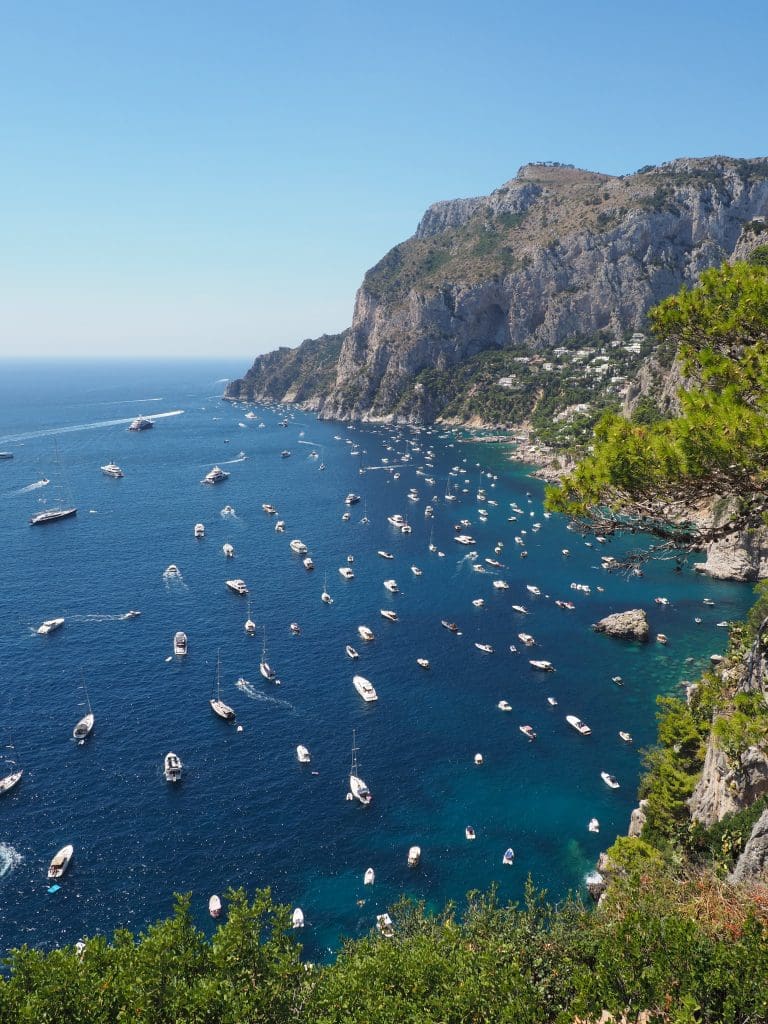 Lido del Faro Beach Club Prices
Booking a sun lounger is absolutely essential for a visit to Lido del Faro and should be done in preparation for a visit.
The €85 entrance fee for Lido del Faro is pricier than those found on the island, however, it does include the following; showers, changing rooms, wifi, sea and pool access, beach towel, and a €50 credit to use in the restaurant or bar.
The easiest way to visit Lido del Faro is by taking the local bus from the center of Anacapri, or a taxi.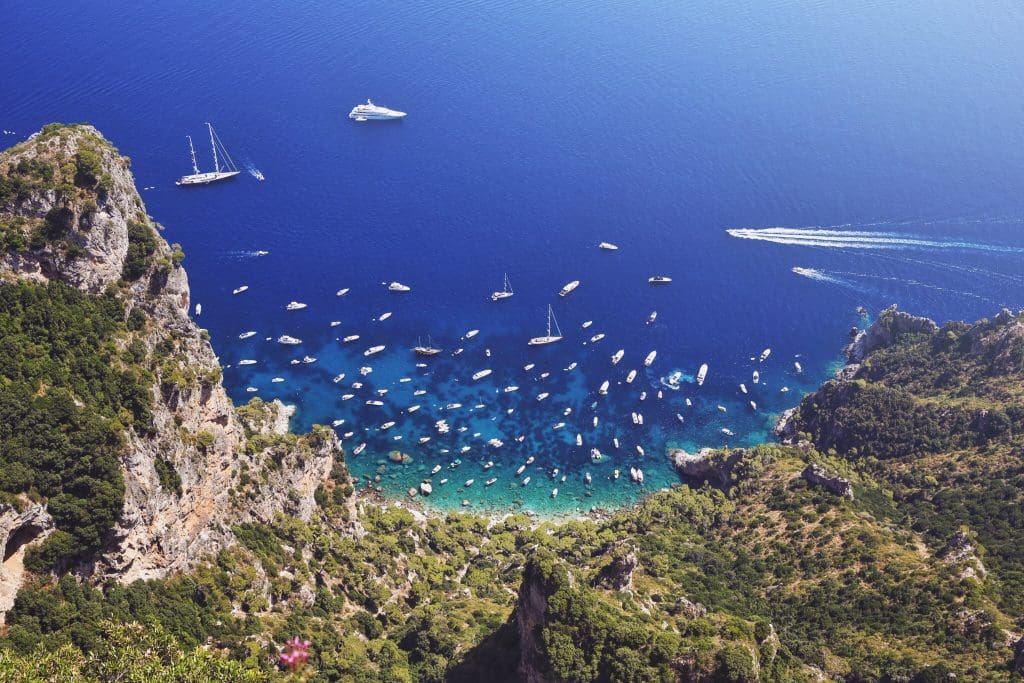 Day Trips to Capri
Short on time or visiting from the Amalfi coast for the day? Check out a few day trips that will tick all the highlights that Capri has to offer and then some.
Some of these may be affiliate links, which means when you buy something I may receive a small commission. There is no additional charge to you, and it really helps to support me – so thank you!
Travel Essentials
Planes, Trains & Automobiles – I'm always on the hunt for great flight deals and Omio usually has excellent offers throughout the year. Booking a ferry is easily done through Ferry Hopper or Omio. For car hire, I've found RentalCars to be consistently the best.
Hotels – For hotel comparisons, I use Trivago to check where I can get the best deal. Booking.com usually ends up having the best deals around and has been consistently reliable throughout the years.
Tours & Guides – Searching between Viator & Get Your Guide, I can usually find a good deal on a food tour or event in the city that I'm visiting.