You don't need to be Kardashian levels of wealthy to visit Capri, or even to stay on the island. And most visitors who head to one of Italy's most beautiful islands visit as part of a day trip from the mainland. So whether you're staying on the island for several days or just popping over for a quick visit, here is a list of things to do in Capri.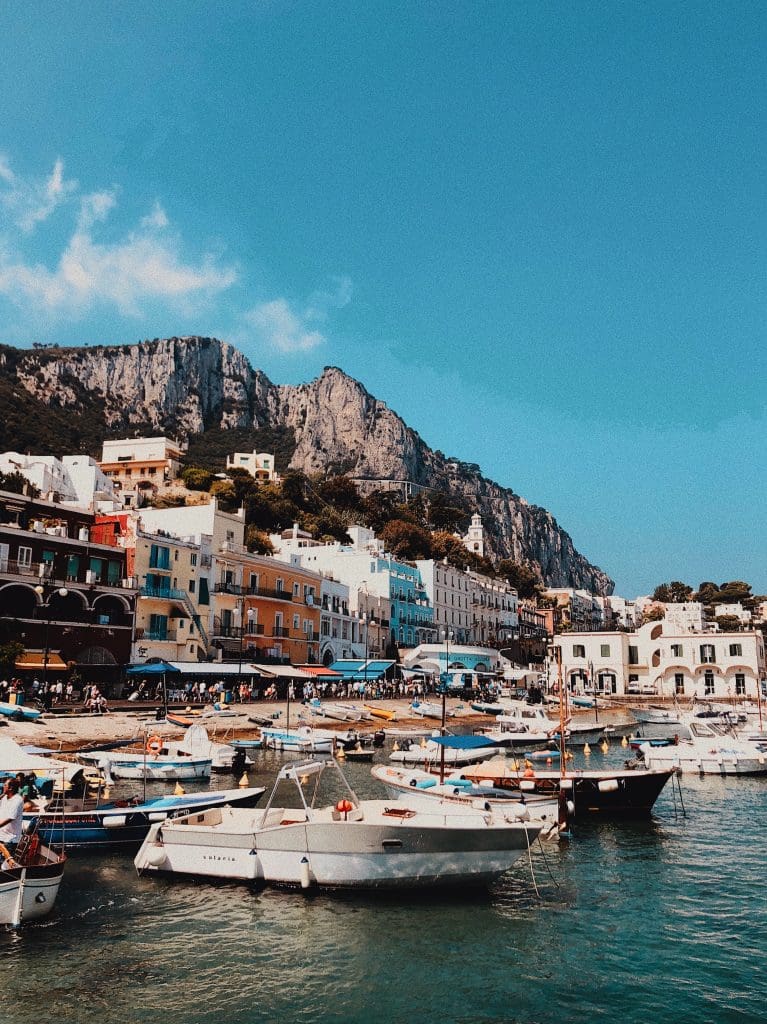 Arriving at the harbor of Marina Grande in Capri, you'll be met with a flurry of activity. The island is split into two distinct areas, the town of Capri and Anacapri. Depending on whether you want to see the Blue Grotto, Villa San Michele, or lounge in a beach club, you'll find it remarkably easy to navigate your way around this small beautiful island.
Blue Grotto (Grotta Azzurra)
One of Capri's most popular tourist attractions and things to do in Capri is the Blue Grotto. Discovered by local fishermen, it became popular in the 19th century after a German writer and painter learned of its existence. 
The enchanting sea cave is lit from the depths with a mysterious light that now draws thousands of visitors each year to the illuminated cavern. Tours depart from Marina Grande and you'll be transported to a smaller rowing boat, which is the only way to access the Blue Grotto.  
If it is too busy in Grande Marina, you can take a bus from Anacapri to the Grotta Azzurra, where you can walk down some stairs and there will be awaiting rowboats there eager for your patronage.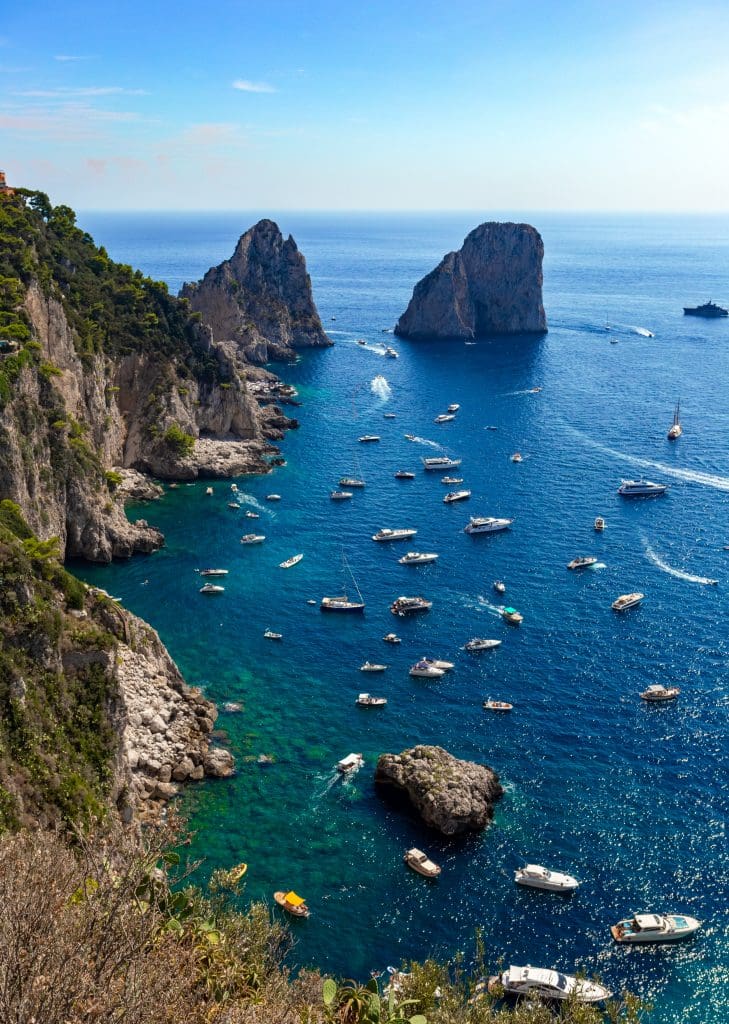 Faraglioni
The sea stacks of Capri are better known as I Faraglioni and are one alongside the Blue Grotto one of the most popular day trips in Capri. They also happen to be one of the most photographed areas of the island and during the summer months, you'll find the area awash with spectacular superyachts and everything in between.
A quintessential trip to the Faraglioni is a must when visiting Capri.
Boat Trips Around Capri
Of course, Capri is also best seen from the waters. The sheer jaggedness of the landscape is startling from a small boat bobbing in the crystal clear waters of Capri. You can organize a boat trip from Capri or from the mainland. 
A boat trip or excursion is one of the best things to do in Capri especially in the summer months when the offer of cooling off in the crystal clear waters is often too inviting.
Most of the boat trips from Capri include a visit of the Blue Grotto, pass by Faraglioni and give visitors the opportunity to swim in at least one memorable spot. Depending on your budget, you can hire your own private boat (perfect for a group of friends of a family), or join one of the many tour operators that provide tours around the island.
And if you have based your stay in Capri, you can of course find many tours that will take you to some of the mainland hotspots such as Positano, Sorrento, and Naples.
Chair Lifts at Capri – Seggiovia del Monte Solaro
Exhilarating, terrifying, and just a little bit mad are some of the ways to describe the infamous chair lift of Anacapri. The single-seater chairs ascend high over the rugged terrain of Capri and offer visitors incredible views over the island and across to Naples. The chair lift ascends to Monte Solaro, the highest point of Capri.
The chair lift starts from Piazza Vittoria in Anacapri and takes 13 minutes uphill. A single ticket either up to the top is €9 or a return is €12. The first chair lift departs at 9.30 am and depending on the time of year, the last one finishes between 4 pm and 5 pm.
The chair lift doesn't climb that far off the ground, so those who have an aversion to heights shouldn't find it too unbearable. I've personally never done the chair lift as I'm a bit of a wuss! Don't let that deter you.
Beach Clubs
Some of Italy's most famous beach clubs happen to be on the island of Capri and are a must of things to do in Capri when visiting. Of course, this only applies when visiting in the busy summer months when Capri really comes alive.
La Fontelina is one of the most exclusive and unmissable beach clubs in Capri and if you plan in advance it is worth making a restaurant reservation for lunch, which then ensures a beach bed will be made available (at an additional cost). Reserve your lunch in La Fontelina here. 
Of course, if that all sounds far too complicated and expensive, there are other options to choose from that are just as good and worth visiting for an afternoon. You can read more about the beach clubs in Capri here.
People watching at Piazza Umberto 1
The most famous Piazza in Capri is THE town square for people watching Piazza Umberto 1. With cafes and restaurants nestled throughout the square, you'll find yourself gawking at the incredibly well-dressed mixing with the rest of us, mere mortals. All whilst knocking back some of the most expensive coffee you'll find in Italy.
Capri is not known as a budget lovers' paradise, but you can easily find cheaper places to eat and drink off the main squares in Capri. Be prepared to spend a bit more than average for lunch in one of the restaurants that overlook the water or in places like Piazza Umberto 1.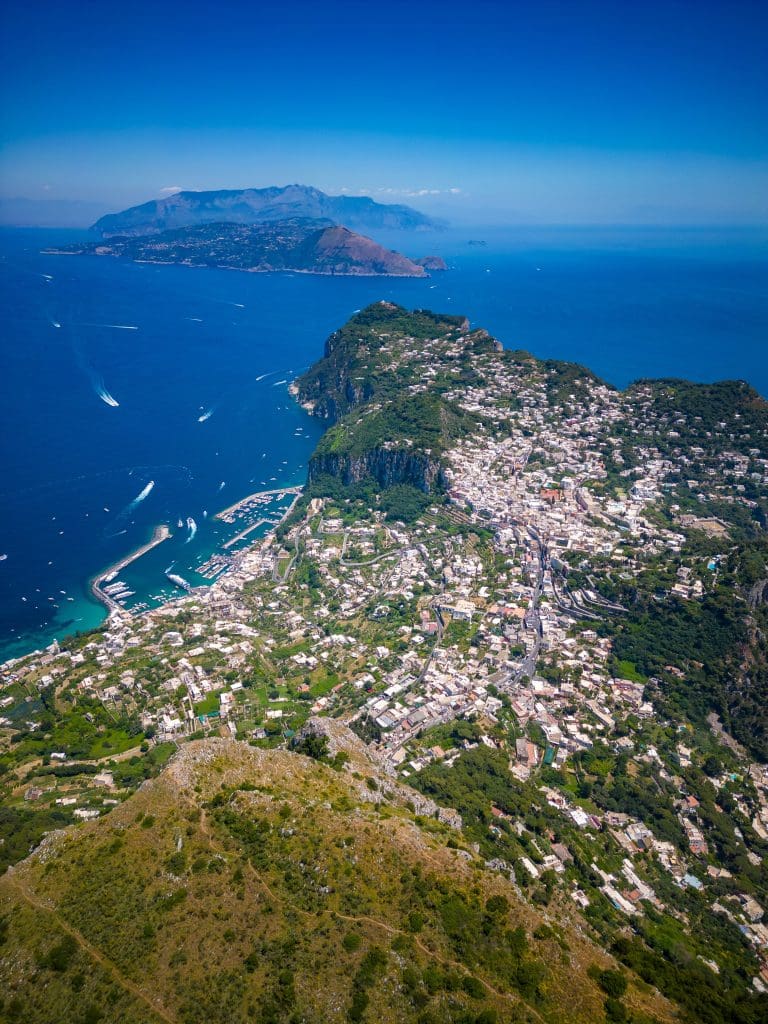 Shopping in Capri
There's a reason why Capri has blossomed in popularity with the rich and famous over the past 100 years (aside from its beauty of course). The stores found in Via Camerelle are some of the most exclusive brands on the planet.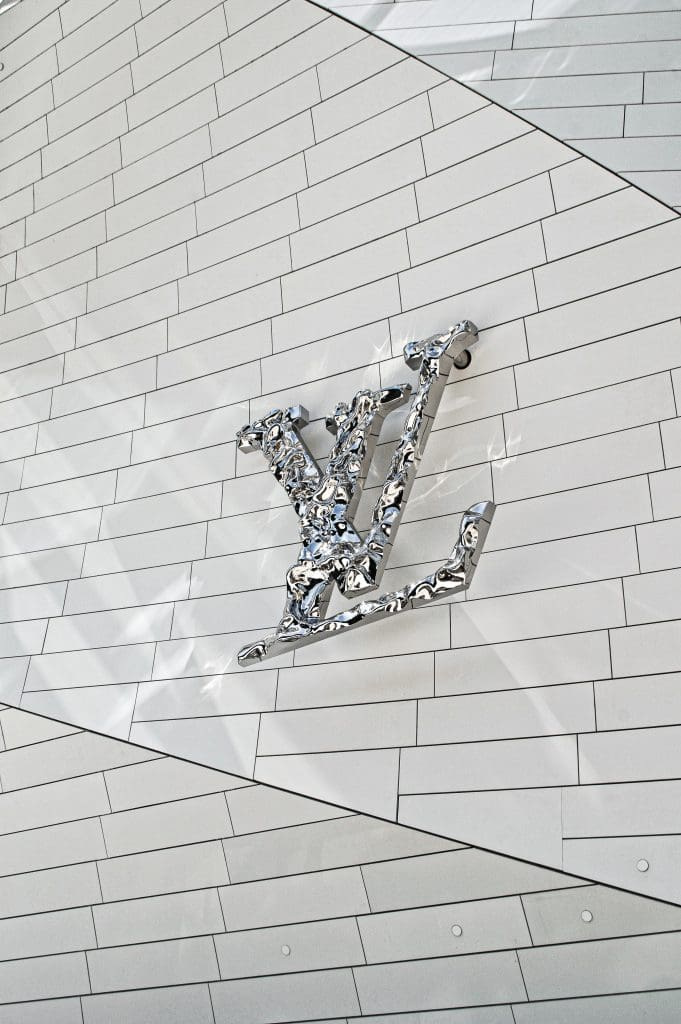 If you've ever wanted to pick up a little Louis Vuitton handbag, or Chanel scarf, Via Camerelle is THE place for shopping in Capri. During the height of summer, you'll find this street thronging with those longing to step inside the stores, or those happy to window-shop and wistfully wish for a pair of Dior sunglasses.
For those of us that aren't millionaires, there are plenty of places to pick up souvenirs from stores in Anacapri and Marina Grande that are almost as good as a pair of Dior sunglasses. Ha, I kid.
Villa San Michele
If you've ever wanted to imagine how the other half lived, then a visit to Villa San Michele is an absolute must. A Swedish doctor, Axel Munthe visited the island of Capri in the late 19th century and like most visitors immediately fell in love with the place. He built a spectacular home with easily the best view across the Bay of Naples across various levels complete with beautiful gardens.
Villa San Michele is one of the most visited sites in Capri and it's incredibly easy to see why, it's breathtakingly beautiful and took into account his wishes for a home that incorporated vast amounts of light and endless opportunities to gaze at the incredible vista before him.
His love for history is evident in his former home, with statues and ancient artifacts on display throughout. Entry to Villa San Michele is €10 and doors open at 9 am and depending on the time of the year close between 3.30 pm (winter months) and 6 pm (high-summer). A bus from Anacapri makes this visit to Villa San Michele a lot easier than the next villa on the list.
Villa Jovis
If Ancient Roman villas fascinate you, then you are in for a treat. Villa Jovis was the former home of Emperor Tiberius, who has a pretty chequered past if you're asking me, on the island of Capri. This former palatial villa must have been quite spectacular back in the day, with uninterrupted views over the Bay of Naples and the stunning landscape of Capri.
Just an FYI, it is a 45-minute walk from Piazzetta Vittoria all uphill. So bare that in mind if setting off in the middle of a hot summer's day. Entry tickets are €6.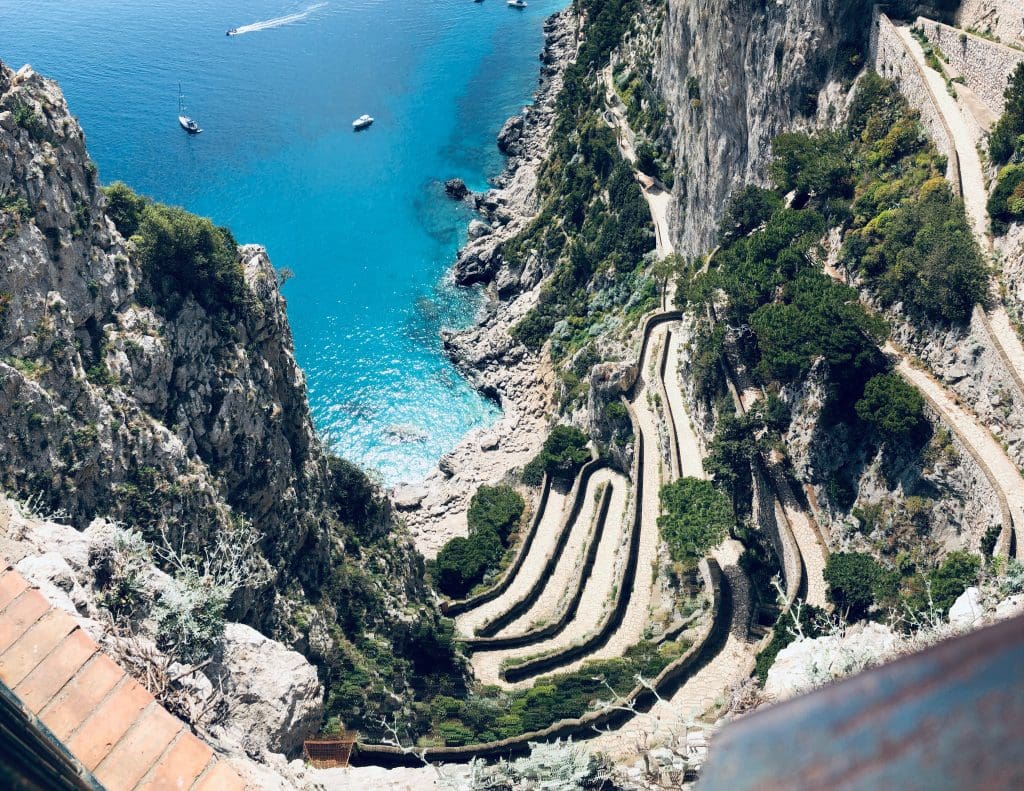 Getting around Capri
The easiest way to get around Capri is to take the funicular from Marina Grande to Capri. It costs €2.20 and departs every 15 minutes. From there a network of small buses will take you around the island to various spots.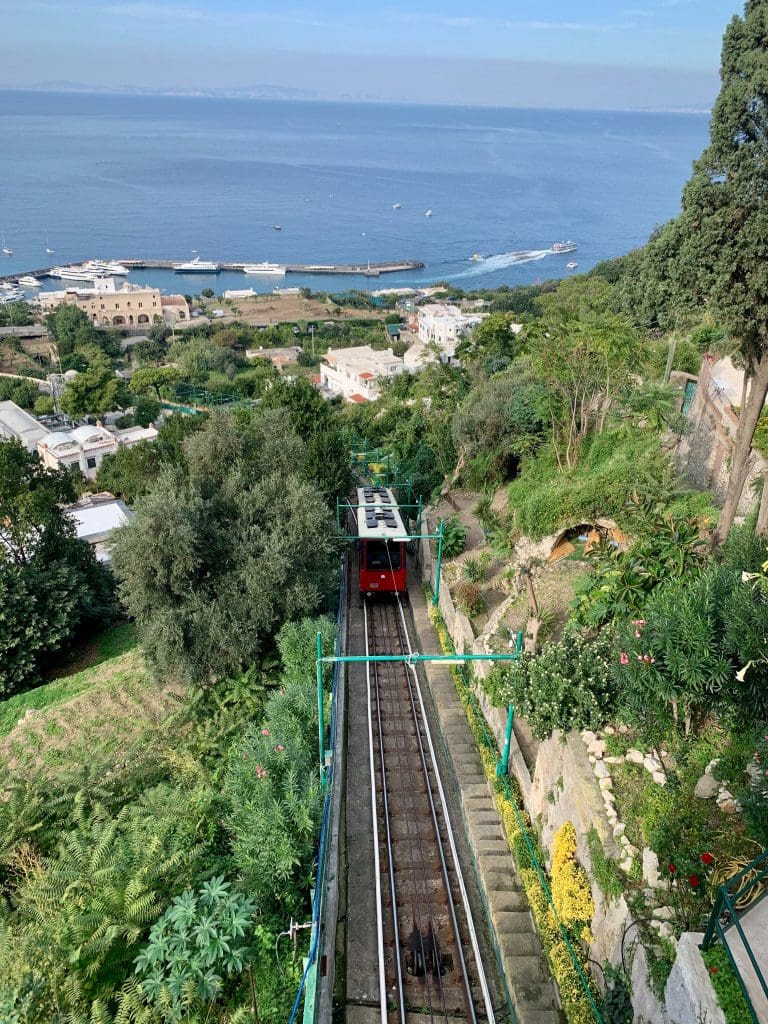 All ferries and tour boats stop in Marina Grande, and if you need to take a local gozzo (beautiful wooden motorboat typical of Capri) to some of the harder-to-reach places on the island (or to the beach clubs/restaurants).
There are several ferries during the high season from Naples, Sorrento, Positano, and Priano that connect Capri to the mainland. These are the cheapest options for anyone who wants to create their own itinerary or spend more time on the island. Otherwise, an organized tour with highlights of the Blue Grotto and Faraglioni is a great way to see Capri too.