Ciao Positano! The magical town of Positano is something from a beautiful dream. After navigating the hairpin bends of the Amalfi coastline that will take even the bravest of drivers' breath away, you'll round the bend and take your first glimpse of Positano.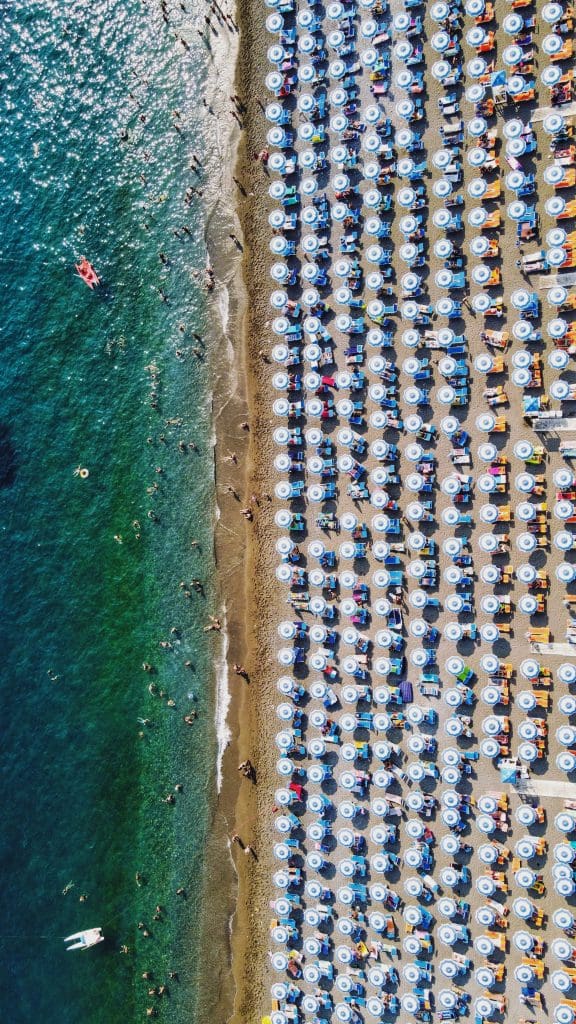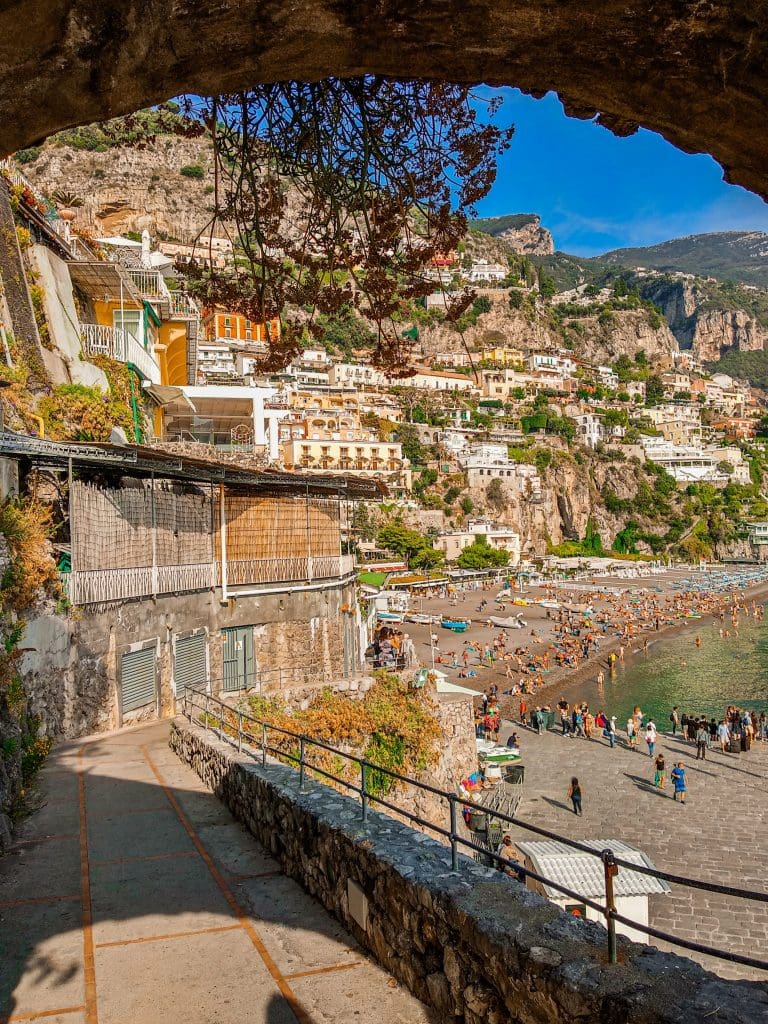 The town spills down the mountainside of the Amalfi coast with colorful stores, hotels, and homes running zig-zagged as they approach the crystal clear sea. It's up there with Santorini to take your breath away and makes it hard to believe that such a place really exists.
As you explore the town on foot, you'll soon realize that Positano is a place where even the fittest struggle with the many stairs and vertical climbs up into the town. Beauty has a price after all. But it's all worth it, as you spend a day in one of the many beach clubs in Positano, sipping on an Aperol and taking in that view.
As you descend the town, passing through many of the beautiful stores that sell products from the area, including some of the largest lemons you'll ever see. You will eventually make it to Spiaggia Grande Positano, or Positano Beach. Sprawled out in front of you is the iconic image of hundreds of umbrellas that make up several of the beach clubs in Positano.
Like much of this part of Italy, the beaches found here are stone beaches with coarse dark sand. It's worthwhile purchasing a pair of sea shoes to navigate the beach and water in this area. However, if you decide to sample some of the beach clubs in Positano you'll have no need for such frivolous and unsightly shoes (actually you'll still need them, as the sand and stones can be extraordinarily hot and difficult to get in and out of the water).
Positano Quick Guide
Getting to Positano
If you are arriving from Naples, Sorrento, Amalfi, Capri or beyond you should consider catching a ferry to and from Positano. It's the easiest way to get to the town of Positano and its beaches. You can book your ferry tickets via Omio.
If you are planning on staying in Positano for a few days and have luggage, consider booking a transfer from the nearby towns or Naples airport that will make your journey a lot smoother (Positano has a LOT of steps).
Otherwise, look out for the Blue SITA buses that connect the towns on the Amalfi coast. The Red SITA bus is more frequent and passes are valid for 24 hours. During the height of summer, the traffic along this section of the coast gets extremely congested. Skip the road and make your way by ferry instead.
Tours Around Positano
Take a Boat Trip From Positano To Capri & Sorrento and savor the beauty of tiny Capri and its spectacular stores, before heading to Sorrento.
Hike the incredible pathway that links several of the Amalfi Coast towns. It's an unforgettable hike and one of the prettiest in the region. Path of the Gods Walking Tour.
No trip to this part of Italy is complete without a Pompeii & Vesuvius Full Day Tour. The preservation of Pompeii is truly outstanding and you'll struggle to comprehend it all. Easily one of the best tours in the region and not to be missed.
Arienzo Beach Club
Starting with one of the most popular and historic beach clubs in Positano – Arienzo Beach Club. From the moment you step on the boat shuttle that transports you from the main beach in Positano to around the headland, you can feel the energy shift.
Suddenly you have been transported into another dimension in which only you, the sound of the waves, and the stunning views exist. You've discovered a hidden gem on the frantic Amalfi coast that is quite unlike anywhere else. Arienzo Beach Club is one of the most unforgettable beach clubs in Positano.
As wonderful as Positano is, sometimes in the middle of the summer and amidst all the crowds of tourists that throng the small streets and stairs, it's great to make an escape.
In Arienzo Beach Club you'll find yourself relaxing before you know it. With fantastic table service and waiters bringing food and drinks to your bed, you'll be hard-pressed to ever leave.
A complimentary shuttle boat takes guests to and from the beach club throughout the morning and late afternoon. The shuttle boat departs La Banchina pier every 30 minutes from 10 am until 1 pm. It returns guests back to Positano from 3.45 pm until the late evening, with the beach club closing at around 6.15 pm.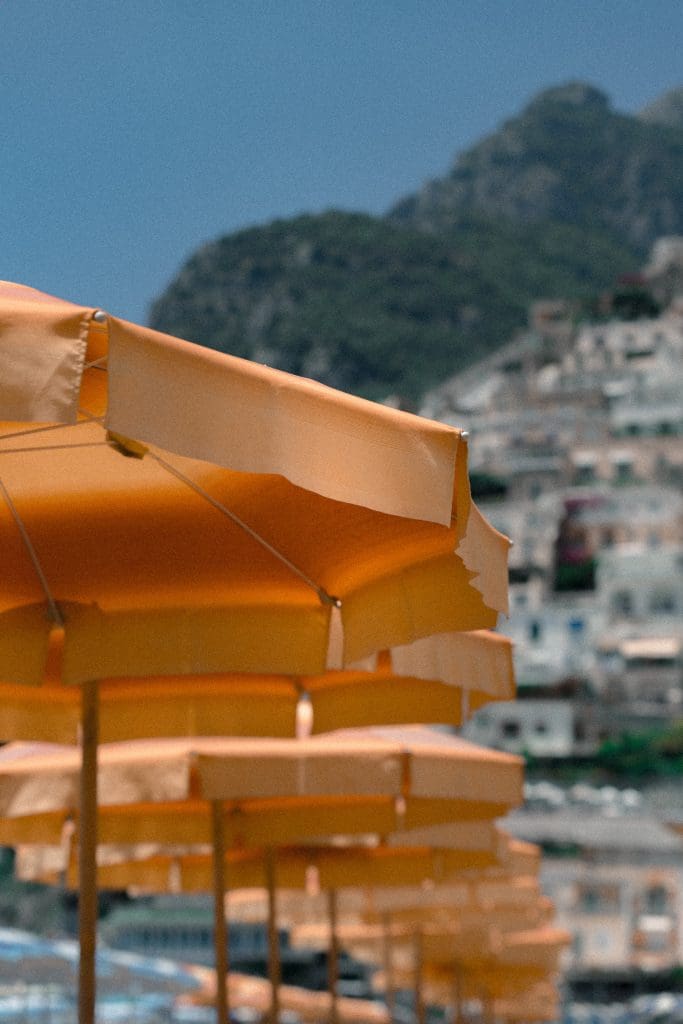 Of course, it goes without saying that the food you'll experience in Arienzo Beach Club is fantastic, with fresh seafood throughout its menu and of course, pasta dishes abound. There's no better place to enjoy an Aperol spritz than sitting on the terrace of the restaurant of Arienzo and enjoying one of the greatest views in Italy.
Arienzo Beach Club Price
You'll find several packages available at Arienzo Beach Club that may initially seem quite pricey but once your drill down, is actually quite reasonable.
There are several levels of 'experiences' on offer at Arienzo Beach Club, starting with a 'Basic' package and working their way up to a 'Diamond Elite Package'. All packages include a sunbed, towel, umbrella, bottle of water, a starter, and a main from the a la carte menu. All packages must be booked ahead of time on the Arienzo website.
The increase in prices depends on which row you choose and additional items in the packages. Prices listed below are based on the months of July & August and for a single person. Make sure to contact Arienzo directly for more up-to-date seasonal prices.
A Basic Experience package starts at €87 and the sunbed will be situated in the last row.
A Silver Experience package starts at €101 and includes a sunbed on the 4th row. The price also includes 1 beverage from the 'premium' menu.
A Gold Experience package starts at €114 and includes a sunbed in the 3rd row. The price also includes 2 beverages from the 'premium' menu.
A Platinum Experience package starts at €137 and includes a sunbed in the 2nd row. The price also includes a fruit plate and 2 beverages from the 'luxury' menu.
A Diamond Experience package starts from €194 and includes a sunbed in the 1st row. The price also includes a glass of champagne, a fruit plate, and 4 beverages from the 'Luxury' menu.
A reservation is highly recommended and especially during the months of July & August. You can contact Arienzo Beach Club on WhatsApp for more information. Or book directly through their website. Even if they are fully booked you should see if there is any cancellations that have cropped up.
Top Tip: Bring sea shoes as the black sand is really really hot underfoot and getting out of the pebble and stone water can be rather tricky barefoot.
For more daring travelers consider hiking to the beach club on the 'Path of Gods' trail.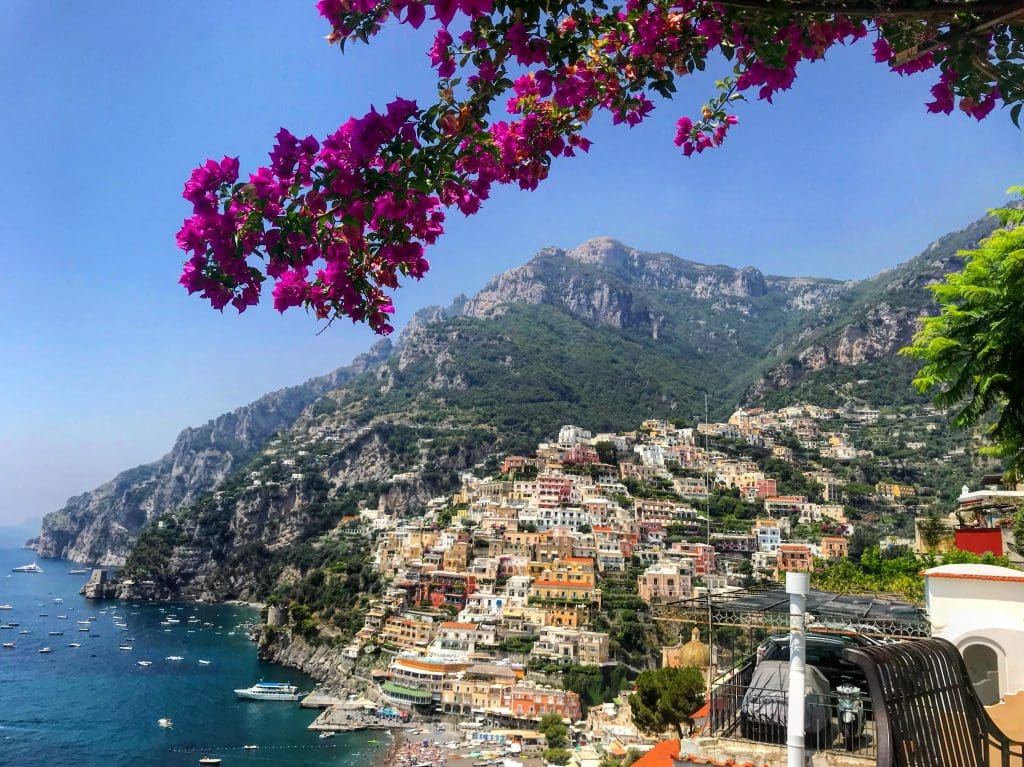 La Scogliera Positano
It's easy to fall in love with La Scogliera Positano. Its location is one of the best on Positano Beach, right at the very end where you can no longer go any further. And it's an Adults Only beach club that savors the sanctity of silence and calmness. Ok, well not silence, but more zen than the main section of Positano beach.
Built onto the rocky outcrop that sits at the end of the beach, you'll find sun loungers strategically placed in sections of the beach club that vary in price. And how they vary in price. For the best sun loungers in La Scogliera Positano be prepared to hand over €500 for a double sun lounger that enjoys the best views of Positano and has easy access to crystal waters below.
The range of prices for a sunbed in La Scogliera Positano ranges from €120 for a Premium sun lounger to €200 for a Superior sun lounger. Of course, the most expensive sun loungers are the 'Imperial' and 'Dream' sections, which are priced at €400 & €500 respectively.
Reservations for a sun lounger and a day at La Scogliera Positano are recommended weeks in advance if not months.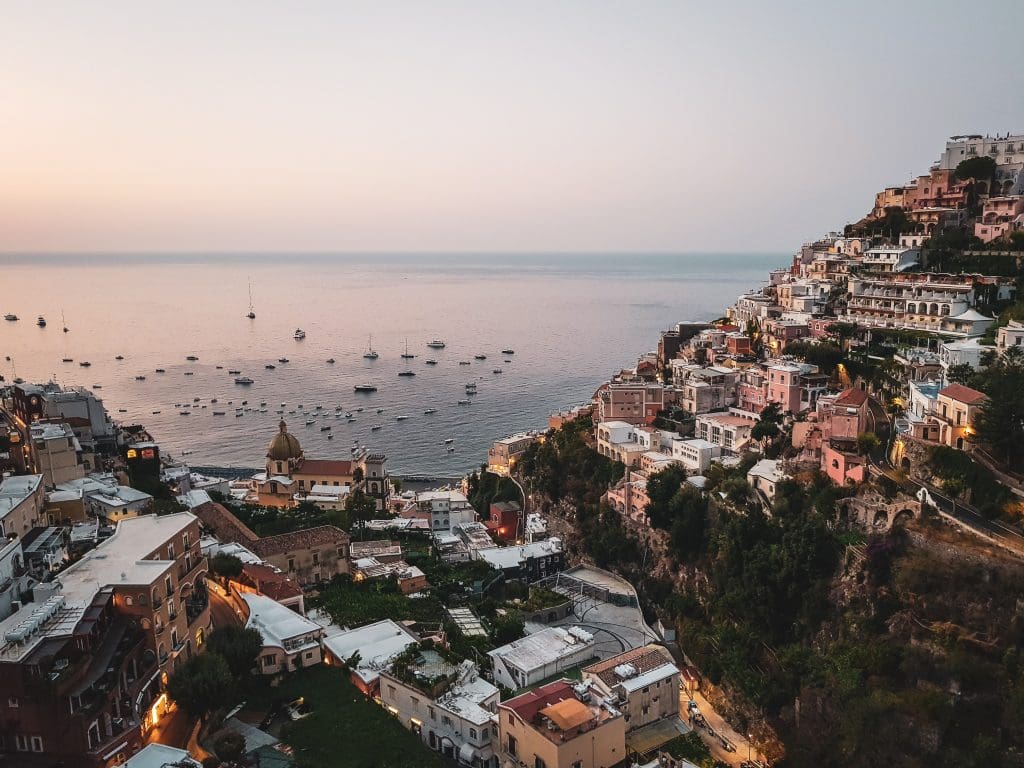 Whilst the prices for this dreamy Positano beach club may be hefty, La Scogliera is one place where you can definitely splurge.
La Scogliera Positano is not just to be enjoyed in the day, but as the sun starts to set, the beach club transforms into a romantic bar that encourages its visitors to lay on its sunbeds and stare at the mesmerizing beauty of Positano and the Amalfi coast bathed in moonlight.
Pupetto Beach Club
Just around the headland of Positano, you'll discover Pupetto Beach Club on Fornillo Beach, a laidback beach that has a number of amenities. It's the perfect place to rent a sun lounger and spend the day dipping in and out of the sea.
Those who find it hard to relax will love the sea kayaks that are available to rent. And if that sounds far too strenuous then you'll be relieved to find that Pupetto Beach Club is the perfect place to relax and soak up the Italian sun.
The price for a sun lounger costs €20 for a day's rental and includes an umbrella. You can easily spend the day ordering Aperol's to your sun lounger or munching on a delicious woodfire pizza from the comfort of your bed.
Be prepared for a number of stairs down to the beach from the main road, you can access the elevator in Hotel Victoria but will need to continue down 250 stairs before you can reach the beach. Otherwise, follow the signs along the Via Positanesi d'America for Fornillo Spiaggia and you'll eventually come across it.
If Pupetto Beach Club is busy and there are no sun loungers available to rent, then try next door in Da Ferdinando or Grassi.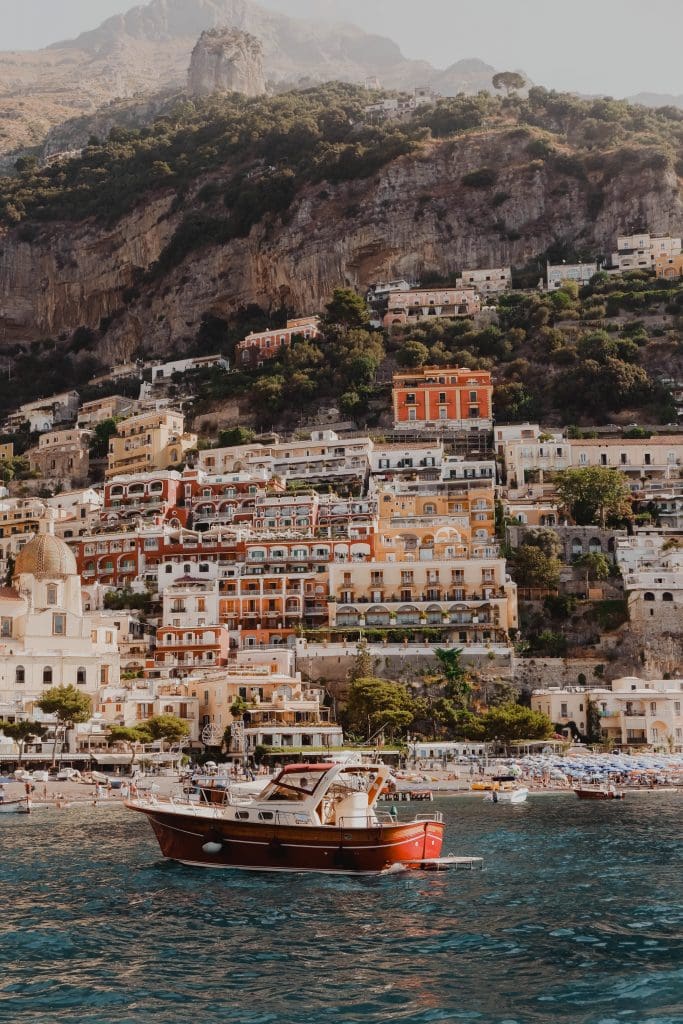 Da Adolfo
A little bit further down the coast, a shuttle boat will ferry you from Positano to Da Adolfo Ristorante and Beach Bar. Leaving every hour from the main pier down on Positano beach, follow the signs for the 'Red Fish' and spend the day enjoying one of the most authentic Italian experiences of your holiday.
The small beach is one of the best-kept secrets for seafood lovers and beachgoers. The very unassuming Da Adolfo is a family-run restaurant that was set up by an Italian and American married couple in the 1960s. Throughout the years it has become an institution in Positano and renowned for its excellent fresh fish dishes.
There's a certain no-frills feel to the restaurant and beach club and that adds to the charm of Da Adolfo. You'll find a more polished beach club next door in Treville Beach Club.
Sun loungers are €15 and are on a first-come-first-served basis. It's imperative that you book a table in the restaurant for lunch, as it's not to be missed.
The complimentary shuttle boat departs in the morning for the beach (10 am – 1 pm), before taking a break from 1 pm until 4 pm. The shuttle boat resumes at 4 pm and is reserved for restaurant guests.
Positano Beach
On Positano Beach (Spiaggia Grande Positano), you'll find a number of beach bars and sunbeds to rent from. In fact, Positano Beach is one of the iconic images that you'll see splashed in magazines and on postcards of an umbrella-filled beach with the town of Positano in the background.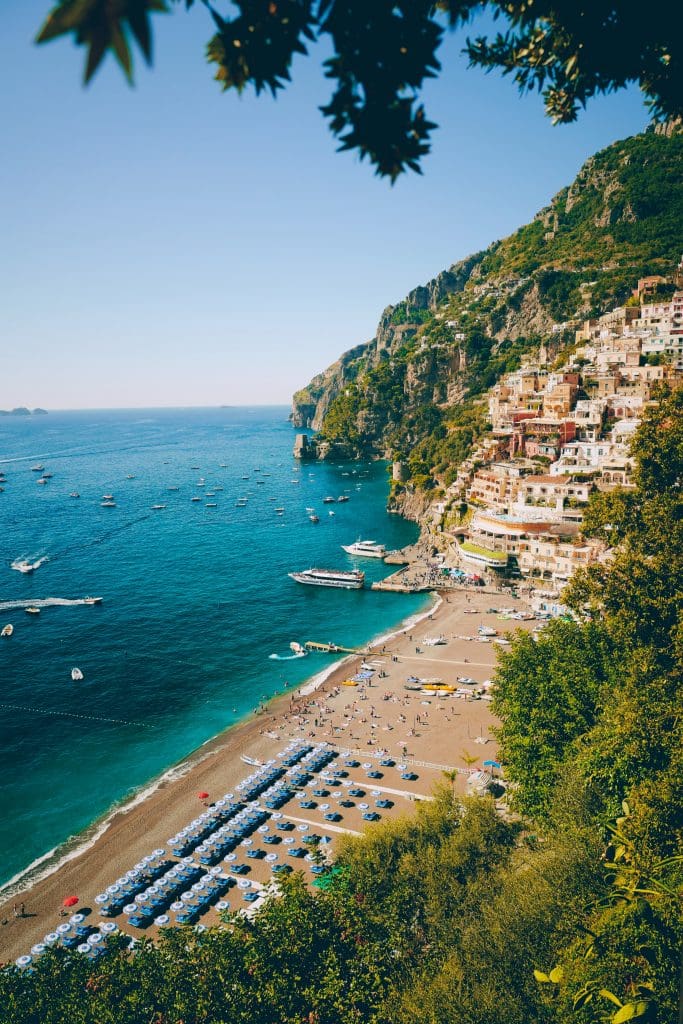 With seemingly an endless variety of choices to choose from, you can easily spend a few days on Positano Beach hopping from one beach club to the next.
Lindo L'Incanto is one of the largest organized beach clubs on Positano Beach and offers beach chairs from €35 for the first row and €30 for row two and beyond. You'll find changing rooms, showers, a pizza restaurant, and a bar.
---
A day spent at any of the beach clubs in Positano is rewarding not only for the spectacular views and crystal clear sea waters but also for some of the best seafood found on the Amalfi coast. Plus who doesn't love a day lazing at the beach! Don't forget to check out my post for the best beaches to visit in Taormina, an equally spectacular hill-town.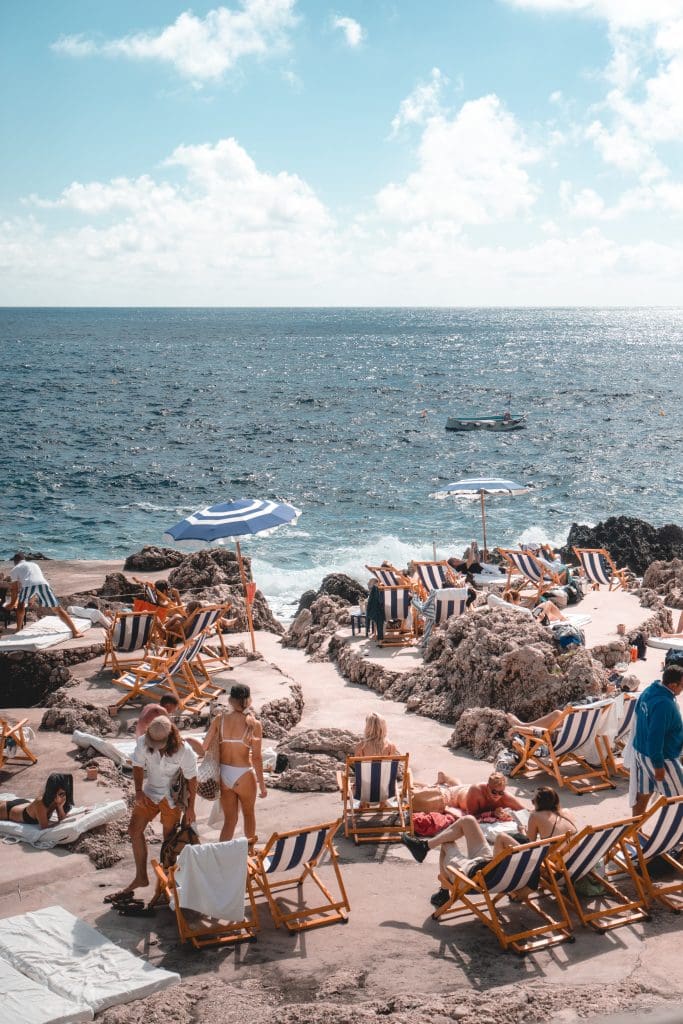 Things to do around Positano
There are endless activities and places to discover on the Amalfi coast. You could spend weeks exploring the ragged and stunning coastline exploring the small and beautiful towns that make up the Amalfi coast. And then there is an abundance of tours to take advantage of such as visiting Mt Vesuvius or the incredible ruins of Pompeii. With so much to see and do, you'll just have to plan another visit to come back. There are worse things in life, eh?
Travel Essentials
Planes, Trains & Automobiles – I'm always on the hunt for great flight deals and Omio usually has excellent offers throughout the year. Booking a ferry is easily done through Ferry Hopper or Omio. For car hire, I've found RentalCars to be consistently the best.
Hotels – For hotel comparisons, I use Trivago to check where I can get the best deal. Booking.com usually ends up having the best deals around and has been consistently reliable throughout the years.
Tours & Guides – Searching between Viator & Get Your Guide, I can usually find a good deal on a food tour or event in the city that I'm visiting.