Sometimes when exploring the world it can all start blurring together and looking quite similar. This is never the case in Greece and especially on its famed Greek islands. The island of Milos is spectacular from start to finish, and as you begin to explore the island, you'll be charmed with each stop.
And you might need a change of underpants for some of the roads that it will lead you down too! Mandrakia, Milos is one of those places that charms you immediately from the get-go.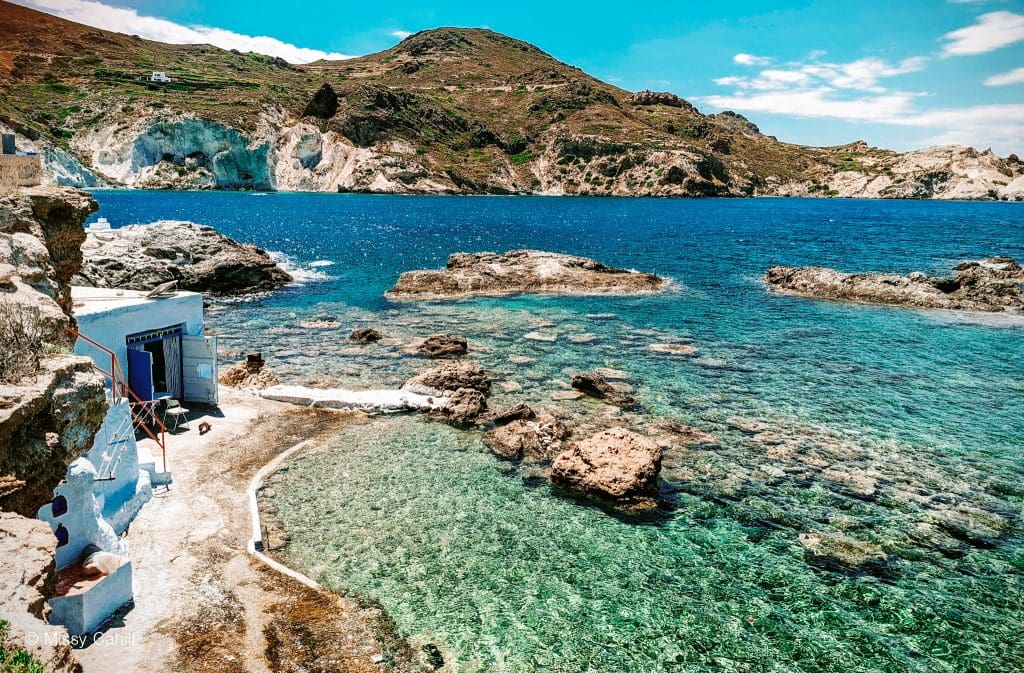 Mandrakia is a tiny fishing village located in the north of Milos. Less than a 10-minute drive from Adamas (also written as Adamantas), your first view of the small village is from high up on the main road and it's breathtaking.
Far below you'll begin to make out the colourful fishermen's huts (Smyrna) that draw tourists to this village, and a colour of water that can only be found in Greece.
In Mandrakia you'll encounter the island's best restaurant, kittens, an adorable church and swoon-worthy views. For such a small spot, it packs quite a punch.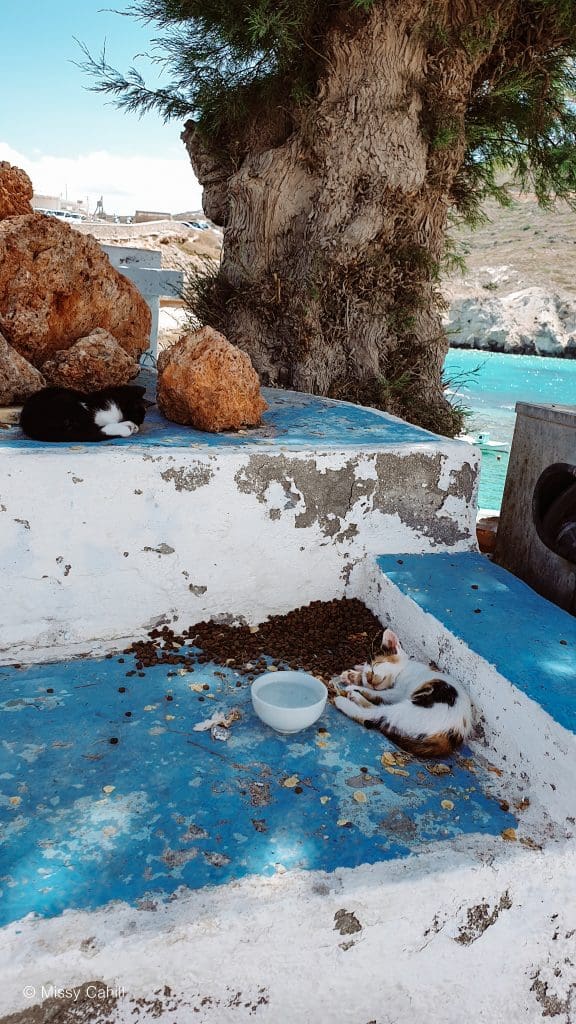 Some of these may be affiliate links, which means when you buy something I may receive a small commission. There is no additional charge to you, and it really helps to support me – so thank you!
Mandrakia Beach
There are a number of places to swim in Mandrakia but be warned that you can experience a lot of wind (Meltemi Wind) in the northern part of the island which makes for wild and wavy seas.
The largest beach that you will encounter is Tourkothalassa Beach which is a largely empty beach without any facilities. This beach is just before you reach the first parking section of Mandrakia and can be found down a steep hill.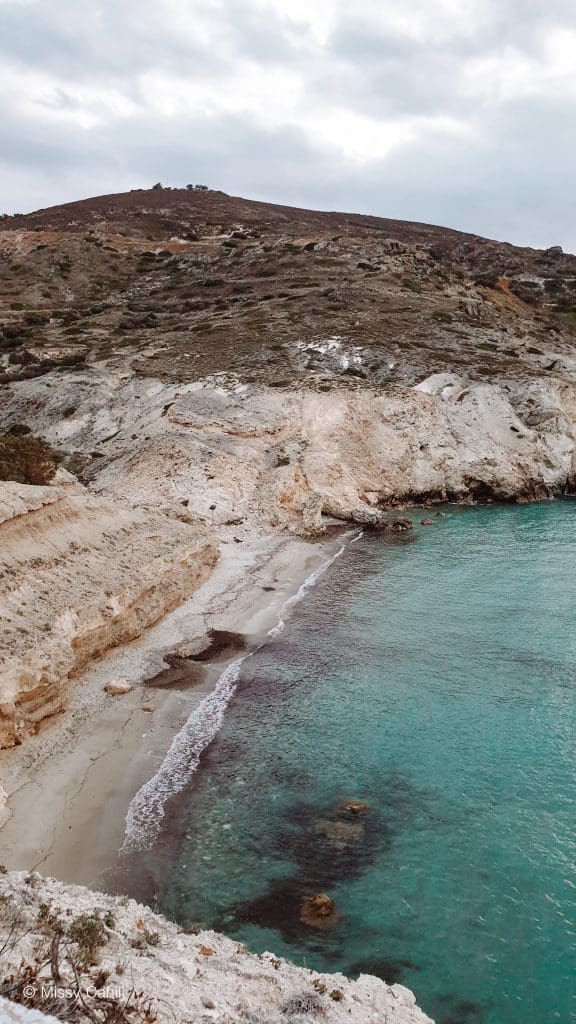 A visit to Tourkothalassa beach is a must for visitors looking for a remote beach with barely any other people. Once you've descended the steep hill you'll be met with a long empty semi-sandy beach which in wilder weather is a beacon for surfers.
Down in the village of Mandrakia, you'll find numerous swimming spots in the harbour where you can pop into the waters for a quick dip. Be aware that the majority of the fishermen's huts are still operational and whilst pretty are private property.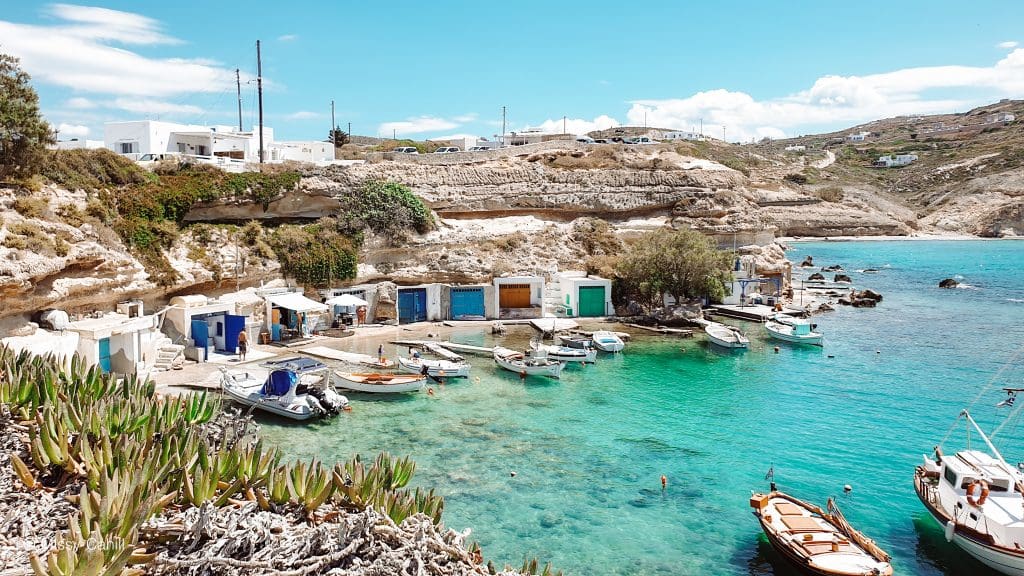 If you walk past the side of the Medusa restaurant you'll find some additional swimming spots with a staircase leading directly to the water.
Continuing past the restaurant, you'll find a small sheltered cove and beach, Geraniá Beach is a stone beach populated with a small army of cats. When the water is calm, this is an almost perfect swimming spot and hard to be beaten.
Medusa Mandrakia
There is a reason why people flock from all across the island to Medusa Milos. It's easily the best restaurant on the entire island and has one of the best views.
Starting off as a small family-run restaurant, Medusa Milos has stayed true to its traditional values and produces consistently delicious food. Not only are the prices exceptionally reasonable, but you'll also find the portions to be perfectly sized.
And don't get me started on how good a carafe of white wine is.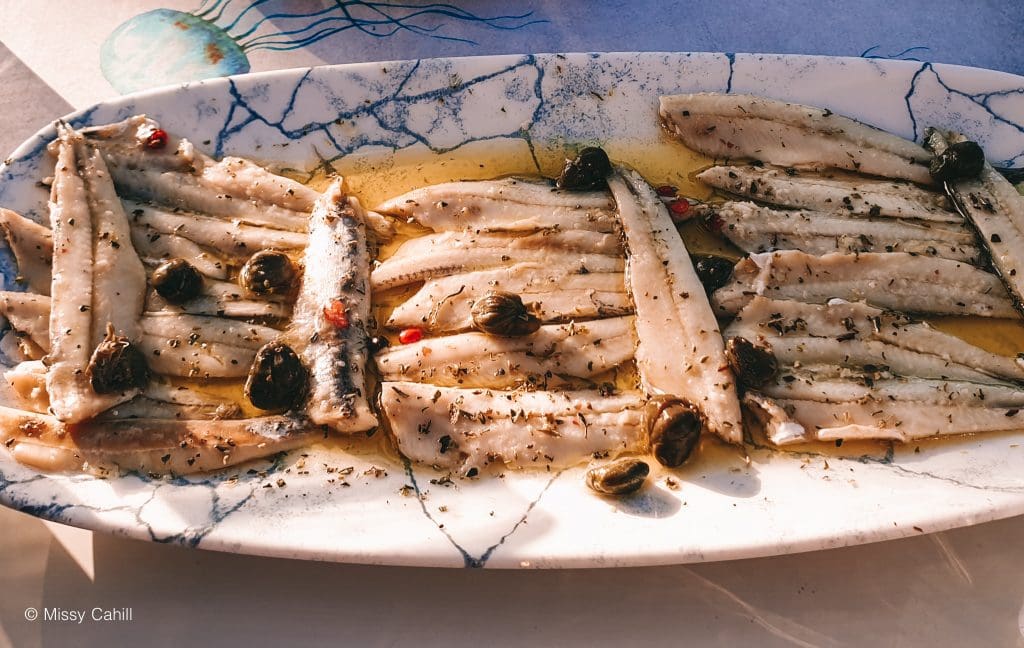 One of the famed dishes in Medusa is the sun-dried octopus, which you'll find hanging on a washing line just below the restaurant. The smoky flavour of the octopus is exquisite and you'll be amazed at how soft and tender the meat is.
The swordfish souvlaki was the star of the show for us at Medusa. The meaty texture of the swordfish made us almost mistake us into thinking we were really eating chicken. It was an unreal dish from start to finish.
Over the course of our stay in Mandrakia Milos, we ate in Medusa Milos twice and tried our very best to eat our way through the menu. It's one of the most memorable dining experiences of our trip to Milos and should not be missed.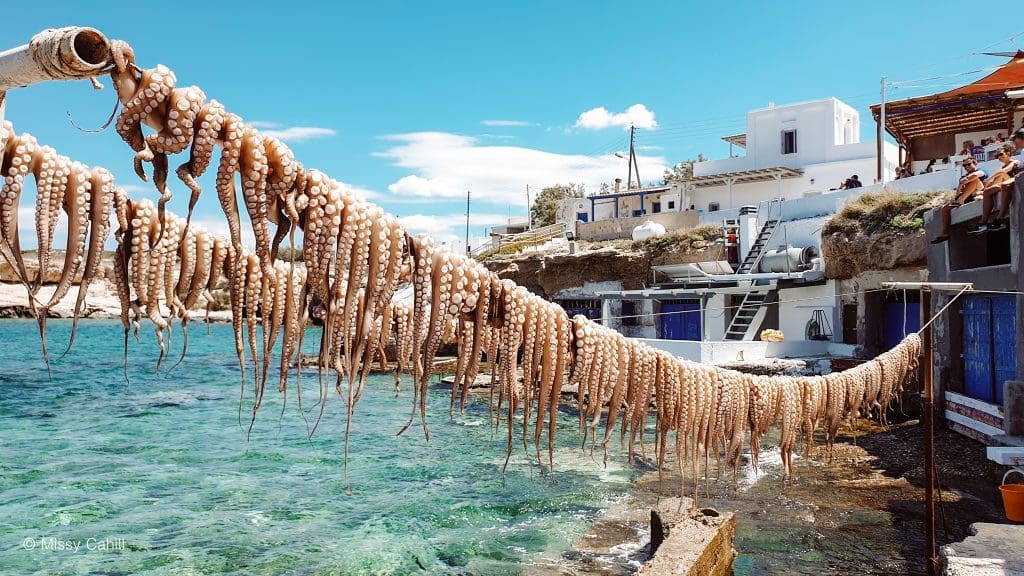 Due to Medusa Milos' popularity, no matter the time of the day you will encounter a lengthy reservation line. Don't be deterred by it, add your name to the reservation list and head off to take some photos of Mandrakia's stunning small harbour. Or play with some kittens.
Phone No: +302287023670
Where to Stay in Mandrakia Milos
I'm slightly biased when it comes to Mandrakia. It was the first place on Milos that we stayed in and made a huge impression on me.
For years I've dreamed of staying in a small home in the Mediterranean, where when you opened your door, it would lead directly out to the sea. And the sounds of waves lapping against the rocks would lull you to sleep.
Well, it turns out you don't need to have millions in the bank to enjoy such a simple offering. In Mandrakia & Klima you can find places exactly like that without having to remortgage your home.
If you've been searching for a place where you can wake up early and throw yourself into the sea for an early morning sea-dip, watch spectacular sunsets from the comfort of your own porch and dine in the best restaurant on the entire island, then a stay in Mandrakia is essential.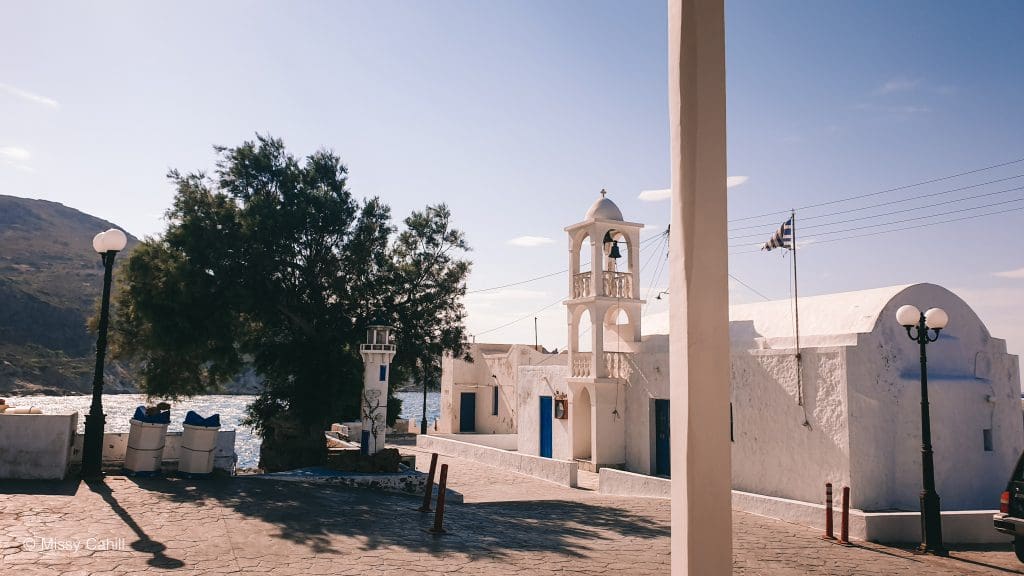 It's simple in all the right ways, there are no stores or bars nearby, and the only expectation is that you slow down, relax and enjoy this tiny Greek hamlet.
SeaScape Mandrakia was a perfect tiny home in the most incredible location. Less than 50 feet from the front door was Milo's best restaurant – Medusa.
Sitting on the terrace each evening, a glass of wine in hand and watching the sunset was unforgettable. The home itself is teeny tiny and has all the amenities that you could possibly want, kitchen, bathroom and bed occupy a space smaller than most hotel rooms on the island. It was perfect.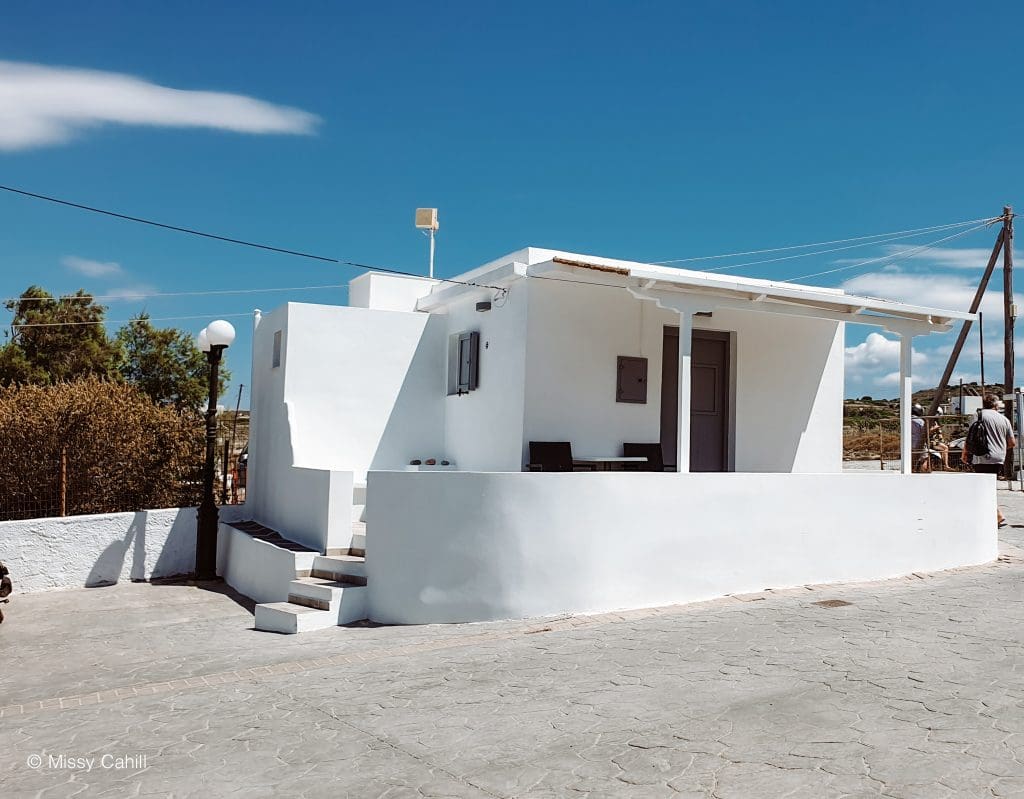 Aerides Mandrakia Milos is a newer build and has a fabulous terrace with views over the sea. The small seaside home has two rooms that separate the living room from the bedroom and has an absolutely fabulous terrace to watch the world go by. 
Casa Mylonas Deluxe is located just past Medusa Mandrakia and is a new building with a double bedroom. It's beautifully furnished and offers uninterrupted views over the incredible landscape and sea. It's also a stone's throw away from Gerania Beach. 
How to get to Mandrakia Milos
The easiest way to get to Mandrakia and around Milos is to hire a car, ATV or scooter. There are a number of agencies across the island, mostly in Adamas where you can hire a vehicle for the day to see some of the harder-to-reach spots.
Driving in Milos is incredibly easy, as there are only a few roads on the island. It's quite difficult to get lost in Milos!
Do note that if you are driving to Mandrakia by ATV or Scooter that the road down to the village is very steep and you should drive slowly in order to avoid an accident. There are a number of potholes on the road too, so be extra vigilant.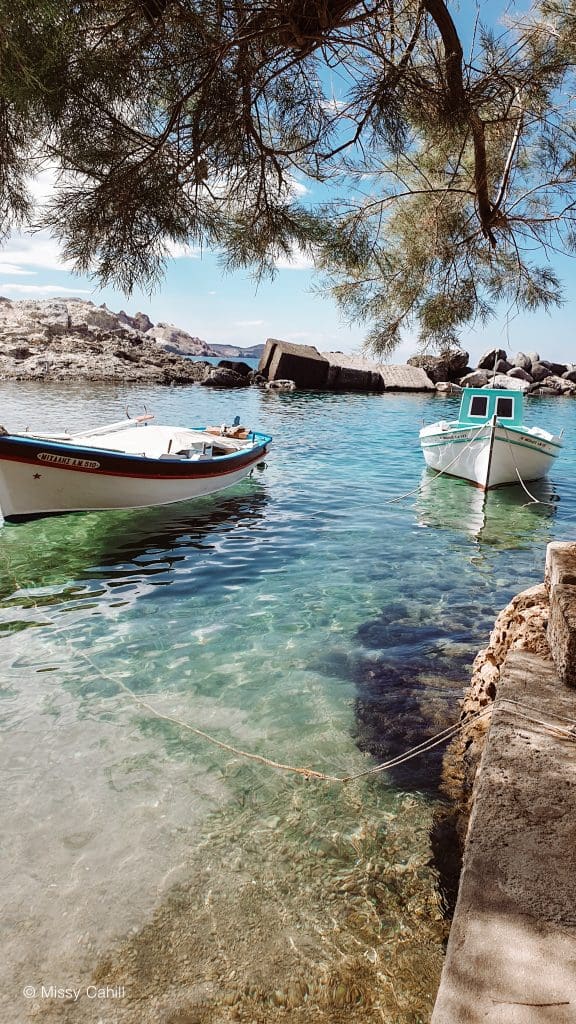 From Adamas follow signs for Mandrakia/Firopotomas. It's a short 9/10 minute drive from the port.
The local bus does not currently serve Mandrakia, so if you want to visit the village or Medusa Milos restaurant, I would recommend calling a taxi.
There are 15 taxis on the island of Milos and you should enquire about the taxi rate before agreeing to the ride.
Milos Taxi: +30 22870-22219
Parking in Mandrakia Milos
There is a rather large parking lot in Mandrakia (coincidentally behind SeaScape Mandrakia), that has ample parking. There are a number of spaces on the main road where you can also park too. Parking is free.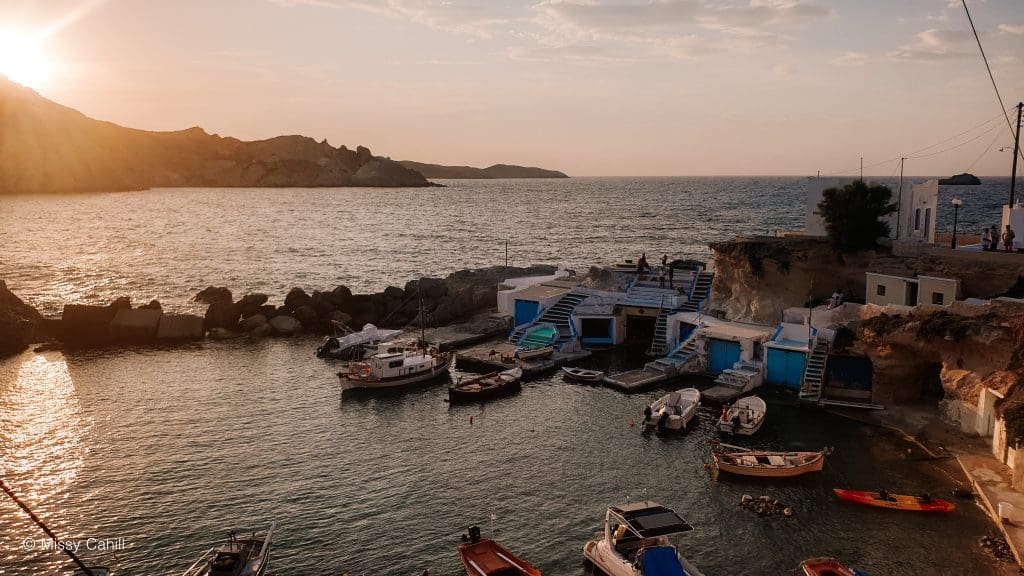 Tours around Mandrakia & Milos
There are many parts of Milos that are only accessible by sea. Thankfully there are a number of tours that will take you around the island by catamaran and usually include a BBQ lunch. This is a great way to meet other travellers and see more of this incredible island.