Looking for the best summer destinations in Europe that are away from the crowds of tourists and package holidays? Do you want to explore the next 'hot spot' before it becomes the next Instafamous and unmissable destination in Europe?
Then read on to explore some under the radar and quite easily the best summer destinations in Europe for those seeking new beautiful and exciting spots.
Italy
Tropea
If the idea of exploring the Amalfi Coast during the peak of summer breaks you out in hives, don't fear there are plenty of us who can't bear the idea of being stuck in bumper-to-bumper traffic and fighting for the last seat in a mediocre restaurant. Skip the towns of Sorrento and Positano and head further down to the toe of Italy's boot and you'll discover one of the most stunning towns – Tropea. 
Tropea has long been a hidden gem from the masses of international visitors who throng to all parts of Italy over the course of the year, but Tropea has remained relatively hidden away. The high soaring clifftop town overlooks one of the prettiest beaches in mainland Italy, Rotonda Beach (Spiaggia della Rotonda).
Rotonda Beach becomes extraordinarily popular over the summer months with locals and Italian tourists who spend their summers in this Calabrian sunspot. The powder-soft sand and the crystalline waters are hard to ignore and you may have to fight for your space on the sand, but trust me, it's totally worth it.
The town of Tropea is equally as adorable as those found further up the coastline, with meandering side streets and the remarkable Santa Maria dell'Isola, a church that sits on its own outcrop and provides visitors with an incredible and jaw-dropping backdrop.
Tropea is known for its incredibly sweet red onions, which you'll find in most of the restaurant's ingredients or turned into delicious red onion marmalade. Tropea offers one of the best summer destinations in Europe for discovering off-the-beaten-path exploration.
Where to stay:
Getting there:
Cefalù
If like me you just adored watching White Lotus season 2 and have now bookmarked Taormina as your number one summer destination in Europe to visit, then may I offer you an alternative – Cefalù.
Cefalù is no longer a well-kept secret, but for most people who visit the island of Sicily it ranks high on most visitors lists. And what better summer destination in Europe to visit than one of the prettiest crescent bay of Cefalù and the beautiful town which begs to be explored. 
Meander the streets of Cefalù to discover gelataria, freshly cooked arancini and plenty of Aperol Spritzes. And while Spiaggia di Cefalù may be packed with beachgoers and holidaymakers, you can always find a spot to dip your toes into the amazing waters or rent a beach bed for the afternoon. 
The Duomo di Cefalù is worth visiting, a remarkable Norman cathedral that is one of the city's highlights. Climb the tower for arresting views over the Tyrrhenian Sea and the incredibly Sicilian landscape. This being Sicily, make sure to book a food tour or cooking class to experience the best of Sicilian cooking. 
For more guides about Sicily, you can find my guides to Taormina on my site, including the of the loveliest beaches in Taormina. 
Where to stay
Cefalu in Blue //Budget-friendly accommodation in an unbeatable location.
Hotel Kalura // Lovely 4-star hotel with spectacular sea views and nice pool.
Getting there
The nearest airport is Palermo which is 97km from Cefalù. Catch a local train from Palermo to Cefalù which takes between 1 hour and 30 minutes or 2 hours. Train tickets start from €12/$12.
Eager to get to your destination as soon as possible? I always use Welcome Pickups when I want to avoid the hassle of catching buses or trains.
Trieste
One of the fascinating cities in Italy is the town of Trieste, close to the border of Slovenia. There is a lot happening in this incredible city that takes on the influence of its neighbouring countries. The language, though Italian, has formed into something of a mish-mash of Croatian, Slovenian, and Austrian. 
Then there is the influence of nearby Venice that gives way to incredible baroque-style buildings, a buzzing marina, vineyards and beaches. Trieste has become hugely popular over the years, but still reserves a certain charm that there is always something more to discover when exploring the area. 
Spend your days exploring the vineyards around Trieste and sampling some of the best Prosecco that is produced in this region. 
In the evening stroll the city's marina, and dine on some of the most incredible Italian dishes that are local to this region. Heavily influenced by neighbouring countries, you'll find breaded gnocchi served with a type of goulash, hearty Pea soups, and internationally famous Prosciutto di San Daniele. 
Where to stay
Savoia Excelsior Palace Trieste // Luxurious experience in the centre of Trieste. Feel like royalty with a stay here.
NH Trieste // Affordable hotel located 300 metres from Trieste Train Station.
Getting there
With two international airports to choose from either Trieste International Airport or Venice Marco Polo Airport. Trieste is extremely well-connected.
France
Bonifacio
The island of Corsica is of course extraordinarily popular with the French and can make a nice detour from the mainland of France. With fantastic beaches (unlike the Cote D'Azur), quaint towns and cities, Corsica is ideal for those looking for a mixture of adventure and relaxation. 
Bonifacio also happens to be one of the prettiest towns on the island of Corsica and is known for its dramatic cliffs that support the darling homes and stores that make up the town. It's worth exploring the old town and its winding streets that are filled with restaurants, cafes and boutique stores.
Down at the marina, you'll find lots of excellent people watching and restaurants serving locally caught seafood. Or take a ferry to nearby Sardinia. You'll discover plenty of opportunities to explore the island from the waters and marina of Bonifacio with several tours departing from here. 
Bonifacio makes a good base for first-time visitors to Corsica and you'll be eager to explore the rest of the island tout de suite!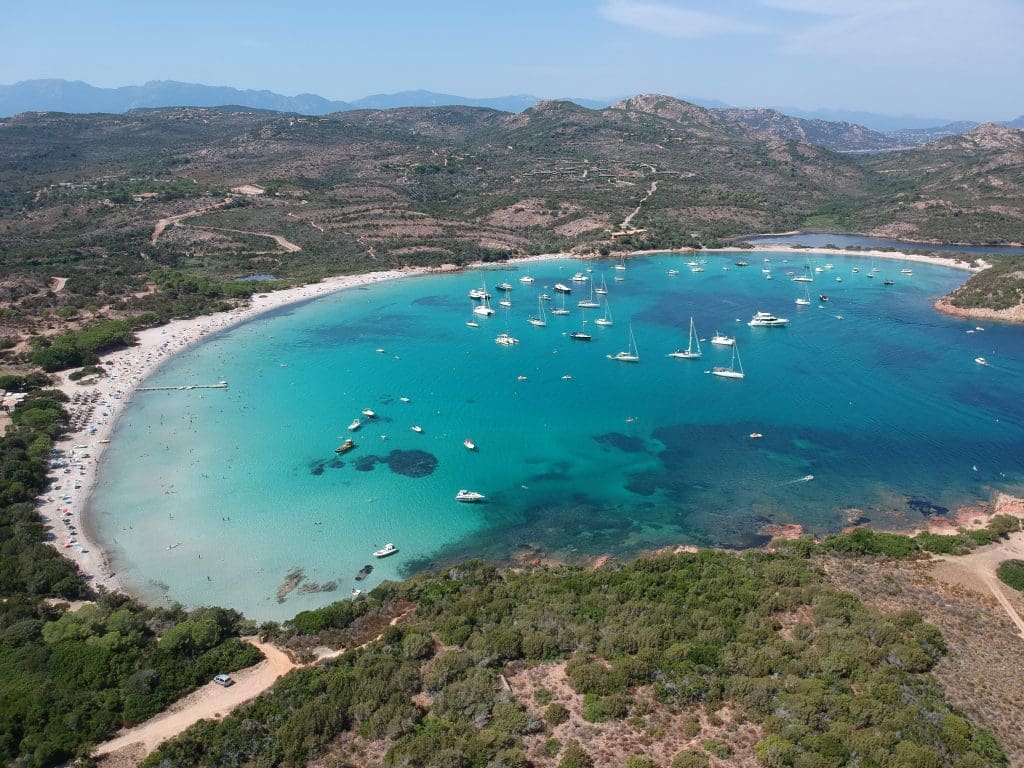 Where to stay
Solemare // Located down at the new marina, it offers fantastic value for money and hs great views of Bonifacio.
Getting there
 There are 4 airports on the island with Ajaccio being the largest. Regular ferries from mainland France provided visitors with the option of bringing their vehicle to the island.
Spain
Formentera
Those who have visited the island of Ibiza will at some point have taken a ferry or sunset cruise visiting the incredible island of Formentera.
Popular with day trippers from Ibiza, Formentera is a tiny island around 20 km long and only a 30-minute ferry ride from Ibiza. The island is renowned for its incredible beaches and watercolour that is out of this world. 
For those looking for some of the best summer destinations in Europe that embrace the sunshine, beaches and lots of swimming, you'll find Formentera ticks all the boxes. 
Relax on pristine beaches during the summer days, and as the day trippers retreat back to Ibiza, the island settles down in the evening, with a handful of restaurants and bars that cater to those who have chosen the island to base their vacation on.
If all you seek this summer is to work your way through your extensive reading lists, work on your tan and swim in the most incredible blue seas, then Formentera is the island for you. 
Where to stay
Riu La Mola // Large 4 Star hotel with direct access to the beach and a stunning location.
Getting there
The only way to get to Formentera is by flying to Ibiza and then transferring to a local ferry.
Greece
Karpathos
If you are in search of the clearest seas, quietest beaches and hardly any tourists, then the Greek island of Karpathos is where you'll find one of the best summer destinations in Europe. 
Located halfway between the islands of Rhodes and Crete, Karpathos has long remained under the radar for holiday-goers. With most tourists visiting the stunning islands of Milos, Paros and Santorini, the island of Karpathos has long been overlooked.
Perfect for those looking for more than just a beach holiday, one of the popular draws to the island is the excellent kitesurfing in the area. The mountainous island is also a hiker's paradise and rewards visitors with unparalleled vistas and barely-trod hiking paths. The coves and beaches that make up the island are in a league of their own. Some are only accessible by boat or hiking down perilous paths to the most incredible waters found in Greece.
The water colour in Karpathos is in a completely different league to that found anywhere else in Greece. The island is beginning to grow in popularity and its only a matter of time before it becomes as popular as rising star Milos.
Where to stay 
Konstantinos Palace // Fabulous 5-star hotel with unbeatable views and close to the centre of town.
Book Your Ferries through FerryHopper.
Croatia
Hvar
Ok so the Croatian island of Hvar is incredibly well known, but there is more to this magical island than just the town of Hvar. If Croatia has been on your radar, I urge you to book your tickets and just go. Not only are the people incredibly friendly, but the scenery is really something else.
Hvar is a really special place and the town itself is home to a beautiful natural marina (which every summer fills up with Superyachts), restaurants and bars. You'll find some of Croatia's most popular beach bars in Hvar town.
But take a local bus or rent a car and travel to the nearby villages of Stari Grad and Jelsa for a more low-key and quieter experience. The prices decrease as soon as you leave Hvar, which if you are on a budget is not the best place to go on vacation.
Jelsa is a lovely seaside village with excellent restaurants, and a bar or two and is the perfect base for anyone wanting to spend their days exploring the island of Hvar and its many coves and rocky beaches.
Where to stay
Riva Marina Hvar Hotel // Seafront hotel on the main promenade of Hvar Old Town. Excellent location and everything you could possibly need.
Getting there
 The closest airport is located on the mainland in Split. With several ferry connections throughout the day, you can connect from Split or Dubrovnik with a ferry.