Discover some of the best Christmas markets in Belgium when visiting Antwerp in December and January. During the winter months when the nights are dark and cold, the promise of a European Christmas Market suddenly makes the days brighter and more bearable. With so many wonderful Christmas Markets in Belgium to choose from, this guide focuses on the Antwerp Christmas Markets.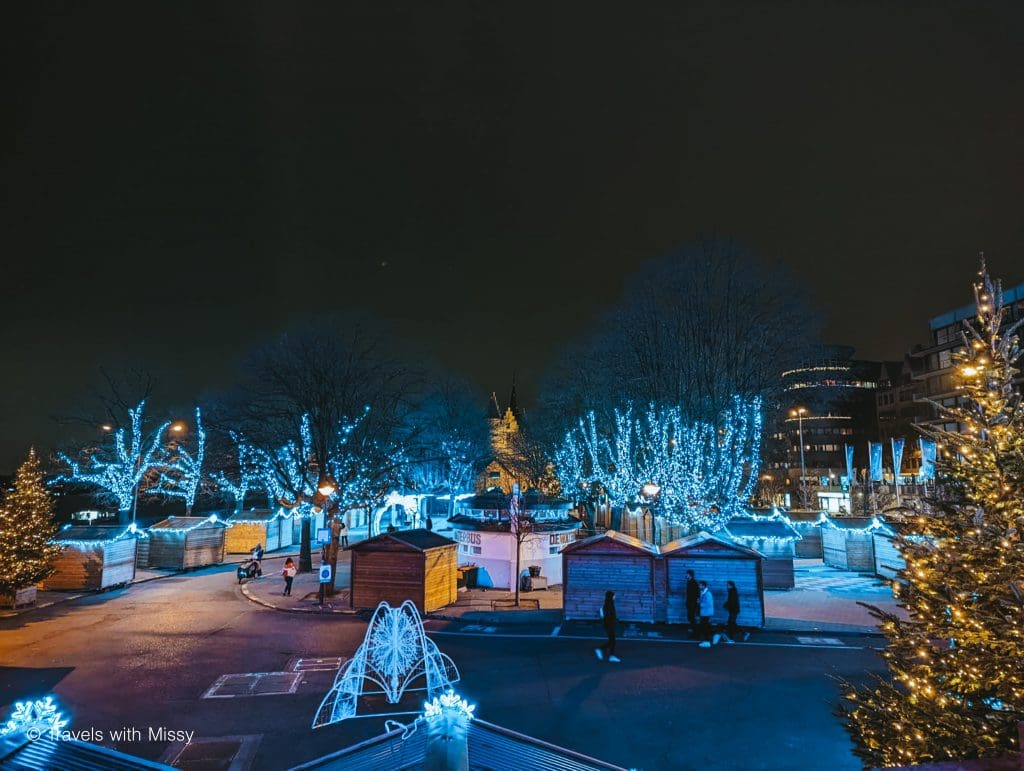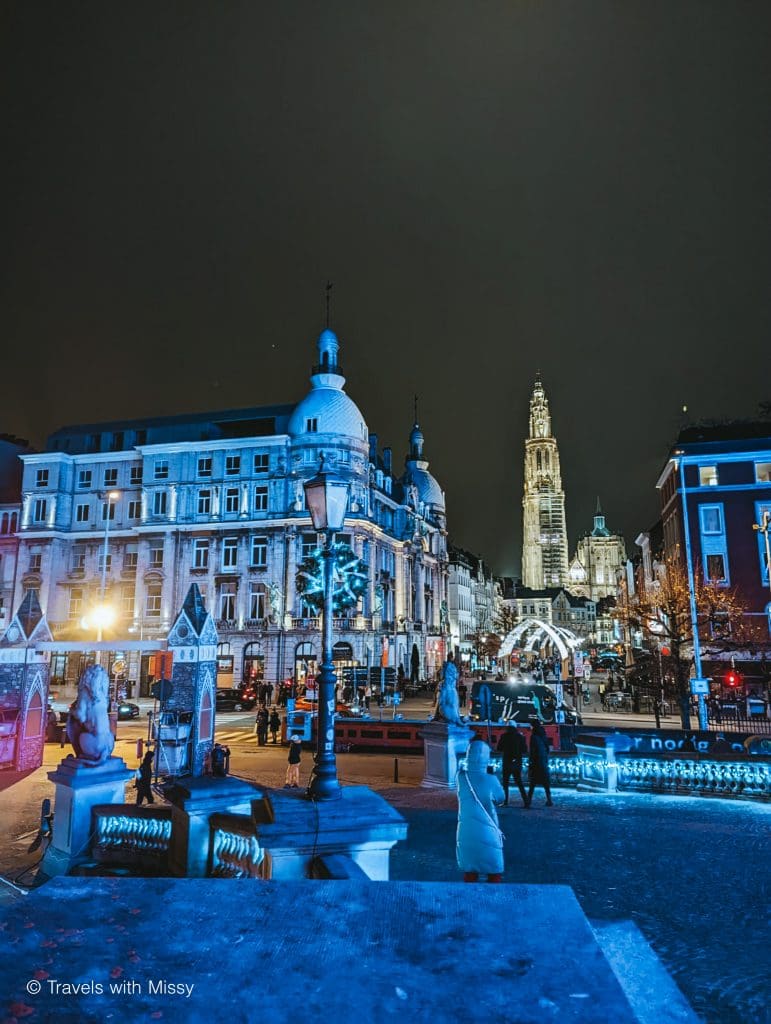 Antwerp Christmas Markets 2023
*Antwerp Christmas Markets Dates: December 9th, 2022 – January 8th 2023*
After the past two years of enduring the Covid-19 pandemic, the Antwerp Christmas Markets 2023 are back on the cards! With promises of normality on the horizon, the Antwerp Christmas Market offers visitors all the trimmings that make it one of the best Christmas Markets in Belgium.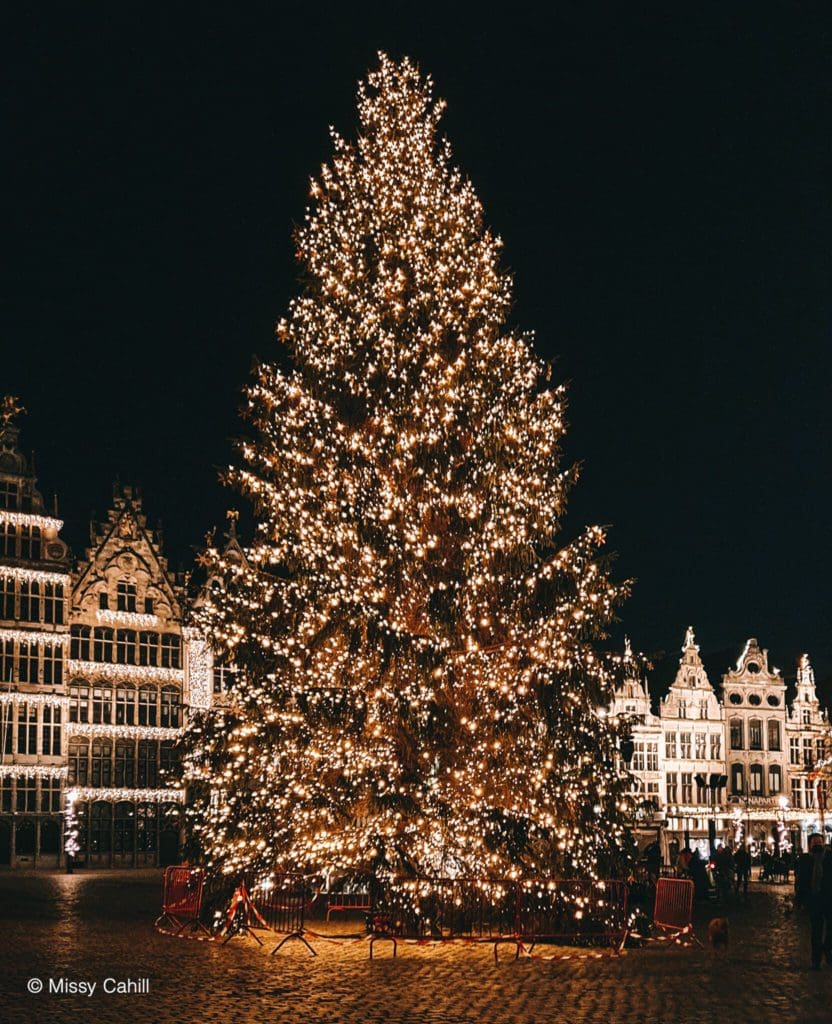 Ice Skating Rink
Taking over Groenplaats, the Antwerp ice skating rink is a traditional outdoor rink that has a covering for when the weather is less than ideal. With market stalls lining the perimeter, you can either partake in the ice skating or watch from the sidelines with a mug of mulled wine instead.
Ferris Wheel
Now a permanent structure by the river Scheldt, the Ferris Wheel is at its most magical at nighttime when the city of Antwerp is lit up. Wrap up warm as it gets seriously cold and is not recommended for those afraid of heights! The views from the Ferris wheel are perfect for taking in the Christmas lights and the stalls selling mulled wine below.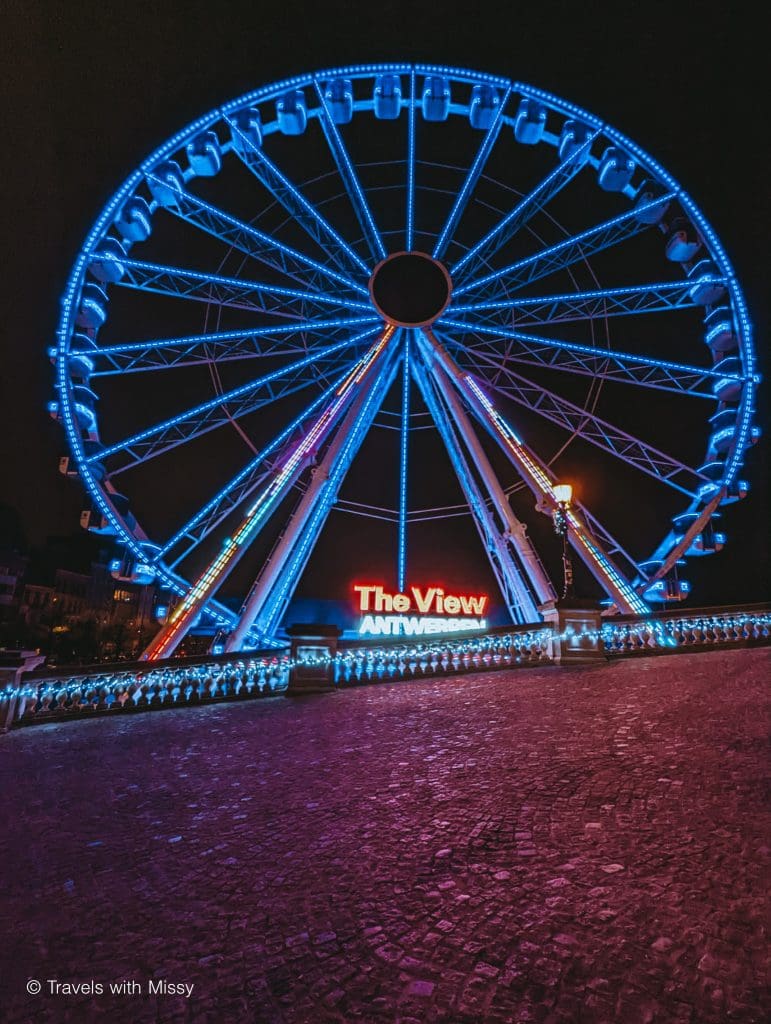 Antwerp Cathedral
The Antwerp Cathedral is also known as the Cathedral of Our Lady (Onze-Lieve-Vrouwekathedraal) and is one of the most beautiful and striking Cathedrals in Europe. Built in the Middle Ages in 1521, its spire is currently under construction for maintenance.
When completed it will be restored to its former beauty and in the cold dark winter months, the Antwerp Cathedral one of the most beautifully lit up buildings in the city. There is a lovely nativity scene just outside the main doors of Antwerp Cathedral which is even prettier at night when it is lit up.
Around the area of the Antwerp Cathedral and Grote Markt is where you will find dozens of Christmas market stalls. Selling mulled wine, jenever (a Christmas spirit infused with every conceivable flavor), crafts, and food; the Antwerp Christmas Markets makes a wonderful afternoon or evening outing. The pretty wooden chalet market stalls offer the perfect opportunity for those seeking a special gift.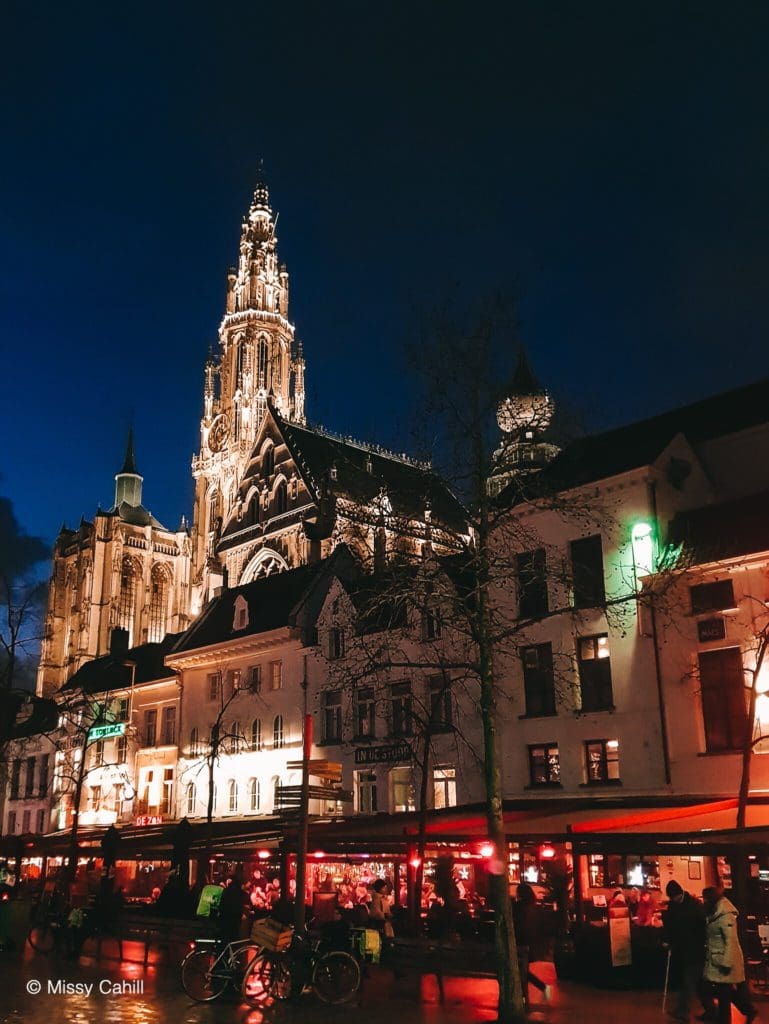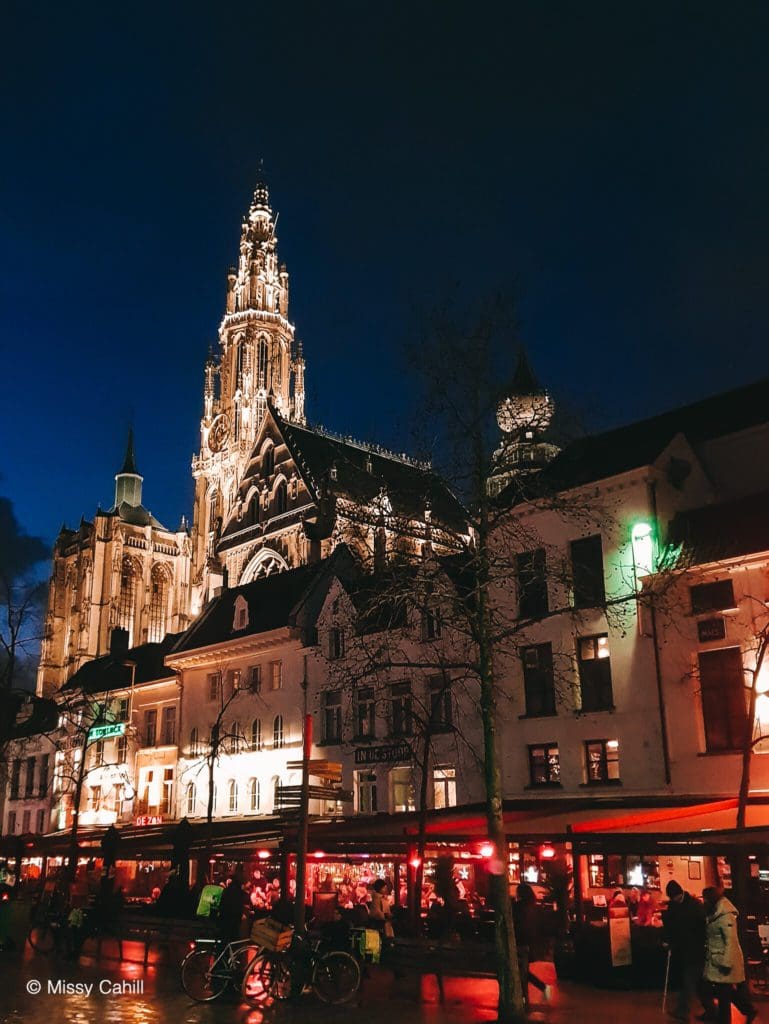 Perhaps the enormous Christmas tree placed in Grote Markt will make people feel giddy with Christmas spirit. Decorated in twinkling lights and looking as if it had been plucked straight from a fairytale, the Antwerp Christmas Tree will give you all the Christmas feels.
When do the 2023 Christmas markets in Antwerp start?
The Antwerp Christmas Markets will start on the 9th of December 2023. Its opening hours vary but they will be open every day from 12 pm till 22.00 Sunday to Thursday. From 12 pm till 0.00 am on Fridays & Saturdays. The opening hours are different on Christmas Eve, Christmas Day, and New Years Eve and Day.
Where to Eat in Antwerp
Foodies will love the electric restaurant scene in Antwerp. With a huge melting pot of diversity, every cuisine that you could possibly imagine is available on offer in Antwerp. Around the Antwerp Christmas Market area of the historic city you will find the traditional tourist restaurants that serve pretty mediocre food.
But just a few streets over, you'll find some incredible restaurants, cocktail bars, and terraces to enjoy the winter festivities on.
Best Hotels in Antwerp
With ample hotels in the vicinity of Antwerp Christmas Market, you will be able to walk outside your hotel's front door and immerse yourself in the wonderful atmosphere of some of the best Christmas markets in Belgium.
With the Hilton Antwerp Old Town's location on Groenplaats, this 4-star hotel is housed in a beautiful early 20th-century building. It is steps away from excellent restaurants and bars and is great value for money considering its prime location.
Hotel Franq is the perfect luxury hotel stay. Not only does Franq have a Michelin Star restaurant on its premises but it's also beautifully modern and elegant. Its lobby and courtyard are Instagram-worthy with vibrant colors and furniture. The rooms are modern and tastefully decorated.
You really can't get any closer to Antwerp Central Station than the Hampton by Hilton Antwerp Station. With the station being no more than 20 steps away, this is a great base for those who are passing by Antwerp. You'll find it difficult to miss your train home from this location!
Getting to Antwerp
When deciding which Christmas markets in Belgium you should explore, consider the Antwerp Christmas market. The Antwerp Christmas Markets makes the perfect visit for those seeking Christmas markets in Europe without the hefty price tag attached to some other cities like Prague or Budapest. Antwerp airport is small and offers limited flights to London, Amsterdam, and cities in Spain.
Trains to Antwerp
Amsterdam – Antwerp: 1 Hour Thalys Train
Brussels – Antwerp: 40 Minutes
Bruges – Antwerp: 1 Hour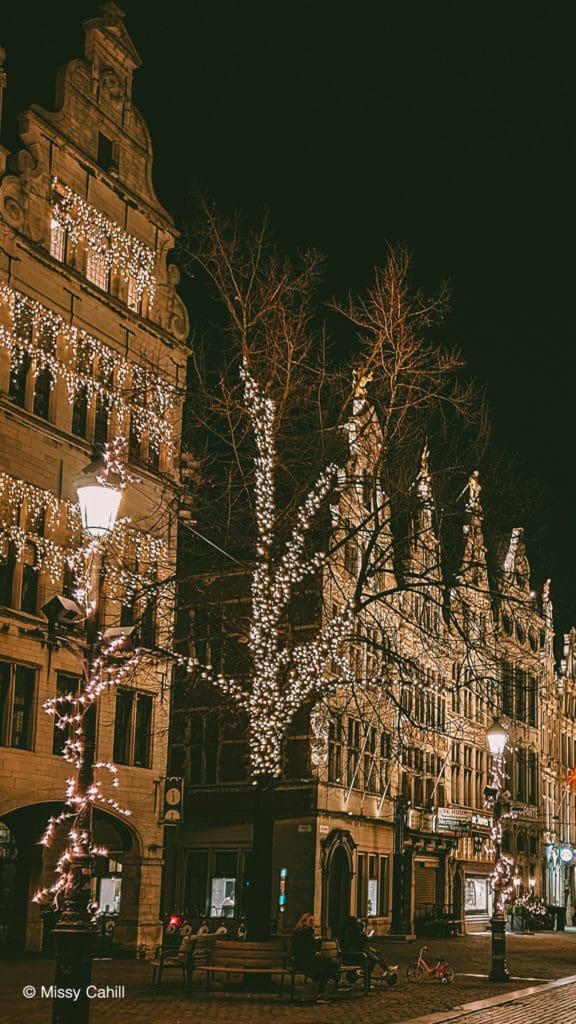 Notable Belgian Christmas Markets Dates
Bruges Christmas Markets
The Bruges Christmas Markets starts on November 25th, 2022 to January 8th, 2023. Bruges is easily accessible via Brussels/Ghent/Antwerp. If arriving by Eurostar in Brussels, you can change platforms and catch a train to Bruges. Trains leave hourly.
Christmas Market Ghent
Christmas Markets in Ghent will start on December 8th until December 31st, 2022. With over 150 stalls on Sint-Baafsplein, along the Botermarkt and Klein Turkije to the end of the Korenmarkt, you will find plenty of stalls serving crafts, mulled wine, and food. Easily accessible by train via Antwerp & Brussels.
Leuven Christmas Market
Considered to be one of Belgium's oldest Christmas Markets, the Leuven Christmas Market will operate from 7th December 2022 to 18th December 2022. This year offers visitors a chance to listen to classical music in St. Peter's Church and a candlelight walk through the Great Beguinage. These medieval streets and alleyways will light up candlelight and will make your visit truly special. The Great Beguinage Candlelight walk takes place on December 11th, 2022.
Brussels Christmas Market
With easy accessibility, the Brussels Christmas Market sees over 2.5 million visitors each winter season. Running from 25th November 2022 to January 1st 2023, this is a festival of light, merriment, and festivities. Brussels International Airport Zaventem is a major European hub for international travel. Eurostar has daily connections from London St. Pancras and takes under 2 hours to reach Brussels.
Liège Christmas Market
Liege Christmas Market is the largest Christ Market in Belgium. With 200 stalls, the oldest Belgian Christmas market will run from 25th November December 30th, 2022.
Best Christmas Markets Europe
The Antwerp Christmas Markets are a fantastic way of embracing the Christmas spirit. With so much festivity and beautiful lights, it's easy to say that Christmas 2022 is going to be a special year after a global pandemic.
Check out my guides to the Cologne Christmas Markets and the Dublin Christmas Markets.
What plans have you prepared for this years celebrations? Leave a comment below and share your thoughts.