The delightful city of Gent, also written Ghent, is a vibrant student town that rivals Bruges for pretty Belgian canal cities. During the summer months, the canals of Gent are full of floating vessels and the energy is electric.
Gent has a superb culinary scene for such a small city and has some of the best brunch spots in the entire country. Whether you're a local or just stopping by, make sure to sample a fantastic brunch in Gent.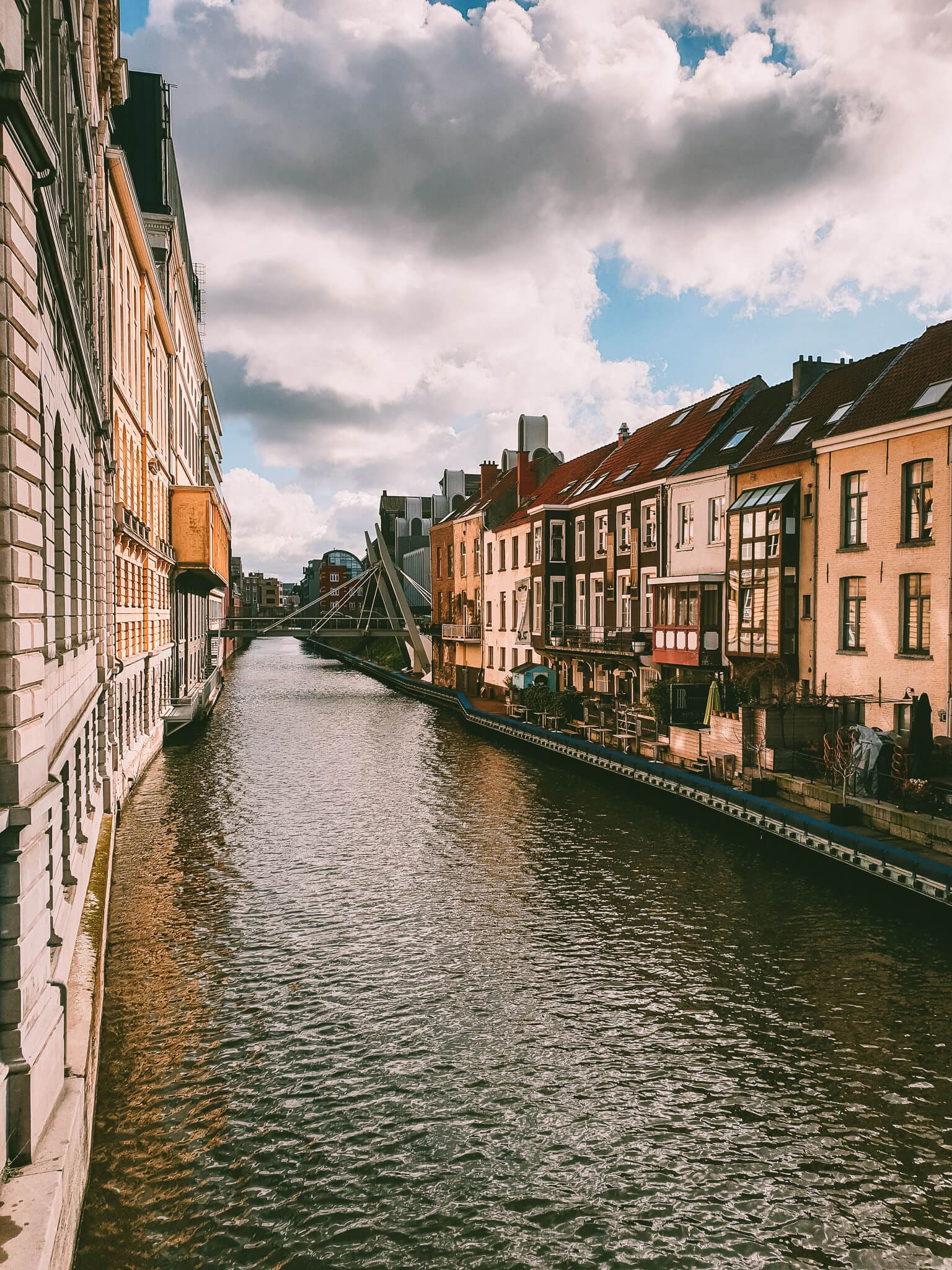 1. Le Botaniste
There's a lot to love about Le Botaniste aside from its vegan food. The food served at Le Botaniste is fabulous, but it's the message behind the cafe that is exemplary.
Le Botaniste is a sustainable and certified C02-neutral cafe, with every item on the menu allowing diners to understand their carbon footprint insight whilst eating some of the best vegan food in the city.
This unique insight allows diners to see the environmental impact they are having when choosing to eat a vegan dish and will surely raise interesting discussions during this special brunch in Gent.
This Gent plant-based restaurant was first opened in 2015 and new dining spots have opened in Brussels and New York. Gent is a haven for vegetarians and vegan foodies and Le Botaniste should be added to any list.
Le Botaniste's signature dishes are the 'prescription bowls', with favorites including Spicy Chilli sin Carne & Tibetan Mama.
Le Botaniste is a vegan restaurant open from 11.30 am to 9 pm.
2. Luv l'Oeuf
All Day Breakfast Place with super brekkie options.
Egg lovers rejoice, Luv l'Oeuf is a paradise for all-day breakfasts in Gent that specializes in egg-citing (ugh, I hate me too) creations. You won't find a factory or farmed eggs in Luv l'Oeuf, but instead, some of the freest roaming chickens from a local farm provide the tastiest free-range eggs.
I think it's safe to say that Luv l'Ouef is my favorite spot for brunch in Gent for its variety of breakfast and brunch options. Also, who doesn't love a Mimosa or Bloody Mary at Brunch? If reading the menu doesn't make you salivate, then this probably won't be the place for you.
Favorites on the menu include the out-of-this-world Bacon & Brie Waffle (a cheddar cheese waffle topped with bacon, brie, honey, walnuts, and balsamic pears – how decadent does that sound?), and of course the traditional Eggs Benedict.
Try to eat as much on the menu as you can because it rarely fails to disappoint and dare I say it, is perhaps the best brunch in Belgium?
Luv l'Oeuf is open every day except for Mondays.
3. Stek
Plant and brunch lovers will be thrilled with Stek, a cafe that celebrates the humble house plant with aplomb. The interiors of Stek are brimming with houseplants that will make any plant parent envious, and their courtyard matches the energy of the interior.
Aside from the fantastic plants, Stek is a super cafe that is fantastic for a quick bite to eat. Their brunch menu is on offer throughout the week and on Sundays, they close at 2 pm.
I'm a big fan of their pancakes and granola, but they also do a mean brunch options which include a glass of cava, croissants, and a variety of other delicious brekkie goodies.
Stek is a delightful cafe for brunch in Gent and on weekends it's recommended that you book a table in advance in order to avoid being disappointed and hungry. Two of the saddest things that can happen on a Sunday morning.
4. Pain Perdu
Pain Perdu lies in the heart of Gent and has a superb brunch menu. They have a lovely terrace to enjoy some of their set brunches, or you can order off the menu.
You'll find typical Belgian breakfasts on offer in Pain Perdu that include croissants, hard-boiled eggs, cheese, spreads of jam, and chocolate paste (fondly referred to as 'pasta' in Belgium – which was very confusing for the longest time).
Naturally, when visiting Pain Perdu it's essential to try the dish the cafe is named after. Also known as French Toast, pain perdu, or forgotten bread is created from leftover or stale bread and dipped in an egg wash. Seasoned with cinnamon or brown sugar, it's an irresistible dish that evokes a lot of childhood memories.
Pain Perdu is open daily from 8 am to 5 pm most days.
5. Patrick Foley's
I'll admit that as someone who is Irish, I take Irish pubs very seriously. Patrick Foley's is my favorite Irish pub in Belgium, partially because it's an excellent place to watch Irish rugby, but also because it serves seriously good food.
Patrick Foley's has found its way into my heart thanks to its excellent pies. The Beef & Steak Pie is one of the best pies that I've tasted, (aside from my own mother's steak pie which is naturally the best in the entire world), and on cold wet days in Belgium, there is nothing more satisfying than a warm delicious pie.
Most people are drawn to the Hearty Irish Brunch and what's not to love about a breakfast that includes all the best foods – sausages, bacon, black and white pudding?
Patrick Foleys serves an excellent Irish Breakfast that includes hash browns, eggs, toast, grilled tomatoes, toast, and the obligatory delicious breakfasts meats for an impressive €15. You may need a long walk around the city after demolishing it.
Brunch is served on Saturday & Sunday between 12 pm & 3 pm.
6. Madam Bakster
Madam Bakster is a local coffee shop that also has weekend brunch options. It's a busy spot in the city that has a revolving set of local clientele that frequent it.
The coffee in Madam Bakster is excellent and amongst some of the best in the city of Gent. Madam Bakster also happens to be a beating heart in the community of Gent.
Due to its popularity on the weekends, it's essential to book a table for their brunch. Their brunch is not as extensive as other places found in Gent, but it has a great atmosphere and coffee scene. Options for brunch include granola and chia pudding among items found on the menu.
Madam Bakster is open from Thursday to Sunday 10 am – 6 pm.
7. Gust
Gust is one of the few places in Gent that specializes in Brunch. As their website states, you won't find croissants or avocados on the Gust menu.
Instead, you'll find delicious thick American-style pancakes that are topped with sweet or savory fillings. Or other favorites such as Turkish Frittatas and courgette pancakes.
Brunch options include a main dish, tea or coffee, and yogurt. Gust has a beautiful setting with lots of light and is one of the nicest places to escape for brunch in Gent when visiting next.
8. Cozette
A mother and daughter duo opened the doors of Cozette, a cozy cafe that specializes in breakfast and lunch options. The exposed bricks and harmonica doors make up part of the ambiance of this family-run restaurant. The feeling as you enter the cafe is to grab a big hearty bowl of overnight oats and curl up with a good book.
The menu varies from month to month but you can always be guaranteed a tasty brunch at the weekends in Gent in Cozette.
Its location is a little outside of the city center but that's ok because Gent is a really small and walkable city. You're never too far from anywhere, except the train station which is oddly a decent walk from the Gent city center.
9. O'Yo
Vegans can rejoice when seeking a brunch cafe that specializes in all things pancakes and gluten-free! Unique dishes include the Pink Panther pancakes that use activated coconut charcoal as part of their ingredients. It may sound a bit weird, but they taste phenomenal!
O'Yo also has salad bowls and homemade Kombucha on their delicious menu. You can also grab a brunch kit from their store and whip up brunch in your home instead.
Conclusion
Whether you're seeking vegan food, or want the thickest pancakes known to mankind, Gent surprisingly has a lot to offer.
Brunch in Gent may come as a complete surprise to most visitors but it's one of those hidden gems of a city that keeps you guessing with every corner your turn.
Enjoy a delicious brunch in Gent and let me know which place was your favorite! Let me know if I forgot anywhere that should be on this list.