Explore 13 Of The Best Milos Beaches in 2023
The crystal clear water of the many beaches that surround the Greek island of Milos are ever so enticing. The water color here is quite unlike anywhere else in the Cyclade Islands, and perhaps this has a lot to do with Milos' rise in popularity amongst travelers.
The island of Milos is blessed with dozens of beaches that vary from lunar landscape to only being accessible by boat. And with so many beaches on Milos to choose from, you may not even get a chance to sample all the wildly different Milos beaches on offer.
Top 5 Notable Milos Beaches
Sarakiniko Beach
Tsigrado Beach
Thiorichia Beach
Paleochori Beach
Provatas Beach
1. Sarakiniko Beach
The most famous of Milos' Beaches, Sarakiniko Beach is known for its white volcanic rock formations that have been shaped by the sea over hundreds of thousands of years. It's a great place for cliff jumping, and the aquamarine water here is a sharp contrast to the off-white rocks.
Quite frequently you will hear Sarakiniko Bech being referred to as 'lunar' or moon-like because of its rather unusual rock color and fantastical formation shapes.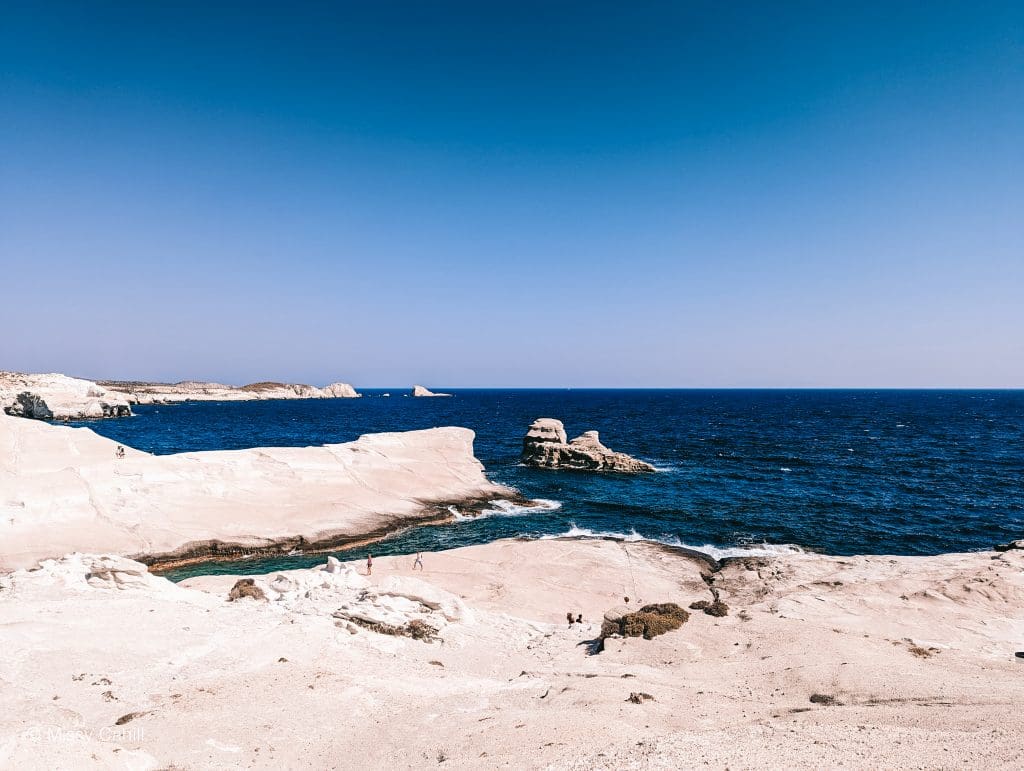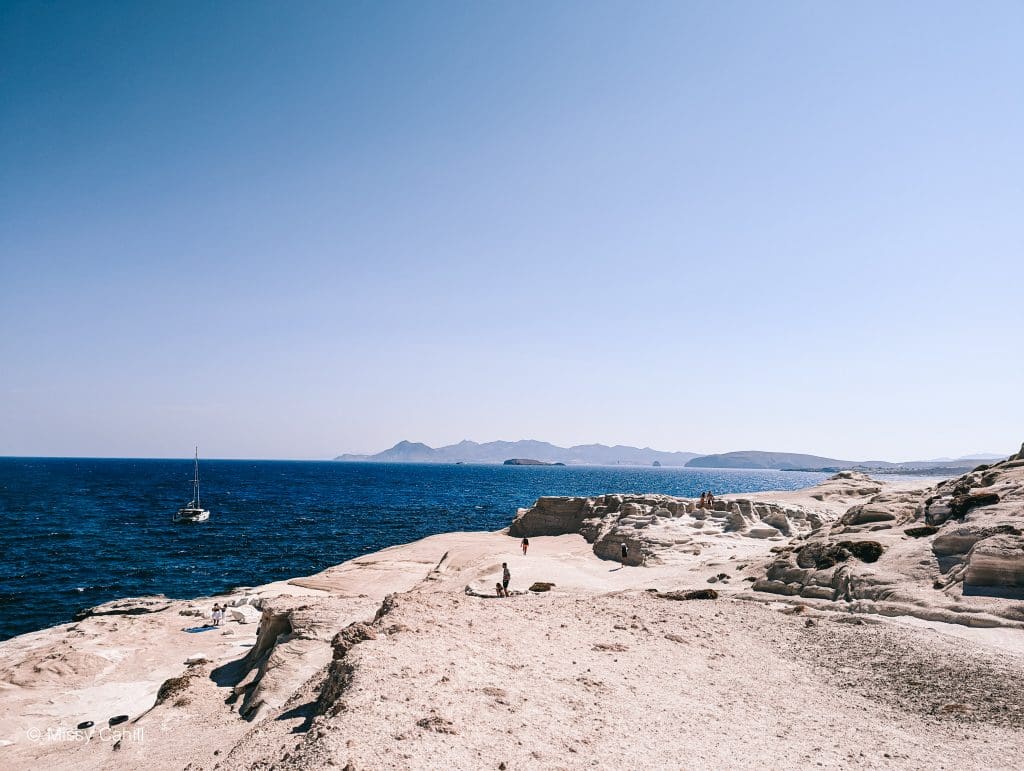 Can you swim at Sarakiniko Beach?
You can absolutely swim at Sarakiniko Beach, and of all the places to practice cliff diving, then Sarakiniko beach is the place to embrace jumping into the clearest water in the Aegean Sea. There is a small beach that provides access to walk into the water if cliff jumping is not your thing.
How do you get to Sarakiniko Beach?
The easiest way to get to Sarakiniko Beach is by taking your own rental vehicle. There is a parking lot a short walk from the beach that is free but try to arrive before 12pm to ensure you get a space.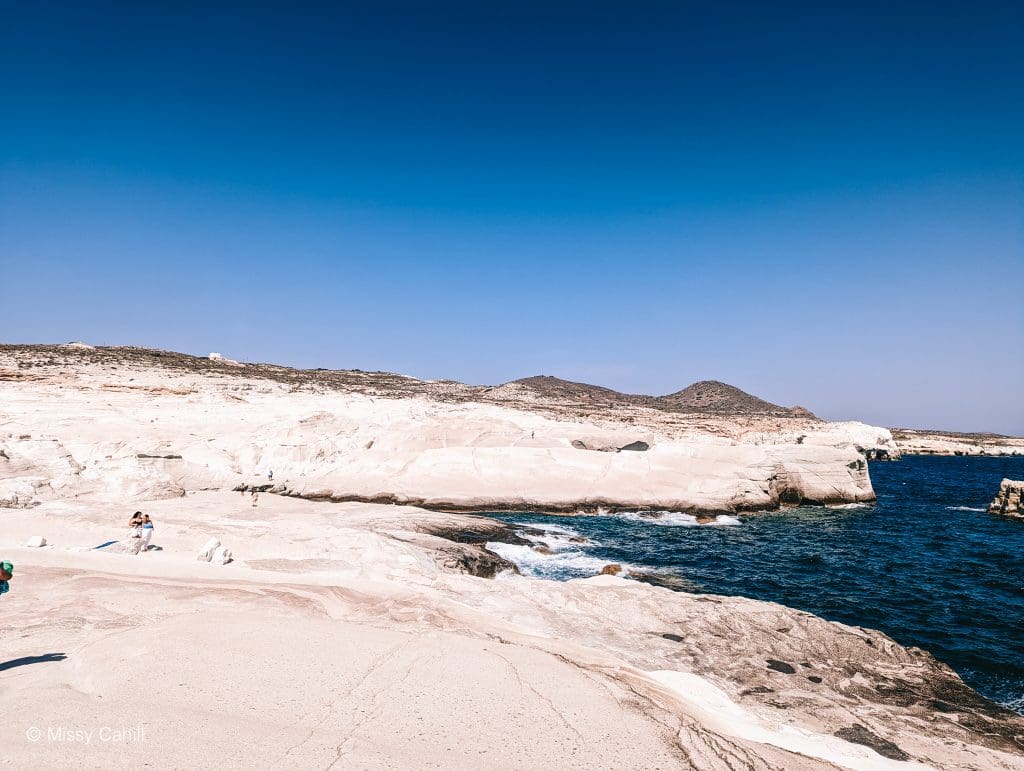 Why is Sarakiniko white?
The rock formations found at Sarakiniko are white because of volcanic activity that created the unusual landscape. The rocks and land have been gradually eroded due to coastal erosion elements, seawater and time have formed some of the incredible shapes now found at Sarakiniko.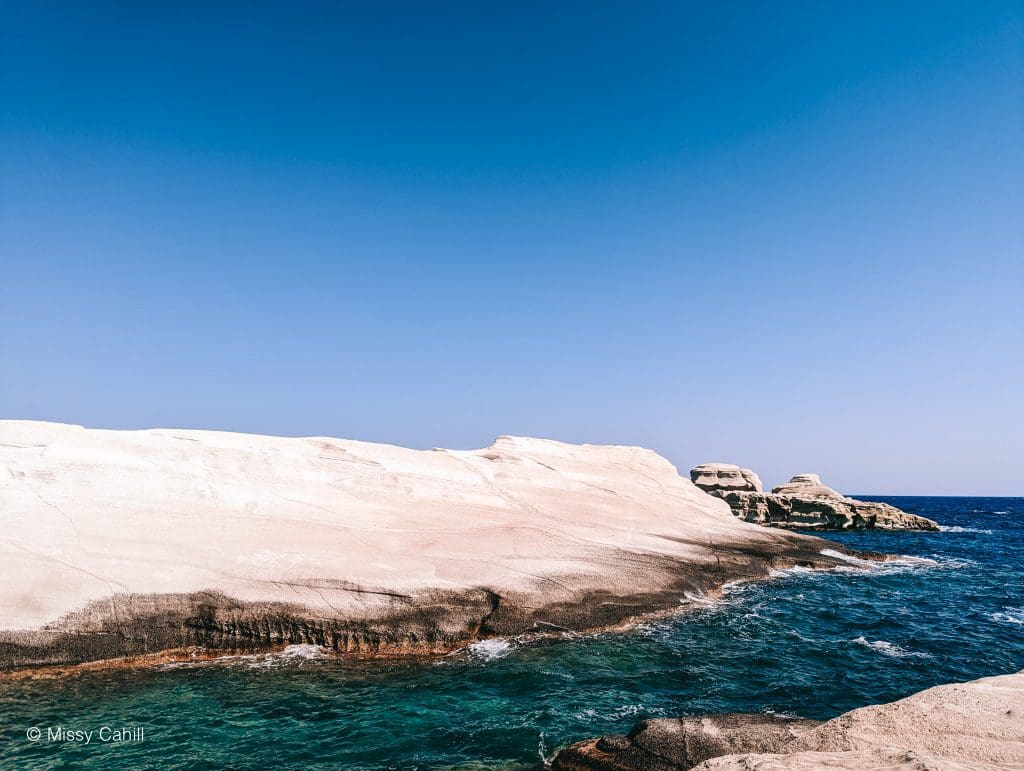 Can you walk from Adamas to Sarakiniko Beach?
You can walk from Adamas to Sarakiniko Beach, but do note that it will take around 4km and just under an hour to reach the beach. There are no footpaths on the road, so walk single file against traffic if you are coming by foot. The island of Milos is quite hilly, so you will face a lot of elevation.
2. Firopotamos Beach
Firopotamos Beach is a small stone beach that is enclosed by traditional fishermen's huts, some of which have now been revamped as Airbnb rentals and some are still used as storage.
The Church of Agios Nikolaos sits on the headland overlooking the tranquil waters of Firopotamos Beach. The road down to Firopotamos Beach is notoriously steep and best tackled slowly. Pay attention to other vehicles as there really is only room for one car to pass.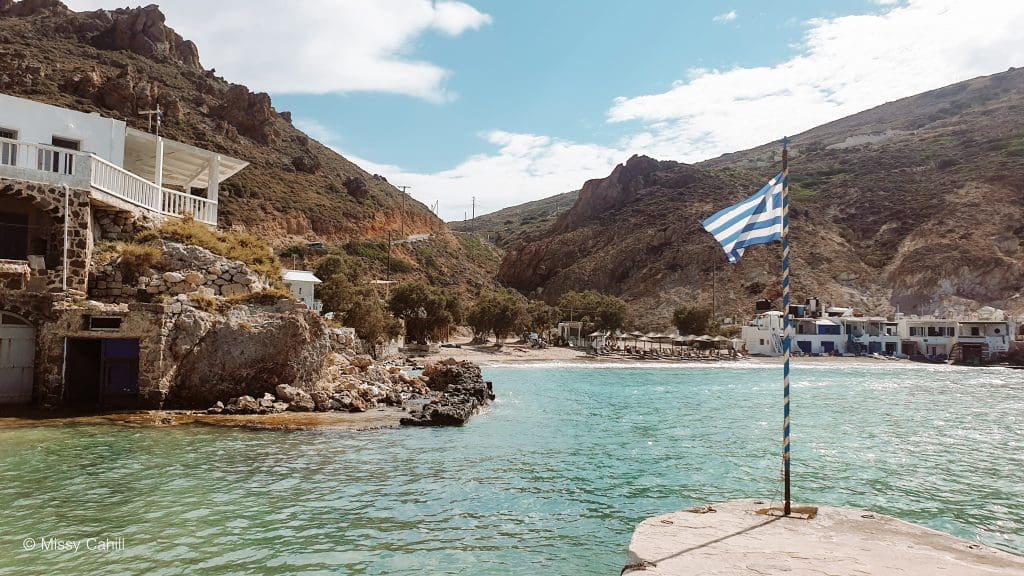 As you descend the road to Firopotamos, around halfway down is a sharp left-hand turn that will bring you directly to Firopotamos beach. Here you will find shelter under a few sparse trees as well as a small beach bar that serves food and has a few sun loungers to rent.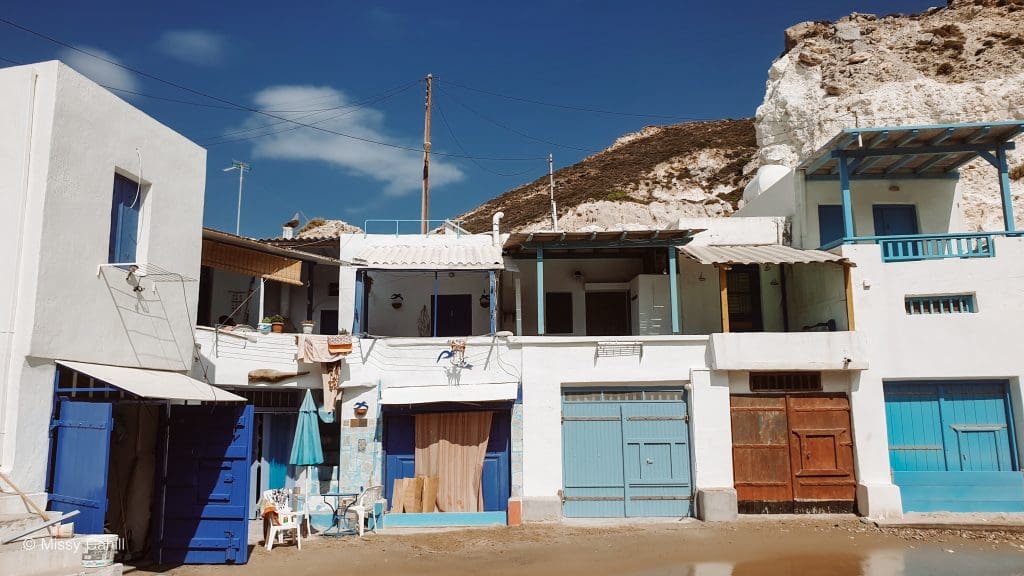 Firopotamos is an absolutely fabulous beach and those who make the trek will be rewarded with a sheltered bay and unforgettable views. The beach is blessed with hardly any wind unlike other parts of the Milos Islands' beaches.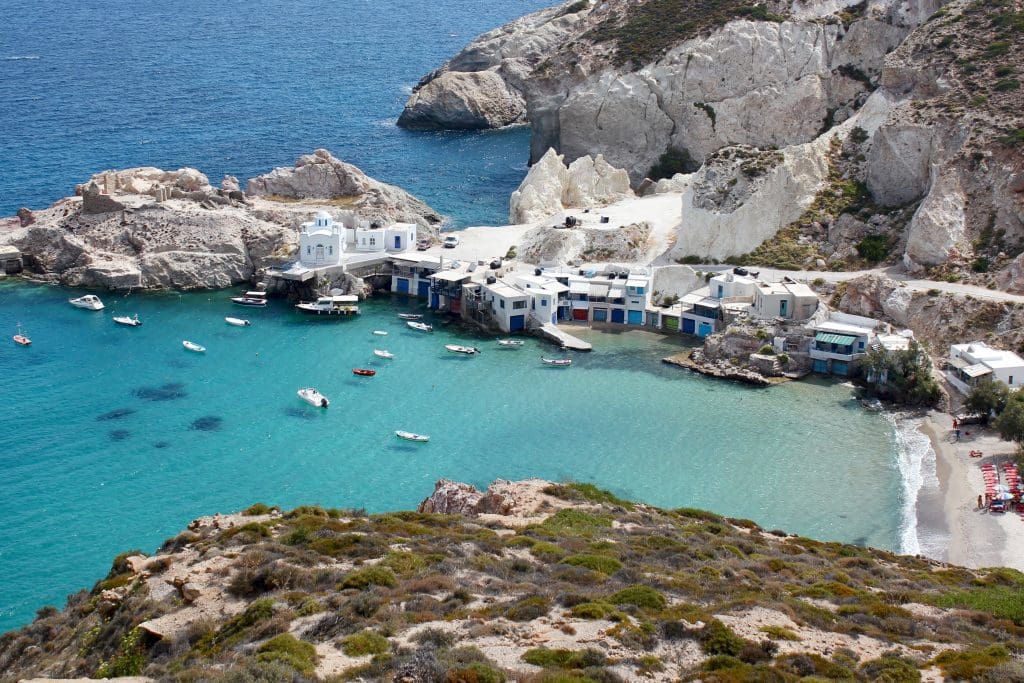 There are a small number of places to rent or stay in at Firopotamos Beach, Blue Mare Apartments is a former fisherman hut that has been updated and now offers some of the most incredible accommodation choices on Firopotamos Beach.
You can open your front door and instantly be on the beach or fall asleep to the sounds of the waves. Absolute bliss.
3. Mandrakia Beach
Another picturesque fishing village, Mandrakia Beach is popular for its adorable and pretty fishing huts as well as the superb seafood restaurant Medusa.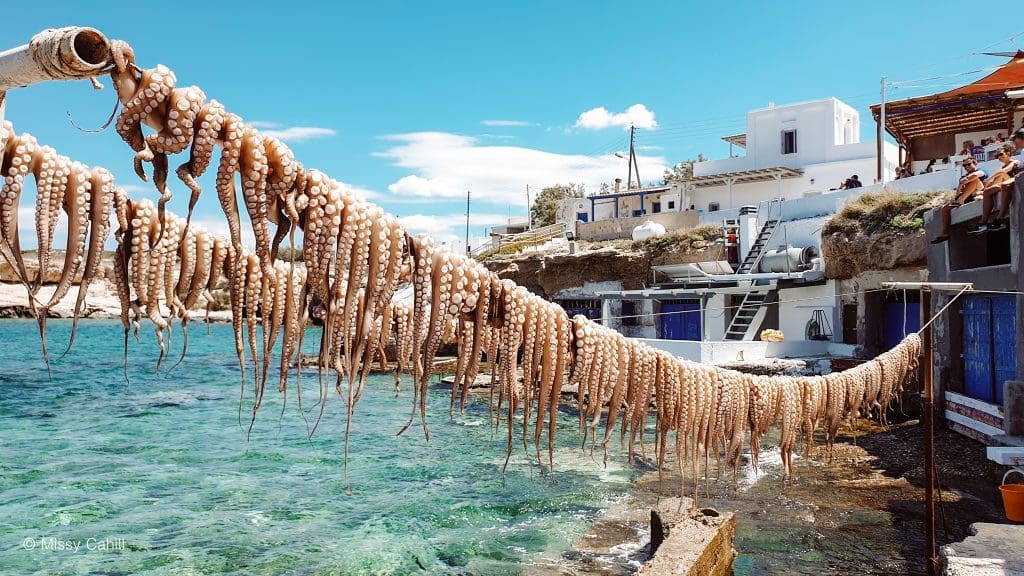 Mandrakia Beach is more of an inlet with rocks to bathe on and some of the clearest water tempting you for a swim. Mandrakia is of the prettiest places to stay on Milos for seclusion, out-of-this-world scenery, and a great taverna serving some of the best food on the entire island.
In fact, you can spot the octopus drying on lines around the small village that will be used in dishes served in the Medusa Taverna. The restaurant has tables directly on the water and the food is delightful. Visiting Mandrakia Beach and village for one of the prettiest settings in Milos.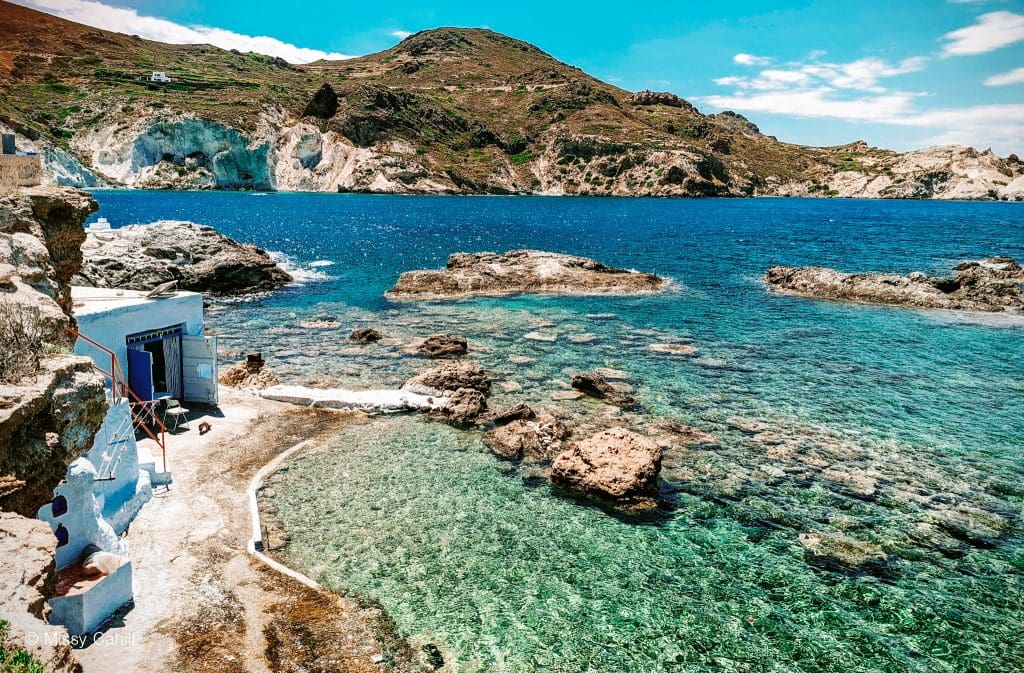 For a better beach experience, park your vehicle in the Mandrakia car park and walk back up the hill for 100 meters. You will find a small pathway that leads down a steep incline to one of the most private beaches in Milos, Tourkothalassa Beach.
You can easily enjoy this beach to yourself and when the wind blows from the north, you'll find surfers on the waves. There are no facilities on Tourkothalassa Beach.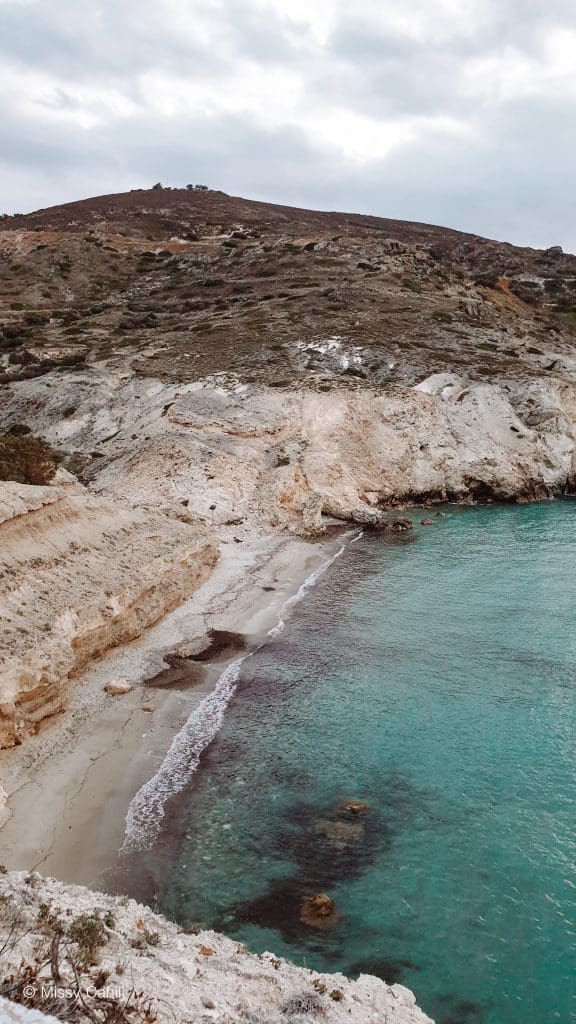 Head past Medusa restaurant to find a small stone cove that provides direct access to the crystal waters. Geraniá Beach is hidden away and those who do find this small concealed gem will be rewarded with a sheltered cove and trees for shade. You may have to share with a small army of cats.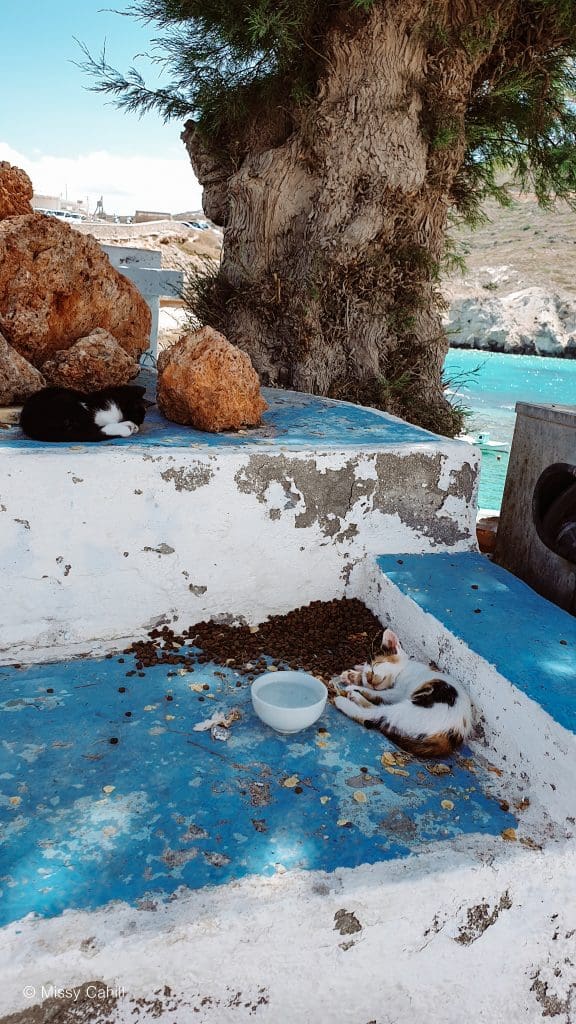 4. Paleochori Beach
At the core of who I am when I travel to places that have nice beaches is someone who loves comfort. I love nothing more than a sun lounger, umbrella, clear seas, and someone bringing me a cool beverage every couple of hours. I can't help it! I just love a beach club. And Paleochori has some of the best beach clubs in Milos.
With two fantastic beach clubs, Sirocco and Aqua Loca you can spend your day at Paleochori Beach sunbathing and drinking cocktails from the comfiest sun loungers.
Prices at Aqua Loca are €20 for two sun loungers and an umbrella. You can also choose a bean bag lounger under a canopy for €40 which also looked quite lovely.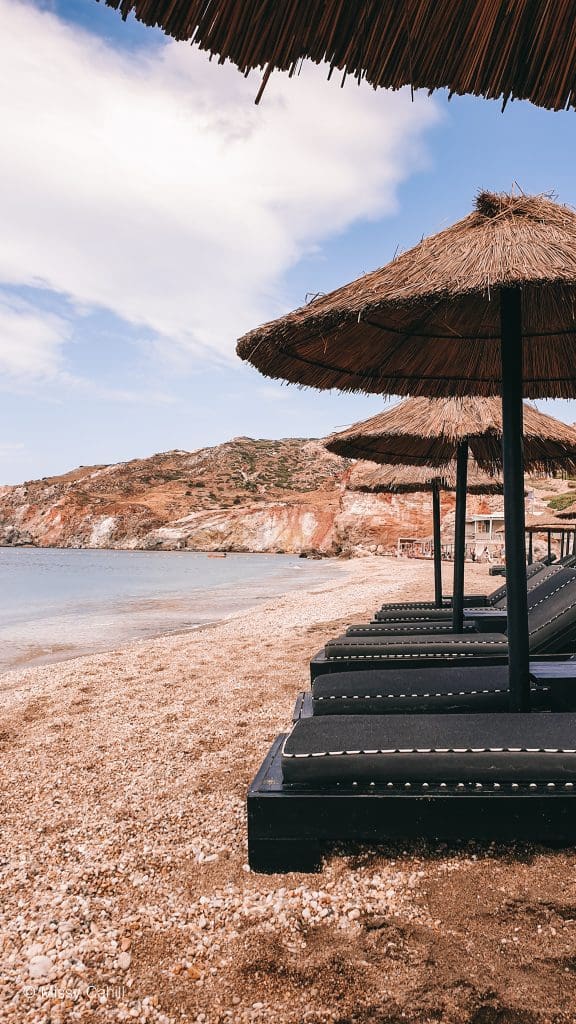 Aqua Loca was having its final touches still being applied when we visited as it is part of the new 4-star hotel, Artemis Deluxe Rooms. It is an absolutely beautiful beach club that feels a lot more high-end than its price would lead you to believe.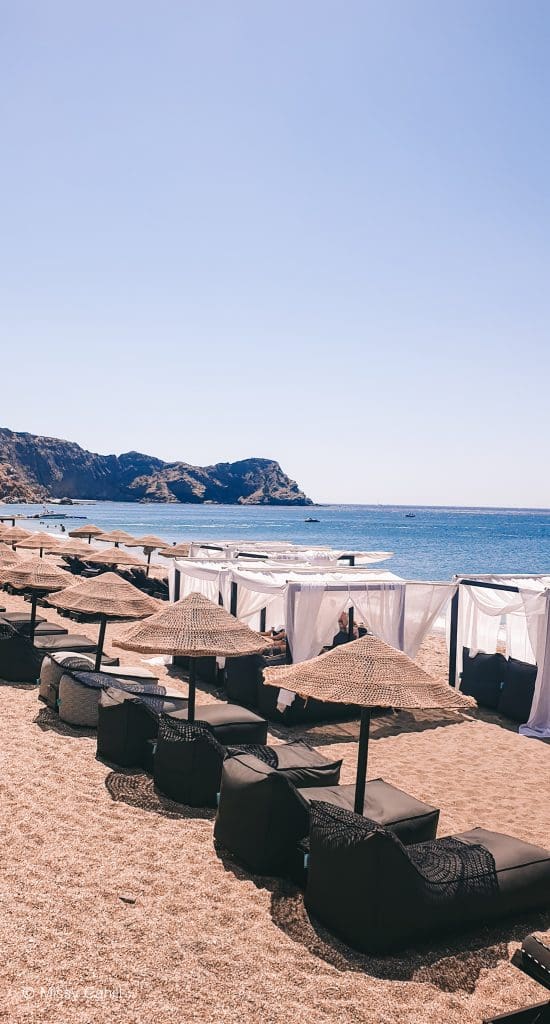 Sirocco is an equally popular beach club in Milos that is well known for its unique cooking methods and restaurant. The volcanic sand is used to cook dishes, and every so often you'll see someone with a rake digging up or covering someone's lunch.
Also available is a masseuse and massage station that looked incredibly inviting. And after you've eaten some of the delicious seafood on offer in Sirocco, and had a nap on the beach, it's time to purchase an item from the fantastic boutique.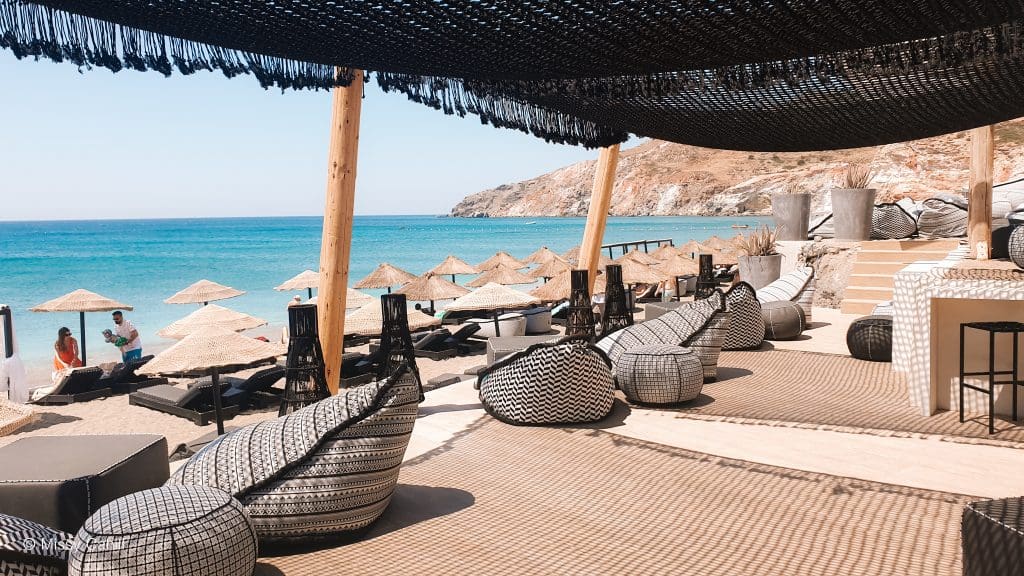 Paleochori is a superb beach for anyone who wants to be pampered, and if that's not your style then there are sections of the beach where you can avoid that. The beach is semi-sandy and mostly stone. The water color and visibility were incredible and there were many people snorkeling.
5. Agia Kiriaki Beach
Although the crowds never reach the volumes of other neighboring Greek islands, sometimes Milos' Beaches can feel quite busy. If you want to escape the crowds head to the beaches in the south of Milos to get away from the crowds and experience sheltered bays and pebble beaches.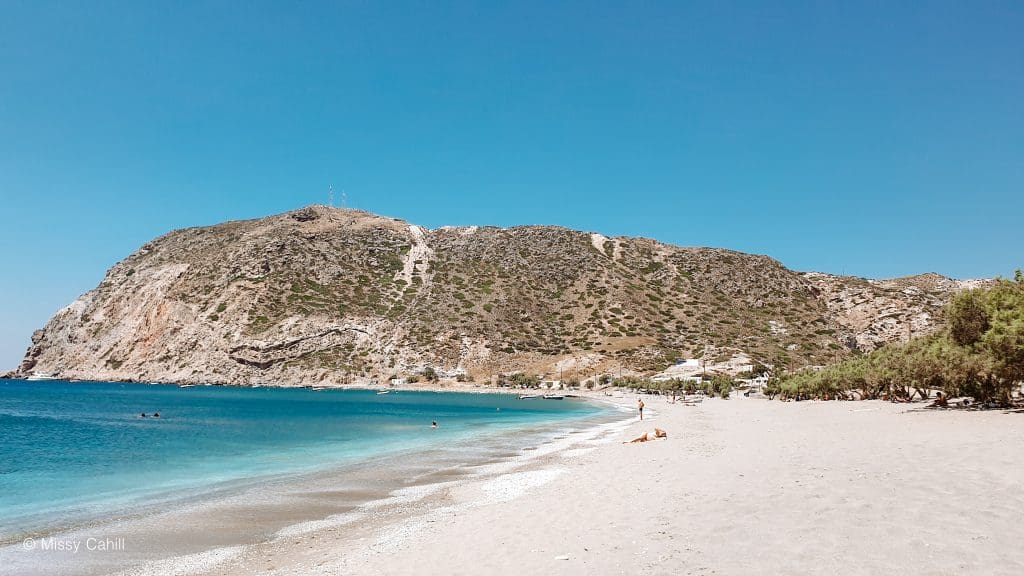 Agia Kiriaki Beach is a lovely large sandy beach with clear shallow water. This is a beach to consider for days when the wind is blowing in the north of the island. There are sun loungers and umbrellas available and a few trees provide shade.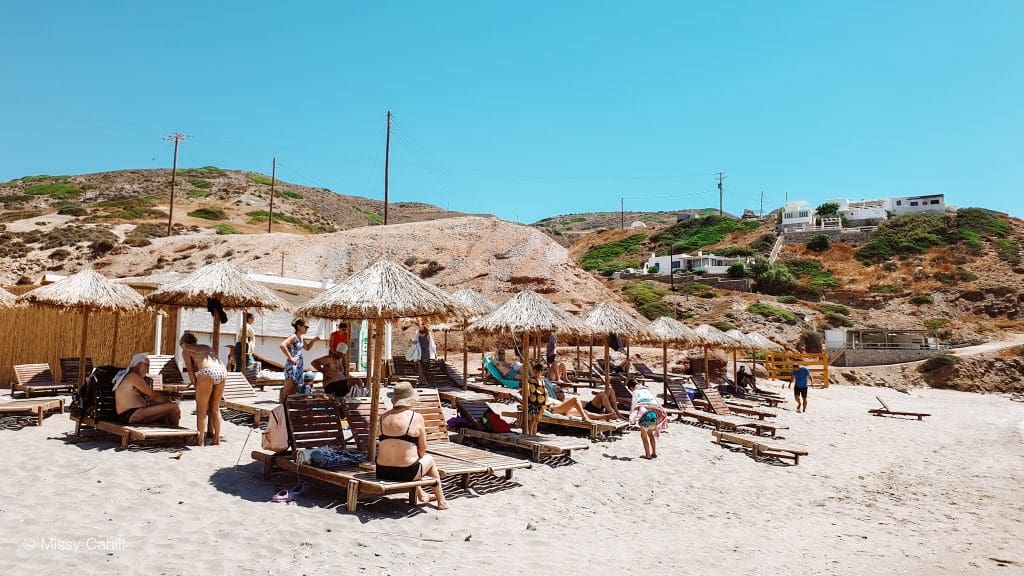 A small taverna, Thalassopetra Tavern serves lunch that can be hit or miss depending on how busy it is. There are two tavernas on the hill that overlook the beach that has fantastic views and great seafood as well as popular Greek dishes.
6. Gerakas Beach
One of the best Milos Beaches, Gerakas Beach, is only accessible by boat. The water here is out aquamarine and so inviting it's hard to refuse an invite into this incredible water. The good thing about Gerakas Beach is that you don't have to be the owner of a superyacht to visit one of the best beaches in Milos. An organized tour is the best and easiest way to experience paradise.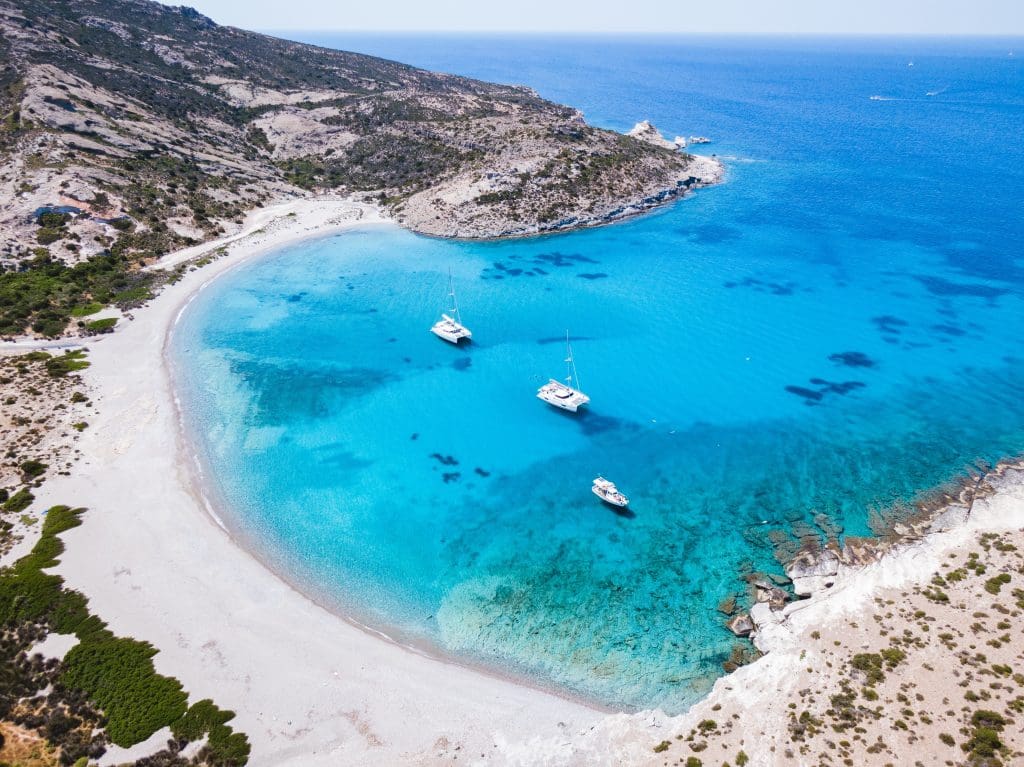 7. Tsigrado Beach
Aside from Sarakiniko Beach, Tsigrado Beach is probably the second most famous of Milos beaches. The reason for its popularity is the novel way to access the beach. This is a beach not for the faint of heart, as the only way to access it from the land is by a ladder.
A very rickety ladder is tucked into the edge of a cliff. Adventure seekers and those seeking something out of the ordinary will love Tsigrado Beach.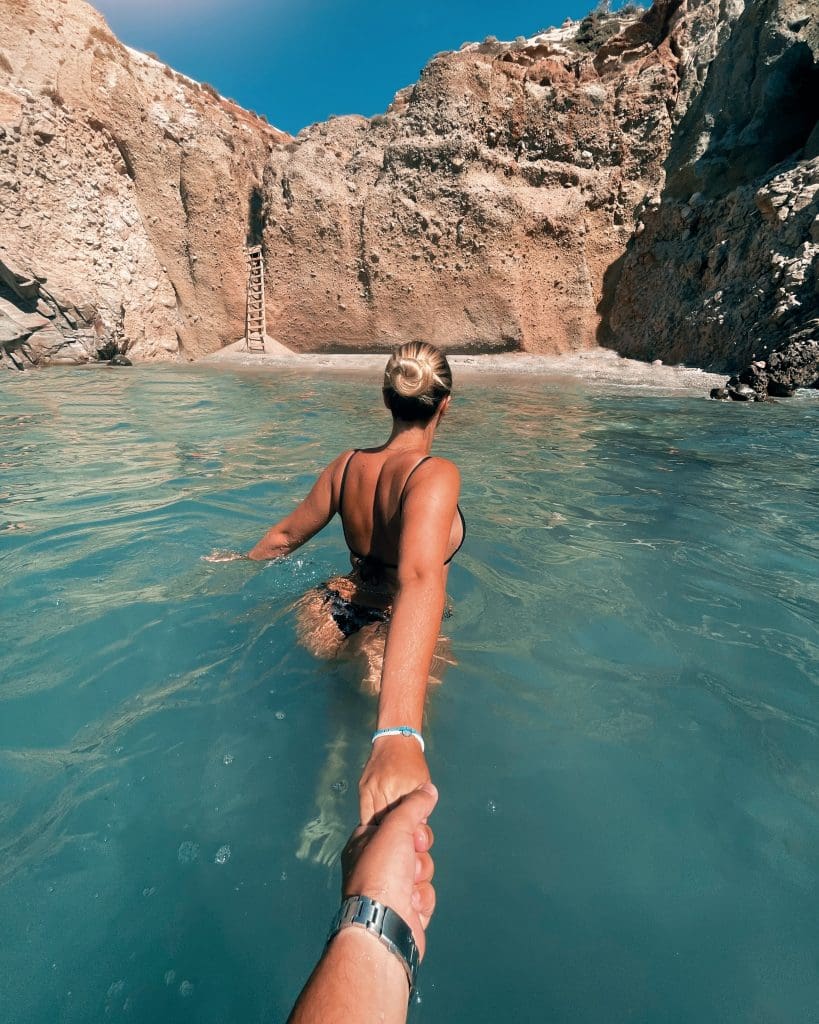 Due to its difficulty and completely novel approach, Tsigrado Beach is now an extremely busy beach to visit during the high season and is best done via an organized tour by boat. Arriving by boat in the beautiful sheltered cove means you don't need to climb the crazy ladder up a cliff.
To get to Tsigrado Beach, follow the signs for Fyriplaka Beach and as you make your approach you'll see a sign to follow to access the dirt road that leads to Tsigrado Beach.
And did I mention the ropes you need to hold onto to access the tunnels that lead to the ladder? Tsigrado Beach is a lot of fun for the adventurous traveler who wants to visit one of the most secluded Milos beaches.
8. Fyriplaka Beach
Phenomenal Fyriplaka Beach is the type of beach that you've been searching for on your travels around Greece. The color of water brilliantly glimmers here thanks to the white hills that surround Fyriplaka beach.
As you approach Fyriplaka you'll also see signs for the turn to Tsigrado Beach on the left (also if you've passed a large mine you're on the right path).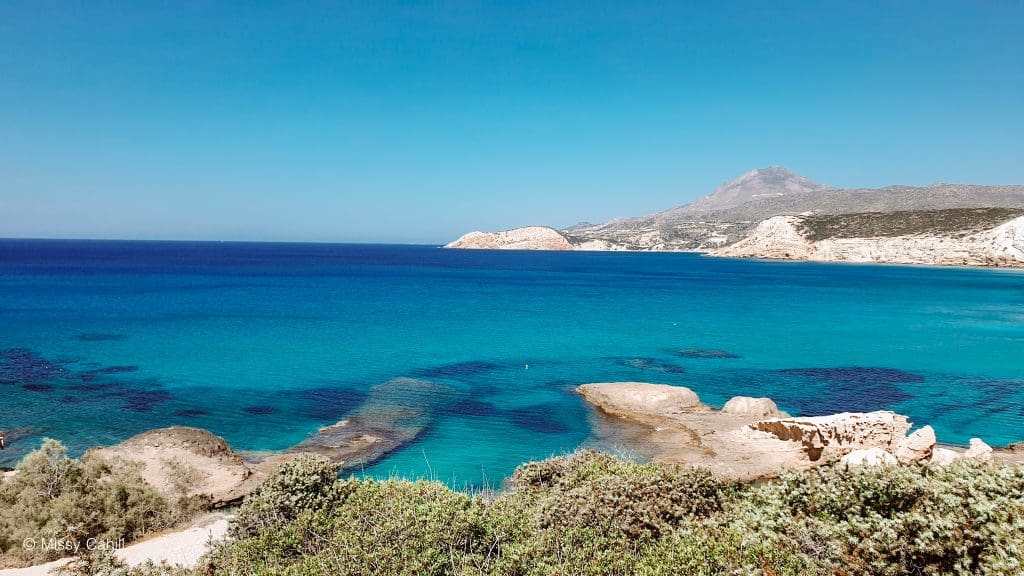 There is very limited parking at Fyriplaka Beach so plan to arrive very early to claim your parking space if coming by car. The road is not paved and has loose gravel and chippings, so take the drive down to the parking as slowly as possible if on an ATV or Scooter.
A small sliver of a beach, Fyriplaka Beach is perfect for travelers who want to indulge in some watersports such as kayaking. You can kayak on your own or join an organized tour through Milos Water Sports, which makes visiting Tsigrado Beach & Gerakas Beach easy to access. Stand-up Paddleboards are also available to rent too.
There is a small restaurant that serves food and has sun loungers and umbrellas available to rent. Further down Fyriplaka Beach, there is a nudist section.
9. Provatas Beach Milos
Easily my favorite beach on Milos, Provatas is delightful for anyone looking for a sandy beach. With a great selection of sun loungers and umbrellas, there is ample space available for towels. Provatas Beach is easy to access by rental vehicle or by local bus.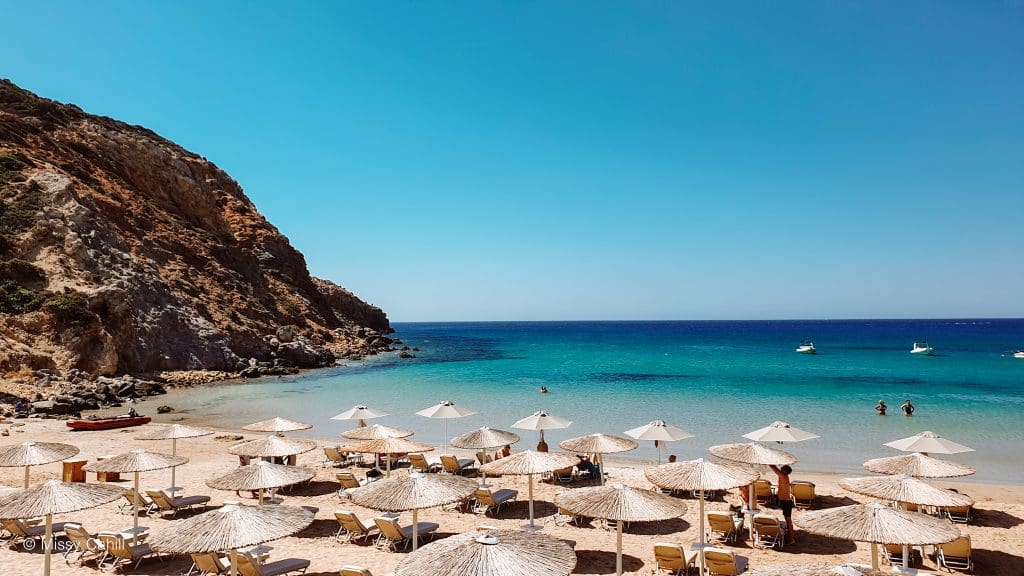 There is very limited parking at Provatas Beach, so plan on arriving before 11 am in order to secure a parking space. We ended up parking in Golden Mile Hotel which I'm fairly sure is reserved for hotel guests only, oopsie!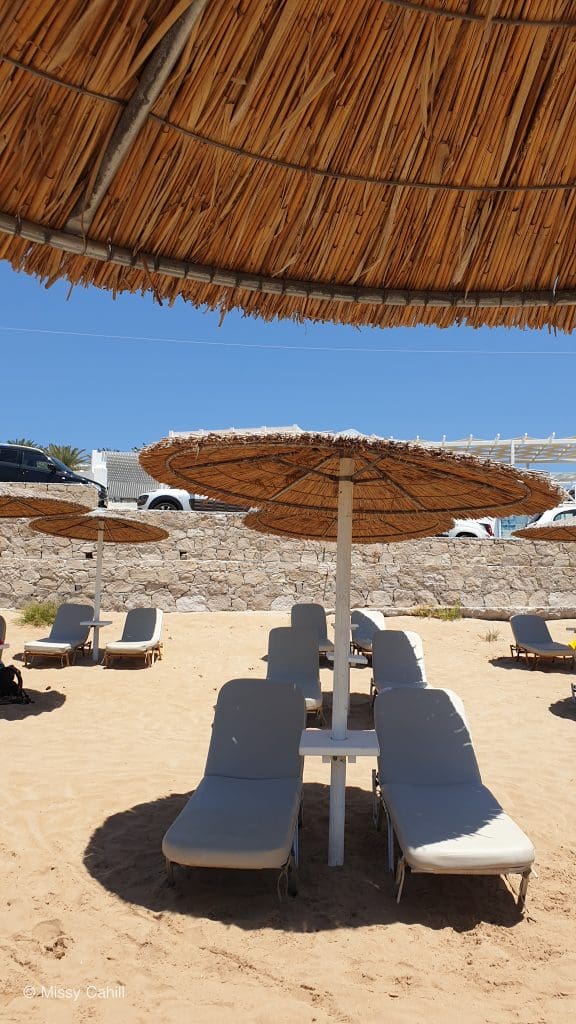 The sun loungers that are available to rent on Provatas Beach are some of the more expensive beds on the island and cost €25 for two sun loungers and an umbrella. There is table service and a limited menu of drinks and bar snacks. Credit cards and debit cards are accepted for beach payments.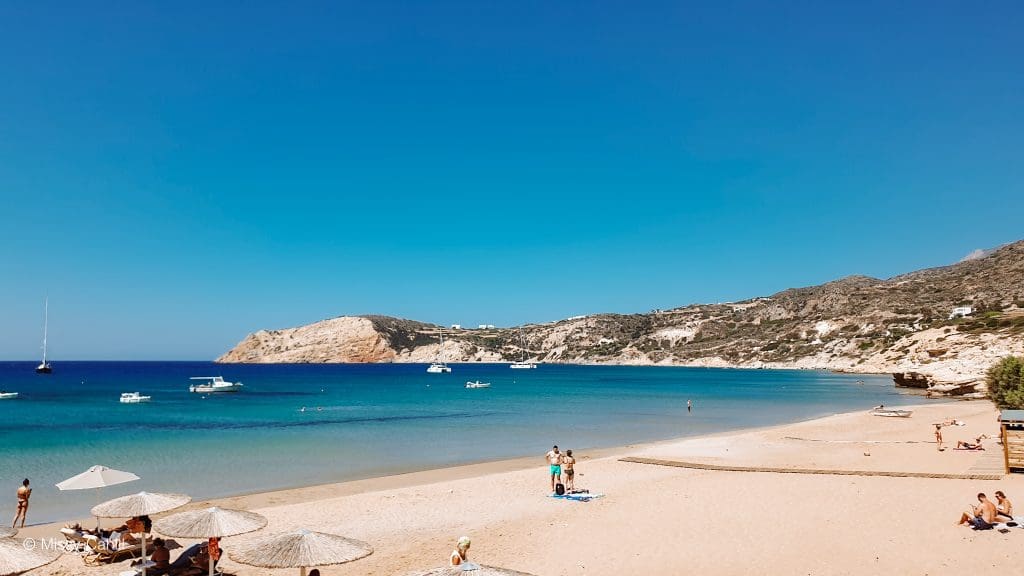 Golden Milos Beach Bar is a nice place to grab a drink and do some people-watching. The Bar is slightly elevated and gives a great view over the beach. Make sure to grab lunch in Muses Taverna and enjoy the fresh ingredients and stunning view.
10. Papafragas
Similar to Sarakiniko Beach, Papafragas is a series of caves that were formed during volcanic activity on the island millions of years ago. One of the best things about the Papafragas Caves is the ability to wander around the coves and explore some of the accessible sea caves and beaches hidden amongst the rocks.
Papafragas is for the more adventurous explorer who like a challenge when finding the perfect place to swim and sunbathe.
The water can be littered with trash depending on the tide and the small access to the beach means that it can get extremely busy. Prepare for an early morning visit to have it entirely to yourself.
Where is Papafragas Beach?
You can find Papafragas Beach on Milos' Northern coast, less than 15km from Adamantas and 2.2km from Pollonia. There is no parking available, so you'll need to find a stretch of the road to park your vehicle on.
We saw numerous people walking from Pollonia to Papafragas Beach. Just make sure that you walk against the flow of traffic when walking on the road.
11. Pollonia Beach
Pollonia is the second largest town on Milos and is perhaps its most charming. Whilst Pollonia Beach is nothing spectacular it is still quite charming and is a reflection of the quaint town of Pollonia. The sandy beach has a beautiful backdrop of white Greek buildings and has lots of shade from the trees that line the beach.
One of the great joys of visiting Pollonia is the abundance of tavernas that are a short walk from the beach. With lots to select from, Pollonia is a superb beach for people who want ambiance, excellent food, and shelter.
Where is Pollonia Beach?
Located 9km from Adamantas, Pollonia Beach is the 2nd largest town on Milos. Located in the North East of the country the beach faces the island of Kimolos, from which you can catch a ferry to the port of Pollonia.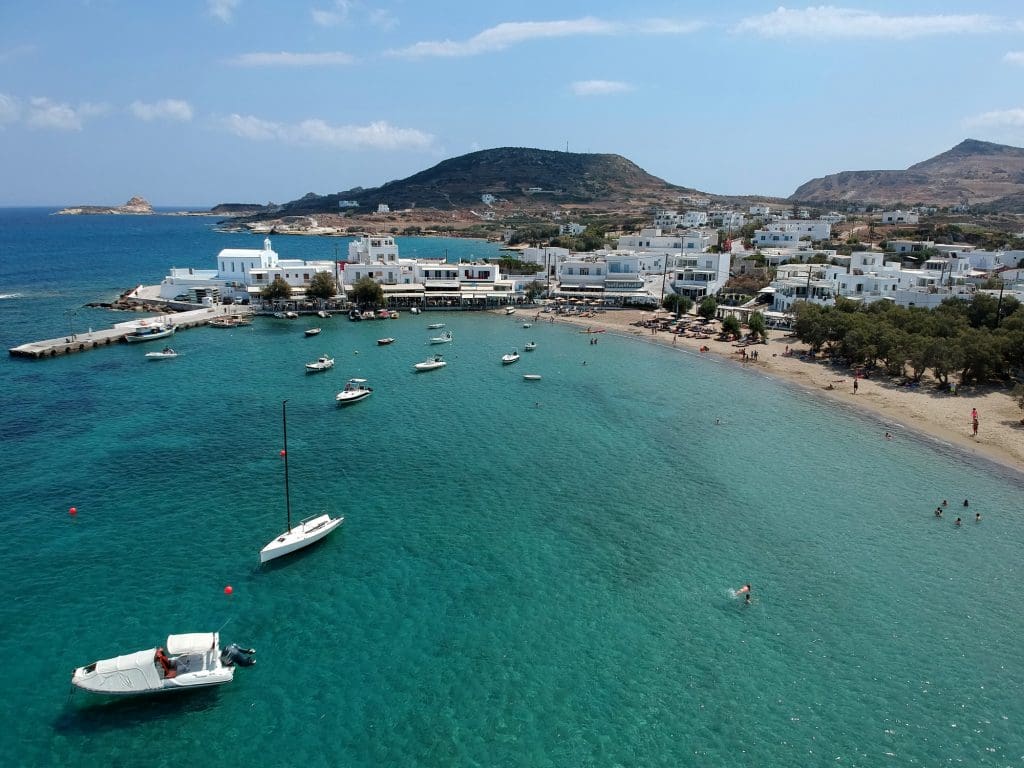 12. Thiorichia Beach
A former sulfur mine, nowadays Thiorichia Beach is a ghost town that is a thriving beach with an eerie backdrop. It's one of the most unusual beaches in Milos and for that reason alone it's worth visiting.
You can still locate sulfur strewn around, as well as abandoned equipment that has been left to rust. You can drive your car pretty much all the way down to the beach.
Sadly we didn't get to experience this beach in person as the car we rented was not allowed in this area of Milos. This is something to think about when renting a car or dependent on the agency itself. ATVs can access Thiorichia Beach as well as 4x4s.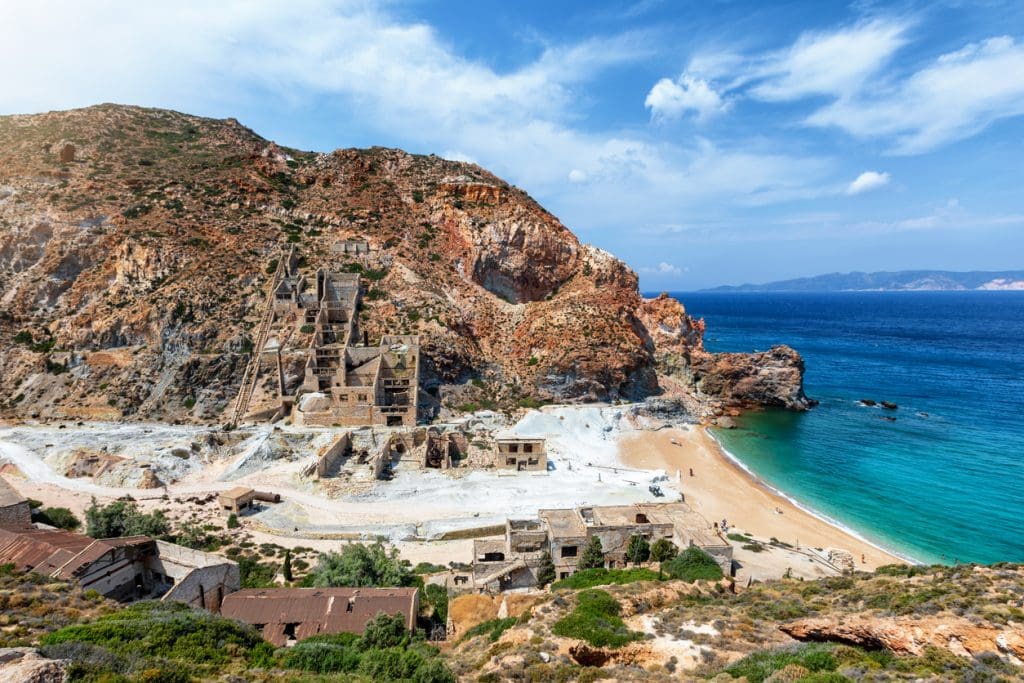 13. Plathiena Beach
Plathiena Beach is a sandy beach that is sheltered by the large cliffs that loom overhead. There is a small taverna that serves locally caught produce and is a great place to grab a sunset cocktail.
There is car parking directly in front of the beach and you'll find the Plathiena Foodies Beach Bar beside the car park. During the busier months expect to arrive before 12 pm if you have a car to ensure a space.
Plathiena Bech is a super place to watch an infamous Greek sunset.
Does Milos have Sandy Beaches?
Milos has sandy beaches that are spread out across the island. The most popular sandy beaches are Pollonia Beach, Provatas Beach, and Plathiena Beach which are accessible by land. The best beach that is only accessible by boat and is probably the prettiest of all the Milos beaches is Gerakas Beach.
Does Milos have nice beaches?
Milos has lots of nice beaches, and the great thing about Milos Beaches is how unique each one is. You can find beaches that are only accessible by ladder (Tsigrado Beach), or by boat (Gerakas Beach).
You can also find beaches in Milos that have incredible backdrops such as abandoned Sulfur Mines (Thiorichia Beach) and pretty fisherman huts (Firopotamos Beach). Milos has an incredible range of beaches that will delight the adventurous and those who seek a traditional beach.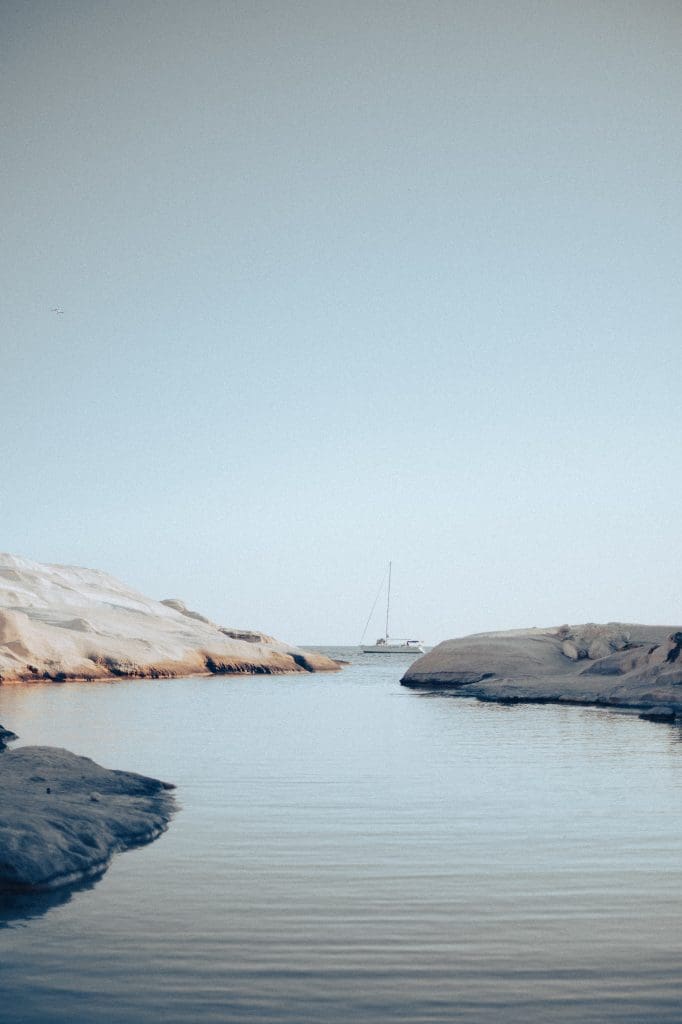 How to Get to Milos
Milos is well connected with an airport that has daily departures to Athens. During the high season, there are numerous flights throughout the day, and the journey takes less than an hour.
The most popular way of getting to Milos is by ferry. There are at least two ferries per day that connect Athens with Milos. For more information read my guide on how to get to Milos below.

Read more: How to get to Milos Greece in 2023 – Ferries & Flights
Getting Around Milos
If arriving from the airport you can either get a taxi to your accommodation on the island or rent a vehicle from the rental agencies at the airport. There are limited taxis available on Milos, so you may have to wait.
There is also a bus service around the island, with buses departing from the Adamas to other popular parts of the island. Bus tickets are cheap.
Car Rental Milos Greece
Renting your own vehicle, car or scooter is a great idea for getting around the island of Milos. There are lots of beaches that require a vehicle to get to, and rental options are relatively cheap on the island.
Your accommodation can usually provide you with local companies that can deliver scooters, ATVs, and cars to your hotel. If you want to hire your car in advance and get the best rate, consider car hire with RentalCars for the best rates and availability.