How Expensive is Mykonos in 2024?
The Greek island of Mykonos has been luring travelers and A-List Celebrities to its shores since the 1980s. Nowadays Mykonos is the ultimate party experience in Greece and rivals prices in Ibiza and Dubai for its extravagant hotels, beach clubs, and restaurants.
A question frequently asked when discussing the party island is, Is Mykonos Expensive?
The answer can go two ways. If you are visiting Mykonos to experience everything the island has to offer, from the flashy late lunches in Nimmos and after parties in Scorpios, then you're going to find a hole burning rapidly through your credit card.
Those who come to party and enjoy the ultimate Mykonos experience will find that it can get really expensive rather quickly. And to that answer, is Mykonos expensive? Absolutely.
Why is Mykonos so expensive?
Mykonos has long been one of the most popular destinations in Greece for well over 30 years and seemingly increases in popularity every year. Each summer, Mykonos is flooded with superyachts, influencers, and mere mortals.
Mykonos started off as a tourist destination for hippies and archeological enthusiasts. The nearby island of Delos is one of the most famous islands in Greek Mythology and is the site of a number of ancient artifacts that have been uncovered over the past decades.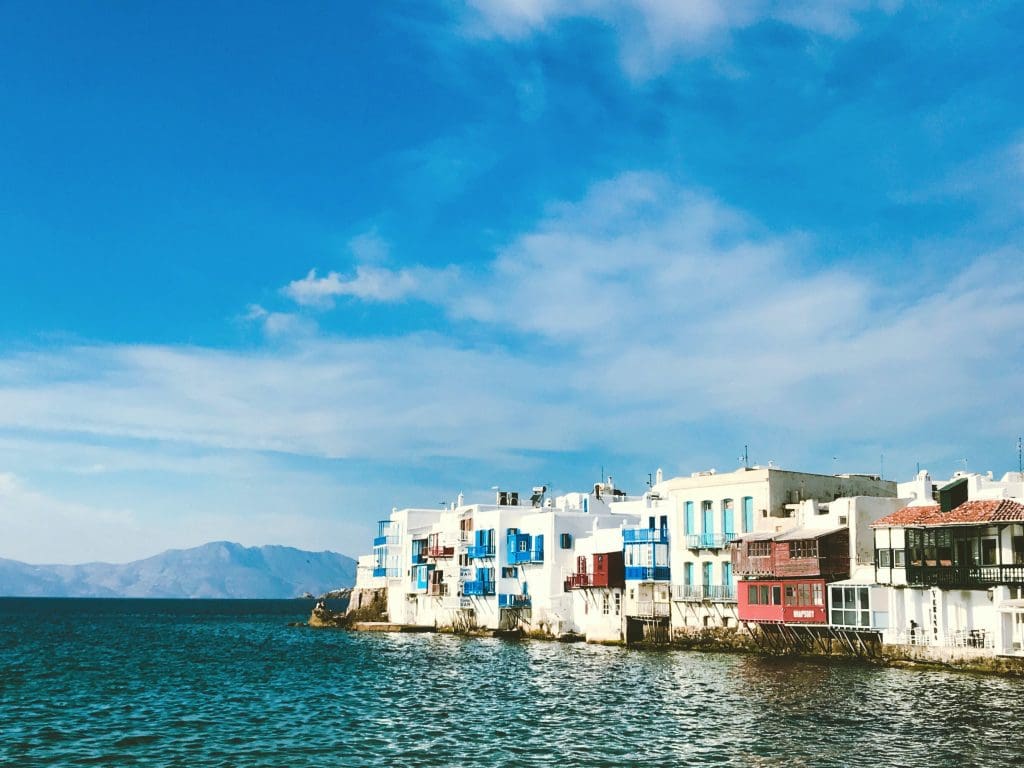 The island's popularity really soared when Jackie Onassis visited the island during the 70s, and put Mykonos on the global stage. Her infamy lives on in one of the best beach bars in Mykonos – Jackie O's, as well as the gay bar in Mykonos Town.
Hotels began to pop up at an incredibly fast rate and the number of 4 & 5-Star hotels began to climb. Mykonos attracted a clientele that had a lot of money to spare, and it also helped that the island was remarkably beautiful with wild open beaches and lots of empty space to develop properties.
How expensive is Mykonos?
Ok, so you want the entire Mykonos experience? From 5-star hotels, decadent restaurants, bars, and of course the infamous beach clubs in Mykonos during its busiest month – August.
I'll also show that it's totally possible to visit Mykonos on a budget too. You'll still have a fantastic time and be able to visit one of the most famous Greek islands during your Euro summer.
Mykonos on a Budget
Surprisingly there is a small collection of hostels and small hotels that cater to visitors who aren't willing to spend a month's salary on a single day in Scorpios (I'm one of those people).
Mykonos Budget Accommodation
MyCocoon Hostel – With dorm options and a few choices for Double Rooms for couples who want to save on costs, staying at MyCocoon Hostle is a great place to base your stay. It's also a short walk from Mykonos Old Port and Mykonos Town. During July & August, you can expect to pay €99 a night.
Hotel Milena – A visit to Hotel Milena off-season will leave your wallet feeling happy, and with more spending on activities to do elsewhere. Rooms in May start from €51 and start to increase in July & August.
Like anywhere else, you can forgo the extra costs in Mykonos and still have a wonderful time without breaking the bank. Mykonos has plenty of affordable accommodations, and cheaper dining options and doesn't require you to take out a small loan to enjoy the best party island in the Aegean Sea.
Best Time to visit Mykonos on a budget
Visiting the island in the off-season is one of the best ways to avail of cheaper accommodation and fewer crowds. Avoid peak travel months like July & August as prices across the island soar and if you're trying to budget a trip to Mykonos it'll be extremely hard to do so during this period.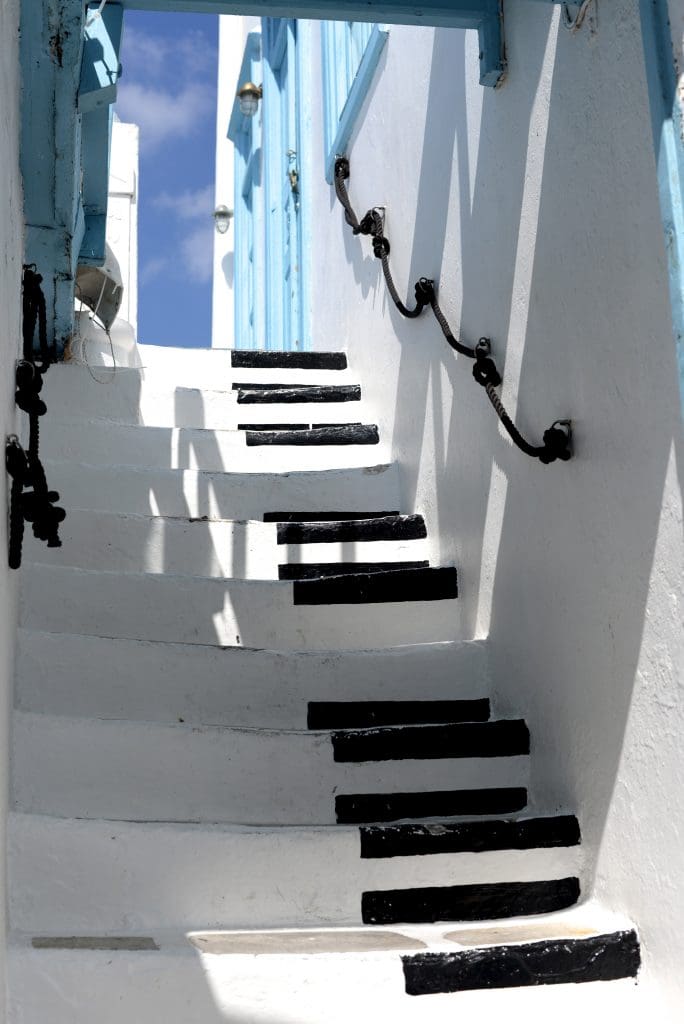 Mykonos all but shuts down between the months of November to March. May and October are better months to visit the island for cheaper hotel rates. You may not be guaranteed good weather, but you'll experience a different and less expensive side to Mykonos.
Exploring the island by local bus, and on foot are also ways of experiencing Mykonos on a budget. Mykonos town is wonderful to walk around and explore, as are the famous windmills that sit above the town.
The public beaches are completely free and you don't need to visit the expensive beach clubs in Mykonos to have a good time.
Mykonos – no expenses spared budget
Visiting Mykonos on a trip of a lifetime? Or got a promotion and that money is burning a hole in your bank account. No worries! You'll be able to live like a Queen/King in Mykonos if money is no object.
Mykonos Hotels
With a fabulous range of 5-star hotels, a stay in Cavo Tagoo starts at €1700 for a night in a premium room with a sea view. Cavo Tagoo is one of the most popular hotels on the island and its infinity pool is one of the most photographed hotels in Mykonos.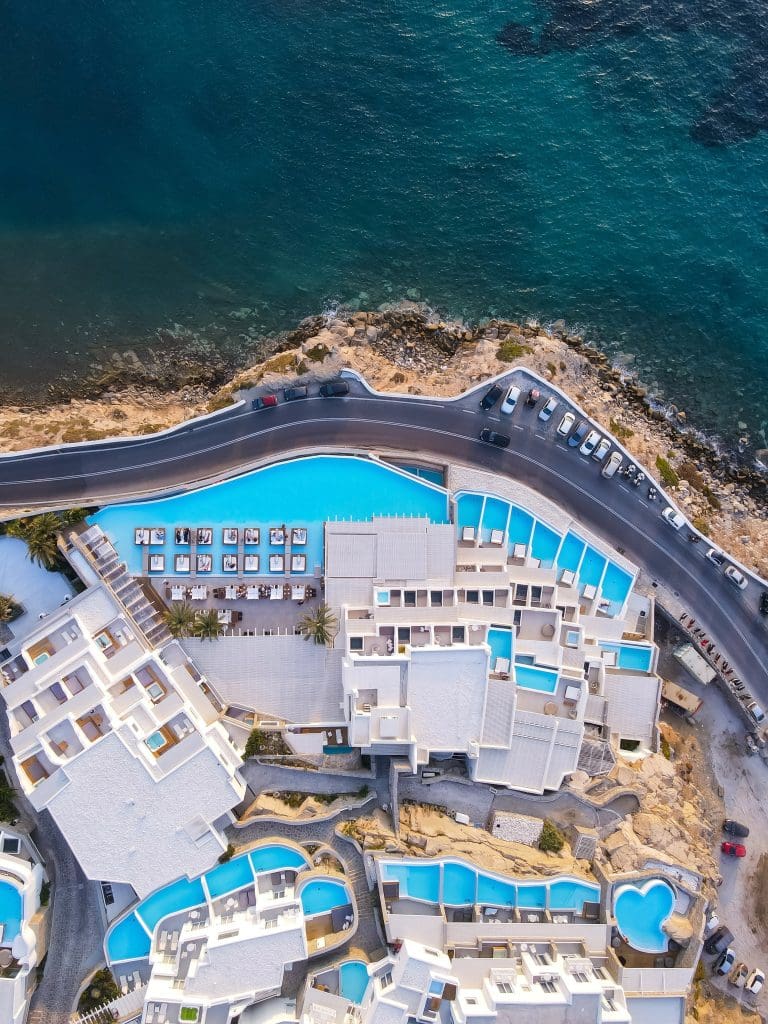 However, if you are willing to stay a little bit further out from Mykonos Town or just off the beach, you'll find much cheaper accommodation.
Prices can almost be 70% cheaper than those on the beach or in Mykonos Town.
Ftelia Bay Boutique Hotel // Hotel inland and only a 5-minute drive to Panormos Beach and Ftelia Beach – €300 per night.
Villa Varnali Small Boutique // Super location in the Mykonos Town for less than €200 a night. Includes small pool.
Lithos by Spyros & Flora // Listen to the sounds of the waves from your hotel room. Located only 100m from Agios Ioannis Beach and €250 per night.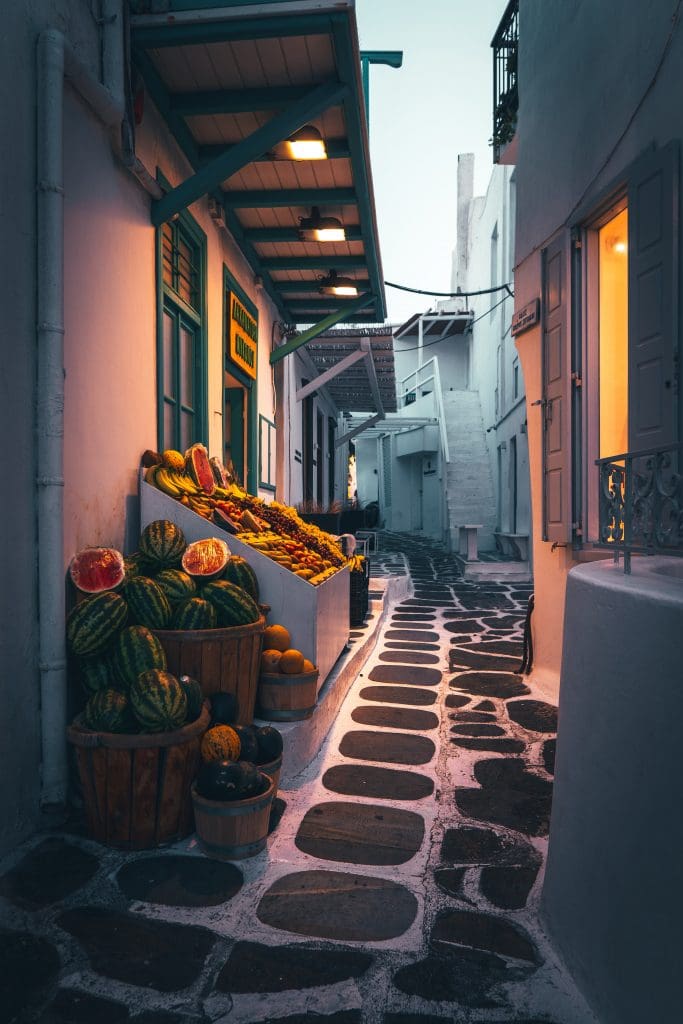 Is Mykonos expensive to eat and drink?
Compared to neighboring islands such as Paros or Naxos, then yes Mykonos is expensive to eat and drink. Prices for dining out in Mykonos can be comparable to London, and prices often exceed those of Ibiza.
Expect to spend €15 for a cocktail in an average bar. Prices for cocktails can inflate to well over €25 in Little Venice and some of the beach clubs.
If you're a beer drinker, you'll be relieved to learn that a typical Greek beer like Mythos will only set you back €7 – €9.
Dining in Mykonos can range from €100 in the beach clubs or in Mykonos town in some of the more popular restaurants.
However, if you are happy to grab a Gyros, you can dine out for less than €10.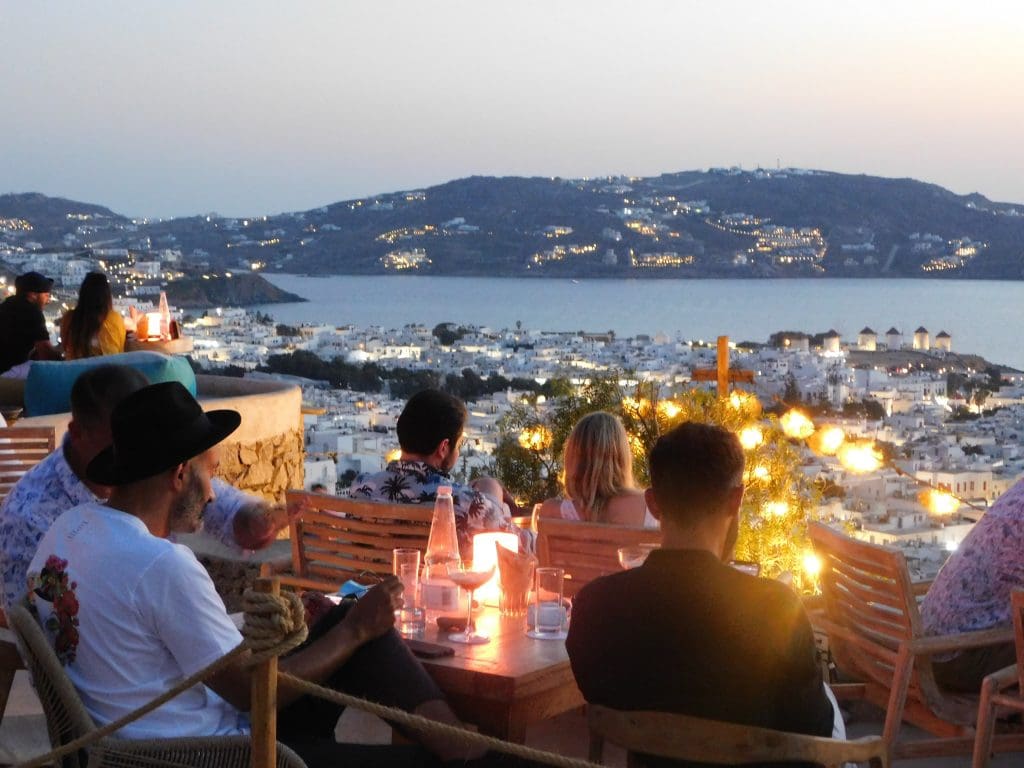 Mykonos beach prices
The beaches in Mykonos are all free. But there is a caveat to that, as the majority of the beaches in Mykonos have large sprawling beach clubs that tend to take over the entirety of the beach.
Paradise Beach is a prime example of one of the most popular beaches in Mykonos which is home to some of the most popular beach clubs on the island. There is a small section of the beach where you can lay down your towel for free.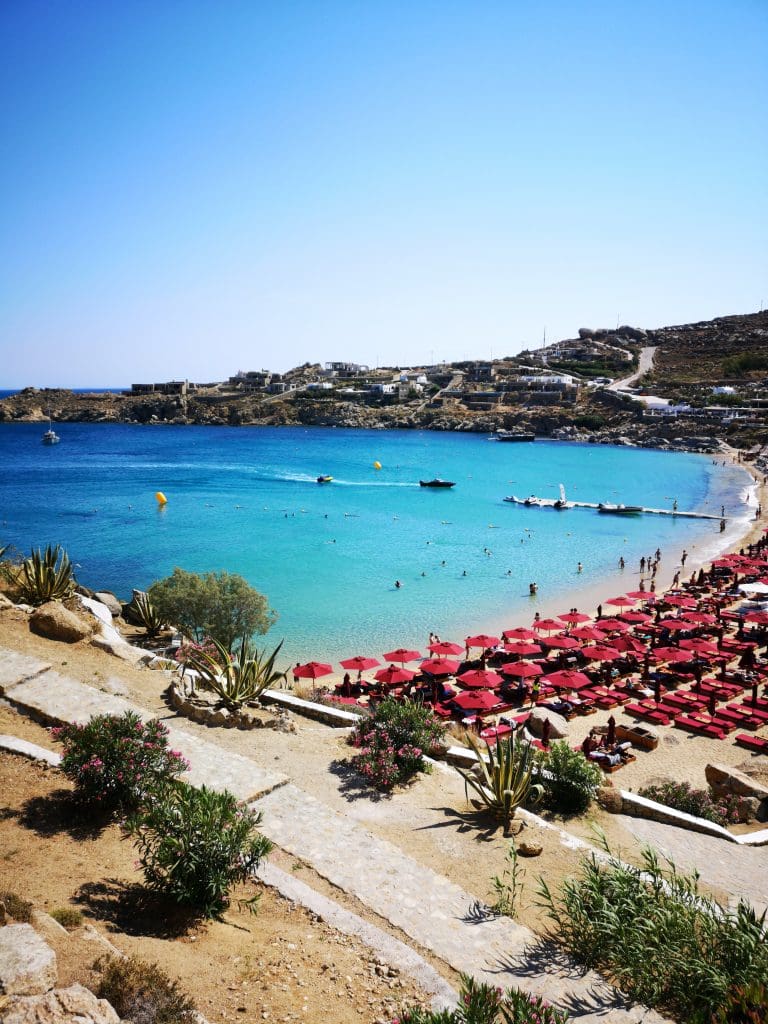 The beach clubs in Mykonos are one of the most enjoyable places to experience the true essence of what Mykonos has to offer.
Mykonos beach prices for a sun lounger can start from €50 for the day. Most places have a minimum spend requirement that can be between €70 – €150.
Check out my guide to the best beach clubs in Mykonos here.
Getting to Mykonos
Don't forget to factor in the cost of your airplane ticket to either Athens or Mykonos. There are only two islands in the Cyclades that have international flights, Santorini and Mykonos. 
For more information on getting from Santorini to Mykonos check out my post.
This means you can avoid getting the ferry from Athens, which can take several hours on the slow ferry, or just under 3 hours on the catamaran.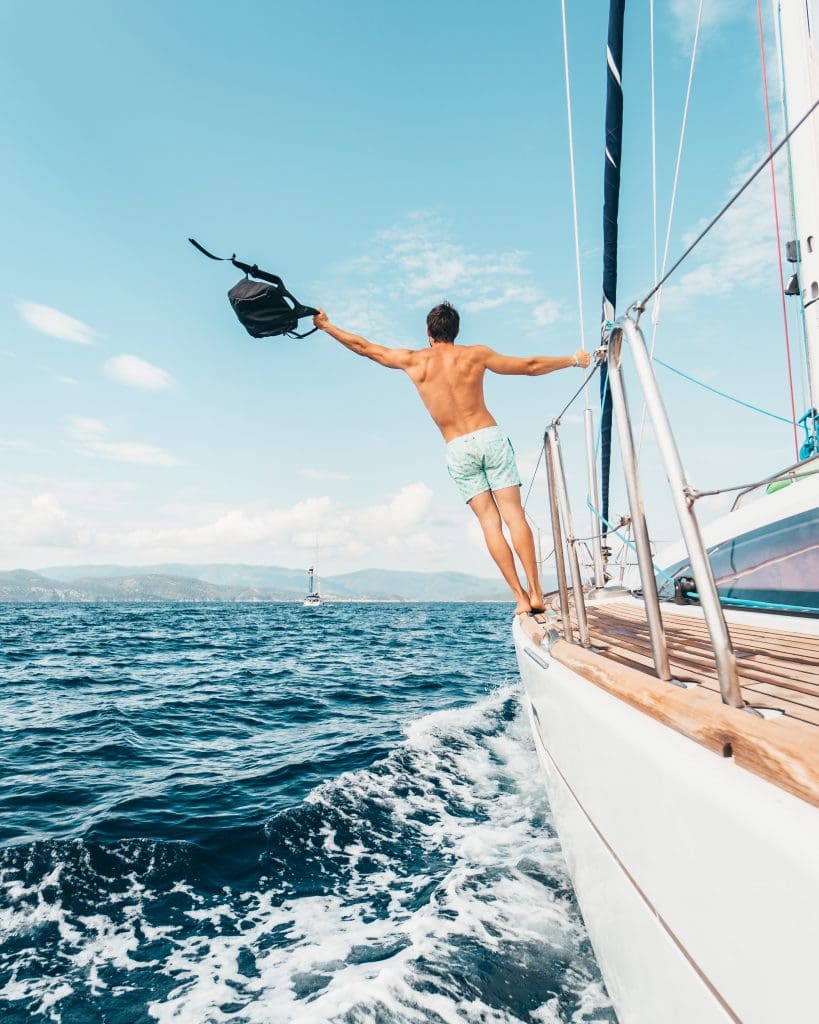 There are several low-cost airlines that fly from destinations around Europe directly into Mykonos. Ryanair and Vueling are some of the cheaper options for connecting mainland Europe with the Greek islands.
Is Mykonos more expensive than Santorini?
Comparing Mykonos and Santorini is like apples and oranges. Both are expensive, Santorini more so for its luxury hotels, whereas Mykonos has expensive restaurants, bars, and nightlife.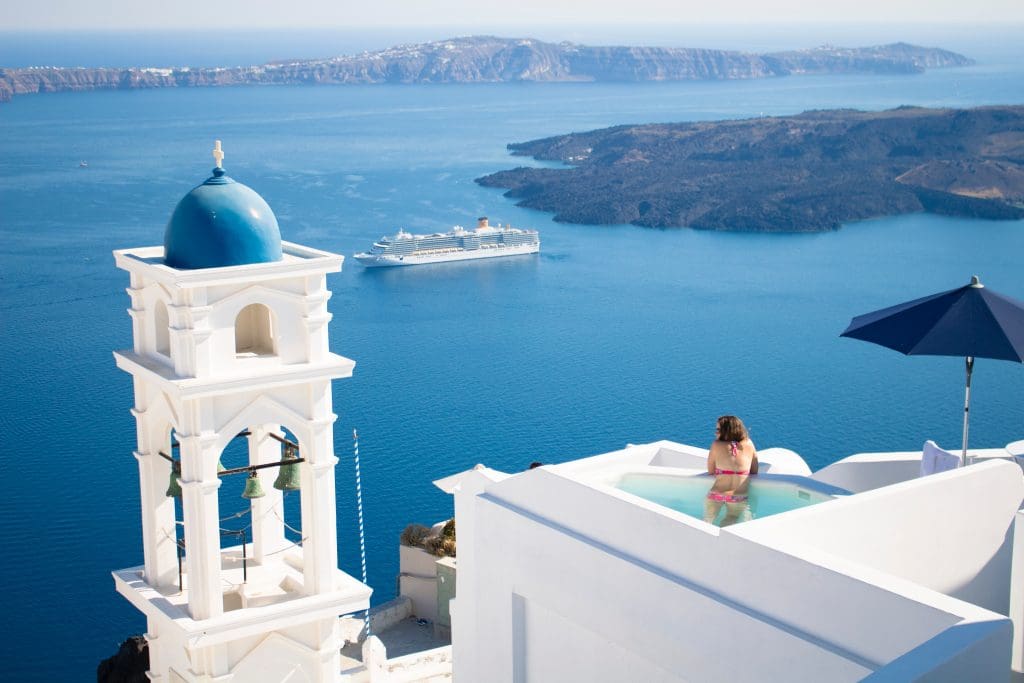 If you are after the ultimate Mykonos experience then Mykonos is probably more expensive than Santorini. However, it all varies on your budget, expectations, and activities you want to do.
What can be said for certain is that the prices on Mykonos and Santorini are two of the most expensive islands in Greece.
Conclusion
Mykonos can be as expensive as you want or as cheap as you like. It's one of the most decedent islands in Greece and for a price, you can enjoy your vacation like royalty.
If you are looking for cheaper places to visit in Greece, consider Paros or Milos as alternatives to Mykonos.