14 Unmissable Beach Clubs in Ibiza | Summer 2023
The island of Ibiza is famous around the world for its pulsating nightlife and vibrant parties that can be found all across the island. Anyone looking for the perfect place to enjoy the sunshine, world-class DJs, and some of the best beach clubs in the world head to Ibiza.
There are seemingly endless beach clubs in Ibiza to visit from the glamorous Blue Marlin Ibiza where you'll catch celebrities hanging out, to the most famous party, nightclub, and hotel – Ushuaïa.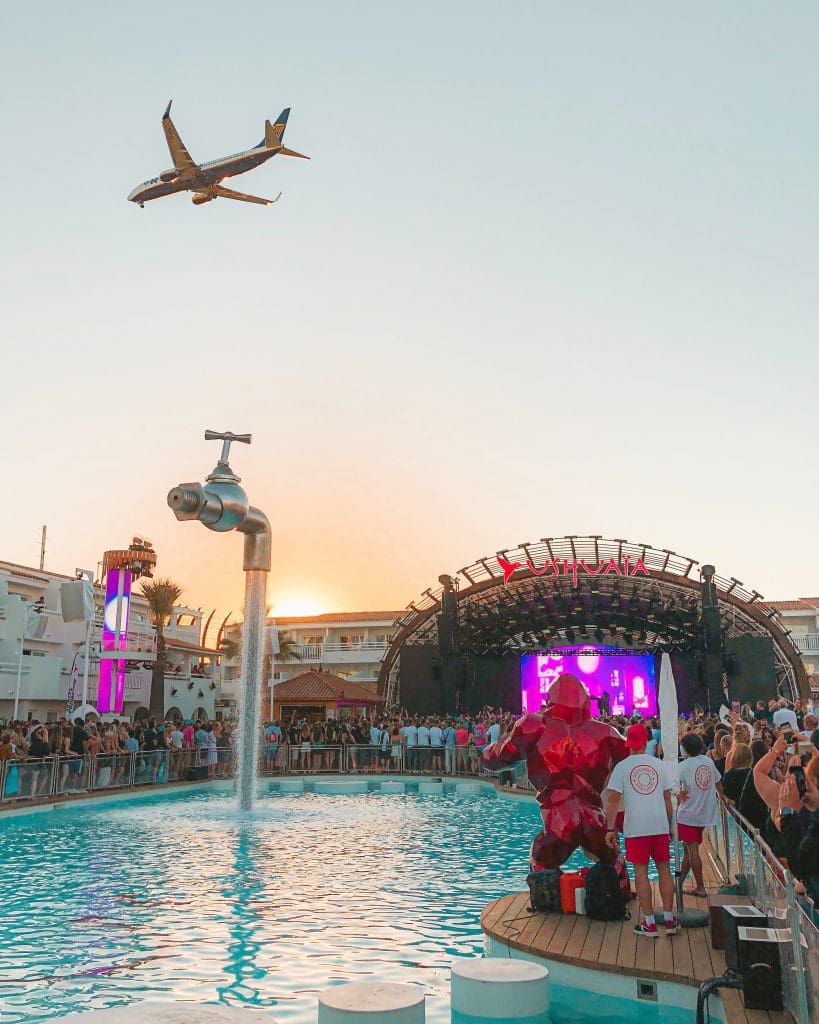 There are a superb mix of beach clubs in Ibiza that cater to all visitors. Whether you're looking for the best DJ set on the island, or fancy a more chilled-out beach club, there is something for everyone. It also helps that the island of Ibiza is extraordinarily pretty with stunning bays and beaches as well as quaint Spanish towns.
Top Tips for visiting the beach clubs in Ibiza
Visiting a beach club in Ibiza is one of the best ways to experience the island. But be prepared to spend quite a bit of money. A visit to any of the beach clubs in Ibiza can easily cost between €200 – €350 per person per day. Most of the beach clubs in Ibiza have a minimum spend requirement when visiting each place.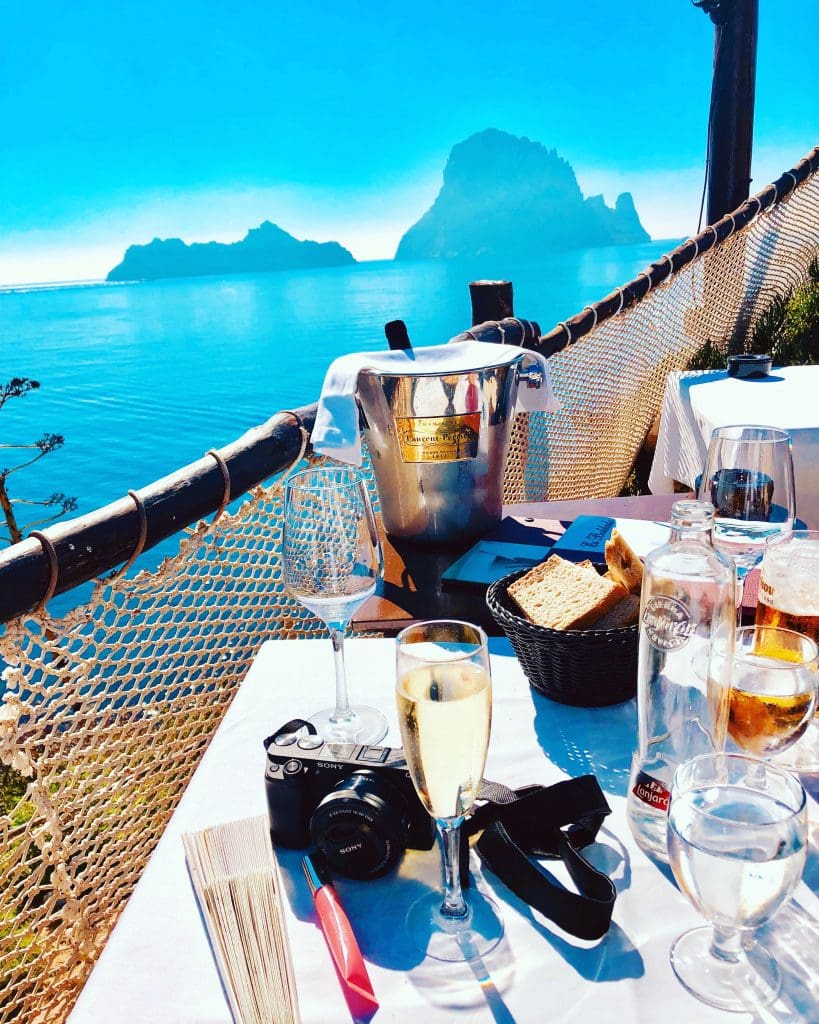 Book your sun loungers or beds months in advance. Because of Ibiza's popularity, the beach clubs in Ibiza are usually sold out months in advance. You can of course get last-minute bookings in a lot of places, but in order to avoid disappointment, advance planning does help.
Beach Clubs in Ibiza for Chilling & Relaxing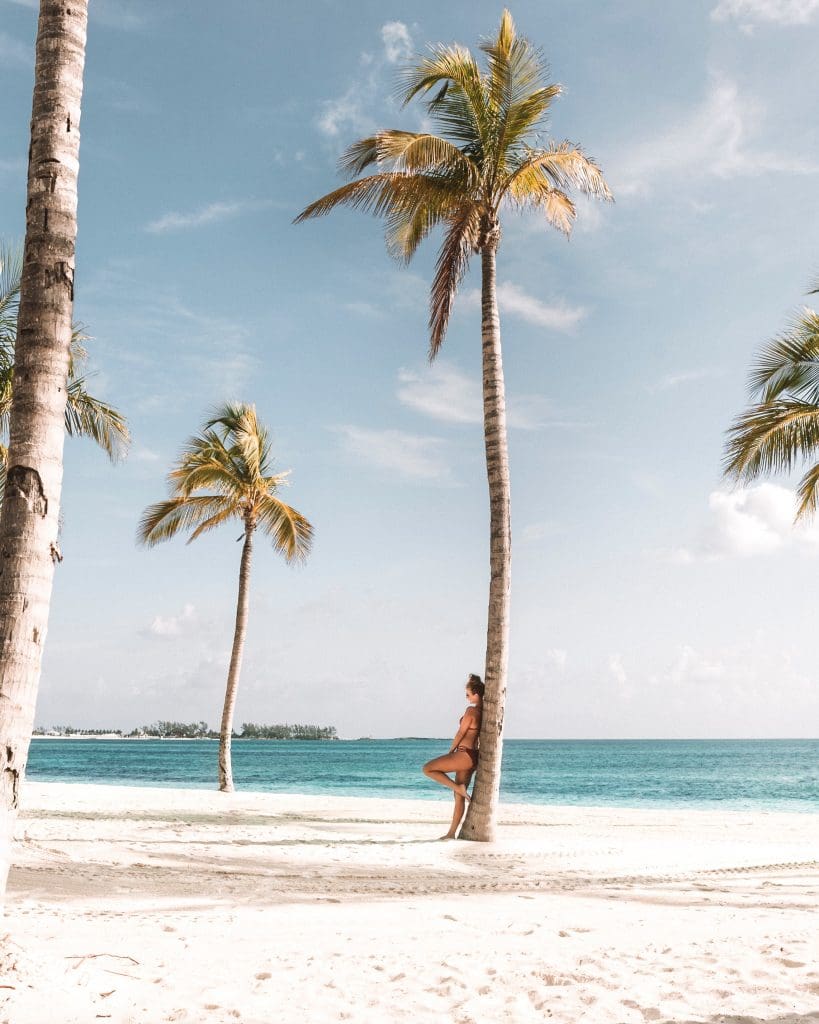 1. Amante Ibiza
Amante Ibiza is easily the best beach club in Ibiza hands down. Starting with its outrageous location that is so perfect, it's almost hard to believe. Perched high on the edge of a cliff overlooking Sol Den Serra beach, Amante Ibiza is perfection from start to finish.
Offering yoga classes at 9 am every weekday morning is the perfect way to start your day before heading off to enjoy a superb breakfast.
The beach beds in Amante Ibiza are in high demand and usually sell out before the summer season starts. Each sun lounger in Amante Ibiza is priced at €60 and includes a bottle of water, beach towel and umbrella. The fantastic restaurant at Amante Ibiza serves mouth-wateringly delicious Spanish food and desserts that you'll never forget.
What better way to finish off a day at Amante Ibiza than by watching a classic movie on their enormous outdoor screen. With bean bags, blankets and unlimited popcorn, this is one of the best ways to finish off a magical day at Amante Ibiza. Movie nights at Amante cost €55 and includes a glass of cava and an incredible backdrop.
2. El Chiringuito
Beautiful El Chiringuito Beach Club is found on Ibiza's popular nudist beach, Es Cavellet. Of course, clothing is required to visit El Chiringuito Ibiza and its superb restaurant on one of the prettiest beaches in Ibiza.
Sun loungers are €30 and there is no minimum requirement for spending in El Chiringuito Ibiza. Instead, you'll find yourself sipping cocktails and eating delicious dishes prepared by a superb chef as you take in the breathtaking scenery.
If you're looking to party, you're going to be sorely disappointed. El Chiringuito Ibiza is all about excellent food and slow-paced living. It feels worlds away from the hustle and bustle of busier parts of Ibiza and visitors can relax and enjoy their day at the beach.
Families will love El Chiringuito Ibiza for its family-friendly atmosphere and are welcomed enthusiastically.
3. Beso Beach
Overlooking the island of Formentera, Beso Beach Club is known for its fantastic Paellas that are served at the table in spectacular fashion. The views from this Ibiza beach club are superb and its rustic interiors are truly Instagram-worthy.
Beso Beach located on Las Salinas beach is surrounded by similar Ibiza beach clubs, so making the decision on one of the most popular and busy beaches can be difficult.
Beso Beach is ideal for anyone looking to spend a day at the beach enjoying delicious food and drinks and relaxing. There is a minimum consumption of €70 per person at Beso Beach and sun loungers cannot be reserved in advance.
Beach Clubs in Ibiza for Non-Stop Partying
4. O Beach Ibiza
The O Beach Ibiza Beach Club is a firm favourite amongst a younger crowd. A visit to O Beach Ibiza is almost a guarantee to spot Love Island contestants or its legendary and famous owner – Wayne Linekar.
With non-stop entertainment and raucous parties throughout the entire summer, O Beach Ibiza is one place not to miss if you love to party. Drink packages are available that start from €1300 all the way up to €7500 and include bottles of Champagne and beer.
With 2 large pools to spend your entire lounging and partying by, you'll also be able to enjoy food delivered from the restaurant directly to your sunbed.
Guests staying at the associated hotels, THB Ocean Beach can access O Beach Club as part of their stay for a discounted rate.
| | | | | | |
| --- | --- | --- | --- | --- | --- |
| Area & Bed Type | No. of People | Deposit | Cover Charge | Minimum Spend | Total |
| Garden Area | 6 People | €250 | €100 | €600 | €900 |
| VIP Pool | 8 People | €500 | €100 | €900 | €1500 |
| VIP Cabana | 12 | €500 | €200 | €1100 | €1700 |
| Sunset Roof Garden Bed | 4 | €250 | €50 | €150 | €450 |
| Sunset Roof Garden Sofa | 8 | €250 | €100 | €500 | €850 |
5. The Beach by Ushaïa
One of the most famous clubs in Ibiza also has a popular beach club in Ibiza – The Beach by Ushaïa. If you've come to Ibiza to party from sunset to sundown, then there is no better place to stay than at the 5-star Ushaïa hotel and enjoy its legendary nightclub and pool parties.
The Beach by Ushaïa is one of many restaurants that surround the hotel, but this one includes a beach club with sun loungers and table service.
Reservations for sun loungers and the restaurant are required in advance and there is a waitlist.
6. Nikki Beach Ibiza
Infamous Nikki Beach Ibiza is one of the leading names of world-class beach clubs, with locations spread across the globe in desirable locations such as Mallorca, Marbella and Dubai. If you've come looking for one of the truly glamorous Ibiza beach club experiences, head to Nikki Beach Ibiza for their famous all-white parties.
The beach club's focal point is its outdoor swimming pool where guests can party and lounge by the pool whilst listening to some of the world's most popular and famous DJs play sets nearby.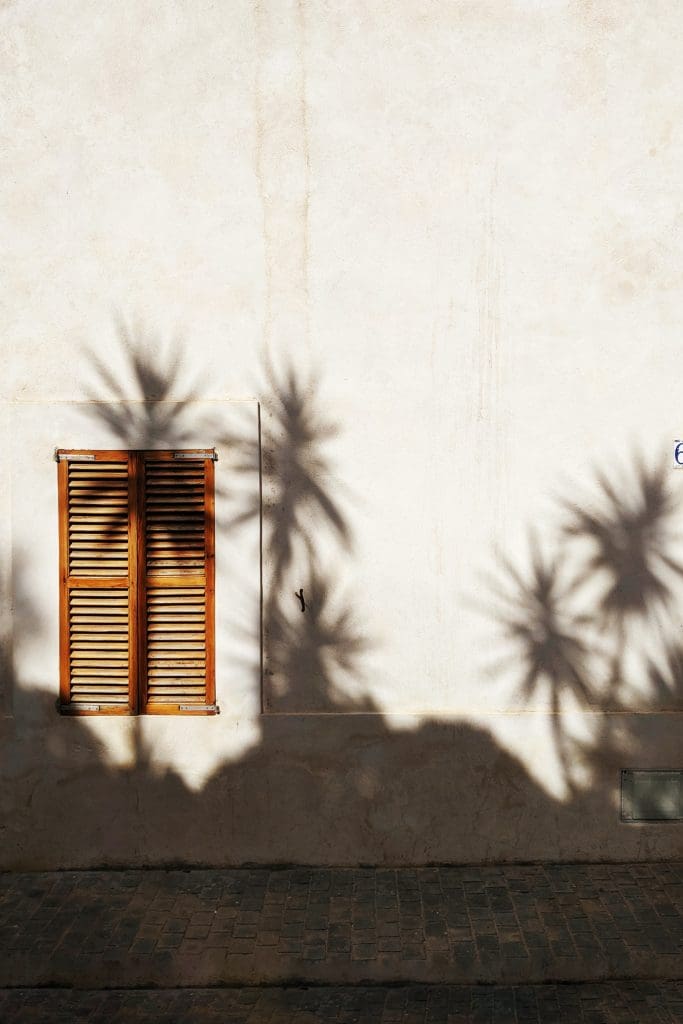 Located on the beautiful Santa Eulalia beach, Nikki Beach Ibiza is operational from April to October each year. Its focus on high-end opulence means that you'll see a lot of beautiful people drinking a lot of expensive champagne and wearing designer brands. It's most definitely a place to go to be seen. It makes for fantastic people-watching.
Children are allowed to visit Nikki Beach Ibiza but must stay in the beach area. The pool area is explicitly for adults only. Check their social calendar for a list of themed events that occur throughout the summer months.
Sunbed prices vary throughout the summer season, but a sunbed for 2 people including a bottle of champagne starts from €250.
Ibiza Beach Clubs for Vibes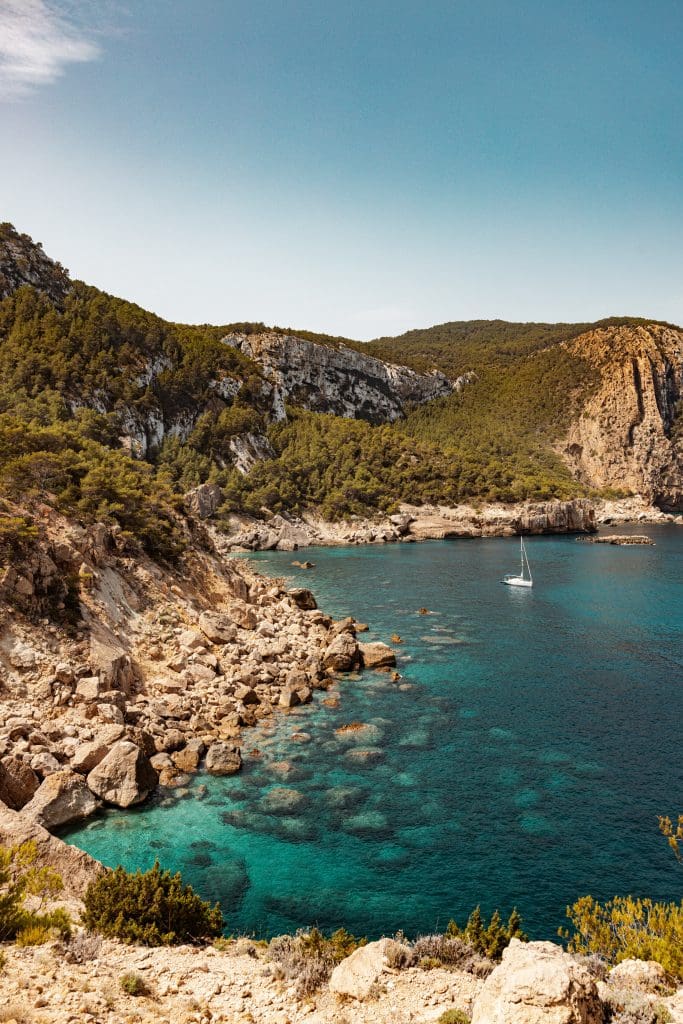 7. Elements Ibiza Beach Club
If you've been looking for a beach club in Ibiza that offers chilled-out vibes, massages and excellent food then look no further than Elements Ibiza Beach Club.
A far more relaxed Ibiza beach club, this is the perfect place to enjoy soaking up the sunshine and being surrounded by one of the most beautiful bays on the island on Cala Benniras.
You can spend the night dancing under the stars or feel invigorated by a fantastic beachside massage. There's a lot to love about Elements Ibiza Beach Club for anyone who wants to experience a relaxed approach to an Ibiza beach club, whereas a lot on the island comes highly polished and immaculate. Here in Elements, you don't have to worry about designer clothes, just good food and vibes.
8. Cotton Beach Club Ibiza
Ultra chic Cotton Beach Club is decorated throughout its establishment in all-white. Its stunning location on Cala Tarida gives it incredible and uninterrupted views across the incredible bay.
Cotton Beach Club may just happen to have some of the best views for an Ibiza beach club. Sushi lovers will be thrilled to find some of the best sushi chefs on the island of Ibiza serving the freshest seafood and sushi platters.
The stunning white interiors of the Cotton Beach Club Ibiza extend to its beautiful outdoor terrace that overlooks the beach.
You'll find an extensive wine list at Cotton Beach Club Ibiza that is comparable to its cocktail list, offering premium spirits and incredible mixologists.
When you've finished dining, head down the steps to the beach and soak up the sunshine on the Cotton Beach Club Ibiza's sun loungers.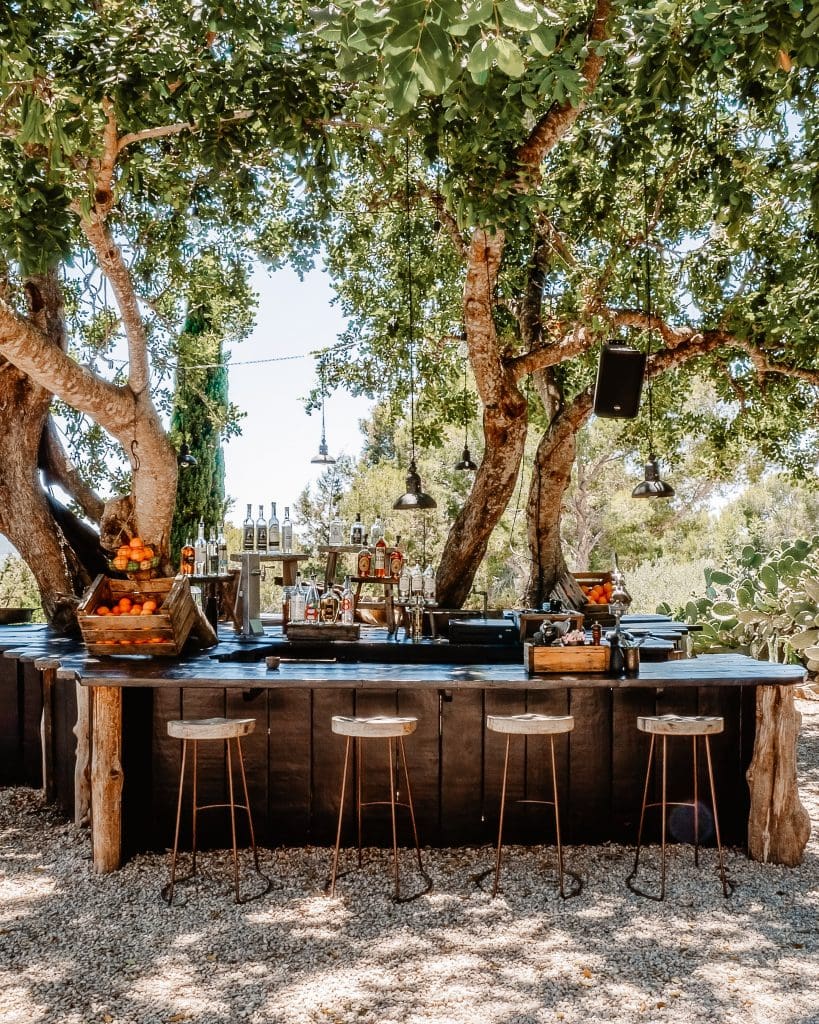 9. Blue Marlin Ibiza
A short drive from the airport in Cala Jondal you'll find Blue Marlin Ibiza, a chilled Ibiza beach club with immaculate vibes. The white sun loungers sit on a sheltered beach overlooking the island of Formentera.
Every night from May you'll find themed nights, with Sunday, 'Showtime Sunday' sessions being one of the unmissable days to experience. The Blue Marlin Ibiza is open from 11 am until late. There is a minimum spend depending on the sun lounger and deposit required.
With easy access to the water, you can spend your day swimming in the afternoon and partying until late into the night at Blue Marlin Ibiza. The Yemanja restaurant is open throughout the year and has been in operation for over 30 years serving typical Spanish food and favourites.
Towels are available for rent or purchase.
Blue Marlin Price List
| | | |
| --- | --- | --- |
| Type | Price | Minimum Spend |
| Single Sun Lounger | €30 (€10 rent + €20 amenities) | €50* |
| Big Bed | €100 (€20 rent + €80 amenities) | €500* |
*Note: Restaurant bills are not included in the minimum spend Sun Lounger Beach area.
10. Nassau Beach Club
Located on Ibiza's longest beach, Playa d'en Bossa Beach, Nassau Beach Club is famous for its delightful restaurant that attracts visitors from all over the island. Reservations for the restaurant at Nassau Beach Club are highly recommended in advance due to its popularity.
The Mediterranean-Asian cuisine is served in a beautiful restaurant that overlooks the bluest waters and its decor in this stunning Ibiza beach club is French Boudoir meets Bali Boho vibes.
The prices for sun loungers in Nassau Beach Club are relatively reasonable with a single sunbed priced at €25 & large sunbed at €100.
Ibiza Beach Clubs For Families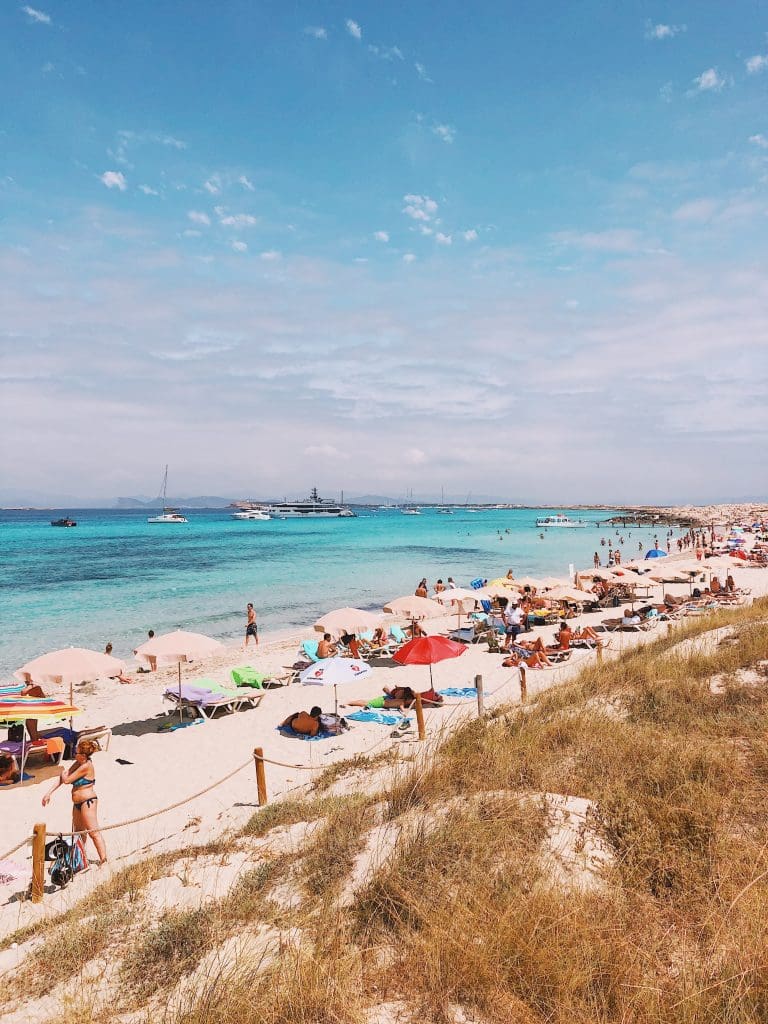 11. Chiringuito Blue
Ibiza is not just a single person's island. You'll find scores of families visiting the island and Chiringuito Blue Ibiza is one of the few beach clubs in Ibiza that caters to children.
During the weekends from 1 pm to 5 pm, there is a Kids Club at Chiringuito Blue Ibiza that entertains children with face painting and activities so that Mum & Dad can enjoy their cocktail uninterrupted.
The restaurant at Chiringuito Blue Ibiza serves a mix of Middle Eastern dishes whilst also incorporating the strong bold flavors found in the Mediterranean.
Chiringuito Blue Ibiza is passionate about preserving Ibiza's beaches and marine life and has tried to eliminate as much plastic from their beach clubs as possible, and also taking an active part in looking after the Santa Eulalia beach.
12. Beachouse Ibiza
Beachouse Ibiza is one of the perfect beach clubs in Ibiza for the whole family. Starting with a daily kids club that is operational in the afternoon with lots of activities for the kids. Start each morning in Beachouse Ibiza with complimentary yoga classes on the beach (donations very much appreciated), followed by a super breakfast.
The bed packages at Beachouse Ibiza start at €120 and sun loungers are on a first-come-first-served basis. Dining in Beachouse Ibiza is a culinary delight, serving tapas and ingredients that are locally sourced to enhance the flavours of the dishes. Experience a romantic evening in Beachouse Ibiza in their Moonlight Dinners under a canopy of twinkling fairy lights, the sounds of the ocean, and ultra mellow beats by resident house DJs. Perfect.
Ibiza Beach Clubs for Budgets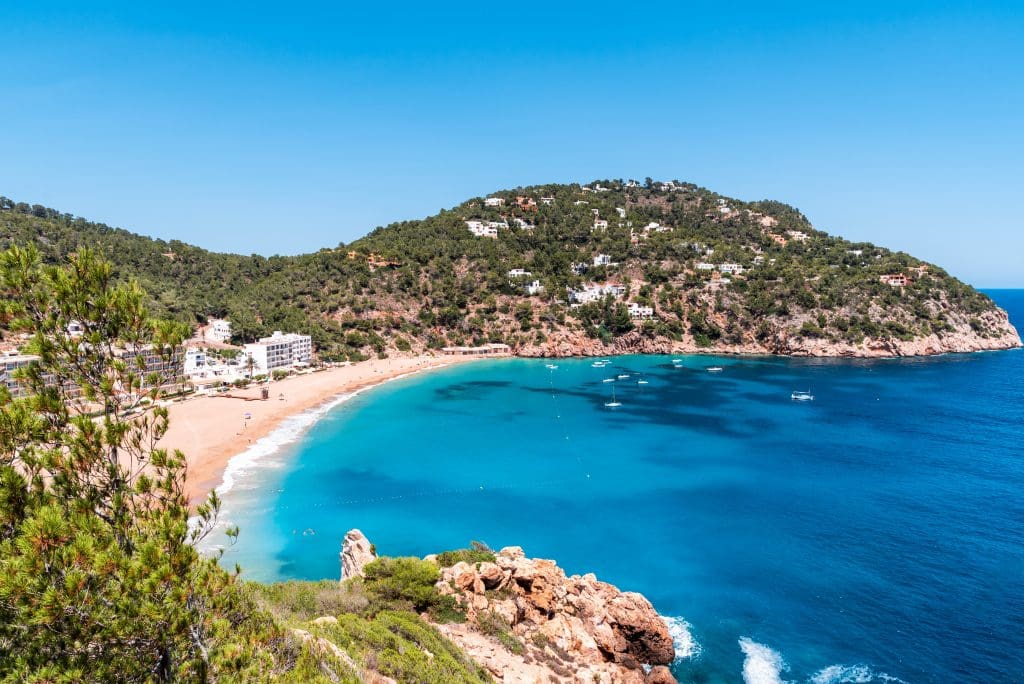 13. Jockey Club Ibiza
The Jockey Club Ibiza is one of the least pretentious beach clubs in Ibiza and has become an institution that serves good quality food and offers a simple beach club that is enjoyed by most who visit.
If you've been looking for a no-frills beach club in Ibiza that serves really delicious food and has sun loungers for a fraction of the price found elsewhere on the island, then the Jockey Club Ibiza is the place for you.
The Jockey Club Ibiza is found in Sant Jordi de Ses Salines, a UNESCO World Heritage site thanks to its incredible marine life. It's also one of the quieter parts of the island and hasn't been built up.
14. Sa Trinxa
One of the most popular Ibiza beach clubs is the extremely laid-back Sa Trinxa. This is the place you've been looking for if you have an Ibiza budget in mind, as sun loungers and an umbrella are reasonably priced at €30. You can even just lay on the beach with your towel too.
Tourists have loved visiting Sa Trinxa for its laid-back vibes and very mellow beats. As the sun starts to dip lower in the afternoon, you'll find the energy begins to climb in Sa Trinxa and you'll find yourself dancing on the beach, cocktail in hand, and soaking up the excellent atmosphere.
The food is another big draw for Sa Trinxa, with large portions and excellent seafood that is incredibly fresh, it serves some of the best dishes from the Balearic Islands.
Travel Essentials
Planes, Trains & Automobiles – I'm always on the hunt for great flight deals and Omio usually has excellent offers throughout the year. Booking a ferry is easily done through Ferry Hopper or Omio. For car hire, I've found RentalCars to be consistently the best.
Hotels – For hotel comparisons, I use Trivago to check where I can get the best deal. Booking.com usually ends up having the best deals around and has been consistently reliable throughout the years.
Tours & Guides – Searching between Viator & Get Your Guide, I can usually find a good deal on a food tour or event in the city that I'm visiting.
Some of these may be affiliate links, which means when you buy something I may receive a small commission. There is no additional charge to you, and it really helps to support me – so thank you!