The 4 Best Hvar Beach Clubs in 2024
The island of Hvar is one of many incredible islands that make up the stunning country of Croatia. And during the summer months, Hvar town is one of the most popular places in the Adriatic Sea. Its small marina is home to some of the world's most incredible super yachts and beautiful people seem to just mill everywhere. Seriously Croatians are absolutely gorgeous.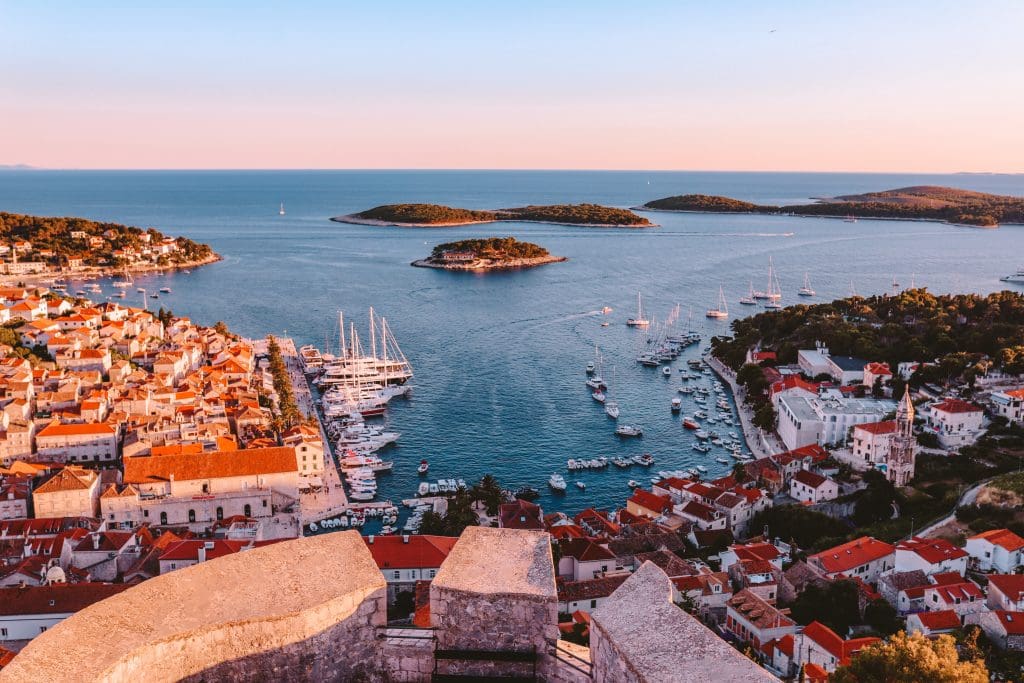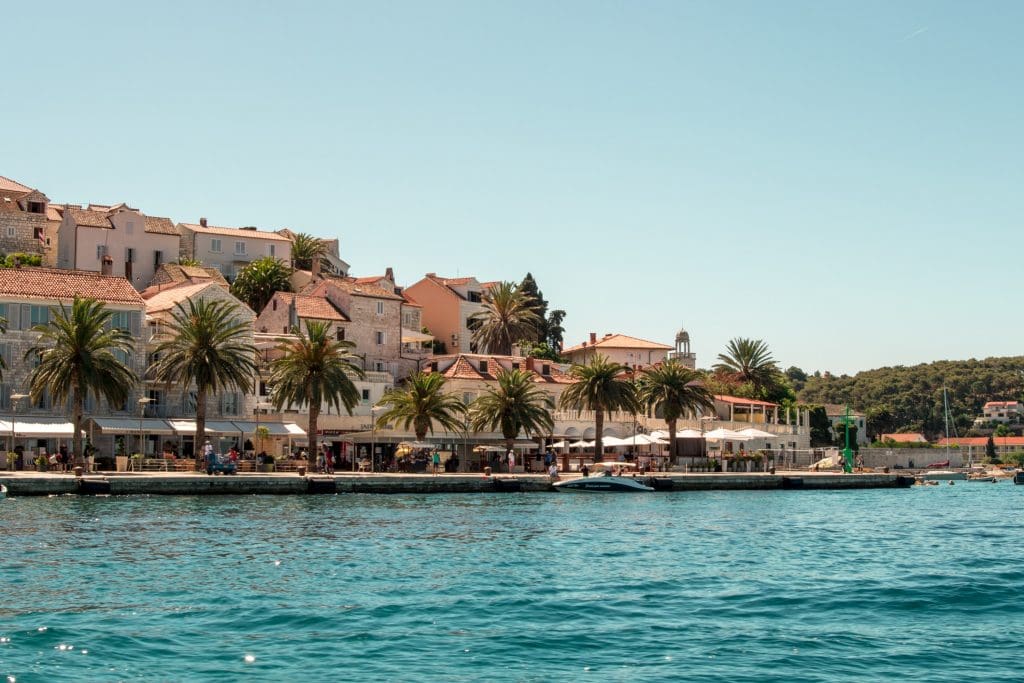 Hvar town is one of the most popular places on the island to spend an evening wining and dining. Or climbing to the fortress that sits atop a very large hill. And what Hvar town lacks in actual beaches (spoiler alert: there's barely anything you would call a traditional beach in Hvar town) it makes up for in beach clubs.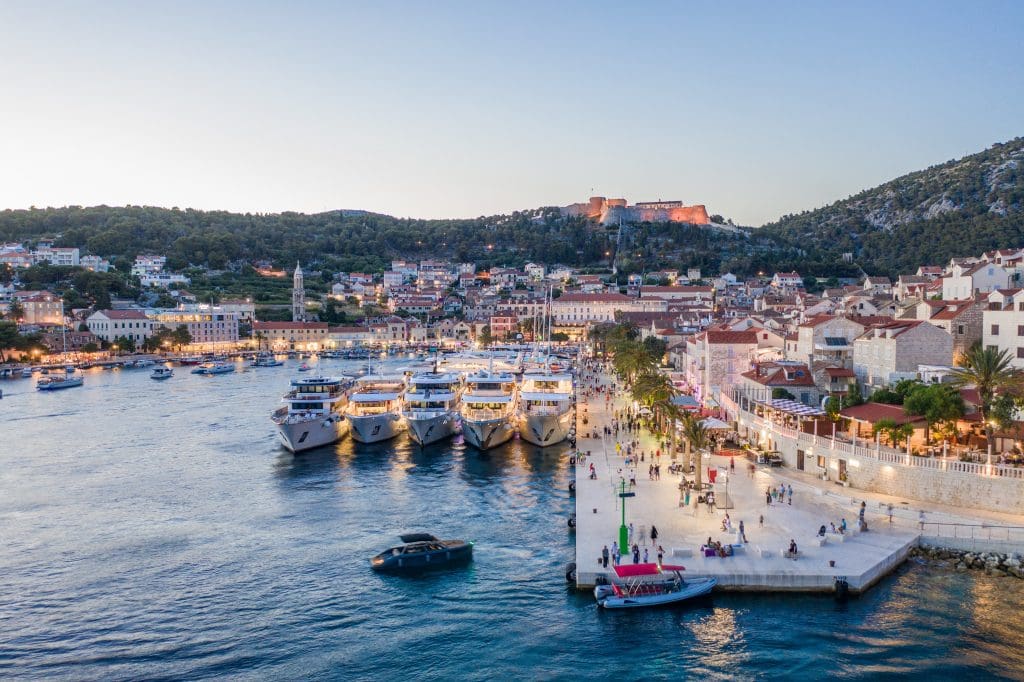 Hvar Beach Club
You'll find the Hvar Beach Club, which happens to be one of the most popular and famous beach clubs in Hvar, if not Croatia a short stroll from the main town. The walk to Hvar Beach Club is exceptionally pretty as you follow the path that dips beneath pine trees and the clearest water you can find.
Seriously, Croatia does a color of water that isn't even comparable to that of Greece. It's divine.
Sitting prettily in a stunning bay and next to Bonj Beach is the Hvar Beach Club which was established in 1927. From the distance, it looks like a Grecian palace with its stunning white pillars and clubhouse facade.
The setting of Hvar Beach Club couldn't be prettier it overlooks the incredible aquamarine waters in a small bay lined with pine trees and nearby Bonj Beach. With a variety of cabanas and sun loungers to choose from, a day spent at the sophisticated Hvar Beach Club is something you won't forget in a hurry.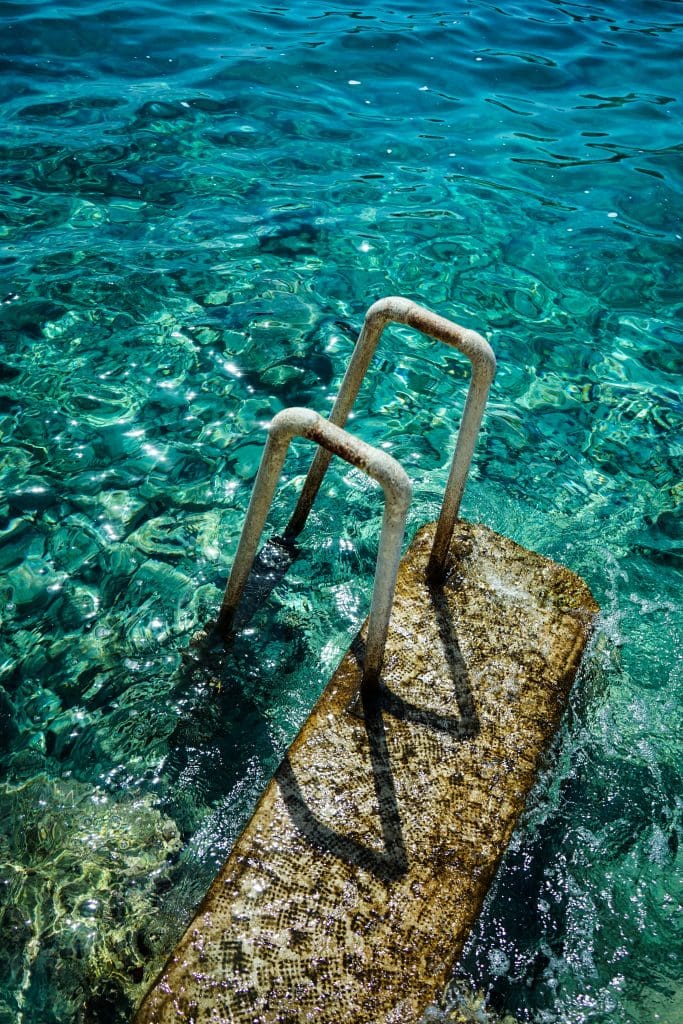 With ladders providing access to the incredible water, there's no need for sea shoes here (an absolute necessity everywhere else) in Hvar Beach Club. The sun beds have thick mattresses which will leave you well-rested, but of course, a visit to the onsite Spa may be required to work out those aches and pains of daily everyday life.
The spa at Hvar Beach Club offers a range of spa treatments and massages for guests of the beach club. The Summer Breeze Massage sounds like the perfect solution for anyone who wants to have a relaxing neck and shoulder massage and is guaranteed to leave people feeling refreshed.
And it wouldn't be a perfect day at Hvar Beach Club if you didn't enjoy a long leisurely lunch at its restaurant. With a mouthwateringly delicious menu and cocktails to enjoy as you gaze out of the pavilion and enjoy scrumptious cuisine at one of Croatia's premier beach clubs.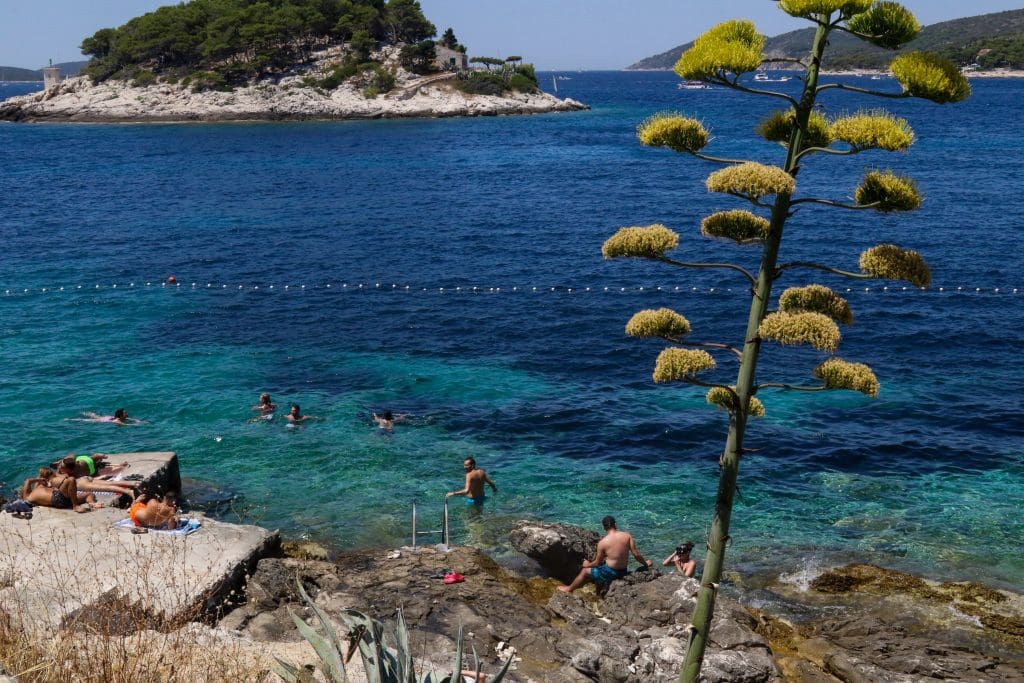 Hvar Beach Club Prices
There are a variety of options to choose from when you spend the day at Hvar Beach Club.
A sunbed and umbrella are priced at €50/375KN
Beach Club Deck Duo which comprises two sun beds, and an umbrella on an overwater deck is priced at €125/938KN
Or you can splash out for a Beach Club Deck Cabana which includes a bottle of prosecco, fresh fruit, two sun beds, and an umbrella for €295/2212KN
Hula Hula Bar Hvar
Continue past Hvar Beach Club and you'll hear Hula Hula Bar before you actually see it. Around the headland sits one of the funniest and most enjoyable beach clubs in Hvar. Known for its energetic parties, Hula Hula Hvar is THE place to come and party at. (Ok one of the many excellent places to party at in Hvar).
Arrive early to claim your spot at this Hvar beach club as it does fill up quite quickly. Throughout the day you can expect large crowds ascending onto the beach club and as sunset approaches Hula Hula Bar Hvar is the most popular spot on the island to watch.
Hula Hula Bar Hvar is also a great spot for those interested in Stand Up Paddle Boards and Kayaking which are both available to rent on an hourly basis.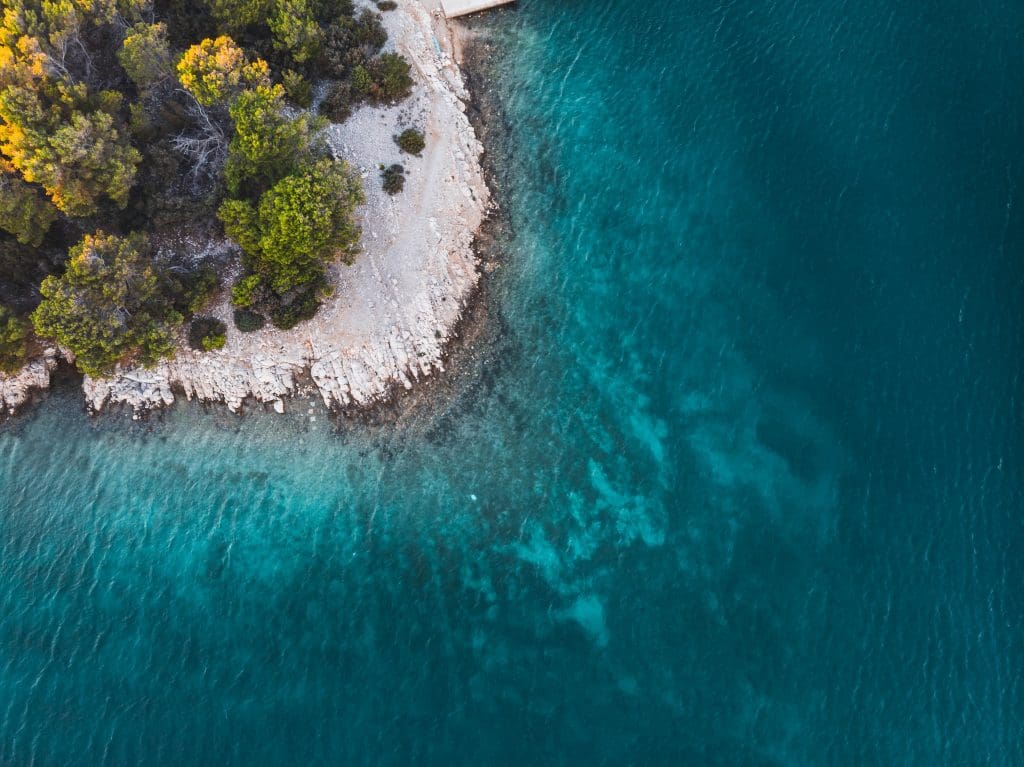 Sun loungers are priced between 100 and 200 Kuna's depending on what part of the season you visit. During August when the island is at its peak, try to arrive before 11 am to secure a sun bed.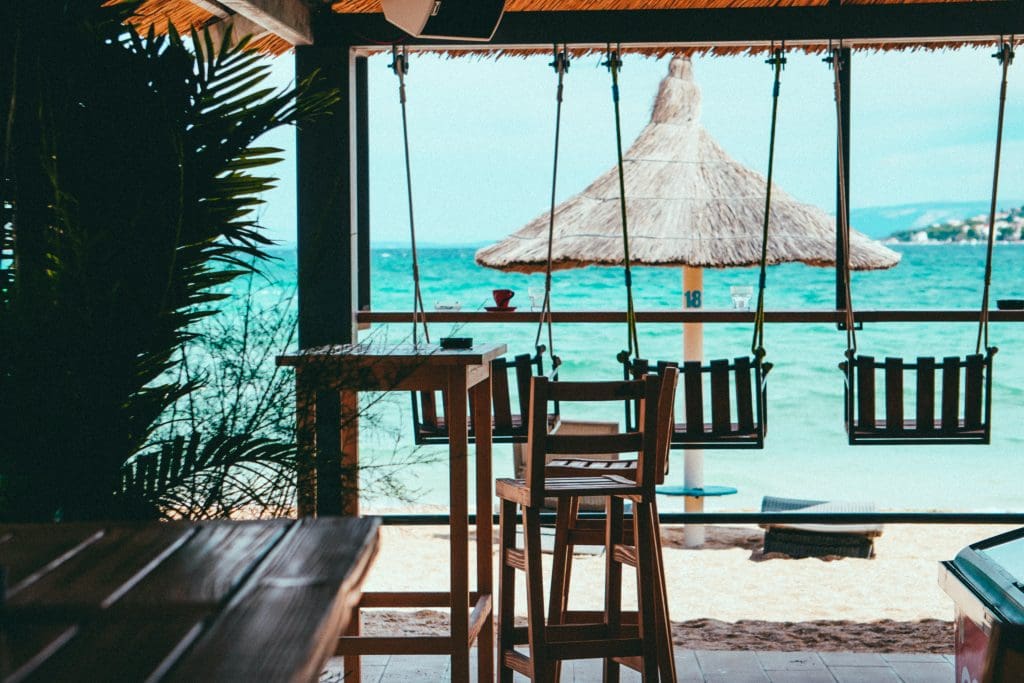 As night descends, you can expect the energy to pick up pace and you'll find yourself torn between Hula Hula Bar Hvar or the equally popular and unmissable Carpe Diem Hvar. It's going to be a fun night regardless.
Do note that Hula Hula Bar is cash only. There is an ATM on-site, but credit/debit cards are not accepted anywhere in the beach club.
Falko Beach Bar
A no-fuss beach bar in Hvar that offers simplicity and sunshine. A 20-minute walk from Hvar main town, you'll pass by Hvar Beach Club and Hula Hula Bar on your way to Falko Beach Bar.
A day spent on the rocks of Hvar will leave you feeling a bit battered and bruised and so Falko Beach Bar has found a solution to Hvar's lack of beach problem. With sun loungers perched on the rocks and scattered around you can sun yourself for a fraction of the price compared to nearby beach clubs in Hvar.
If partying at Hula Hula Bar isn't your scene or Hvar Beach Club is too expensive, then Falko Beach Bar is a super option for anyone looking for an affordable and relaxing beach bar experience in Hvar.
Sun loungers are priced at 200 Kuna and you'll be amazed at how they've managed to squeeze so many sun beds into the rocks.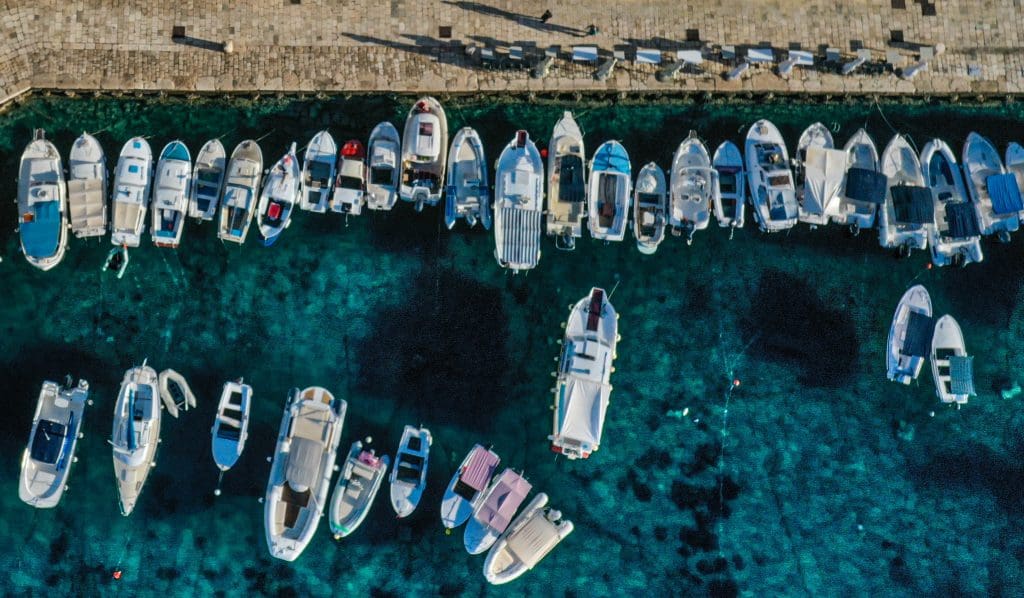 Sea shoes are absolutely necessary here, even though you will find numerous ladders that lead into the sea, most of the area is overrun by sea urchins. There were three people who stood on sea urchins whilst trying to get out of the water, so just be warned! They're everywhere in Croatia.
When hunger comes calling their lovely beach bar offers some surprisingly delicious and affordable food.
Carpe Diem Hvar
One of the most famous beach clubs in Hvar, Carpe Diem Beach is found a 10-minute boat ride from Hvar town. Carpe Diem Hvar is considered one of the best beach clubs in the world with its reputation being built on its dawn till dusk non-stop partying. And much like the beach clubs in Ibiza, Carpe Diem is the ultimate dawn till dusk party capital of Hvar.
During the day you can find a number of activities to keep you entertained in Carpe Diem Hvar, whether that's swimming in its two beaches, getting a massage, dipping into the pool, or paddling in a clear-bottomed kayak.
Once the sun sets in Carpe Diem Beach, you can party away until it temporarily closes its doors at 10 pm. Take the boat back to Hvar island, drink a few cocktails in Carpe Diem Bar before taking the ferry at 1 am back to Carpe Diem Beach for a night of uncharted debauchery. Watch the sunrise from the beach as the beach club closes its doors at 5 am.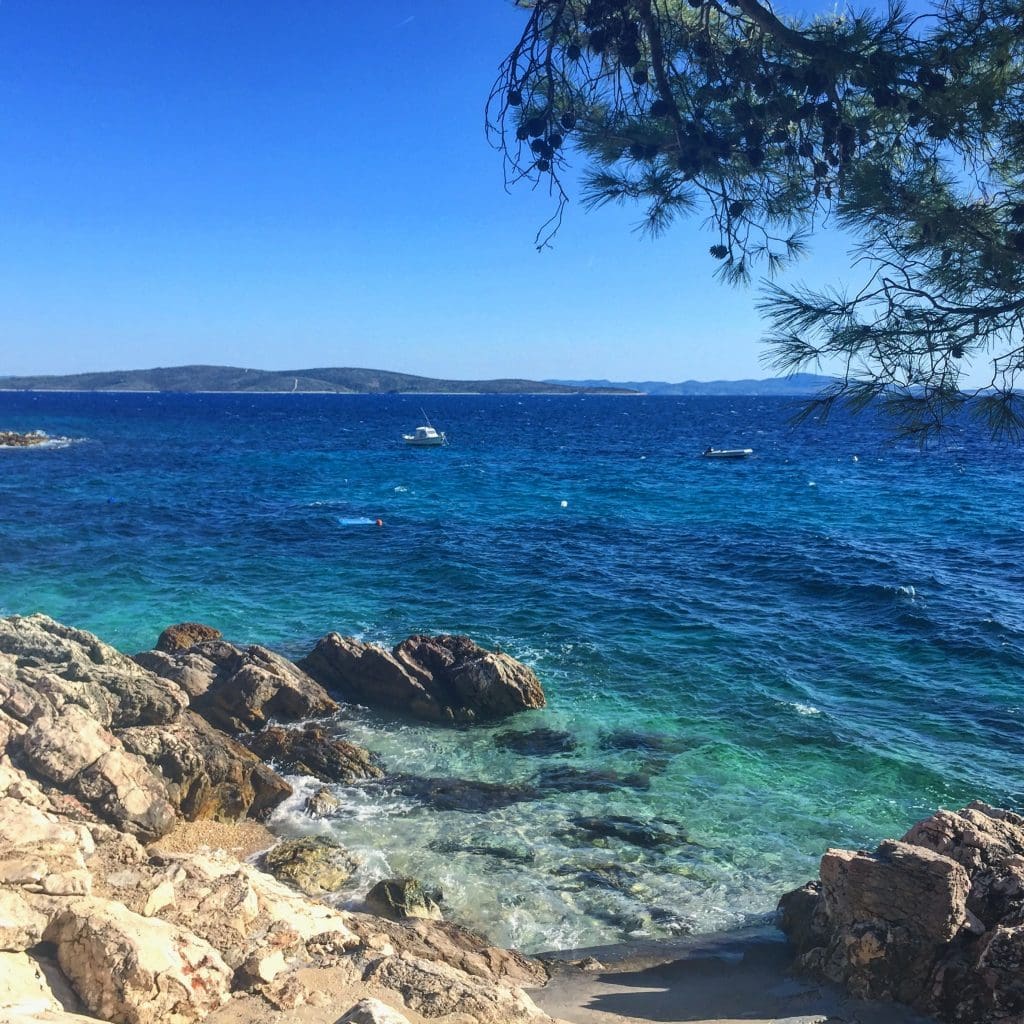 The easiest way to get to Carpe Diem Beach is to take the taxi ferry from Hvar town. Departures leave every 15 minutes and cost 60 Kuna each way. There is no entrance fee required during daytime hours. During the night there is a 300 Kuna entrance fee that also includes a two-way transfer to and from the island.
---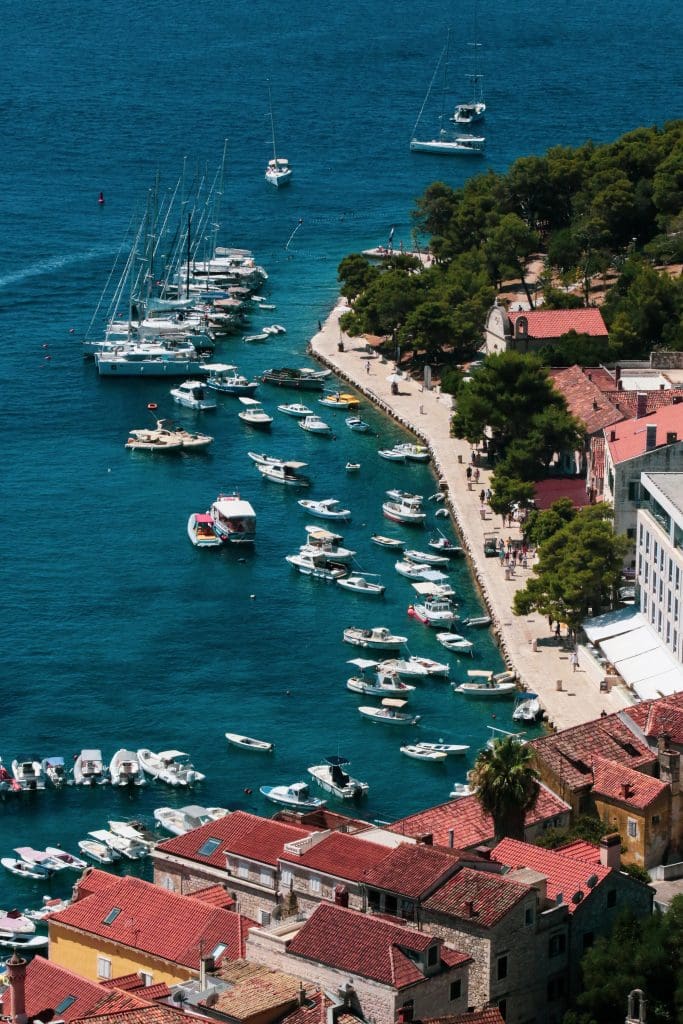 There is a beach club in Hvar for every type of person, whether you want to party or relax or even splurge, you can find a variety of options.
Don't leave Hvar without taking an unforgettable trip to the Blue Grotto or a sailing tour around the island. It's unmissable. If you're looking for an itinerary for Croatia, check out my guide for seeing the best of the islands.