Where To Stay In Palma de Mallorca: 6 Must-Stay Areas in 2023
Mallorca's capital city, Palma de Mallorca (not to be confused with La Palma in the Canary islands) is magnificent. Giving the likes of Barcelona a run for its money, Palma has one of the busiest marinas in the Mediterranean Sea and has a series of fantastic city beaches. Deciding which is the best area to stay in Palma de Mallorca is not an easy task, but I've got you covered.
The incredible Cathedral- Basilica de Santa Maria de Mallorca sits like a fortress on the seafront and is visible from all across the city.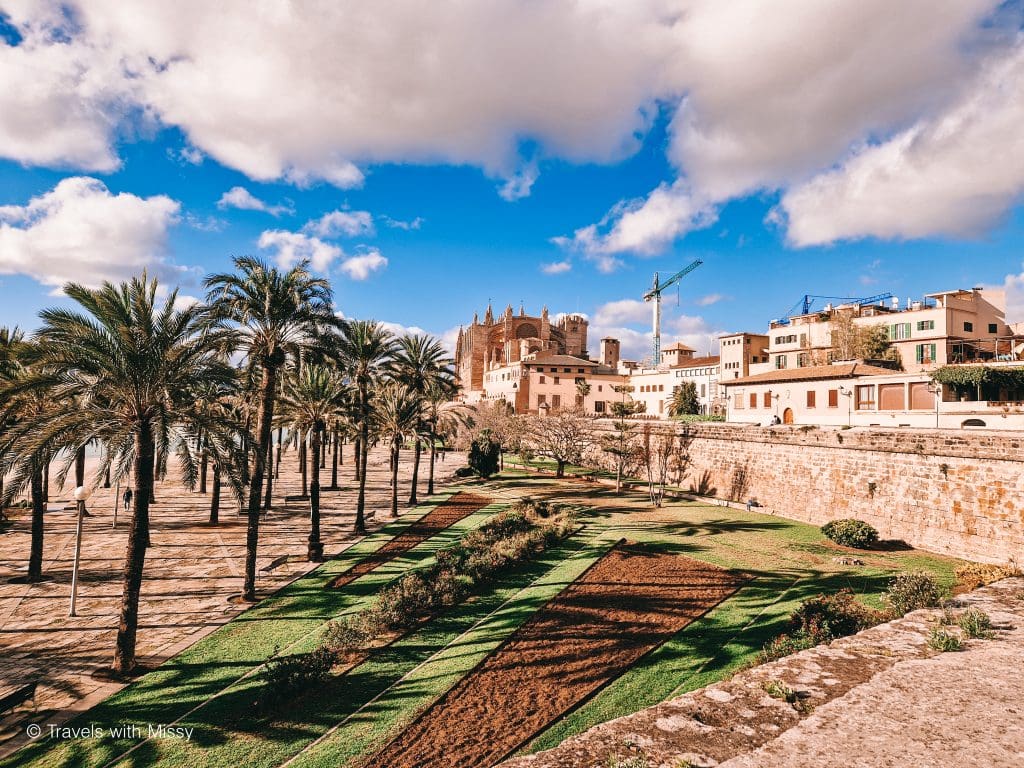 One of my favorite things about Palma is how easy it is to get around. Palma is a very walkable city and one of those cities that is best explored on foot. There are still plenty of buses and scooters to get around the city if walking is not your thing.
When deciding where to stay in Palma de Mallorca, you have some of the best hotels in Mallorca located in its old town. The neighborhood of Santa Catalina offers visitors some of the best places to eat and drink, as well as party.
And the best part of staying in Palma is that you are a short walk or bus ride from superb city beaches. Seriously, this city is fantastic.
Palma Old Town
Not much could have prepared me for the charm of Palma's old town. The quaint alleyways that all lead to the Cathedral or Plaça Major, are beguiling.
As you navigate your way around  Palma Old Town, you'll stumble upon cafes where locals spill out onto the streets or tempt you with traditional bocadillos made up of typical Spanish Serrano jamon and queso. That's a ham & cheese sandwich to you & I.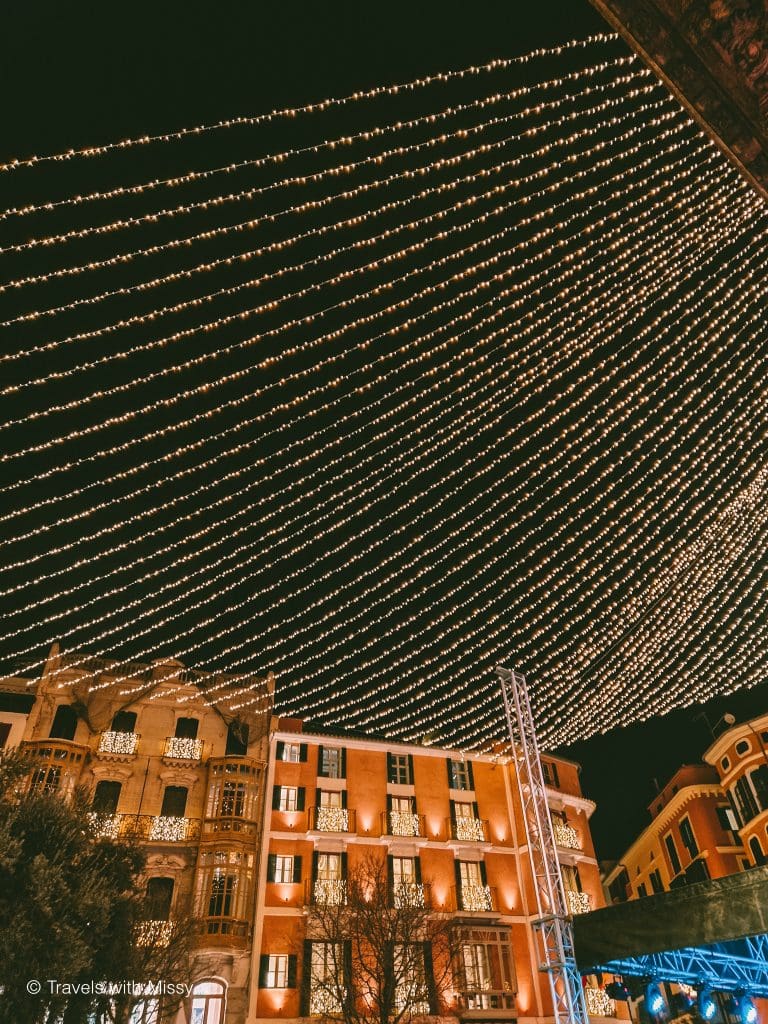 During the hot summer months, Palma old town can almost be a refuge from the heat as the buildings offer shade and a break from the blistering sunshine. You'll need to find a quiet street, as the Old Town is one of the most popular places to visit throughout the year.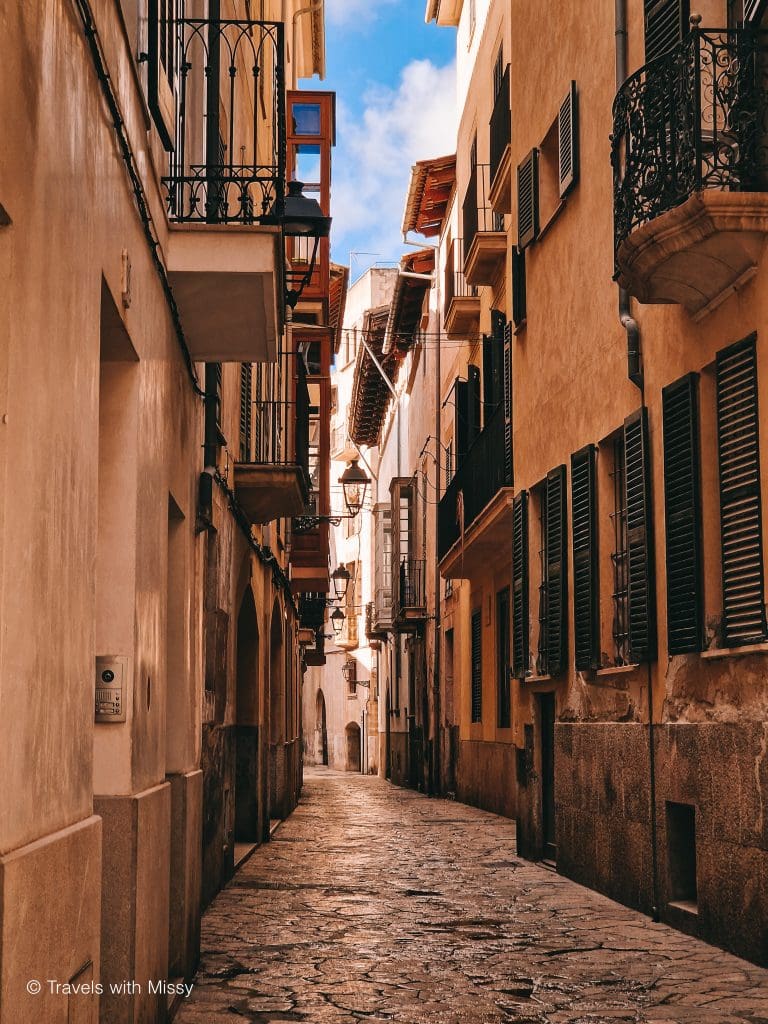 Palma Old Town offers the highest concentration of 5-star hotels and luxury apartments, and you'll pay a hefty price for a stay here. But a stay in Palma Old Town is completely worth it, as you'll experience the lap of luxury and be in the beating heart of the city.
This is my favorite area to stay in Palma de Mallorca. With spectacular rooftop bars and a fabulous beach club only a short walk away, there's not a lot to hate about Palma Old Town.
Palma Old Town – Turismo de Interior // We absolutely LOVE our stay in Palma Old Town so much that we've stayed there twice in the past 3 months. Offering fully-equipped apartments, you'll find a small plunge pool in the courtyard. I loved our stay here and couldn't fault a single thing. The location is excellent and a short 5-minute walk to the airport bus.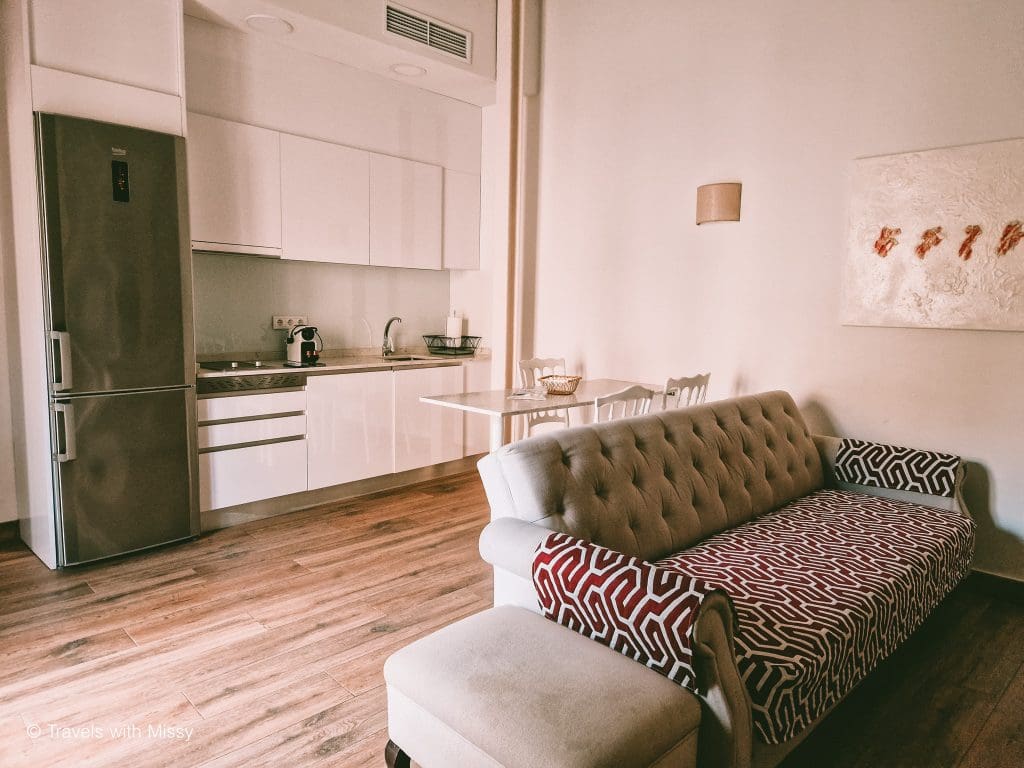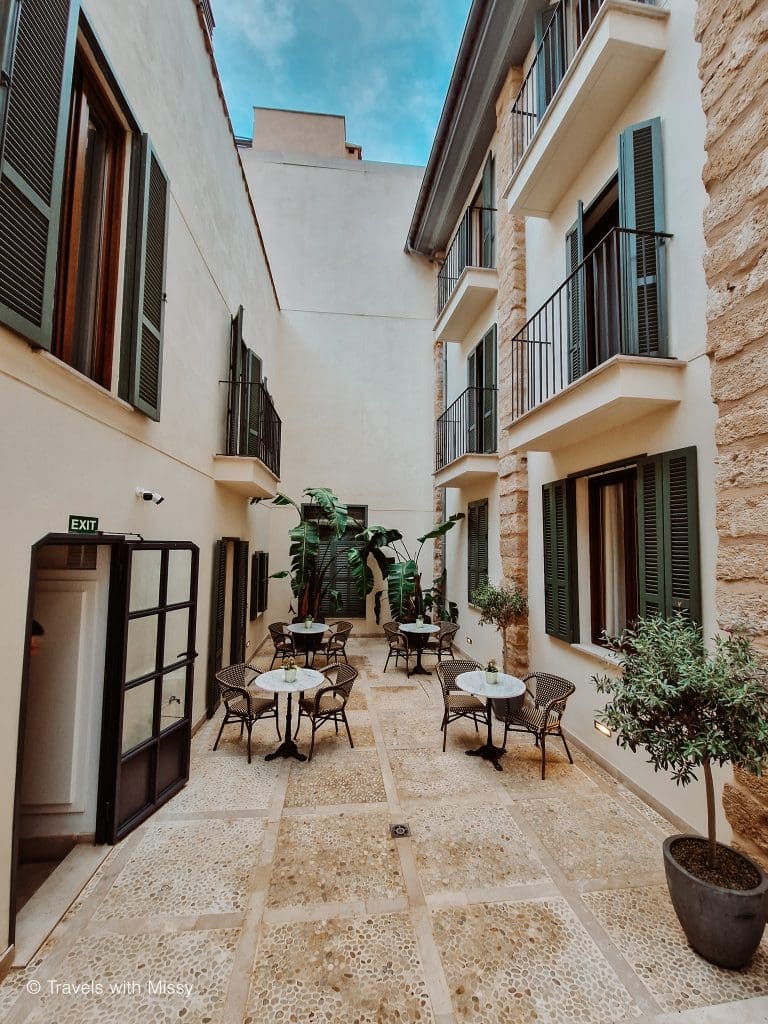 Es Princep – The Leading Hotels of the World // Long has Es Princep been on my bucket list of dream hotels. Featuring uninterrupted views over the Bay of Palma, and a short walk from the Cathedral, a stay in Es Princep is the ultimate vacation spot in Palma.
Hotel Can Cera // There is something about the courtyards in Mallorca that evokes something deep within me. And Hotel Can Cera has one of the dreamiest courtyards in the city. The interiors are exquisite and bring the former 17th-century palace into the 21st century. Whilst it may not have a pool, it does have a sauna and spa treatments.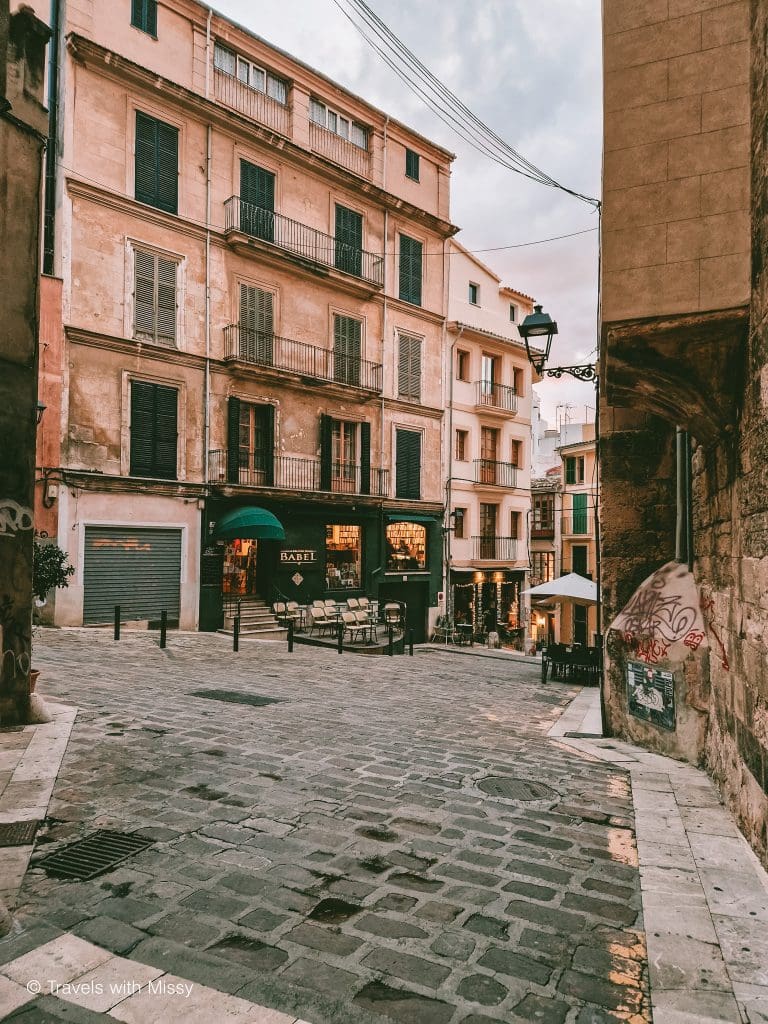 Santa Catalina
Whilst Santa Catalina has been around as an extension of Palma city, the neighborhood has transformed over the past years into one of the busiest and most exciting places to visit when in Palma.
Santa Catalina has now been transformed into one of the best areas to eat and drink in Palma, with vibrant restaurants of every cuisine imaginable. Santa Catalina is a cozy neighborhood and a short distance from Jaume III, the main shopping area of Palma, and a 5-minute walk from the marina.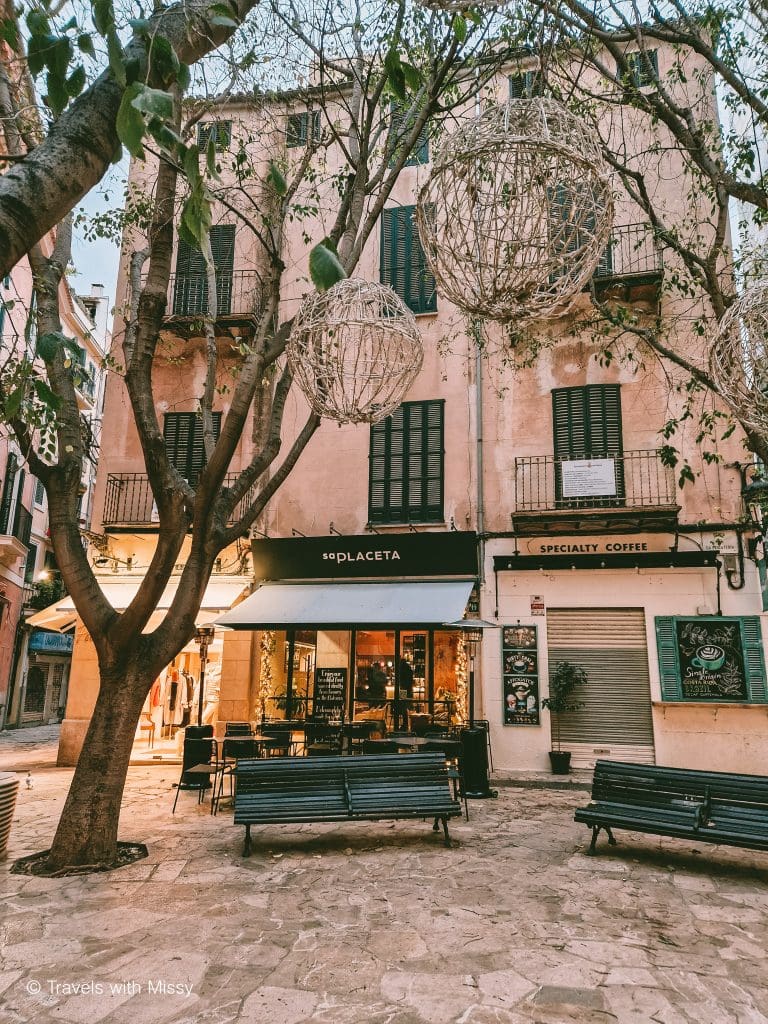 This is where to stay in Palma for those looking for excellent international world cuisines, incredible cocktail bars, and thriving nightlife. 
During the early morning and afternoon, Santa Catalina is relatively quiet, the Mercat de Santa Catalina being one of the busiest spots as locals do their shopping in the pretty decent food market.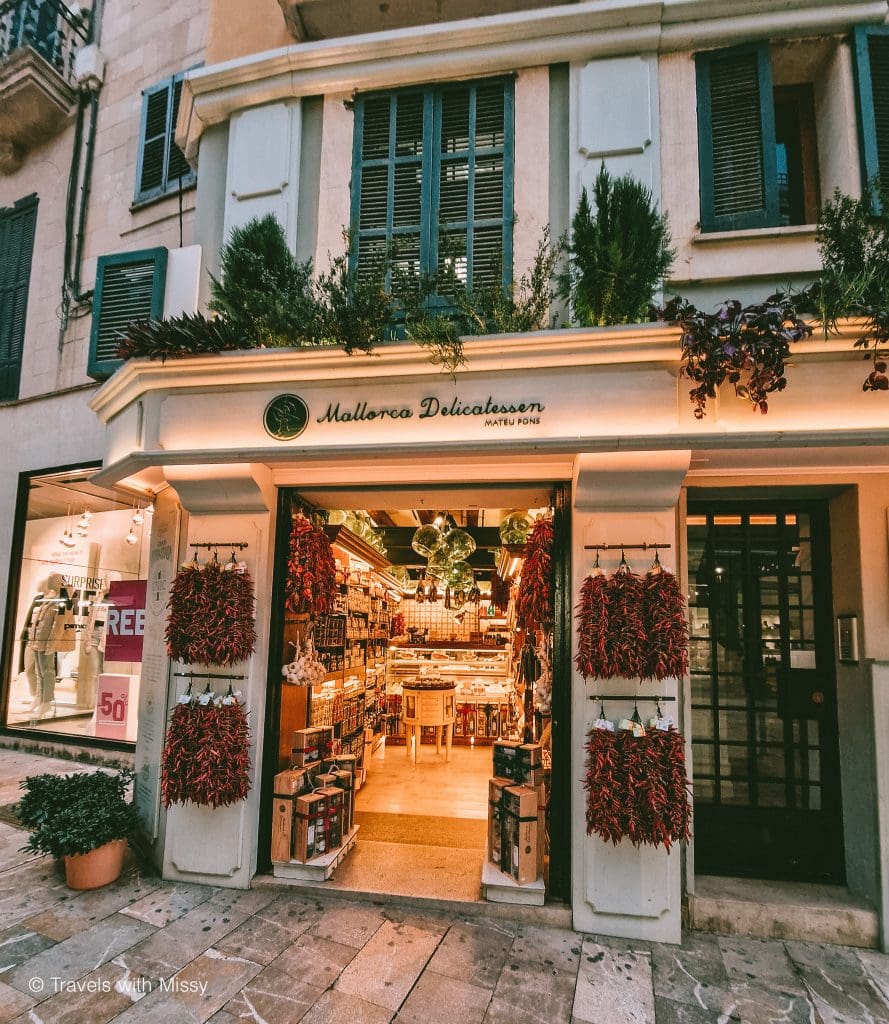 Head up to Mirador des Jonquet which has fantastic views over Palma marina and in the evenings offers superb sunsets. It's a sweet residential area that is reminiscent of the neighborhood not so long ago.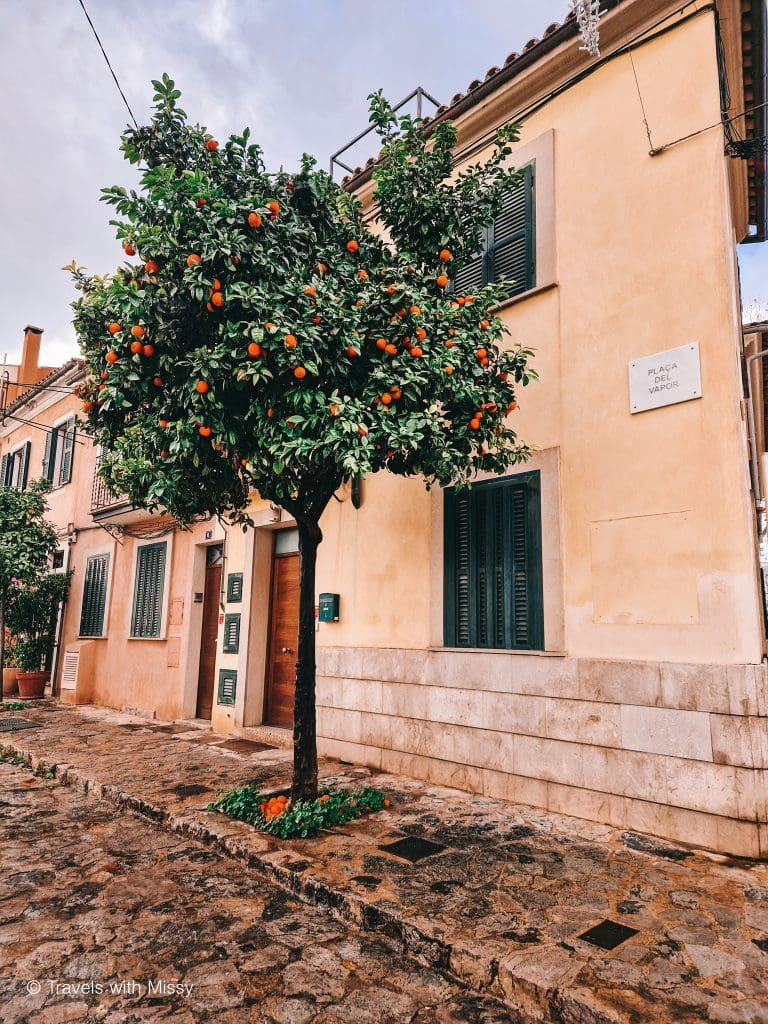 Bordoy Continental Palma // On the edge of Santa Catalina, Bordoy Continental Palma makes a good base for those looking for a hotel stay. A 4-star hotel, it has seen better days, but it is close to shopping, Santa Catalina, and the Marina.
Spot Apartment // A stunning apartment stay in the middle of Santa Catalina. You can't beat the location and the convenience of having a fully equipped and stunning apartment is hard to resist.
Palma City Centre
The area around Plaça Major leading to Plaça d'Espanya is considered to be Palma Center. This is where to stay in Palma de Mallorca for those looking to have superb stores and restaurants on your doorstep.
Thanks to Palma being a small city to walk around, you are only a very short distance from Palma Old Town and Cathedral.
If you are looking for the best area to stay in Palma de Mallorca without a car, you couldn't ask for a better-connected place than to stay in Palma City Centre. Although technically Palma Old Town is in this area, I've broken up the areas of where to stay in Palma.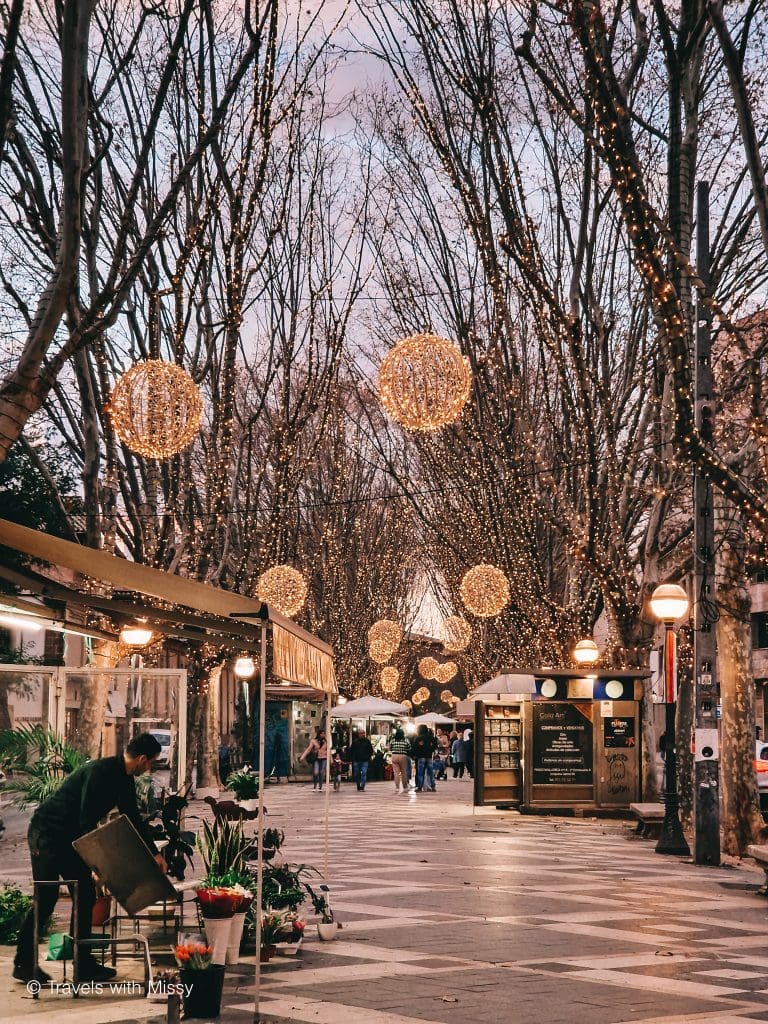 Wander down La Rambla, a beautiful pedestrian street where flower sellers have set up their fragrant and beautiful stores.
Take one of the prettiest train journeys in Spain from nearby Plaça d'Espanya to the seaside town of Port de Sóller. The traditional wooden train travels through the lush Mallorcan countryside, before making a stop in gorgeous Sóller and continuing on to its final destination Port de Sóller. The Tren Sóller is an unmissable experience when visiting Palma and a great way of seeing some of Mallorca's spectacular scenery.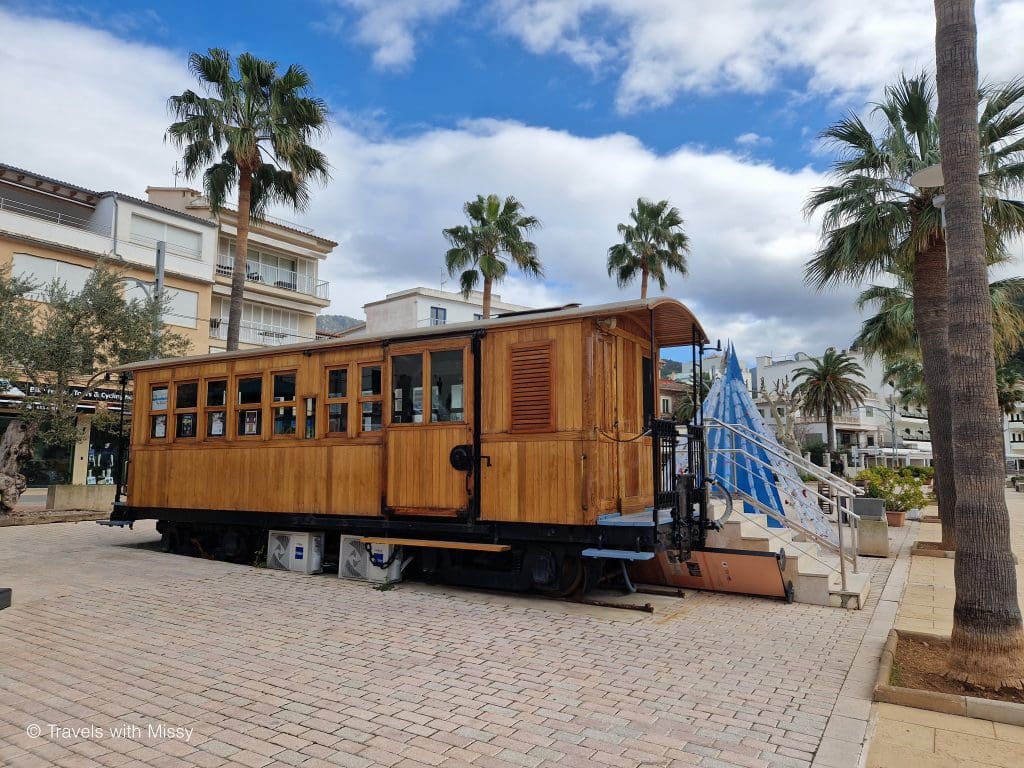 M House Hotel // Featuring stunningly decorated rooms, an adorable rooftop pool and epic views across Palma, M House Hotel is where to stay in Palma for those looking for shopping, style and comfort.
Convent de la Missio – Adults Only // If you've ever wanted to stay in a former convent, make sure you don't miss a stay in Convent de la Missio. This adults-only hotel is perfect for those looking to combine a luxury hotel stay with spectacular spa facilities. The rooftop terrace is spectacular and features a small pool.
Hotel Gloria de Sant Jaume // There are numerous reasons to choose the 5-Star Hotel Gloria de Sant Jaume as your base in Palma. It could be the traditional rooms that retained their typical Mallorquin character. Or the delightful rooftop terrace that has views for days. Or the spa that features an indoor pool, steam room, and treatments. The location is unbeatable too.
Palma Marina
One of the busiest ports in the Mediterranean, Palma Marina is a hive of activity. Head down to the marina at any time and you never know what mega yacht you might encounter or cruise ship that has called in to unload its daytrippers.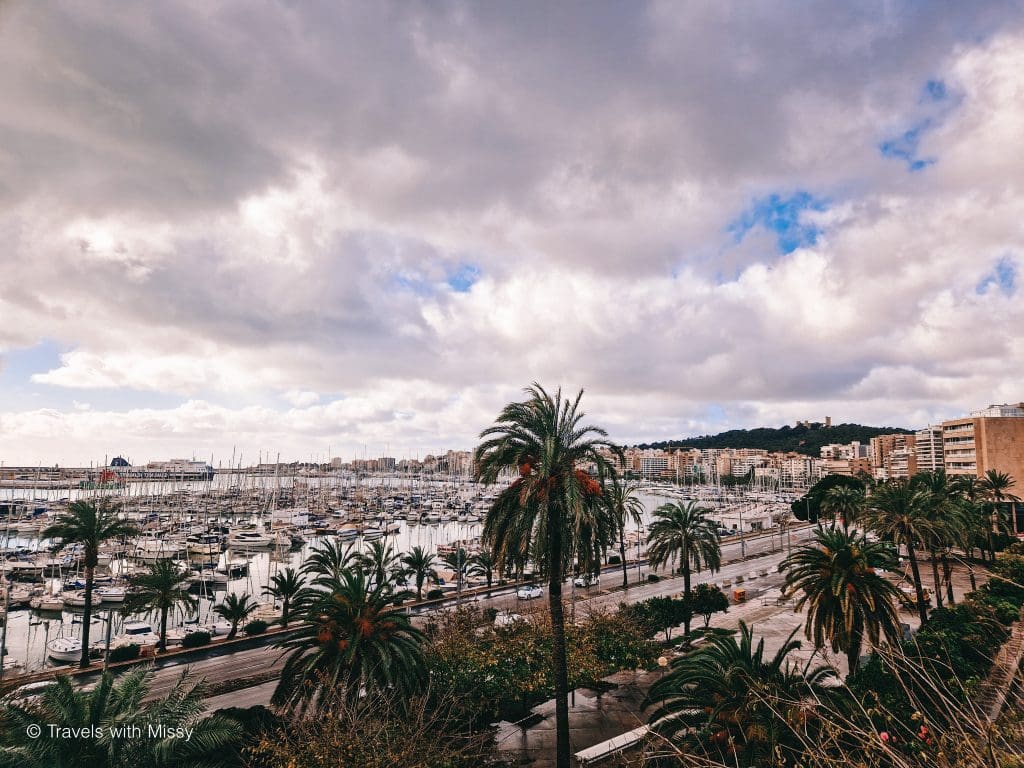 Throughout the year, it's a great place to go for an evening stroll and admire the yachts bobbing in the sea. And for visitors looking for where to stay in Palma that provides stunning views and proximity to Santa Catalina & the city center, a stay in Palma Marina makes a solid choice.
This area of Palma is built up with high-rise apartments and combined with a wide range of hotels. Palma Cathedral is only 1.5 kilometers away, and there are numerous buses and taxis that connect with the city center frequently.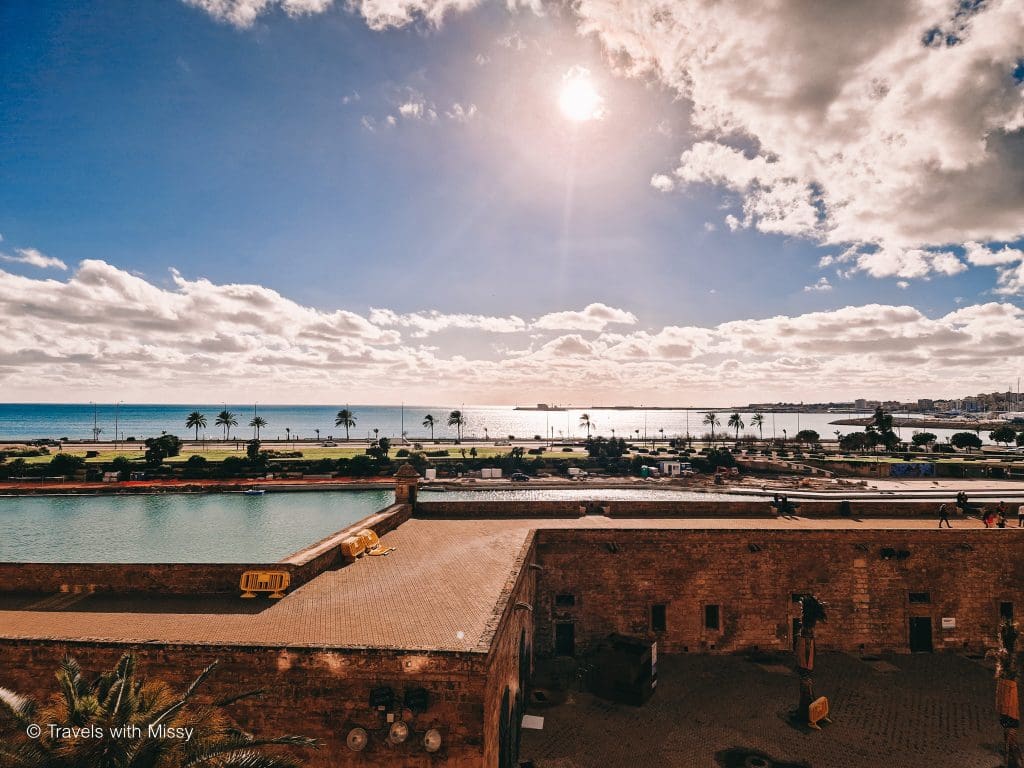 Spend an early morning hiking up the winding path that leads to 14th-century Bellver Castle and admire spectacular views across Palma and the marina below.
Meliá Palma Marina // With stunning views over Palma Marina, if the stunning atrium of Meliá Palma Marina doesn't make your jaw drop, then the views from the sea view rooms will. The pool is a bit on the small side, but there are ample sun loungers. A solid 4-star hotel.
Hotel Artmadams // You'll see Hotel Artmadams long before you realize what exactly you're looking at. With one of the most colorful facades in Palma, this funky hotel is centered around art and creativity and features a small rooftop plunge pool. Decent value too.
Hotel Victoria Gran Meliá // With the impressive Bellver Castle directly behind it, Hotel Victoria Gran Meliá has sweeping views of Palma Marina in front of it. This 5-star hotel is a little taste of luxury is a solid location. Start you morning with a walk either on the promenade or hike up Bellver Castle.
Cala Major
For those wondering where to stay in Palma which offers large resort-style hotels, stunning views, and a short drive to the city center, then Cala Major is the place for you. 
Just around the headland from Palma City Centre, and a short 7-minute taxi ride, you'll find Cala Major is perfect for families and couples who want a relaxing city break but with proximity to a fantastic beach.
The hotels in Cala Major are large and sprawling, but it is the stunning beach that attracts dwellers from all over the area. Platja de Cala Major is stunning! And during the summer months, it throngs with beachgoers from dawn till dusk.
There are endless restaurants, bars, and nightclubs all the way down the coast to Magaluf and beyond.
Hotel Be Live Adults Only Marivent // An Adults Only hotel in Cala Major, this is a great 4-star hotel with stunning views over beautiful Cala Major beach. You'll also find that there is an exclusive beach club on site – Pelicano Beach.
Hotel Joan Miró Museum // A good option for those looking for a more affordable hotel in Palma. Hotel Joan Miró Museum offers air-conditioned rooms, and a large pool and is only a 10-minute drive from Palma City Centre.
Nixe Palace // Nixe Palace offers a 5-star experience in Cala Major with an outdoor and outdoor swimming pool. The rooms have been refurbished to a high standard and are the go-to hotel in the region for golf lovers. The hotel has special green rates for Golf fanatics in the family.