Imerovigli or Oia: Which Santorini Town Should You Choose in 2023?
Torn between staying in Imerovigli or Oia? Don't worry I was in the same position recently when I was planning my first visit to Santorini. I couldn't quite figure out which town would be a better choice for my once-in-a-lifetime trip to Santorini, so I stayed in both!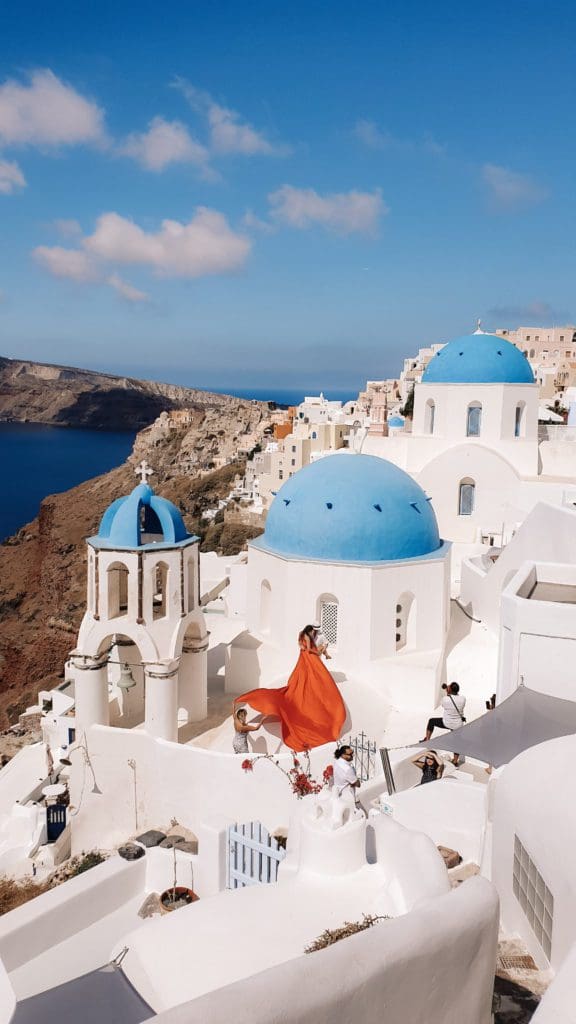 However if time is short, or you can't decide between staying in either Oia or Imerovigli let's dig into some of the pros and cons of both options.
Oia and Imerovigli Overview
The towns of Oia and Imerovigli are two of the prettiest places to stay in Santorini. Both places offer incredible views of the caldera, and you'll find an excellent range of luxury accommodations that will make for endless memories.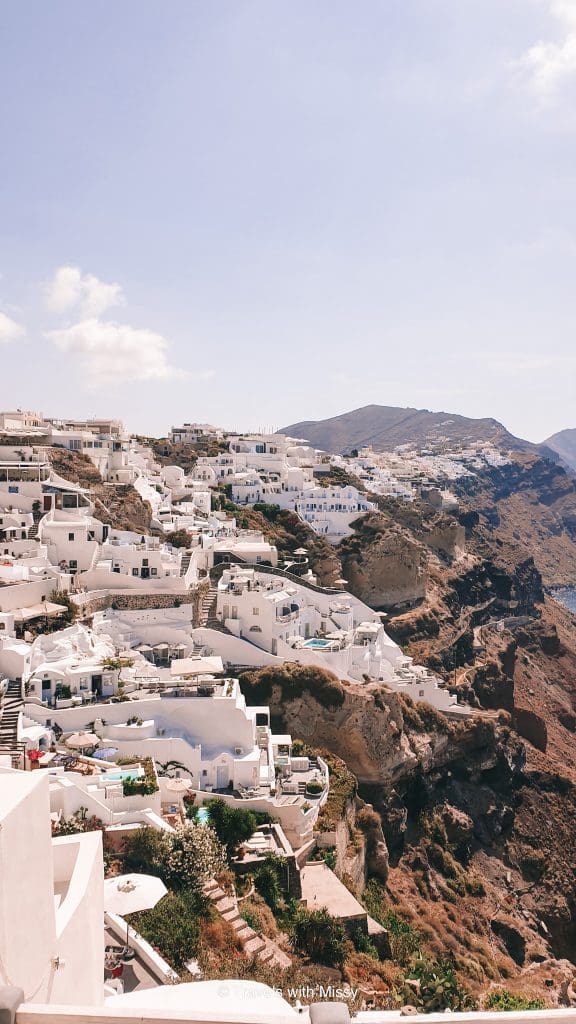 The town of Oia is the larger of the two and is popular with day-trippers and those who come to watch the sunset. The main street of Oia has a number of restaurants, boutique stores and tour operators.
Imerovigli is much smaller and is essentially a path with a small number of restaurants luxury hotels. The main street connects Imerovigli with the rest of the island and you can catch the local bus from here. You'll also find a supermarket for supplies.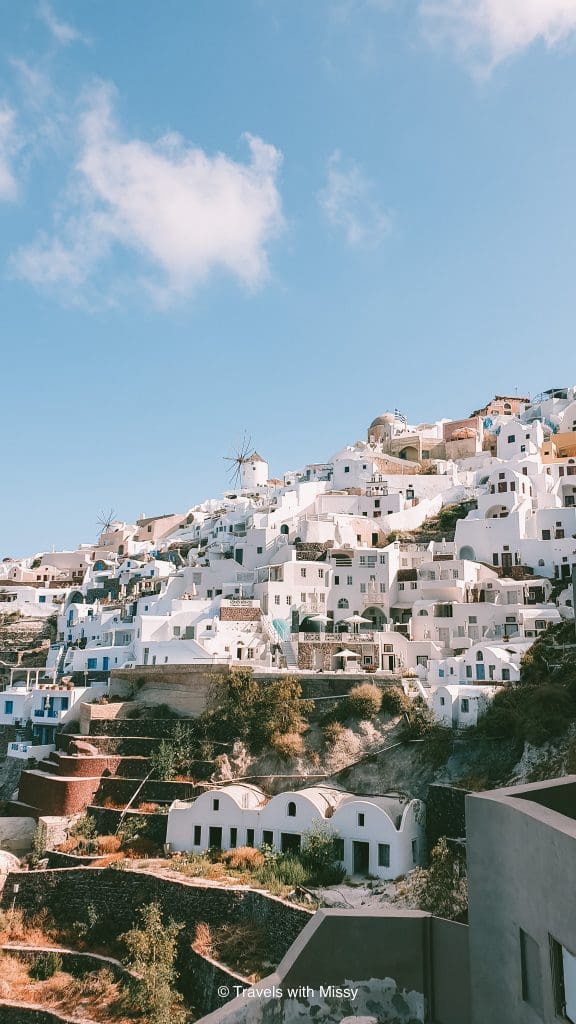 Let it be noted that if you are on a budget, it won't stretch very far in either of these places as it's mostly 4 & 5-star hotels in these areas. However, if you go off-season you may be able to snag a bargain or two (many hotels shut down between mid-November and mid-March).
Looking for a guide to Santorini? Purchase my guide!
Hotel Experiences
Firstly, if you are looking for a dreamy location then both Oia and Imerovigli are ridiculously romantic. Couples, honeymooners, and babymooners will love staying in either Imerovigli or Oia in some of Greece's most opulent and dreamiest accommodations.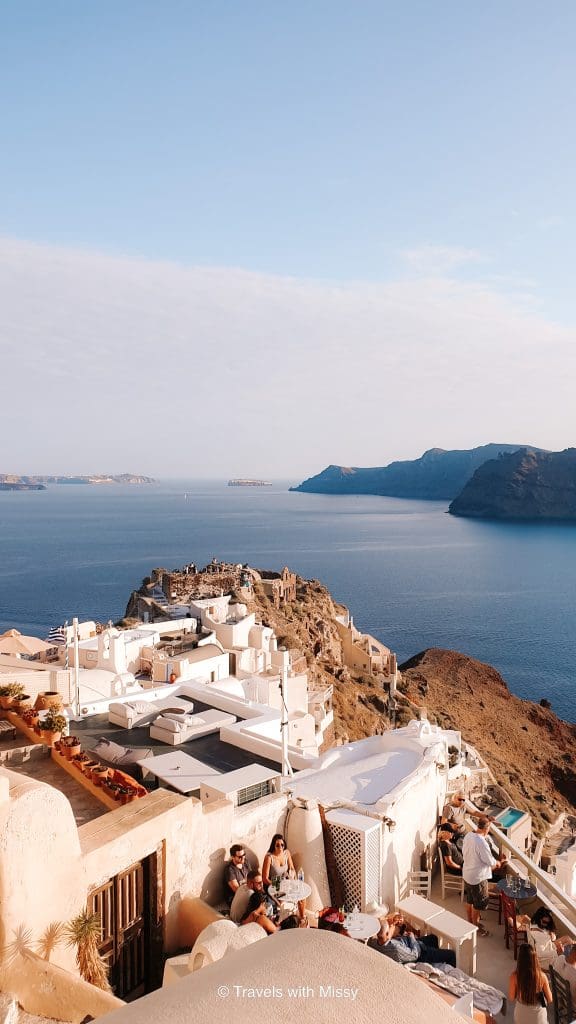 You'll find a number of hotels that offer that incredible Santorini experience of plunge pools that cling to the edge of a cliff, hundreds of stairs, and cave bedrooms. The more money that you can splurge at staying in either Oia or Imerovigli, the grander the hotel and amenities that come with it. 
We stayed at Canaves Oia Suites and it really was an out-of-this-world experience, that even now a few years later we still talk about extensively (I keep finding all the Hermes shower bottles I 'borrowed' from the bathroom every couple of months in my apartment). 
[icon name="bed" prefix="fas"] Top Hotels in Oia
Oia has a better variety of accommodation options to choose from as it is the bigger town of the two. If you are looking for hotel or accommodation that is not positioned on the caldera's edge (think all the luxury hotels and images you've seen of Santorini), and offers a more affordable price range then you'll have better luck in Oia.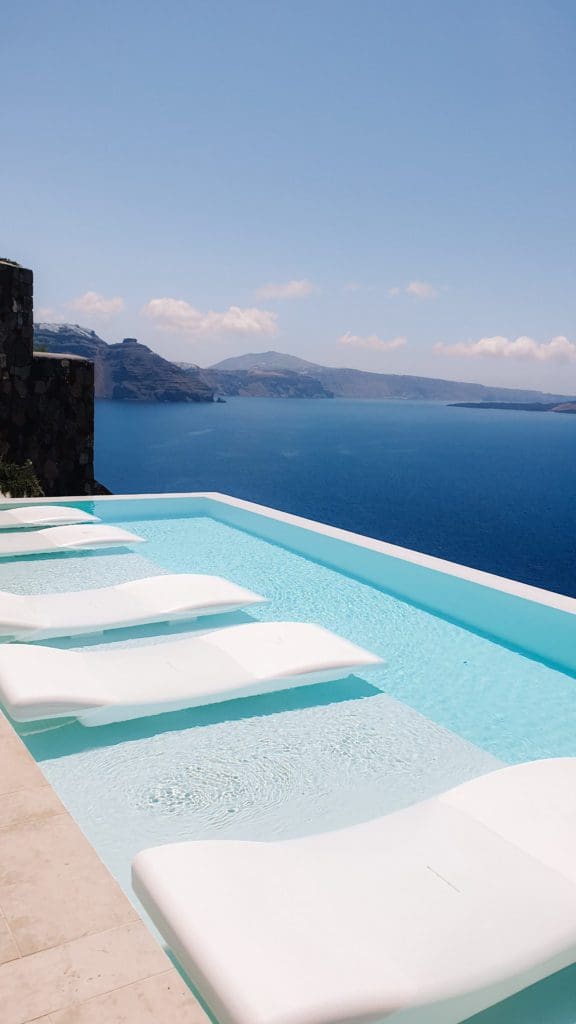 Imerovigli is a lot more intimate and is aimed at couples looking for that perfect Santorini private pool experience. You'll struggle to find budget accommodation in Imerovigli.
[icon name="bed" prefix="fas"] Top Hotels in Imerovigli
Both towns are essentially a single street (and in the case of Imerovigli – a path), you'll find that each hotel has porters to carry your luggage to and from your room (which personally I was absolutely mortified by the weight of my suitcase and the porter who had to hoist it up and down the cliff-face).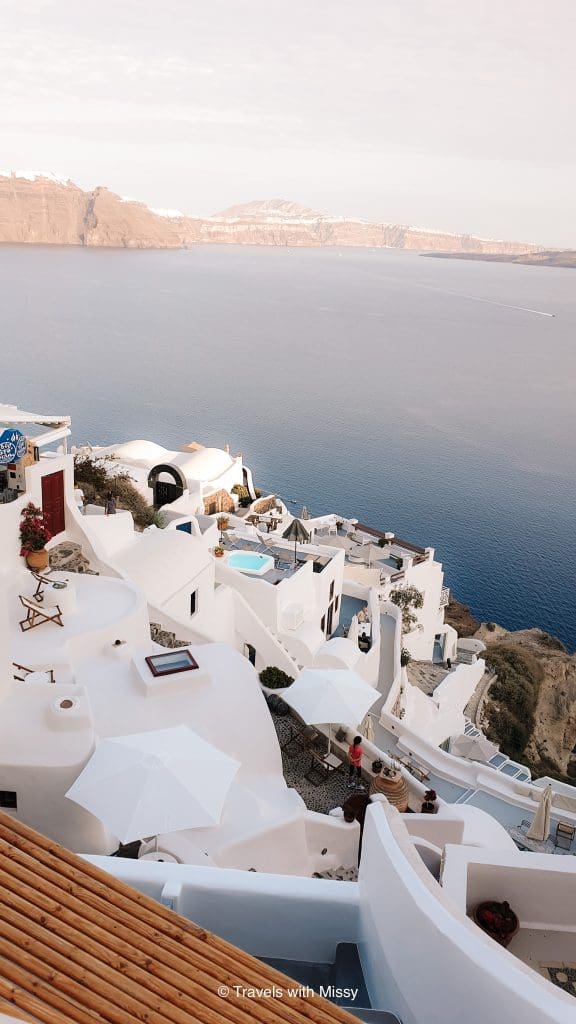 Which town is more picturesque?
Oia is hands down one of the most picturesque places in all of Greece. It's jaw-droppingly beautiful and seeing the caldera for the first time from Oia is a sight you won't soon forget.
Whether it's lit up at night, or watching the sea below sparkle, it's hard not to be impressed with the sheer engineering that has gone into creating the hotels and accommodations in Oia.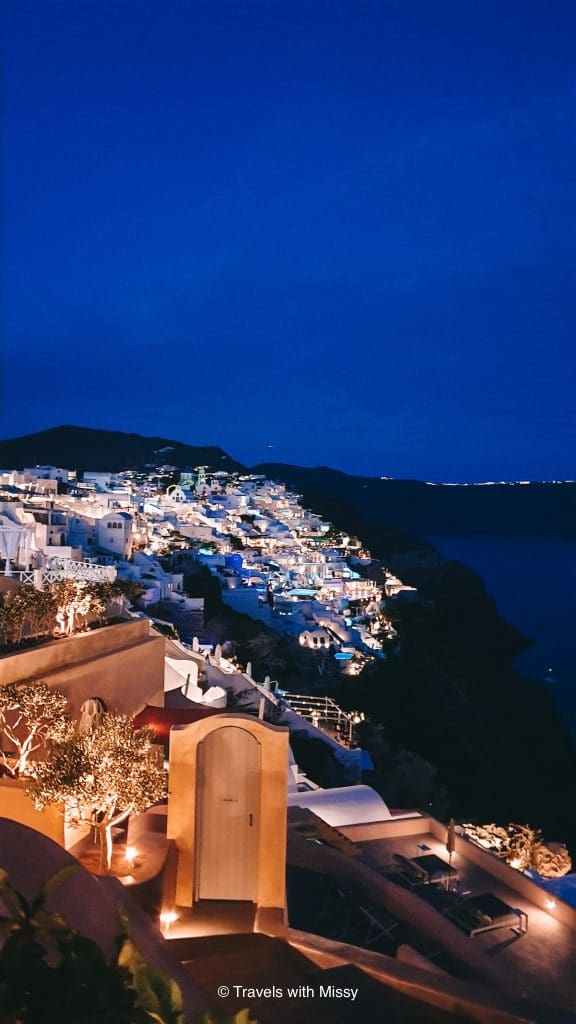 And whilst Imerovigli is also beautiful and has an incredible setting, it's just perhaps a bit too small to have that 'wow-factor' that Oia has. There is one bonus to Imerovigli that Oia doesn't have, you'll have an incredible Santorini sunset with Oia placed firmly in the background. The sunset views are much better in Imerovigli.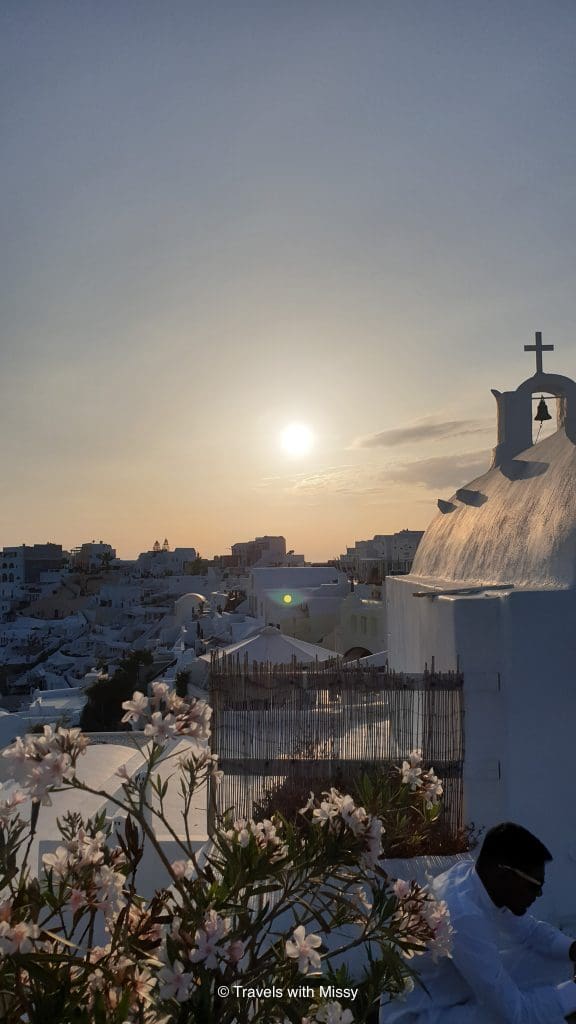 But don't worry you'll still take thousands of photos of both places as they are both really quite unique.
Does Oia or Imerovigli have better restaurants and shopping?
Oia wins this one again. In fact, there are only a handful of restaurants in Imerovigli, and no stores (a supermarket on the main street, tour agency and perhaps a souvenir shop?) worth visiting.
However, staying in Imerovigli means you are considerably closer to Fira than you are to Oia. Fira has a super selection of restaurants and stores to choose from.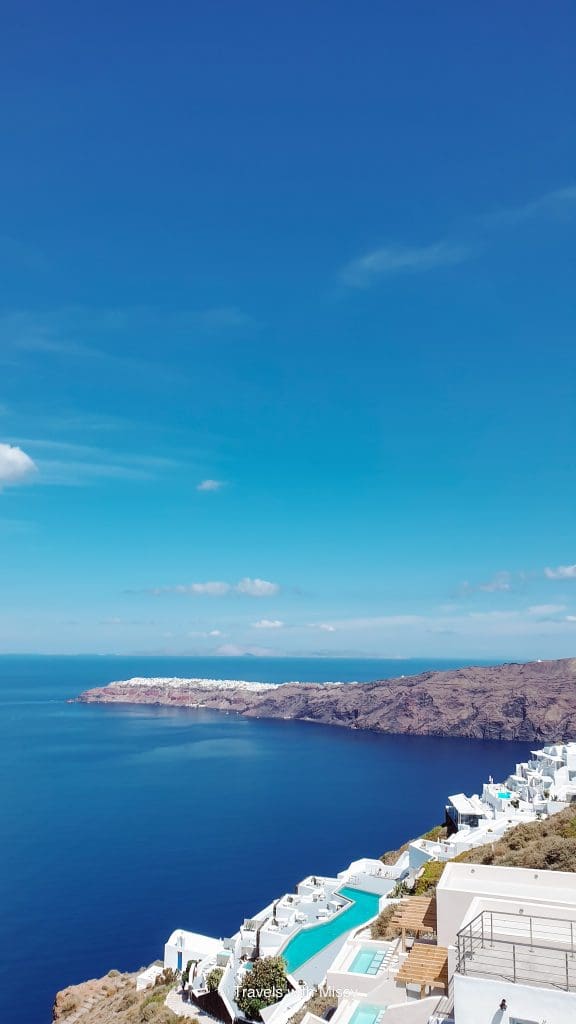 Most visitors walk the 20-minute downhill to Fira (it's a brilliant walk and takes you along the path of the Fira to Oia hike), and have dinner and cocktails before either taking a bus back up to Imerovigli or a taxi. Taxi prices are set for the distance and doesn't cost much. 
Oia has a solid selection of restaurants to choose from as well as some high-end stores. If you've been in search of a new diamond necklace or expensive handbag, then you'll be pleased with the store selection in Oia.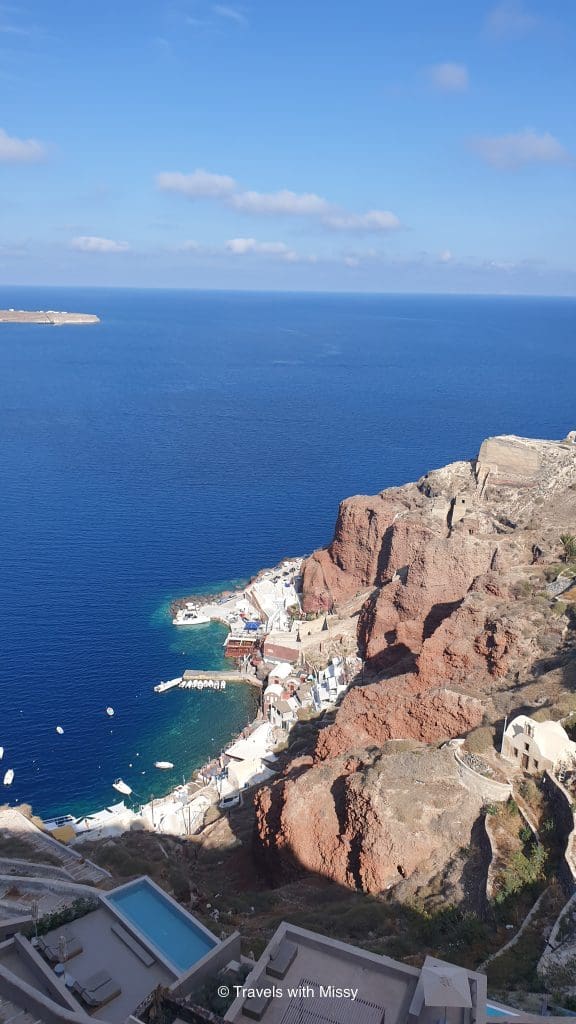 Pros & Cons of Oia
Pros of Staying in Oia
[icon name="check" prefix="fas"] Oia has a fantastic selection of luxury accommodations, as well as some mid-range hotels.
[icon name="check" prefix="fas"] There is a better selection of restaurants to choose from.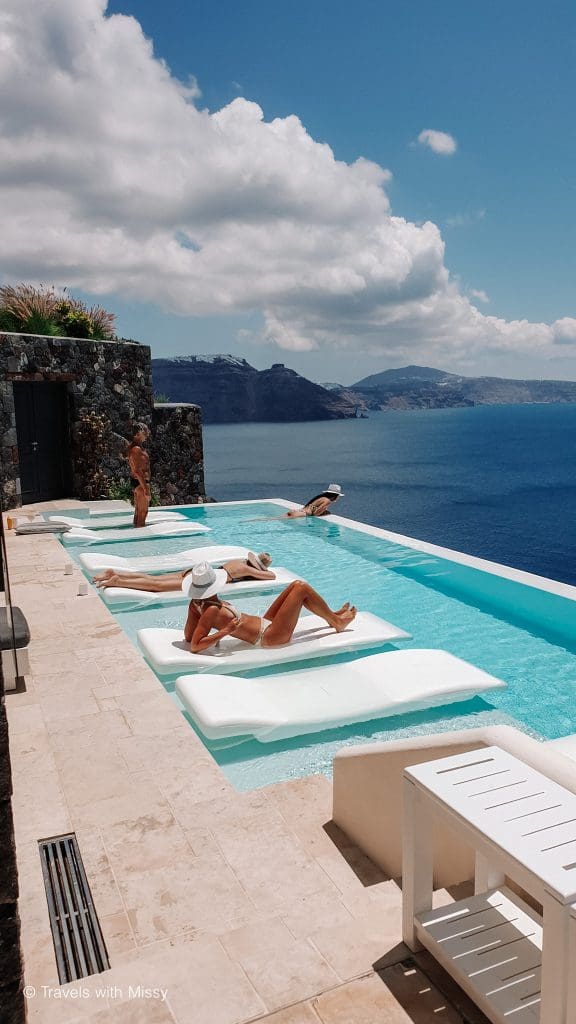 [icon name="check" prefix="fas"] Sunset cruises depart from Amoudi Bay which is a 'short' walk down a cliff with some of the biggest stairs I've ever seen. I am supremely unfit, so it could just be me.
[icon name="check" prefix="fas"] The landscape. The setting. It's honestly just an out-of-this-world experience. Get up really early and enjoy the morning before the crowds arrive.
Cons of Staying in Oia
[icon name="circle-xmark" prefix="fas"] Prepare yourself for crowds that are almost impossible to imagine during the day and especially at sunset. Cruise ships will unload thousands of passengers onto the island, and Oia is one of their destinations.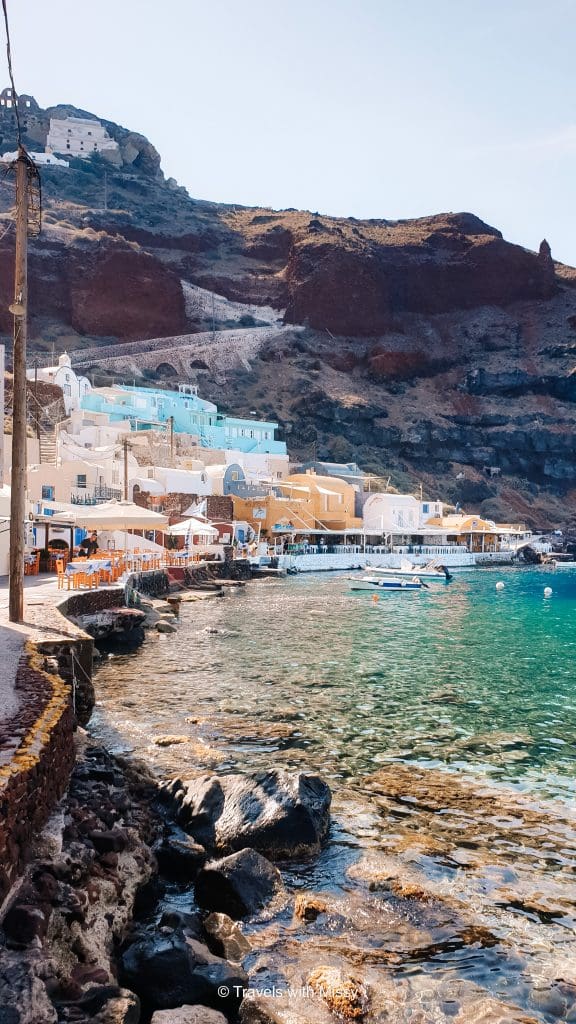 [icon name="circle-xmark" prefix="fas"] There are some accommodations that offer plunge pools but in terms of privacy, they offer very little (you'll have throngs of tourists hanging outside your accommodation). So do make sure you read the reviews from guests and see what they say.
[icon name="circle-xmark" prefix="fas"] Oia is expensive. From exclusive hotels, boutique stores, restaurants, and bars the prices can be eye-wateringly expensive for even a cup of coffee. So if you're on a budget, you'll need to weigh up the prices.
[icon name="circle-xmark" prefix="fas"] Don't even think about driving a car anywhere Oia. Instead, organize a private transfer, call a taxi, or at worst rent an ATV. There is no parking.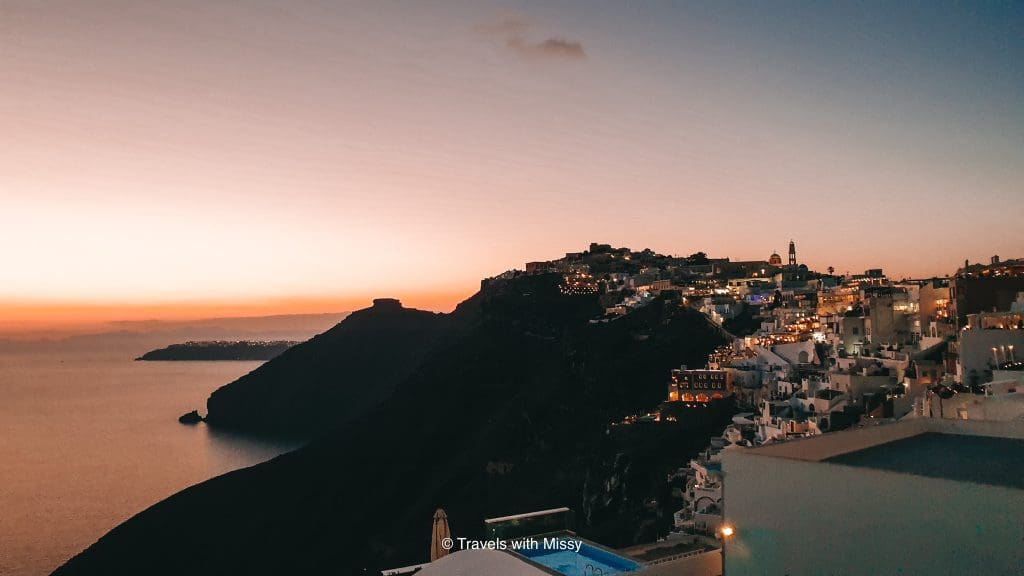 [icon name="circle-xmark" prefix="fas"] If you have limited mobility or are a wheelchair user, make sure to read reviews about accommodations that will suit your needs. Much like Imerovigli, the town of Oia is built into the cliff face and there are a lot of stairs.
Pros & Cons of Imerovigli
Pros of staying in Imerovigli
[icon name="check" prefix="fas"] Imerovigli is seriously breathtakingly beautiful. The intimate nature of this town is nestled into the rock face as it spills down the cliff.
[icon name="check" prefix="fas"] Fira is a 20-minute walk downhill from Imerovigli and you'll find a wider variety of restaurants and bars than in Oia. The walk down to Fira is unmissable and you'll stumble across some smaller restaurants that have some of the best views of the caldera.
[icon name="check" prefix="fas"] Looking for somewhere romantic, you've found it in abundance.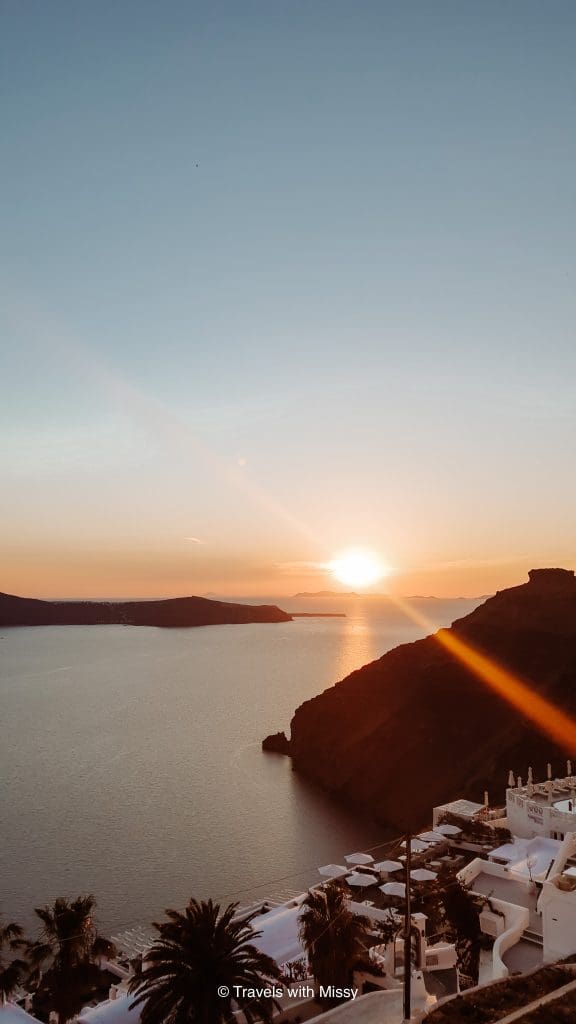 [icon name="check" prefix="fas"] There are a great range of 4-star and 5-star hotels in Imerovigli that offer a range of amenities and services. Looking for that once-in-a-lifetime hotel, you'll find it here in Imerovigli.
[icon name="check" prefix="fas"] The hiking route from Fira to Oia passes along Imerovigli, so you can easily hop on the path if you're up for an adventurous couple of hours.
[icon name="check" prefix="fas"] Skaros Rock is another popular spot to watch the sunset from as well as to and hike around (I didn't get close enough to see if you can actually go around it, so please do some research before you fall off a cliff).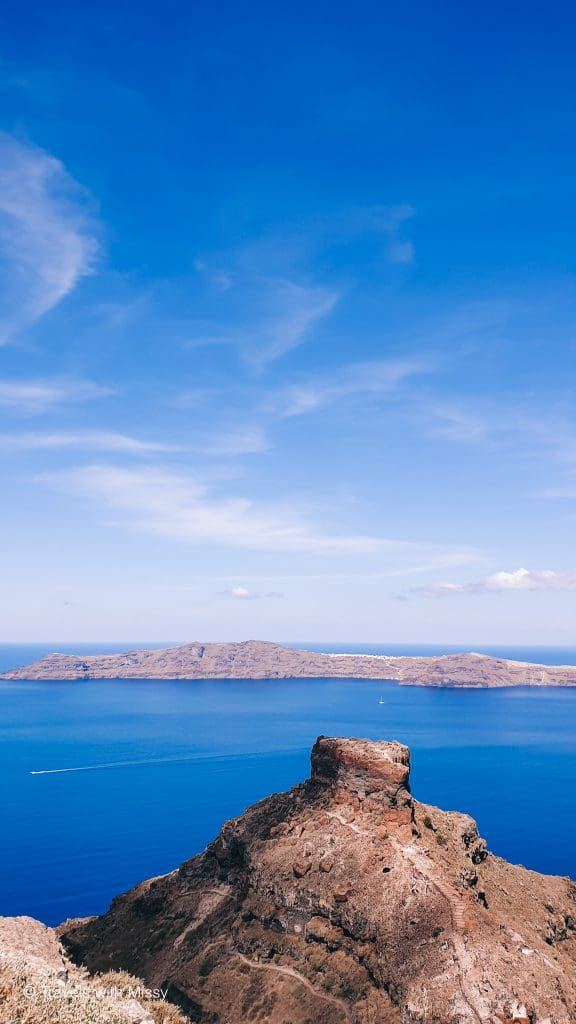 Cons of staying in Imerovigli
[icon name="circle-xmark" prefix="fas"] There is not a lot to do in Imerovigli. If you are uncomfortable with hanging out by the pool or on your sun terrace you'll be very bored here.
[icon name="circle-xmark" prefix="fas"] You'll struggle to find restaurants as there is only a handful in the immediate area. You'll need to head into nearby Fira for lunch or dinner. Oia is around a 15- 20 minute drive from Imerovigli.
[icon name="circle-xmark" prefix="fas"] There are no boutique stores or shops in this area except for a supermarket, car hire place and that's about it.
[icon name="circle-xmark" prefix="fas"] Depending on your hotel in Imerovigli you may have to contend with a lot of stairs. It gets old really quickly.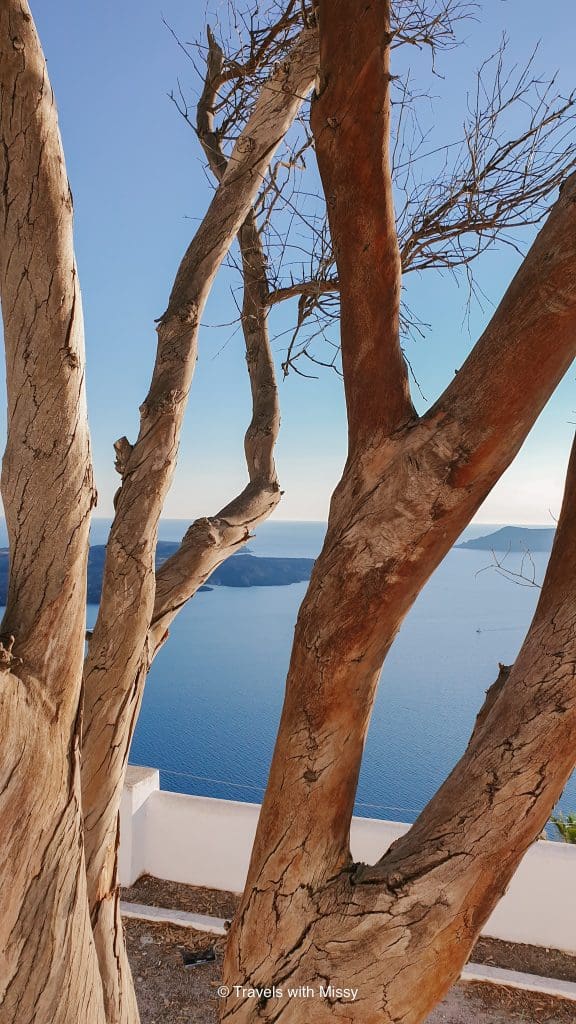 Oia or Imerovigli?
So which one has tickled your fancy the most? Ultimately it's down to what you're looking for in a vacation. Oia offers unlimited luxury (at a price – crowds & cost with some of the most decadent hotels in Greece. Whereas Imerovigli offers a bit more relaxation and a chance to unwind (but you will have limited dining options).
Both are beautiful towns in Santorini and offer some of the most unique accommodations you'll probably stay in in Greece.