The Ultimate Guide to Finding The Perfect Hotel in Positano 2023
Beautiful Positano is one of the sweetest spots on the Amalfi coast and known for its picturesque town that stumbles down the steep mountainside. Millions of visitors add Positano to their Italian bucket list and rightfully so, it's the quintessential Amalfi coast town that promises romance, beauty, and the Italian dream in one magnificent setting.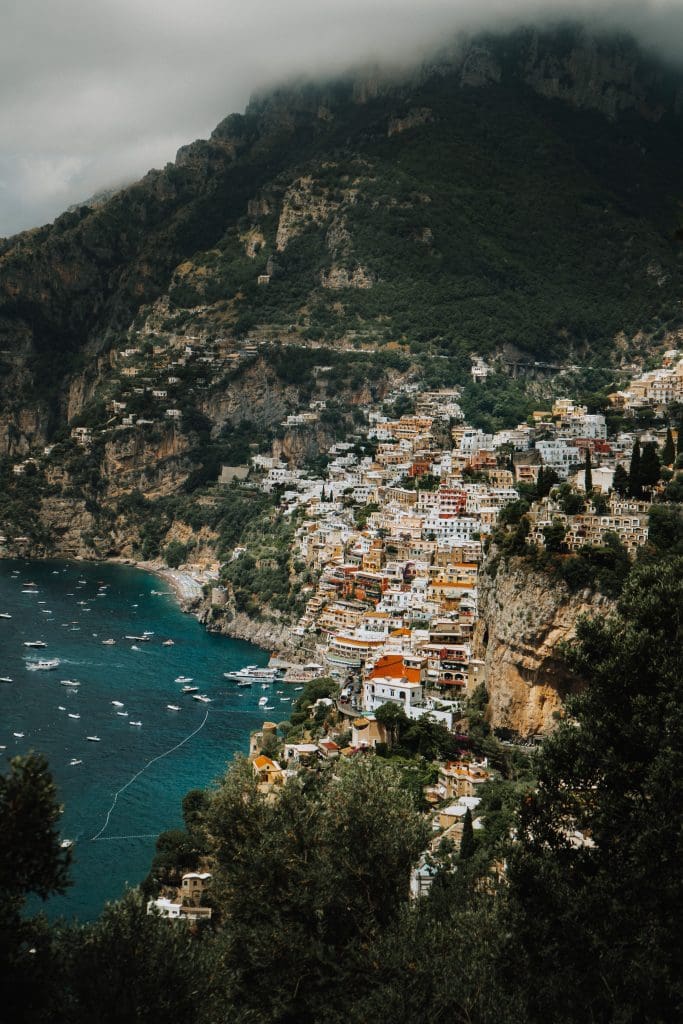 There are a few things to know when deciding where to stay in Positano:
Beauty comes with a price. There are a LOT of stairs in Positano that are required to get around the town. But don't worry by the end of your vacation you'll have one of the most toned bums in the region and thighs that can crack a walnut.
It's busy. Positano being one of the most popular destinations attracts a huge volume of visitors throughout the year, but especially during the summer months. It quietens down a little bit in the evening.
Don't rent a car. It's not even worth the hassle of trying to find parking (there's barely any and it's an added stress that you don't need on your dream vacation).
Hotels are expensive. If you're looking for budget accommodation, you'll need to take Positano off your list. Positano is quite like Santorini in the sense that it offers beautiful views and experiences but has a hefty price tag attached to it. It is worth noting that much like these bucket list experiences, they are totally worth the price tag.
Book your accommodation a few months in advance. If you're planning on spending some time in Positano during the summer months, be warned that you do need to book your accommodation at least 4 months in advance. Availability during the summer months is scarce for those looking for a last-minute hotel.
Purchase my 23-Page Guide to the Amalfi Coast!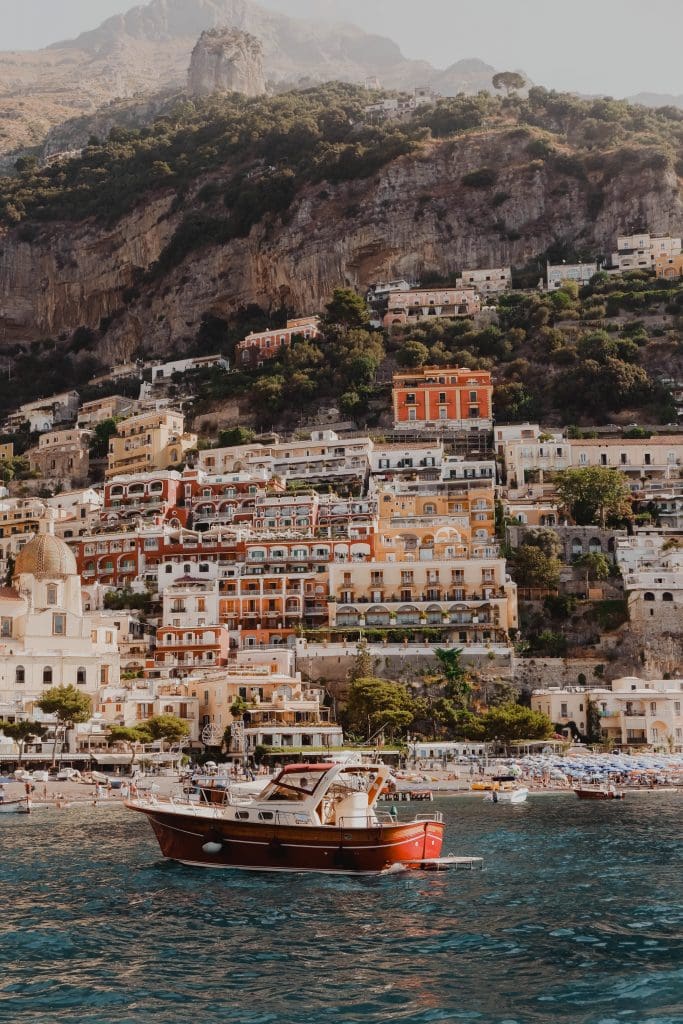 The town of Positano is really quite small and deciding where to stay is not challenging as you'll never be too far away from the beach, restaurants or main street. There are several areas in Positano to stay in, each with its own unique charm and atmosphere.
Where to stay in Positano
Here are some of the best areas to stay in Positano:
Centro Storico: This is the historic center of Positano and is the heart of the town. It features colorful houses, narrow streets, and several historic landmarks such as the Chiesa di Santa Maria Assunta. Staying in this area will put you in the center of the action, with easy access to the beach, restaurants, and shopping areas.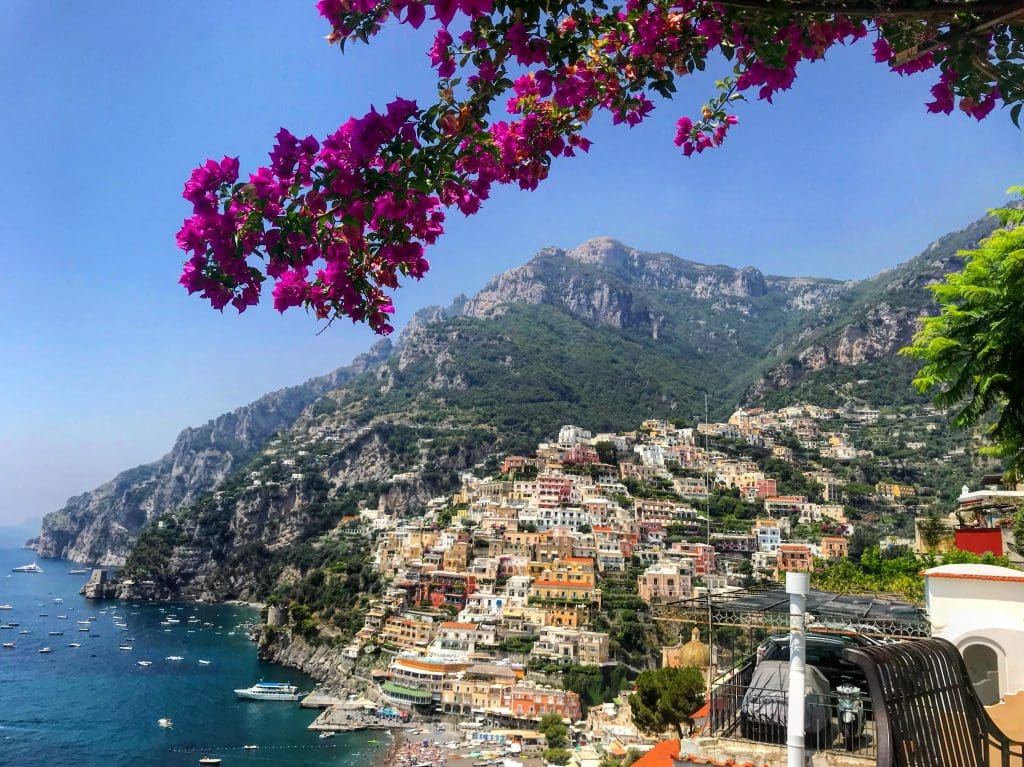 Fornillo: This is a quiet area of Positano, located on the western side of the town. It features a secluded beach and is surrounded by lush vegetation. Staying in this area will offer you a peaceful and relaxing atmosphere, away from the hustle and bustle of the town center.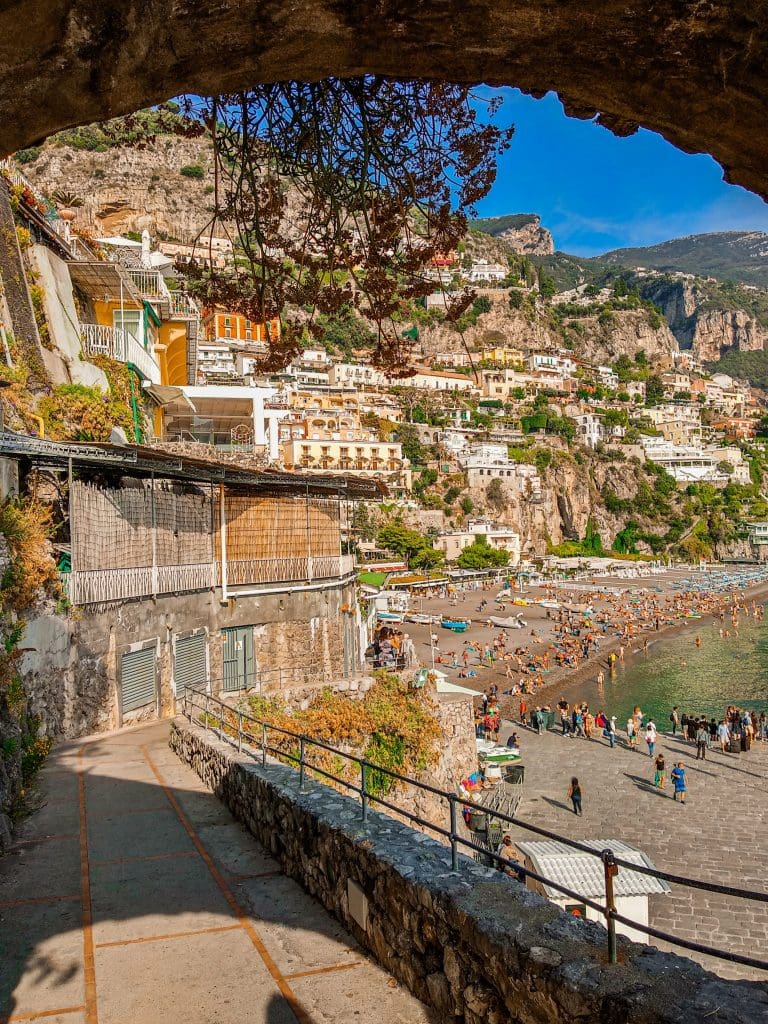 Positano Spiaggia: This is the main beach in Positano and is a popular spot for sunbathing, swimming, and enjoying beautiful views. Staying in this area will put you close to the beach and within walking distance of the town center.
Viale Pasitea: This is a scenic area of Positano, located on the eastern side of the town. It features beautiful views of the sea and the town, and is home to several restaurants and shops. Staying in this area will offer you a peaceful and scenic atmosphere, with easy access to the town center.
Best Hotels in Positano
Positano has many beautiful hotels to choose from, ranging from luxurious five-star properties to charming bed and breakfasts. Prices range from around $200 for a 2-star hotel in Positano and increase exponentially. If you're looking for more budget-friendly accommodation, check out my guide on where to stay on the Amalfi Coast.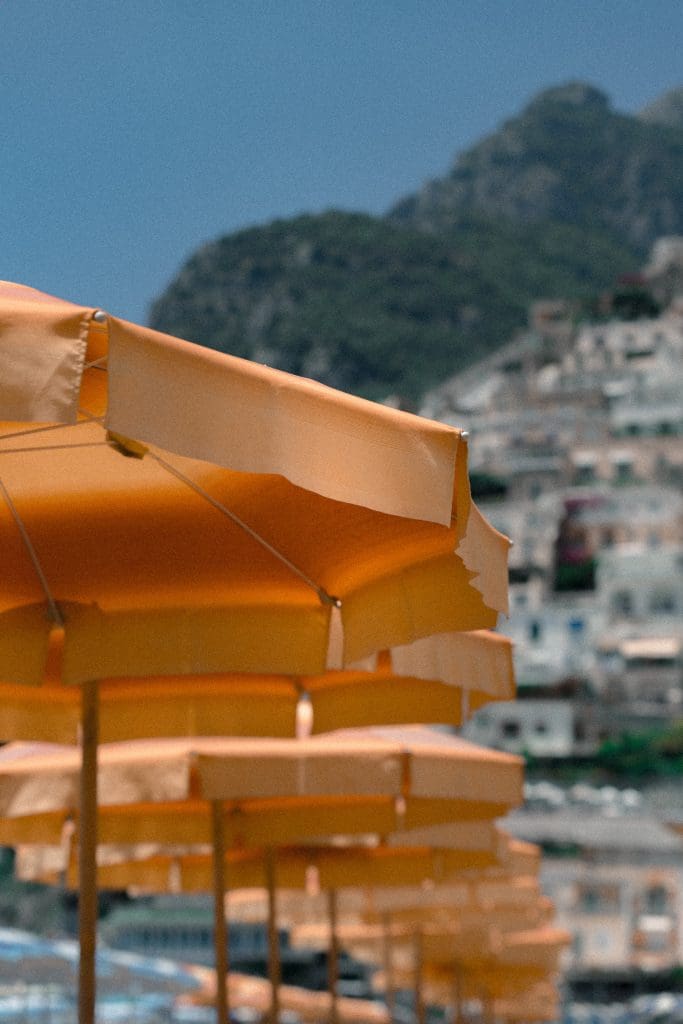 If you've dreamt of staying in Positano but the price tag doesn't align with your vacation budget, then consider visiting off-season from November – March when prices drop dramatically.
However, if you have the budget and money is no option then you're in luck because Positano offers some of the dreamiest accommodation choices.
Luxury Hotels in Positano
Le Sirenuse: One of the most famous and luxurious hotels in Positano, located in the heart of the town. It features elegant rooms, a Michelin-starred restaurant, a rooftop terrace, and a stunning swimming pool overlooking the sea.
Villa Treville: This is a luxurious hotel located in a secluded area of Positano, surrounded by gardens and panoramic views of the sea. The hotel features elegant rooms, a private beach, a spa, and a beautiful infinity pool. Positano is a 15-minute walk away.
Hotel Palazzo Murat: This charming hotel is located in the historic center of Positano and features elegant rooms with antique furnishings, a beautiful garden, and a swimming pool. It is close to the beach and many shops and restaurants.
Casa Buonocore: A stunning 17th-century house transformed into one of the most beautiful and personal accommodations in Positano. From the linens used in the bedrooms to the decor and the balcony that overlooks the sea, you won't want to leave Casa Buonocore.
Hotel Marincanto: This hotel is located on a cliff overlooking the sea and features elegant rooms, a panoramic swimming pool, and a private beach. It is a short walk from the center of Positano and offers stunning views of the coast.
Hotel Villa Franca: Hotel Villa Franca is a 5-star hotel that features 37 rooms and suites, each with its own unique decor and design. The hotel offers stunning views of the Mediterranean Sea and the surrounding landscape, and many of the rooms and suites have private balconies or terraces with sea views.
The hotel features a rooftop infinity pool with panoramic views, a restaurant serving Mediterranean cuisine, a bar, a fitness center, and a spa with a sauna, Turkish bath, and massage services. Guests can also enjoy the hotel's complimentary shuttle service to and from the beach, which is a 10-minute walk from the hotel.
Casa Fiorvente: Beautiful and intimate boutique hotel with a stunning hot tub overlooking the Mediterranean sea. A short walk from Positano main street and the beach, the views are breathtaking.
Affordable Hotels in Positano
If you are looking for affordable hotels in Positano I've decided to include a small section of hotels that are 'affordable'. And by that, I mean for Positano they are affordable. The price range for a 3-star hotel starts at around $250, and can even increase to over $350 per night during the summer months.
A lot of the affordable hotels in Positano are quite basic and frankly, the price tag attached to them anywhere else in Italy would be laughed at. So for that reason, I've included some of the more attractive affordable hotels in Positano that won't break your heart (or wallet).
Positioned on the main road in Positano and sandwiched between their family-run restaurants, Hotel Villa Delle Palme in Positano is a 10-minute walk downhill to Spiaggia Positano, restaurants, and the ferry.
Located in Fornillo, Pensione Maria Luisa is a short walk from Positano, this is one of the quieter areas of Positano. The beach at Fornillo is a 10-minute walk from the accommodation.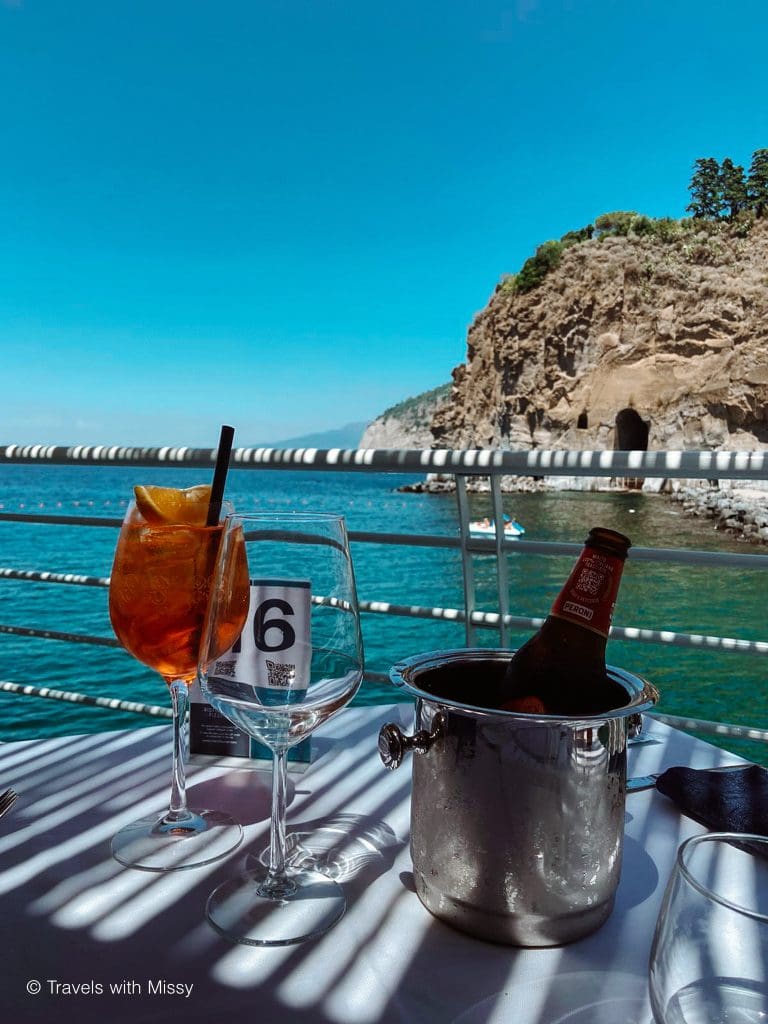 How to get from Sorrento to Positano
There are several ways to get to Positano from Sorrento. Here are a few options:
By bus: You can take the Red or Blue SITA buses from Sorrento to Positano. The bus ride takes about 45 minutes and the ticket costs around €2-€3. The bus departs from Sorrento's main bus station. You can buy tickets at the station or on the bus.
By boat: You can take a ferry or hydrofoil from Sorrento to Positano. The ferry takes about 40 – 55 minutes, while the hydrofoil takes about 30 minutes. The ticket price varies depending on the company and the type of boat, but it usually costs around €15-€20. The ferry and hydrofoil depart from Sorrento's marina, located near the train station.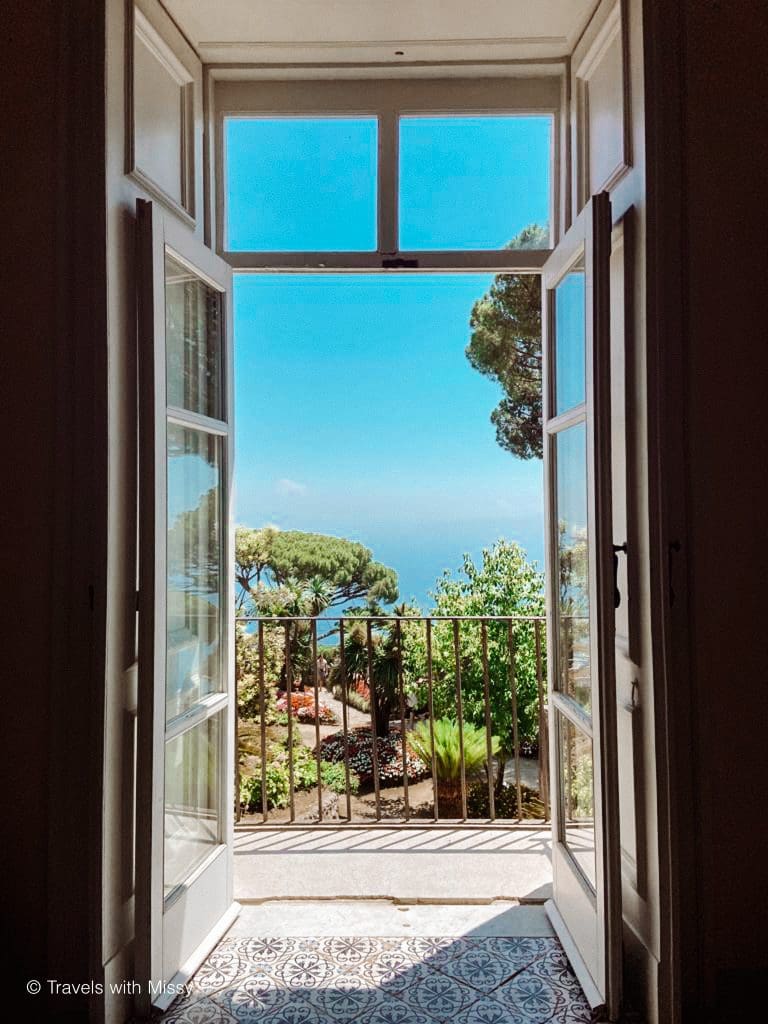 By car or taxi: You can also hire a taxi or rent a car to drive from Sorrento to Positano. The drive takes about 30-40 minutes, depending on traffic, and the road is winding and narrow. There are several car rental agencies in Sorrento, and you can also book a taxi in advance or find one at the taxi stand in Piazza Tasso.