Thinking of a solo trip to New York? Then you've chosen a fantastic destination for a solo travel destination. New York is one of the most incredible cities in the world. There are endless things to do and see, and exploring New York feels like you'll never have a chance to be bored with the possibilities that exist in this city.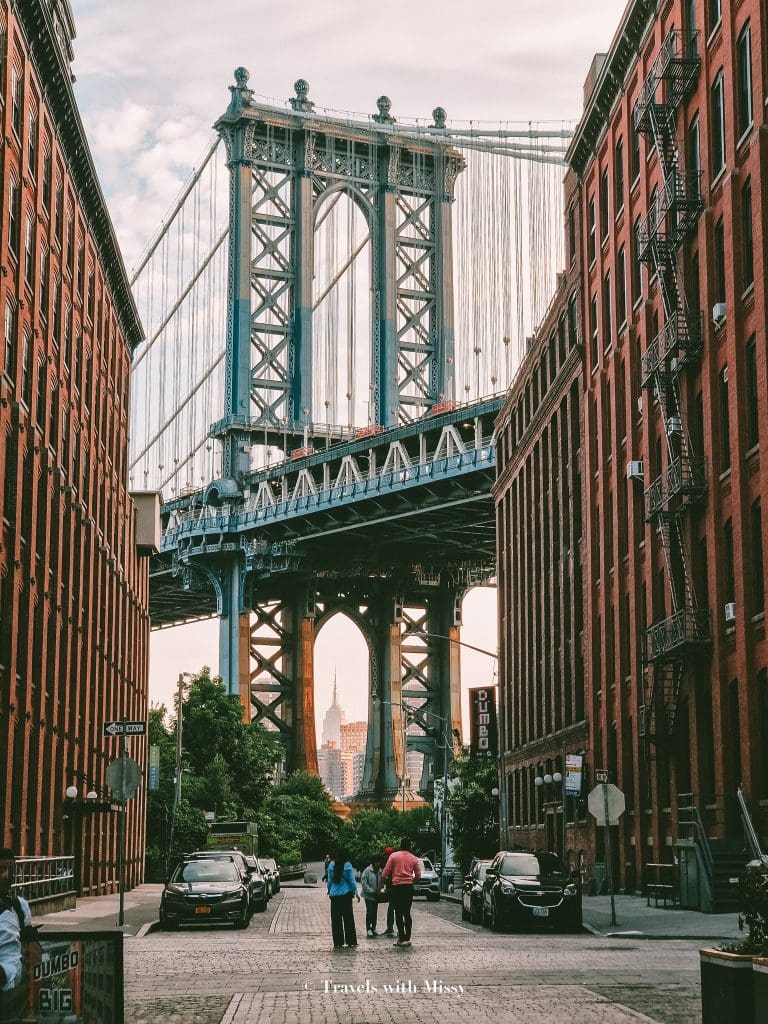 When planning your solo trip to New York you'll find yourself inundated with activities to do. Pace yourself, make a list, and enjoy what NYC has to offer – even after 8 visits to New York I've still got a number of things I need to check off my list.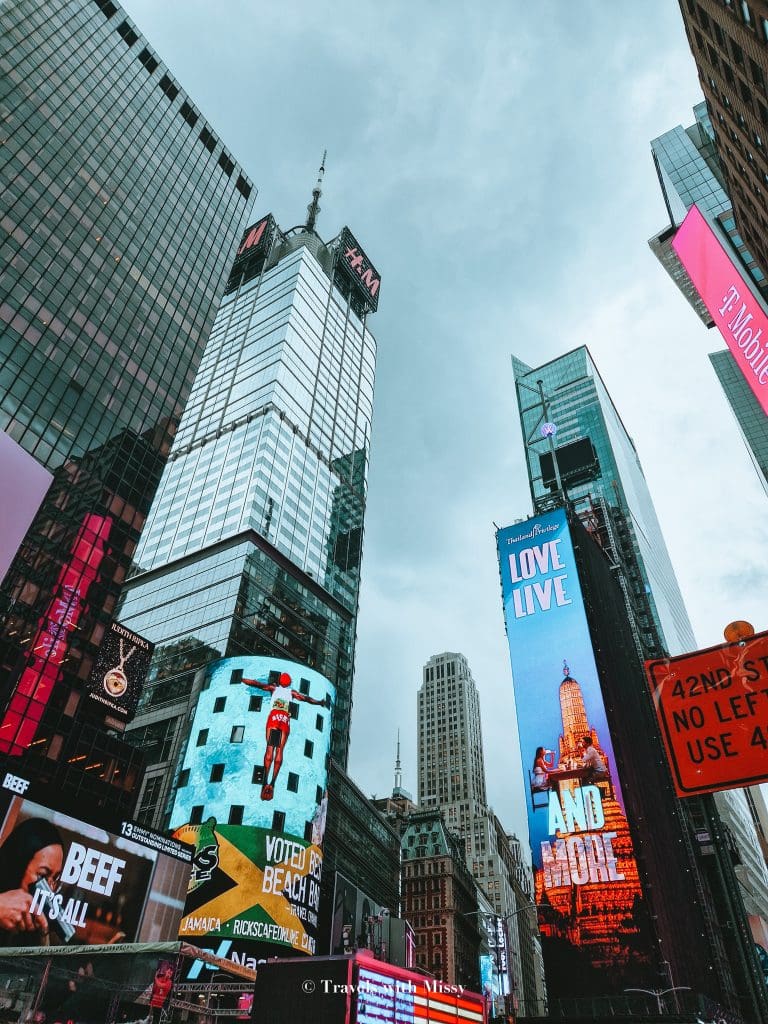 So let's look at some things you can do on your solo trip to New York.
Things to do alone in New York
1. Tenement Museum
One of my favorite new discoveries on my latest solo trip to New York was visiting the fantastic Tenement Museum. Step back in time to two incredibly preserved New York real estate that dates back to the 1860s and early 1930s.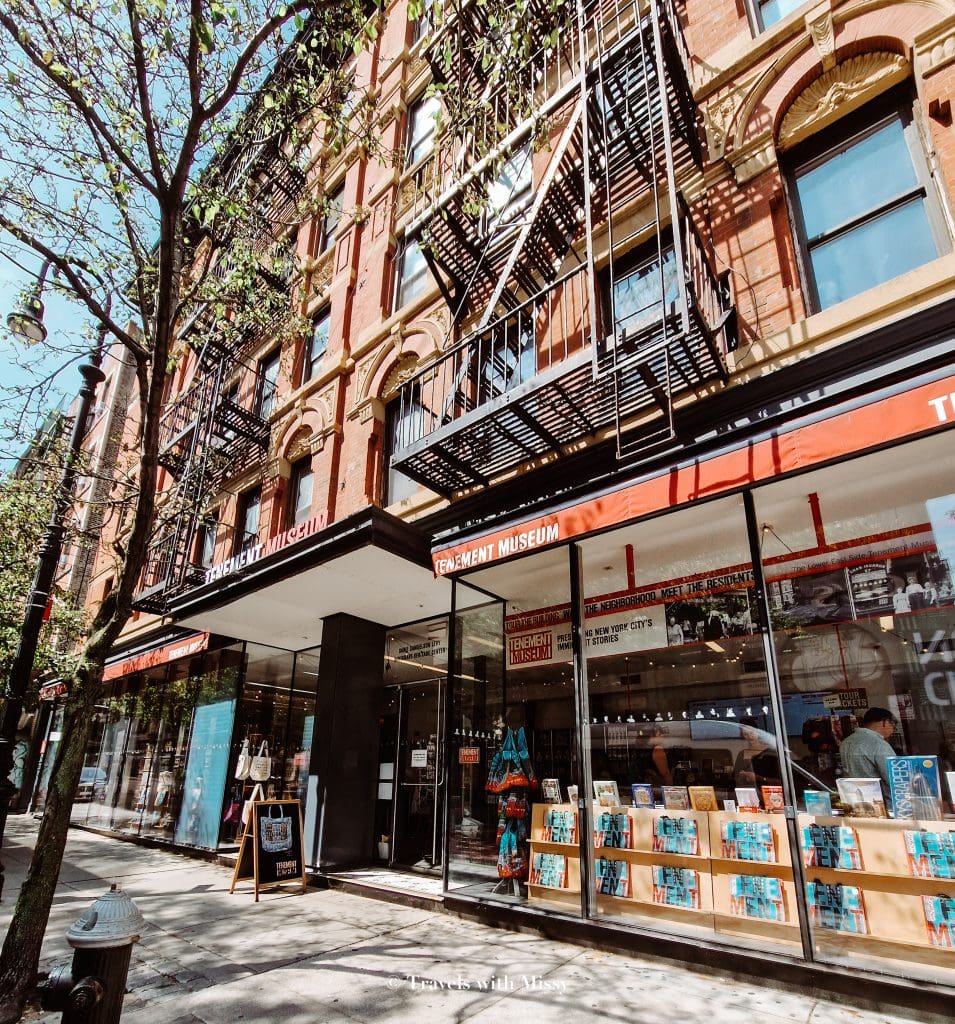 There are a number of tours that you can do that are an hour in length. The tours in the Tenement Museum are expertly led, taking you through vital historical events in New York City and Immigration. 
I enjoyed my first visit to the museum so much that I headed back 2 days later for another tour. A brilliant and unmissable New York experience.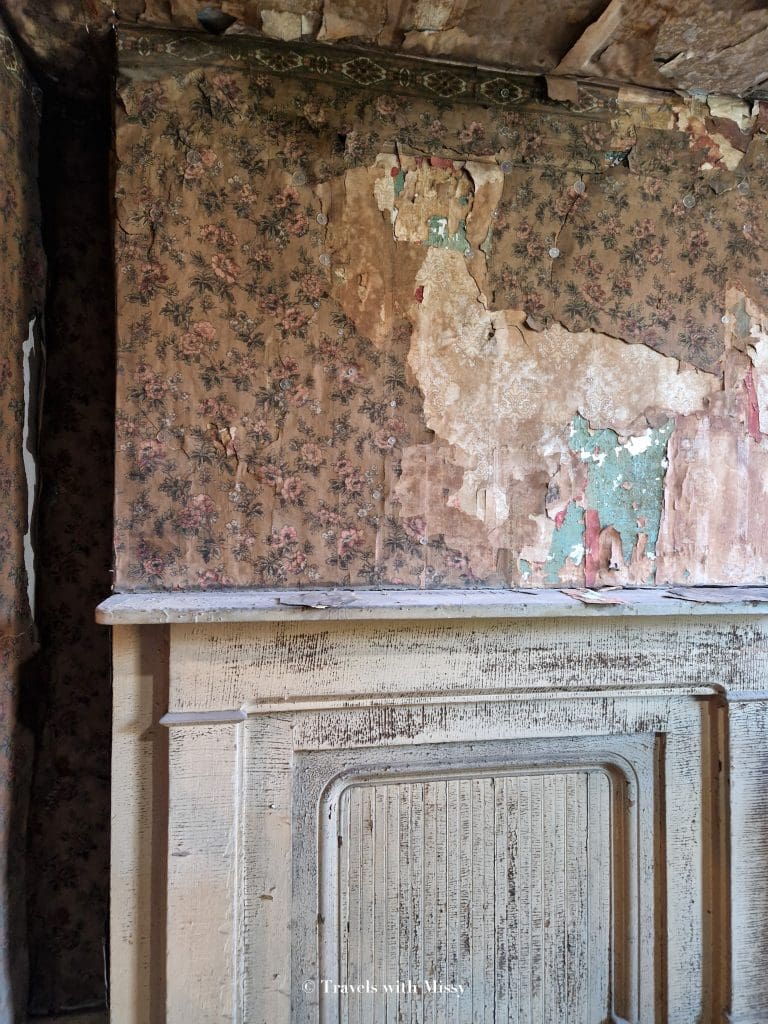 2. New York Tramway
Soar above New York for $4 and head to Roosevelt Island on one of only two aerial tram lines in the US. Head to the Manhattan Station and head up to the skies for unbelievable views across the city on the Roosevelt Island Tramway.
The Roosevelt Island Tramway accepts OMNY payments, so you can tap on with you credit/debit card or Apple Pay on your iPhone.
3. NYC Observatory
Pick any of the iconic NYC Observatories and view the city from some of the tallest buildings on the planet. Head to the Rockefeller Building and do the 'Top of the Rock' tour that leaves you with iconic views of the Empire State Building and downtown Manhattan. Or turn to the other direction and take in the views of Central Park and Up Town. 
Visit The Edge, one of the newest NYC observatories that is not for the faint of heart. One of the highest points of the city, The Edge juts out of the 100th floor above Hudson Yard and teases visitors with plummeting views of the city beneath their feet. 
The Empire State Building in the OG NYC Observatory tower and iconic in so many ways. It's magical and a must for every first-time visitor. Best visited during sunset or dusk.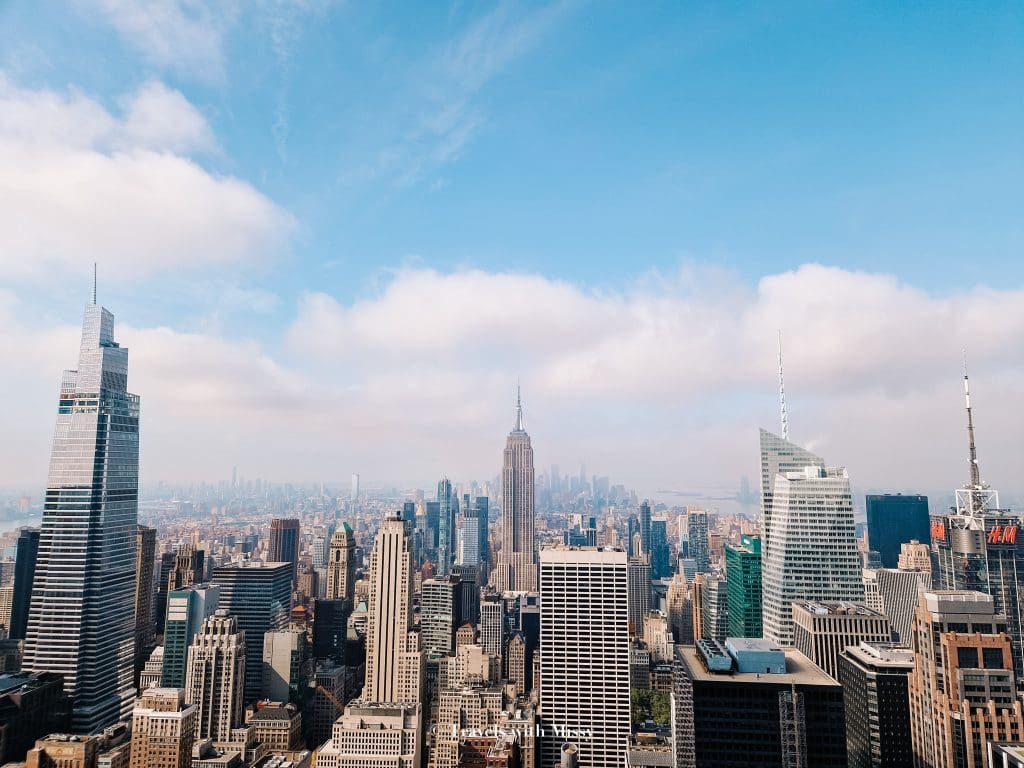 One World Observatory is the highest observatory in North America. Located on the 102nd floor, the elevator ride takes less than a minute to ride to the tippy-top. 
SUMMIT One Vanderbilt – the newest observatory deck in Midtown Manhattan. Shiny in every manner of the word, SUMMIT One Vanderbilt is a tik-tok favorite with mirrors and views aplenty. 
4. Walking Tour
Explore a neighborhood with a walking tour. This is a great thing to do alone in New York that also doesn't make you feel alone! Join a walking tour and you may even meet someone new. Walking tours are a fantastic way of exploring a new city, learning something new and even trying new things.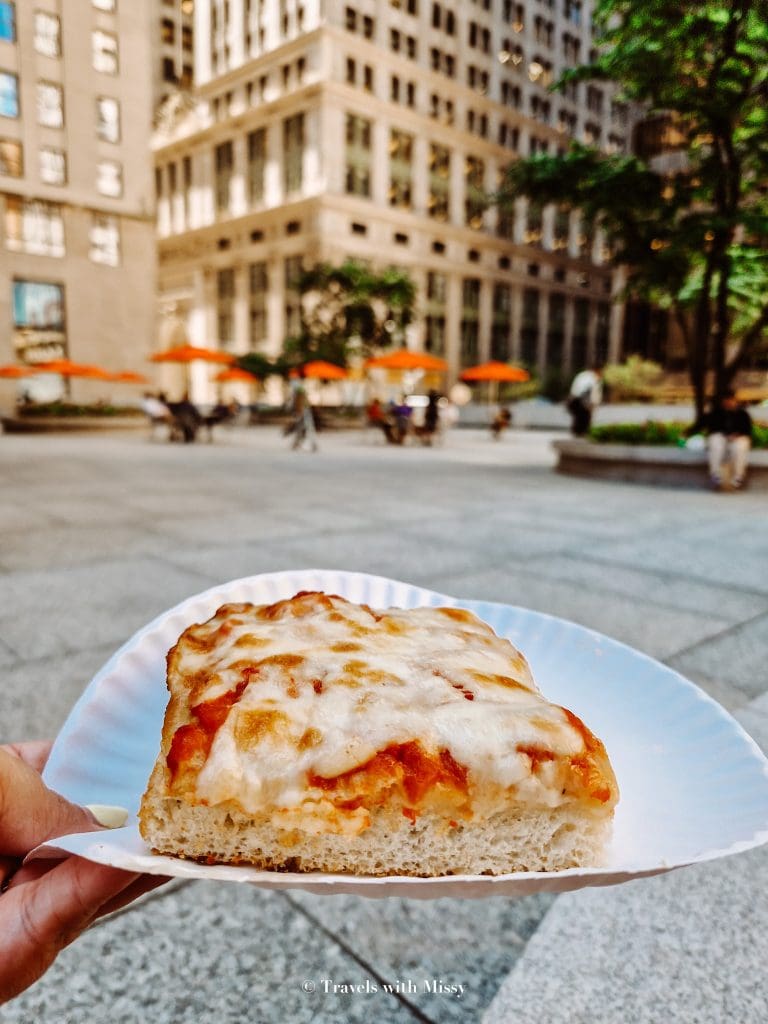 I love a walking food tour of a city when visiting somewhere for the first time. New York has an incredible food scene, and what better place than to discover what it's best known for, pizza, than a pizza tour! 
Or discover the cultural impact food can have, by joining a food tour of the Lower East Side.
5. Shopping
The shopping in New York is spectacular. With huge brand names and enormous stores, there is so much shopping to do in NYC. Just make sure you have plenty of savings as you'll soon find yourself purchasing a new suitcase to bring all your new purchases home with. 
Some of my favorite stores for excellent bargains are:
Nordstrom Rack
Macy's Backstage
Century 21
TJ Maxx
Everywhere you go in New York you'll find excellent shopping opportunities, my favorites being Soho for a mix of well-known high-street brands and smaller boutiques.
6. Ellis Island
It took me 7 visits before I finally went to visit Ellis Island and I'm so disappointed in myself for not visiting it sooner. Ellis Island is fantastic and the history of immigration is incredibly well done and preserved.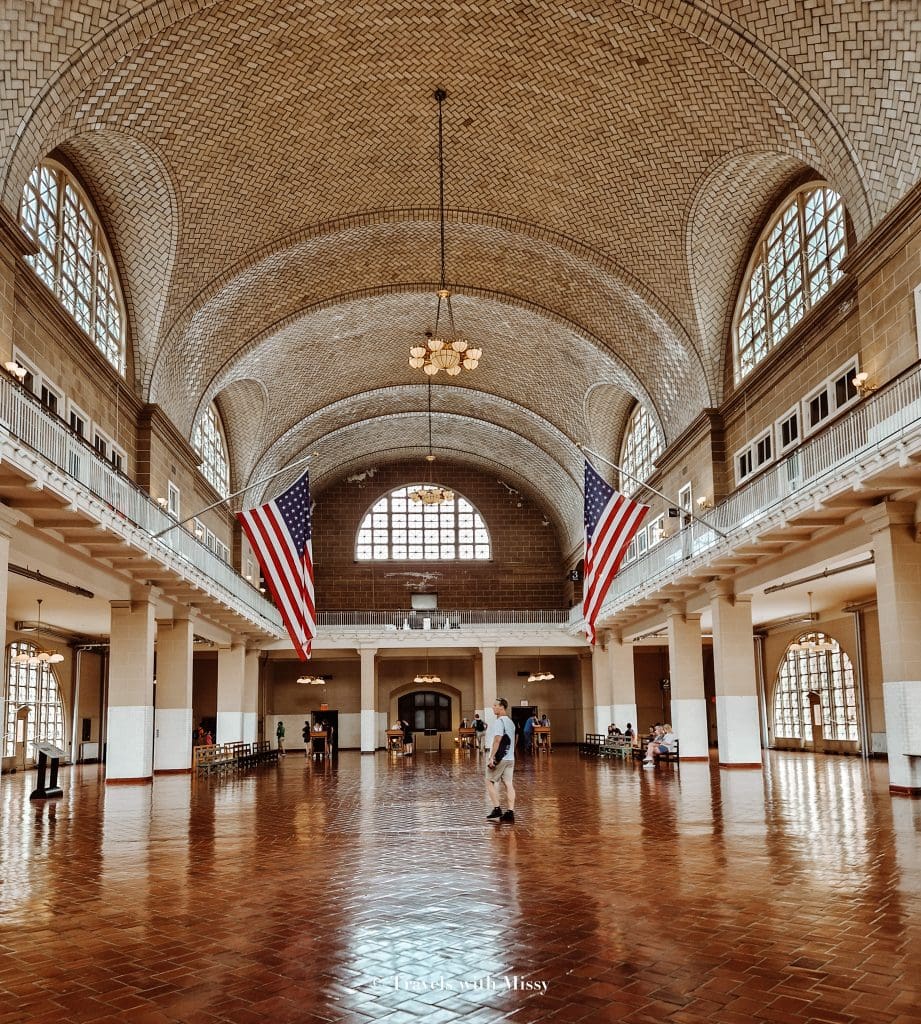 Expect to spend a couple of hours exploring the museum and using its database to look up ancestors or family members who may have passed through. I found my Great-Grandmother who had worked in the US in 1926 for a couple of years before returning back to Ireland to marry and start a family.
7. Statue of Liberty
Another iconic landmark of New York and the United States that really is incredible up close and personal. I do think once you've seen it up close on either the free Staten Island Ferry or as part of your Ellis Island tour you don't really need to get off and see it. You've kind of seen everything that there is to see at that stage.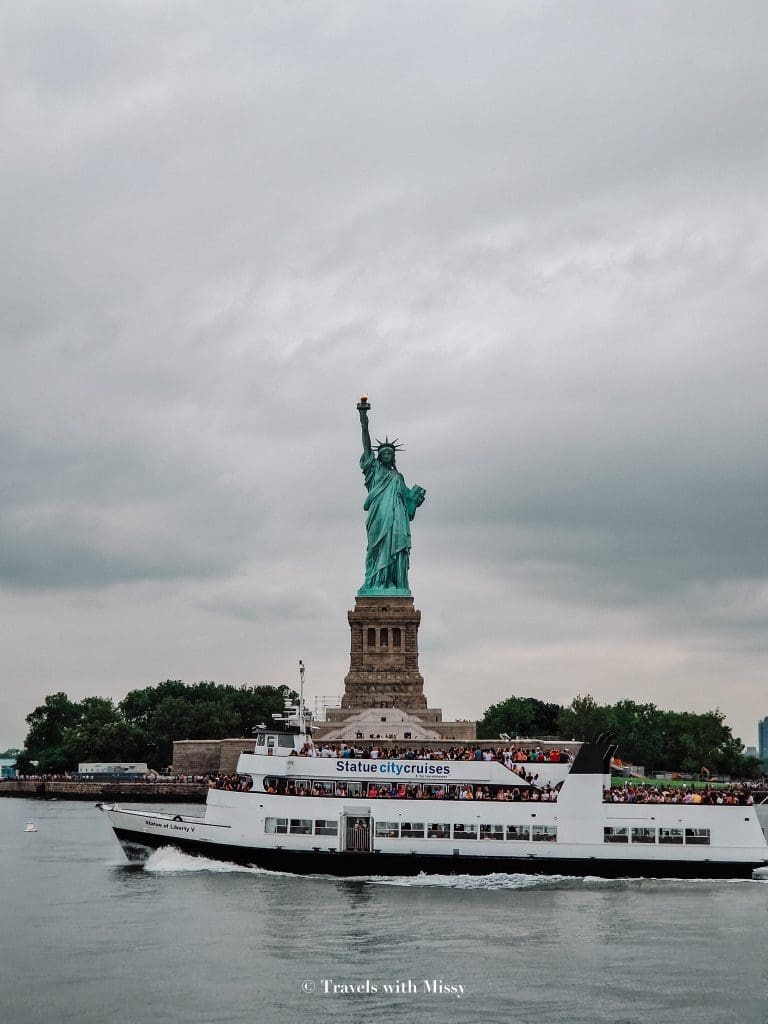 Lady Liberty was a gift from the French in 1886 to mark the centenary of the country's independence in 1776. She is remarkable, and I think one of the most impressive icons on our little planet.
Things to do alone in NYC for free
8. Staten Island Ferry
One of the best activities to do on your solo trip to New York is to hop on the Staten Island Ferry and glide past Ellis Island & the Statue of Liberty.
The Staten Island Ferry is completely free and is a commuter ferry for those living and working on Staten Island. For the best views of Manhattan's skyline and to pass by Ellis Island and the Statue of Liberty make sure to sit on the right side of the boat.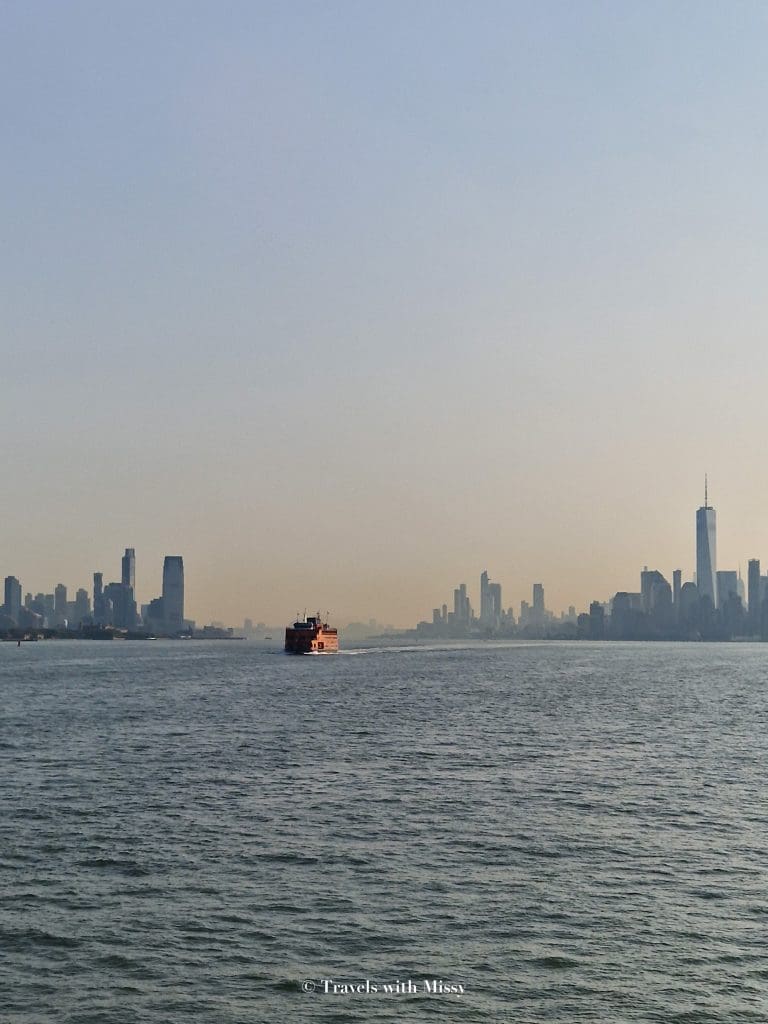 9. The High Line
I think of all the things that are available to do in New York, the New York High Line is easily my favorite. A once abandoned railroad that sat high above the streets of New York is now a beautiful greenway that traverses the city from Gansevoort Street to 34th Street.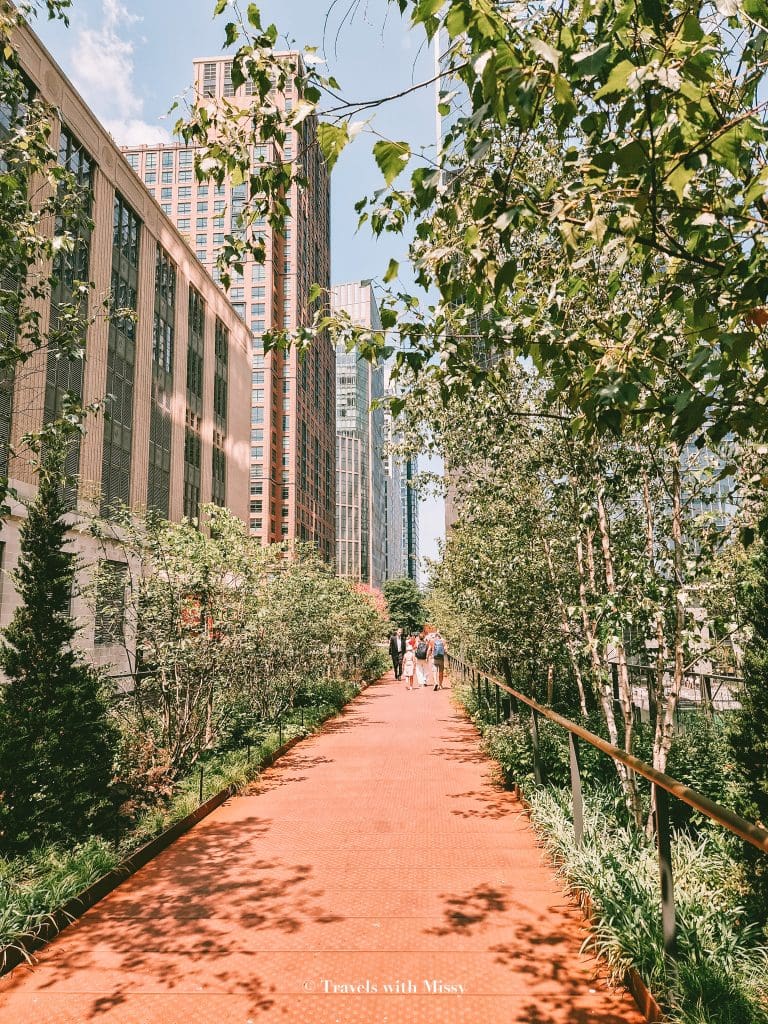 Stroll over 2km, passing stunning architecture, flowers, and fauna on a loop through the west side of Manhattan, The High Line is one of the best free things to do alone in NYC for free. 
10. Brooklyn Bridge
The Brooklyn Bridge is one of the world's iconic landmarks. Up there alongside the Sydney Harbor Bridge and the Golden Gate Bridge, the Brooklyn Bridge connects lower Manhattan with Brooklyn.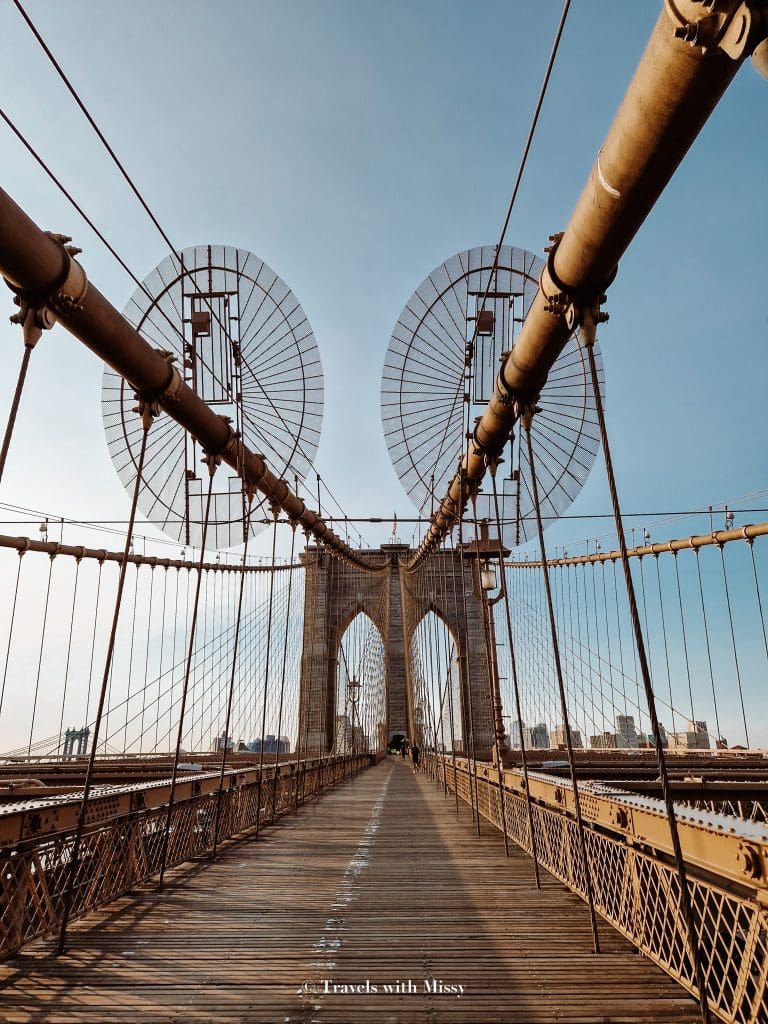 Walking across the bridge is one of the most incredible opportunities to see the incredible New York skyline. And best of all it's completely free! The best time to visit the Brooklyn Bridge is early in the morning (before 8 a.m. if you can) for optimal photo opportunities and less foot traffic. 
The walk across the bridge is relatively short and the best views are walking in the direction of Brooklyn to Manhattan. 
11. Neighbourhood Exploration
Each day of my 7-day itinerary of New York I would select a new neighborhood to explore and walk around. You'll discover new areas, stores and restaurants this way. Every place I discovered I added to my Google Maps with a little star and saved it for a chance to return.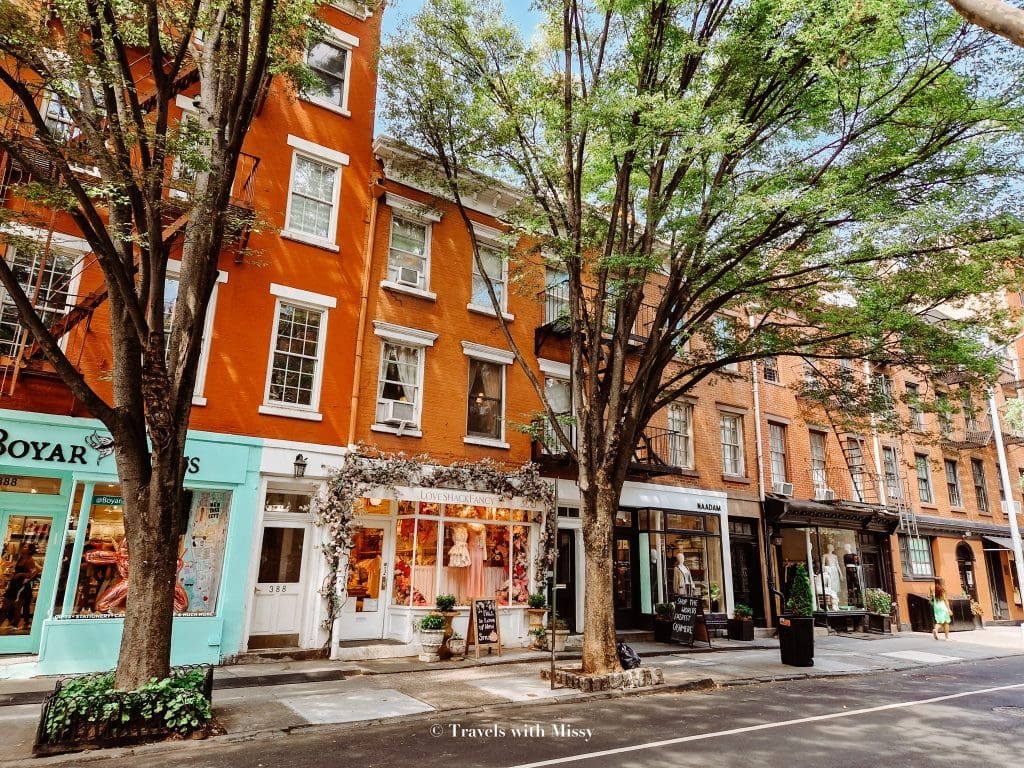 Some of my discoveries were Greenwich and the West Village, Soho, Financial District, and Brooklyn Heights to name just a few.
Walking around the city and discovering new hidden gems is one of the best things to do on your solo trip to New York. You never know what you might find.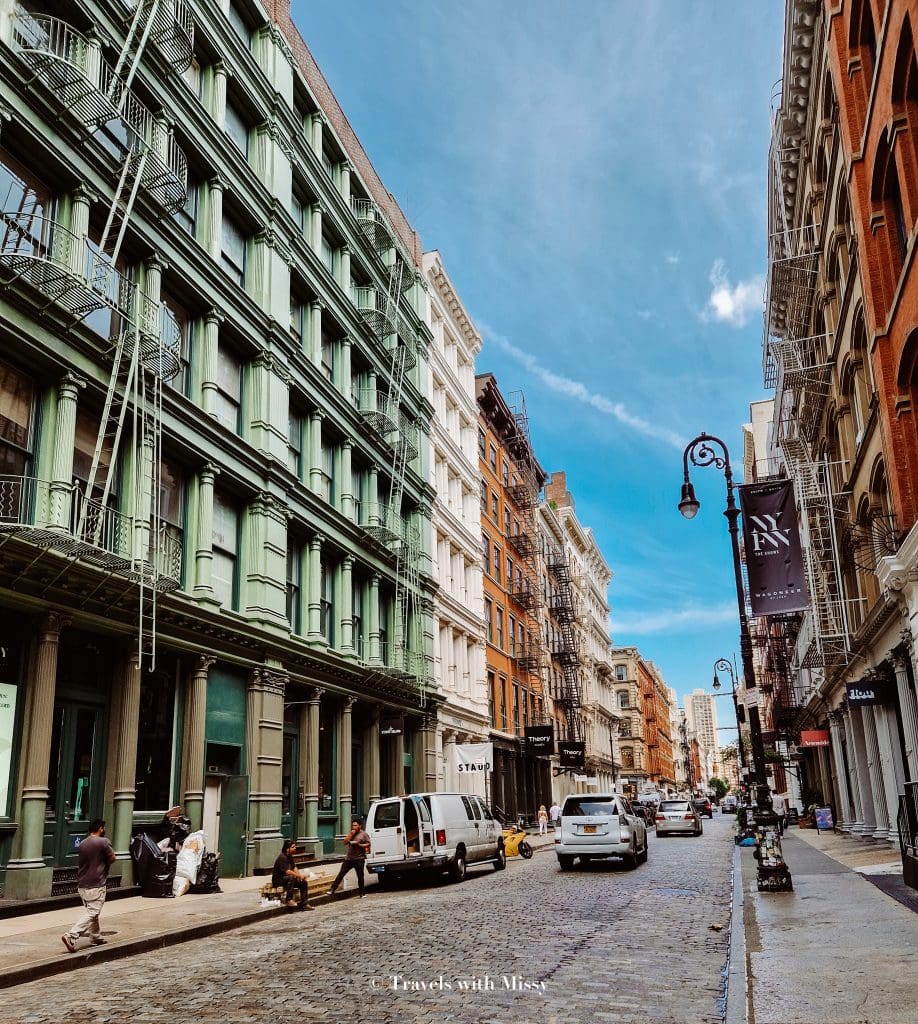 12. Central Park
Easily the most famous city parks in the world, Central Park is a wonderful place to spend a couple of hours exploring. Rent a bike from the entrance at Colombus Circle (other spots), walk or run around Central Park.
Pick a sunny day and you'll be joined by hundreds of other people with the same idea. You can also rent a small row-boat (for a fee), or visit the Central Park Zoo depending on your stance on zoos.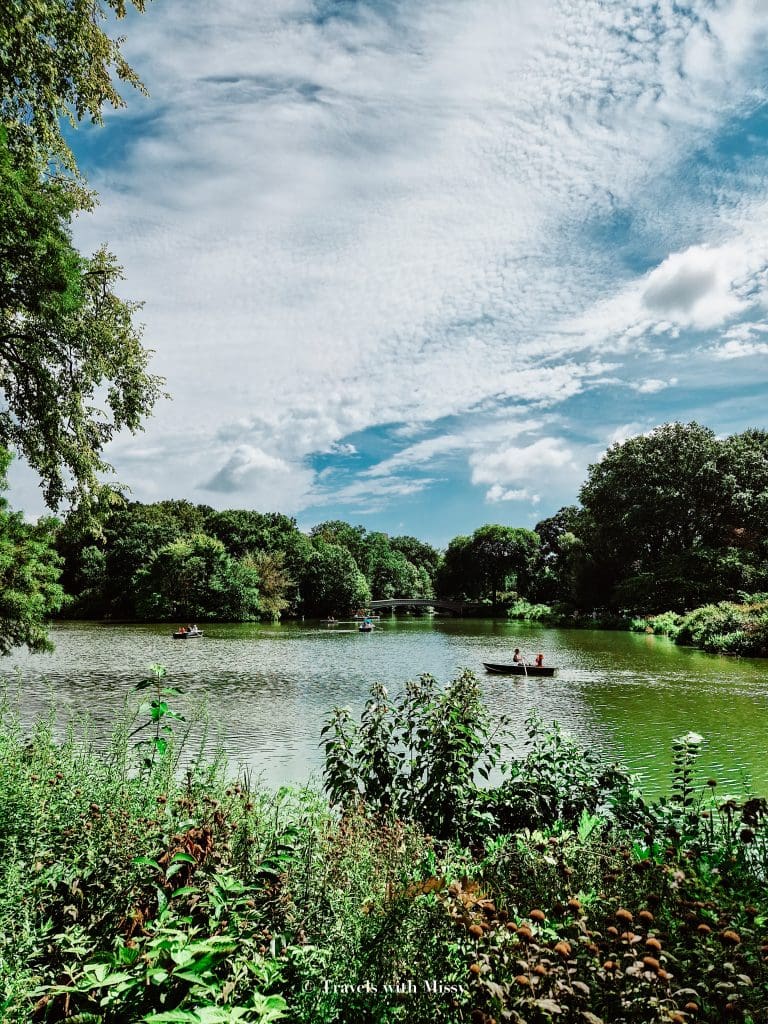 Central Park is an iconic thing to do on your solo trip to New York and shouldn't be missed. 
Things to do alone in NYC at Night
13. Broadway
When planning your solo trip to New York make sure you take in a show on Broadway at least once. Seeing a show is a great way to pass an evening soaking up some of the finest musicals, and even getting to see some world-class acting too.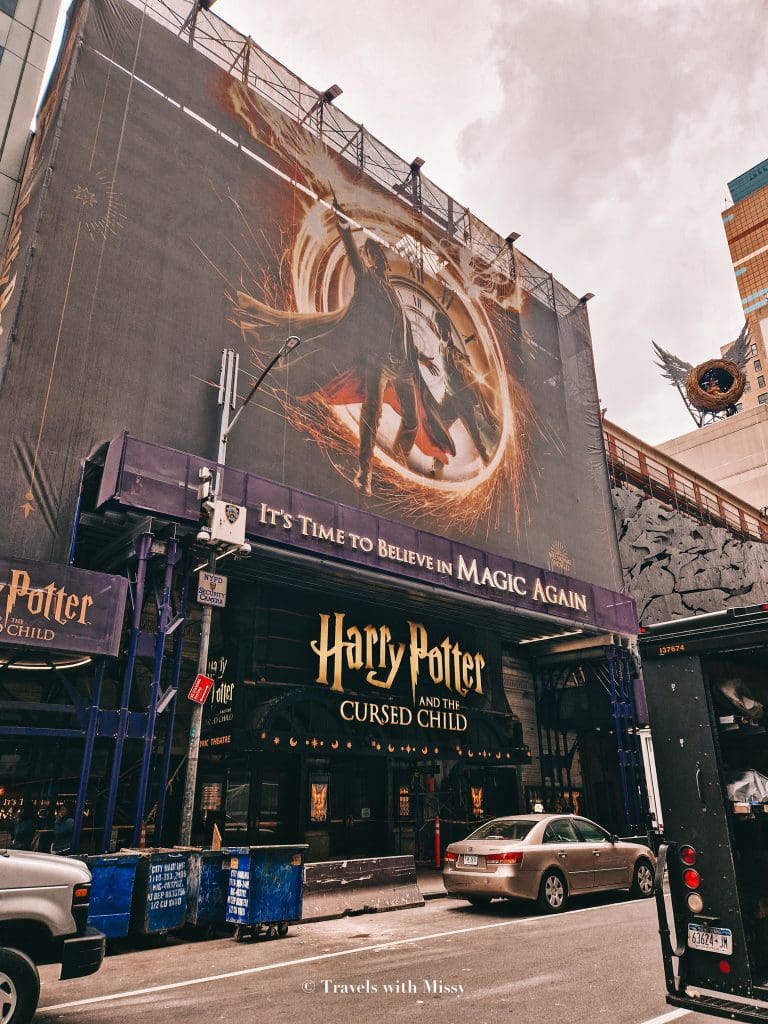 Tickets for a show on Broadway can start from $50 and increase exponentially depending on the show and the seating location. The queue for cheaper tickets at the TKTS hut on Times Square for discounted theater tickets.
14. Dining
Take yourself out on a date. Grab a book, or watch the world around you in one of the many excellent restaurants in New York. If you're worried about what people will think about you dining alone – don't. Most people do not care who is dining alone.
Plus a table for one means not having to compromise on where you want to eat.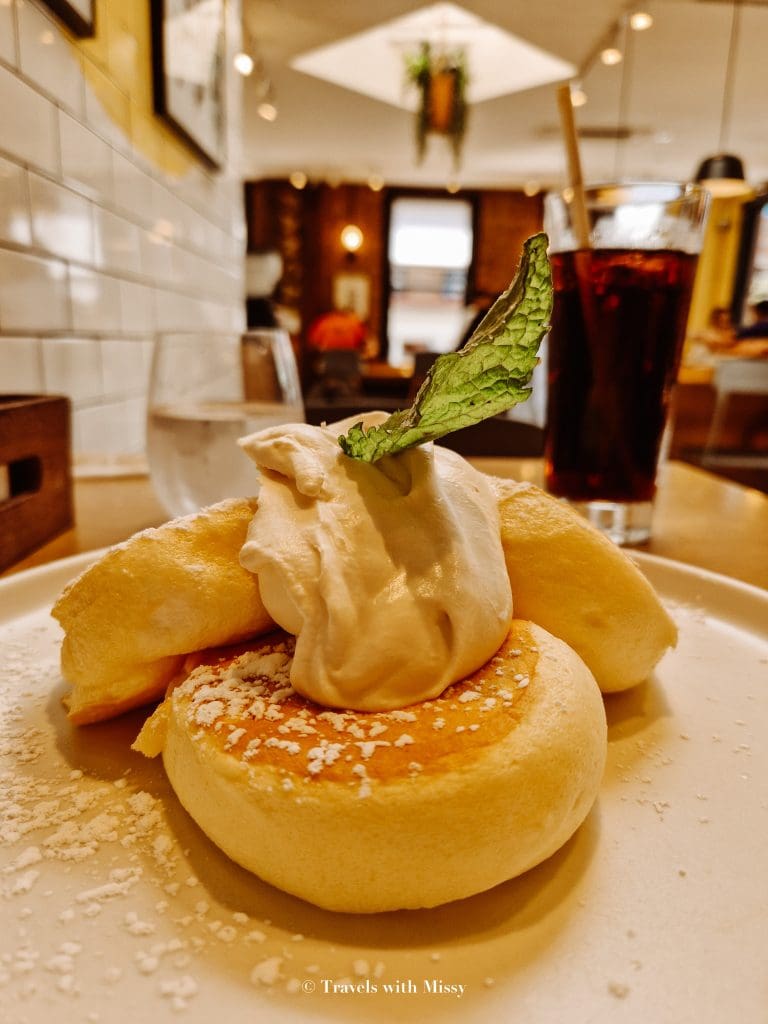 15. Movie Theater
I took myself to the movie theater to see Barbie when I was on my solo trip to New York and had a fantastic time. I selected the IPIC Movie Theater in SeaPort in Lower Manhattan as they have reclining seats and table service. Both of which I'd never experienced in a movie theater before.
There are lots of movie theaters around the city, and there's always something on, from classic movies to recent releases.
Things to do alone in Brooklyn
16. Brooklyn Flea
Operational every weekend in the DUMBO Archway, this is the perfect place to shop or pick up some artisanal goods. Don't miss out on an incredible experience that is top New York tier goodness.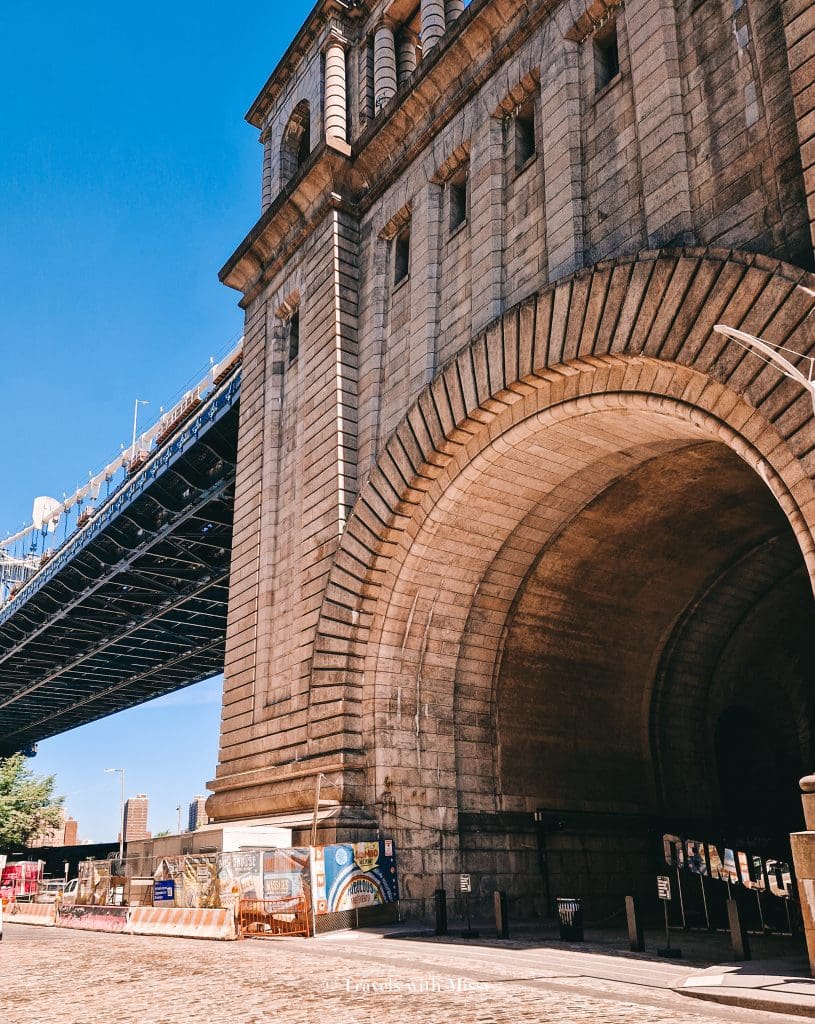 17. Time Out Market New York
Head over to Brooklyn and enjoy the excellent Time Out Market New York in Brooklyn. With over a dozen food stalls to choose from, you can head to the rooftop and take in the incredible views of the Brooklyn Bridge and lower Manhattan. 
18. Brooklyn Heights
See how the other half live by walking around Brooklyn Heights and admiring the beautiful brownstones and fruit-named streets. It also happens to be a part of New York that is remarkably quiet. So enjoy the brief pause in noise and soak up the sounds of nature from the nearby Brooklyn Bridge Park. 
19. Jardin River & River Cafe
One of the smallest and prettiest little parks – Jardin River is tucked underneath the Brooklyn Bridge. Blink and you'll miss it. Located next door is the sumptuous River Cafe that is $$$$ but offers stellar food and out of this world backdrop – a real treat.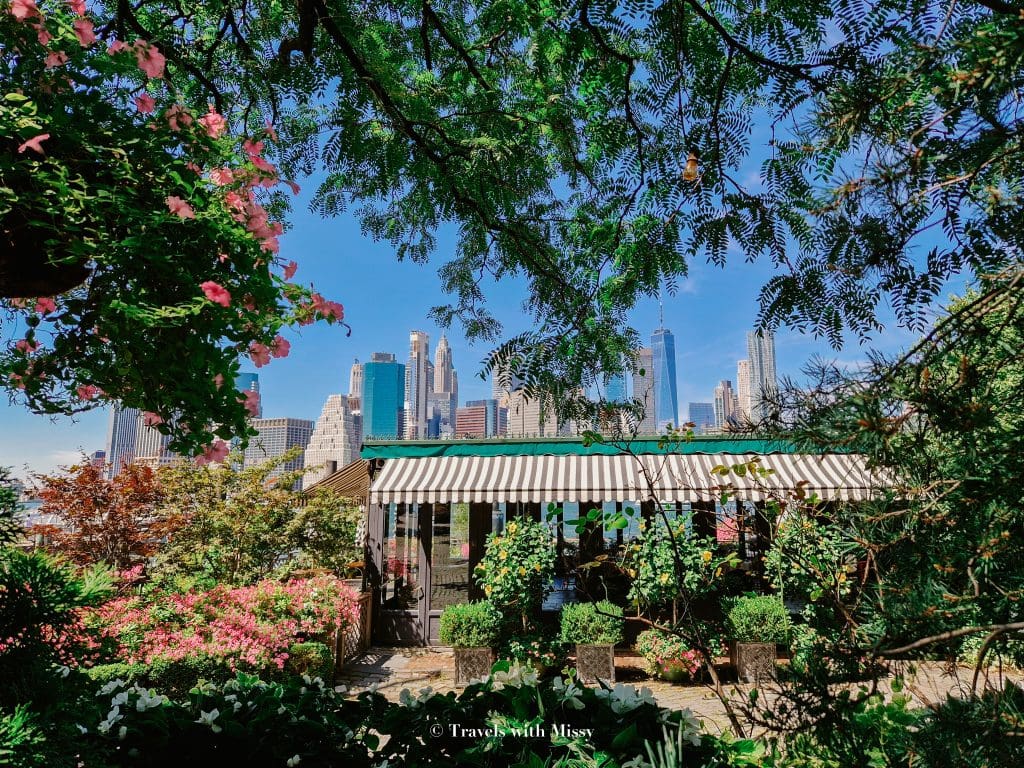 Is New York safe for solo female travelers?
Let's lay it out and answer a question I get a lot about whether New York is safe for solo female travelers.
And the quick and easy answer is yes. There are a number of asterisks that go beside that simple one-word answer.
Mental Health Issues – There are a shocking amount of people with severe mental health issues that you'll come across in New York on almost every block. It's a very sad reality and one which the city seems to ignore. And one in which it's best to ignore the screaming and shouting you'll encounter on the streets.
Homelessness – New York is rife with homelessness. You'll find people sleeping on park benches, passed out on the streets or in doorways. There are a lot of homeless children too, which is heartbreaking.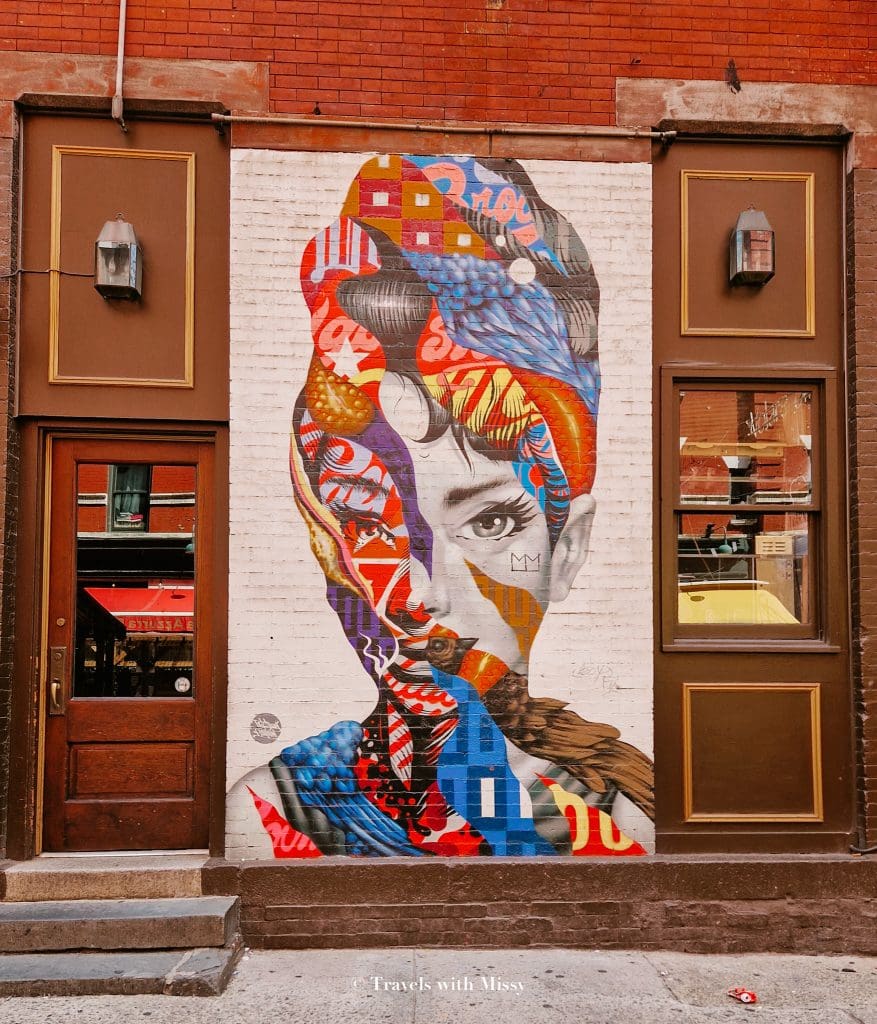 Pick-Pockets – Keep an eye out for your valuables in popular spots like Times Square. I like to keep my belongings close to me at all times and I'll constantly have my finger on my bag's zipper. Keep your bag close to your being on the subway.
Subway – Navigating the subway is like a badge of honor. Once you can figure out the direction of where you are headed that's half the battle. Try and enter a subway car with other people and avoid sitting in a car by yourself. Keep belongings close at all times.
Checking Your Phone – When I exit a subway station I like to duck into a nearby store to check out the direction I'm heading in. I like to look like I know exactly where I'm going and try to fit in as best as possible. Sticking out and looking lost I think makes you look more like a target, especially in really popular areas.
I've spent a week in New York by myself and throughout the entire time, I didn't feel worried or at risk. That's not to say that everyone else will have the same experience or feelings. The best thing you can use is your common sense.
I picked up Poverty, by America by Matthew Desmond to better understand the crisis that seemed rife in New York (I'm sure it's elsewhere in the US). It's eye opening and worth a read.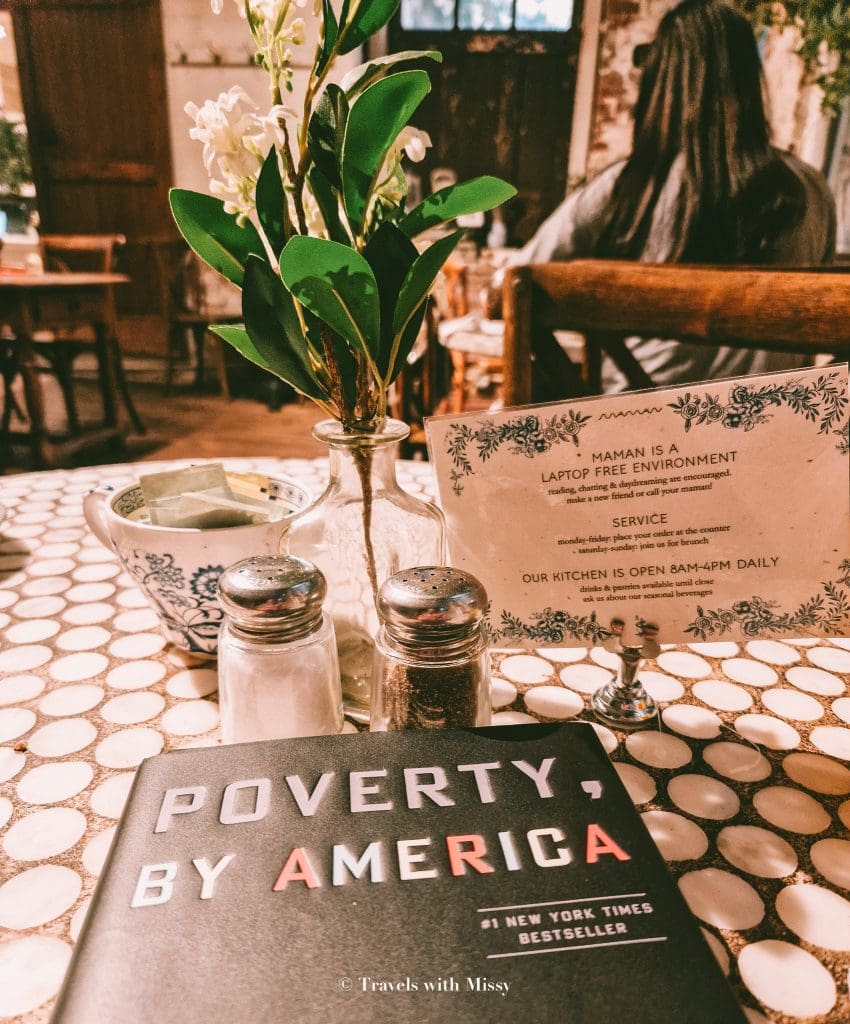 Ready to plan your Solo trip to New York?
New York really is an incredible city and if you're lucky enough to visit it, you'll have a whale of a time. It's impossible to be bored in NYC with so much to see and do.
Check out my guide to planning your NYC vacation and understanding how to get from the airport into Manhattan. Leave a comment below and let me know what you thought about the post!
If you enjoyed the post you can Buy Me a Coffee by clicking on the button below!
Some of these may be affiliate links, which means when you buy something I may receive a small commission. There is no additional charge to you, and it really helps to support me – so thank you!