11 Amalfi Coast Beach Clubs in 2024 You've Got To Visit
There are a lot of wonderful things to love about the country of Italy, from its divine food, and culture, to its incredible history. But for me, it's their appreciation of a beach club that wins my heart time and time again.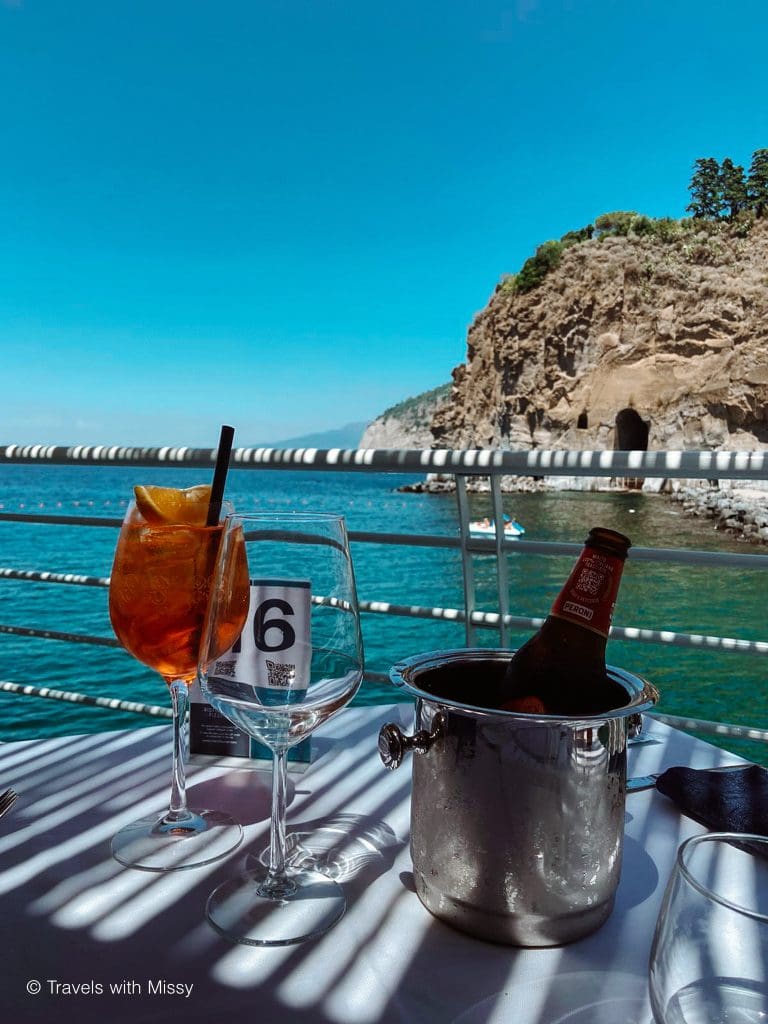 If there is water and a patch of space to put a sunbed down, the Italians will create a beach club around it and it's one of my favorite things about the Italian coast during the summer months.
Purchase My 23-Page Amalfi Coast Guide
If you're anything like me and you love a bit of comfort, then visiting one of the many Amalfi Coast Beach Clubs is an absolute must when spending time in the area. They're the perfect place to spend an entire day, working on your tan (or hiding in the shade as I do), catching up on your reading list, having copious drinks bought to your bed, and eating pizza in your swimmers. What's not to love?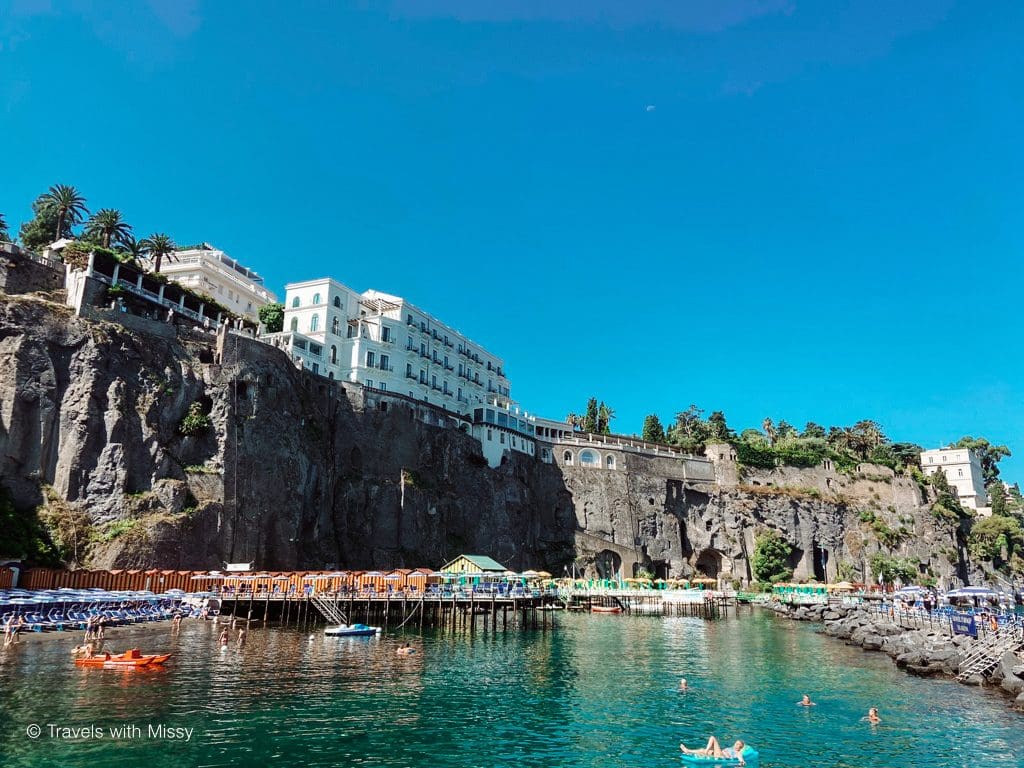 I've written extensively about the beach clubs in Positano and Sorrento in posts before, but I'm frequently asked about beach clubs that are in the town of Amalfi or Praiano. So over the course of this post, you'll find a number of beach clubs dotted up and down the Amalfi Coast that are worth visiting and spending at least a day at.
Praiano
1. One Fire Beach
Raucous, vibrant & a hell of a good time are just some adjectives to describe one of the funniest beach clubs on the Amalfi Coast. One Fire Beach is the antithesis of several of the other Amalfi Coast beach clubs mentioned below, if you've been wanting to let your hair down and party a little, then you need to spend the day at One Fire Beach.
The best way to reach One Fire Beach is to take their complimentary ferry shuttle from either Positano Marina or Priano Marina. Otherwise, you can navigate down 400+ steps from the main road. You'll spot the orange umbrellas and sun loungers of One Fire Beach from a distance.
To make a reservation either email or WhatsApp the details below.
2. La Gavitella
La Gavitella is a sumptuous beach club that if you're not visiting for the day, it's worth visiting to dine at their restaurant for either lunch or dinner. Depending on the time of the year that you visit La Gavitella, a sun lounger and umbrella is around €90 in July.
La Gavitella has a water taxi shuttle from Positano & Praiano that is complimentary once you have reserved either a booking for the beach or for lunch.
Website: La Gavitella
3. Il Pirata
A short stroll from the marina in Praiano, Il Pirata is one of the more budget-friendly Amalfi Coast beach clubs that won't break the bank. Sun loungers do need to be reserved in advance, but you'll be able to rent a bed from around €30 and an umbrella from €15.
If you're looking for a more affordable beach club on the Amalfi Coast make sure to book your spot for the summer as spaces do go quickly. You'll have to put down a deposit to secure your sun loungers.
Website: Il Pirata
WhatsApp: +39 350 002 8702
Amalfi
4. Lido Degli Artisti
Hop on the water taxi from Amalfi and soon you'll find yourself in a hidden cove with a beach shack that continues to delight throughout the day. Lido Degli Artisti is one of those beach clubs that you kind of want to keep to yourself and not tell anyone about what you've discovered.
It has all the trappings that make up an excellent beach club. The beach shack which from afar looks put together at the last minute is in fact an excellent restaurant that serves superb lunches and dinners.
The beach here has small stones and sea shoes are needed (much like most of the Amalfi Coast beach clubs), but that's ok when you have a turquoise sea in front of you, great bar service, and one of the best restaurants in Amalfi.
But between you and I, let's keep this one a secret for as long as possible.
Website: Lido Degli Artisti
Nerano
5. Conca del Sogno
If you've been searching for a hidden cove that is only accessible by boat or by those brave enough to drive around the Amalfi Coast, you'll find Conca del Sogno just outside of Sorrento near the small village of Nerano.
Reservations are a must for Conca del Sogno and you'll soon discover why as this Amalfi Coast Beach Club is a hidden gem. Set amongst the backdrop of soaring cliffs, and the open waters of the Tyrrhenian Sea, this is one of the best beach clubs on the Amalfi Coast for its uninterrupted and unspoiled view.
Arrive by private boat taxi, or use the service provided by Conca del Sogno to arrive by water. Those who have rented their own boat for the day can moor their boat at the buoys provided by the beach club and you'll be picked up by tender.
It is the restaurant at Conca del Sogno that draws visitors time and time again. Yes, the setting is beautiful, but so is the restaurant and food served here. On the menu, you'll find freshly caught fish, shellfish, and an assortment of excellent pasta dishes to choose from.
If you can only choose one of the many amazing Amalfi Coast Beach Clubs to choose from, make sure you spoil yourself by reserving a table for lunch, followed by an afternoon soaking up the sun in Conca del Sogno. You'll find it hard to forget about this place.
+39 081 808 1036
Website: Conca del Sogno
Positano
There are two notable beach clubs in Positano that are worth visiting. The main beach, Spiaggia Grande Positano has a huge volume of beach clubs to choose from, but if you're looking for something a bit more special then continue reading.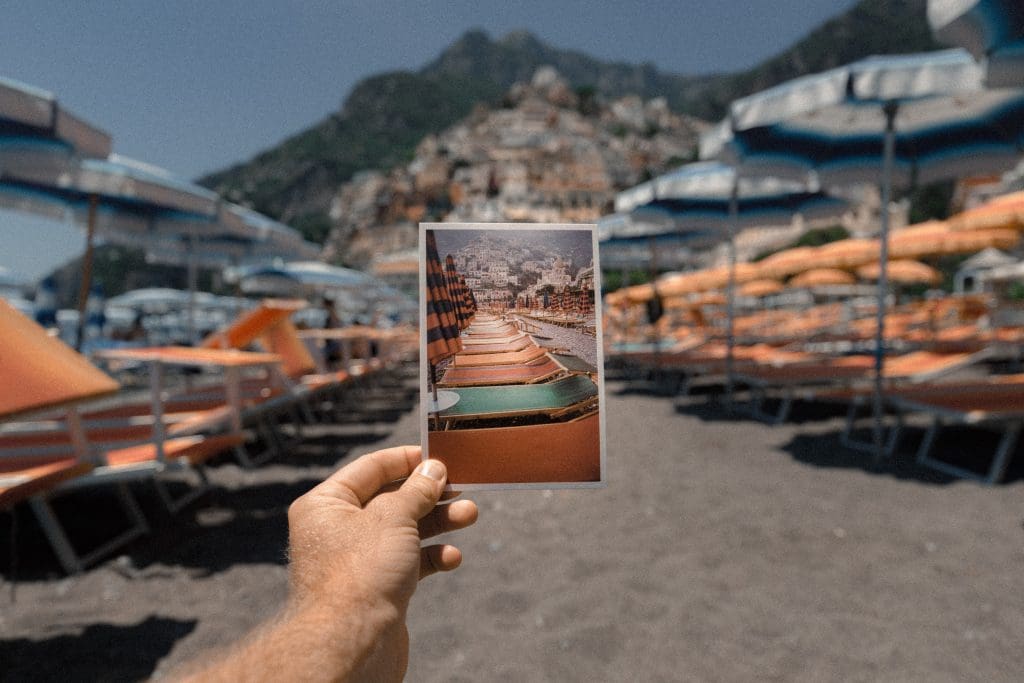 Arienzo Beach Club is one of the most popular beach clubs in Positano and probably one of the most well know. Head over to my guide on the best beach clubs in Positano to learn more about the prices and how to get there.
6. Arienzo Beach Club
Probably the shining star of Positano's beach club is Arienzo Beach Club. Their prices have doubled since 2022 and I believe it is one of the most expensive clubs on the Amalfi Coast.
If money is no object (and you have already made a booking) you can take their private boat taxi to the beach club, have lunch in their restaurant and spend the remainder of the day relaxing.
7. La Scogliera Positano
Situated at the end of Spiaggia Grande Positano, La Scogliera Positano is an Adults only beach club that offers various levels of comfort (for a price). With direct access to the water from a private section of the beach, you can easily relax at La Scogliera Positano for the day, enjoying great bar service and one of the best views on the Amalfi Coast.
Sorrento
If you're visiting Sorrento you may be disappointed by the lack of beaches found in this gateway city to the Amalfi Coast.
However, the city of Sorrento has improvised and created some really unique pontoons that have been transformed into stellar beach clubs. You can read more about the beach clubs in Sorrento in my guide.
8. Marameo Beach
One of the oldest beach clubs in Sorrento, Marameo Beach underwent some reconstruction work and is now back better than ever. The restaurant at Marameo Beach is pretty great, but we love the swimming that is possible here in the enclosed area. The direct access from the pontoon makes it super easy to get into the water, no need for sea shoes here!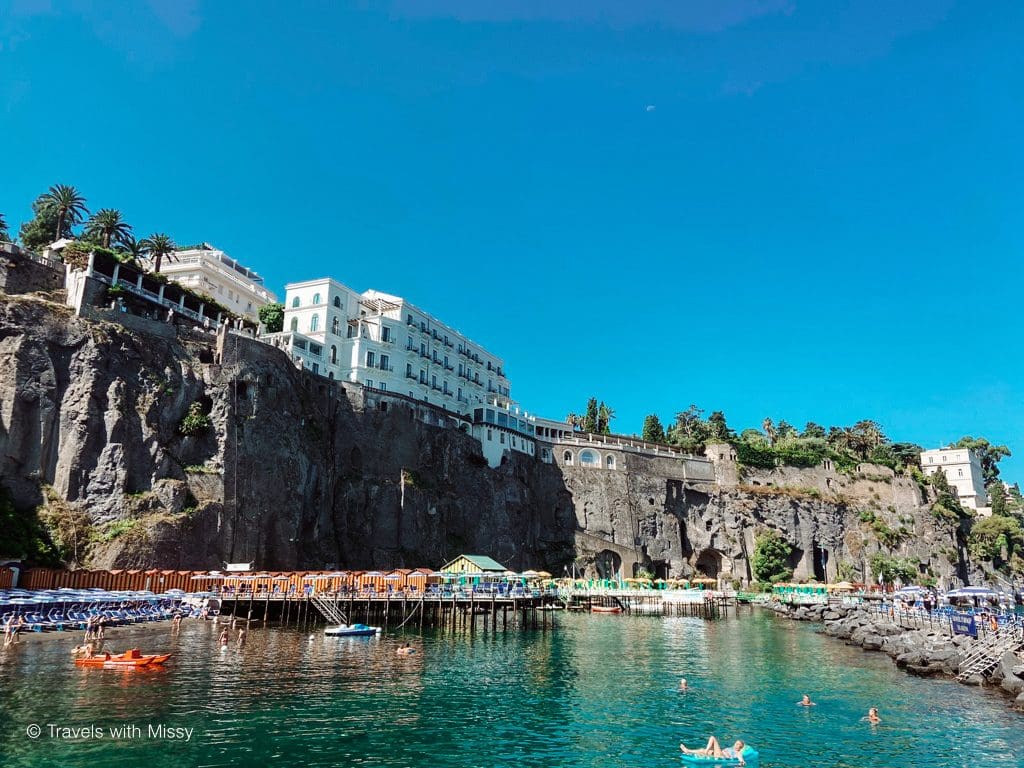 9. Atrani
The small town of Atrani has one of the most photographed beaches on the Amalfi Coast. Atrani Beach is adorned with blue & white parasols, sun loungers and the beautiful backdrop of the town of Atrani and its curved bend of a road.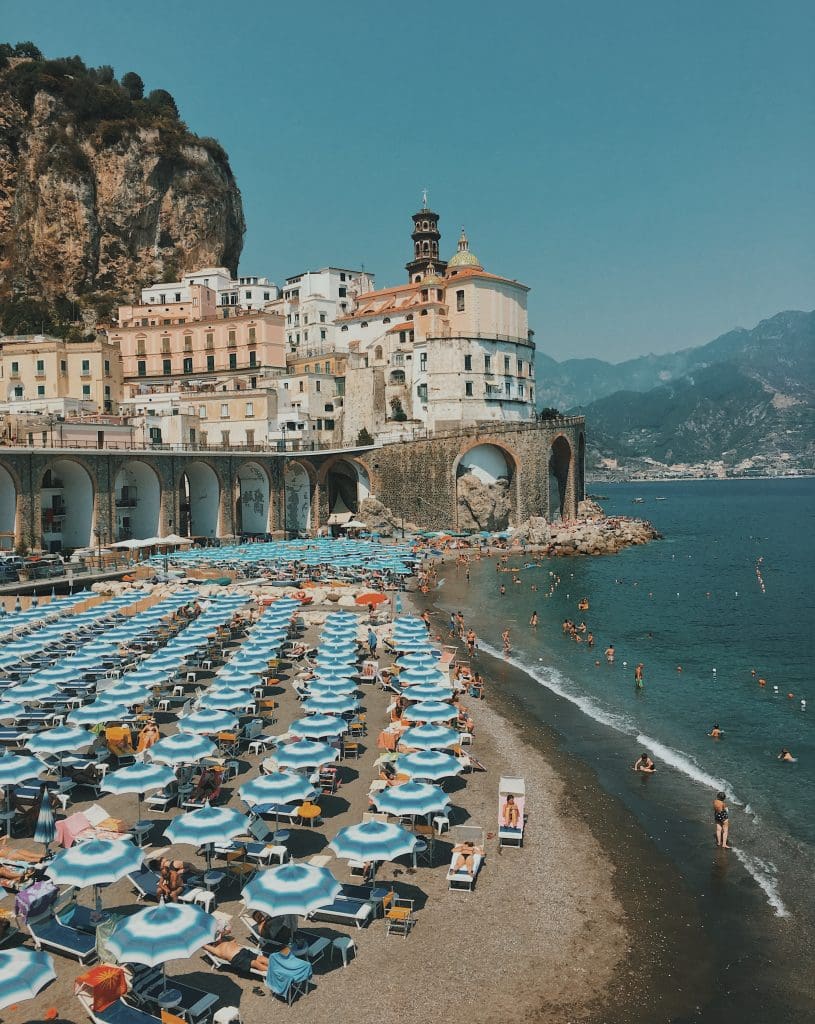 The beach clubs in Atrani are hugely popular during the months of July & August, so you may struggle to get a sun lounger if you arrive after midday. Atrani Beach is beautiful and definitely worth visiting as part of a day trip from Amalfi.
10. Minori
If most of the Amalfi coast feels too hectic for you and you're on the hunt for somewhere a little less busy, and a little bit cheaper, continue past Amalfi to the town of Minori.
At Minori Beach, you'll find a number of beach clubs (lido) that don't charge an arm and a leg for a sun lounger. If thats what you've been looking for then you'll be delighted with the options available at Minori Beach. Plus the backdrop is pretty gorgeous too.
11. Salerno
At the tail end of the Amalfi Coast, you'll find one of the newest beach clubs that promises a lot of glamour, with hints of luxury if their Instagram page is to be judged.
Riva Del Fuenti is a beautiful beach club on the Amalfi Coast and is closely situated in Salerno. And considering its impressive set-up, the prices for the high season do not seem unreasonable.
Access to the beach is through the main venue Giardini Del Fuenti, or there is a small pier for boat landings. Also if you're ever getting married at this venue, can you please invite me? It's absolutely out of this world insane. Thanks!
Website: Riva Del Fuenti
---
The Amalfi Coast is one of the busiest parts of Italy so do bear in mind when visiting during the months of July & August that you do need to arrive early to the beaches if you want to claim your spot. For some of the more reputable beach clubs you really do need to book your spot well in advance.