Milos or Paros? Which Greek Island Is The Best in 2023?
So you've found yourself in a pretty hard predicament, torn between the islands of Paros or Milos. And I'm not going to lie, that is a doozy of a conundrum to have when deciding which of the Greek islands will suit you and your vacation.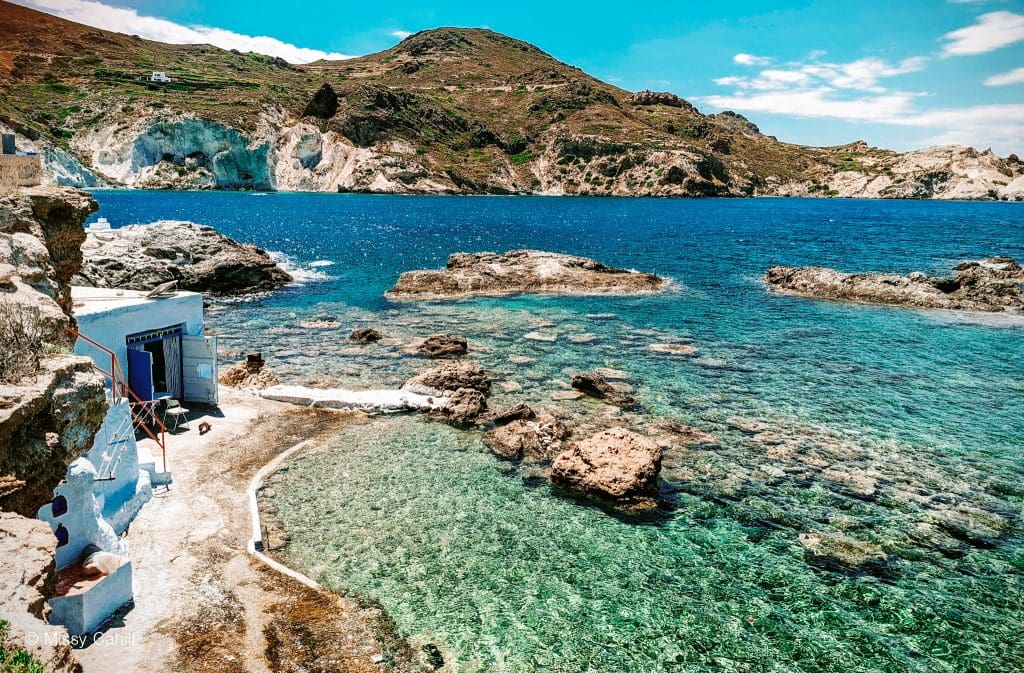 Having been to both and absolutely loved both in equal measure, this truly is the Sophie's Choice of Greek islands to have. However, let's discuss which island might suit your needs better for your perfect Greek vacation. If you can squeeze both islands into your itinerary then you simply must. They're really incredible.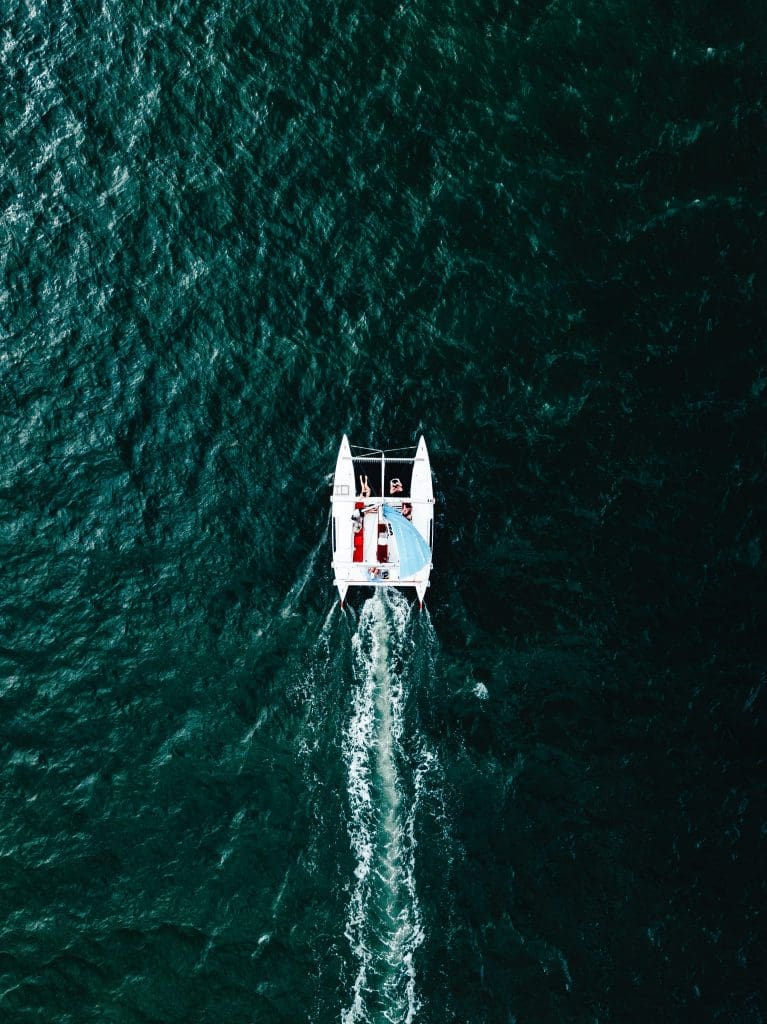 [icon name="sailboat" prefix="fas"] Top Pick: Milos Full-Day Cruise
Don't miss one of the most unbelievable experiences in Milos. Cruise around the island of Milos & Polyiagos, enjoying spectacular views of the landscape, hidden beaches and excellent snorkeling spots.
Seeking Romance? Head to Paros.
In the debate of Paros vs Milos, which island is more romantic, then Paros wins hands down. In saying that, it's not that Milos isn't romantic or has elements of romance, of course, it does but not in buckets that Paros has.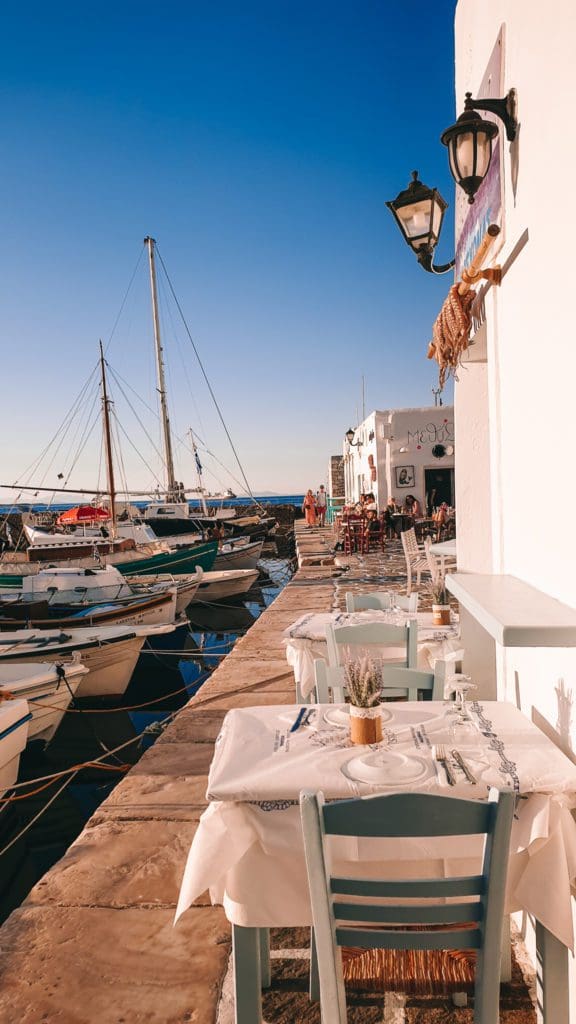 The towns of Naoussa and Parikia in Paros are truly dreamy. Picture white-washed buildings, blooming pink bougainvillea draped around buildings, quaint cobblestone streets, and a hint of romance around every corner. That is Paros.
Naoussa is probably one of the most romantic places in the Cyclades. Meander the alleyways that are Instagram-worthy with every turn, or pop into the fantastic boutiques, or just enjoy sitting by the water's edge and drinking some of the island's best cocktails.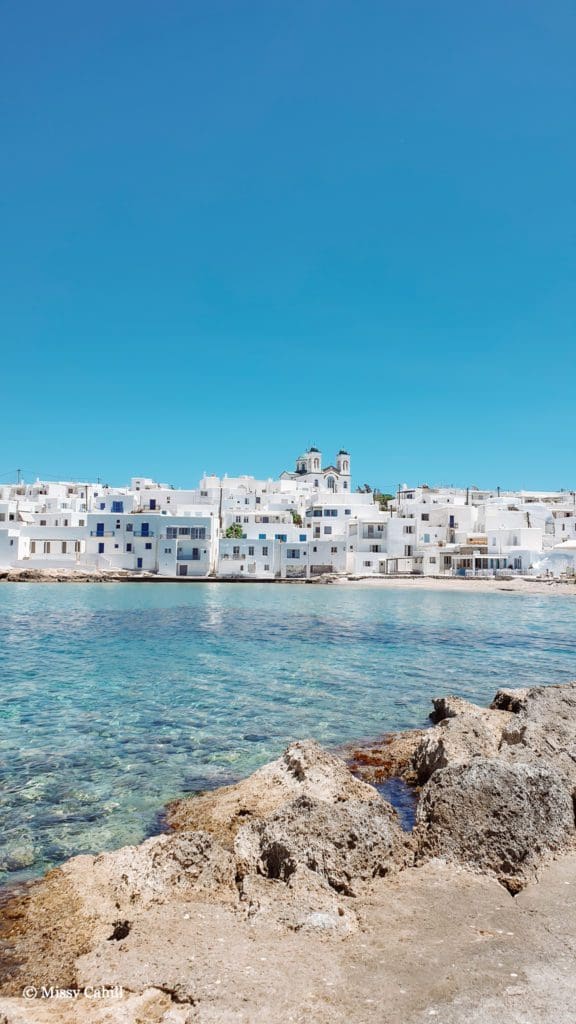 The harbor of Naoussa is where it reaches peak romance. The restaurants operating here have created an atmosphere under a canopy of lights, coupled with the sound of gently lapping waves and picturesque fishing boats, that will help you fall even more in love with Paros.
In search of Adventure? Milos baby.
Milos is the island on which you can access beaches only by climbing down a rickety ladder. Or scaling the surface of the moon (Sarakiniko Beach), or climbing a castle for unreal sunset views (Plaka). One of the best things about Milos is hopping on your ATV, or rental car and exploring the island.
There are some sections of the island that are completely out of bounds because of poor road conditions, and the only way to access these sections is by ATV. Also, half the island is completely inaccessible because of nature conservation. Red vipers, I believe.
I loved hopping into our rental and exploring the island each day, not sure what we were going to stumble upon. Even though we spent 5 beautiful days on Milos, there is still so much exploring left to do. Such as visiting the nearby island of Kimolos, which as we passed by on the ferry looked absolutely fantastic.
And there is definitely a lot to explore of Paros, such as discovering the towns of Lefkes & Aliki and even amazing Antiparos. Milos just gave a better sense of adventure and the unknown.
Which island has the better beaches? Milos or Paros?
If you're seeking easy-to-reach beaches, then I would recommend Paros. However, if you like a bit of adventure to your beach then I would recommend Milos.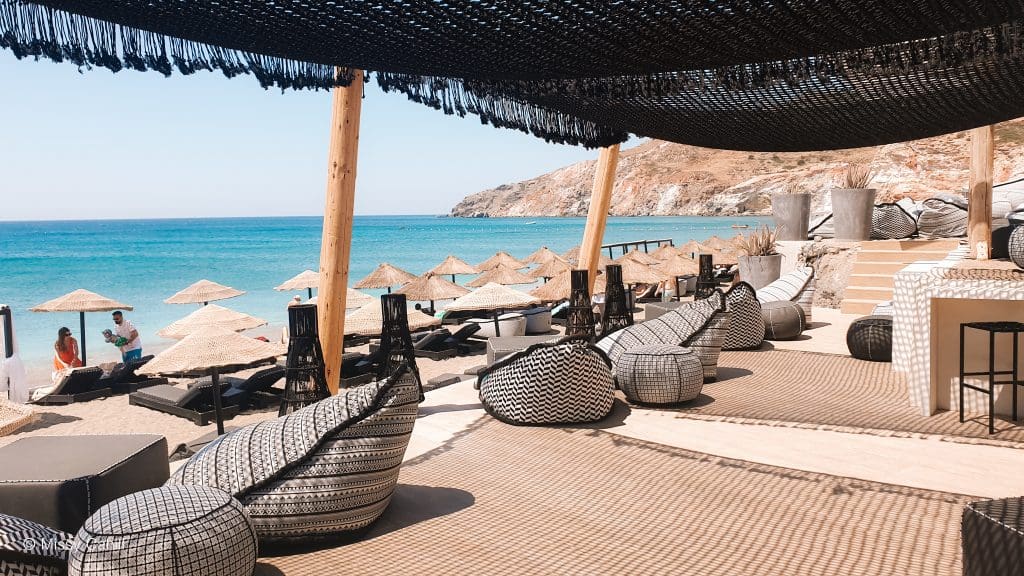 Both islands have really great beaches that offer so much for visitors. Some of the top beaches in Paros include:
Monastiri Beach
Kolymbithrbes Beach
Milos has some of the most unique beaches in the Cyclades. The island is known for its marble and unusual rock formations, most notably at Sarakiniko Beach. This is one of the most popular beaches in Milos (and in fact has only a small sliver of sand, as the rest of the beach is made of white rocks formed from the whipping winds of the Cyclades – the Meltemi.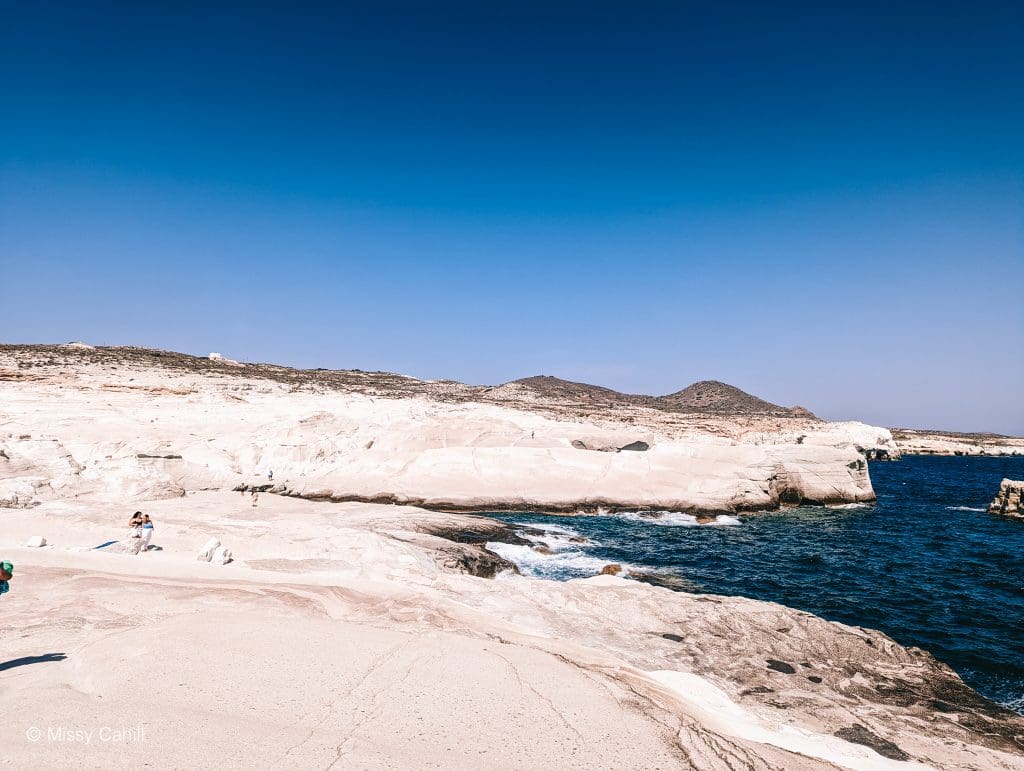 My favorite beaches in Milos and definitely worth visiting are:
Paleochori Beach
Fyriplaka Beach
Provatas Beach
Sarakiniko Beach
Best fishing village?
If you're looking for that adorable fishing village, then both Paros and Milos win in this competition. Perhaps Milos sneaks to the finishing line with some of the prettiest fishing villages that include the stunning Mandraki and Klima. However, Paros has one of the prettiest harbors in Naoussa.
The islands of Paros and Milos have supermodel fishing villages that vary from small inhabited coves to bustling port towns that throng with visitors from morning to night.
Better hotel options? Milos or Paros?
Paros has better luxury hotels and accommodations. And if you're looking for family-friendly accommodation and villages then Paros is the better choice.
Milos has some amazing and unique accommodation options such as staying in the traditional fishing huts (also known as Syrma) in towns like Klima & Firopotamos that have been converted into some of the dreamiest accommodations in the Cyclades.
Paros offers boutique hotels and luxury accommodations in Naoussa and Parikia, and for budget holiday makers you'll find a great selection in Aliki & Drios.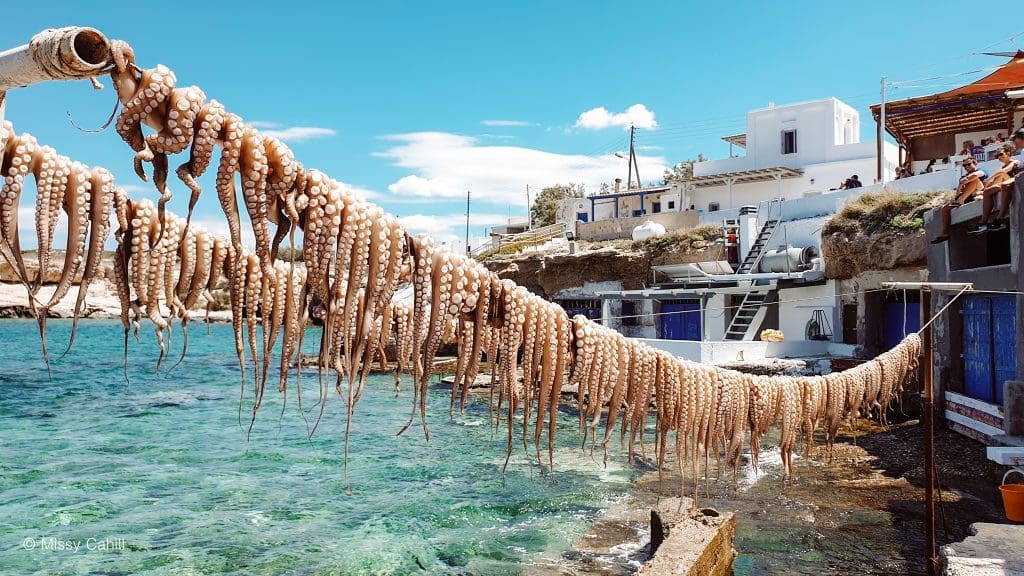 Getting Around
Paros to Milos
Traveling from Paros to Milos is relatively straightforward. There is at least one daily crossing on fast ferries such as SeaJets which takes an hour and a half.
Depending on the day there is a slow ferry service that operates once a week that has a stop at Milos. I've planned itineraries around this particular Blue Star Ferry service as the price is around €5 as opposed to around €75 with the fast ferry.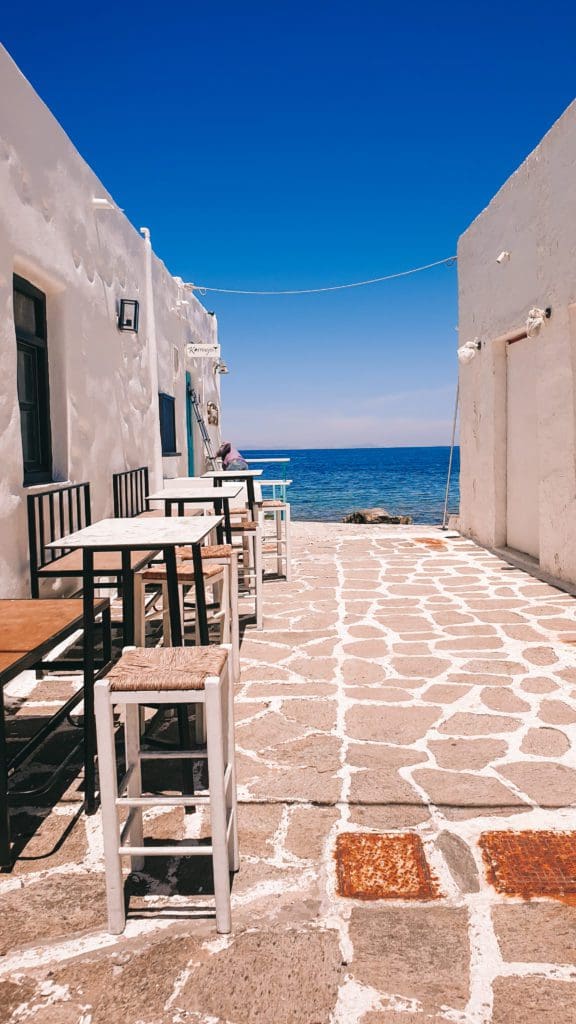 Milos to Paros
You'll find there are more connections heading from Milos to Paros because of the route the ferries take. There are at least 2 daily fast ferries that travel from Milos to Paros during the summer months with SeaJets. I book all my ferry travel through FerryHopper.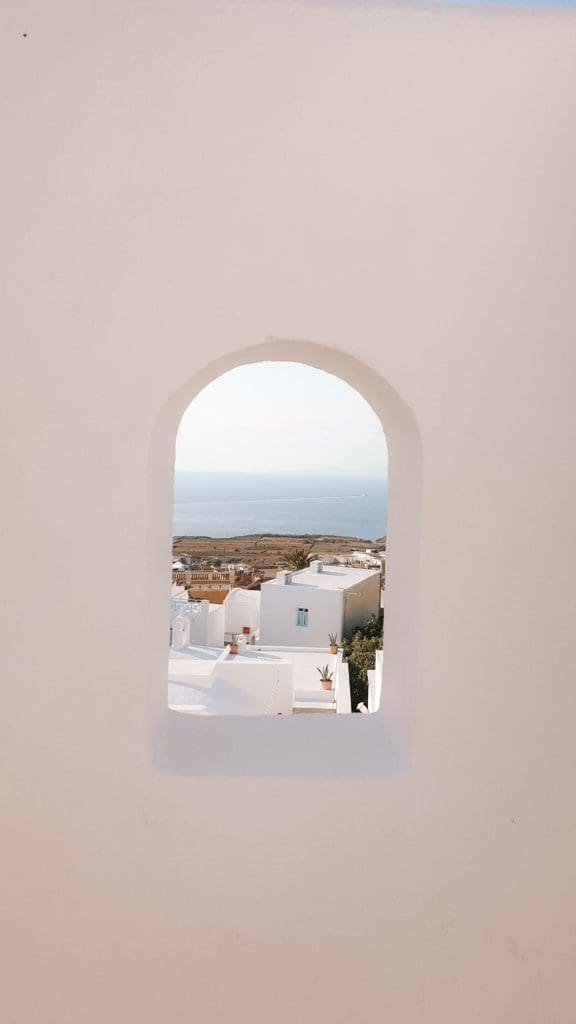 Vehicle Hire
I would highly highly recommend renting either an ATV or car to get around either Milos or Paros. You'll find there is a local bus service on both islands, but they fill up quickly during the summer months and aren't the most frequent.
Renting a vehicle to get around either Milos or Paros gives you so much freedom and flexibility. Head to one beach and it's already rammed with people? Hop on your ATV and head to the next beach a few minutes down the road.
If you are not an EU citizen make sure you have your international driving license with you if you are renting a car. I always use RentalCars when booking for my vacations.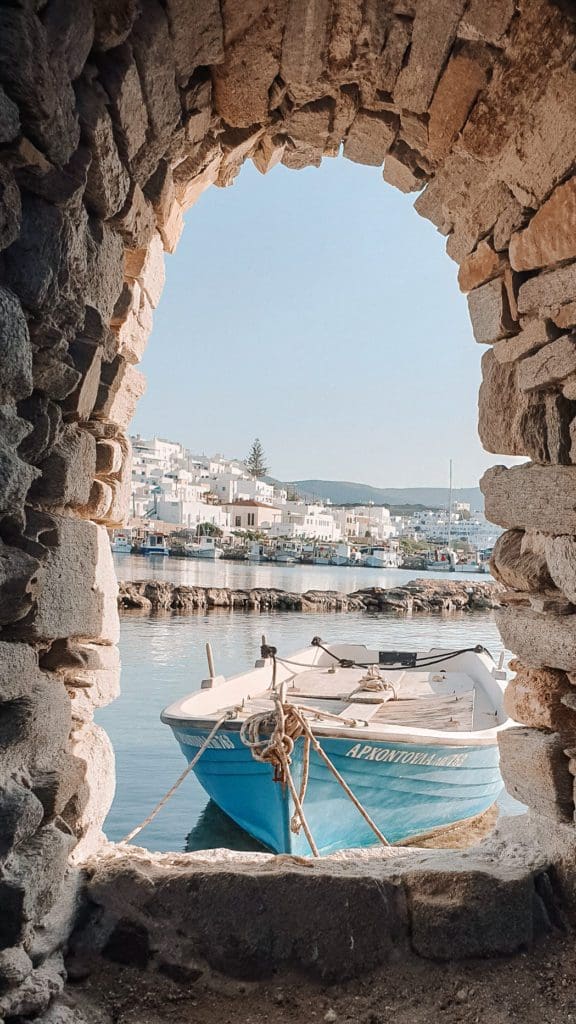 Conclusion
I've got lots of blog posts to help you in your decision-making, so if you need guidance on the best restaurants in Milos, or where to drink some of the best cocktails in Naoussa, Paros then you can check them out.
If you can't squeeze in both islands into your itinerary, then it's totally a matter of preference. Either Milos or Paros will make an excellent impression on your vacation, and really and truly both islands offer so much for visitors. You won't be disappointed with whatever island you decide to choose, and just remember that the next time you visit Greece, you'll need to visit the island that didn't make the cut. Have fun!
Some of these may be affiliate links, which means when you buy something I may receive a small commission. There is no additional charge to you, and it really helps to support me – so thank you!