Sorrento marks the start of the Amalfi coast and is one of the iconic towns found in this remarkable part of Italy. With soaring mountains, cliffside towns, and the clearest water you'll see this side of the Mediterranean, there's a lot to love about Sorrento. Especially the fantastic Sorrento beach clubs!
There is one teeny tiny downside to this exquisite part of the world and that is Sorrento doesn't really have dreamy beaches. In fact, the beaches in Sorrento are mostly cliff faces and rocky perches that have been dug into the rocks.
However, it's not all doom and gloom! What it lacks in actual beaches it makes up for in wonderful and quite unique beach clubs. Sorrento beach clubs are imaginative and creative use of limited space but endless possibilities. You'll find the Sorrento coastline teeming with long pier-like beach clubs that stretch far into the Bay of Naples.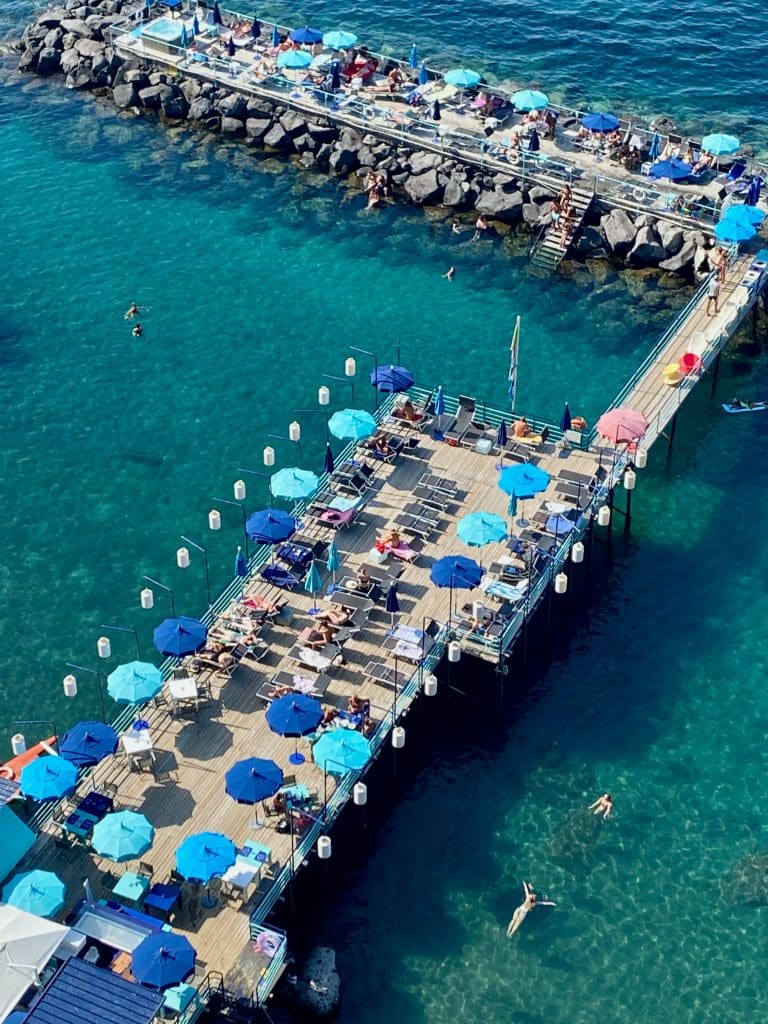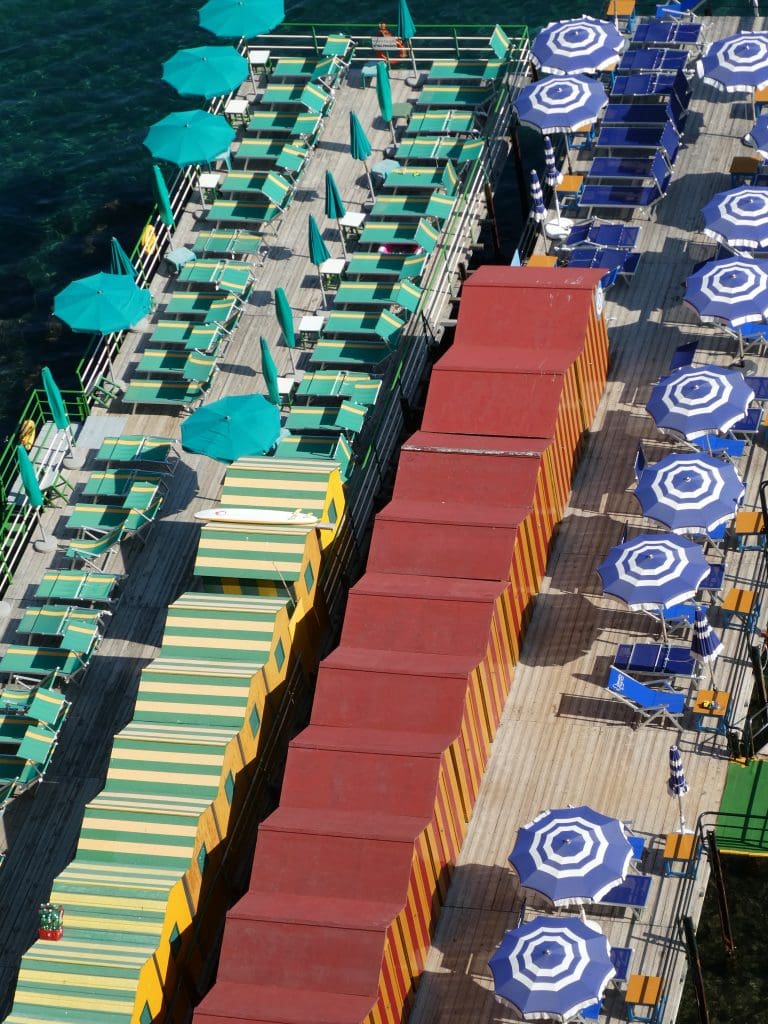 Sorrento Quick Guide
Getting to Sorrento
From Naples, you easily take a train from Napoli P Gariboldi station to Sorrento. Trains depart every 30 minutes and you can purchase train tickets here. The train journey takes around 1 hour and 15 minutes.
From Capri, Positano, Amalfi & beyond the fastest way to get to Sorrento is by ferry. During the summer months, the Amalfi coast is extraordinarily busy and congested. Skip the traffic by taking the ferry instead. Purchase your ferry tickets here.
Sorrento Beach Clubs
The Sorrento beach clubs actually make life a lot easier for people who dislike bringing home bags of sand from their day out at the beach. And as most of the coastline is made up of rocky shoreline, you can relax in comfort in the Sorrento beach clubs by renting a lounge chair and climbing into the sea from the comfort of a ladder. You'll be extraordinarily spoiled with the beach clubs of Sorrento.
Situated beneath the high cliffs that make up the Sorrento coastline, you'll find a number of beach clubs that have been man-made to combat the area's lack of actual beaches. Similar to what the Dutch have created in stopping high rising water levels by building dikes, the Italians have built man-made structures far into the Bay of Naples to create artificial floating islands. It's perfect and ingenious for the area.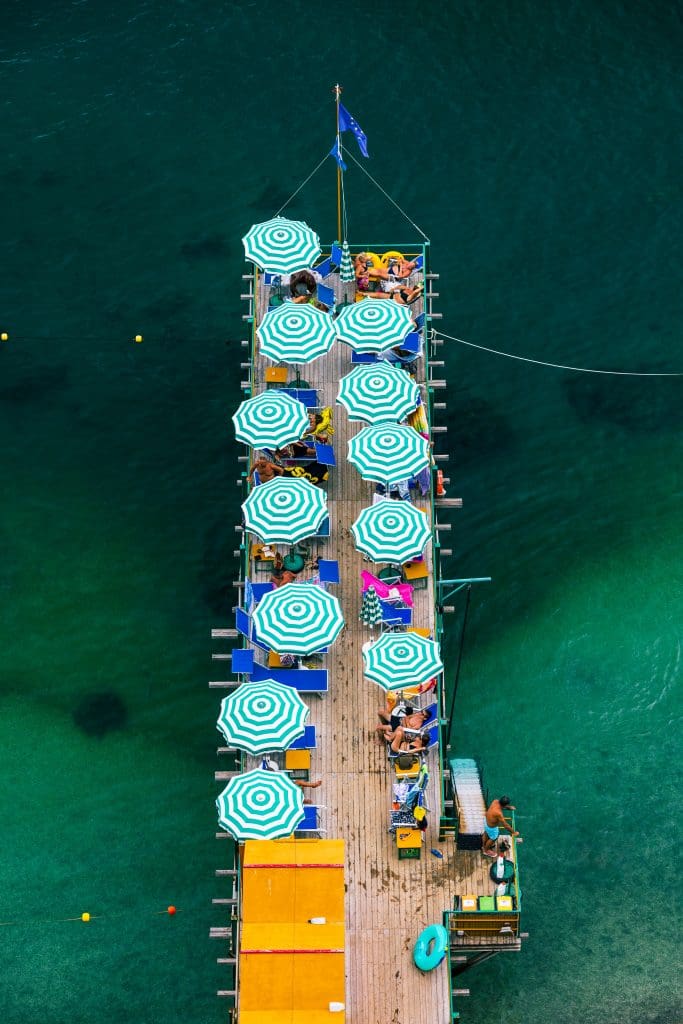 With this creation on the coastline, you'll find several beach clubs in Sorrento in Marina Piccolo that have long been institutions during the summer months when the crowds soar with visitors from all over the world. If visiting during the summer months, do make sure to reserve in advance as the beach clubs in Sorrento are notoriously popular and in high demand. 
Marameo Beach 
Marameo Beach is one of the longest-standing beach clubs in Sorrento and has recently had a full refurbishment to bring it into the 21st century. Nowadays you'll find Marameo Beach has some of the best facilities on offer and one of the best beach clubs in Sorrento. A day spent at Marameo includes access to one of its 30 changing rooms, king size loung chairs, floating sun beds, a leisure zone and if you are happy to splurge, a private jacuzzi.
Marameo Beach has a spectacular restaurant that appears to be seemingly effortless and chic. With its signature blue decor and livery, the restaurant at Marameo Beach offers a variety of traditional Italian dishes including pizza, pasta and freshly caught fish.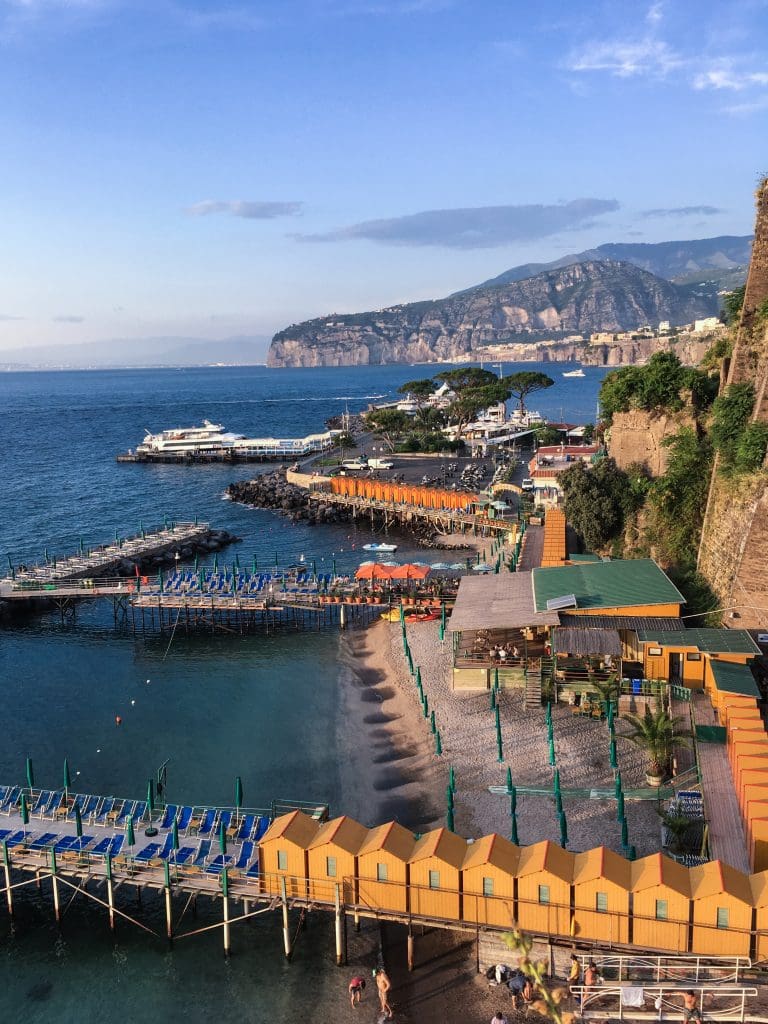 If you are arriving by boat/ferry you can walk directly from the port. Save your legs the trouble of the numerous stairs and take the Sorrento Lift down to water level. A return ticket for the Sorrento lift costs €1.90.
Sun loungers – €20 per sunbed
Umbrella – €8
Leonelli's Beach
A traditional Sorrento beach club that has been handed down through three generations is a well-loved and family-orientated beach in Sorrento. With ample lounge chairs and space for families and friends to spread out, Leonelli's Beach is a classic and affordable Sorrento beach club in the area and is incredibly popular.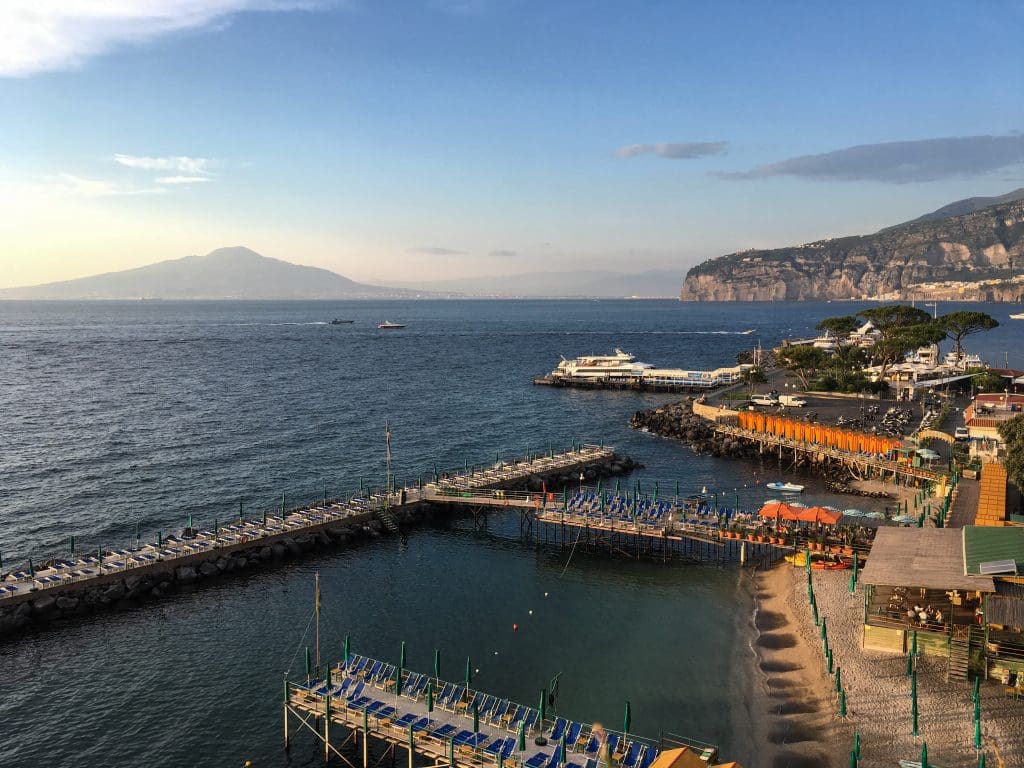 Families love Leonelli's Beach for its small sandy section of beach that is perfect for young children and adults. There are a number of aquatic activities that can be participated in such as renting canoes and pedalos.
Another factor is the delicious snack food that can be eaten from the comfort of your sun lounger. With a wide range of options to choose from, you and your family can work your way through the menu. Or if you would rather have a sit-down meal, then consider their on-site restaurant.
Sun loungers – €10 per sunbed
Umbrella – €5
Peter's Beach
One of the closest Sorrento beach clubs to the port and access to the train station, Peter's Beach has a long tradition of beach goers and families who visit the Amalfi coast. Year after year, the same faces will rent their sun loungers for the entire summer months and spend their days enjoying everything that the Amalfi coast has to offer.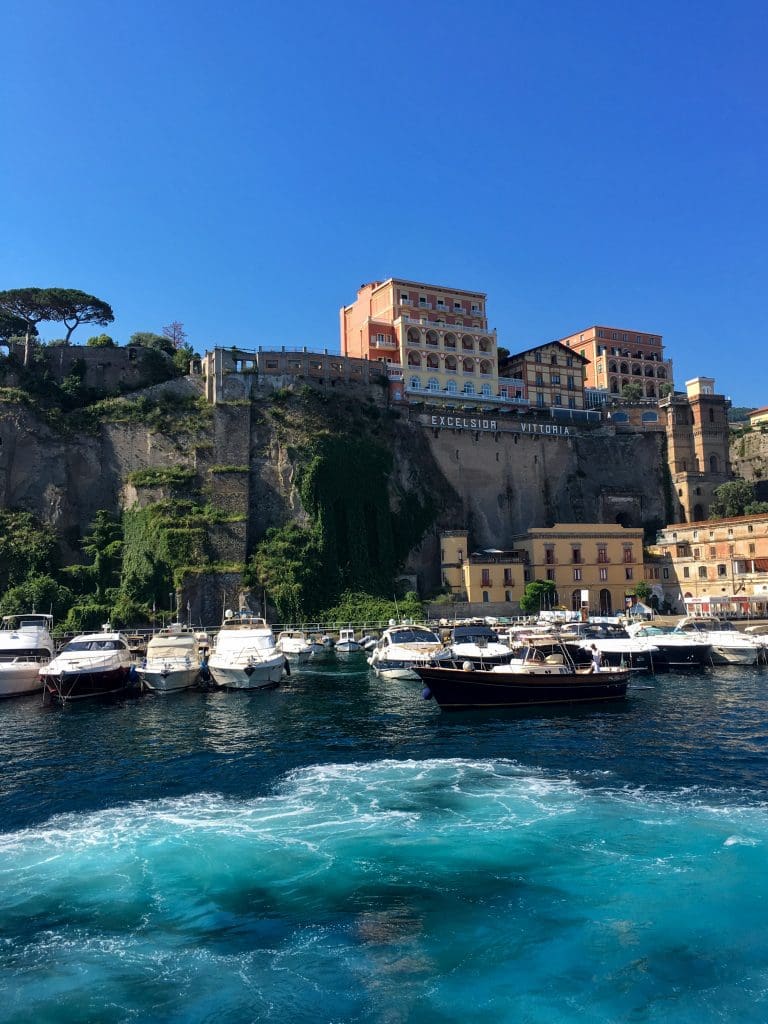 Peter's Beach is perhaps a touch more basic than it's nearby neighbours and can often be difficult to procure a sun lounger due to its generational popularity which often means there are not often enough sun loungers available to rent.
This section of Beach in Sorrento is a tiny bit shabbier than the rest of the area and could use a bit of sprucing up.
Sun loungers – €20 per sun bed
Umbrella – €8
Bagni Salvatore
The final beach club in Sorrento in Marina Piccolo is Bagni Salvatore. It's a long-standing institution that has been around since 1930 when the area become popular with families from Naples and wider Europe who were drawn to one of the most beautiful coastlines in Italy.
There are a number of reasons why people keep returning to Bagni Salvatore and it's a combination of excellent service, delicious food and outstanding views. The dramatic landscape is visible from this Sorrento beach club as it overlooks the Amalfi coastline and other beach clubs beside it.
And like much of Italy you're never too far from Ancient Roman ruins, in fact, Bagni Salvatore is right beside the former home of Villa Agrippa Postumo and dates back to 1 AD. The ruins are visible from Bagni Salvatore which of course adds to the charm of the beach club.
The food in Bagni Salvatore is easily the best of all the beach clubs in the area and decently priced.
Sun loungers – €10 per sun bed
Umbrella – €7
La Marinella
A firm favourite with regular Sorrentinos and visitors to the Amalfi coast, La Marinella is more of an upmarket Sorrento beach club than others found in the Marina Grande area. And that may suit a lot of people who want to escape the crowds and experience something akin to the beach clubs in Capri or Positano.
La Marinella has a notable restaurant that is worth visiting for either lunch or dinner. It's worth a visit for the views alone, but a day spent at La Marinella Beach Club is highly recommended.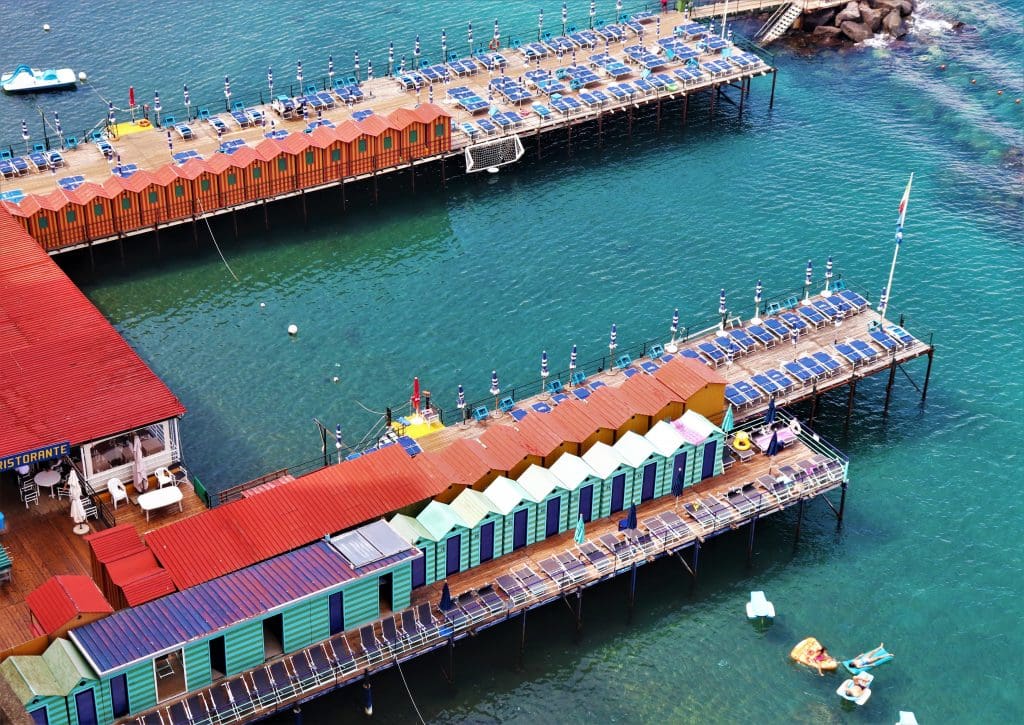 The prices for La Marinella vary whether you visit during a weekday or weekend, so take that into consideration.
Access to the lift that brings you down to La Marinella, a sun lounger for two people and an umbrella is priced between €40 and €50 depending on whether it is a weekday or weekend.
Sorrento Beaches (A Little Further Out)
Heading away from Sorrento town you'll find an area so dazzling with soaring cliffs that plunge to meet the incredible blue of the Bay of Naples. There are not many beaches in this area and some of the places can be quite hard to reach. However, there are a couple of exceptions that are worth a visit if you're up for an adventure and seeking something away from the crowds.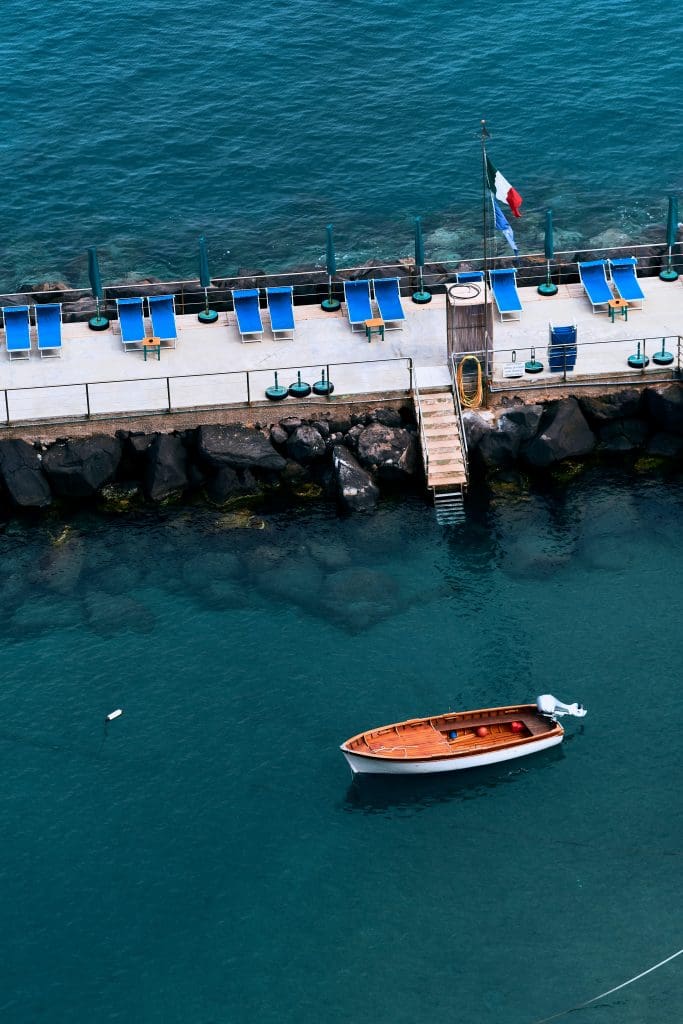 Bagni Regina Giovanni
Nowadays Bagni Regina Giovanni (also known as Queen Giovanni Baths) is the site of a former Roman villa that has fallen into disrepair after a thousand or so years. Once home to a wealthy family, the watering hole has now become a firm favourite for people looking to get away from an organised beach club in Sorrento and seeking something different.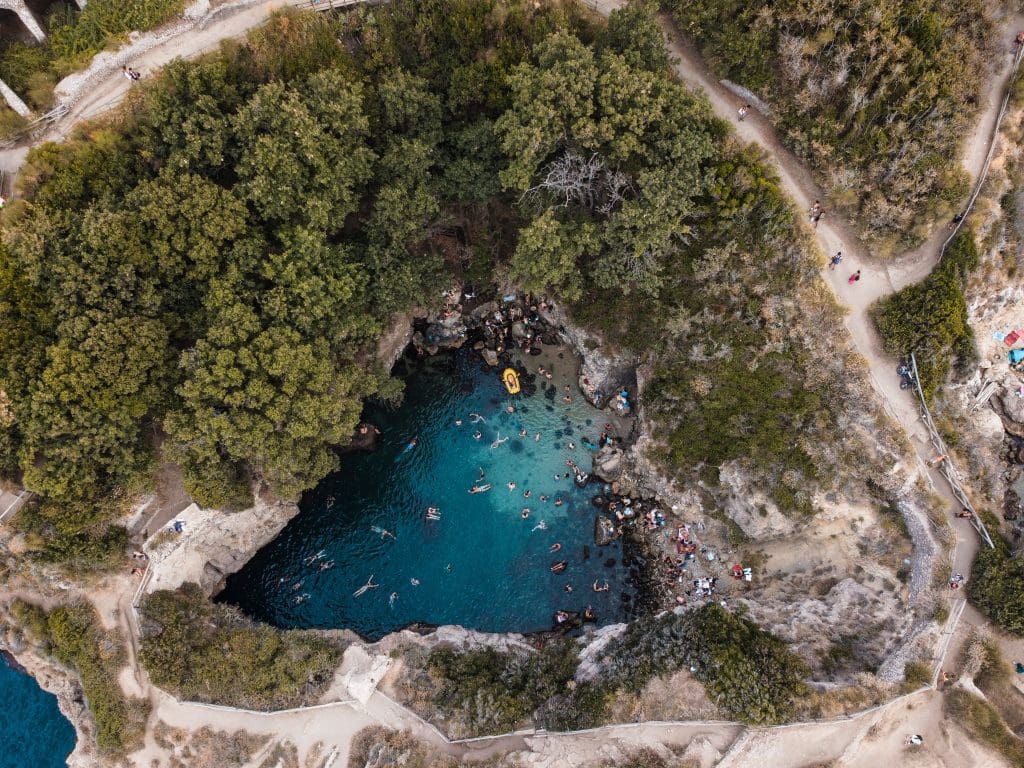 During the summer months, this becomes one of the most popular spots in Sorrento for visitors looking to cool off after the hike to Bagni Regina Giovanni.
Make sure to bring your swimsuit, water shoes and something for your valuables when visiting.
It's a 40-minute walk from Sorrento or you can take the number 5070 bus to the Caposorrento bus stop and it's a shorter 10-minute walk from there. Whilst it's not a traditional beach in Sorrento by any means, it is one of the more special and spectacular spots on this remarkable coastline worth investigating.
Tours around Sorrento
You could easily spend a couple of weeks in Sorrento and the surrounding area and still only manage to see a fraction of what is on offer in this incredible part of Italy. With a seemingly endless coastline that draws gasps of 'oohs and aahs' from even the stoniest faced visitors, it's hard not to be impressed by the sheer beauty of the dramatic landscape and picturesque towns and villages that make up the Amalfi coast.
Escape the crowds and busy beaches and spend a couple of days exploring islands such as Ischia and Capri, or arrive by boat in the famed town of Positano. If you've ever fancied an Italian cooking class, this is the perfect place to learn how to create incredible pasta dishes.