The 7 Best Beach Clubs in Koh Samui in 2023
Easily my favorite island in Thailand, Koh Samui is a fantastic place to explore. With superb beaches, hotels, and restaurants, Koh Samui has it all. Jump on a ferry to nearby Koh Phangan for a full-moon party, or head to Koh Tao for diving and snorkeling.
Koh Samui is perfect for first-time travelers, or those looking for relaxation. And if you've come to party, there's no better place on the island than Chaweng. The beach clubs in Koh Samui range from glamorous luxury resorts to hectic-partying spots. If a day enjoying the sunshine and a cocktail sounds like heaven, you've come to the right place.
Koh Samui Quick Guide
Getting around Koh Samui
Taxis are notoriously expensive in Koh Samui and traveling a short distance will cost you an arm and a leg.
Most visitors rent a scooter (please wear a helmet), or a car. It's the cheapest option on the island and the easiest way of getting around.
Top Tours on Koh Samui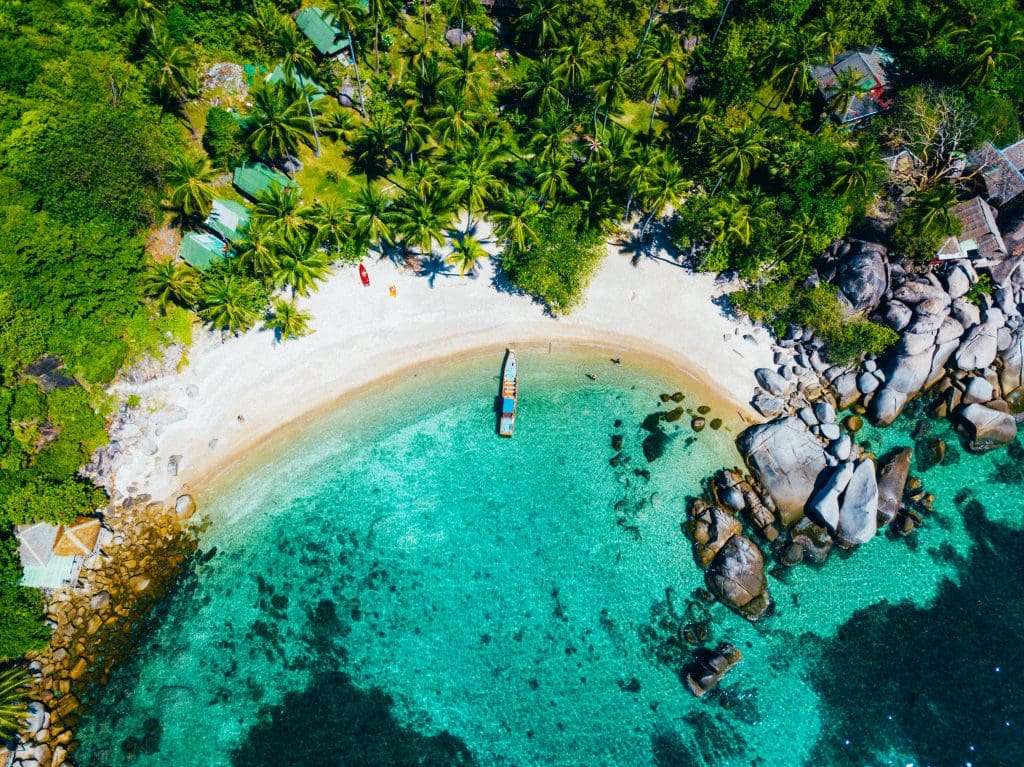 1. Nikki Beach Resort & Spa Koh Samui and Beach Club
You don't need to be a guest to visit the iconic Nikki Beach Resort & Beach Club in Koh Samui. One of the most legendary names in beach clubs that are found all around the world, and in iconic party destinations like Mykonos and Ibiza.
Located on the beautiful Lamai Beach, Nikki Beach Resort & Spa Koh Samui offers a luxurious and unique beach club experience. Relax by their infinity pool or get pampered at their world-class spa. And don't forget to check out their extravagant themed parties, featuring international DJs and top-notch entertainment.
Indulge in gourmet dining options or sip on signature cocktails while lounging in one of their plush cabanas. Whether you're looking for a relaxing day by the beach or an unforgettable night filled with fun, Nikki Beach has it all.
Website: Nikki Beach Koh Samui
Location:
2. Seen Beach Club Samui
One of the largest beach clubs in Koh Samui which has some of the best beach parties on the island can be found in Seen Beach Club Samui. The stunning pool has numerous sun beds and loungers around the pool area.
Or you can choose the best spots in Seen Beach Club by sitting in the hotly contested pool hammocks. The double hammocks sit gracefully over the water's edge, offering you a chance to cool down in the hot Thai heat.
The 1950s-themed beach bar features vintage VW camper vans that have been converted into a retro bar. As night descends on Seen Beach Club, it converts into one of the most epic partying scenes on the island.
With themed events throughout the year, be it Halloween or New Years Eve, you can be guaranteed a fantastic time.
The cocktails in this Koh Samui beach club are pretty great too. We recommend trying the Kookaburra which combines lemongrass gin and passion fruit into an eclectic drink that is divine.
Website: Seen Beach Club Samui
3. Chi Samui
With a 25-meter infinity swimming pool that overlooks the beach of Bo Phut, you can spend you day swimming up to the water's edge and admiring the breathtaking surroundings. Complete with a small swim-up bar, Chi Samui is all about good vibes and relaxation.
Chi Samui is one of the only beach clubs in Koh Samui that exclusively offers cannabis items on its menu. Featuring hand-rolled cannabis joints and an extensive menu of cannabis-infused cocktails, marijuana lovers will adore Chi Samui.
Website: Chi Samui
4. Ark Bar Beach Club
This iconic party spot is known for its pumping music, delicious cocktails, and fun atmosphere. Sunbathe by day and dance all night at this popular spot.
One of the most popular beach clubs in Koh Samui and the creme-de-la-creme of beach parties on the island, if you've come to party then Chaweng Beach and Ark Bar is the place to be.
Throughout the year you'll find legendary DJs playing themed nights as well as pool parties that are not to be missed.
If you want relaxation, Ark Bar Beach Club is probably not the spot for you. Head to one of the other beach clubs in Koh Samui for a less hectic experience.
Website: Ark Bar Beach Club
5. The Deck Koh Samui
The Deck Koh Samui offers visitors the ultimate opportunity to relax and enjoy the fantastic scenery of Bo Phut Beach. With table service straight to your lounge chair, spend your day sipping on delicious cocktails or enjoying Thai appetizers and nibbles.
Cool off in the large pool that overlooks the beach and clear waters of Bo Phut Beach. You can spy Koh Phangan in the distance. Spend your day enjoying the relaxed atmosphere, before sitting down for a divine lunch of freshly caught fish and grilled meats.
As evening approaches, you have one of the best seats on the island to enjoy the spectacular sunsets in Koh Samui.
The Deck Koh Samui is for those who are looking for a chilled resort-type beach club and more up-market. Unmissable.
Website: The Deck Samui
6. Pure Beach Club Samui
One of the newest beach clubs in Koh Samui, Pure Beach Club Samui opened its doors at the beginning of 2022. Much like Nikki Beach Koh Samui, it offers a relaxing environment combined with spa treatments that also embrace a partying element too. While it won't be as hectic as Ark Bar, it's balanced somewhere in between.
Enjoy water sports such as hydrofoil surfing – a water toy that makes you feel part dolphin and Elon Musk. Or simply hang out on the beach, relaxing in the iconic blue bags with a Mojito in one hand, and a good book in the other.
Book your massage for the ultimate beach club experience, and listen to the sounds of the waves as you soak up the relaxing atmosphere of an open-air beach massage in the Gulf of Thailand.
Website: Pure Beach Club Samui
7. La Bohemia Beach Club Lamai
Popular with French-speaking tourists, La Bohemia Beach Club located in Lamai is the perfect place to relax. With enormous double beds on the beach, claim your spot for the day and enjoy the golden sands of Lamai beach.
Spend the afternoon relaxing, or playing volleyball on the makeshift court. Cool off in the funky beach shack interiors, with built-in swings that overlook the stunning beach and sea beyond.
La Bohemia Beach Club serves excellent food that encompasses world cuisines and themed nights throughout the week. End the afternoon with a relaxing massage before enjoying a delicious sundowner.
Website: La Bohemia
Conclusion
Beach clubs in Koh Samui offer a variety of experiences, from pumping music and non-stop partying to hectic atmospheres and chilled-out relaxation. Whether you're looking for a place to sunbathe by day and dance all night or enjoy water sports and fresh seafood, there's a beach club in Koh Samui perfect for you.