The Best Belgian Beer Cafes in Antwerp
With a rich history in brewing beer, Belgium is one of the world's biggest producers of microbreweries and also well-known beer brands. You've probably encountered famous Belgian beer brands such as Duval beer, Leffe Blonde, La Chouffe beer or even Delirium beer.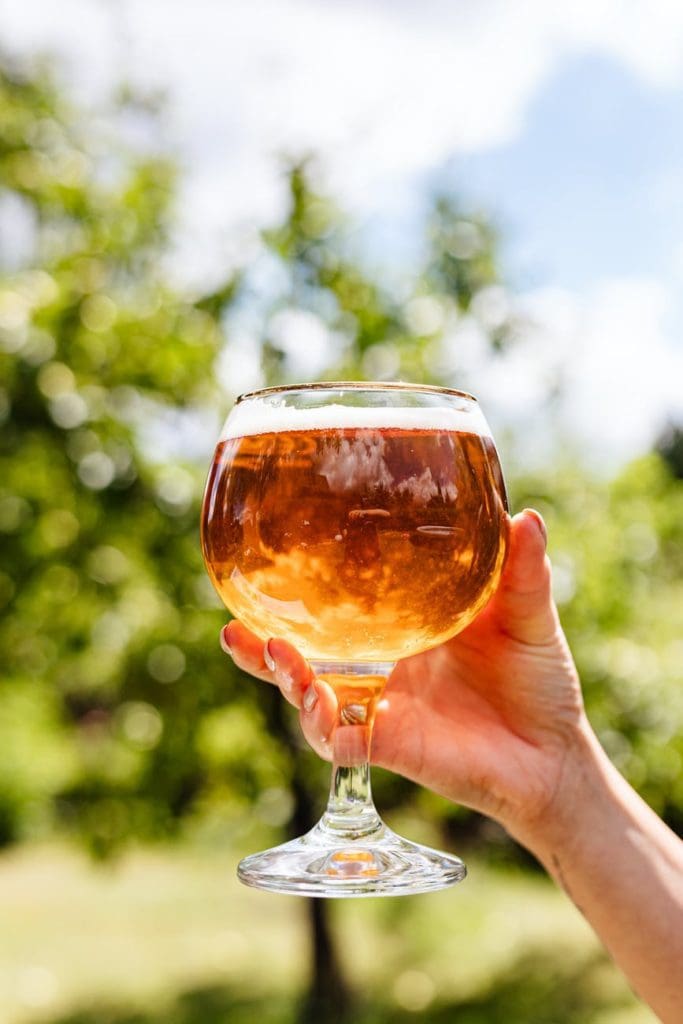 And whilst those are still superb beers, in the Belgium beer cafes listed you will encounter a whole other level of beer appreciation. The city of Antwerp has excellent Belgian beer cafes with menus of beers from within Belgium and around the world.
Let me start by saying that I am in no way shape or form a beer connoisseur. And before living in Belgium, I was exclusively a wine girl. I paid little heed to people when I told them of my plans to move to Antwerp and how they gushed about the beer culture.
But slowly over the past 5 years, I've grown more and more fond of Belgian beer. With hundreds upon hundreds of beers brewed in this small country, Belgium is renowned for its excellent beers.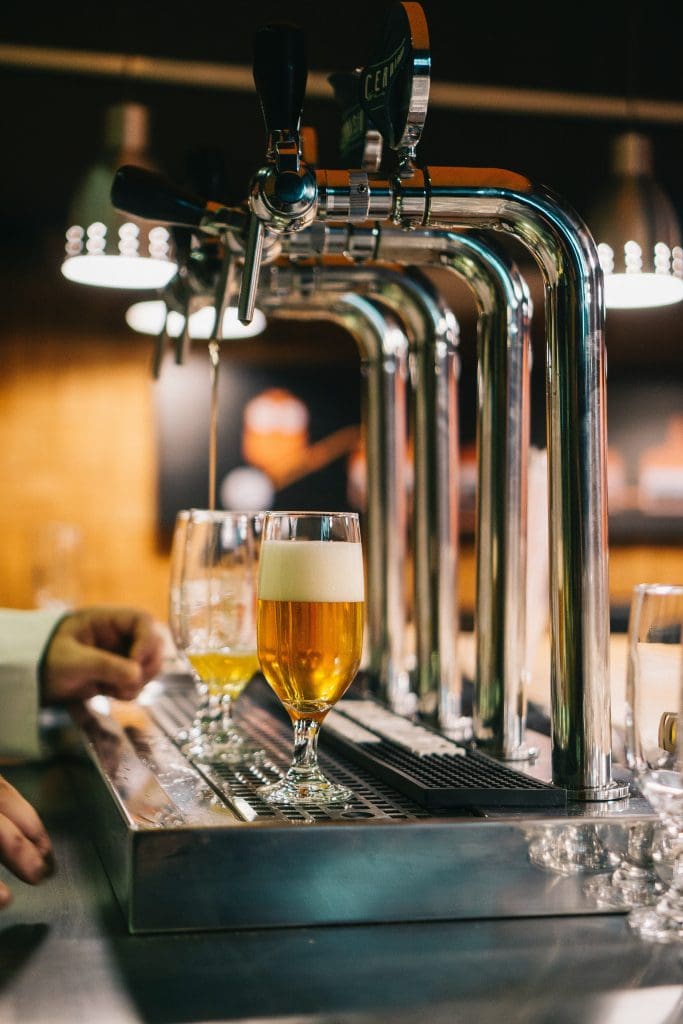 Some Belgian Beer tips from an Expat Local
There are several things to take note of when drinking in Belgium that the average tourist may not be aware of.
Belgian beers can often be seriously strong. Ranging from low percentages of 5% to quite often 12%, some beers can be unsuspectingly strong.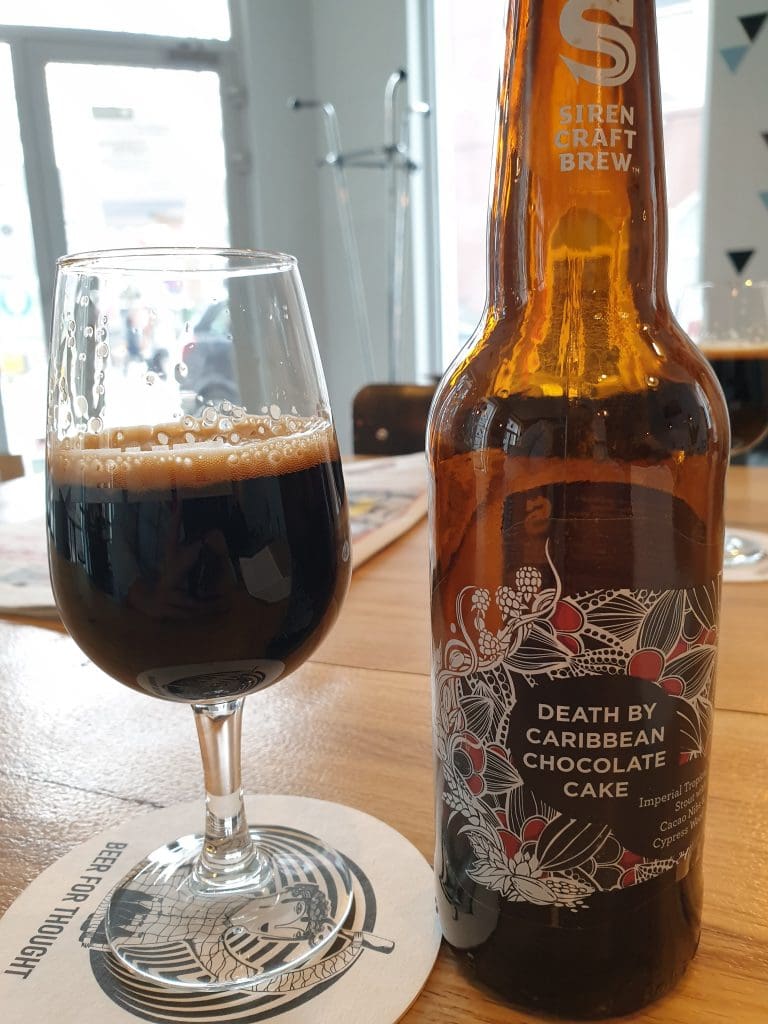 Belgians take their time drinking their beers. And for good reason, due to the alcohol percentage found in some of the beers, one beer could knock you three sheets to the wind. Drinking beer is something that can be enjoyed and not rushed. I come from a culture (Ireland) where the more beers you can consume in the shortest amount of time is a national pastime. This is not the scene in Belgium.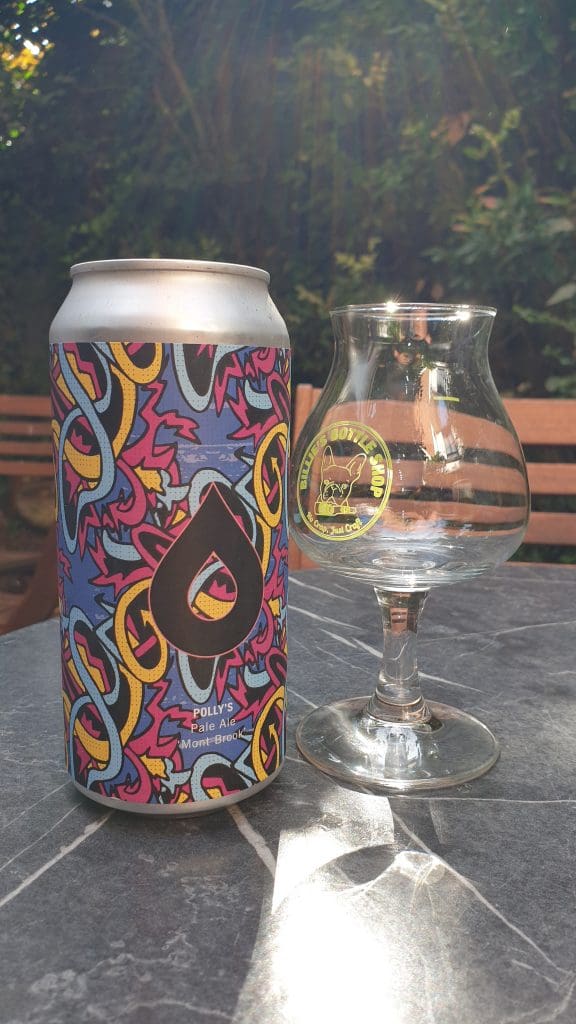 There is a special glass used for certain beers. The reason why Belgians are particular about beer glasses is that it has to do with the pour and oxygenation of the beer. Take the iconic Kwak glass. Looking like something a scientist would use in their lab, the Kwak glass is cylindrically shaped with a large blub at the bottom. It even has a wooden holder for it to sit in. If you want to make an impression in Belgium, order yourself a Kwak beer. I've made many a faux pas by not having the right glass to go with the correct beer. Obviously, these societal rules do not apply outside of Belgium.
If you are a beer lover and have come to Belgium to sample some of the best beer on the planet then I present to you the following list of the best Belgian beer cafes in Antwerp. In these establishments, you can find beer menus with hundreds of beers on offer. The choice is overwhelming but heaven to beer lovers.
Best Belgian Beer Cafes in Antwerp
Billies Bier Kafetaria | Kammenstraat 12, 2000 Antwerpen
Billies is a small beer cafe, a few hundred meters from Groenplaats, and an absolute treat. Named after a very adorable French Bulldog, Billies change their taps very frequently and you will rarely find them repeating the same beers twice.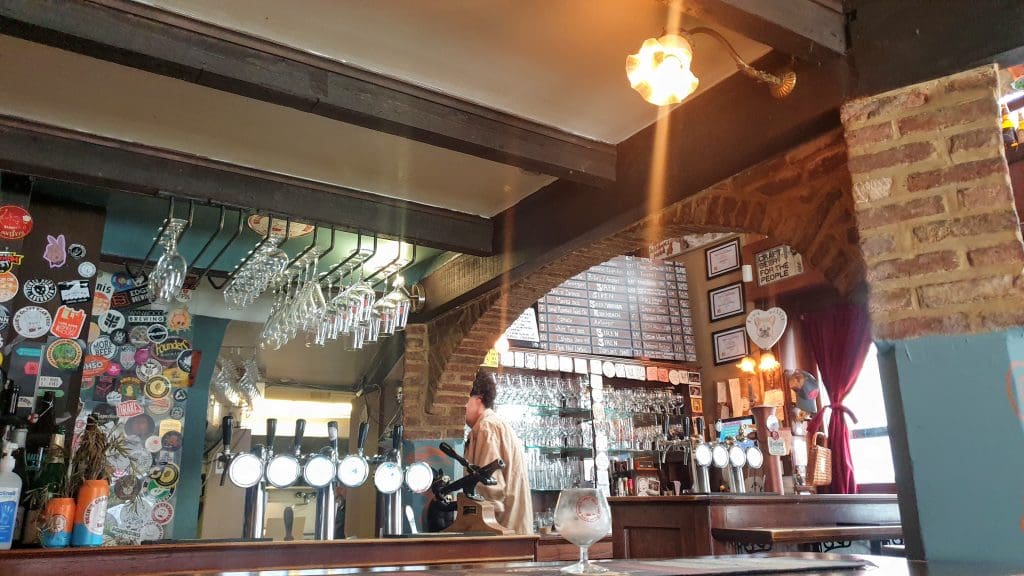 This is perfect for someone like me, who loves to try new things constantly. Billies has a cute little seating area outside the bar with hanging ivy and table service. Inside you can find a lovely wooden bar area complete with board games.
The space indoors is small and during busy times can be hard to get seating. So do plan on arriving early to claim your table. They've recently added new delicious treats to their menu, which is needed when some of the beers are 13% and you need some bitterballen to soak up the alcohol.
Billies is my go-to place for excellent beers from not only Belgium but also around the world. I also had my very first date with my partner of 5 years in this lovely little Belgian beer cafe. And it holds a lot of special memories. 🙂
Billie's Bottle Shop | Aalmoezenierstraat 38, 2000 Antwerpen
Billie's Bottle Shop is not so much a cafe or pub but I've included it in the list because it is a fantastic place to discover new brews. They have a very cute little garden out the back with seats and tables to accommodate around 15 people. Perfect for a group of friends.
Anything you purchase in the shop can be consumed on the premise and there are usually 2 taps going with different beers on offer. This is a great place to sample great craft beers in Antwerpen. We love going to Billies Bottle Shop and discovering new breweries.
Beer Lovers | Rotterdamstraat 105, 2060 Antwerpen
Beer Lovers is 500 meters from Antwerp Central Station and a stone's throw from China Town. This is a super spot with over 12 beers on tap that changes frequently and 200 specialty bottled beers. This is a great way to spend an evening or an afternoon working your way through the beer menu.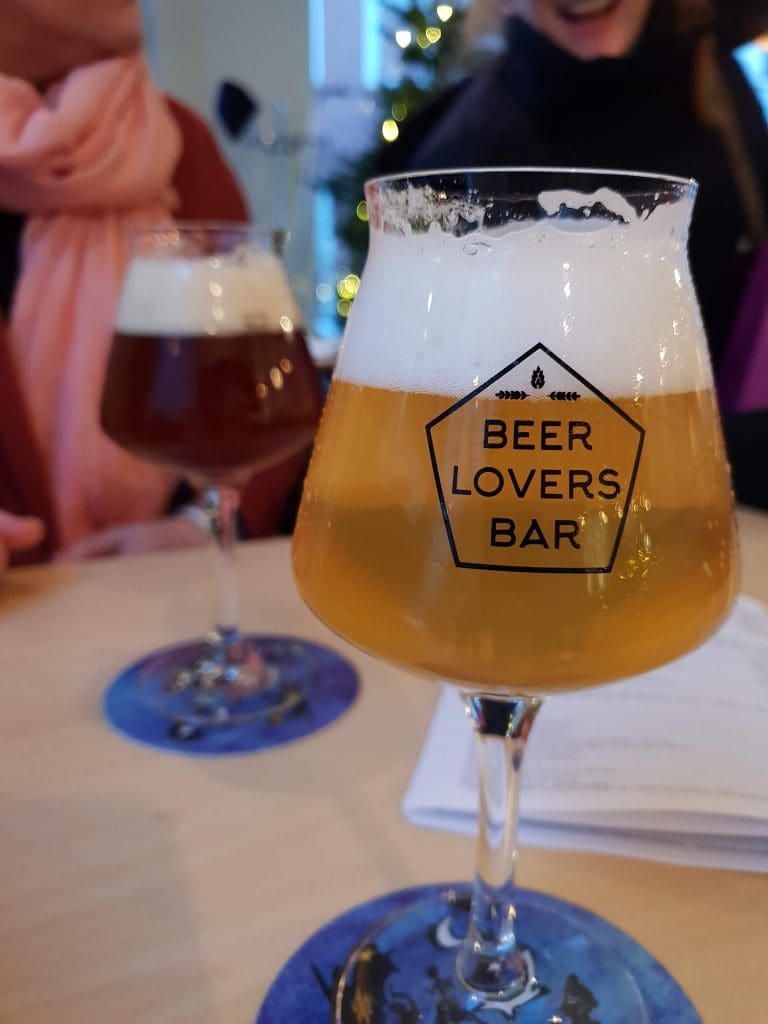 Beer Lovers also host events from ex-pat Meetups to cultural events. And is a great place to meet like-minded individuals and perhaps come away with a friendship. This was one of the first places I was introduced to when I moved to Antwerp and it always had a soft spot in my heart.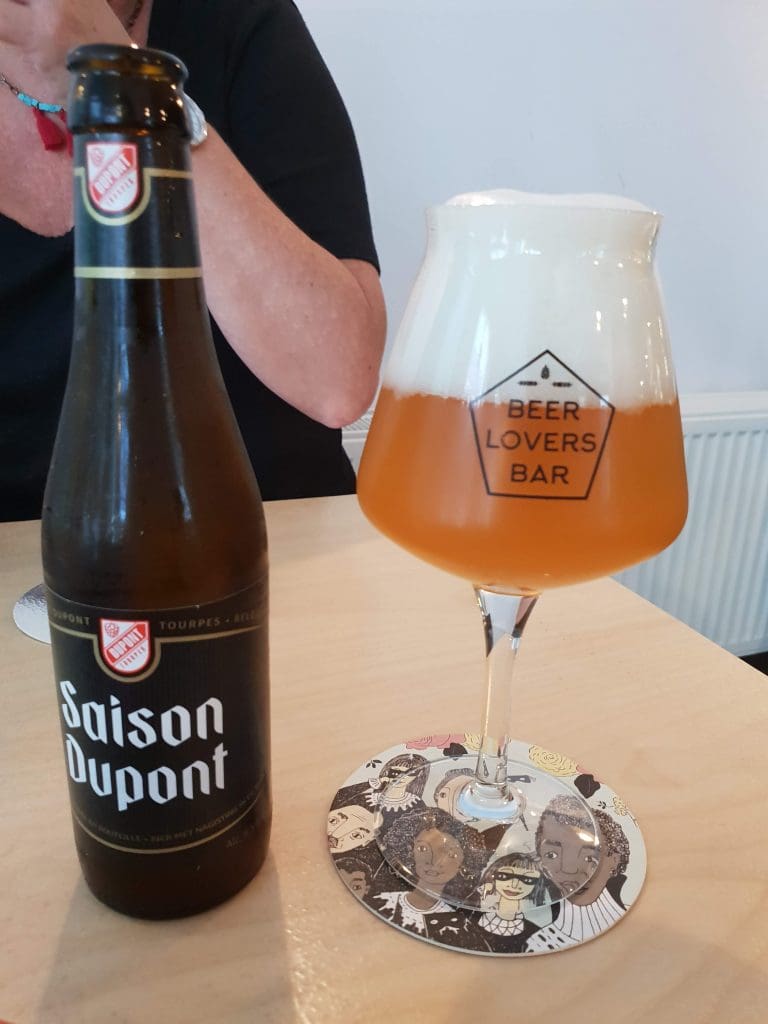 Bier Central | De Keyserlei 25, 2018 Antwerpen
Bier Central is located a mere stone's throw away from Antwerp Central Station. It has always felt like the touristy option when it comes to indulging in Belgian beers. However, in terms of the sheer volume of Belgian Beers on tap that it offers, it can't be beaten. It has 30 Belgian Beers on tap and over 300 Belgian Beers on its menu.
They offer each visitor a chance to explore their 'beer encyclopedia' which is a description of each product it offers. Trust me, it weighs a lot! Bier Central offers hot snacks and food as you make your way through the extensive beer menu. If you have limited time in Antwerp and want to sample a variety of Belgian beers then this would make an easy choice.
Cafe Kulminator | Vleminckveld 32, 2000 Antwerpen
The Kulminator is a beer cafe that I have passed by on numerous jaunts around the city and never actually stepped inside. It appears derelict and abandoned but I believe this adds to its charm.
The Kulminator trumps all other beer cafes when it comes to the sheer number offered here. You can find a whopping 600 beers on offer from all around the world.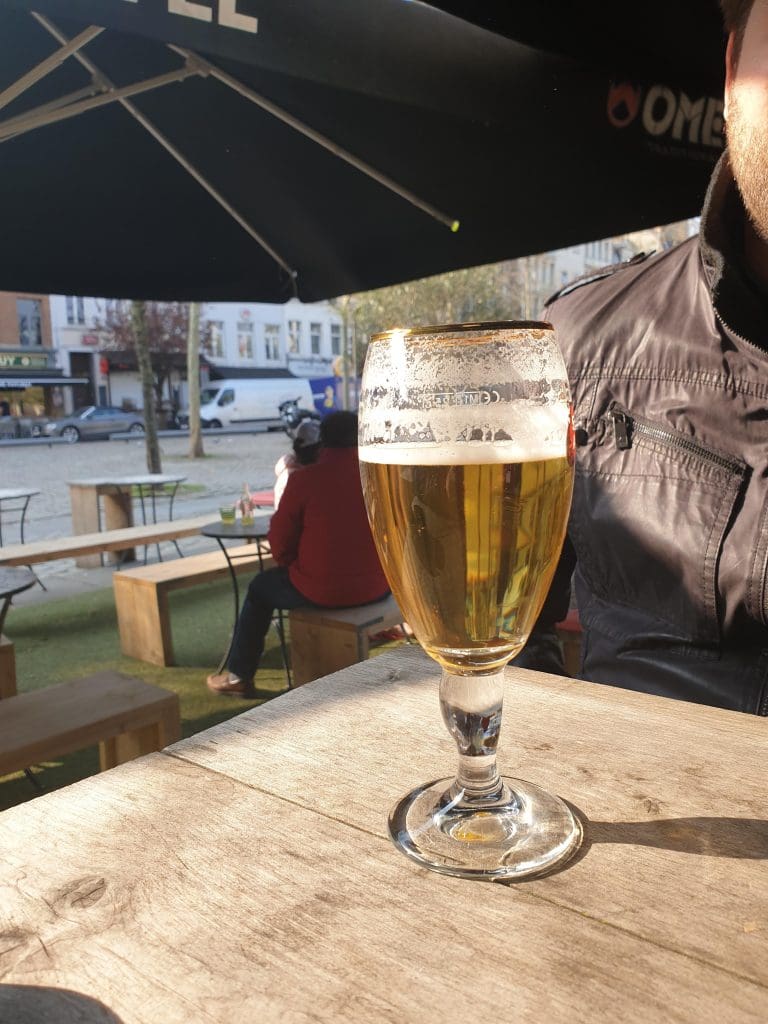 The Kulminator specializes in extraordinarily niche beers that have either stopped being brewed or can no longer be found. If you are a beer lover and have been seeking a place to be surrounded by 600 beers, then The Kulminator Beer Cafe is the place for you. The opening hours are very random, so it's worth checking before you plan a visit.
For such a small city Antwerp packs a punch when it comes to its love and devotion to Beer. The sheer volume of Belgian beer cafes on offer can be overwhelming but you are always guaranteed to find a new brew you hadn't ever encountered before. Don't forget to check out previous posts on where to stay in Antwerp or eat a delicious brunch before drinking your way around the city. Are you a beer drinker? Have you sampled any Belgian beers?