As you discover the island of Paros, you will marvel at its spectacular beaches and coves that dot the island. And depending on what time of the year you head to Greece, you may even end up having some of the beaches entirely to yourself.
What makes the beaches in Paros so special is not just the colour of the water, nor the sand, but quite often the taverna you can find close by. Top it off with an incredible Paros Beach Club and this island just continues to keep getting better. All of these elements together make the days whizz by in a sunny delirious haze.
Who doesn't love a good book in one hand and a cocktail in the other? As we jaunted around the island discovering the best beaches in Paros, we compiled a list of ones we had loved and other ones we absolutely needed to go back to on another visit.
Whilst you can discover the island through its bus system, I would recommend getting your own mode of transport as some places are harder to reach than others. Dependent on the time of the year you go, some of the beach clubs don't open till mid-June.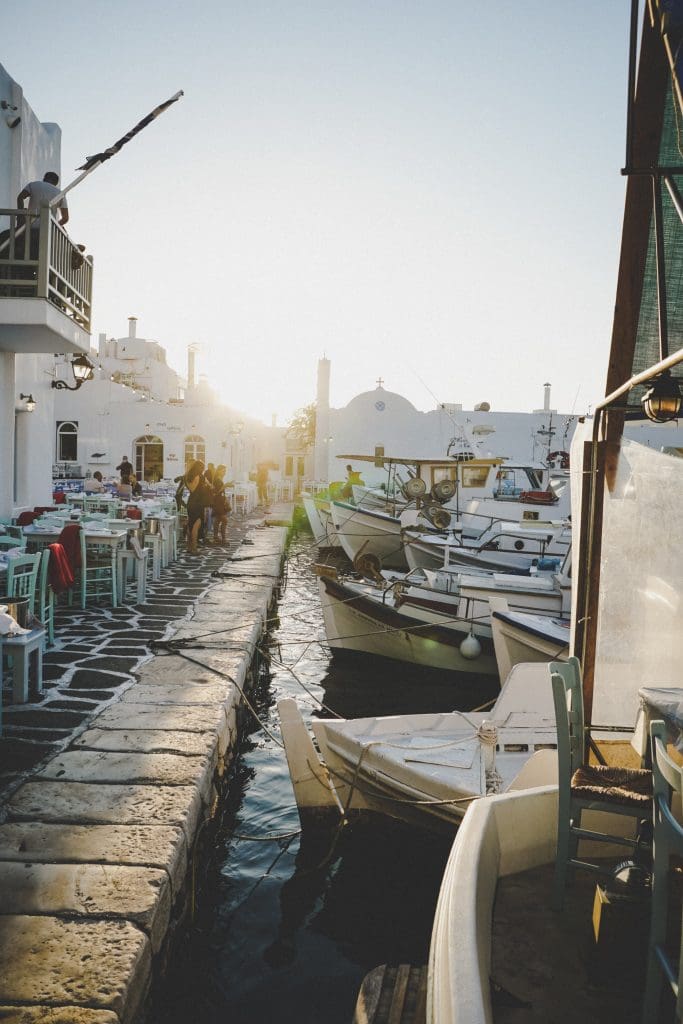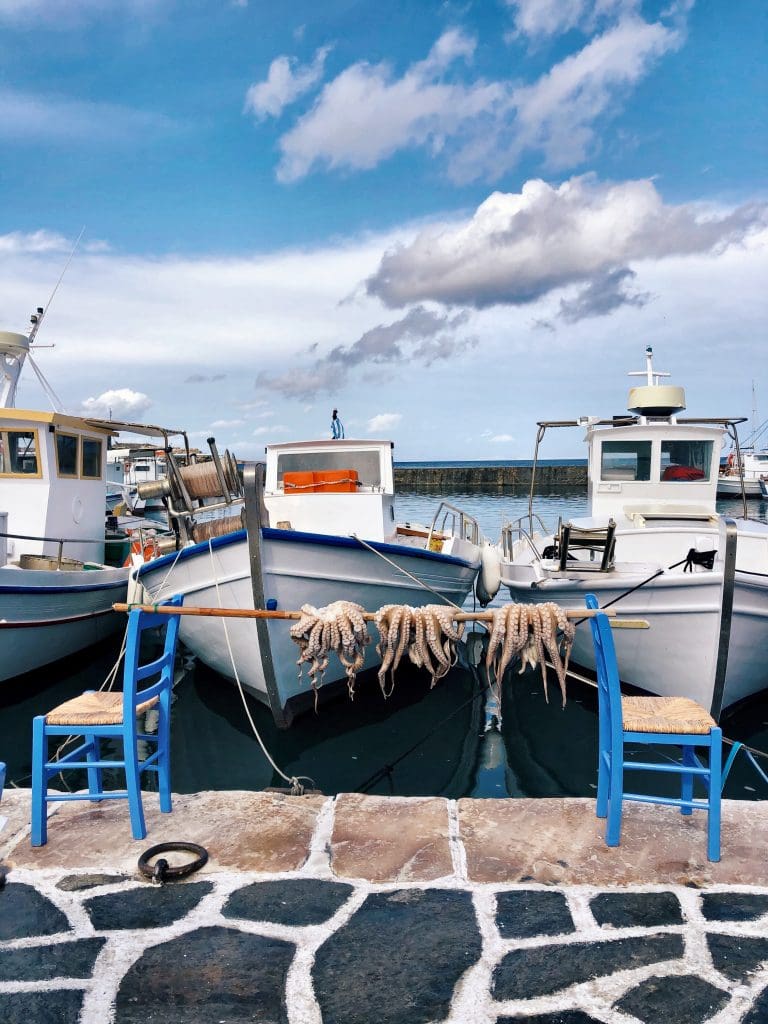 Best Family Beach in Paros – Kolymbithres Beach Paros
With 2 beach beds and an umbrella costing only €10, you will never want to leave the stunning Kolymbithres Beach. For those who don't want to pay for a beach, there are plenty of granite rock formations to sit on and hidden coves at Kolymbithres Beach.
The water at Kolymbithres Beach is very shallow here and makes it the perfect place for a family to spend the day with the little ones, and not be too concerned about large waves or rip currents.
We loved Kolymbithres Beach for a couple of reasons –
There are great local tavernas a very short stroll from Kolymithres Beach that offers excellent Greek food.
You can purchase drinks on the beach without leaving your sunbed.
Parking is available at Kolymbithres Beach provided you arrive before 11.30 AM in the busier months of July & August.
There is a small ferry that connects Naoussa to Kolymbithres Beach. With a few departures throughout the day, this is a great option if you don't have a vehicle.
Kolymbithres Beach is sandy and ankles deep for 50 metres. Making it the perfect beach for small children.
You'll find organised sunbeds in each small cove of Kolymbithres Beach, and although they're not the most comfortable, for €10 they're a bargain.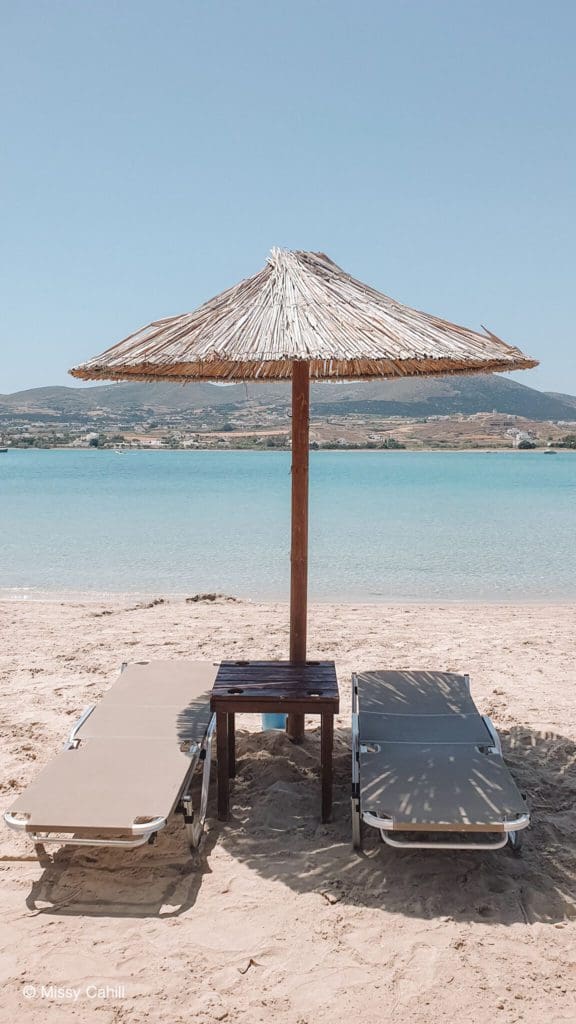 Best Beach Bar in Paros – Monastiri Beach Paros
Monastiri Beach Paros is absolutely breathtakingly gorgeous. With a deep wide curve of a sandy bay, the water is shallow and crystal clear water. With a beach bar offering food and drink service, there is not really a better way to spend your day.
Sun loungers are priced as follows:
€40 First Row
€35 Second Row
€25 Third Row and Beyond
You'll find a number of water activities in Monastiri Beach from snorkelling to renting your own small motorboat so that you can explore the bay. There is a small parking lot for those arriving in their own vehicle. And steps from the beach is a small monastery (hence the name) where you will see many an influencer in the wild as they clamber onto the roof and take Instagram-worthy pictures.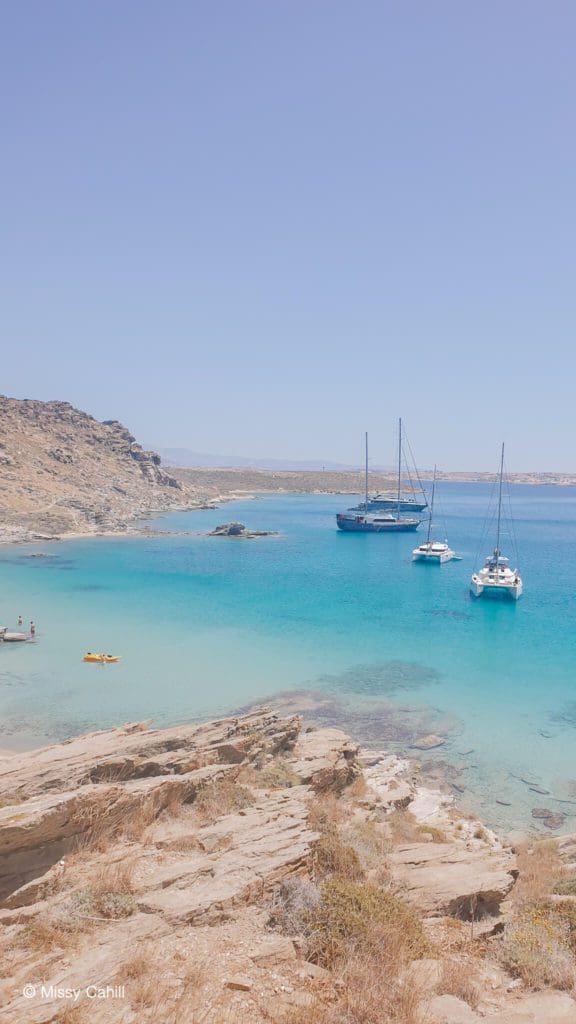 If you are seeking a really secluded spot, head past the beach bar and the amphitheatre, follow the trail for around 7 minutes and you will find some breathtaking private coves. Prepare by bringing water and supplies as you will not want to leave this spot. The water is shallow and the quintessential Grecian blue that is found only in this part of the world.
Monastairi Beach is easily one of the best beaches in Paros for its incredible backdrop of soaring hills, sandy beaches and insane water colour. Do not miss out on this beach.
Best Beach Food in Paros – Piso Aliki Paros
Piso Aliki Paros can be found down a dusty little road that honestly looks like it's going nowhere. And then all of a sudden, a glint of blue beckons to you from beyond the trees. Located in the south of Paros Island, Piso Aliki Beach is quite remote and is an underdeveloped part of the island. Around the corner and in the village of Aliki, you'll find another beach named Aliki Beach there which is equally popular.
The lack of development means that the roads are a little worn and feel like you're stumbling into a hidden paradise. There is a sense of achievement when you find Piso Aliki Beach. We spent an afternoon at Piso Aliki Beach in late May and besides one other family, we had the beach entirely to ourselves.
Thalassamou was the main reason for our afternoon spent on Aliki beach. Set on Piso Aliki Beach, the taverna is not only beautiful in appearance but offers diners a truly incredible culinary experience. With a twist on Greek dishes, you will have to roll yourself out of the restaurant and back onto your beach towel.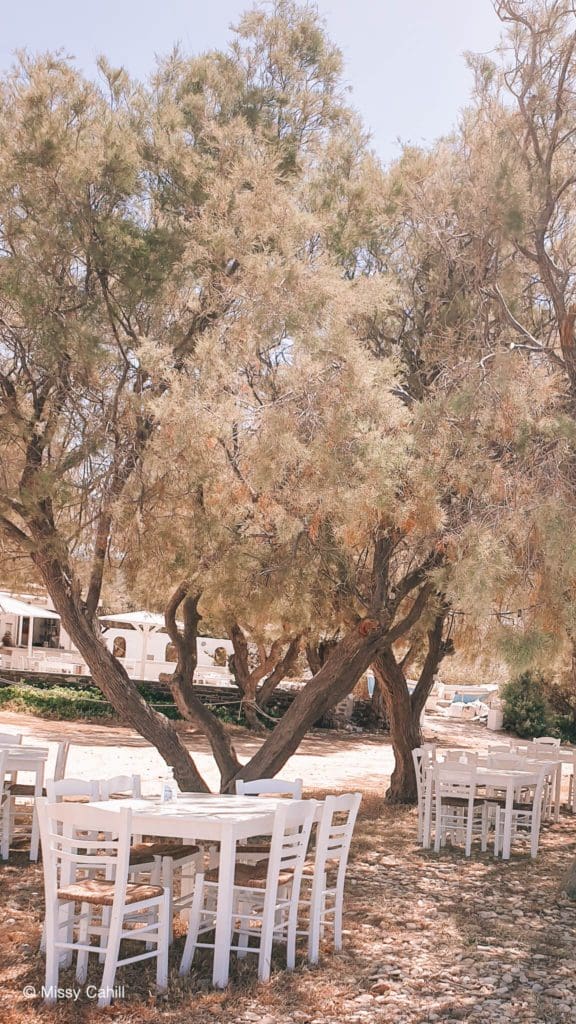 Best Paros Beach Clubs
I love a beach club. I love nothing more than spending a day on a comfortable sun lounger, an umbrella and a drink service. What is not to love about that? So whenever I visit somewhere new (& warm), it becomes my mission to sample the best beach clubs. Much like the neighbouring Cycladic islands of Santorini & Mykonos, you'll find a good selection of beach clubs in Paros.
Cabana Paros
Close to Parikia, the main town of Paros, you'll find Parikia Beach. A short stroll from the beach, you'll stumble upon Cabana Paros. Without a shadow of a doubt, Cabana Paros is THE best Paros beach club and not just because of its stunning decor but because of its energy.
During the day you can experience laid-back beach vibes, enjoy the many hookah flavours on offer and watch the ferries come and go. The decor of Cabana Paros is exquisite and everything has been carefully selected, you can tell a lot of time and effort went into the style and design of this Paros Beach Club.
Because of Cabana Paros' popularity sun lounger reservations are necessary during the months of July & August. Make sure to reserve your spot in order to avoid disappointment.
Website: https://www.cabana-paros.com/
Faragas Beach Paros
Faragas Beach is the home to one of the most sophisticated beach clubs in Paros. It is the perfect place to listen to chill-out vibes, eat good food and swim in calm waters. The beach beds can be quite expensive here compared to other parts of the island, and range from €25-€35 for sun loungers depending on which row you manage to snag.
The lunch prices at Faragas Beach are more in line with that of Mykonos and not reflective of Paros prices at all. So bear in mind that lunch in Faragas Beach will set you back a fair bit.
Santa Maria Beach Paros
One of the Paros beach clubs that was highly recommended to me when visiting the island was Santa Maria Beach Paros. With rows of sun loungers, bean bags and DJs playing sets throughout the late afternoon and early evening, Santa Maria Beach Paros is a trendy beach club in Paros that is extremely popular.
You'll find a wide range of watersports and activities further down the beach and cheaper restaurants than that of Santa Maria Beach Paros.
The prices for sun loungers are similar to those found at Monastiri Beach.
First & Second Row €40
Third Row €30
Cabanas €50
Punda Coast
While Punda Coast Paros looks like a traditional beach club, it also has the makings of something more. The ingenious teepee 'awnings' double as umbrellas allowing you to lay underneath on your sun lounger by the pool. Or choose the creative pool swing that sits at the end of a cabana that just begs to be put on Instagram.
With options of cooling off in the large pool or in the sea, you'll be spoiled for choice. Prices at Punda Coast are pretty reasonable and you can expect to pay between €25 and €40 for a sun lounger depending on which section of this Paros Beach Club you decided to be in.
More of the best beaches in Paros
We could easily have spent a month in Paros trying to discover all the beaches. Not to mention all of the fantastic beach clubs on Antiparos. Other worthy candidates for best beaches in Paros include:
Krios Beach Paros
Marcello Beach Paros
Piso Livadi Beach Paros
Golden Beach Paros
Agia Irini Beach
New Golden Beach
Piperi beach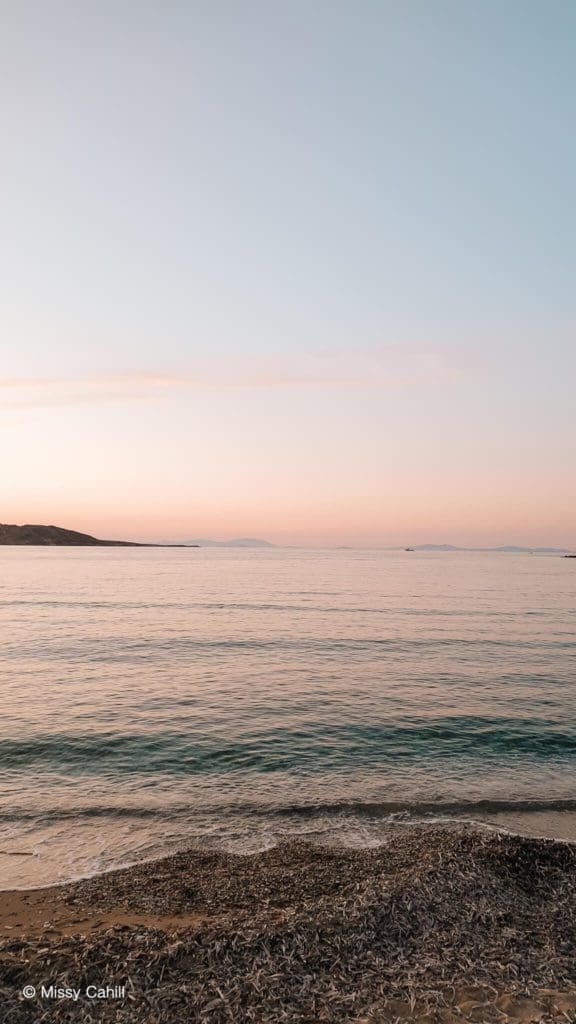 Where to Stay in Paros
Perhaps you want to stay in Naoussa and be closer to Monastiri Beach or Kolymbithres Beach? Or you've based yourself near Aliki beach. Some suggestions of where to stay in Paros are listed below that are close to the beaches. You can also read a more in-depth suggestion of hotels in Naoussa, Paros and Parikia.
Aliki Paros
Fisheye Rooms – 700m to Aliki Beach with stunning decor. The perfect place to escape the world.
Drios Paros
Blue Wave Suites and Apartments – To Kyma – Set 10m from the beach, you can fall asleep to the sounds of waves lapping. The decor in the suites is Aeagen chic, you'll find it hard to leave.
Naoussa Paros
Adonis Hotel Studios and Apartments – Quaint and close to Naoussa town, this is a great hotel with excellent service. A short drive or boat ride to Kolymbithres beach.
---
Visitors coming to Paros will be spoilt for choice when it comes to finding the perfect beach. On Paros Island, there is a beach for everyone and their needs. Whether you are visiting with your young family, or want a really good taverna to eat at, Paros beaches have it all.
If you have your own vehicle you can easily beach hop or even rent a boat and discover inaccessible places. We loved our visit to Paros so much and can't wait to explore the island again and some more of the best beaches in Paros.