If you're a coffee lover and happen to be in the fantastic city of Antwerp, you are in luck. Some of the best coffee shops in Antwerp just happen to have some of the best coffee beans in the entire world.
And a large part of that has to do with the fact that the Port of Antwerp is the worlds largest coffee storage site. At any given time you can find 250,000 tonnes of coffee just hanging out in the Port.
So given this remarkable fact, it makes sense that there is an abundance of fantastic coffee shops in Antwerp. I've done the hard work for you and I've whittled it down to the best 12 coffee shops in Antwerp.
The 12 Best Coffee Shops in Antwerp
1. Caffènation | Mechelsesteenweg 16, 2000 Antwerpen
Caffènation is my addiction. It has hands down the best beans in the city and the friendliest staff. I spend far too much money here. The staff really know their stuff when it comes to coffee. In Antwerp, you have 2 choices of branches to drink at, one at the ultra-cool Pakt or my local on Mechelsesteenweg.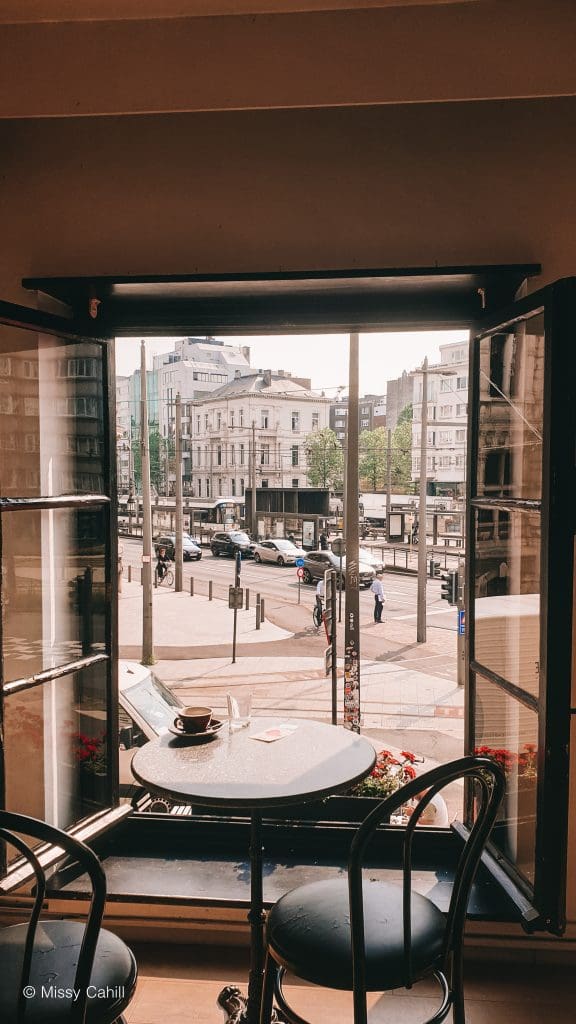 You can find croissants, brownies and some vegan goodies in addition to wine and beer. And if coffee isn't your thing, they also have superb hot chocolates. At the end of 2021 a new plant-based coffee store opened up – Koko on Volkstraat.
My only complaint is that their coffees are too delicious. It's hard to just have one.
2. The Yellow Window Coffee House | Vlasmarkt 8, 2000 Antwerpen
If you're on the lookout for a really cozy coffee shop just beside the historic center of Antwerp, then look no further than the Yellow Window Coffee House. Independently owned and run by Dominic, the Yellow Window Coffee House is a labor of love and its repeat clientele is a testament to its popularity.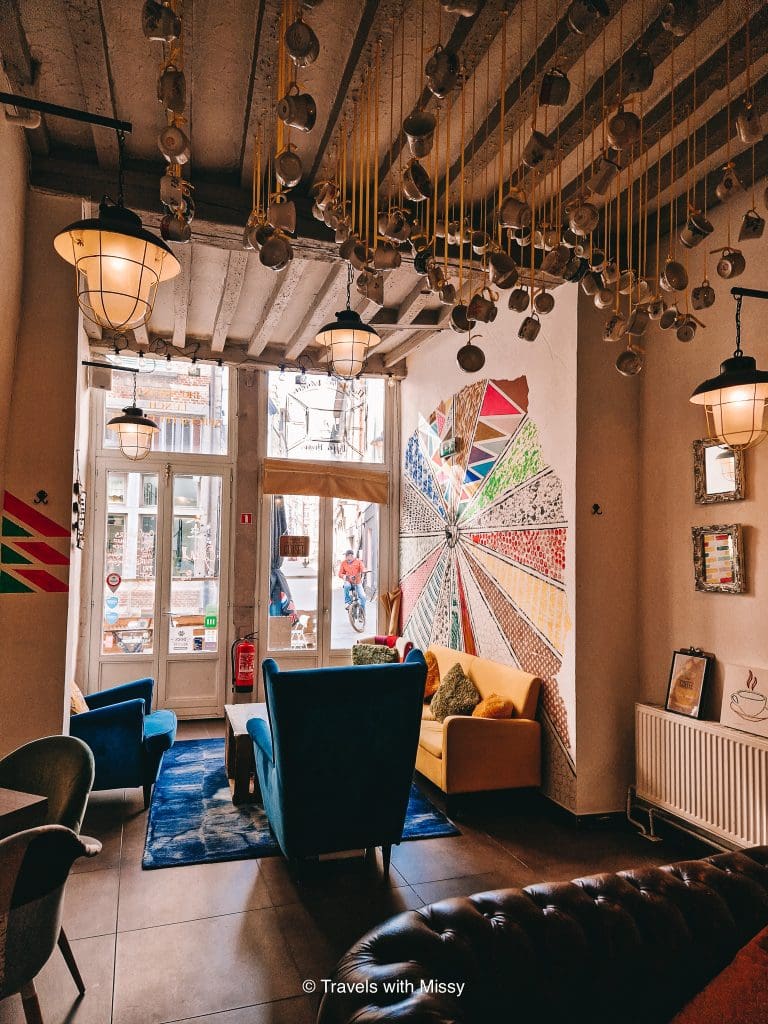 The Yellow Window Coffee House is the perfect place to spend a lazy afternoon catching up on your reading, with far-too-comfortable couches that you'll struggle to remove yourself from. Or for those looking for a space to check emails and do some light work, this is one of the best coffee shops in Antwerp to work from.
Sample a traditional British scone with clotted cream and jam, and thank me later.
Closed: Monday & Tuesday
Open: 10 am – 6 pm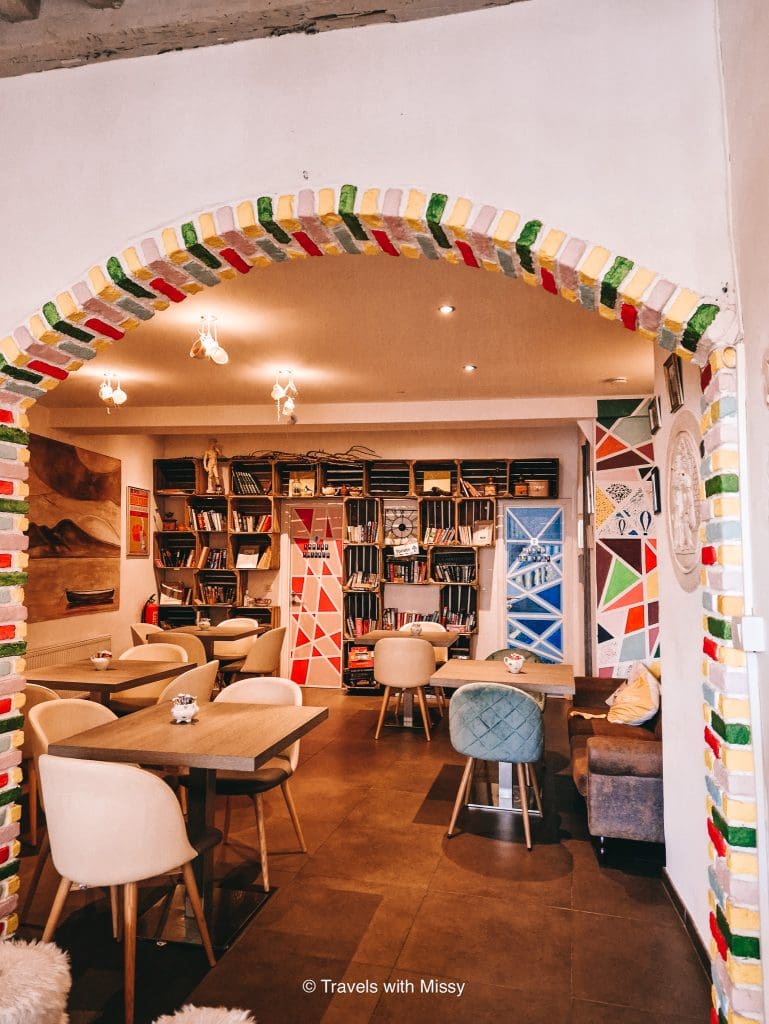 3. Buchbar | Scheldestraat 79, 2000 Antwerpen
Buchbar is a delightful cafe/bookstore with new owners. It's in one of my favorite areas in the city, Zuid, and is worth spending a day ambling around this awesome neighborhood.
Buchbar has delicious treats and snacks in addition to an awesome book collection. You will end up staying the whole day here in this cosy cafe.
4. Viggos | De Coninckplein 21, 2060 Antwerpen
Viggos is a very cool coffee shop. The owner Tim always has a ton of events happening in his awesome space. You are guaranteed a DJ set at least once a week in the evening as the coffee shop turns from a bustling cafe into a pretty awesome bar.
This is a very local cafe in an up-and-coming neighborhood and you are always made to feel very welcome when you enter.
5. Butchers Coffee | Kasteelstraat 57, 2000 Antwerpen
Butchers Coffee is guaranteed to have throngs of people outside of it, rain or shine. And there's a good reason for that too. It is super. They do delicious food and pretty exceptional coffee.
They also have beans from Caffènation too, so you know it's going to be incredible. Butchers is an awesome place to spend an afternoon sipping coffee and people watching.
6. Normo
Normo approaches coffee from the viewpoint of sustainability and fairtrade coffee beans. They build relationships with farmers across the globe to bring us some of the best coffee found in Antwerp. The beans used in their coffees are truly incredible and flavoursome and rivals my beloved Caffenation.
The interiors are almost purposely ramshackle and verge on dysfunctional, but somehow it all works. Make sure to grab a few bags on your way out, you'll want to revisit these beans time and time again.
7. ToiToiToi Coffee
Toitoitoi Coffee is a relative newcomer to the city of Antwerp. It's a traditional coffee shop with excellent beans (from Caffenation) and offers cultural events such as singer-songwriters, classical musicians and artwork.
This is a space in Antwerp that the city needed, to showcase local and international talent whilst embracing excellent coffee culture.
8. Melbourne
Perfect for those in a hurry, Melbourne Coffee is conveniently located in Berchem Station. This is one perfect coffee that will keep you company on your train journey, unlike Antwerp Centraal Station which only has a massive American coffee chain.
The baristas are friendly and chatty, just don't miss your train! They also have another branch in Merchem Station.
9. Kolonel Coffee
Kolonel Coffee have 2 branches in the city, one located in Brederode and the other on Ankerrui near Eilandje. Kolonel roast their own beans on-site and both of their cafes offer fantastic breakfasts and lunch dishes.
My favorite of the two is their Brederode branch which has a great outdoor terrace, and wonderful workbenches to work from. The coffee is excellent and is one of the few places that offers table service. It's also conveniently located beside one of the best restaurants in Antwerp.
10. Moana Coffee
Moana Coffee do a seriously mean coffee and really superb sandwiches, and smoothie bowls. There are not a lot of seats inside and during lunchtimes can get quite busy. It's a great place to grab a quick coffee from and explore Eilandje. Bonus points for their generous coffee sizes.
11. Rush Rush Coffee
Rush Rush Coffee was recommended to me by the baristas in Caffenation and I'm glad I took note of the name. Located in Zurenborg, Rush Rush are passionate about good coffee. With lots of yummy cakes and other delicious treats, you won't be in any Rush (Rush) to leave. I'll see myself out.
12. Black & Yellow Coffee Bar
Located beside my favorite Chocolatier in Antwerp, Black & Yellow Coffee Bar is almost hidden away. But if you happen to pass on the weekend, you'll see lines of people queuing up to get their caffeine fix.
The coffee is excellent and the staff is incredibly friendly. During the summer months when the sun finally makes its appearance in Antwerp, there are benches to sit on outside. I also love the area, Eilandje, with MAS standing stoically in the background. Trust me, you'll love Black & Yellow Coffee Bar.
Have I missed your favorite coffee shop that's not on the list? Leave me a comment!