A 2023 Guide To Amazing Antiparos – Where To Eat & Sleep & Things To Do

The island of Antiparos lies dreamily off the coastline of Paros. Known for its chic boutiques, fantastic beach clubs and the occasional Hollywood star, Antiparos is laid back and quaint as you can get from a Greek Island.
Its rugged terrain makes it a perfect island for those looking for easy hiking trails and also offers those seeking ancient Greek history artefacts to trip over.
The waters that surround the island are aquamarine blue which invites visitors for a quick swim or snorkel, and beaches that you'll have mostly to yourself. Antiparos is where you can happily leave your watch off and go with the relaxed island flow. It'll be hard to leave this tiny but rewarding island.
Some of these may be affiliate links, which means when you buy something I may receive a small commission. There is no additional charge to you, and it really helps to support me – so thank you!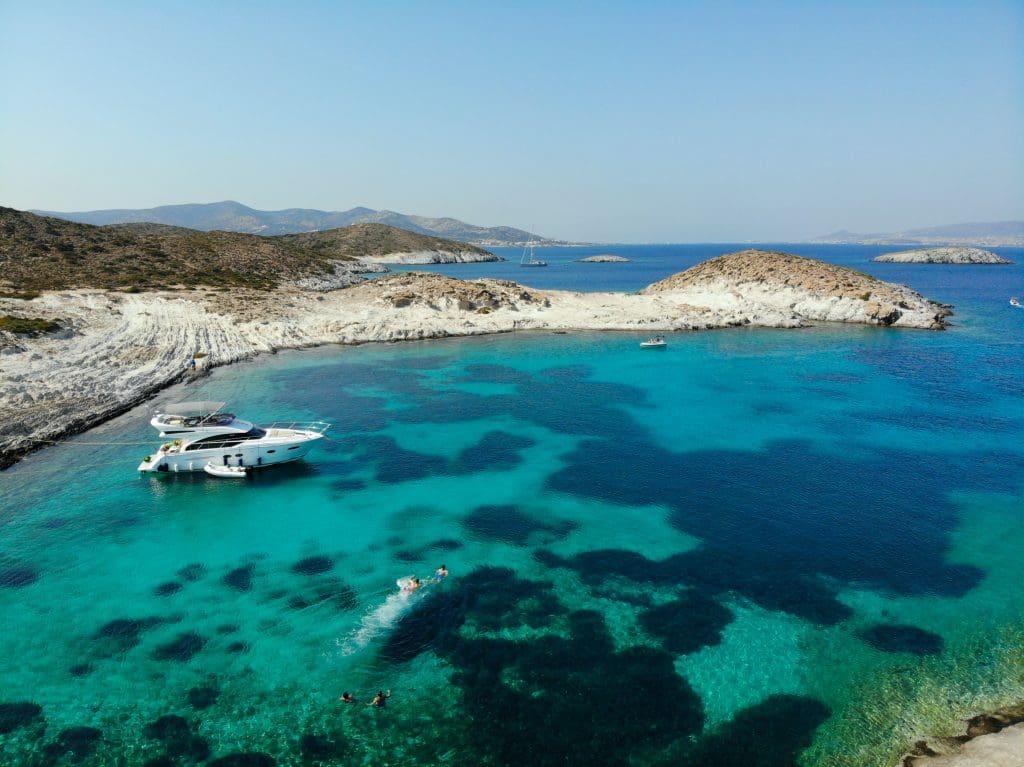 How to get to Antiparos
The small island of Antiparos is quite easy to get to from Paros Island and has a fantastic ferry service between the two islands. Antiparos is only 12km in length and its population is so small that it doesn't warrant an airport.
The nearest airport is on the island of Paros where you can connect to Athens. During the high season, there are a number of frequent flights between Paros and Athens. You can organise a taxi or private transfer to arrange to meet the flight and take you to Pounta where ferries depart for Antiparos.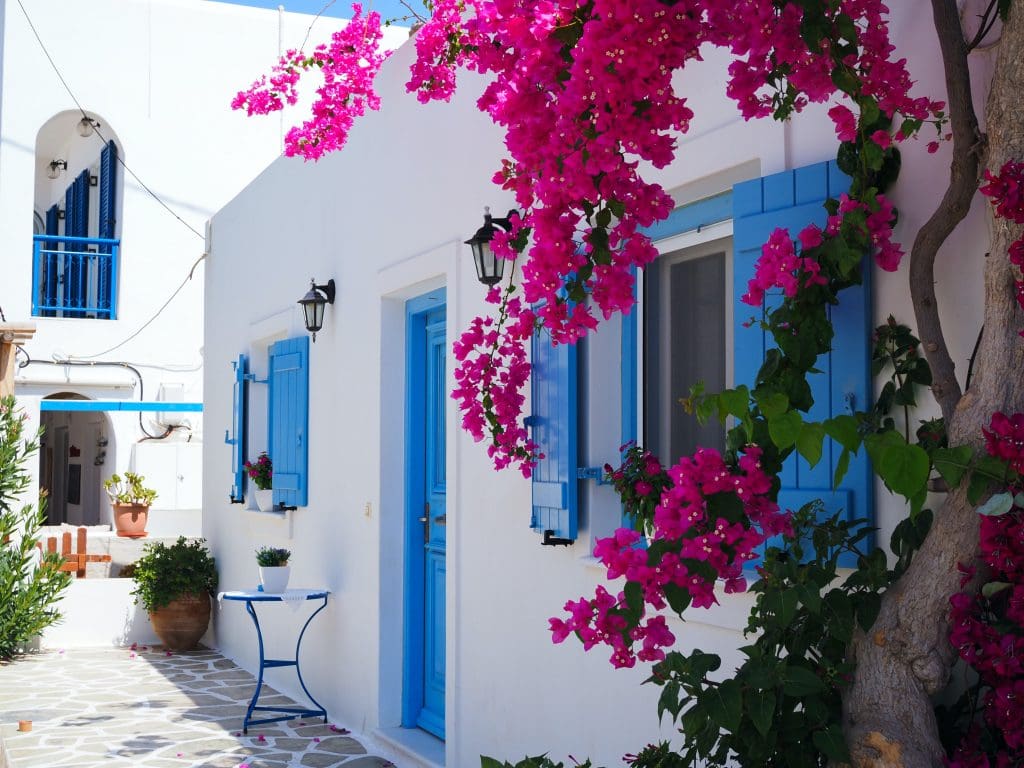 If arriving by ferry to Paros from neighbouring islands, you can arrange a rental vehicle at the port in Parikia. Rental vehicles are allowed on the ferry from Paros to Antiparos but do make sure to check with your rental vehicle provider.
You can also reach Pounta ferry port by local bus. Make sure to check the bus timetable when planning as the schedules do change depending on the season. Taxis are also available to the port from Parikia too.
If travelling to Antiparos during the months of June – October and as a foot passenger, there is a small boat service that runs directly from Parikia to Antiparos. See the section below on the Express Panormitis Antiparos that connects Parikia with Antiparos.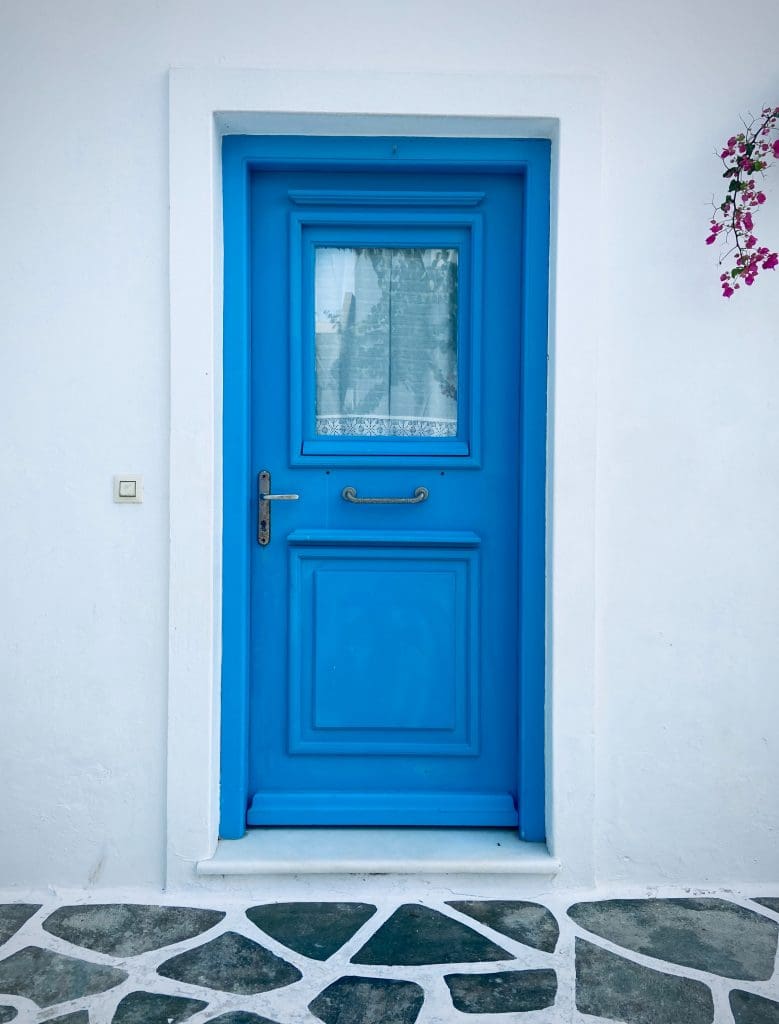 Pounta to Antiparos Ferry (Car & Passenger Ferry)
The port of Pounta is where ferries departing for Antiparos can be found. The port itself is tiny, and the Paros to Antiparos ferry departs on a regular 30-minute schedule.
The crossing is only one nautical mile and takes just under 10 minutes. If you are taking a vehicle to Antiparos this is the ferry crossing you will need to use.
Vehicles line up to and reverse back onto the ferry. During the crossing, you can sit upstairs on the small observation deck or you can remain in your car. You can pay the ferryman once your vehicle has been parked on board. Cash only.
| | |
| --- | --- |
| Mode of Transport | Price |
| Foot Passenger | €1.20 |
| Small Vehicle < 4.25m in length | €6.30 |
| Large Vehicle > 4.25m in length | €7.30 |
The Pounta ferries run all year round and during the summer months have extended hours for those who want to experience the nightlife of Antiparos. Ferries start operating from 6.30 am until 1.30 am and in August until 3.30 am. Check out the ferry schedule before making any plans as operations can change.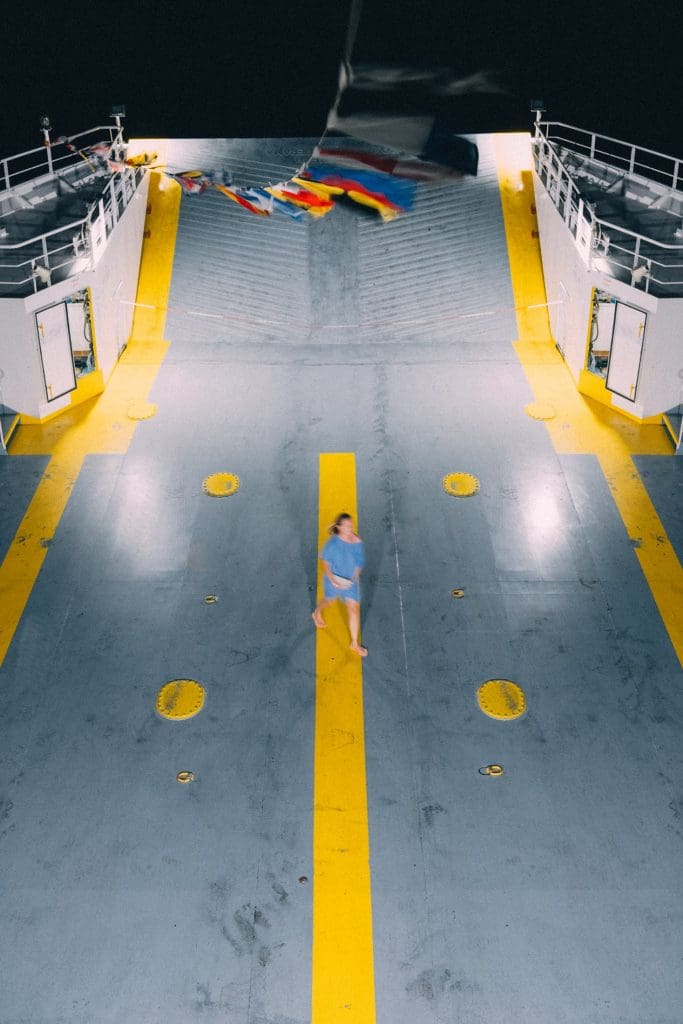 Parikia to Antiparos (Passenger Ferry)
The ferry service, Express Panormitis Antiparos, leaves from Parikia, Paros only during the high summer season, from June to October. The crossing takes 30 minutes and is only for foot passengers.
The price for a single ticket costs €5 and departs leave on an hourly basis starting from 10 am and finishing at 6 pm. This is a great option for those who want to visit Antiparos island for a day trip from Paros.
2023 June – October Express Panormitis Antiparos Schedule
| | |
| --- | --- |
| From | Departure Times |
| Paros to Antiparos | 10.30, 11.00, 12.00, 16.30, 18.30 |
| Antiparos to Paros | 09.15, 09.45, 10.45, 16.00, 18.00 |
I'd recommend checking the schedule at the port as the times have varied throughout the season. Tickets can be purchased at the ferry.
Antiparos Weather
For sun lovers the best time to visit the island of Antiparos is during the summer months. With daily temperatures of 26C/78F during the months of June & July, the island doesn't seem to suffer from the Meltemi winds as much Mykonos and Sifnos experience. The winter months are mild with occasional rain and wind, but rarely do the temperatures dip below 14C/58F.
| | | | | | | | | | | | | |
| --- | --- | --- | --- | --- | --- | --- | --- | --- | --- | --- | --- | --- |
| Month | Jan | Feb | March | April | May | June | July | Aug | Sept | Oct | Nov | Dec |
| Average Celsius | 15 | 15 | 17 | 20 | 24 | 29 | 31 | 31 | 28 | 23 | 19 | 16 |
| Average Fahrenheit | 59 | 59 | 63 | 68 | 75 | 84 | 88 | 88 | 82 | 73 | 66 | 61 |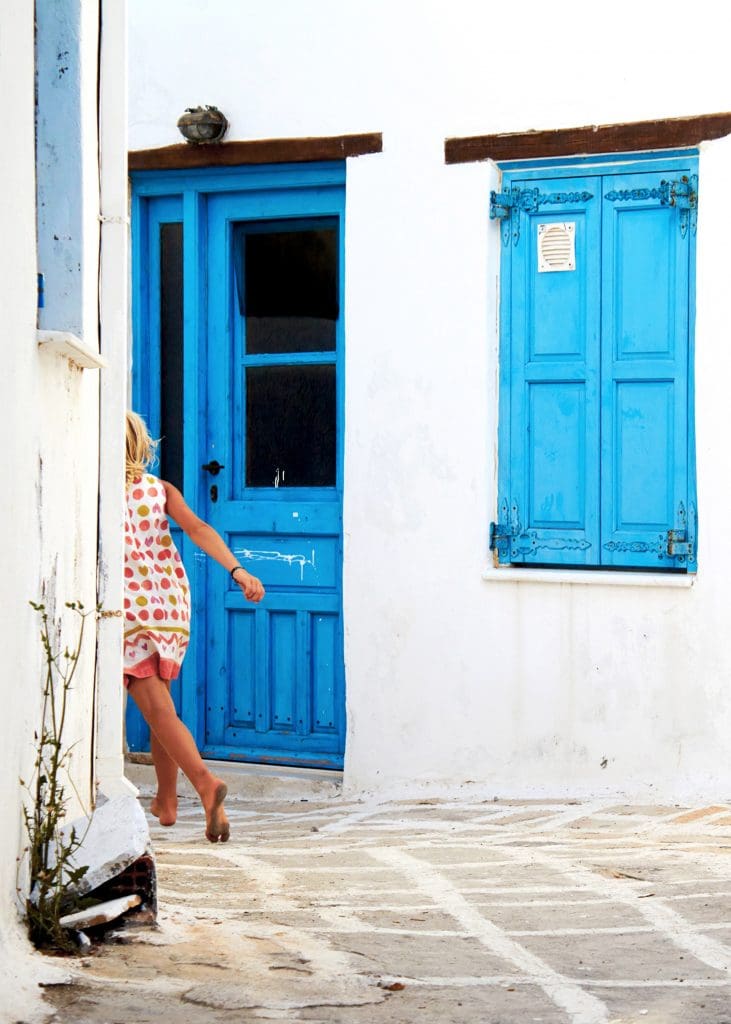 What is Antiparos known for?
Every article you read about Antiporos feels the need to state that fact that Tom Hanks has a house on the island and can be seen vacationing on the island during the summer months. But aside from Tom Hanks, the island itself is a wonderful place to experience a bohemian Greek summer.
The boutique stores that line the main street of Antiparos town offer customers exquisite high-end fashion, as well as bespoke furniture and homewares. There are jewellery stores with designers from Athens and beyond showcasing their latest designs, mingled with locally produced items from the Cyclade Islands.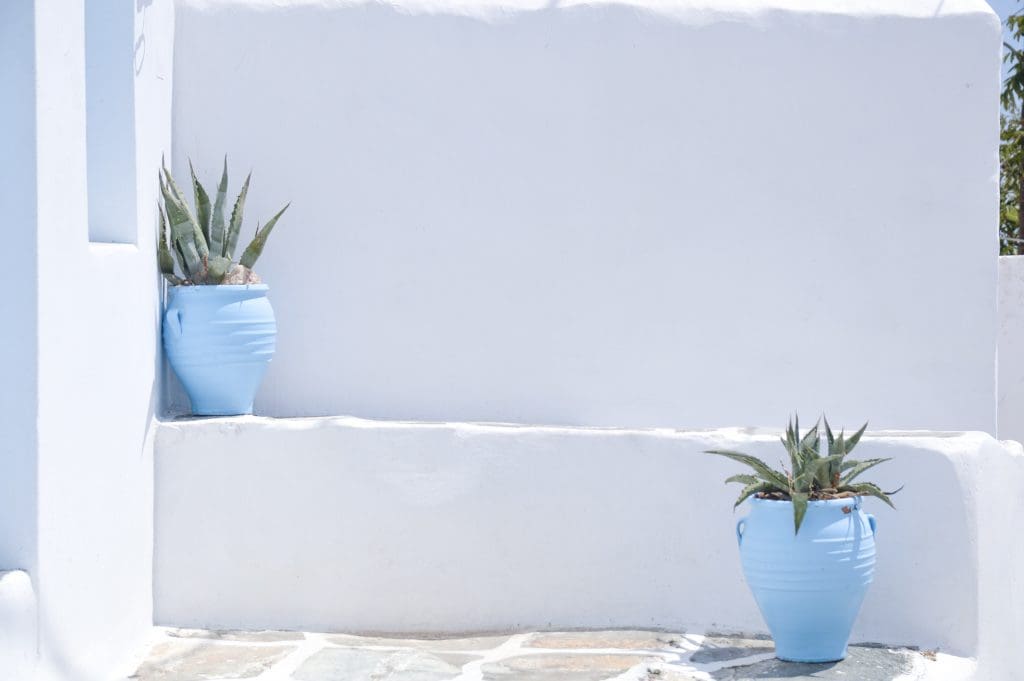 The beaches in Antiparos whilst not the white sandy beaches of the Caribbean are beautiful for their rugged beauty and crystalline water beckoning offshore. There are a number of beach clubs to choose from, and if that's not your thing you can find a secluded spot or beach to have entirely to yourself. Antiparos moves at a slower pace, which is perfect for those seeking an island with a laidback vibe.
Is it worth going to Antiparos?
Antiparos is an island where you can rub shoulders with Hollywood royalty, rich Athenians and enjoy underrated beauty for a fraction of the price compared to Mykonos or Santorini. Its beauty is not comparable to that of those islands, but it is still incredibly inviting and laid back.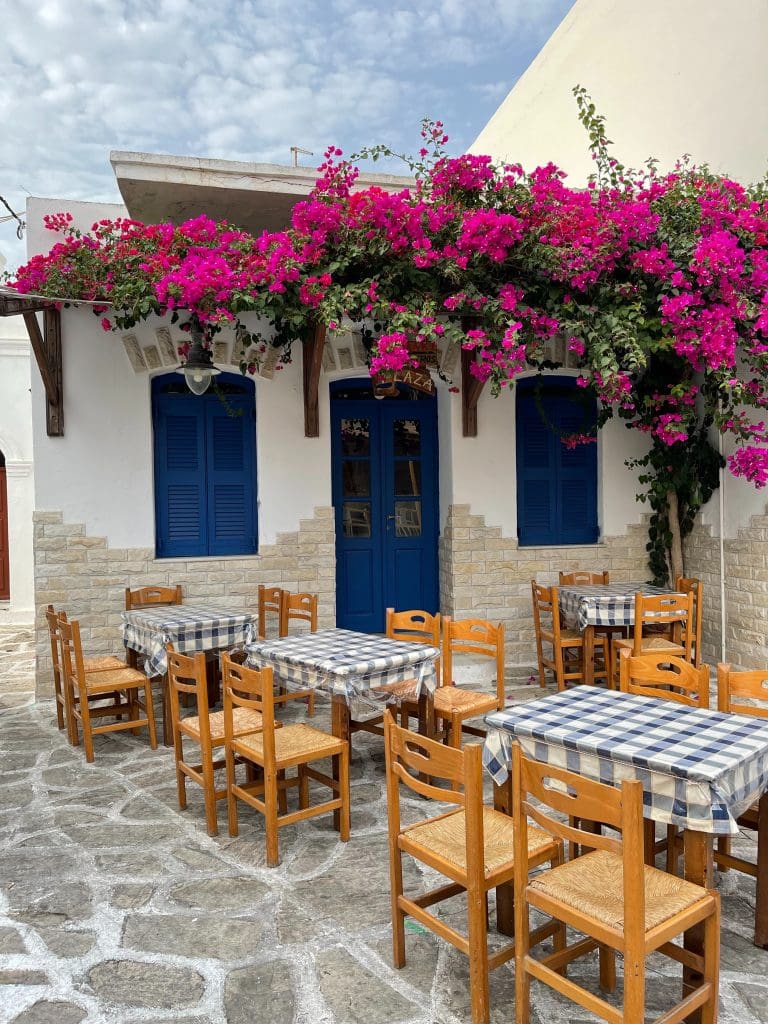 Its off-the-beaten-path appeal ensures that those who make the effort to travel to the island are rewarded with fantastic restaurants, buzzing bars and beach clubs that rival those of Mykonos. Those anticipating the chaos of Ios or the glamour of Mykonos will be sorely disappointed with Antiparos. Antiparos has plenty of charm and its laidback vibes attract a certain visitor to the island.
Antiparos Hotels
Whilst it is a really small island, there are a few options when it comes to staying in Antiparos. Most of the accommodation is centred around the town of Antiparos town. There are a few small pebbly beaches near the main street, and the Antiparos ferry is mere feet away.
This is a good place to be based when staying as the majority of restaurants and bars on the island are in this vicinity. When staying in the town, nothing is more than a 10-minute walk away. You can easily rent a scooter or ATV from your accommodation or a rental service in the town to access the beaches and beach clubs found across the island.
Kouros Village
Kouros Village is a quick 3-minute walk from the main street in Antiparos. Its location on the waterfront allows visitors to watch the active harbour and sunsets from the comfort of their hotel room or the wonderful pool area of the hotel.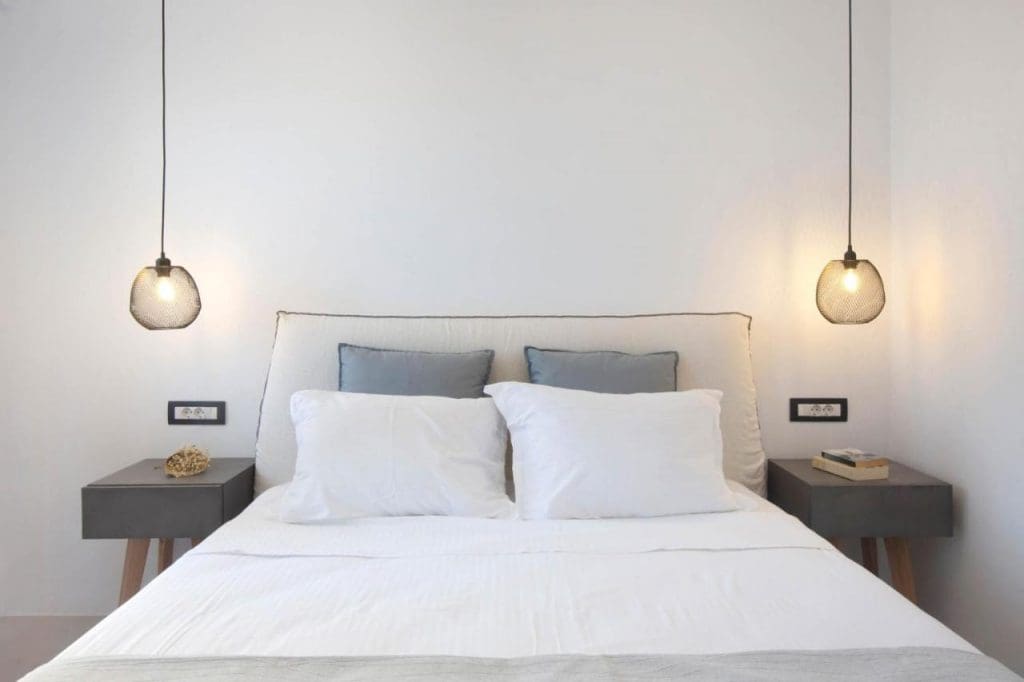 Kouros Village has a large pool for those days when you want to lazily lie by it, and the beach is 50 m across the road. Rooms are beautifully decorated and modern, with amenities such as kettles, TVs and wifi available in each room.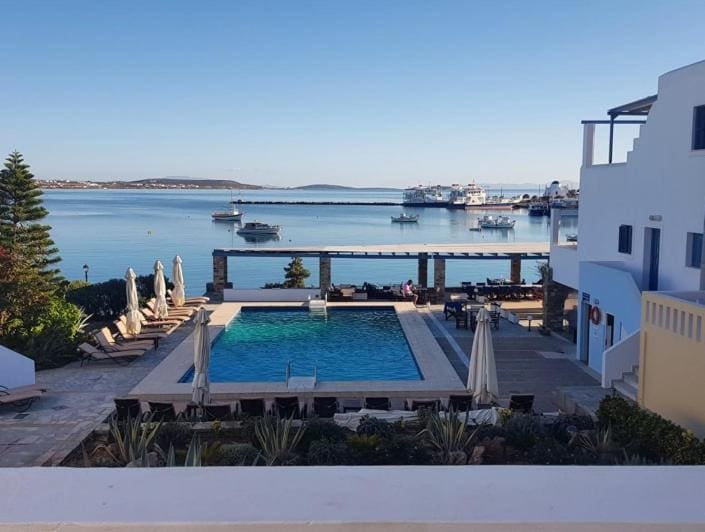 Prices start from €66 in May and climb throughout the summer months. The hotel opens for business during the months of May through to November.
Hotel Begleri
Hotel Begleri is steps from the main street lined with bars, restaurants and shops. This is the perfect hotel for those looking to be close to the main action, but not completely in it. The rooms are beautifully decorated and when you're finished your day exploring the island, you can relax and use the hammocks dotted around the hotel.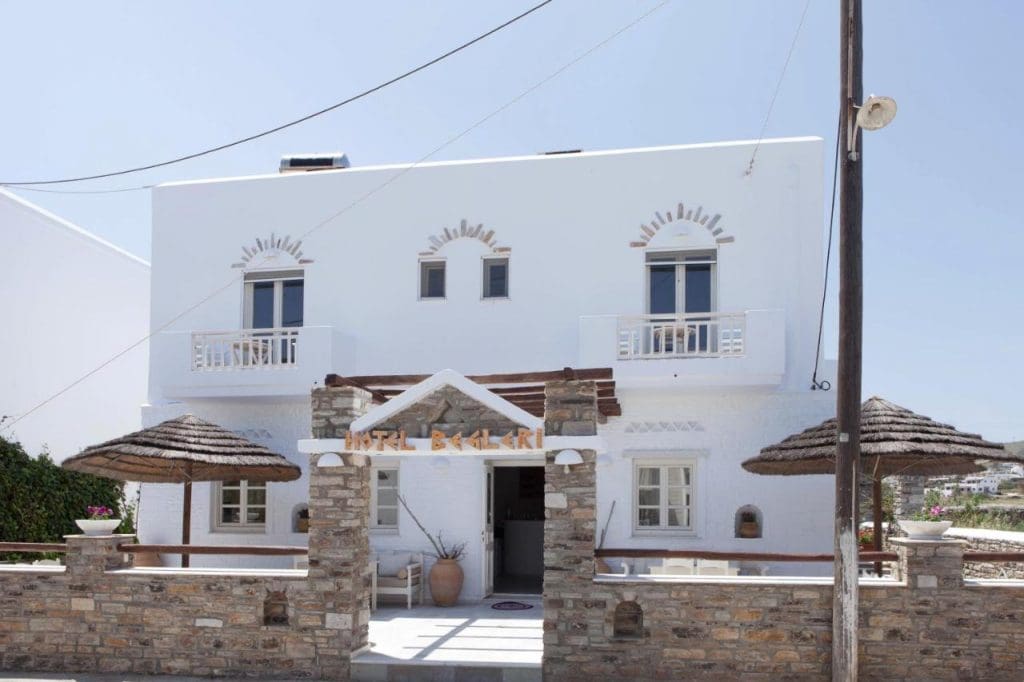 For relaxation and great value, Hotel Begleri ticks a lot of boxes. Air conditioning and a fridge can be found in this small boutique hotel. Make sure to book well in advance as it is almost impossible to get a booking during the summer months. Hotel rooms start from €35 per night.
Lagadia Village
For families looking for an apartment with excellent views and more space than a hotel room, check out Lagadia Village. Located just over 1km from the town of Antiparos, you can easily walk into the town from the apartment. Do note that there are no street lights on the roads if walking at night time, but that there are also hardly any traffic to contend with either.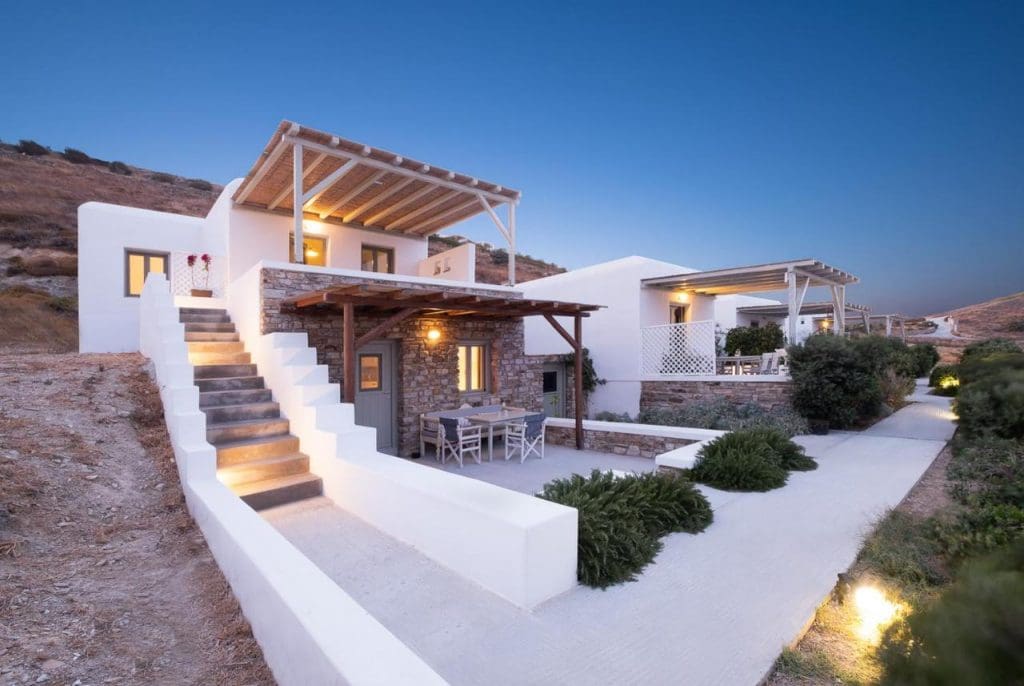 It's a very safe place to walk around. Lagadia Village has a wonderful offering of apartments that have facilities such as a washing machine, kitchen and beautiful large terraces to watch sunrise and sunsets from.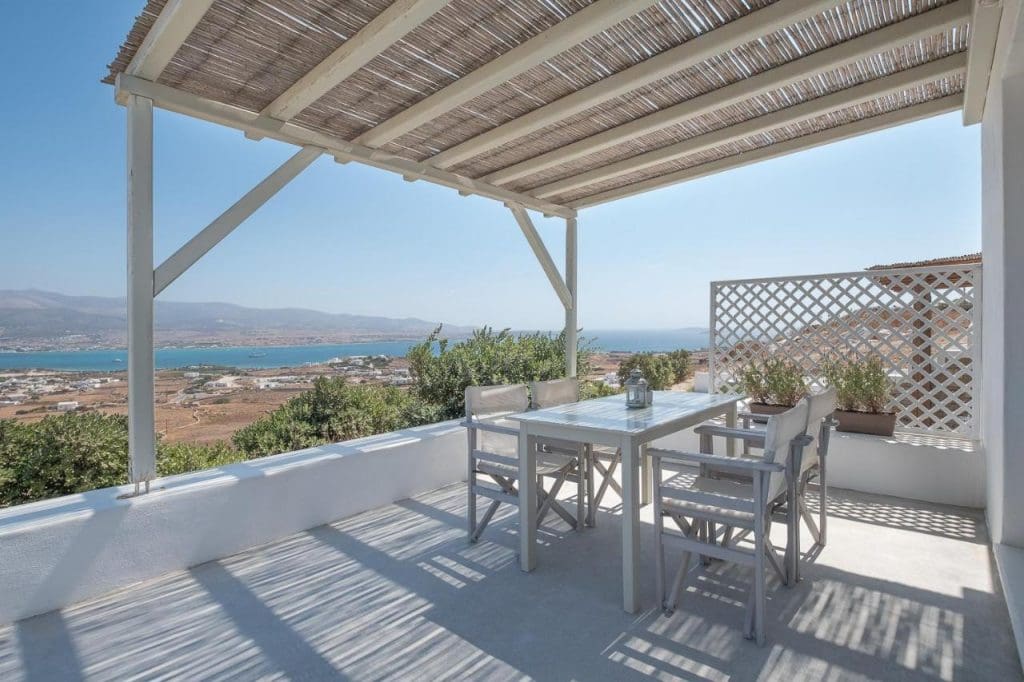 Kastro House
Kastro House is the perfect home away from home. With space for 4 people and located in the centre of Antiparos, it is also steps away from two lovely beaches, Psaraliki Beach and Sifneikos Beach.
The house is beautifully decorated and with its thick walls, you won't be able to hear any noise from the restaurants and bars that are close by. Kastro House is the perfect home to rent for those looking for more space than a hotel room. Full amenities included. Prices start from €100 per night. 
Salty Villas Chrissipi
A little bit more remote than the other accommodation choices, Salty Villas – Chrissipi are 2.5km from the main town of Antiparos and the beach. You will need a vehicle to get around, but visitors shouldn't be put off.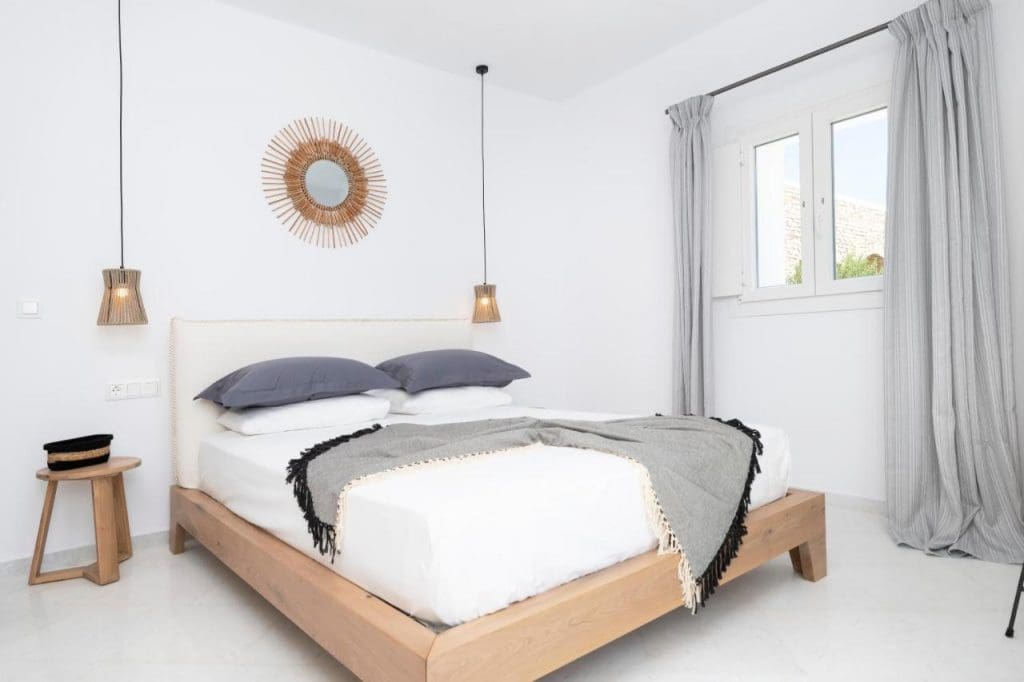 Stunningly decorated and with exceptional sea views, Salty Villas Chrissipi has air conditioning, a washer and dryer and a fully equipped kitchen. It provides accommodation for up to 4 people.
With nothing being more than a 5-minute drive, this is the perfect accommodation choice for those wanting to experience a perfect Greek island vacation.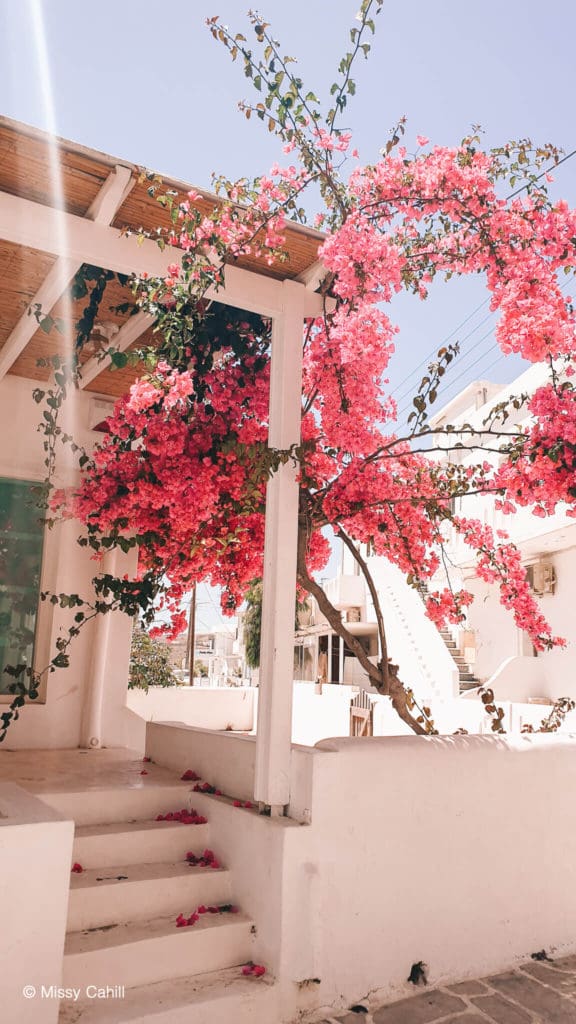 The Rooster
Immerse yourself in one of the most opulent and luxurious accommodations in Antiparos, The Rooster. Known for its earthy tones and secrecy, you can hide away from the world in one of the 16 private houses that blend into the hills of Antiparos. The Rooster is the ultimate luxury retreat with each home having its own private pool, and the unforgettable House of Healing.
Unwind with a series of spa treatments where a wellness coach will guide your body on a road to recovery and rejuvenation in the House of Healing. And much like the rest of The Rooster, you can expect the bar and restaurant to serve delightful and organic yumminess in a stunning setting. The Rooster is one of those unforgettable vacation experiences that will leave you feel well-rested and looked after.
Antiparos things to do
1. Despotiko Island
If Greek Mythologies and archaeological sites are on top of your list of things to do when visiting Greece, then look no further than Despotiko island. Ongoing excavation of the island is still underway as Greek ruins from over 2000 thousand years continue to be discovered.
In 2018 the island allowed visitors to visit for the first time in 20 years and discover some of the ruins that had been uncovered. The island is uninhabited and can be visited via organised boat tours.
2. Venetian Castle
Located on the long main street of Antiparos there lies an old Venetian castle. The Kastro dates from the 15th century and makes a fantastic spot to watch sunsets. Enter through the archway and explore the old ruins of the Venetian castle that once was a lookout viewpoint for pirates.
3. Antiparos Caves
One of the only vertical caves in Europe, the Antiparos caves is home to the oldest stalactite in Europe – 45 million years old. The cave is located 10km south of the main port of Antiparos and costs €6 to enter the cave. Do note that there are 411 steps to descend into the cave! The caves were closed during the early part of the pandemic and you should check the opening hours before planning your visit.
4. Antiparos Beaches
More often than not you will find some of the beaches in Antiparos entirely to yourself. The beaches range from pebbly to sandy, with some of the beaches sheltered from the Meltemi winds. Antiparos also has a great selection of beach clubs, with sun loungers, restaurants and bars.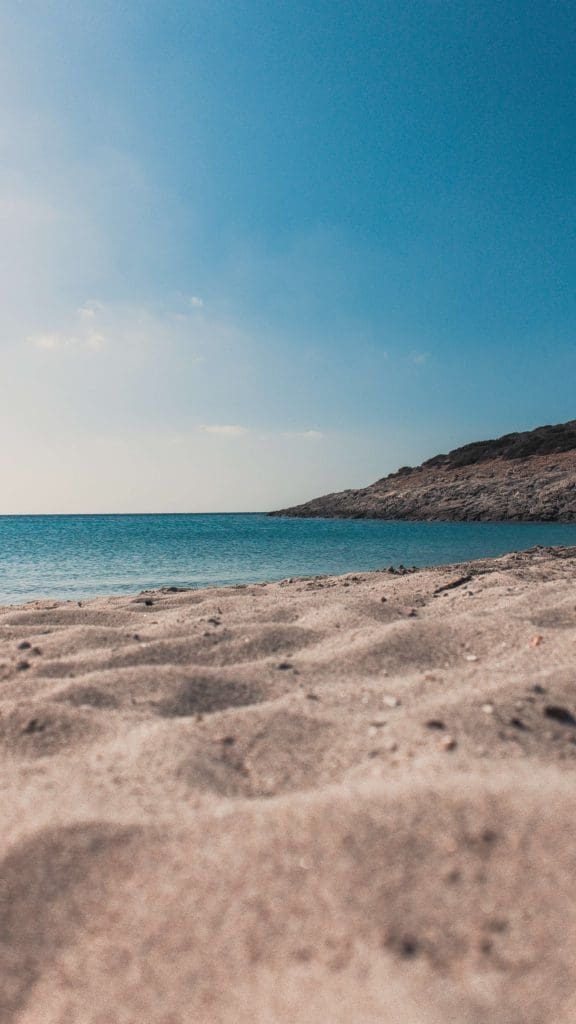 5. Boat Tours
If the idea of exploring a Greek island by Catamaran appeals to you, then look no further than Antiparos. With a variety of itineraries and prices, there is a tour for every visitor. Tours usually include drinks, bbq lunch and snorkelling opportunities around the island.
Most tours will visit the island of Despotiko and the sea caves. A boat tour is a fantastic way to spend a summers day cruising around the island and discovering the beauty of the Greek islands. 
Antiparos Restaurants & Bars
Antiparos has a wide range of restaurants including traditional Greek tavernas. But, come on, surely you're here for the fantastic Greek food too?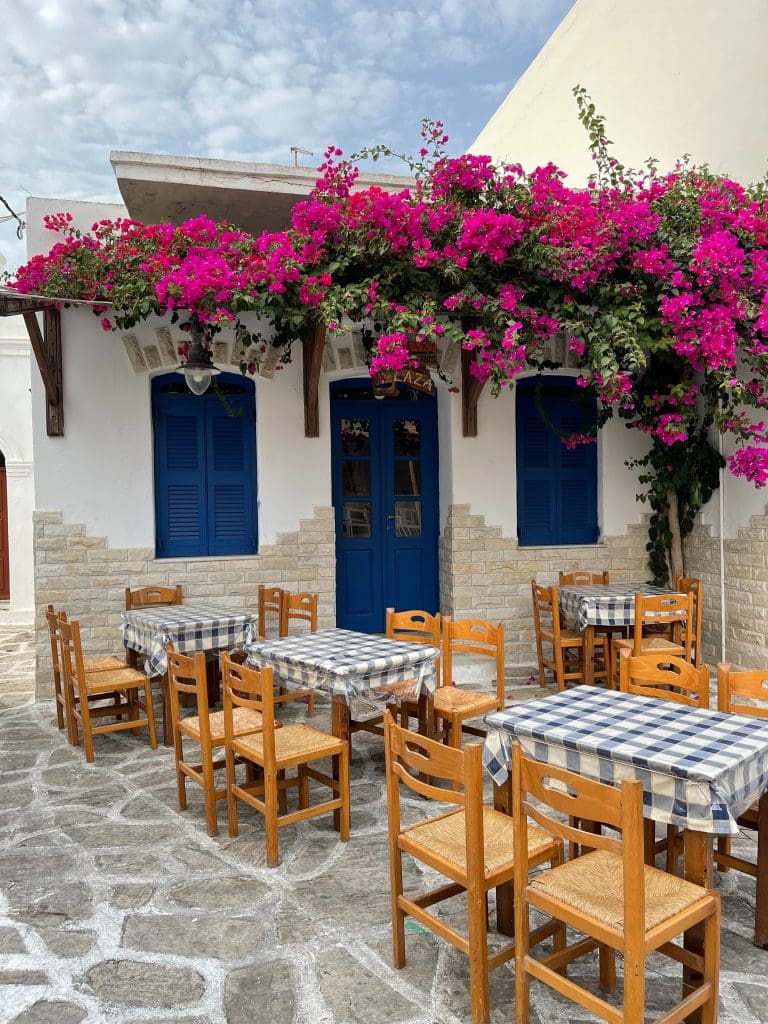 Yam
Located on the main street of Antiparos, you may find yourself surprised to discover the hidden oasis of Yam in the back garden. Prepare to spend the majority of your time soaking up the ambience, chill vibes and yummy food at Yam. Yam is a great place to grab brunch, with a wide variety of egg options, pancakes and salads. Check out their extensive cocktail menu too.
Taverna Yorgis
The delightful Greek taverna of Yorgis has excellent souvlaki and tzatziki to die for. The prices are really reasonable too and the location couldn't be any prettier. You are always guaranteed a good meal at Yorgis.
Scent
If you've been craving some hand-rolled Vietnamese spring rolls, then you've come to the right spot. Scent is a recent addition to Antiparos and had a successful first season in 2021. Scent has taken locally produced ingredients and married them with traditional Vietnamese recipes. Its restaurant is perfectly located at the end of the main street of Antiparos and near the Venetian castle.
Captain Pipinos
Captain Pipinos is the seafood taverna you've been seeking on your Greek travels around the Cyclades. The best way to experience the restaurant is after a morning of swimming and sunbathing in the sea, arriving salty-bodied at the restaurant with a hearty appetite. For excellent seafood and Greek food, make sure you take a spin out to Captain Pipinos. You may even spy an octopus drying in the sunshine.
Best Beach Clubs on Antiparos
Antiparos is not lacking when it comes to beaches. And if you have the time it is worth exploring the various beaches strewn around the island until you find your perfect beach. If avoiding tan lines is your thing, make sure to check out some of the nudist beaches near Antiparos port.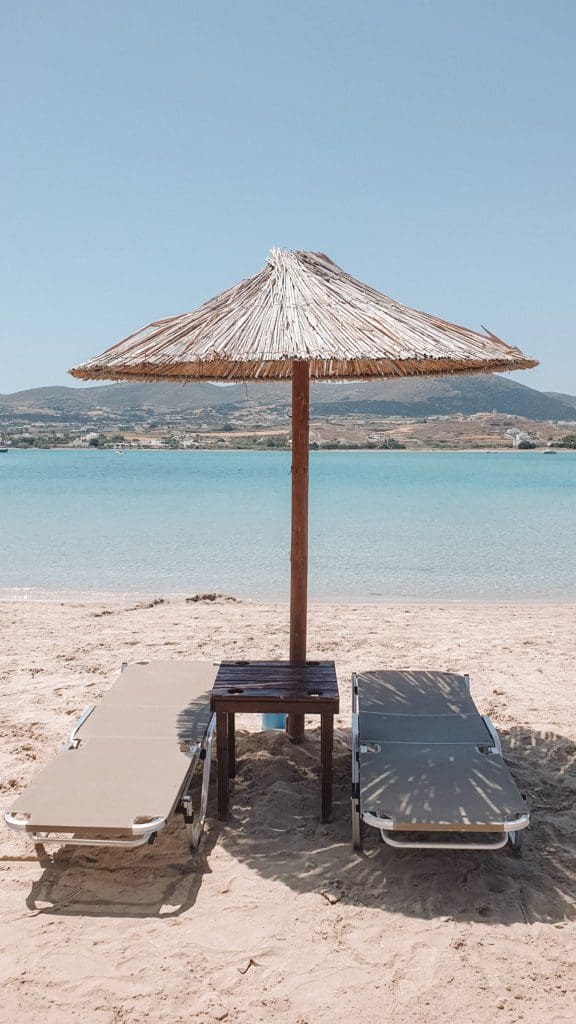 Some of the beaches are only accessible via sea, and a boat tour is definitely recommended to visit some of the harder-to-reach beaches. Antiparos has a great selection of beach clubs, where sun loungers can be rented daily. Most of the beach clubs also offer excellent lunch options and drinks can be ordered at sun loungers.
Beach House Antiparos
Beach House Antiparos offers visitors more than just the traditional beach experience, you can also partake in Yoga classes and even have a fantastic massage right on the beach. The restaurant at Beach House Antiparos offers meals that look straight out of a culinary magazine, and the beach itself is stunning. Visitors can also choose to stay at some of the Beach House' accommodation.
Soros Beach Antiparos
Soros Beach Antiparos has one of the most attractive beaches on Antiparos. Lined with sun loungers, umbrellas and an extensive cocktail list you'll find it hard-pressed to leave.
The water at Soros Beach Antiparos is crystal clear, soft beats play on the speakers and the restaurant offers some mouthwatering creations, whats not to love? You'll find accommodation on offer too at Soros Beach Antiparos with prices starting at €79 per night. Sun loungers and umbrellas can be rented daily for €25.
Time Marine Antiparos
Some beachgoers just want to find a hammock to spend the day relaxing in. And Time Marine Antiparos offers visitors just that and an eclectic partying scene.
It almost feels as if the island of Bali has transported itself to the Greek islands such as the vibe at Time Marine. Not only does it have a great partying scene, but it also does excellent food. Spend your days bopping to Saxapone beats at Time Marine Antiparos, whilst drinking some superb cocktails with Bali vibes.
Is Antiparos a party island?
Whilst it may not be noted for its partying like Mykonos and Ios, Antiparos does have a stellar partying scene. At the height of summer, beach clubs and the main street of Antiparos are throbbing with its many bars and restaurants celebrating the hedonism of summer.
Whilst it is lively and those who make the effort to visit Antiparos will be rewarded with a really fun and vibrant nightlife, if you are a serious party-goer, you may be disappointed with the nightlife. The main street and the seafront beside the port is where you can find the best nightlife.
Conclusion
Whether you visit for a day or a week, Antiparos has a wide range of activities for all who visit. It can be as laid back and chilled as you desire. For thrill-seekers and hardcore party goers, Antiparos may be too quiet.
It's a beautiful and very traditional Greek island with a lot of character and is also a great island to unwind. With so many great islands in the Cyclades to choose from, make sure to add Antiparos to your Greek Island vacation list.