Santorini and Mykonos are two of the most well-known islands in the Cyclades. Their iconic whitewashed buildings, blossoming bougainvillea-covered streets, and blue-domed churches add to their charm.
Santorini and Mykonos also tend to be on most visitors' travel itineraries when visiting the Greek islands. Santorini and Mykonos are both beautiful and offer a wealth of history to visitors from ancient Greek ruins on the island of Delos, or even sailing to an island where once a volcano stood.
For visitors short on time or struggling to decide between the two islands, Santorini or Mykonos, there are a number of factors to consider.
Mykonos is famous for its nightlife, beaches and selection of incredible restaurants and views.
Whereas Santorini oozes romance, spectacular views and once-in-a-lifetime luxury experiences.
It's not the worst problem in the world to be faced with. With the islands of Santorini and Mykonos being as popular as they are, this is a list of ideas of which island might be better suited to your travel needs.
Which is better Santorini or Mykonos?
Mykonos is one of the most famous islands in the Cyclades for its vibrant nightlife and has a strong connection with the LGBTQ+ community. It also has some of the nicest beaches in the Cyclades, as well as being Instagram picture perfect.
Featuring some of the best hotels in the country, ranging from 5-star hotels with pool villas to hotels with direct access to the beaches across the island.
Mykonos is in a word, fun. It's boisterous, beautiful and one of the most popular islands in all of Greece. Whether you want to party the day and night away, or even visit the island of Delos which is one of the important archaeological sites leftovers from Ancient Greek civilization, you can make Mykonos into whatever island experience you want.
Mykonos beaches have some of the best beach clubs in the Greek Islands, Super Paradise Beach being one of the most famous in all of Greece. You can spend your days and nights wandering around the old town sipping cocktails and dining in incredible restaurants with fantastic sunset views.
Little Venice is one of the most popular places on the island for incredible views, with the waves crashing at your feet as you sip on some of the best cocktails on the island. Prepare to get wet!
Santorini
Santorini is the kind of staggering beauty that somehow manages to surpass expectations. From the caldera towns of Oia to Fira, it's one of those places that's hard to look away from. Every single time you turn a corner, you experience a new wondrous angle that is truly breathtaking.
Like Mykonos, Santorini is one of the most popular islands in Greece and visitors struggle to choose between the two incredible islands. Santorini is perfect for those looking to explore vineyards and adjoining wineries, coupled with extraordinary 5-star hotels and out-of-this-world views.
It is also one of the most romantic islands too, with accommodations offering some of the most outrageous and romantic views and experiences in the world.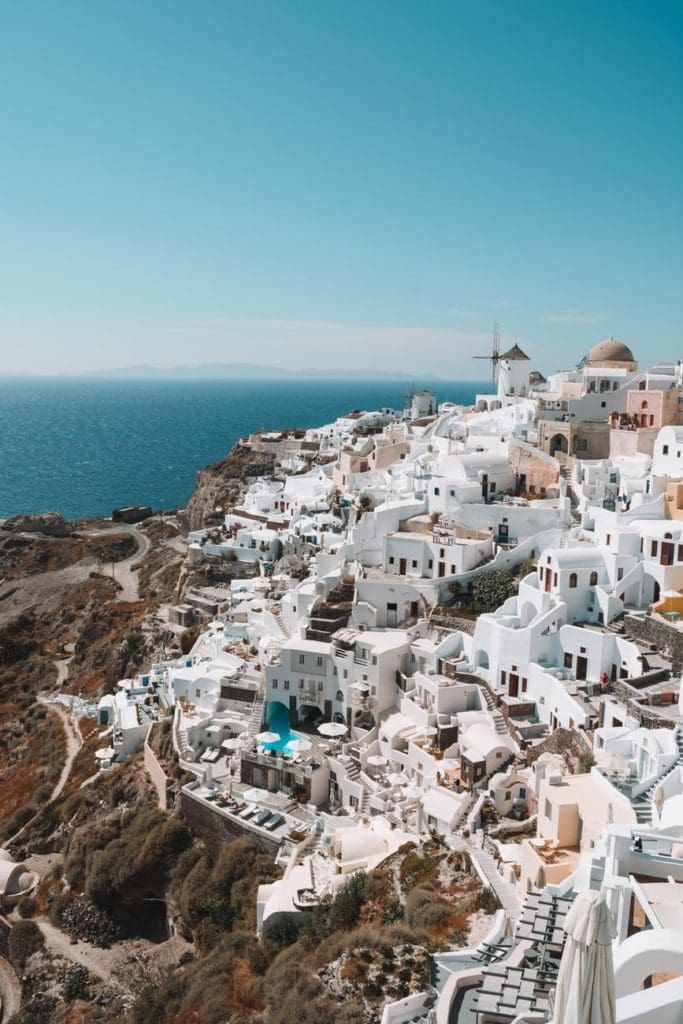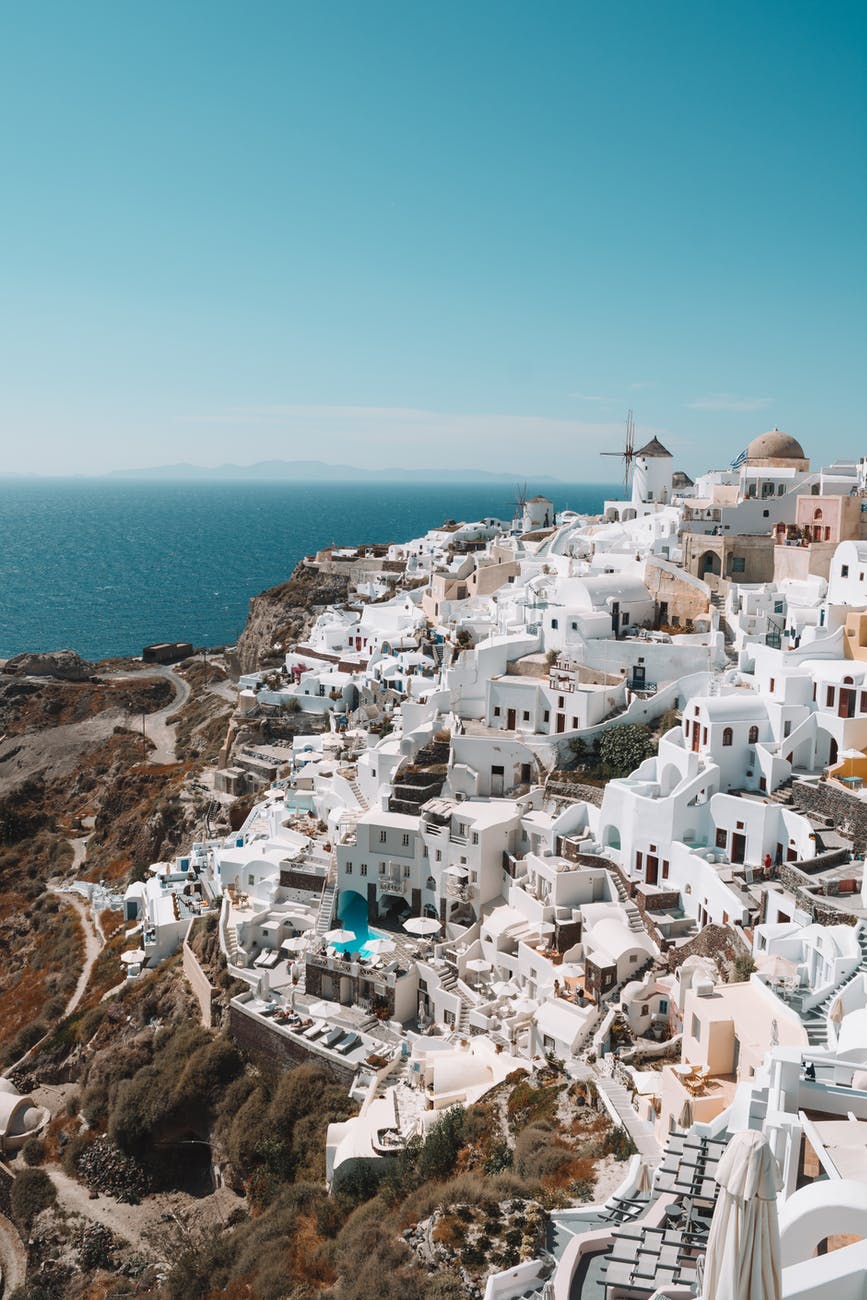 Santorini has black sand beaches, as well as red sand beaches but does not have the beach clubs and partying scene that Mykonos has. Beaches in Santorini are aimed at being family-friendly with facilities for children and infants.
You'll find the beach clubs in Santorini to be a lot tamer than those found on Mykonos. And also a LOT cheaper too.
Santorini easily has one of the best sunset views in all of Greece, with visitors flocking to the town of Oia at sunset to capture one of the most iconic sunsets in the world. Santorini has a vibrant nightlife in the capital town of Fira, which is also the transportation hub of the island. Visitors can expect to find bars, restaurants, and nightclubs in Fira.
Anyone deciding to visit the islands of Mykonos or Santorini during the height of July & August can expect large crowds, with hotel prices soaring. Ferries need to be booked well in advance if traveling by car, and even as a foot passenger.
Does Mykonos or Santorini have better beaches?
Mykonos
Mykonos is famous for its beaches and beach parties. Paradise Beach is one of the most famous beaches on the Greek island. During the summer months, Paradise Beach becomes a series of never-ending parties that start late at night and finish early the following morning.
Lined from top to toe with sun loungers, Super Paradise Beach Club is a non-stop party. You can choose to stay in hotels near the beach or base yourself in Mykonos town.
Ornos Beach is one of the closest beaches to Mykonos town and is a great way to spend the day relaxing on a sun lounger and dining in the nearby restaurants and bars. There is a wide range of hotels on Ornos beach or close by. The sand is soft and water is a color only seen in the Aegean sea.
Panormos Beach is perfect for those who want to avoid the party beaches closer to Mykonos Town and find their own quiet spot to get away from the crowds and relax. With very little in the surroundings, this is one of the best spots on the island to relax.
One section of the beach is a nudist beach, so clothing is optional. The other half is a regular beach with sun loungers and umbrellas, restaurants and a bar. This beach can get particularly windy and waves can be a bit stronger due to its northerly facing direction.
Santorini
Santorini has some of the most unique beaches in the area, largely thanks to the role of its former volcano. On beaches in Perissa and Kamari Beaches, you can expect to find black sand beaches, the remains of the volcanic explosion that destroyed the island thousands of years ago.
Santorini also has a red sand beach, which is only accessible by boat due to rockfall in recent years. Visitors do access the beach by foot, but that's a risk as the area is prone to landslides.
Verdict
Mykonos has the best beaches of the two islands. The beaches on Mykonos range from quiet sandy beaches to pulsing party beaches, and everything in between. Of course, there are better beaches found on neighboring islands of Naxos, Ios, Milos, and Paros.
Is Santorini or Mykonos more expensive?
Santorini and Mykonos are two of the most expensive islands in the entire of Greece. As you start to explore other islands, you will notice that your euro will go a lot further. During the months of July and August, prices can increase exponentially as these months are the busiest time of the year to visit Santorini or Mykonos.
Hotel prices on both islands are expensive, as is dining out in restaurants and drinking in bars. Hotel prices vary from €100 per night for basic hotel accommodation, to over €1000 for infamous hotels such as Cavo Tagoo. Cocktails range from €10 – €15. Whether you decide to splurge on either island or budget, the islands of Santorini and Mykonos are expensive.
Which is prettier Santorini or Mykonos?
The islands of Santorini and Mykonos are both spectacularly beautiful. Santorini perhaps beats Mykonos by a small percentage because of its fantastical landscape.
The iconic blue-domed churches, whitewashed buildings and soaring cliffs of Santorini make up some of the most incredible scenery in the Greek islands. Mykonos is just as pretty but doesn't have the cliffs, whereas it has beautiful Little Venice and its dreamy beaches.
Santorini and Mykonos are both stunning islands and it's quite hard to find an ugly side to either. Both islands have been photographed countless times on social media and during the summer months expect to see your Instagram accounts explode with images of these incredible Greek islands.
Which is a better party destination Santorini or Mykonos?
Mykonos is known as the Ibiza of Grece because of its vibrant and buzzing nightlife. Beaches such as Paradise Beach, Ftelia, Paraga & Kalo Livadi have some of the best beach clubs on the island. And if you've reached your fill of beach clubs, you can navigate your way around the Mykonos Old Town where there is an abundance of excellent nightclubs and late-night bars.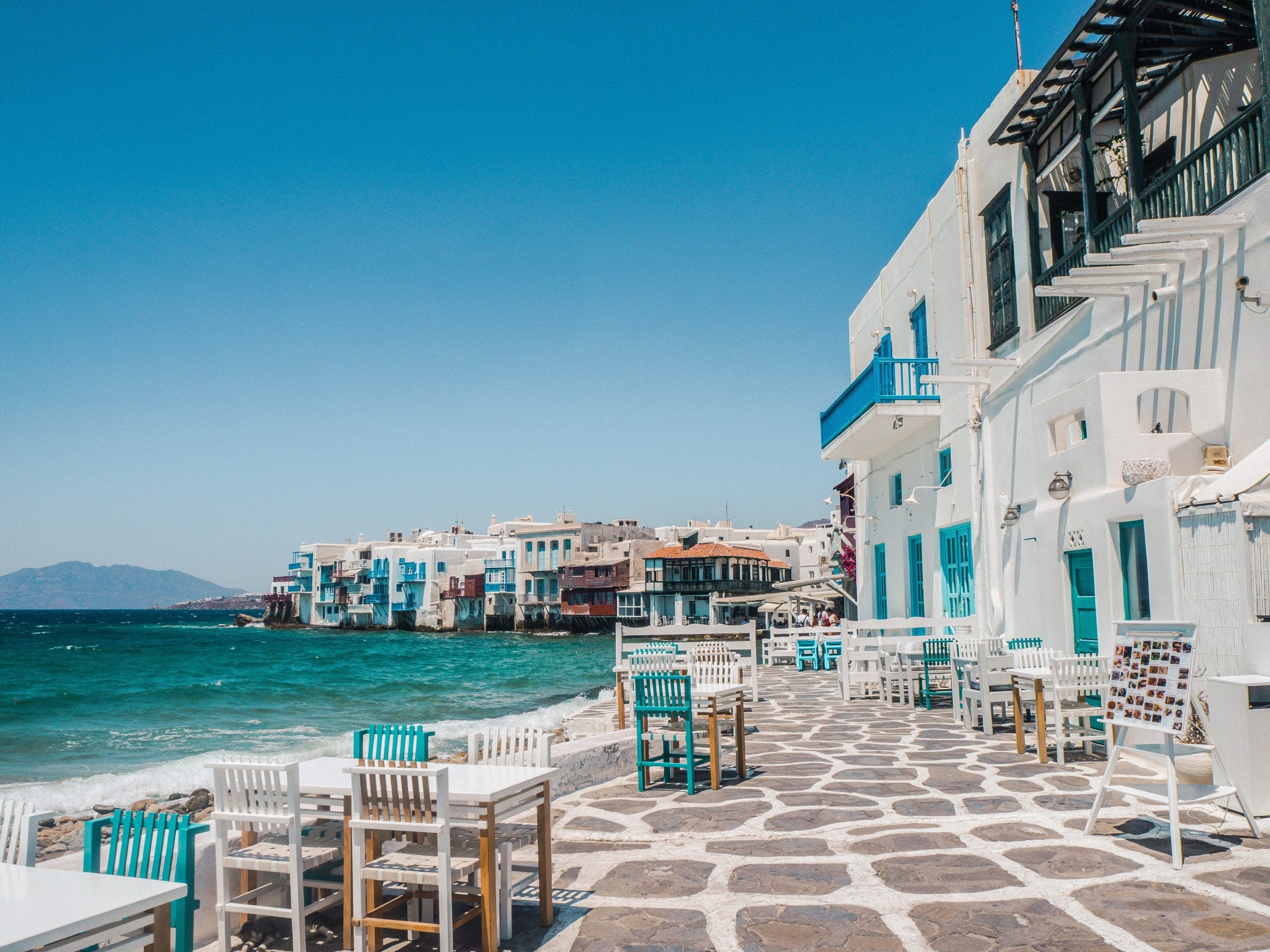 Should I spend more time in Santorini or Mykonos?
That is totally dependent on how much time you have and what your needs are. If you want to spend more time on a beach with a lot of ambiance and the potential to experience some of Mykonos' infamous nightlife, and also dine in some of the best restaurants and bars then you should consider spending more time in Mykonos.
If your bucket list goal has been to stay in one of the infamous Santorini caldera hotels that adorn every single photograph of Santorini, then you should spend more time in Santorini. Santorini is an experience in itself and there is no other place in the Cyclades like it.
And there is a lot more to Santorini than just caldera hotels and sunsets, it has nice beaches, vineyards, and historical sites.
| | |
| --- | --- |
| I want to… | Which Island Should I spend more time on? |
| Party | Mykonos |
| Shop | Mykonos or Santorini |
| Stay in a hotel on the edge of a cliff | Santorini |
| Spend a day at an incredible beach | Mykonos |
| Experience an incredible view | Santorini |
| Visit a Winery | Santorini |
Is Delos Island worth a day trip when staying in Mykonos?
If you have come to Greece and enjoy learning about ancient Greece, then a day trip to Delos is totally worth visiting when staying in Mykonos. Delos is the birthplace of the Greek God, Apollo and once was a busy trading port. It also happens to be a UNESCO World Heritage Site.
Nowadays it is an important archaeological site that is extremely well preserved. Excavations of the island started in 1872 and continue to this day. There are no hotels on the island of Delos and it is uninhabited. The best way to experience the island of Delos is to take part in an organized tour of the island with a guide.
How many days do you need in Santorini and Mykonos?
If time is short, or you are trying to cram as many islands into a short vacation, 3 days in Santorini and 3 in Mykonos is a perfect balance. Three days on both islands allows you time to take in all the islands offerings, from sunset catamaran trips to wineries and of course endless parties.
Mykonos – 3 Days
Visit the island of Delos.
Organize a sunset cruise.
Party at Super Paradise Beach.
Dine at Little Venice and watch the sunset.
Visit the infamous windmills of Mykonos.
Rent an ATV/Scooter and explore the island.
Spend a day shopping in the boutique stores of the old town of Mykonos.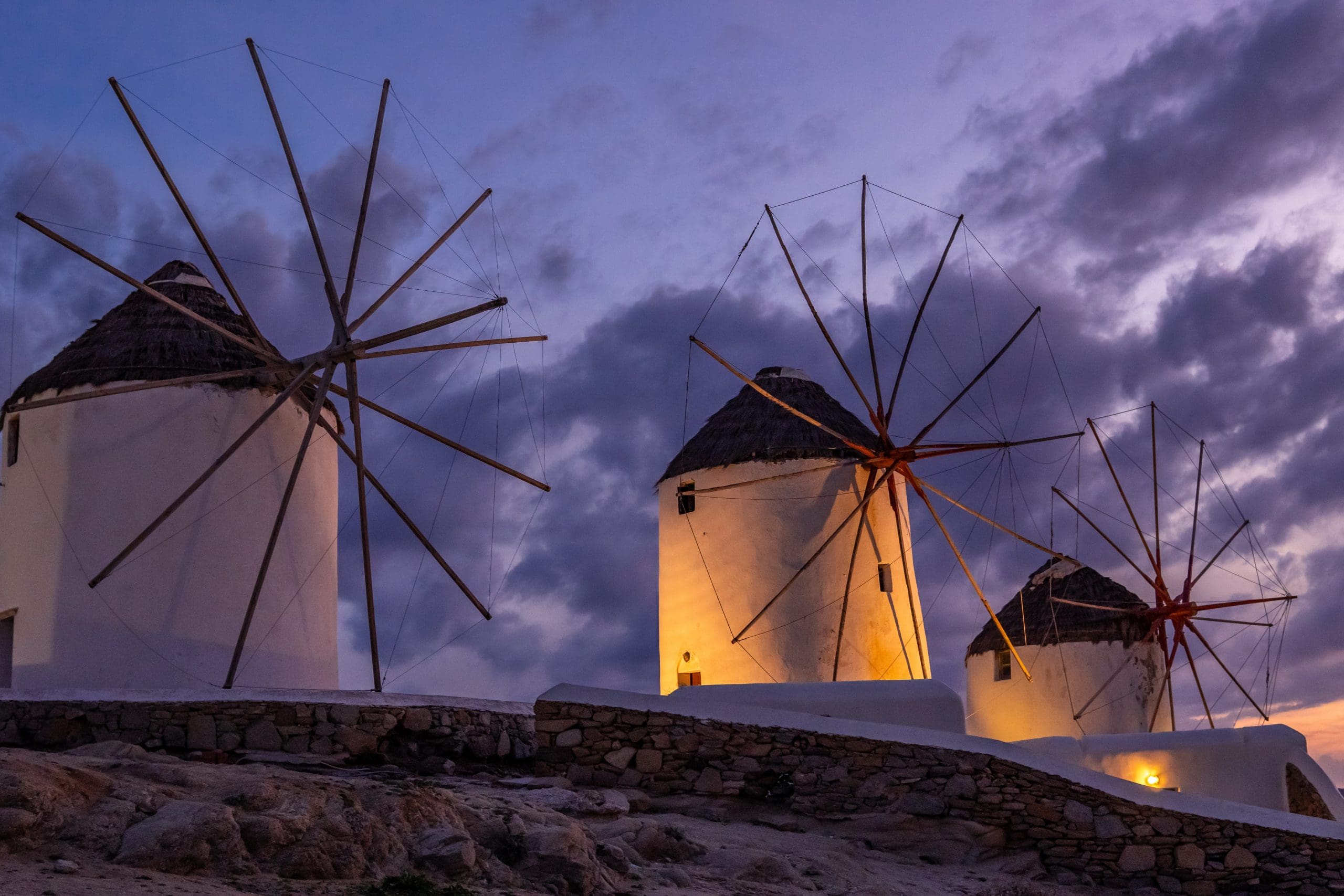 Santorini – 3 Days
Watch the sunset from Oia.
Organize a catamaran tour to visit the hot springs and red sand beaches around Santorini.
Sip wine from the Santo Wines vineyard and take in one of the best views of the entire island.
Visit the archaeological site of Akrotiri.
Spend the day on the black sand beaches of Perissa and Kamari.
Hike from Fira to Oia.
Location & Distance
Santorini to Mykonos Ferry
During the high season and shoulder months of May, September, and October traveling between Santorini and Mykonos is possible with direct ferry hydrofoils, fast ferries, that link the two most popular islands in the Cyclades.
Read More: How to get from Santorini to Mykonos
The passenger hydrofoils from Santorini to Mykonos take on average 2 hours to zip across the 68 nautical miles. Most ferries have stops in between at islands such as Naxos, Paros, Koufonisia, and Katapola depending on the ferry route and ferry line.
Book your ferry tickets directly through the Ferry Hopper website to avoid tickets selling out, especially during the months of July & August. You can also investigate timetables via the Ferry Hopper app below.
There are on average 4 departures each day during the high season between Santorini and Mykonos. Ferries depart from Athinios Port in Santorini with the earliest departure for Mykonos at 10.05 am and final departure for the day at 12.15 pm.
Seajet, Minoan Lines and Blue Star Ferries are some of the companies operating ferry routes between the two islands.
Is Santorini or Mykonos closer to Athens?
Mykonos is closer to Athens, and ferries departing from Athens Pireaus take on average 2.5 hours to reach Mykonos. Santorini is further and on a slow ferry, such as the Blue Star Delos, which can take 8 hours.
| | | | |
| --- | --- | --- | --- |
| Destination | Ferry Name | Time | Price |
| Athens Piraeus – Mykonos | Blue Star Paros | 07.30 – 12.45 (5hrs 15) | 32.50 |
| Athens Rafina – Mykonos | Ekaterini P | 07.30 – 11.50 (4hrs 20 mins) | 31.00 |
| Athens Rafina – Mykonos | Theologos P | 17.30 – 22.10 (4hrs 40 mins) | 31.00 |
Both islands have international airports, with flights leaving to destinations all across Europe. If time is short, consider flying directly to Santorini or Mykonos, or taking a flight from Athens instead.
| | | | |
| --- | --- | --- | --- |
| Destination | Ferry Name | Time | Price |
| Athens Piraeus – Santorini | Blue Star Delos | 07.25-15.30 (8hrs 5 mins) | 35.00 |
| Athens Piraeus – Santorini | Dionisios Solomos | 14.55 – 3.30 (12hrs 30 mins) | 36.50 |
| Athens Piraeus – Santorini | F/B Prevelis | 18.00 – 3.30 (9hrs 10 mins) | 35.00 |
How long is the boat ride from Santorini to Mykonos?
The ferry from Santorini to Mykonos takes between 2 and 3 hours depending on which ferry you take and route. For those who suffer from seasickness, avoid the hydrofoils, which also happen to be the faster ferries as they tend to be lighter and bounce through the sea.
Larger vessels like the Blue Star Ferries are sturdy and don't tend to rock as much as the smaller ferries. 
Are Santorini and Mykonos close?
The islands of Santorini and Mykonos are 64 nautical miles from one another.
Santorini or Mykonos?
Whether you choose romantic Santorini or want to party in Mykonos, the experience is what you make of it. Both islands are vastly different and offer something special for every visitor. You won't forget your time in Santorini or Mykonos. Leave a comment below and let me know which island you prefer or would rather go to?