A Complete Guide To Klima Milos (2023)
One of the first images you will see of the Greek island of Milos is either the lunar-landscaped beach of Sarakiniko or the former fishing village of Klima. Both are spectacular and easy to see why hundreds of thousands of tourists have added Milos to their Greek bucket list.
Klima is a former fishing village that has taken on a new level of fame over the past 5 years thanks to the rise of social media. A simple search of the village will produce thousands of images of multi-coloured buildings that have now been transformed into beautiful Airbnb accommodations.
And it's easy to see why Klima Milos has become insta-famous. It is adorable. And oh-so photogenic. The multi-coloured buildings have been transformed from ramshackle former fishing huts and homes into quaint accommodation choices that have been beautifully restored.
Not all of the huts have had a make-over and some are still being used by the families that own them. The village of Mandrakia has a number of operational fishing huts that are still used on a regular basis.
Klima is delightful to walk around and has the smallest sliver of a beach if you are in need of a quick swim. With a lovely restaurant that is perfect for either a quick coffee or lengthy lunch, Klima Milos is an unmissable spot on the island.
Where to Stay in Klima Milos
If you've been searching for a memorable and unique place to stay on your vacation in Greece, then consider booking a night or two in one of Klima's fisherman's fishing huts. With direct access to the sea (it's literally on your doorstep), you can walk out your front door and plunge straight into the welcoming sea.
With the area becoming more and more popular there has been a recent surge in renovations to keep up with this unique supply.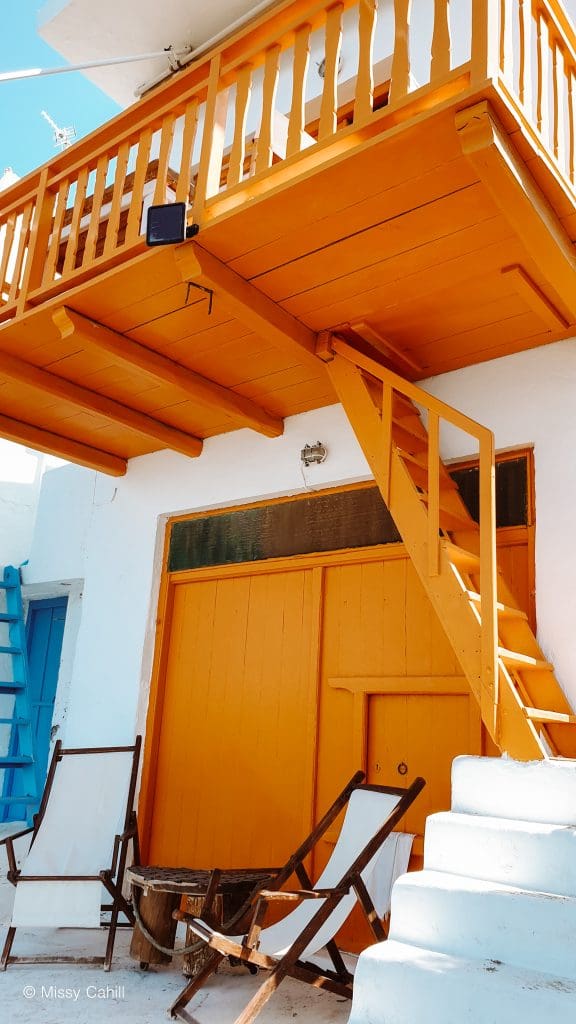 Vasealis & Seafis Sirma Klima has been lovingly restored to its original and former glory. What could be more glorious than sitting outside and listening to one of the greatest natural soundtracks in existence – gentle lapping waves?
The Colourful Land Milos immediately caught my attention as I wandered around the seafront. All the smyrna's (fishing huts) are colourfully decorated in a variety of colours, but I couldn't help but notice the purple of 'Colourful Land Milos' really standing out.
Its interiors are stunningly decorated and it's hard not to be impressed by the level of thought and care that has been taken in redecorating this beautiful rental.
Panorama Hotel sits just above the village of Klima and offers panoramic views (it's all in the name, folks) over the sea and the village below. It's a short walk up a rather steep hill, and is a good alternative to the fishermen's huts if none are available or out of budget.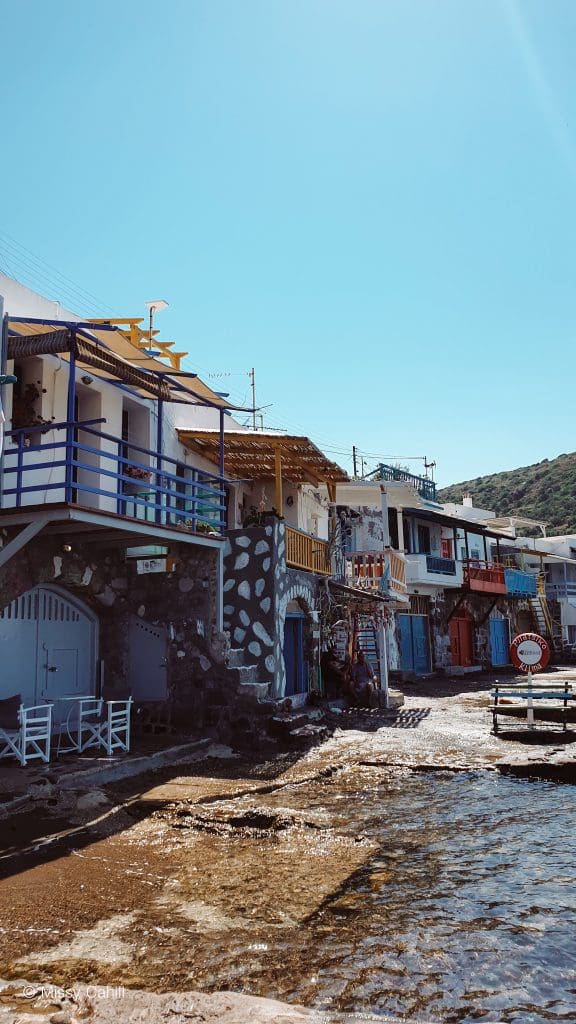 Where to Eat in Klima Milos
Food options are quite limited in Klima with only one restaurant in the area. Astakas Cafe Restaurant also just happens to have one of the greatest spots on the islands for sunsets and is one of the best places to go in Milos to watch the sunset.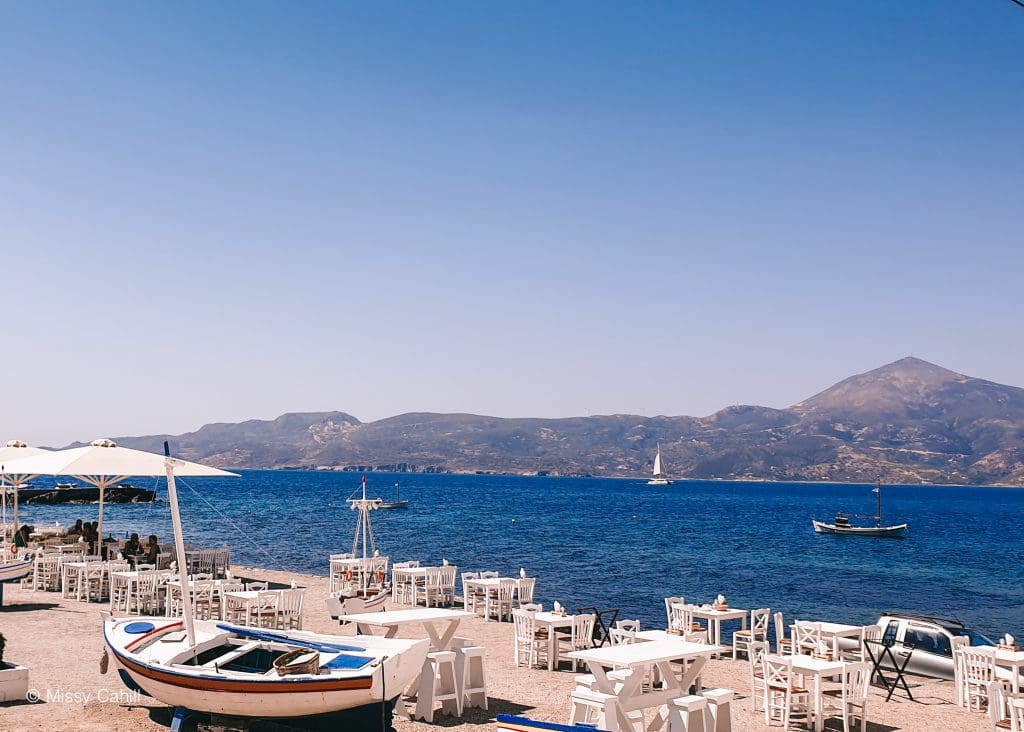 The setting of the restaurant is quite stunning, with direct access to the water, if you manage to snag the right table you can see the rows of colourful fishing from your table and soak up the sounds of the waves lapping against the shoreline.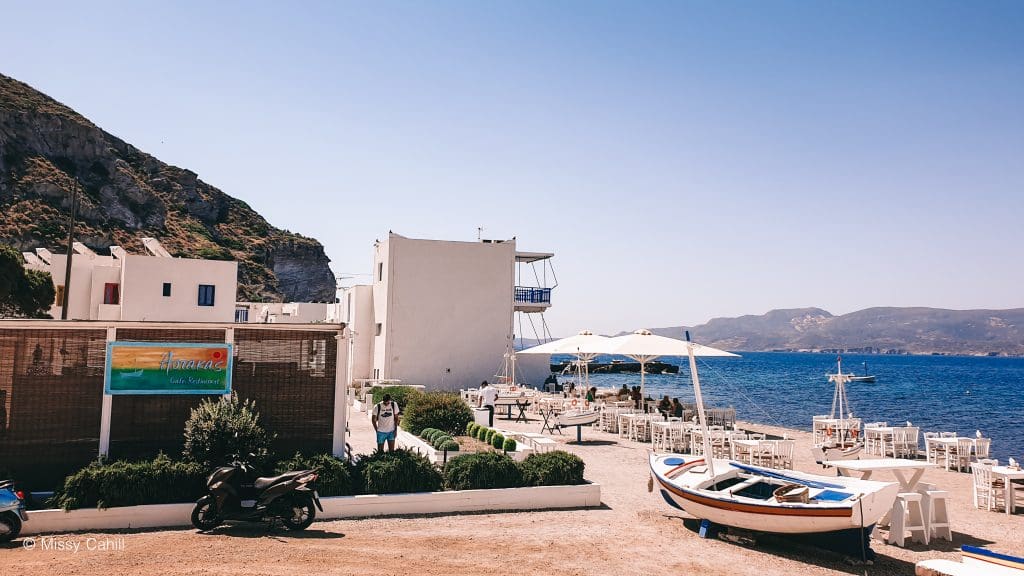 Klima can be a busy spot to visit and most visitors head to this picturesque spot to have dinner and watch the sunset. Make sure you arrive in Klima and Astakas Cafe early in order to get a table.
Astakas Cafe Restaurant opens for the summer season with it operating between the months of May through to October.
How to Get to Klima Milos
The easiest way to get to Klima is to follow the signs to Trypiti and then follow the signposts for Klima/Catacombs.
The road to Klima is very narrow and should be approached slowly. There are a number of sections where you may have to reverse up a hill in order to let another vehicle pass.
Once you have traversed down the hill to Klima, there will be a parking lot that has a number of limited parking spaces. You'll also find cars parked on one side of the road if the parking lot is full. If you continue past the parking lot you will eventually reach a dead-end and Astakas Cafe in front of you.
There is a parking lot in Astakas Cafe that is reserved for guests and is larger than the free parking lot at the entrance of Klima village.
The nearest bus stop is found in Trypiti and then a 30-minute walk downhill to Klima.
Getting Around Milos
The easiest way to get around the island of Milos and especially to hard-to-reach places like Klima is to rent your own vehicle.
Having access to a car, scooter or ATV makes exploring the island of Milos so much easier and more enjoyable. Although the island does have a good bus system, the buses tend to be quite infrequent and busy.
There are 15 taxis that are in operation on the island. Make sure you check with the taxi driver the rates before committing to the ride. You can contact the taxi's by calling +30 22870-22219
Tours around Milos
There are several sea tours that take in the views of Klima as they sail by. They also happen to be one of the best ways to explore the island by sea and traditionally unreachable places such as Tsigrado Beach.