Like pretty much anywhere in Greece and especially on the Greek islands, you're going to be in foodie heaven. Unless you're a vegan and heading to some of the lesser-known and visited Greek islands, you might have a bit of trouble finding more than just a salad to eat. The restaurants in Milos offer some of the best Greek cuisine that you'll get to experience on your visit to the island.
Seafood, meat, and Greek salad lovers will rejoice at the excellent selection of restaurants in Milos that cover all these bases. Whether you stay in Pollonia, Adamas or Plaka, there is at least one decent if not excellent restaurant in the vicinity. Thanks to Milos' small size, it's easy to get from village to village with relative ease, as nothing is really further than a 20-minute drive between Adamas and Pollonia.
Medusa Mandrakia
Starting with the best restaurant in Milos – Medusa. With one of the loveliest locations in Milos, the tiny village of Mandrakia is one of the prettiest on the islands. The village is more of a hamlet and consists of a small number of residents, fishing huts, and 1 superb restaurant.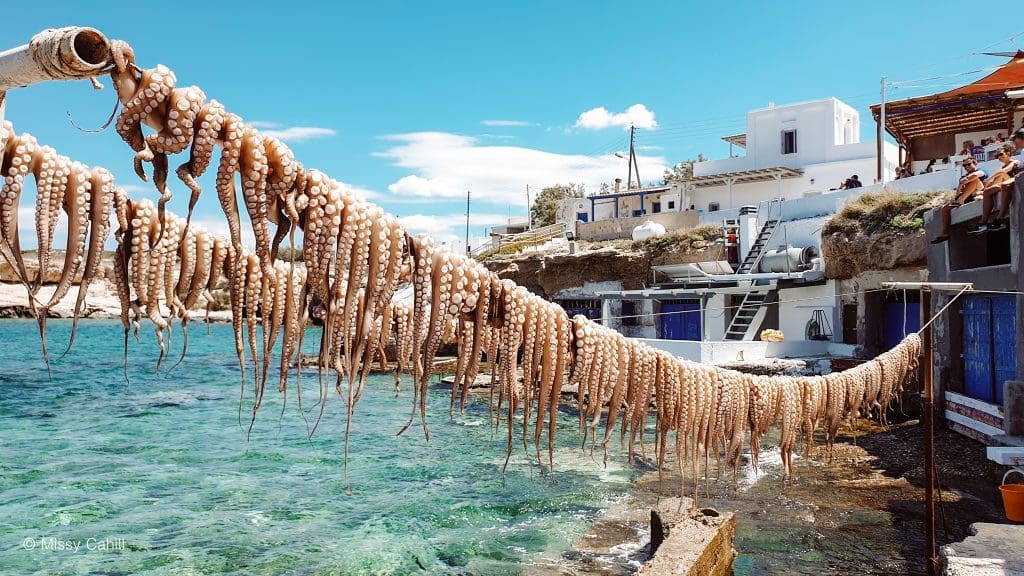 Medusa deserves its unofficial title of the best restaurant in Milos for a number of reasons. Let's start with its ridiculously good food. The food was so good in Medusa that we ate here twice and seriously considered skipping the remainder of the restaurants on the island to eat our way through the entire menu.
The swordfish souvlaki was one of the dishes that stole the show for us. The swordfish was incredible for someone with a strong aversion to seafood. Meaty in texture and perfectly grilled, the smoky taste of the fish almost left us mistaken for eating chicken.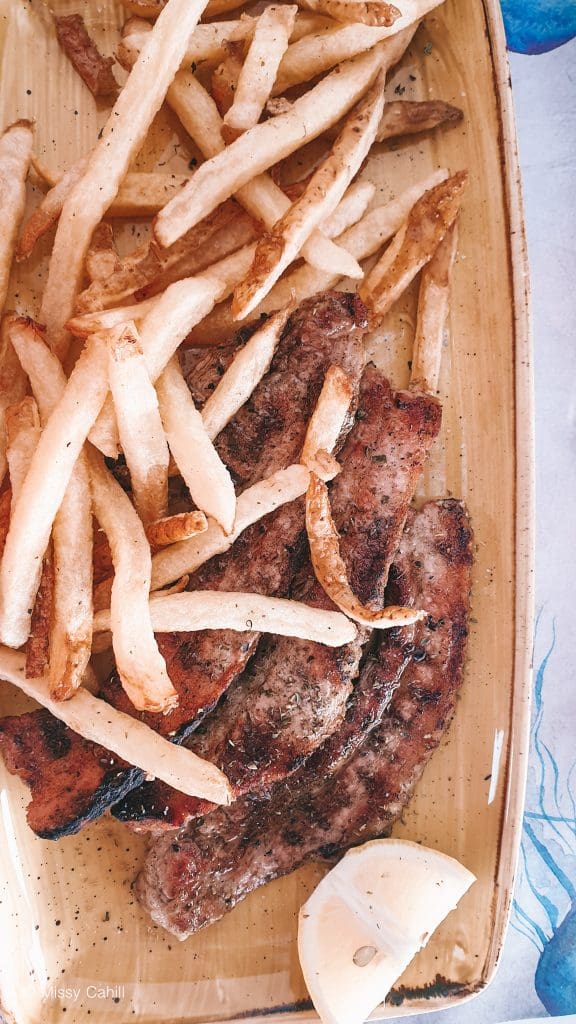 As we made our way through the menu, from stuffed a pepper stuffed with spicy local cheese, to some of the best calamari that I've ever had, there was nothing that was average. The food prepared and served in Milos was easily some of the best of our entire trip to Greece. A bold statement, but it really was fantastic.
Standout dishes in Medusa:
Swordfish Souvlaki
Calamari
Sun-dried and Grilled Octopus
Zucchini fritters (fried courgette balls)
Grilled Bacon
Another reason Medusa is popular is its prices. The average main is priced at €14 and a carafe of wine is €5.50. For less than €20 per person, you can have a delightful meal that ticks all the right boxes.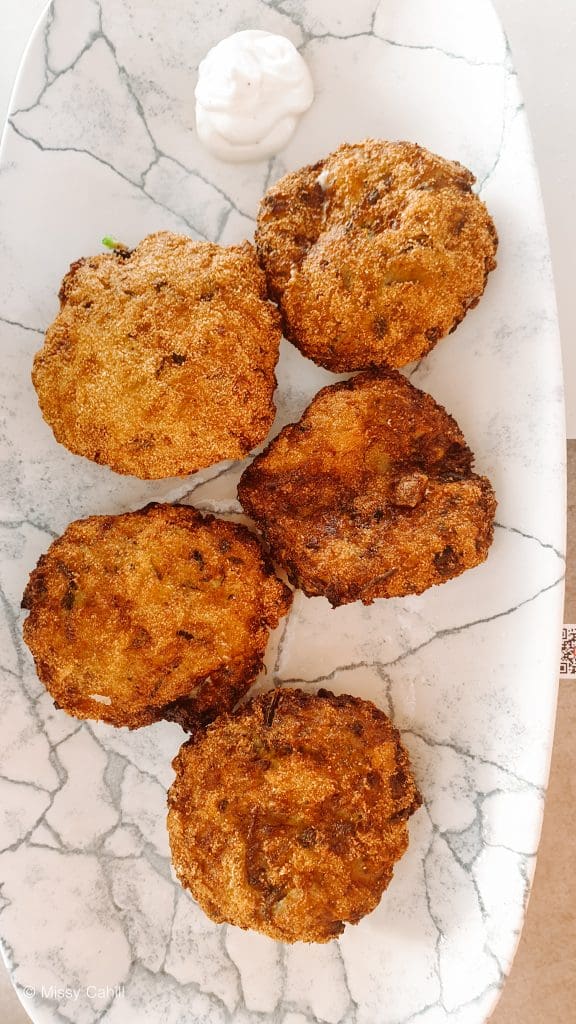 Medusa Milos is positioned on the water's edge and if you arrive at the right time, you can easily get a table overlooking the washing line of drying octopuses. Regardless of what time you arrive at Medusa, you will encounter a waiting line. Put your name down on the waiting list and have a wander around the picturesque village.
Restaurants in Adamas Milos
Ok so Aggeliki Ice Cream Shop isn't a restaurant, but hear me out! We ate breakfast in Aggeliki four mornings in a row because it was that good. The portions are enormous, the prices decent and the serving staff is incredibly friendly.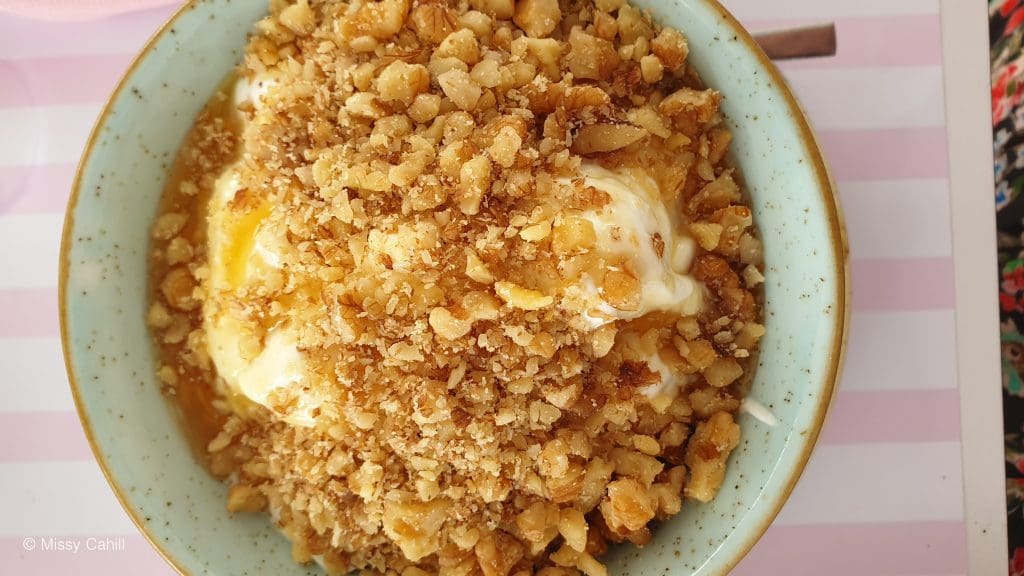 The pastel colors of the outdoor seating initially drew us in, and the promise of a huge bowl of Greek yogurt drenched in honey and walnuts was too hard to pass by. Aggeliki also happens to be the meeting place for a lot of tour groups that leave to sail around Milos.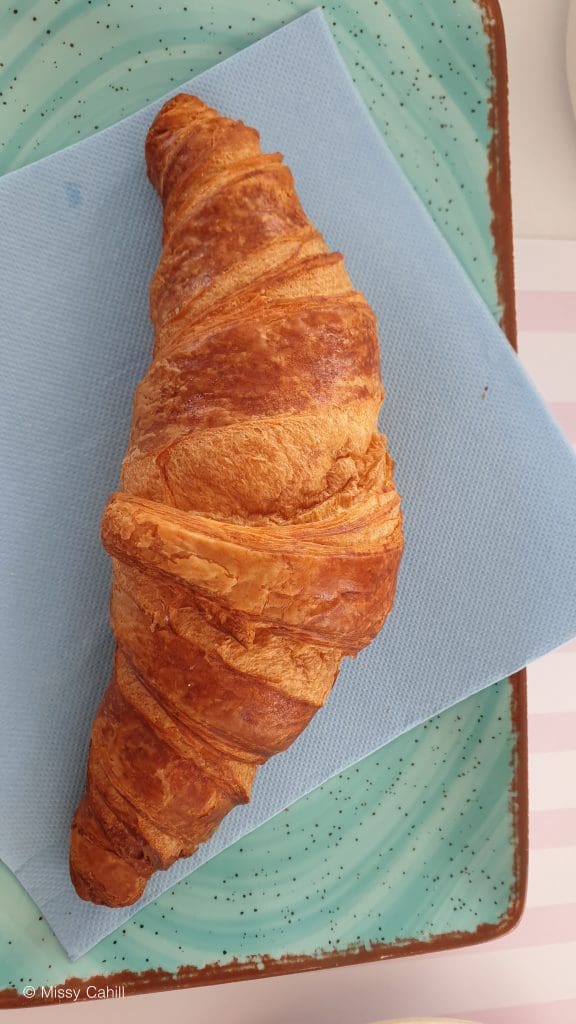 The portions in Aggeliki are enormous and they also have a great set of breakfast options too. But of course, Aggeliki is not just known for its great breakfasts, but also for its delicious ice creams and desserts. With a huge selection of ice cream flavors to choose from and decadent desserts, Aggeliki Ice Cream Shop is the perfect choice for an after-dinner dessert.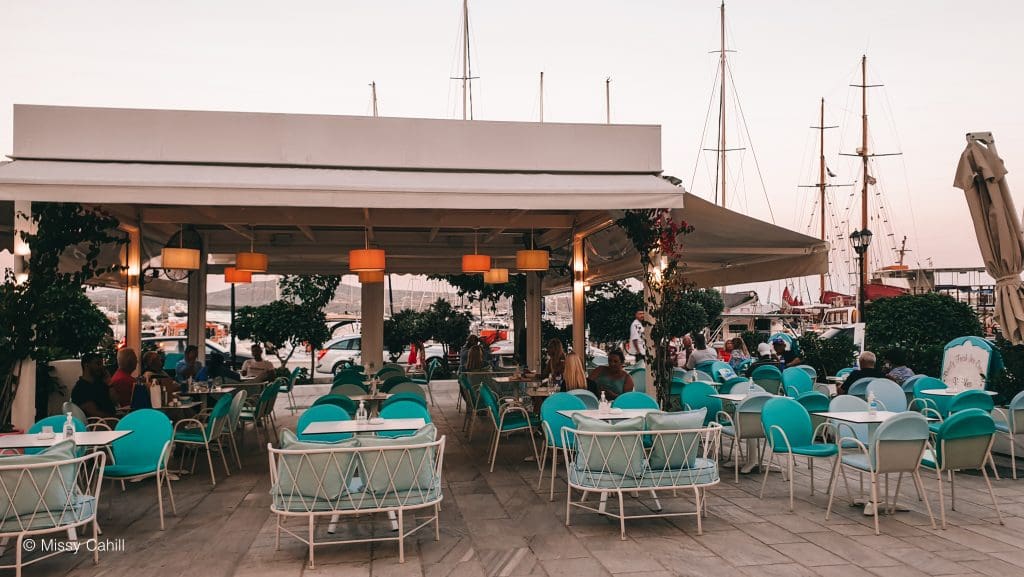 Top Tip: Go for a walk with your ice cream around the marina and pick out your favorite superyacht.
Nostos Seafood Experience
Located on the water, a short 5-minute walk from the port area of Adamas, you'll stumble upon the beautiful Nostos Seafood Experience. It's easy to see why this is one of the most popular restaurants in Adamas.
Nostos is right on the water and has wonderful views across the island and of the marina. The decor of Nostos was what initially piqued our interest, especially after we'd spent a day at one of the beaches further south, we would return in the evening and find Nostos packed with people.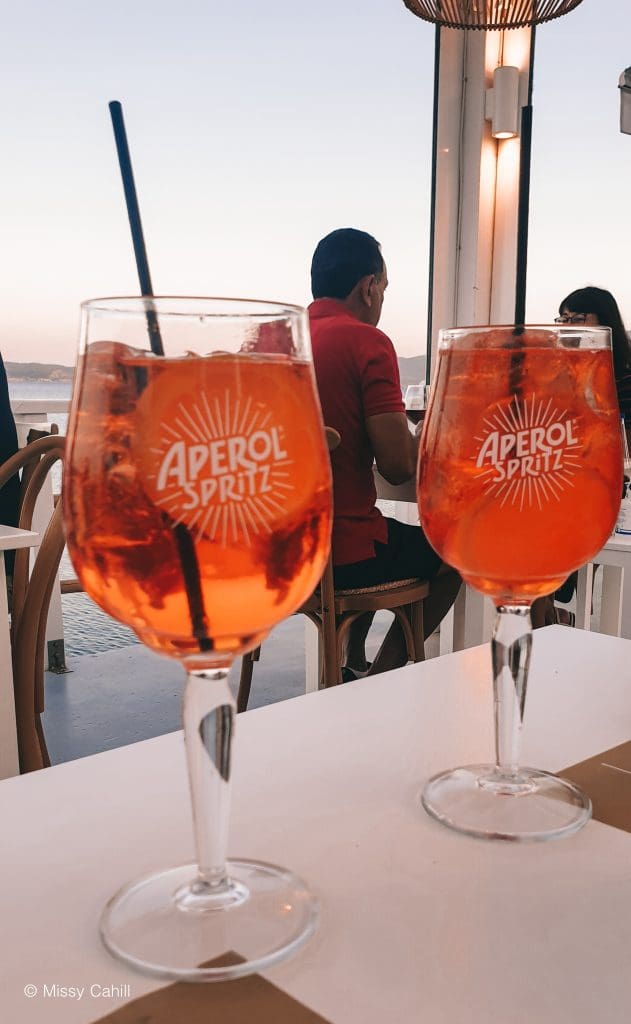 Nostos is one of the more pricer restaurants on Milos, but you'll soon find out why. The presentation of dishes and attention to detail is quite unlike any other restaurant. Waiters hover and are eager to answer questions about the menu and offer suggestions of what to accompany your dishes.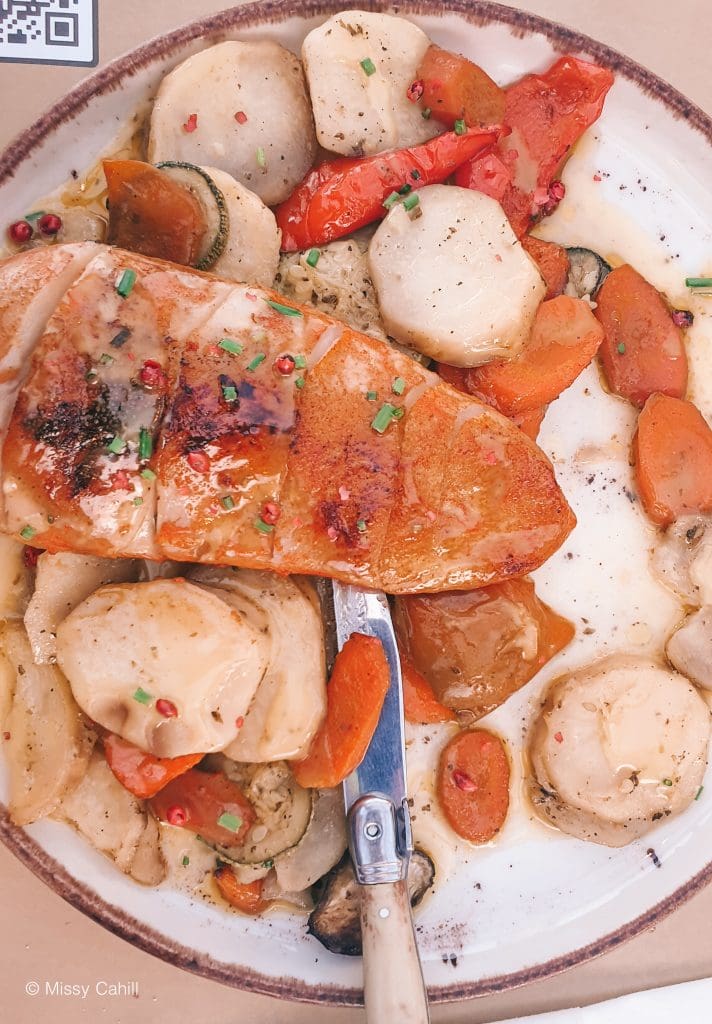 We shared a starter of Milos Cheese Pies which were rather filling. The cheese was a little bit too pungent and goaty for me, but B loved them. Our mains consisted of a breast of chicken with a delicious lemon dressing and unbelievable grilled vegetables, and seafood linguine with squid ink which was spectacular.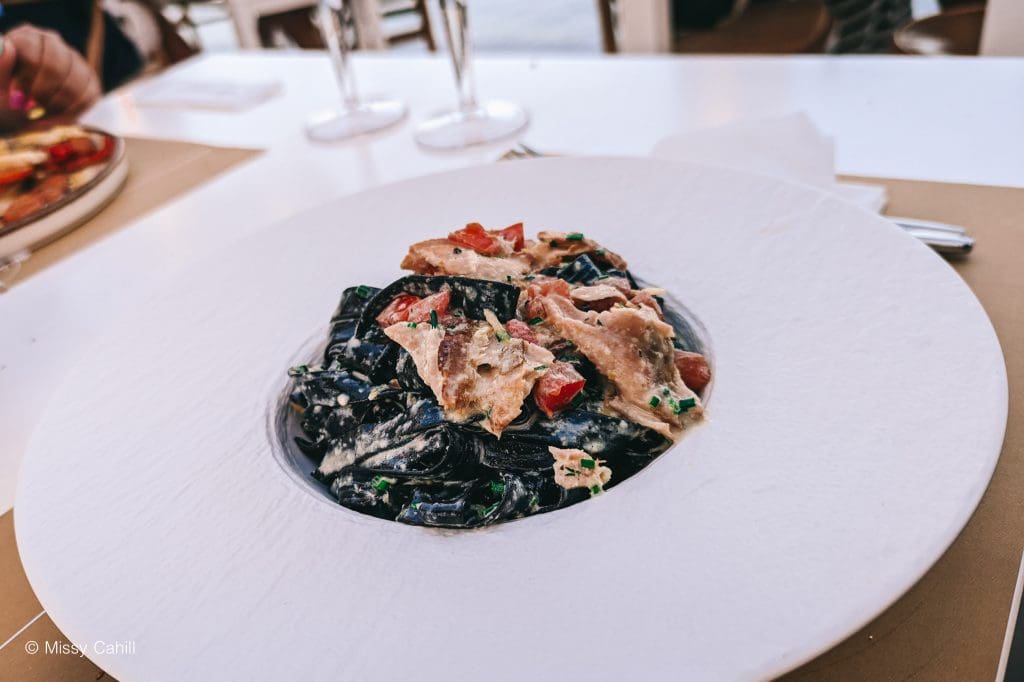 One of the most popular dishes in the restaurant seemed to be the Lobster Linguine which is presented so beautifully on a large platter and is a showstopper. A table of four behind us could barely make a dent on the dish, whereas an athletic-looking couple beside me ate every single thing and were sucking on the lobster carcass as we were settling our bill.
Artemis Bakery
If you have a sweet tooth and love baked goods, do not miss out on Artemis Bakery in Adamas. The orange cake is out of this world amazing. As are the cute little ice creams you'll find in the freezer.
Do yourself a favor, grab some desserts from Artemis Bakery, put them in your hotel's refrigerator, sit on your balcony/terrace with a glass of wine, and thank me later.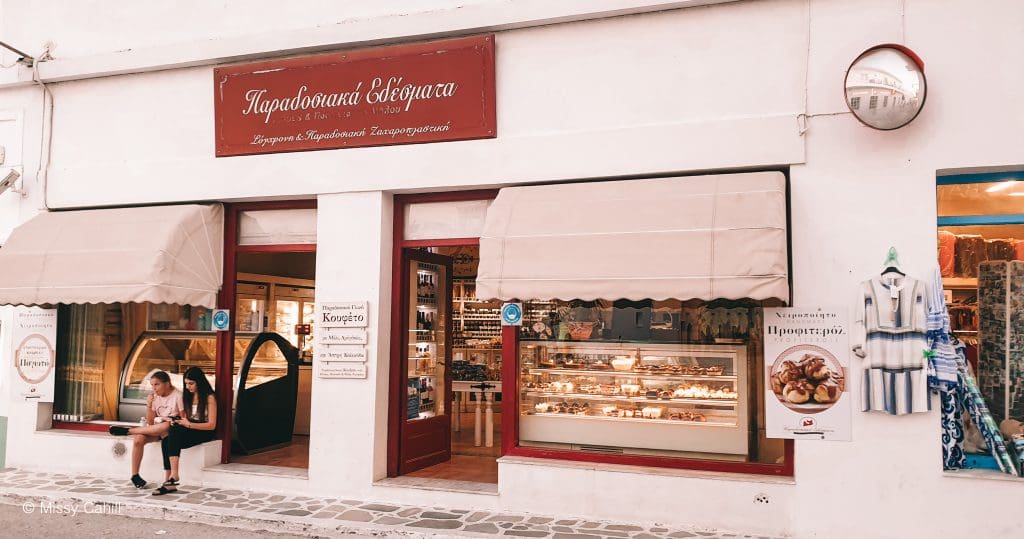 O! Hamos! Tavern*
After reading a lot of positive reviews about O! Hamos! Tavern, I added it to my list of restaurants to check out when we visited Milos. On our last afternoon in Milos, we checked it out and we were kinda disappointed.
We may have just had a poor experience, so I'm willing to give it the benefit of doubt. The food was just 'ok' and we were sort of puzzled by the reviews.
*The reason I've added O Hamos Tavern to the list is that I had 3 people recommend it to me when they heard I was visiting Milos. They loved the experience and enjoyed their meals without any of the issues we encountered. So like I said, ours was more than likely not the usual good experience that people associate with O! Hamos! Tavern.
I think it's worth at least a lunch and comparing it to some of the other establishments on the island.
Restaurants in Plaka Milos
Plaka reminds me a lot of Naoussa, Paros. That is if Naoussa was high in the hills of Paros. The town of Plaka sits at one of the highest parts of Milos and is visible from much of the island. The streets in the town are narrow and complete with restaurants, bars, and boutique stores.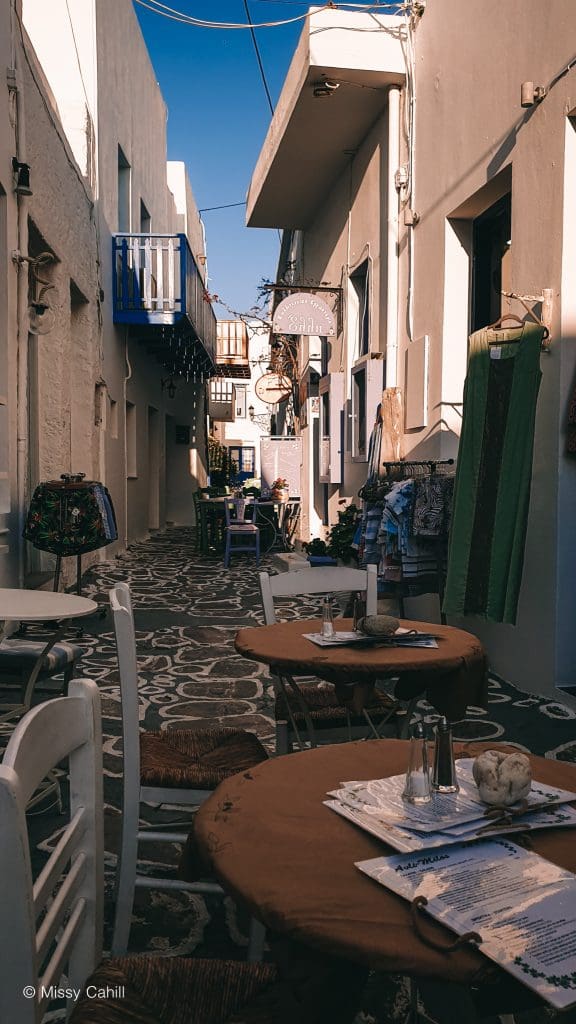 If you fancy a small hike, you can head to the Kastro to watch an epic sunset from one of the highest points of the island. There are ample restaurants to choose from in Plaka, but the one place that really stood out to us was Avli Milos.
Avli Milos
Saunter down any of the alleyways that make up the town of Plaka and you've eventually stumble upon Avli Milos. With a small courtyard with tables and chairs, we sat in the alleyway that made for excellent people-watching.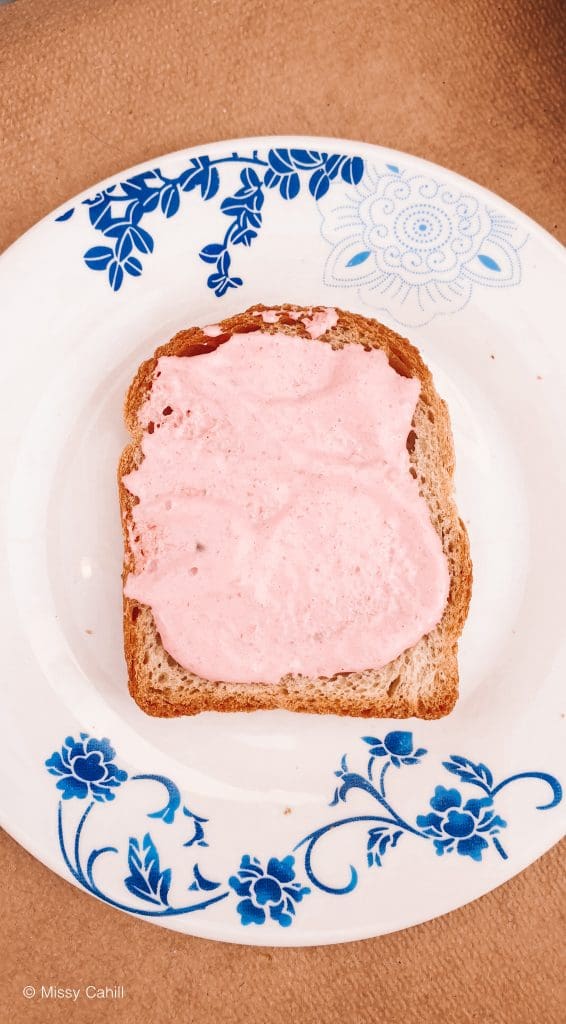 The food in Avli was really special and most of the dishes on the menu we hadn't come across in any other restaurant. At this stage of the vacation, we had reached our quota of seafood and were craving some meat dishes. Avli is a meat-lovers dream with dishes local to the region such as goat and lamb along with other traditional meats.
We shared the fried cheese pie that came drizzled with honey and sesame seeds. The filo pastry was incredibly light and crispy and fried to perfection. Our mains included the slow-cooked beef in an orange and honey sauce which was seriously mouthwateringly delicious. B had the lamb and orzo and gave it a big thumbs up.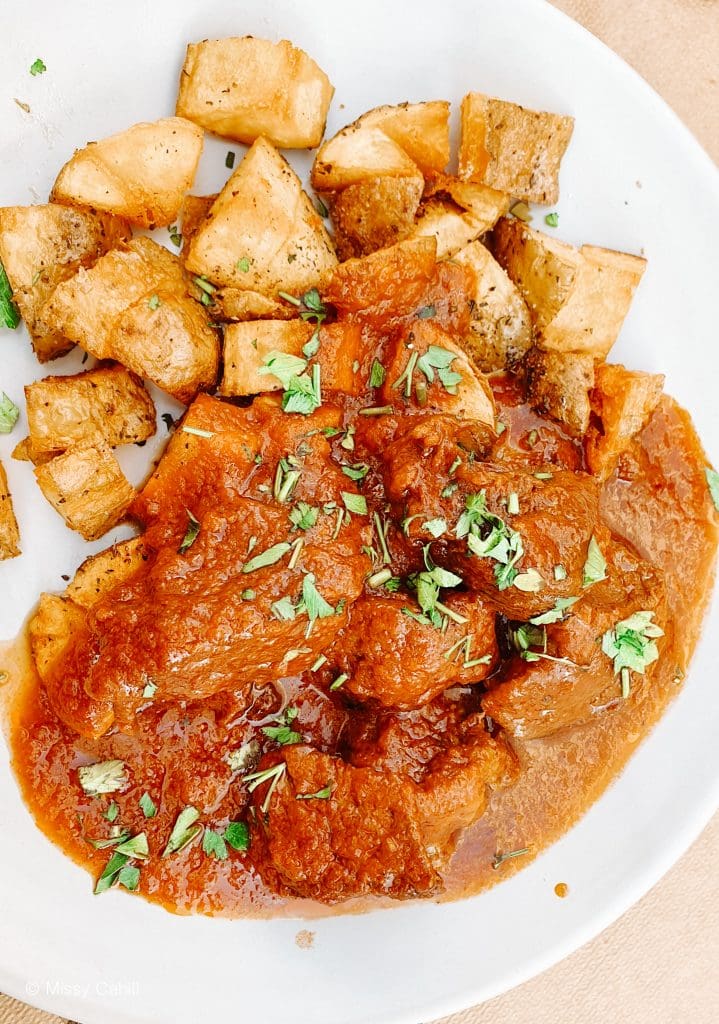 If meat isn't your thing, there are plenty of seafood dishes available as well as vegetarian options.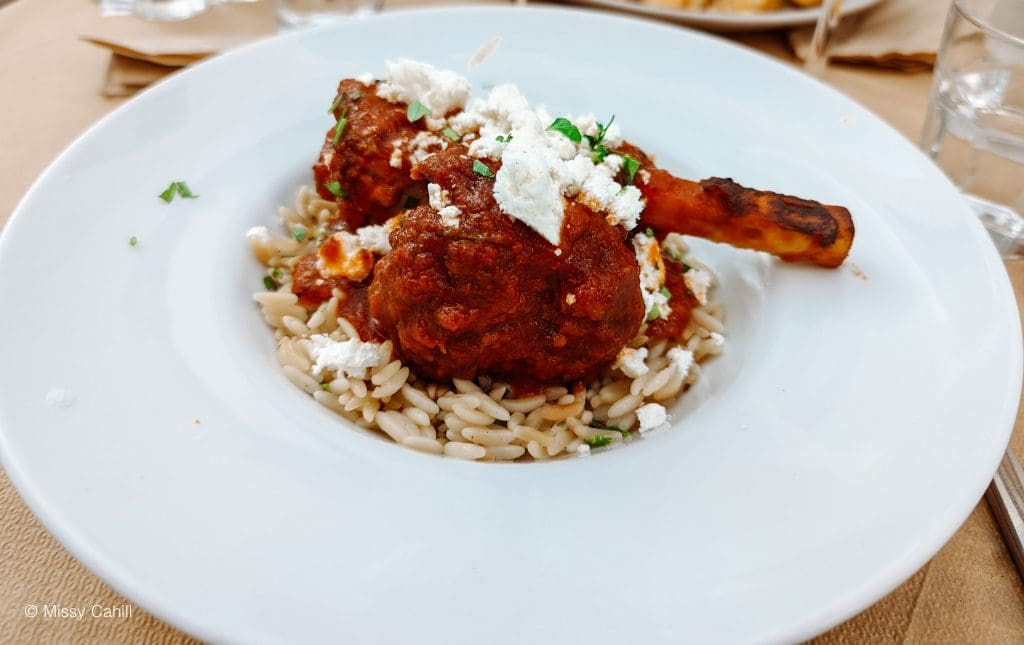 Restaurants in Pollonia Milos
Pollonia is a vibrant town on the north-eastern corner of Milos and is a popular hub on the island. The local ferry also connects Milos with Kimolos, where you can explore and day trip around the island.
There is a wealth of excellent restaurants in Pollonia, with the majority of them situated on the water's edge and offering freshly caught fish.
Yialos
Beautiful Yialos is a seafood lovers' paradise. It's also on the pricier side of things, so if you're on a budget you may want to skip Yialos for another time. The flavors in the cooking were some of the most unusual that we experienced in Milos, yet they worked.
We dined on delicious baby squids with a squeeze of lemon, as well as thinly cut slices of pork with a goat cheese mousse, sun-dried tomatoes, and masala sauce. It was an incredible dish and we couldn't stop talking about it. Make sure to try and get a seat close to the water's edge for optimal sunset views.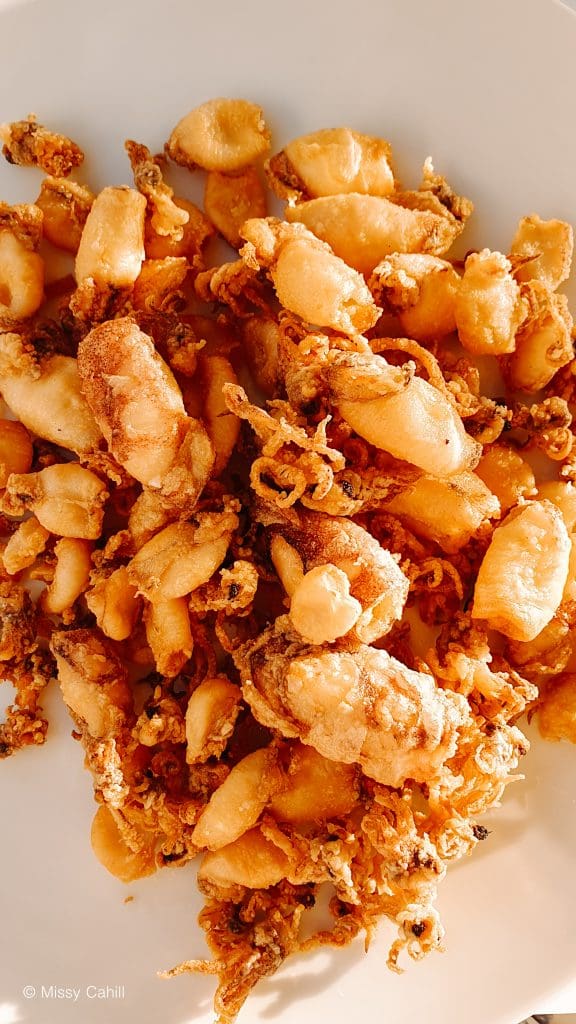 Enalion
We ran out of time to savor the flavors of Enalion but this will be my first port of call when I return to Milos. Each time we walked past Enalion it was busy and vibrant and the dishes that were coming out of the kitchen looked and smelt incredible. Add it to your list of places to go to eat in Pollonia.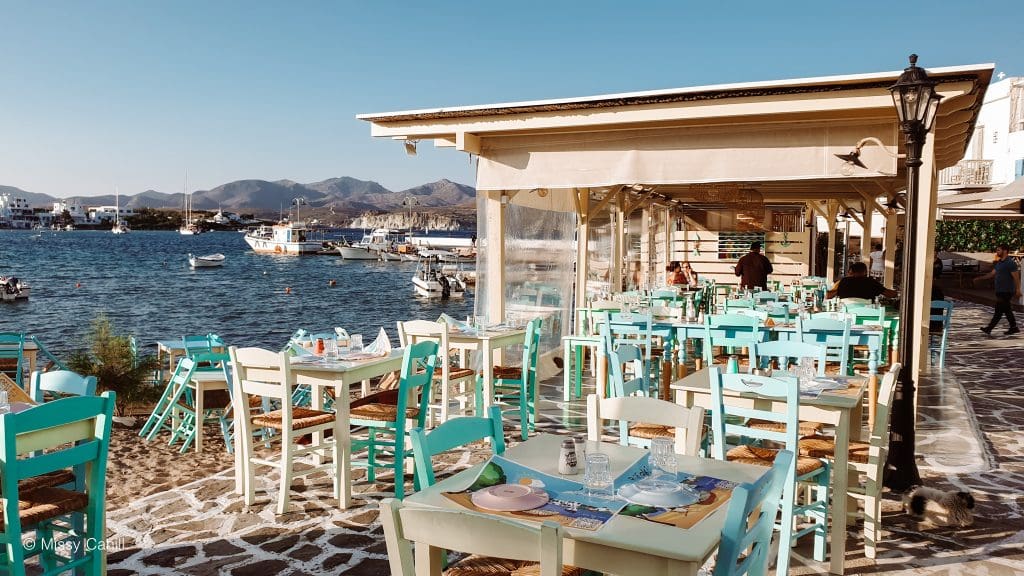 Milos Bars
You'll find the highest concentration of bars down in the port area of Adamas. There are several cocktail bars located just off the main restaurant area and have fantastic views over the marina.
Fiki Cocktail & Wine Bar is a cute little bar with a decent selection of spirits. The cocktail menu has all the usual classics and there is a happy hour between 8 pm and 9.30 pm. No idea what was included in the happy hour but it's a cute spot.
Aragosta Cocktail Bar has superb views over the marina and a great selection of cocktails on offer. They were also happy to create cocktails off the menu when we requested them. My one complaint is that if you are a short person (like myself), the bar stools are extremely high and mighty uncomfortable.
For that reason, we had to move to lower seating and missed out on the view. But for people over 5ft8, you'll be fine! Shisha is also available and my one regret is not ordering one.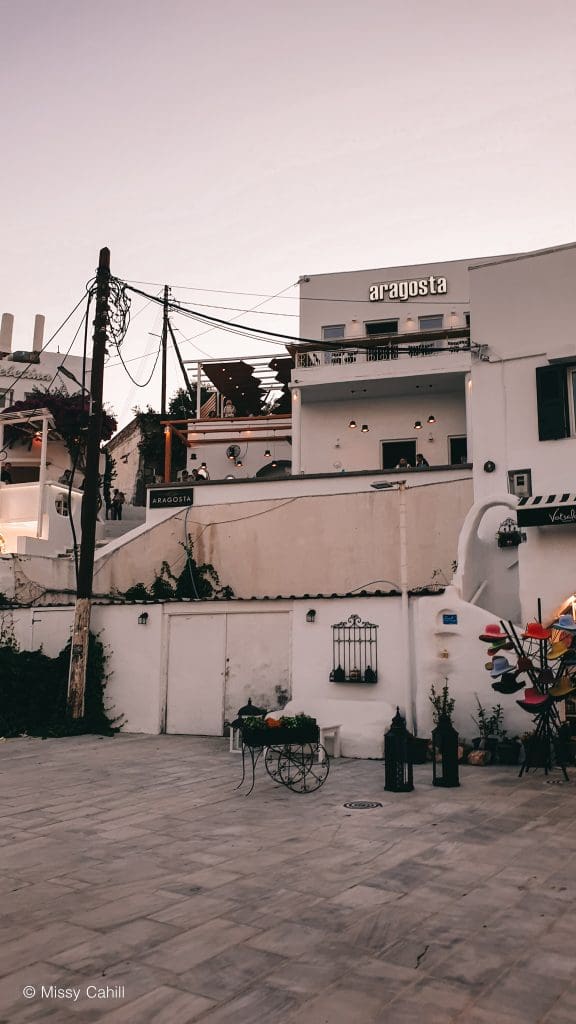 Continue past Aragosta Cocktail Bar and you'll eventually happen upon Mostra. At the time of our visit, Mostra was listed on Google as 'temporarily closed' but it was defiantly operational. With brilliant views over the marina and the ferry port, Mostra is a very laid-back and chilled cocktail bar. Cute little table lights, comfy outdoor seating, and the prettiest presentation of cocktails made Mostra our favorite place to drink in Milos.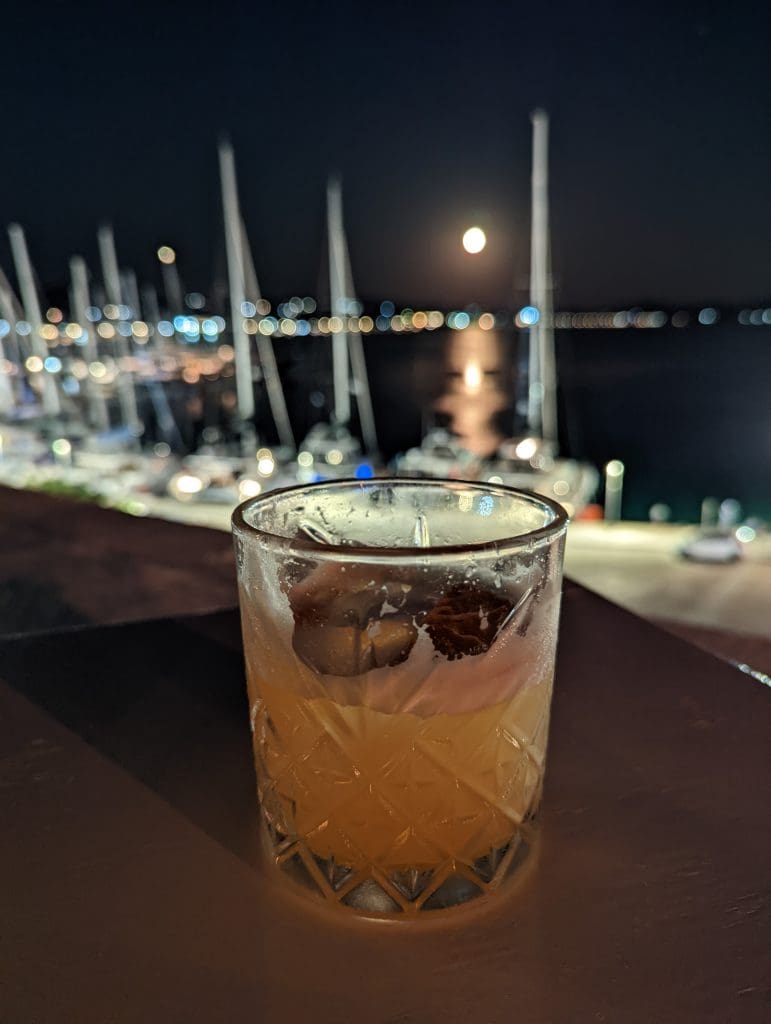 Restaurants in Milos Honorable Mentions
As with most holidays, there simply wasn't enough time to eat in all the places that we had bookmarked for our vacation in Milos. Here is a list of restaurants in Milos that are worth a visit:
Sirocco (Paleochori Beach)
Enalion (Pollonia)
Astakas Cafe & Restaurant (we had a coffee here and it was very nice. Popular place for sunsets in Klima).
Mavros Xoiros (Plaka)
Verina Cocktail Bar (Adorable bar for cocktails in Plaka)
Zygos (BBQ restaurant in Pasporas)
Let me know if I have missed any restaurants in Milos that should be added to the list? I love discovering new restaurants and delicious places to eat, so leave a comment below and let me know!